Groom's Sister Look Book: Weddings 2020- 2021: South Indian Style Outfits
BY Meenu | 02 Dec, 2020 | 19842 views | 3 min read
Imagine the wedding scene of your brother beloved and you are wondering what to wear or getting stressed out cuz of it. We have for you different look options for the sister of the groom right from #therealsisterssquad to what WMG has curated. This version is for those #sistersofthegroom who wanna do full on South Indian looks.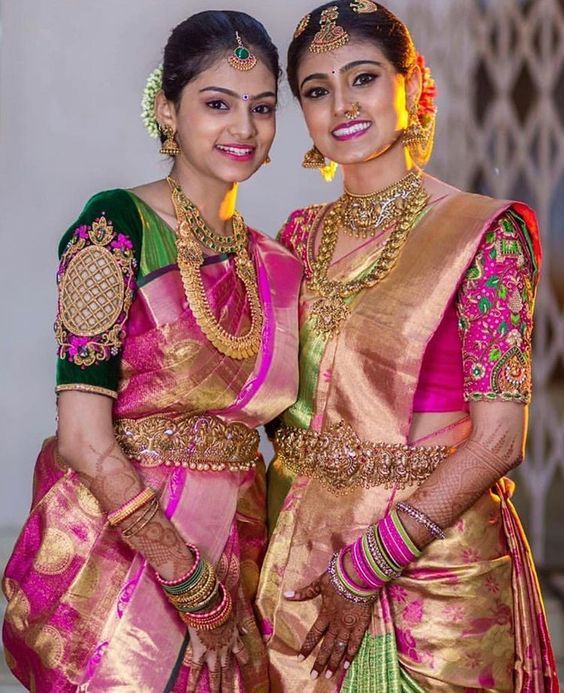 Image Via: Pinterest
Engagement Look In A Set Saree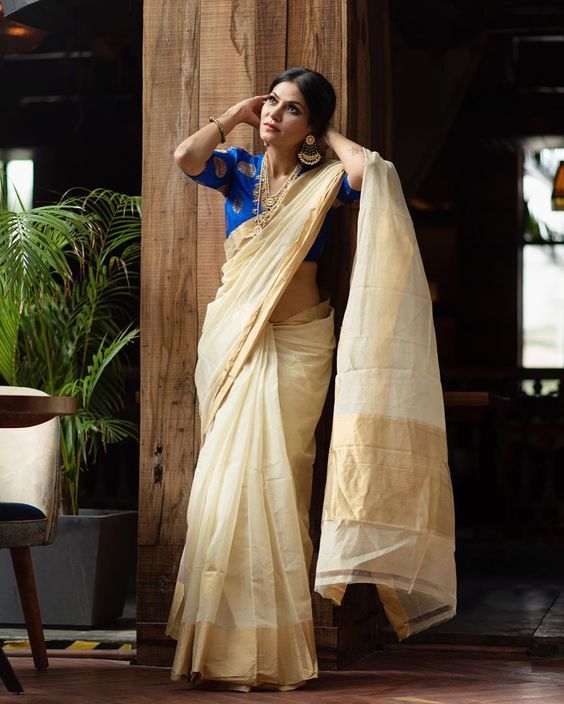 Image Via: Anu Mishra
The engagement announces the start of the wedding shenanigans and being the sister of the groom let your look mantra be elegant, classic and timeless. For this we suggest an ivory and gold heavy Kerala Kasavu saree or a set mundu. You cannot go wrong with this choice. Pair it with a contrast blouse and an antique style choker and jhumkas.
Mehendi/Haldi – Pattu Pavada and Blouse or a Kanjeevaram suit set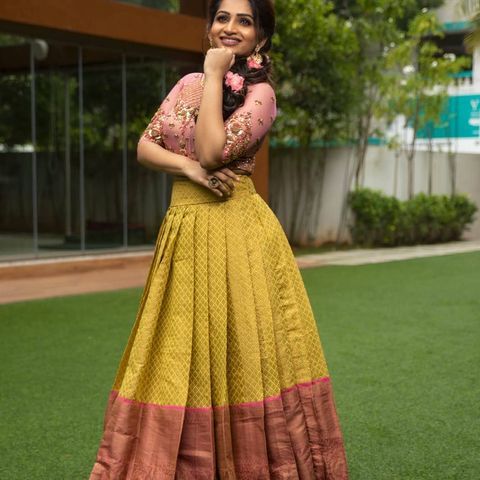 Image Via: Studio149
What are you planning as a Mehendi/Haldi outfit?  How about a pattu pavada which is roughly translated as a top and skirt in silk with complete ethnic vibes? You can opt for a crop top here, choose the latest cloth waist belts and add on a rich folded dupatta for extra oomph!! If you are more of a suit person why don't you opt for a suit set in Kanjeevaram silk?
Pre Wedding Poojas – Mangalgiri or Upada saree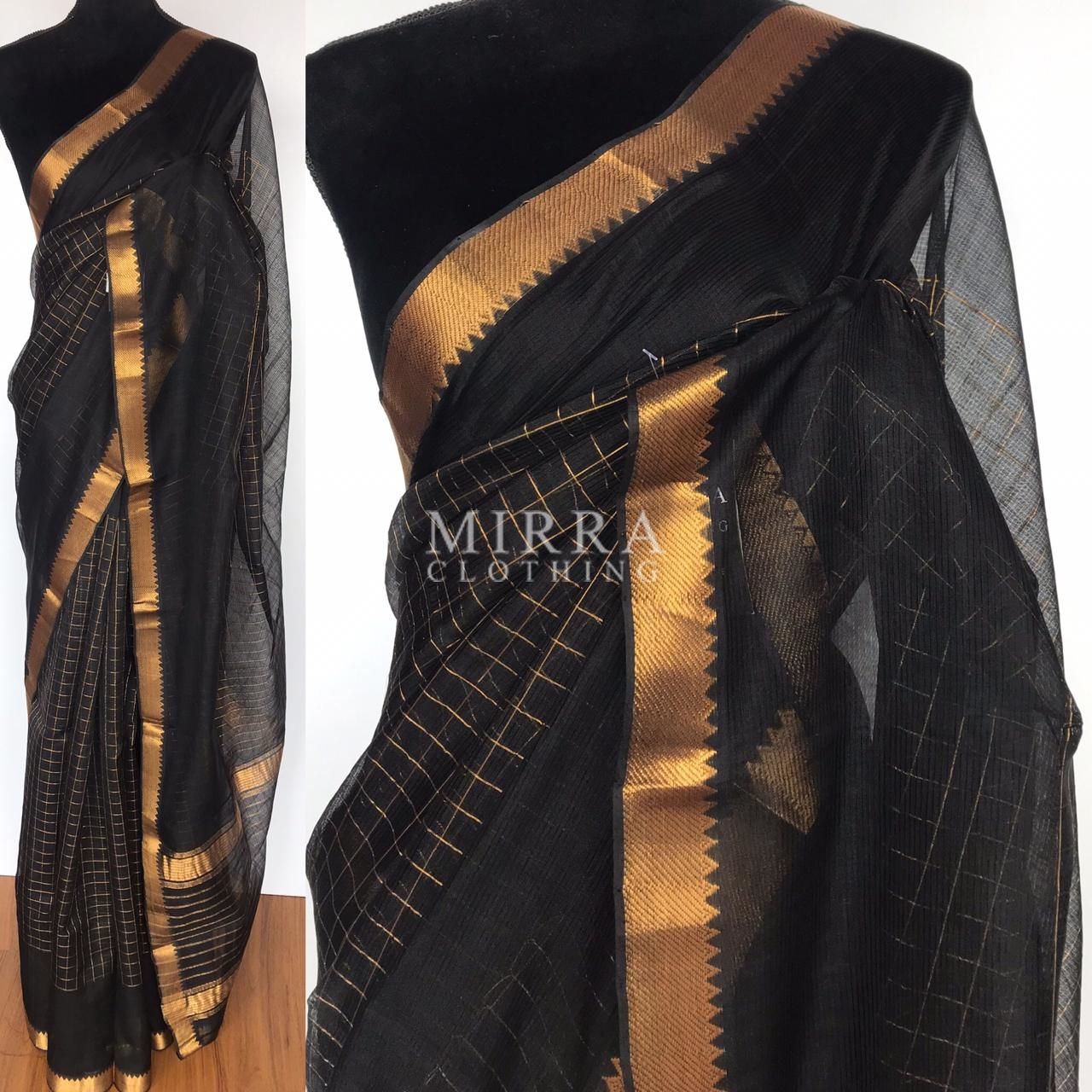 Image Via: Mirra Clothing
Each household has so many traditions. Especially before a wedding there are so many poojas and all that. The perfect choice here would be a Mangalgiri silk saree or an Upada silk. These are lighter weaves than Kanjeevaram so easy enough to carry and do the running around!!
Pre wedding/Sangeet Night – Contemporary Half Saree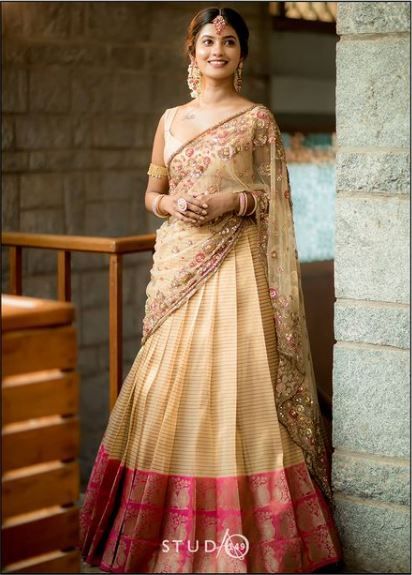 Image Via: Studio149
A night of naach gaana calls for something fun. Try out a South Style Half saree in Contemporary style. Fashion houses like studio 149 has so much to offer. Check this one out!!
Muhurtham – Kanjeevaram Pattu Saree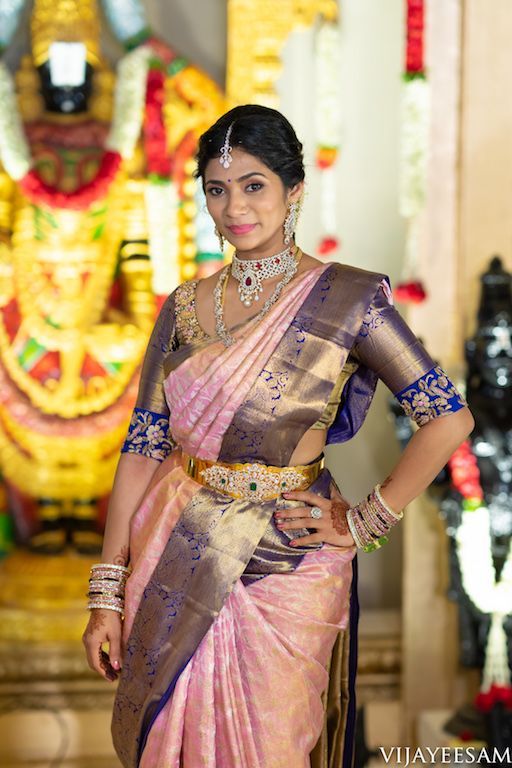 Image Via: Vijayeesam
What better for your brother's Muhurtham than a Kanjeevaram pattu? Opt for a heavy embroidered blouse or go for a unique design. If the wedding is still in the winter months, why not a velvet blouse? Choose jewelry ranging from diamonds to antique gold for that perfect look.
Reception – Lehenga Saree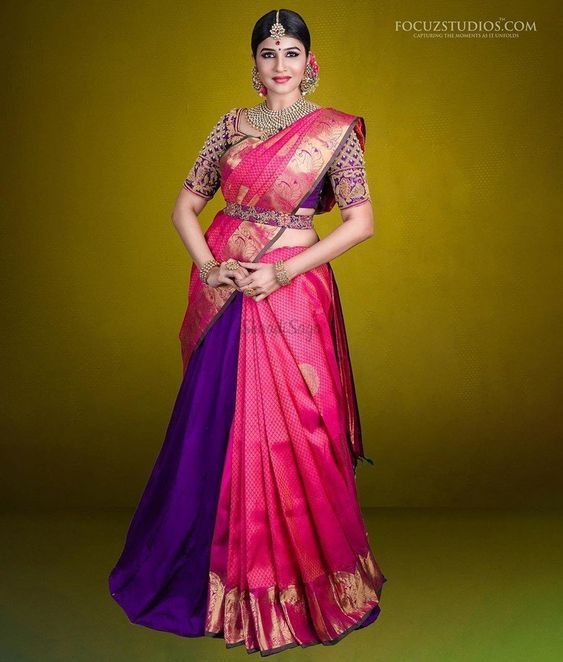 Image Via: FocuzStudios
Being a formal soiree how why don't you choose a lehenga saree here? It is elegant at the same time looks so fab when you twirl!! You can choose a Kanjeevaram as a base saree and go for a silk skirt. There are so many options for you to choose from here too!!
Bookmark this right away for an awesome look book. And checkout some makeup looks curated for the sister of the bride/groom.