How to : Co-ordinate your Jewellery with your Bridal Outfit!
BY The WMG Bride | 24 Apr, 2014 | 4392 views | 5 min read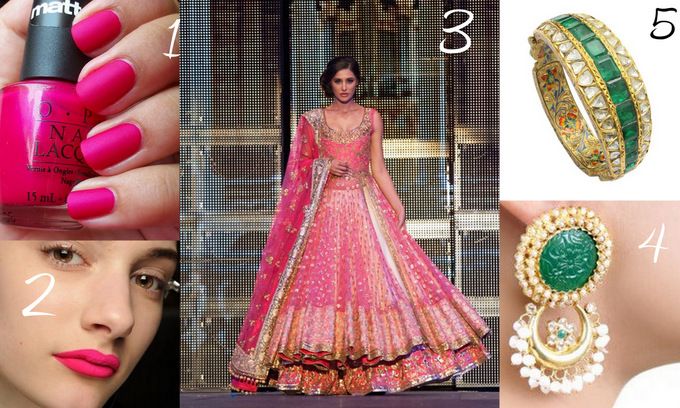 What to buy first: Bridal Outfit or Bridal Jewellery?
It's a bit like the chicken and the egg story - which comes first? Your bridal outfit or your bridal jewellery. While for the most part, I have noticed brides buying their outfit before choosing their jewellery (bridal outfit = more excitement than bling before you get married. Trust us, after yr married the bling is all you want ;) ) if you were to ask some styling experts (we remember Neeta Lulla definitely mentioning this) , you should
Choose your bridal set BEFORE your lehenga/ sari.
WHY? 3 simple reasons:
#1
Your jewellery is going to definitely cost a lot more than your lehenga and will  be an heirloom in the future . With such a heavy investment piece, you shouldn't have to compromise because of it having to match your already chosen outfit
#2
While its easy to switch up a blouse neckline or a lehenga color to match your jewellery, it is VERY hard to change any part  of a jewellery set . So always better to match your outfit to your jewellery and not the other way around.
#3
One thing you could do (I did this) - buy your polki/ gold set and tell the jeweller not to put the hanging beads at the bottom (these are the small rubies/ emeralds and pearls you see).  When you have you lehenga you can then tell him which color beads you want.
How to Co-ordinate your jewellery to your outfit
- Contrast is the way to go
So many brides think - Oh my lehenga is pink, let me wear rubies. While that looks nice enough, there is nothing more striking than emeralds with a pink outfit. (Maharani Gayatri Devi swore by this rule and she is kind of our style icon) . The green really pops against the pink and distinguishes itself . Similarly rubies look great with a green outfit , an all white outfit or even a yellow outfit ! If your outfit is Pastel, stick to colorless stones and pearls . If your outfit is a riot of colors- again stick to pearls.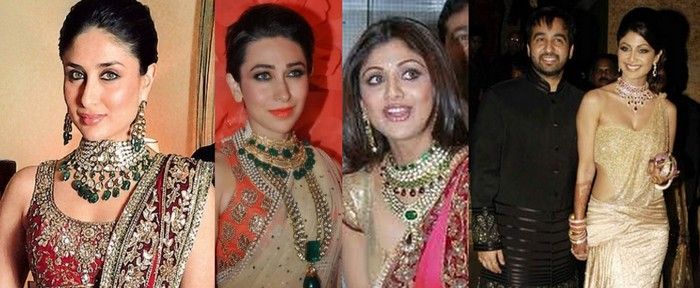 Contrast is the best way to co-ordinate! Emeralds + Pink outfit = Perfection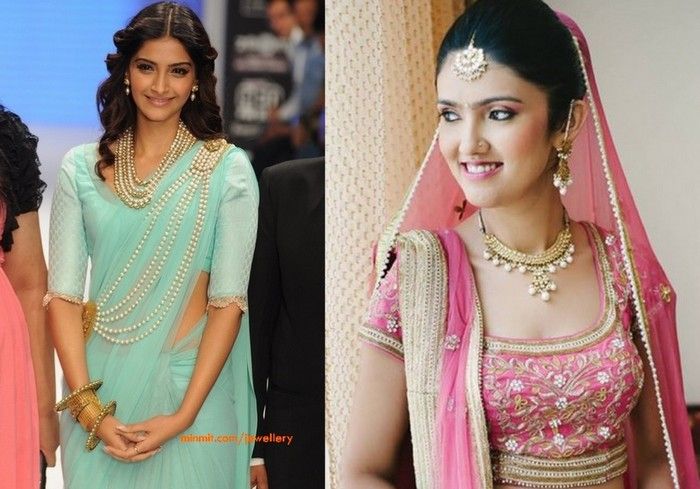 Pearls and Pastels are always a surefire winner! Right is Real Bride Chandan
- Your blouse neckline is important
A low blouse neckline looks great with chokers  and pieces of jewellery closer to the neck provided you have a long neck . A higher one is complemented with layering- a Rani haar and a smaller piece which come over the fabric  or absolutely no jewellery at all and just large earrings. Sometimes a higher neckline also works with a piece very close to the neck- but that should be color co-ordinated and look like an extension of your outfit
The shape of your neckline also matters .  Round necklines look good with round necklaces, V necklines look good with V shaped necklaces , but sweetheart necklines are actually flattering for pretty much any piece of jewellery. Both round and 'v' shaped necklaces work- personally favour a round necklace close to the neck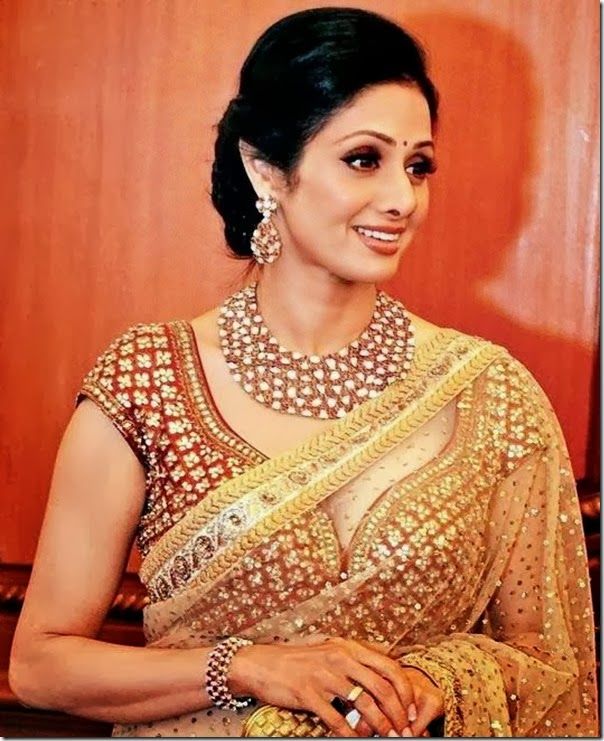 Sweetheart necklines look great with round necklaces close to the neck. They also look great with V shaped necklaces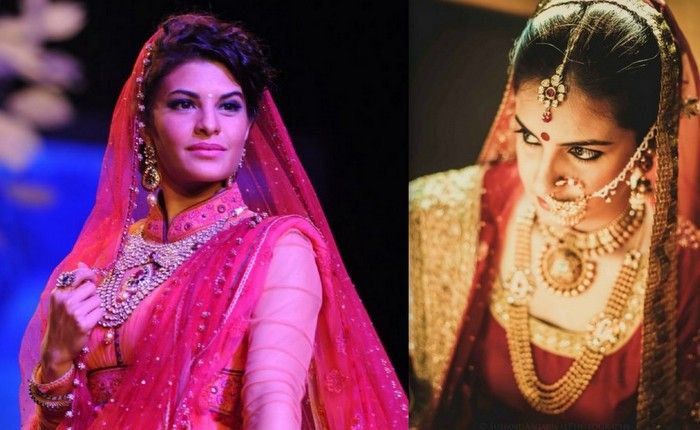 Higher necklines look great with layered jewellery
-
The style of outfit matters :
Are you going for a modern look or a vintage look? Your jewellery should make your entire vision come together and not just be a piece of accessory,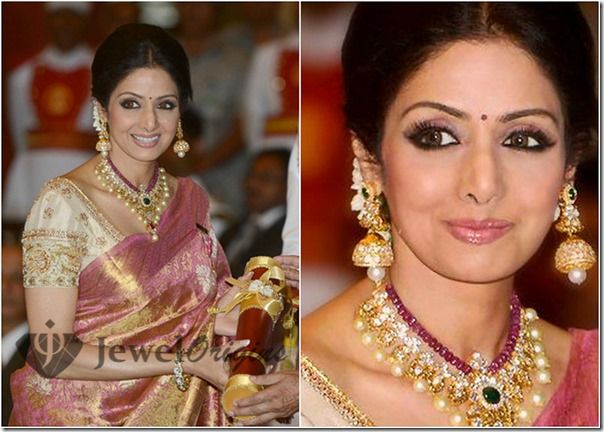 Absolutely LOVE how Sridevi mixed up diamonds, gold and pearls with her Kanjivaram- keeping the look contemporary and defying the norm that only gold looks good with Kanjivarams !
5 Jewelled Accessories You should consider
It's not just about the necklace , bracelet and earrings anymore. Here are 5 other jewellery pieces you definitely should consider: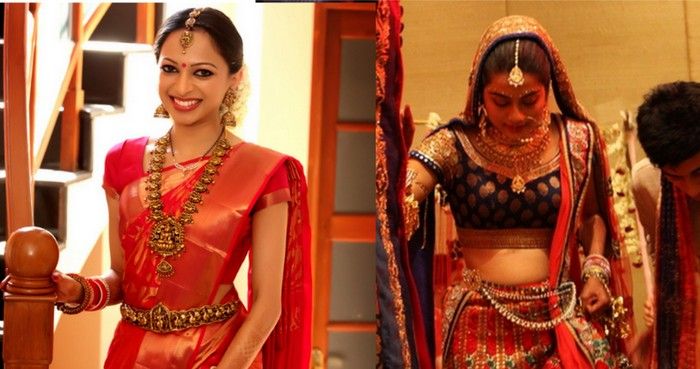 Left: Real Bride Anjus Temple Jewellery Waist Belt . Right: Waist belt with my lehenga!
-
The waist Belt
: It instantly changes up your look and you can tuck your dupatta in for a stylised, way to wear your lehenga. South Indian brides wear waist belts in gold all the time. LOVE Anju's temple jewellery waist belt - so gorgeous -
The bazubandh:
The armlet is a nice was to add a little something to your outfit. If you have thin arms, show them off ! -
The Pajeb :
Who cares about an anklet- it will be covered by your saree / lehenga right? Wrong! Some of the most beautiful photos of a bride come when she is lifting her lehenga to walk and that little pajeb can create magic! -
The Borla:
Move over Jhoomar, the hottest hair accessory these days is the Borla (Rajastahani maang tikka)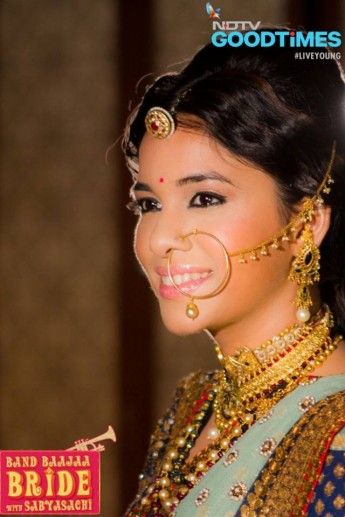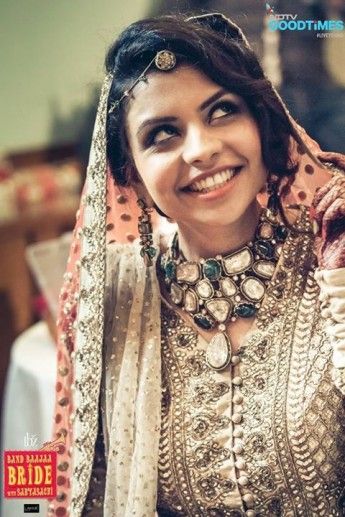 -
The Nath:
Most brides want the most invisible, non obtrusive Nath imaginable and we can understand why. But a nath can add grace to your look. Check out Vintage Bride Ishitas Nath above. Having a very thin nath with just 2 beads that come around your mouth can also look gorgeous (my nath on the right) -
The Cocktail ring:
Its the hottest new accessory and a must have for any bride. Adds grace and elegance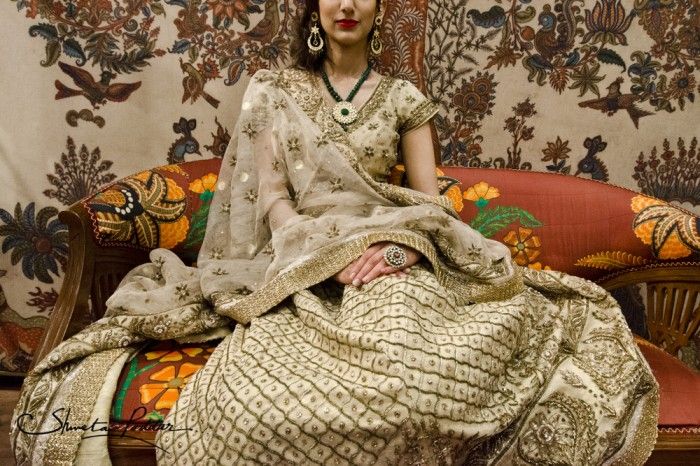 Notice the cocktail ring?  From our Ritu Kumar Bride for a day feature