How to get your Dream Wedding Venue for Less!
BY Sakshi | 23 Jul, 2016 | 1222 views | 5 min read
You have your heart set on a gorgeous 
venue
, where you can have the most stunning and romantic wedding... heck! You've even dreamt of having your wedding there... but there's just one problem... it's a bit out of your budget! Yes, a venue can come up to nearly 50 percent of your wedding budget, so it is important that you take this decision with a lot of care. But if you do have your heart set on one particular venue, then here are some tips on working towards it. So how do you go about fixing that problem? Here are some tips!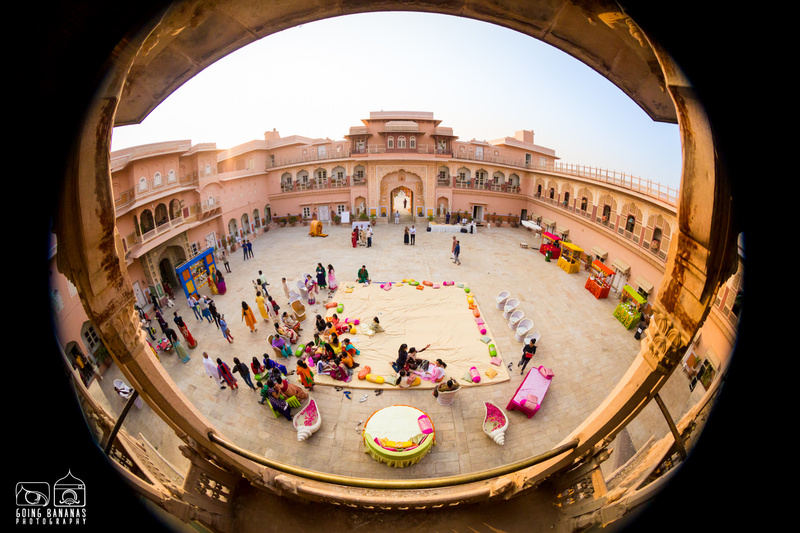 Photo Courtesy: Going Bananas Photography★ 5
Try the Venue Concierge Service for upto 30% off your venue
Yup, our
concierge service
gives you the best rates possible and incase we can't do that we refund you the fees in full. While this is limited to Delhi only, it is guaranteed to give you un unbeatable price.
---
Try a lunch event instead of dinner
The same venues would happily give you a much lower rate for a day event rather than a night time event. Sometimes you can save up to 40 percent just by switching around the timings for your events. Plus, who doesn't love a day wedding.
---
Have your wedding during off  season
This is a time when you can not just get the venue for lesser, but even trim down your entire cost if you're looking for a budget wedding. In India, generally March to May and July to September is considered as off season, mostly because of the weather and also because not many 'auspicious' dates are pulled out during this time as well.
---
Consider having a weekday wedding
Weekends are generally more in demand and priced higher.
---
Book the place as early as possible
Start maybe right from the time the date gets fixed. That way you have enough time on your hands to research venues and services and shop around. You even have a buffer period for negotiations as well.
---
Ask if the venue allows outside Alcohol
You can save big on your alcohol if the venue allows for you to arrange it from outside. This should definitely be the first question on everyone's list when they visit a property
---
Go easy on the main course, Stock up on live stations
They are not only more fun but turn out cheaper than going for a huge variety in your buffet
---
Negotiate!
While the prices might be dropped for the off season, not every wedding venue will be able to offer a discount during season, but there are some which will be all too happy to negotiate as they'd rather have a booking than an empty wedding venue. A lot of people do not even mention a discount out of pride, embarrassment or just plain fear. If you do want to ask for a discount, or rather the best price they can offer you, here are some things to keep in mind...
Look confident when you bring it up.. there's nothing to be ashamed of.
You might LOVVVVEEE the venue, and might do anything and everything to get it, but this is something only you and your family members should know! Be careful of how much of the emotion you show to the staff at the venue. If they realise you have your heart set on it, then they might not budge at all.
Be realistic in your demand. Asking for a 10 to 20 percent discount is pretty reasonable, and some places might be willing to go even higher during off season.
Keep some room for negotiation... you don't want to start so low that you end up realising you could have got a bigger discount, or start so high that they stop taking you seriously.
If it is a mid-week wedding, then they still might be able to budge as compared to a weekend affair.
Speak to friends or people you know who have booked the venue previously and find out whether they managed to get a discount.
Visit some more venues, especially their competitors and find out the price and discount that they are willing to offer. That way, you can quote their price when you negotiate with the place which you wanna book as your wedding venue.
Photo Courtesy: Neemrana Fort Palace Alwar★ 4.2
Tweak and trim
Look where you can tweak and trim the budget.
Whether it means cutting down on the number of events or guests, the choice is totally in your hands if you love the venue so much.
Pick your priorities. Decide where you want to splurge and where you want to save.
Also, find out where this venue makes most of its money from, and find alternatives to services which you can outsource to save money. Like if a venue isn't too fussy about a décor guy, but have their own caterer, then make sure to outsource the décor to a much cheaper alternative. If they're OK with you outsourcing all the major services, then that can save you a lot of money!
Important thing to remember
Once you have agreed over the price and the services verbally, make sure to get that in written as well, including the taxes. Only pay up the deposit up front. A good tip is to get wedding insurance. For more ideas on how to save money on weddings, click
here
. For simple upgrades to make your budget wedding look luxe,
here
are some tips!