How to Wear Your Bridal Hair According to Your Face Shape!
BY Sakshi | 15 Oct, 2016 | 12031 views | 6 min read
Calling not just brides, but BFFs, sisters, cousins and every other woman who attends a wedding!You must have been drooling over and pinning tons of hairdos for your or your sister's upcoming wedding, and are confused about which one is gonna look good! The answer for that should boil down to one MAJOR factor..
Yep! You should have definitely figured by now that not every hairstyle suits every face shape, especially when it comes to wedding updos! Some faces can carry off everything, while others might look flat/fat. If you are the bride, your face shape should be a consideration, since you are going to be clicked from the neck up in a lot of candid photos!
Here are some guidelines for wedding hairstyles that can be followed by every woman!
The first rule of course is to figure out your face shape. Here is a reference guide for that...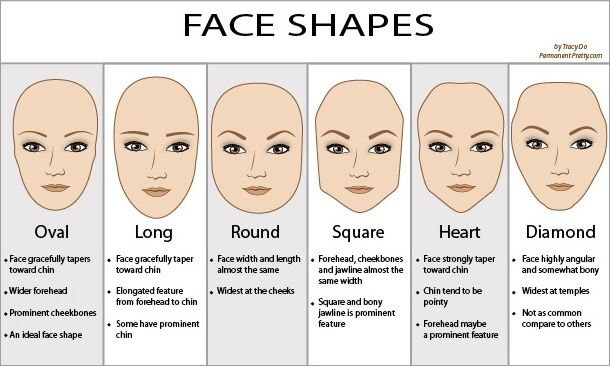 Photo Courtesy: www.pinksworth.com
So now that you have figured out what your face shape is, let's get cracking!
Round Face
Photo Courtesy: Karan Sidhu Photography★ 5
We love how this WMG Bride has balanced the roundness of her face with a volume of top, and soft loose waves on the side.
If you have a round face, you most definitely know that already! This is one of the challenging face shapes to work with, because the tendency of looking plump is always there, although the good part is that most people don't believe you when you tell them your age!
Dos
If you have a round face, it is better to create texture and bounce to help slim down the face and break up the shape.
Opt for having your hair in a mix of an updo and down in a loose style, preferably with bits coming around the face, which can take off from the roundness.
Having a sideswept fringe is a good idea, as opposed to a blunt cut fringe.
Give some volume under the dupatta when you put it on the head, otherwise the face can tend to look chubby.
If you want to leave your hair loose, pick voluminous wavy hair over flat ironed and straight hair.
Don'ts
Flat hairdos tend to make the face look chubbier, so don't get something tight and flat.
Stay away from a super straight or sleek hairdo as this can make the face appear even rounder.
Oval or Long Face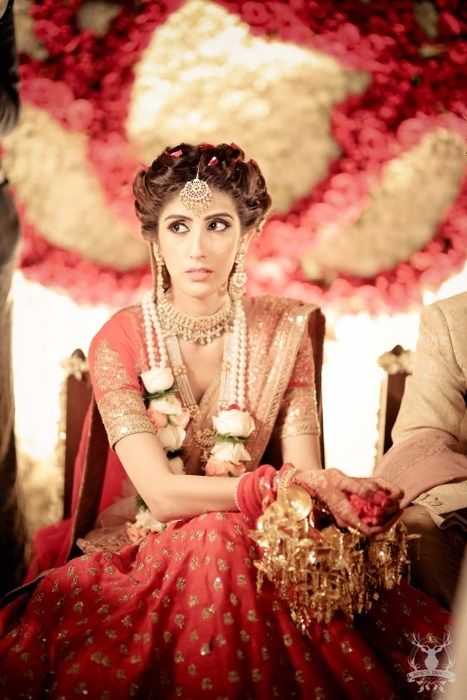 Photo Courtesy: Morvi Images Photography★ 5
We love how Real Bride Shagun has balanced her thin and long face with some volume on the sides.
Think Katrina Kaif or Sonam Kapoor. We are clubbing oval and round together, because when it comes to hairstyles, they can pull of more or less the same ones. And yes, if you have an oval face, we are jealous of you 'cz you are very lucky in this department! You can pull off almost anything!
Dos
Choose something that's going to break the length of the face. If you have a really long face, a fringe will work well.
Since you already have the length, adding some width by creating an upstyle at the mid section of the crown or to one side will balance the face out better.
Don'ts
Picking a hairstyle which has a lot of height is not a good idea. It will make the face look really long.
Making the hair very tight at the sides also works to accentuate the length of the face, which again is not a good idea.
Picking a centre parting draws the attention to the longest part of the face, making it look longer. (this point is only for oblong faces. Oval shapes carry off centre parting well)
Flat straightened hair makes long faces look much longer, so break them with some waves or curls.
Square Face
We love how WMG Bride Parnika has chosen a side part partially covering her forehead, to add softness to sharp jawlines
Think Kareena Kapoor or Keira Knightley. This is said to be the best face shape to age with, and with your strong jawline and chiselled cheekbones (in most cases), you can look very edgy. So the point here is to add some softness to your face.
Dos
Texture, waves and curls work really well for square faces as they add softness to the face.
A side parting instead of a centre one looks good as it helps to break the width of the face.
Since you have a very angular face, a longer fringe which falls lower to the eyebrows and is sort of sideswept looks good as it balances out the angles.
Don'ts
Wearing all your hair up in a very tight updo style is something that doesn't really flatter a square face shape as it draws all the attention to the broad jawline.
A centre parting does not look very flattering on you either. Makes the jawline look very prominent.
Heart Face Shape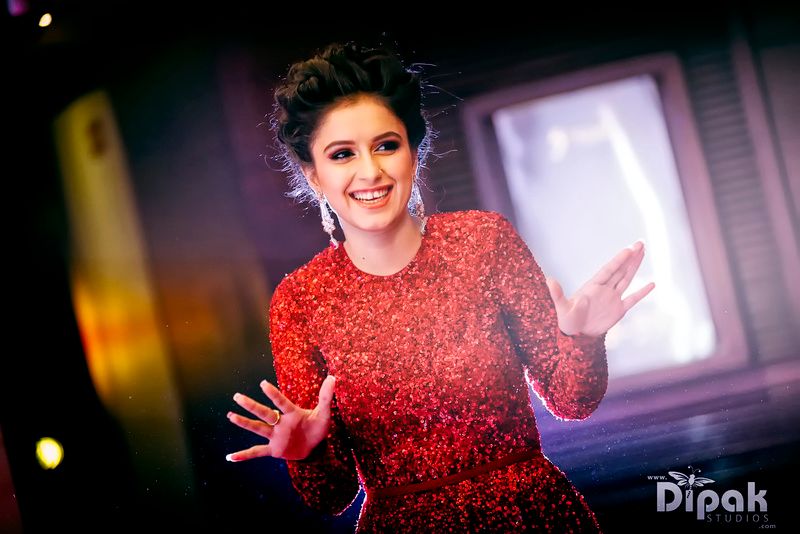 Photo Courtesy: Dipak Studios Wedding Photography★ 4.8
We love how WMG Bride Neha opted for this pretty braided updo for her heart shaped face.
Think Alia Bhatt or Deepika Padukone. This kind of a face has a broader forehead and a very sharp chin. When it comes to hairstyles, this is said to be the easiest face shape to work with!
Dos
Leave some soft curls loose around the face, especially along the jawline as this will help to accentuate cheekbones and add width to a narrow and pointed jaw.
Any kind of fringe works well to balance out such a jawline.
Don'ts
Sorry, no don'ts for you. Try whatever you want! Lucky you! But if you do have a broad face or pointy chin, avoid slicked back hairstyles.
Diamond Face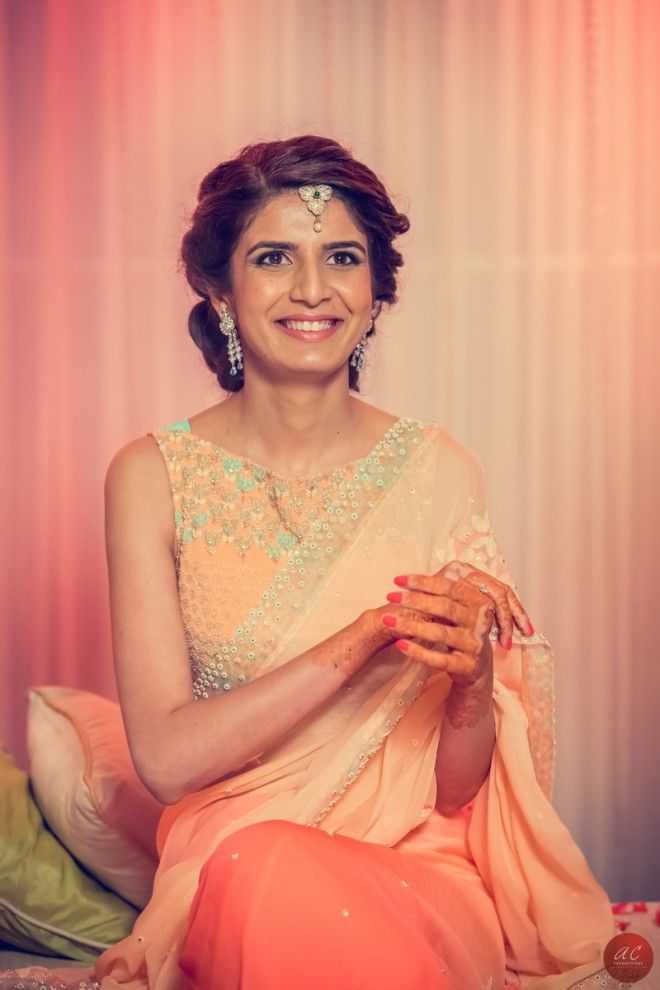 Photo Courtesy: Artcapture Productions★ 4.5
We love how WMG Bride Natasha has balanced her high cheekbones with a loose updo to create softness around the face.
Think Maliaka Arora or Nargis Fakhri. You have a mix of both a square and a heart shape, and your cheekbones are killer (so jealous!) The only thing to keep in mind is that your face is very angular, so softness needs to be created to balance out the harshness of the face.
Dos
Create some height at the sides to accentuate the cheekbones and balance out the jawline. So voluminous wavy hair like Malaika Aroras looks very nice on your face shape.
Hair left loose looks better on your than wearing your hair up. This creates some softness around the jaw. If you do have to tie your hair up, leave some wavy/curly strands loose.
Don'ts
Avoid wearing all your hair tied back in anything too tight as this is too harsh a look on your face for a wedding.
To know what kind of hair ornaments will look good on your face shape, click here.
So, all sorted?