Indo-Western Outfit Options for Brides to be !
BY The WMG Bride | 14 Sep, 2014 | 5321 views | 4 min read
One of the rather frequent reader queries in the past have been of Indo-western outfits for cocktails, receptions and stuff like that. First of all, not many of you know about our Bridal wear image gallery right here (can be accessed by scrolling down from the Homepage). You can then proceed to filter it by color, by function and by type of outfit- so anytime you need outfit inspiration, just click away!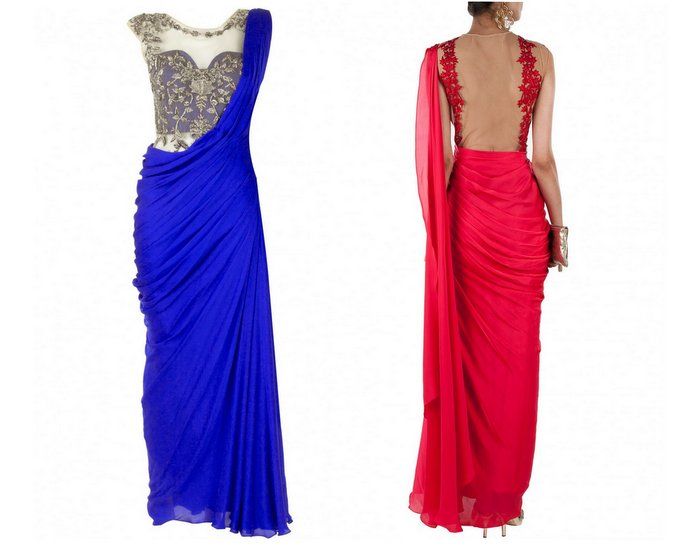 #1 The Gown Sari
Love some of Sonaakshi Raaj's gown saris (picture above) and in general, anytime you think indo western, think this route. The silhouette of a sari, but in a gown format! It could be an evening gown with fabric draped like a pallu, or a gown with a cutaway blouse giving it the sari look, but a gown sari is a fail proof way to Indo-westernise your look for a cocktail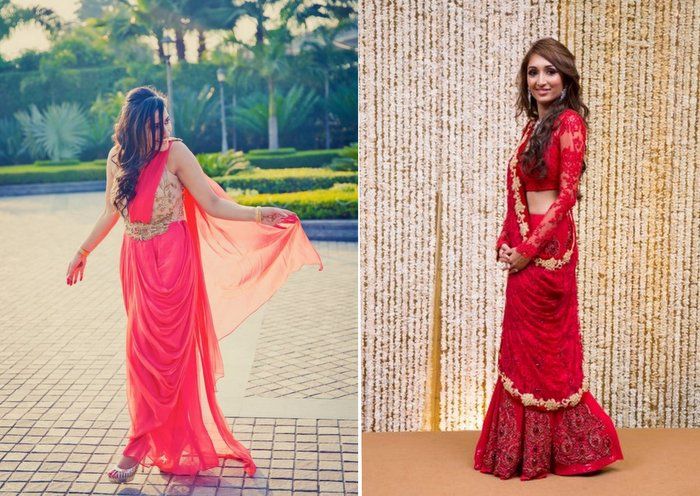 Two of our real brides: Real bride Radhika photographed by Mahima Bhatia and  Real Bride K photographed by Wedding Salad wore Gown saris. Click on their names to go to their real wedding articles and see where they bought their outfits from
Where to buy them:
Splurge on a Sonaakshi Raaj, Raakesh Agarwal or Tarun Tahiliani draped saree. These designers have sarees upwards of 75000 Rs
Save on a trip to Shahpur Jat in Delhi where you will find quite a few designers such as Monika and Nidhi, Ministry of Design by Winky Singh, House of Ombre , Nitya Bajaj doing draped saree gowns . You can get nice saree gowns for 30-50K INR
In Mumbai you can get these at Armaan by Sunaina Puri, Aza, Shruti Sheth  etc
#2 The Slit Silhouette
A gown with a high slit worn with a dhoti/ churidar/ pyjami is another interesting Indo- western twist.  The churidar underneath gives it an anarkali like feel while the gown gives it a western touch. You could make it even more interesting by adding a dupatta/ scarf to your ensemble to indianise it enough.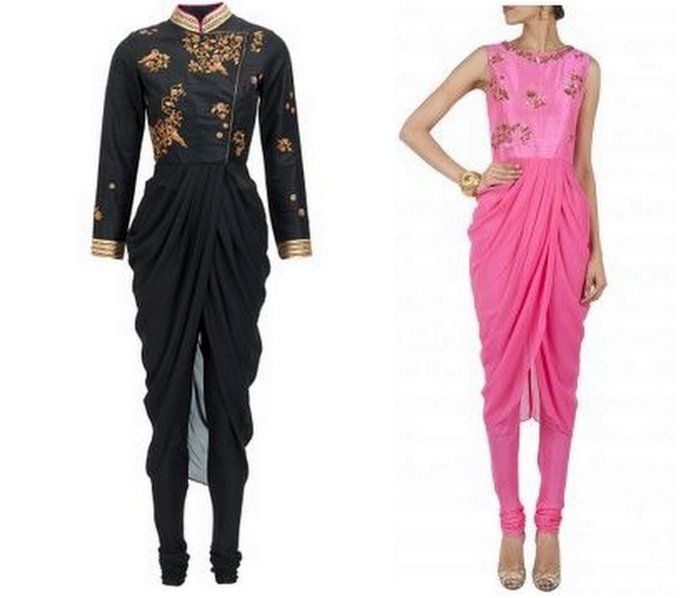 #3 The Non Salwar Kameez, Salwar Kameez
These beautiful draped pieces by Tisha Saksena are a super cool silhouette to flaunt. You can make them heavier by adding embroidery all across the top of the blouse and then add embroidery on top the churidar as well. They give an almost oriental touch to an anarkali
Where to buy them:
Tisha, 1600 AD Boutique in Shahpur Jat Delhi , ask your local boutique to make it.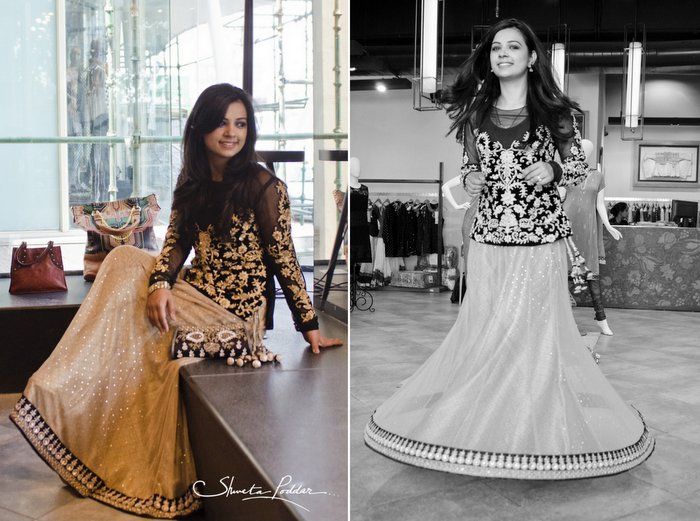 #4. The corset-skirt that looks like a Lehenga
Putting together a light skirt, with a gorgeous embroidered corset blouse like the one above, or an actual corset as well is another really great Indo-western option for your cocktail/ reception event. Just dial up the embroidery factor depending on how heavy you want it, and keep the silhouette more or less straightish for it to look like a western outfit.
Where to buy
The one above is by Ritu Kumar and costs under 50K
These ones are generally custom made so local boutiques like Akshay Kalmadi in Mumbai or your favourite local boutiques in Delhi should be able to do these.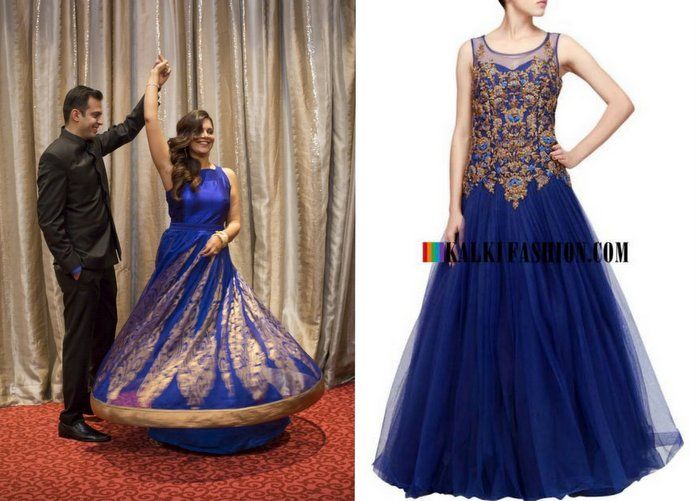 5. Floor Length Gown
Indianised embroidery on a floor length gown would be a great option as well for your cocktail night
Where to buy them: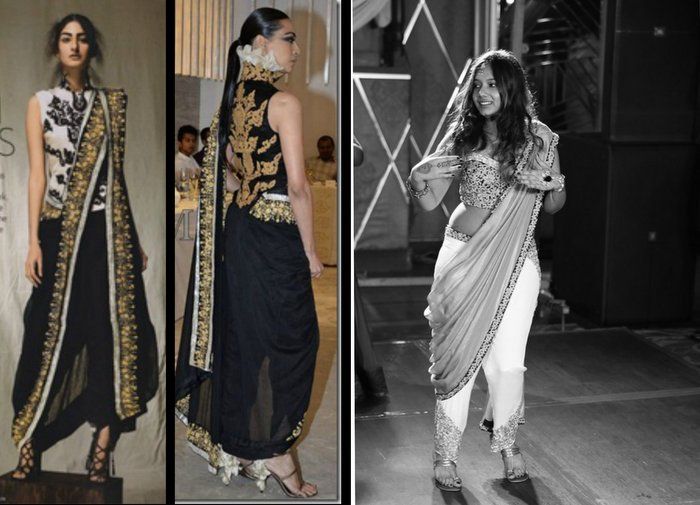 6.The Pant Sari
Super chic, Super edgy and modern , the pant sari is the fashion forward brides ensemble. Infact , the sister of the bride (on the right) from our real engagement story wore a Pant sari!
Where to get them
Splurge on Anamika Khanna, Sonaakshi Raaj
Save on them by visiting Ornate in Shahpur Jat (pant sari is roughly for under 30K there). The girl on the right got hers from a store called Dharna in GK 1 .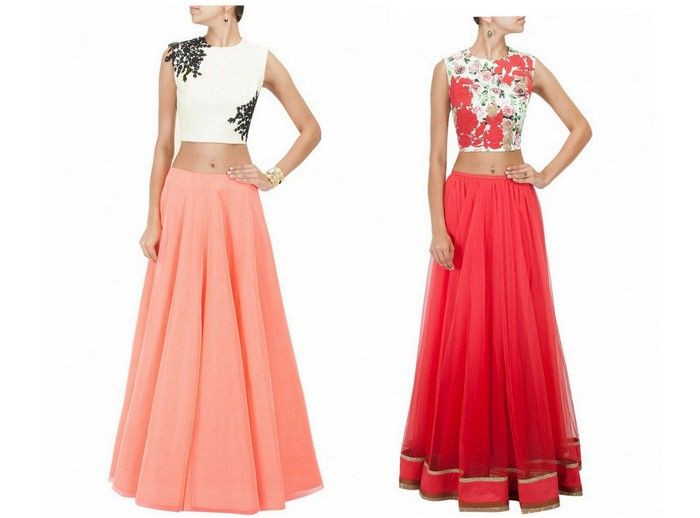 #7. The crop top lehenga
A crop top lehenga is a fun, new age silhouette and is most often, worn without a dupatta making the entire look super Indo-western and contemporary! Make sure your tummy is flat and you are in great shape to rock this one.
Where to buy them
Splurge on Sabyasachi's latest collection which featured a generous dose of crop top bridal lehengas.
Save by purchasing a Ridhi Mehra crop top (pics above prices at 8000 INR ) and getting a beautiful , plain raw silk skirt stitched with it !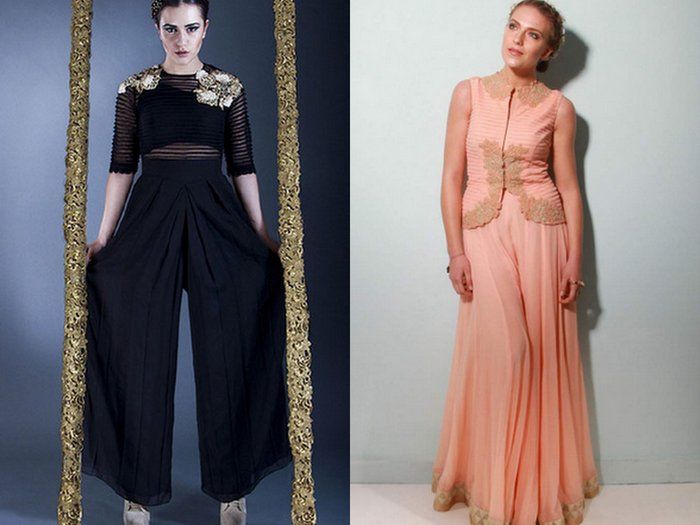 #8. The Indianised Jumpsuit
Who says a jumpsuit needs to be limited to western wear, Ridhi Mehra's gorgeous jumpsuits are the perfect outfit for a bridal brunch!
Where to buy them:
Ridhi Mehra prices them at 30,000 INR but you can get them heavier and customised for a cocktail or dressed down for your youngsters.
Please google for contact details of boutiques mentioned!