Inside the Vogue Wedding Show Part 1: Follow us around
BY The WMG Bride | 12 Aug, 2015 | 6949 views | 4 min read
Missed the three day invite only extravaganza that was the Vogue Wedding Show? Well , fret not because we have for you guys the next best thing to an actual tour inside the show ! We took our camera's (well not our cameras, but the photography team of
Camera Waale Baraati
) inside the show to bring you the best of what it had to offer. Do note the stalls were incredibly crowded, so we may not have been able to get you every thing but here is what unfolded.
First Stop: Bespoke Vintage Jewels by Shweta Gupta 
This little display right at the entrance of the show made us sigh, and sigh some more. Some of the most unique, statement jewellery pieces we have ever seen. We are a sucker for colored gemstones , and the kundan choker with blue beads, the gorgeous emerald drops, the long raani haars- all of them were MAJORLY on our lust list. So stunning.
See more from Shweta Gupta here
Next: Anita Dongre
The Anita Dongre store was so crowded with excited brides to be trying on outfits in pastel hues that we came back twice, only to find it even more packed than before. As Anita carefully draped a beautiful peach floor length gota patti gown on a client, we literally drooled over the color pallette at this stall.
(Bottom two photos:Anita Dongre facebook)
That rack- had everything we would buy in a heartbeat! Lehengas in raw silk with the most beautiful periwinkle blue, pista green, warm sunset peaches and pastel pinks. If pastels are your thing then Anita Dongre is THE designer to visit this season.
Okay, time for some jewel drooling at Sunita Shekhawat
Secret: we have a weakness for Meenakari done right, and no one does it better than luxury jewellery designer Sunita Shekhawat. This particular pink and emerald green set was just beyond stunning . The lotus motifs used were super unique and we can totally imagine a bride, in a muted blush pink Anita Dongre lehenga with Sunita Shekhawat jewels to boot. Le sigh.
Unique gifting solutions at Swarovski
As we left the Sunita Shekhawat stall, with bridal dreams in our head , something super sparkly greeted us at the very next stall. This, gorgeous installation was the Swarovski presentation. If you were wondering what ever could Swarovski possibly offer for a family at their wedding apart from its signature gift pieces- think again. Some AMAZING gift ideas at Swarovski. Hang on, let us take you through them
You can give Swarovski any photo and they will digitalize it in Swarovski Crystals. Such a unique gift idea!
Remember how we said having giant initials on your wedding is a thing now? Well, what better than a floral wall and the initials made out of crystals?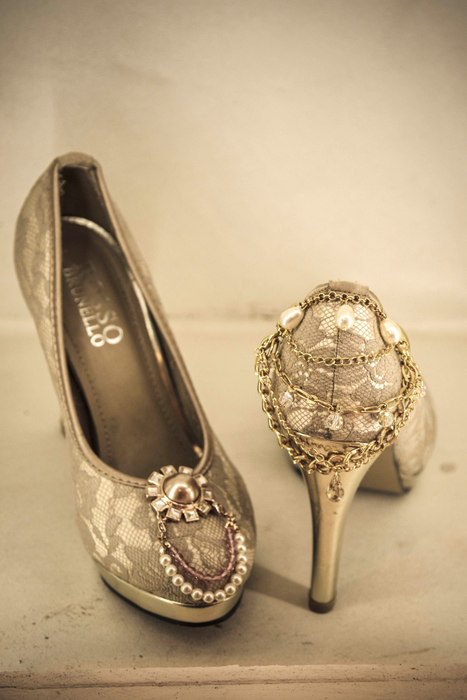 On the right: Shoe charms. These are great for gifts to give your bridesmaids- just add them to any shoe and glam them up. Another cool thing Swarovski is doing now- completely customised jewellery. So say you want your entire bridal party to wear a certain type of bracelet- Swarovski will do that for you!
That's not just a napkin ring. Its a napkin ring which doubles up as a modern bracelet, so you can think of it as a cool wedding favor to hand out. Also the place mat and the cushions all have swarovski detailing.
Drumroll please- Can we have some Sabyasachi?
"Omg thats him" whispered a girl excitedly as she entered the Sabya store. Sure enough, Sabyasachi Mukherjee sat patiently inside his stall on the side answering questions from brides to be, media representatives as well as fans. While his showing at Couture week 2015 did not have much in terms of bridal wear, his stall definitely did!
Red was the color of choice for Sabyasachi. Sparkly, sheer, rich or opulent- each of the garment were in tones of vermilion. Particularly loved the sequinned saree, the red velvet lehenga and had a peek at his shoe collection in collaboration with Louboutin, and we were in love.
 Stay tuned for Part 2 as we unravel all the good stuff that we saw at Anju Modi, Tarun Tahiliani and more!