Interesting New Photobooth Setups and Props We Spotted!
BY Sakshi | 24 Jul, 2018 | 11938 views | 6 min read
Not considering a photobooth for your wedding? Well, one look at these and we might just be able to change your mind! Yep, here are some cute new photobooth ideas- from simple to complex ones but all of them stunning nonetheless! So pick a favourite and get it implemented in your own version for your upcoming wedding!
1. This simple swing with dry flowers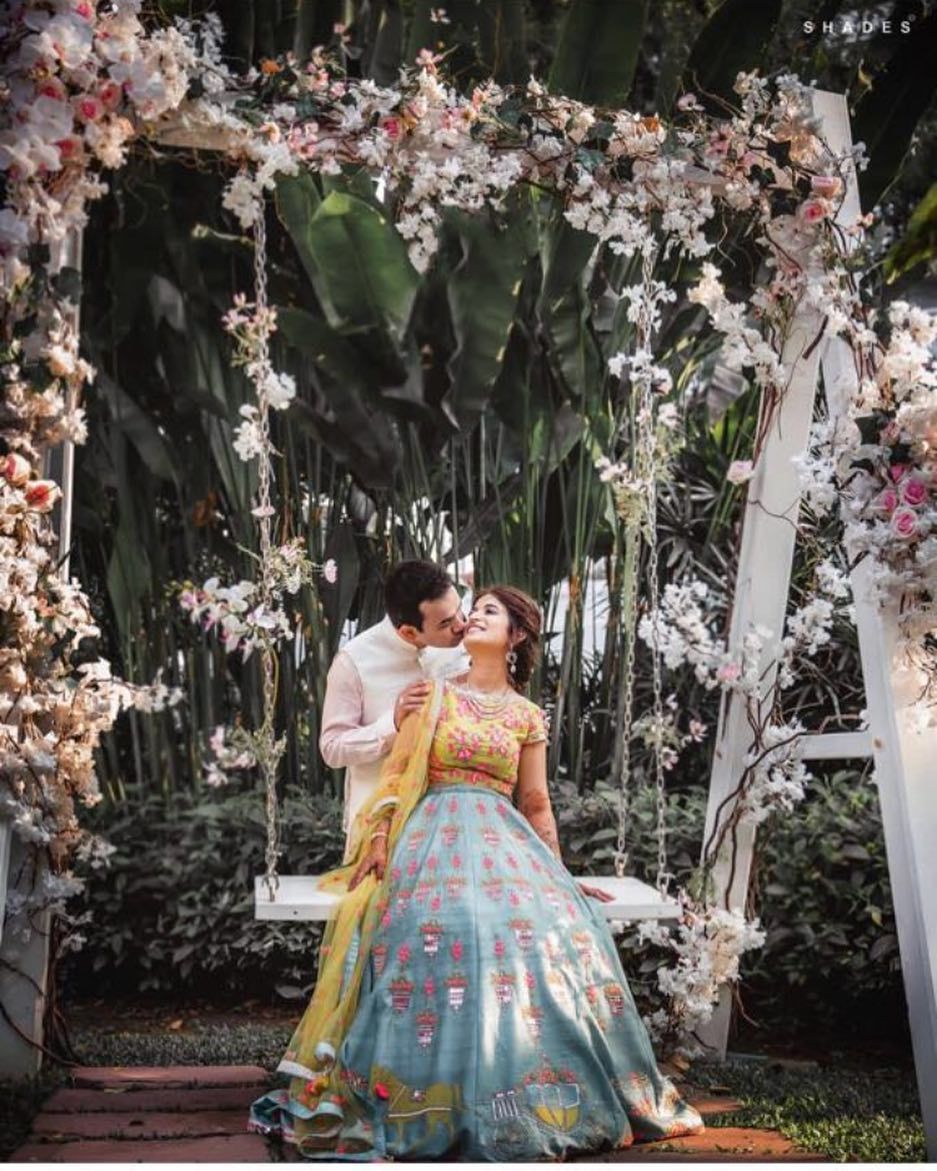 Image via Shades Photography★ 4.3
Have your own fairytale moment by adding a swing full of pink flowers to give it a dreamy vibe with this selfie booth. Beautiful memories yet beautiful pictures.
2. Or this one with the elaborate floral and paper decor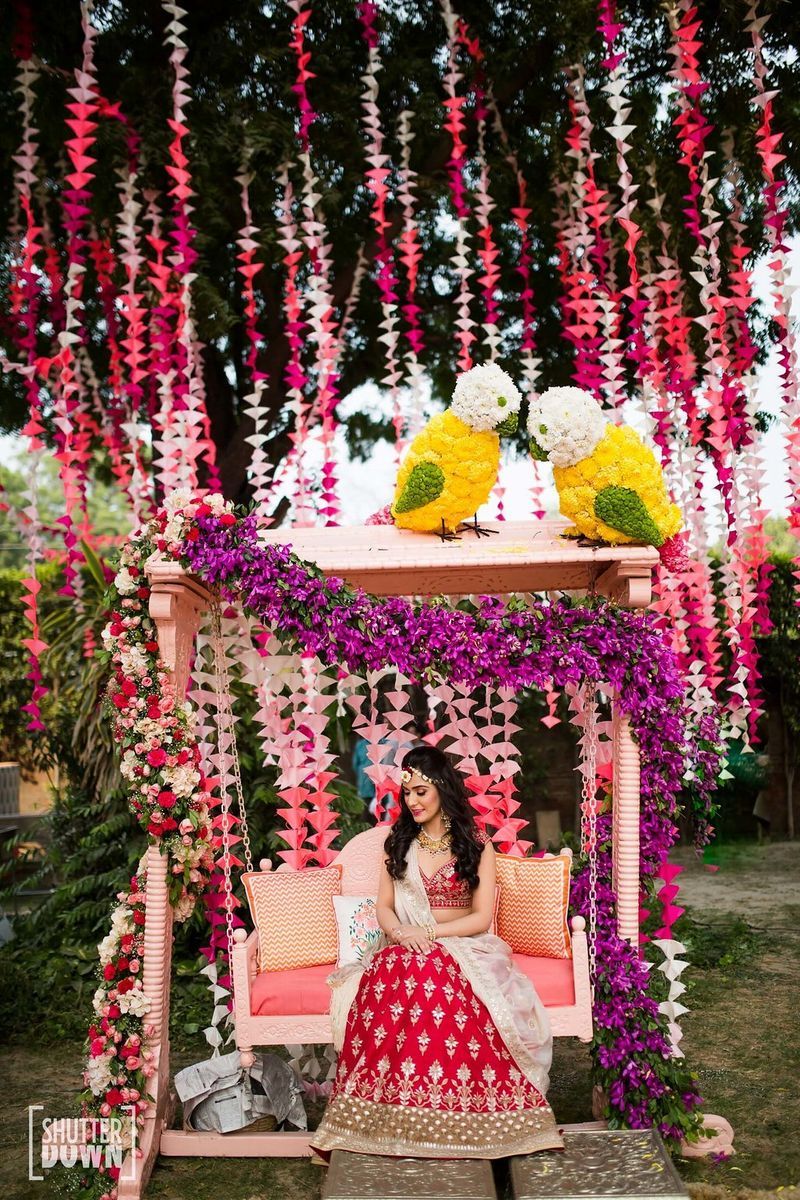 Image via Shutterdown - Lakshya Chawla★ 4.9  and Decor by Abhinav Bhagat
his enchanting carriage like seating decorated with flowers and paper decoration mixes absolutely well. Do not miss out on those strings hanging by the tree!
3. This one with the painted crates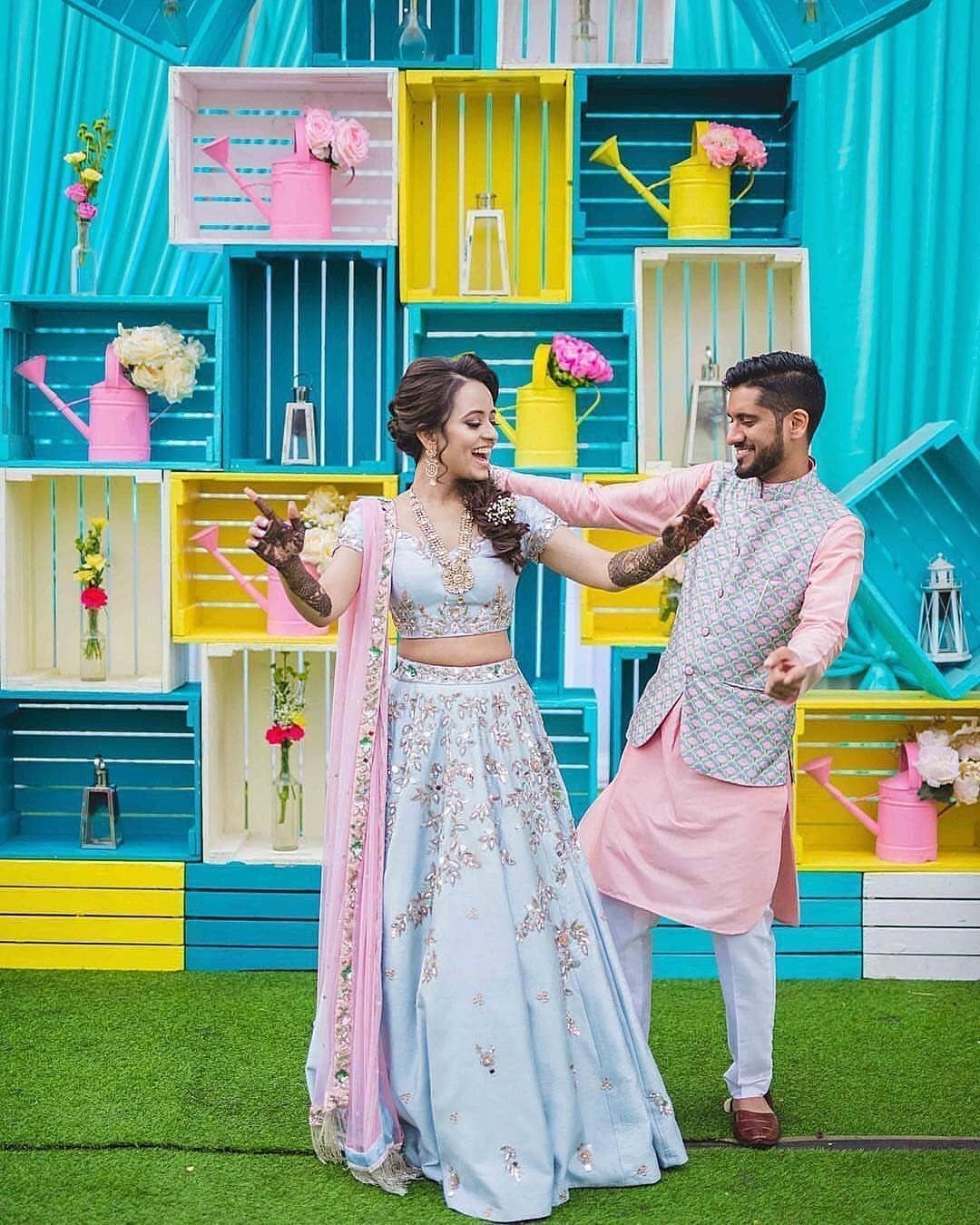 Image via Snapsoul★ 4.7  and Decor by @moondustdesign.gs
This DIY selfie photo booth is an excellent idea if you want to have some fun as well. Gather all your cousins and just paint it away. The pastel and vibrant shades mix with each other just the right amount
4. This super cute ombre one with the paper hearts!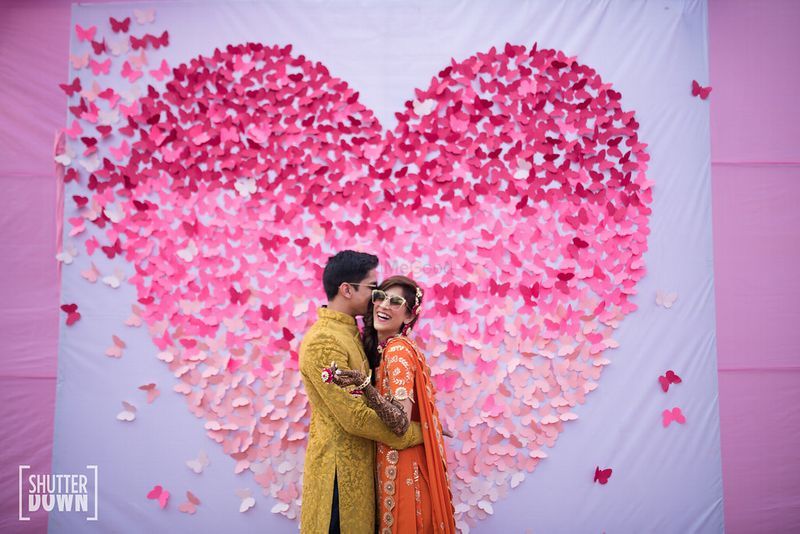 Image via Shutterdown - Lakshya Chawla★ 4.9
Butterflies under a heart to get clicked with the person giving you butterflies. Simply love this idea of paper cut out and decorating. To make the selfie photo booth more fun, you can ask your relatives to write cute messages on them!
5. Or maybe this one with the floral wall and that cute quote!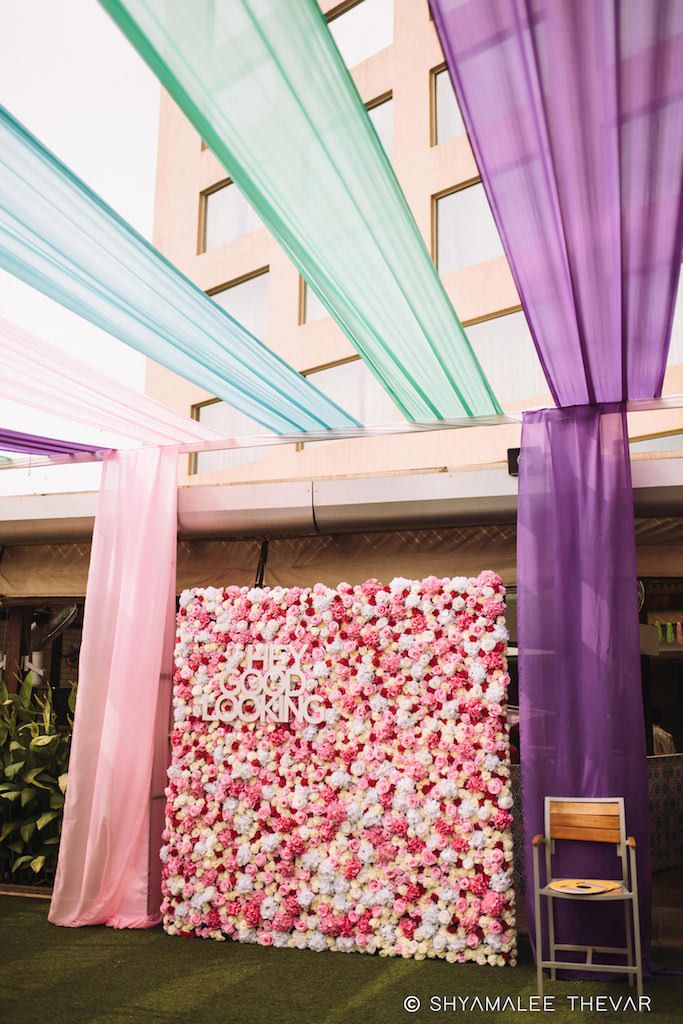 Image via Shyamalee Thevar★ 4.9
Shades of pink make this floral wall look mesmerising. Keep your cameras ready for some mind blowing pictures!
6. Pop Art anyone?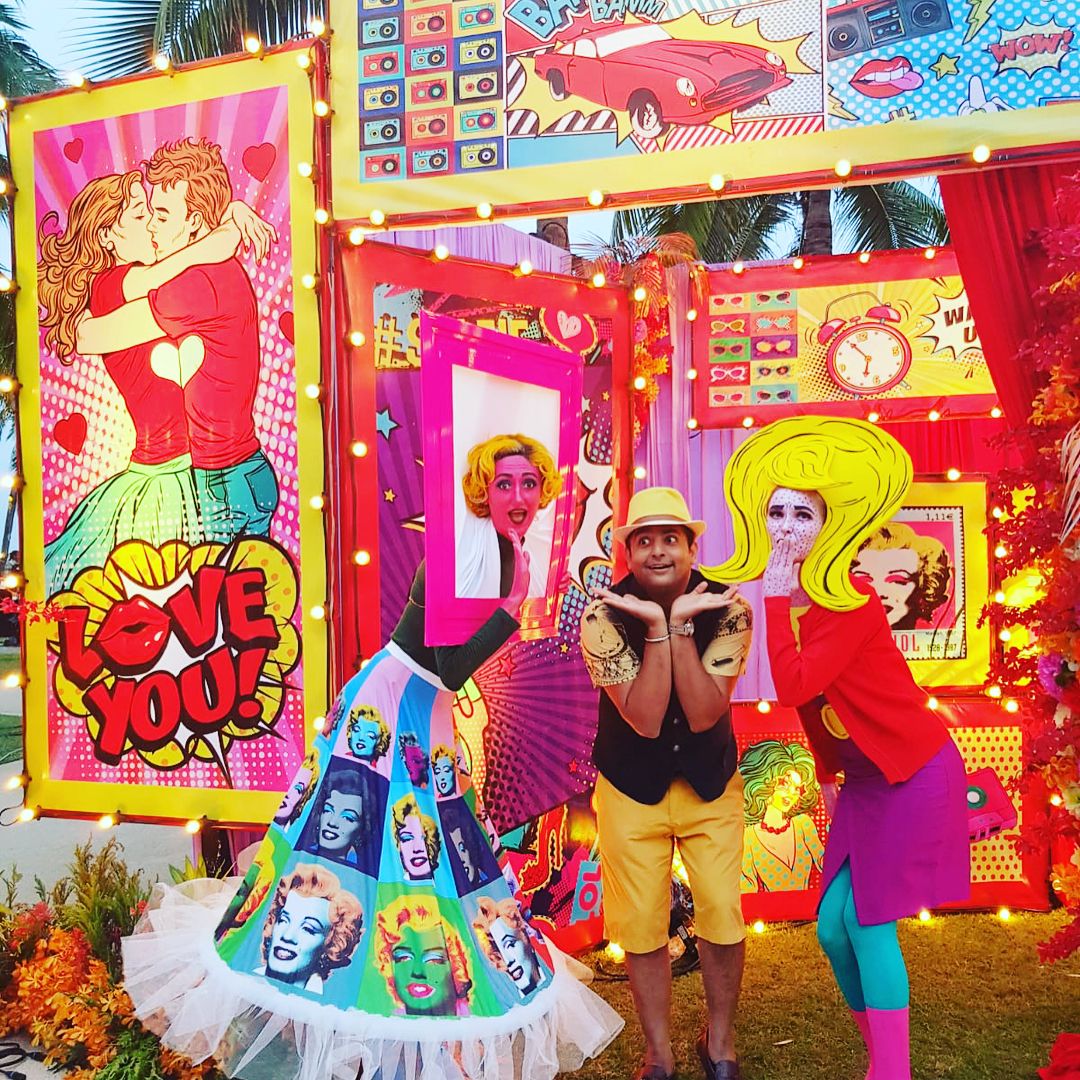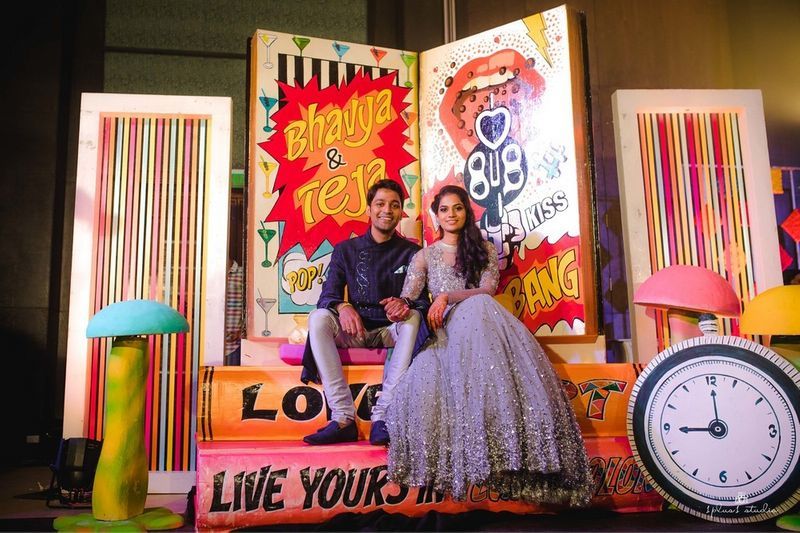 Decor via Pink Palki★ 5  and The A-Cube Project★ 5
Some fun is always considered lesser fun. These colourful and filmy photo booths are a must to add in your wedding.
7. The wedding hashtag in a giant version!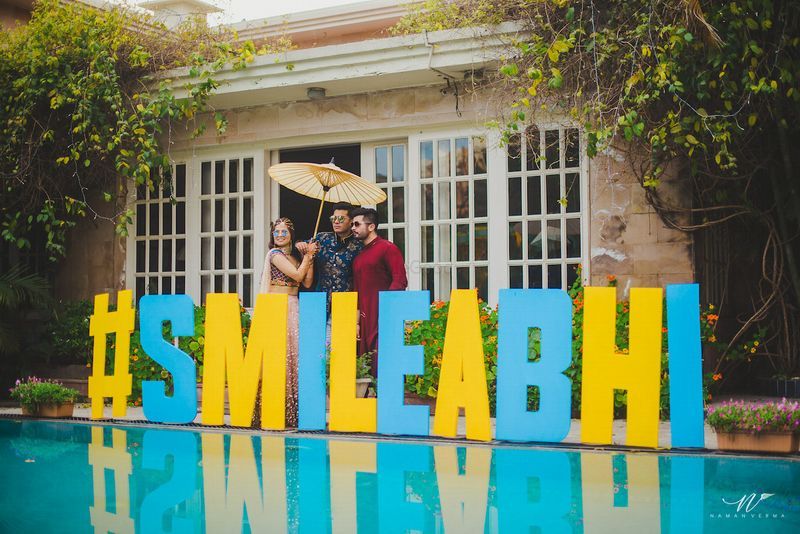 Image via Naman Verma Photography★ 5 and Decor by Shanqh Luxury Event Planners and Decorators 
And as we say, a little personalisation does no harm and this is a trend that is being followed by almost everyone. Get yourself a ship name and let the world know!
8. This cool one with the hanging bottles!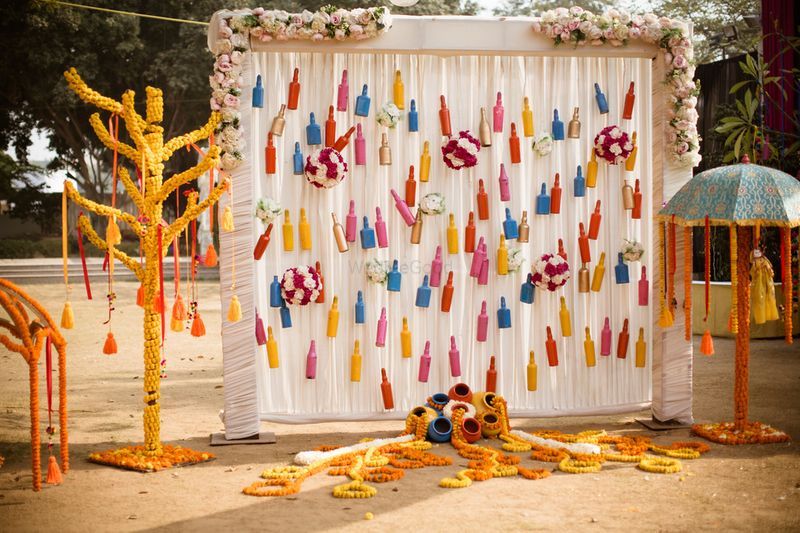 Image via Rupannshi & Vipul (Delhi)
Want to add a little colour to your haldi photo booth that is usually yellow and white? Try these colourful hanging bottles and keep it lowkey!
9. This giant floral wreath that looks amazing!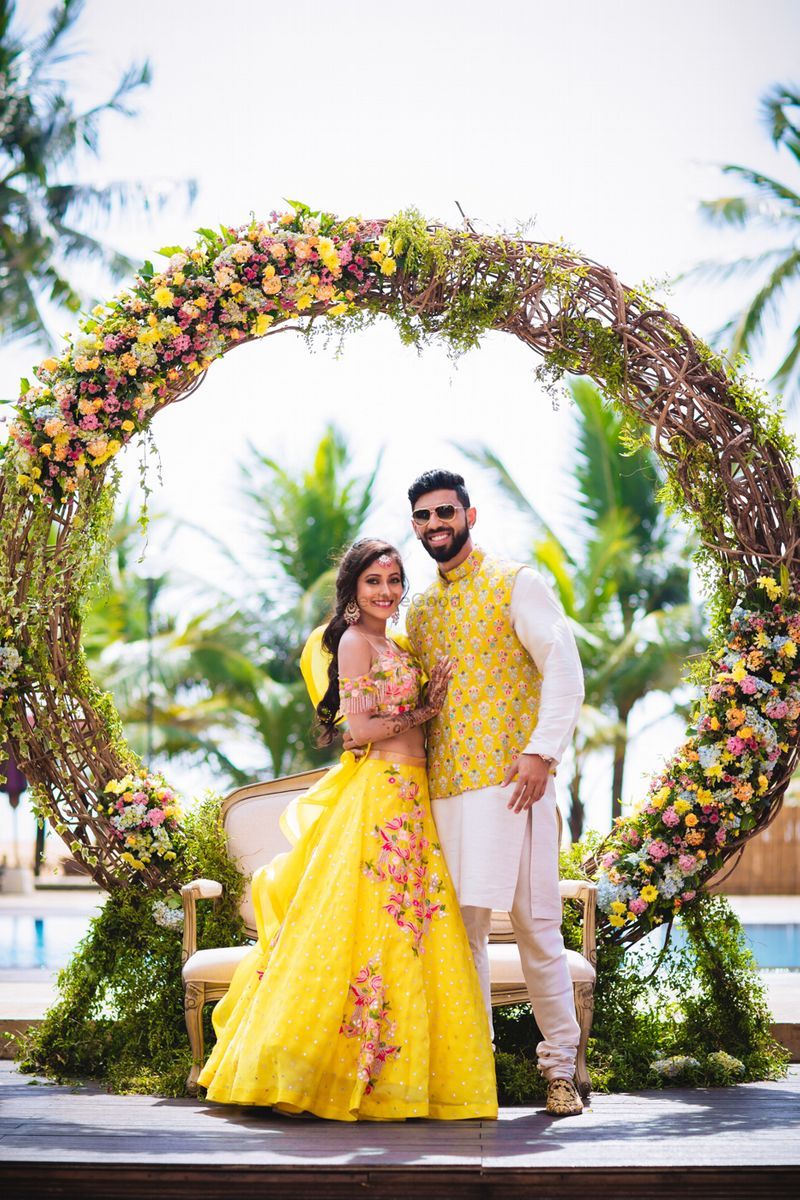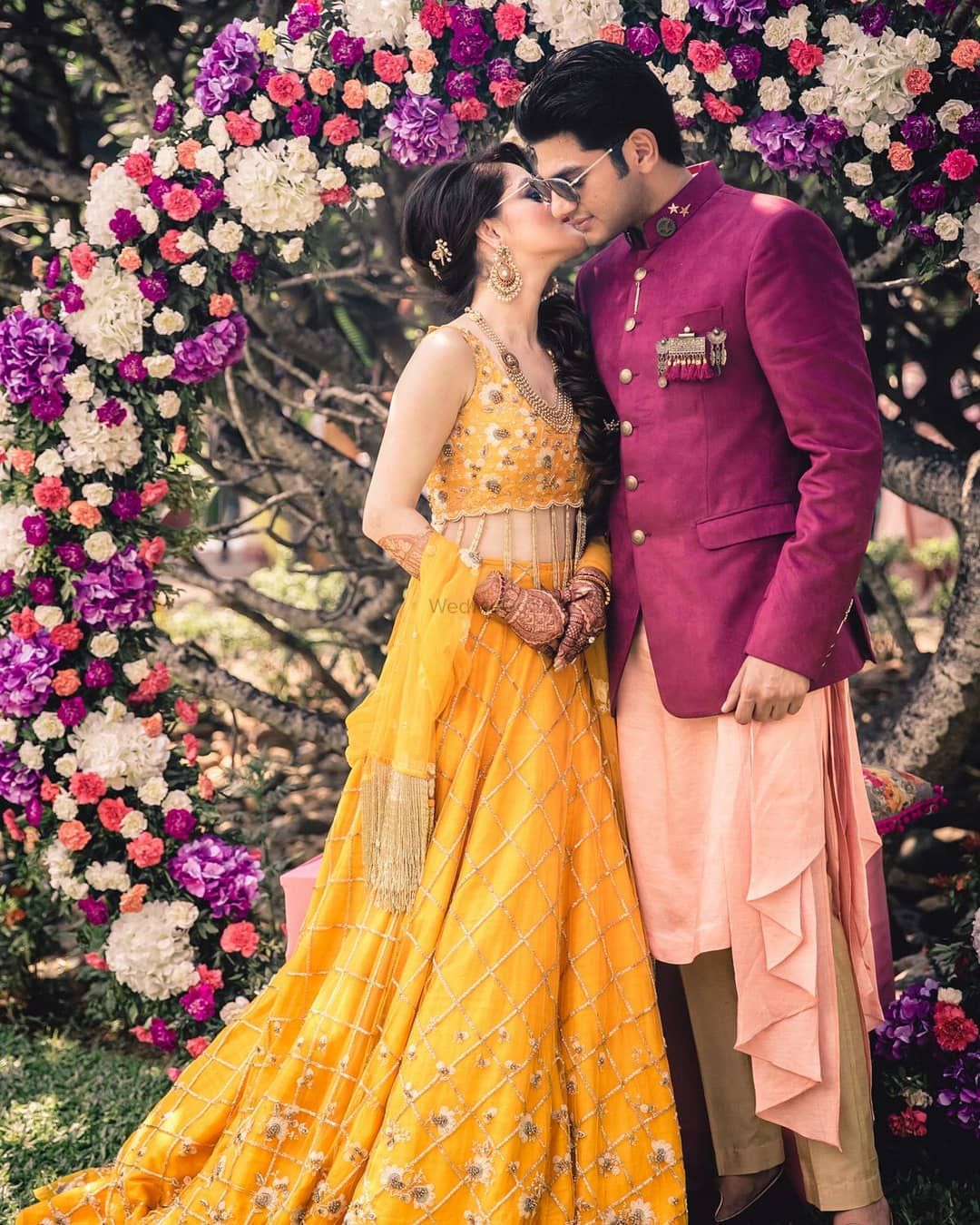 Image via LightBucket Productions★ 4.9  and Atisuto★ 4.6
A circle of love and a circle of flowers? Oh yesss!
10. Or this one that's like a floral chariot!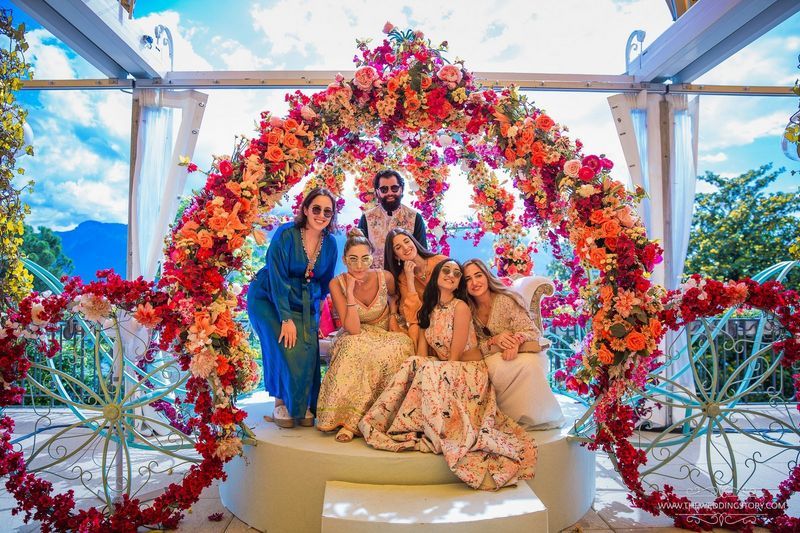 Image via The Wedding Story★ 5  and Decor by The Wedding Design Company 
Build your own Doli but in a haldi photo booth way. Try something with flowers cuz we know, they will never disappoint you!
11. This one that's so retro Bollywood!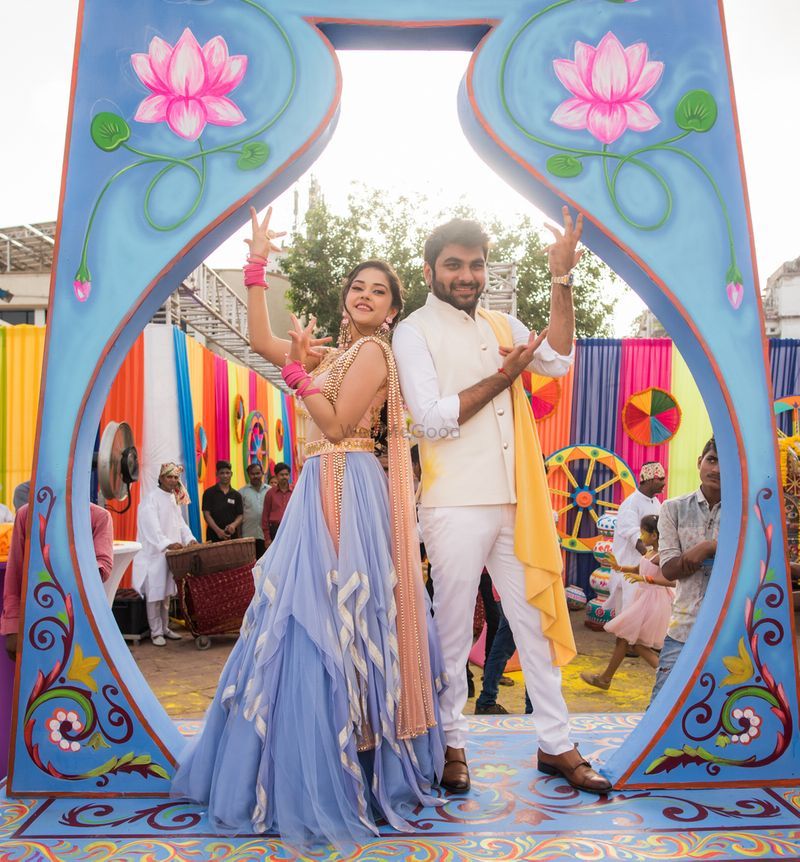 Image via Vivek & Dimple (Mumbai)
Theme weddings are always fun. Make the theme of your mehendi retro and add this crazy photo booth for some crazy pictures!
12. Or maybe this vintage scooter with the side car!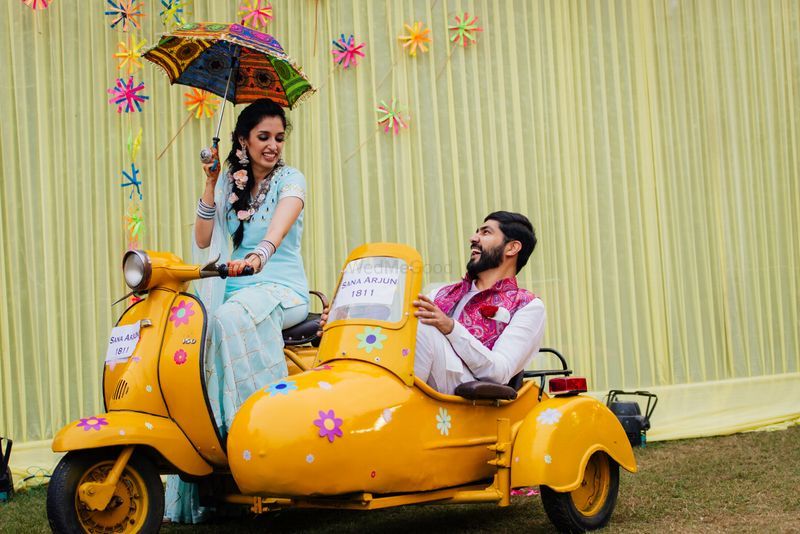 Image via The Wedding Conteurs★ 5
Have your "Zindagi Ek Safar Hai Suhana" moment with your loved one by adding this quirky scooter to your selfie photo booth.
13. Or this one with the genda string curtains!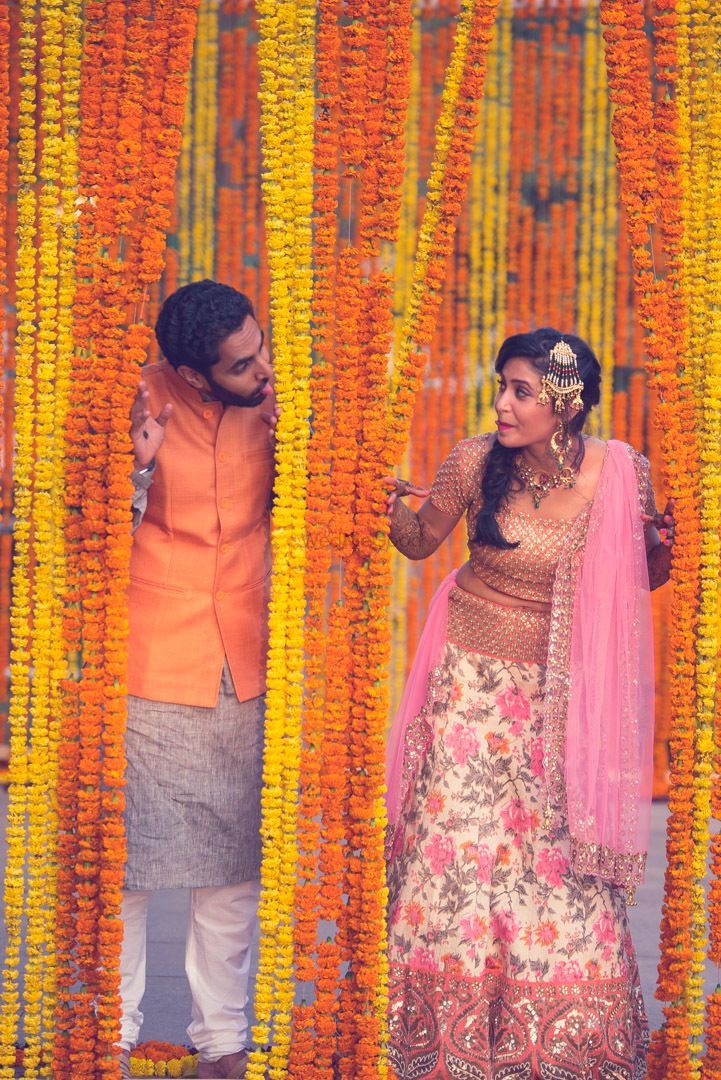 Image via Studio F2.8★ 4
Go over and different with the type of curtains you choose for the selfie photo booth. Why not try something with flowers? Here is a curtain that will simply take your breath away!
14. Or this sweet one that's so pretty!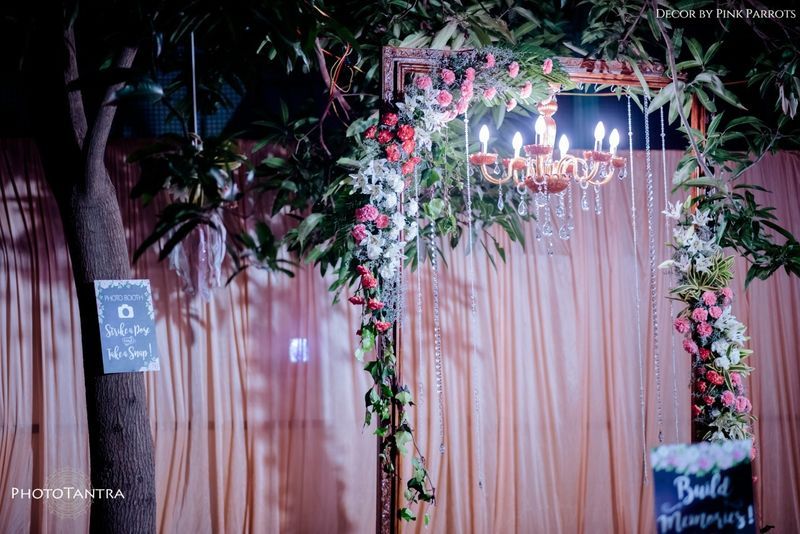 Image via Phototantra and Decor by Pink Parrots
Just a chandelier and a border of flowers and leaves? Why not! All the brideys get to live their cinderella moment with this selfie photo booth
15. Not a vibrant lover? Go neutral for your selfie photo booth decoration!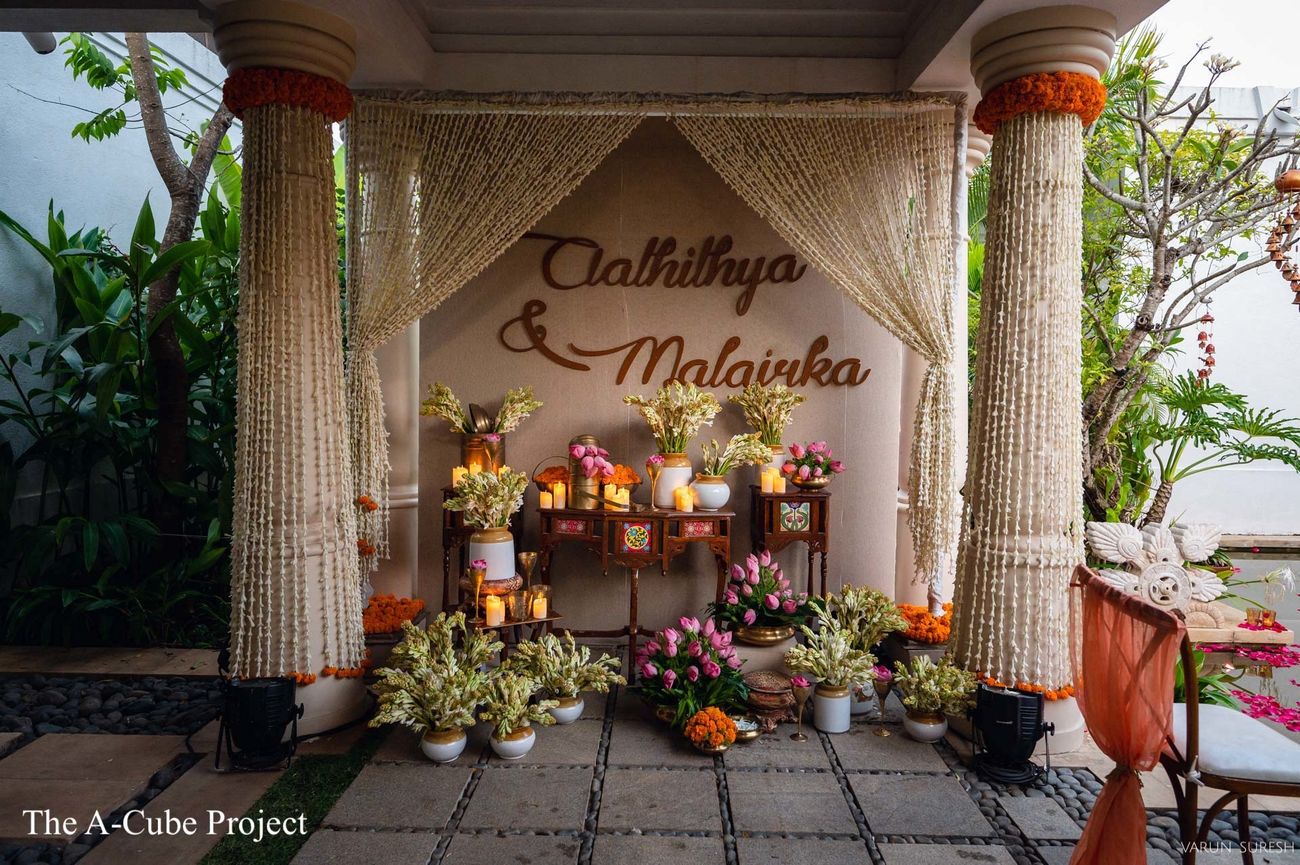 Image via: The A-Cube Project★ 5
This is an amazing idea for your wedding photo booth, making it look extremely different by adding neutral hues and your names as well. Amidst the subtleness of colours comes a pop of orange with the genda phool combining really well!
16. Green and white can never go wrong especially when there's some creativity going on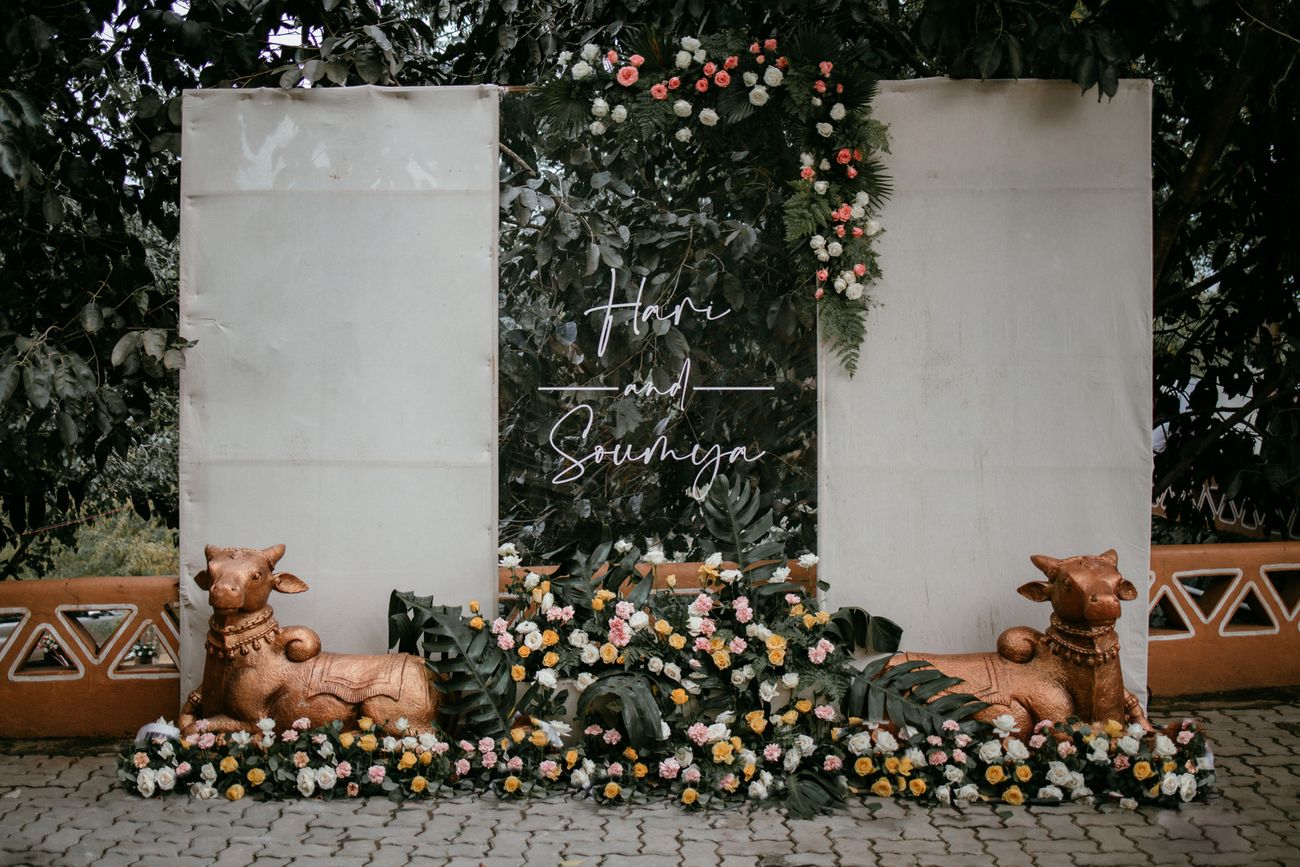 Image via: Vivahhika★ 4.9
This photo booth in the image is giving us major goals as everything simply looks perfect. The tones used in the image and personalised hanging of the names, the pop of pastel roses and how can we forget the cows made of tamba. All exquisite!!
17. Go extreme English with some greens and pinks for your selfie photo booth!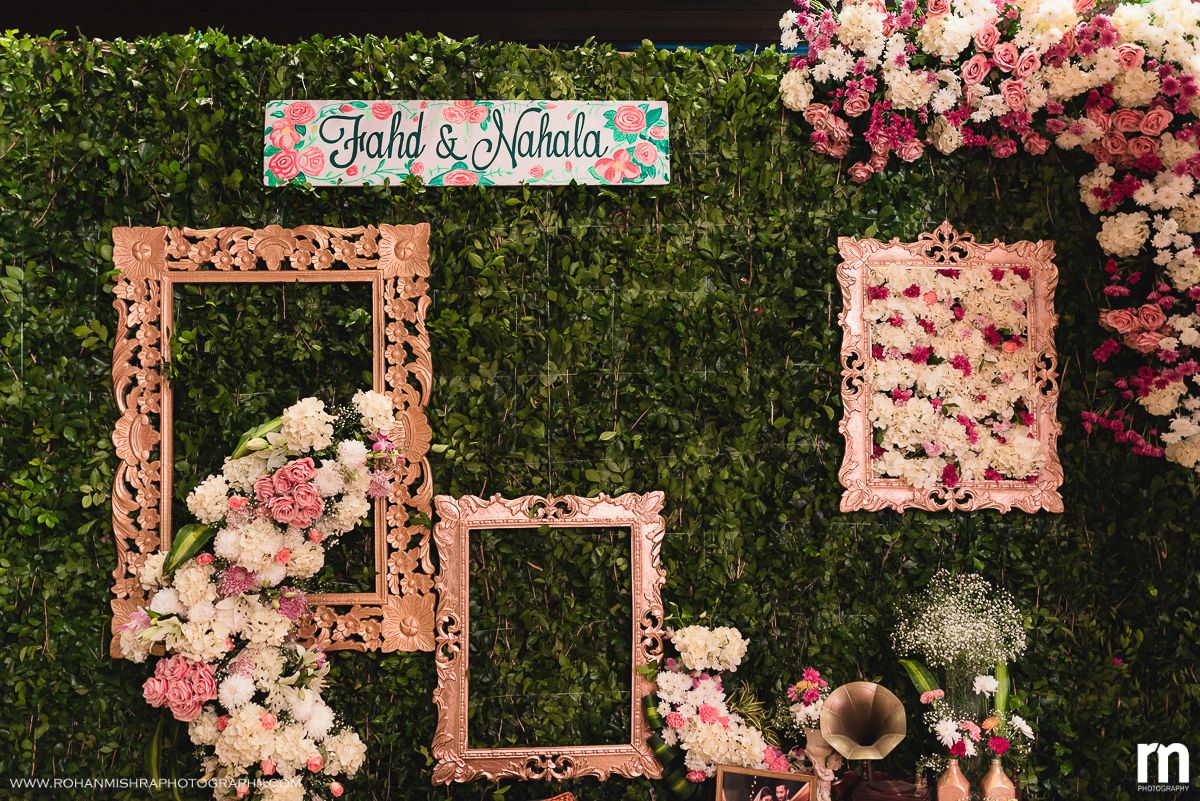 Image via: The Leela Palace
Everything really seems to be all floral and pretty. With different shades of pinks mixing amongst the roses and combining absolutely well with the leaves all over. A small banner with the couple's name over it. Props that are oh-so-english and we simply cannot neglect the cute gramophone placed there!
18. Simplicity can never go wrong...they say and it's proved right down below!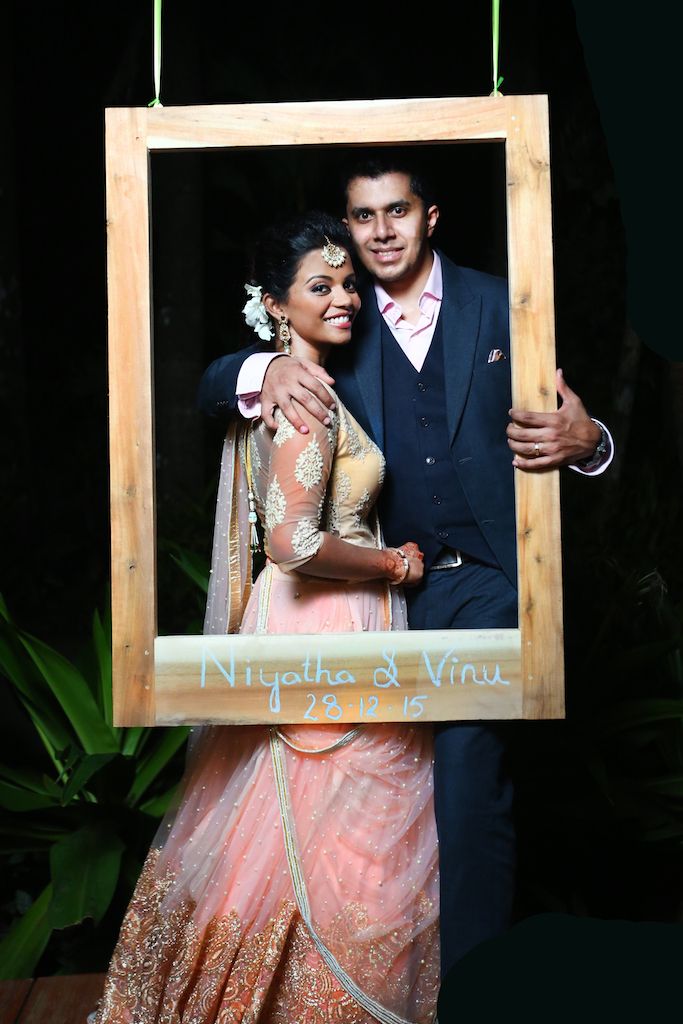 Image via: Abhishek Gupta
Just a simple wooden frame hung over a tree or a stand with your names and your D-day date! Super simple yet a classic idea for the photo booth.
19. Vibrant personality calls for some colours in your haldi photo booth!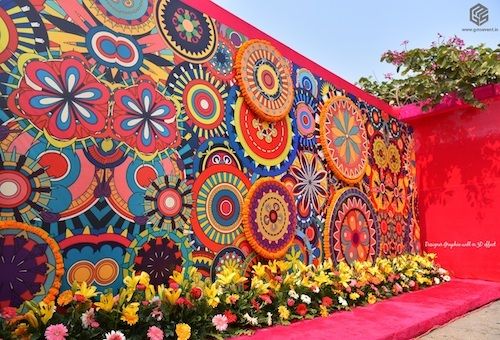 Image via:GMS Event Planners★ 5
Colours can never go wrong instead they make your event lively, create a wall full of colourful wheels and patterns with some flowers on the ground and this can be your perfect haldi photo booth for the day time.
20. Another head spinner haldi photo booth for your perfect pictures!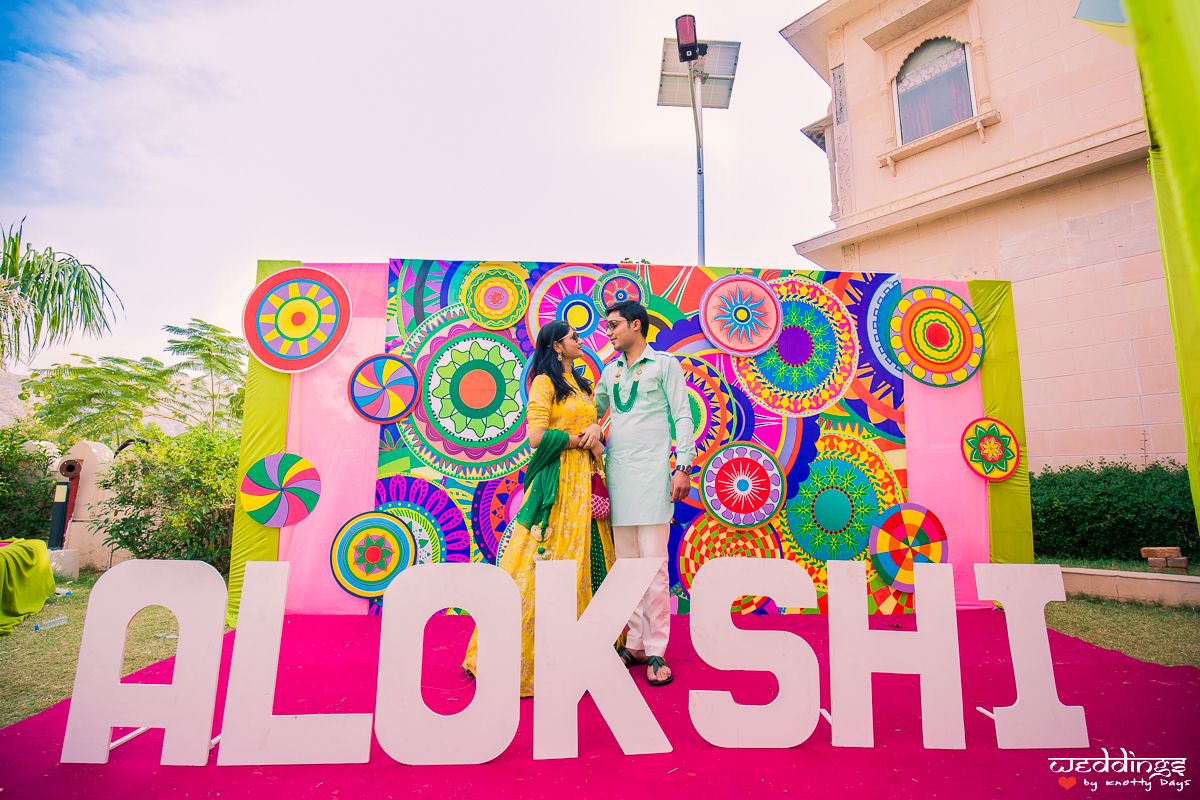 Image via: Weddings by Knotty Days★ 4.8
Flaunt your ship name in a way that comes in every frame of the pictures clicked cuz duh..it is your wedding. Create a wall full of colours and patterns which will make an excellent backdrop for all your haldi photo booth and pictures!
21. We're simply in awe after looking at this stunning and classy selfie photo booth!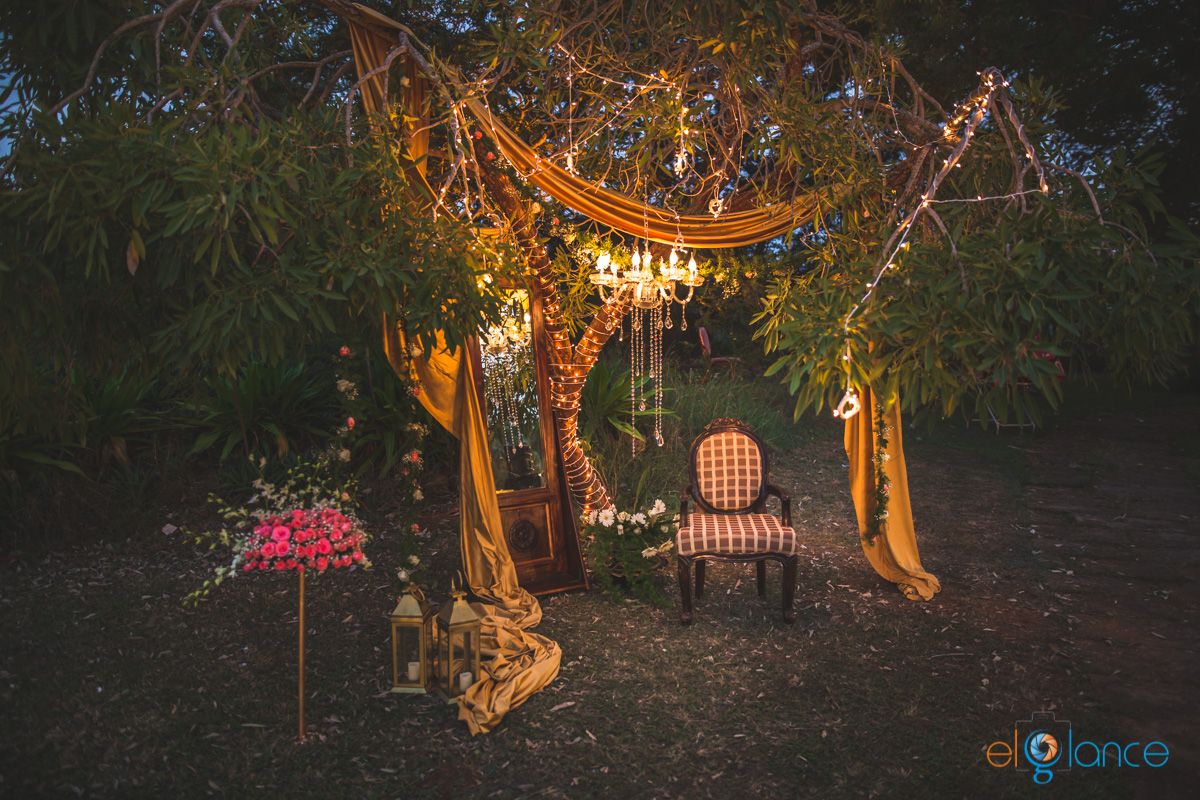 Image via: With Love Nilma★ 5
With Love Nilma★ 5 oto booth has simply won our hearts. In the modern world where everyone is dying to add a little vintage vibe to everything, this photobooth can trend up every game. Less efforts, less props, more exquisite and stylish! People, get ready to pump up your instagram!
22. A princessy selfie photo booth majorly loved by the bride and her girlies..!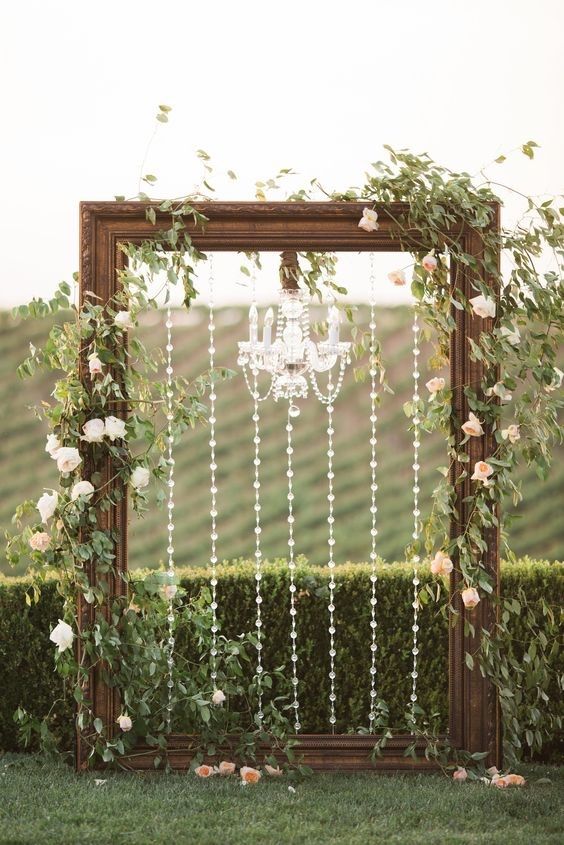 Image viaEvent Affair★ 4.9
Pitch perfect when we see this photo booth, some light strings dangling away to our hearts, with a chandelier, a huge wooden frame to fit a bunch of close ones decorated with some greens and pastel roses. You've got to get some pretty daylight pictures for sure! Very easy and breezyyy.
You dont just need an awesome photobooth for your wedding! Booking an equally amazing photographer for your wedding to capture all the fun!
ALSO READ: Awesome Floral Wreaths That Are Perfect As Photobooths! * So Many Ideas!