Intimate Boudoir Inspired Shoot That's Not For The Faint-Hearted! *Oh-So-Romantic Too!
BY Latha Sunadh | 09 Dec, 2016 | 4342 views | 3 min read
Would you do an intimate shoot with your boy  ? We aren't talking about the regular shoot with cutesy props here-  we are talking full fledged chemistry, intimacy and just a raw-ness to your images. Part boudoir- part post wedding - It's about showing off all the love and chemistry the morning after the wedding
Well, we found a beautiful bride and groom, Shradha and Keshav who went with an idea that they loved and the photographer created an amazing canvas - it was fireworks. Morvi Images Photography★ 5 shot their very first intimate shoot and it was all kinds of spectacular.  It's a hard job to be tasteful in such photos but these are so beautifull shot that they can be great memories to frame and keep so you can look at yourselves a few years down the lane and revel. Take a look at this shoot, you'll know what we're talking about!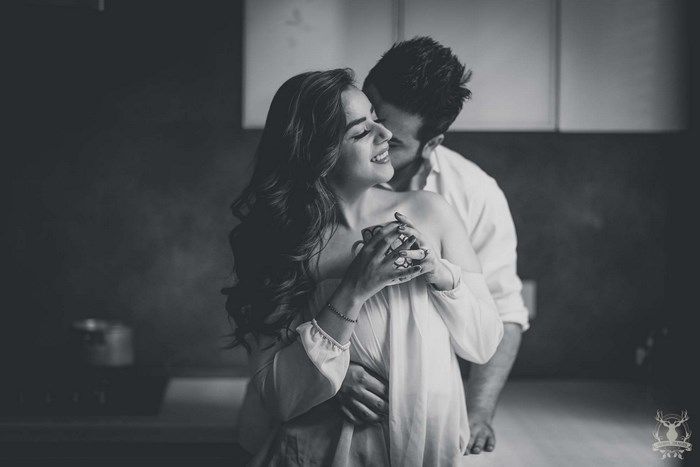 "We wanted some personal shots depicting our love and passion for each other. For obvious reasons there is only one person I would call and that's

Morvi Images Photography

. 
When I asked Morvi about this ideas, she was super excited and came up with various ways to showcase it. She explained to me that these are intimate shoots and her excitement just made everything so much more special.  
The entire shoot was storyboarded and planned by Morvi. We have blind faith in her so we followed. She visited my place a few days prior to the actual date and did up the recce. She finalised spots, looked at backgrounds, got mirrors as her props, set up the washroom and kitchen as they had natural lighting (which she used in a great way in the shoot). The wardrobe we went ahead with was also taken into consideration, keeping in mind our sensibilities. She made the whole experience just wonderful for us," explains Shradha. 
"The final images look absolutely gorgeous. It's a dream for every couple to have such a beautiful memory for themselves because there is a lot of love, passion and togetherness. As a photographer she made sure that we were comfortable during the entire process. She pushes her work to perfection which is visible when her final pictures pops in ur mail box and you know it can't get better than this. 
As a photographer she is very focused and holds so much passion. As a person she is the most wonderful friend and adviser one can have. More power to her. She will and this shoot will always be my favourite," adds Shradha.