Intimate Wedding in Delhi With Tons Of Colour!
BY The WMG Bride | 07 Feb, 2016 | 1633 views | 5 min read
With a guest list of just about a 100 people, Alex & Pallavi got married in a sweet, intimate ceremony in Delhi. The sweetest bridesmaid saris (in crazy bright colours), the marigold madness and the diyas offered great inspiration. And what really made us smile were the two pre-wedding concepts - the Holi shoot and the enchanted forest shoot complete with a table for two in the woods. All these ideas of the bride were beautifully executed by Simran @
Beginnings For You
.
Meet Alex & Pallavi 
"Friends party. Girl meets boy, boy meets girl. Boy is white, Girl is Indian. Boy likes girl, Girl says no. This ain't happening. A few months later....Friends party again. Girl meets boy again, boy meets girl again. No No, this ain't happening again.
Boy indeed had a cute smile that was good enough to convince for a coffee. That's it. Lots and lots of talking and laughing, a mutual yes, and then a trip to India. One thing I was very clear on before I finally agreed to this relationship, was to let Alex know what he was in for actually :-)
The craziness that India has to offer, where it's just not about marrying a girl, but about marrying a family. As I introduced Alex to my family in India, all of them very happy right from the beginning (blame it on the cute smile!). The trip to India was a very important one since I wanted Alex to know about my roots as an Indian. Man!! I still can't forget the look on his face when he saw the New Delhi railway station for the first time as we made that journey to meet my family in Nainital. Rest is history, he enjoys aloo parathas and poori chole as much as I enjoy a pizza" explains Pallavi about all the things that made them a couple! 
The Pre-Wedding Shoots
The Mehendi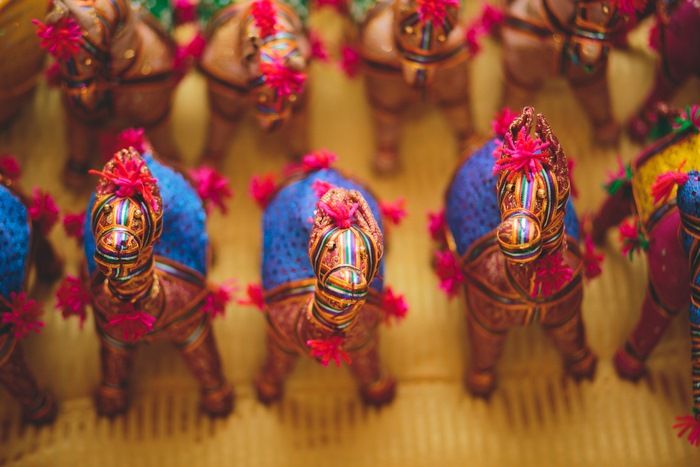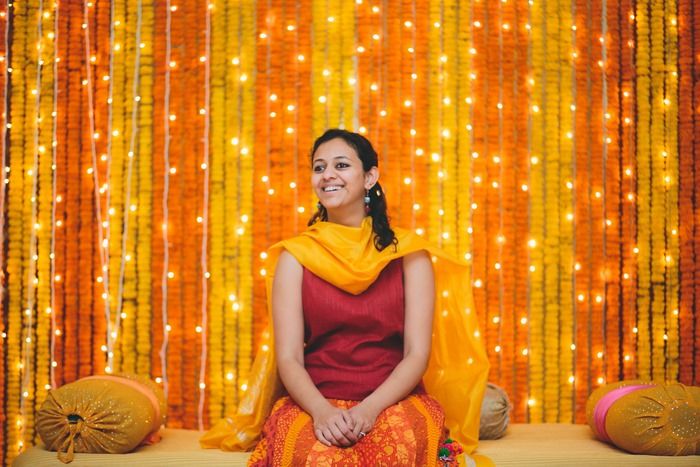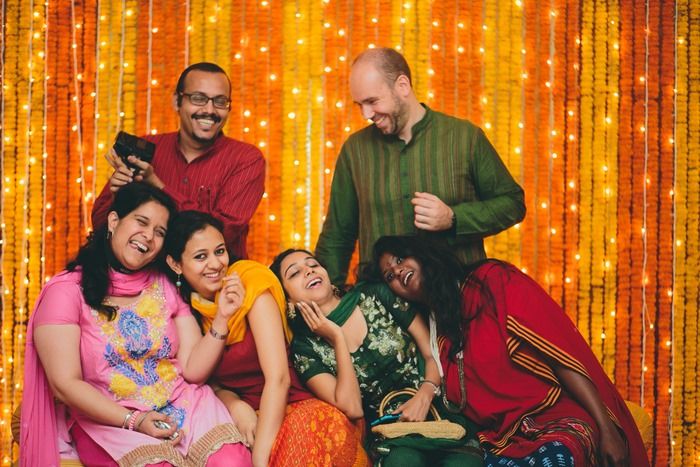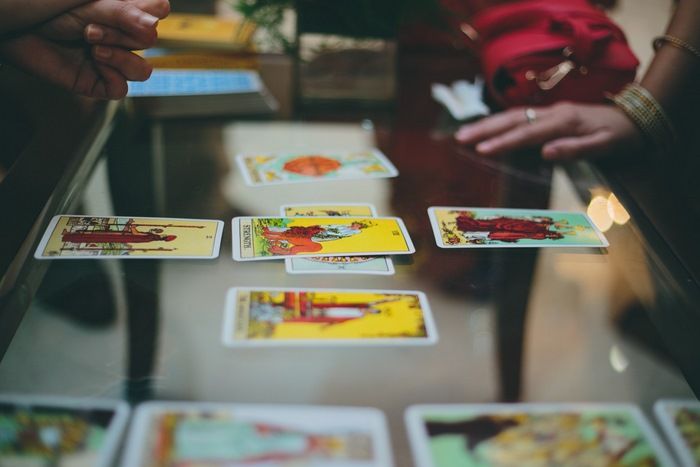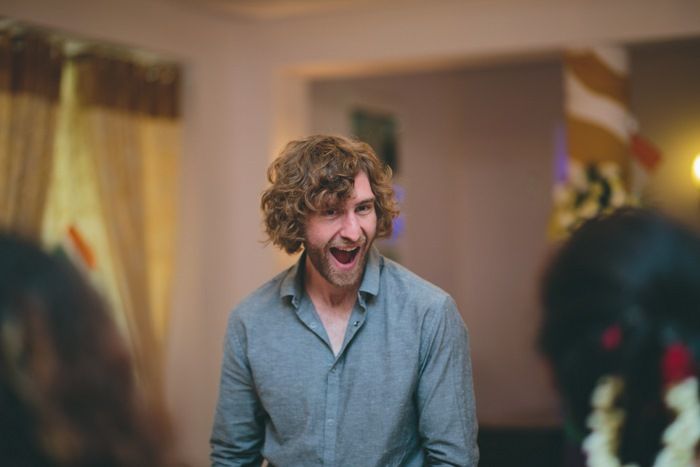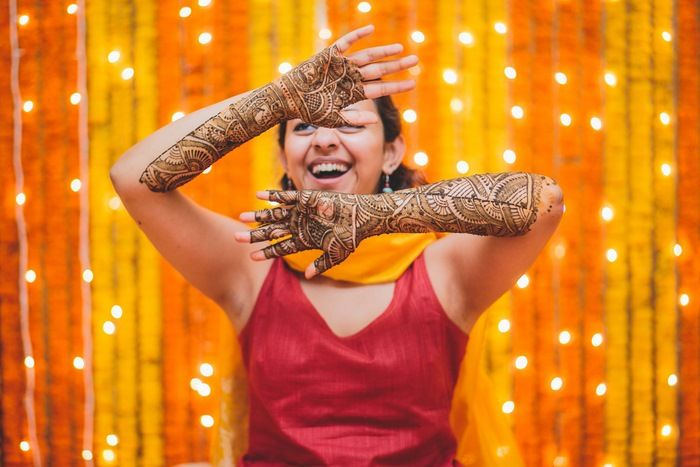 The Wedding
From The Bride:
"I was mostly busy with work and Alex being a Canadian, had no clue about the madness of an Indian wedding :-). We handed over the planning reigns to our parents and took some very wise decisions  while planning the wedding.
First one being, a request to the parents while planning and arranging the wedding - please do not go overboard and give us a chance to breathe, smile, laugh and dance at our own wedding. Hence the decision of having a gathering of just 120 with friends and family flying down from all over the world. With just our people around, we both were very relaxed and actually were the first one's to jump onto the dance floor to get the party started. We got all the time to spend time to talk and enjoy a round of drinks with all the guests whom we had invited.
Second, considering I was getting married to a Canadian hence we wanted to have an authentic Indian feel in the whole wedding. Hence the choice of adding subtle pops of colour everywhere. Starting from the simple multi-colored sarees for all the bridesmaids to choosing the classic genda phool for the mandap decor. Keeping simple bamboo chownkis along with colourful cushions and cute Rajasthani toys as giveaways for the Mehendi day. Everything was kept minimalist yet very classy colourful and Indian. I opted for a blue wedding day lehenga instead of a traditional red or a pink and a day wedding over an evening wedding," explains Pallavi. 
One of our pre-wedding sessions also had a punch of Holi colours. So much so that for the love of colours, I found Simran from PhotozAapki, our photographer on WedMeGood itself, and what made me just instantly go with her was the gorgeous colour palette she uses in her pictures that will just make you smile every time you look at her work. My husband and I aren't the posing type, but looking back at the photos now, we're SO glad we did! There's at least a 100 frame-worthy ones, we are going to have a hard time picking our favourites.
As far as makeup was concerned, I did my own make-up on the Sangeet day. There was no make-up, just some kajal and lipstick. Anyways I just had dance and champagne on my mind, so the lipstick would have just worn out anyways. The mehendi day was a colourful Fab India outfit day and needed no make-up. On the wedding day, I just called some one from a local nearby parlour to make a bun. Some kajal, lipstick and eye liner as a wedding day special :-)" adds Pallavi. 
Vendors: Photography: Simran @ Beginnings For You★ 5 |Makeup: By The Bride herself! |Venue: Mehendi at Kota House, New Delhi; Sangeet at Kota House, New Delhi Wedding at Air Force Auditorium, Subroto Park|Decorator: Mehendi & Sangeet by Kota House Decorators and Mummy Joshi for the decor ideas; Wedding by Air Force Auditorium Decorators|Bride's Outfits: Mehendi outfit by Fab India; Wedding outfit by Om Prakash, Chandni Chowk|Groom's Outfits: Mehendi outfit by Fab India; Wedding outfit by Manyavar★ 4.8 |Jewellery: From my closet; Mehendi jewellery by Fab India.