Jewelry styles For A South Indian Bride
BY Rekha Shetty | 27 Jun, 2020 | 4584 views | 4 min read
South India's cultural heritage comprises of rich traditions be it in literature, various art forms or its clothes and jewellery. South Indian jewellery is most sought after jewellery styles for a bride. The heavy Kanjeevaram sarees and the intricately designed jewellery defines a South Indian Bride. The brides love donning the artistic, chunky temple jewellery or the stone-studded Kempu or Diamond jewellery.
So, what makes these various jewellery styles so unique? Let's get to know these jewellery styles better.
Temple Jewellery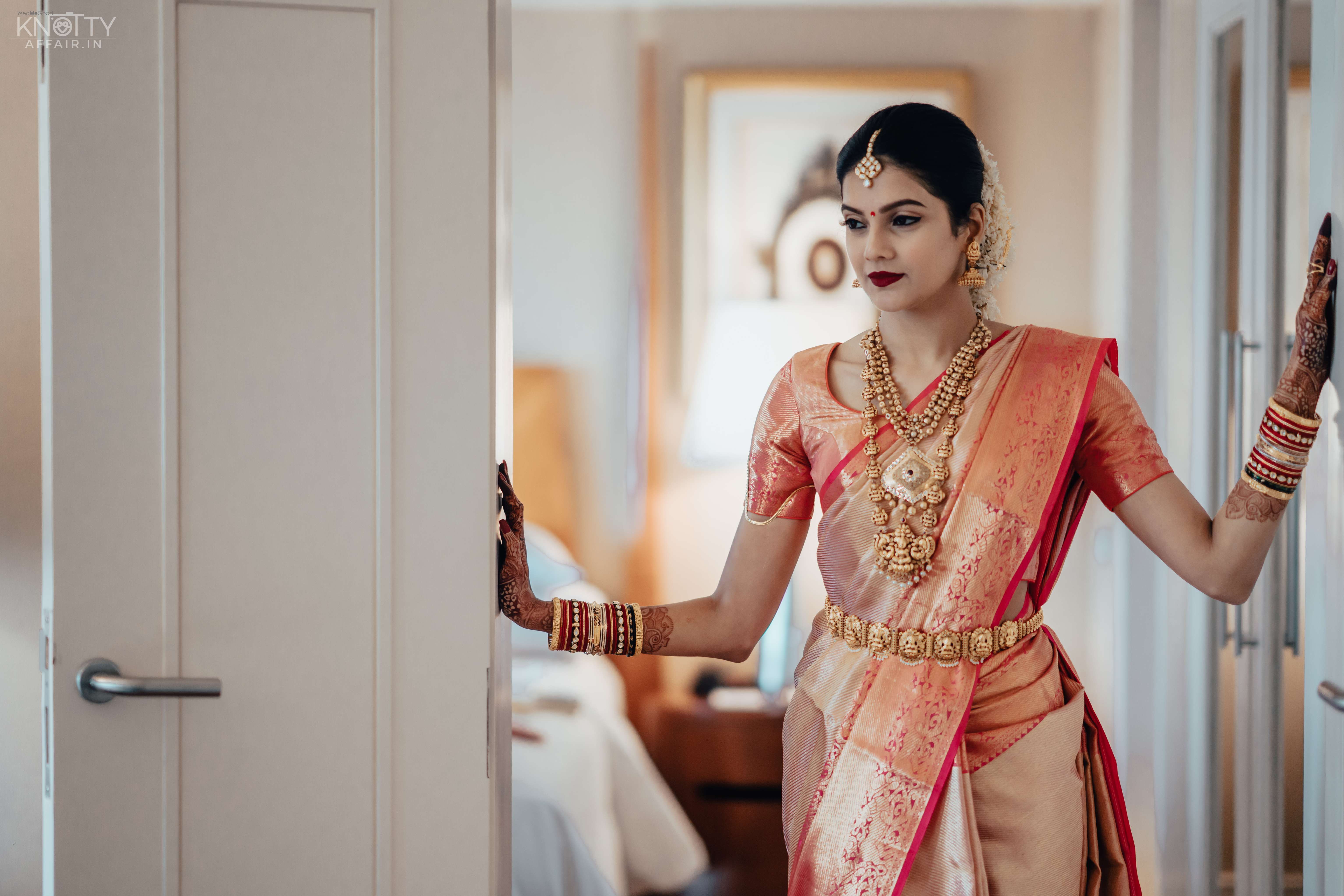 Image Courtesy - Knotty Affair by Namit & Vipul 
Temple jewellery is believed to have originated in the 9th century during the Chola Dynasty. During those times this beautifully made jewellery was used to decorate the temple idols of gods and goddess. From there on it started being donned by classical dancers. The intricate designs and the unique look soon became a vogue among the brides. Its artistic designs are enough to turn any bride into a goddess.  
Traditionally, temple jewellery was made in gold and embedded with semi-precious stones. There are artisan families in Chennai dedicated to this art form of making temple jewellery. Over a period of time due to commercialization the traditional way of making this style has been changed. Nowadays, there are less expensive styles of temple jewellery available in the market. These are mainly made in silver or bronze, followed by gold-plating.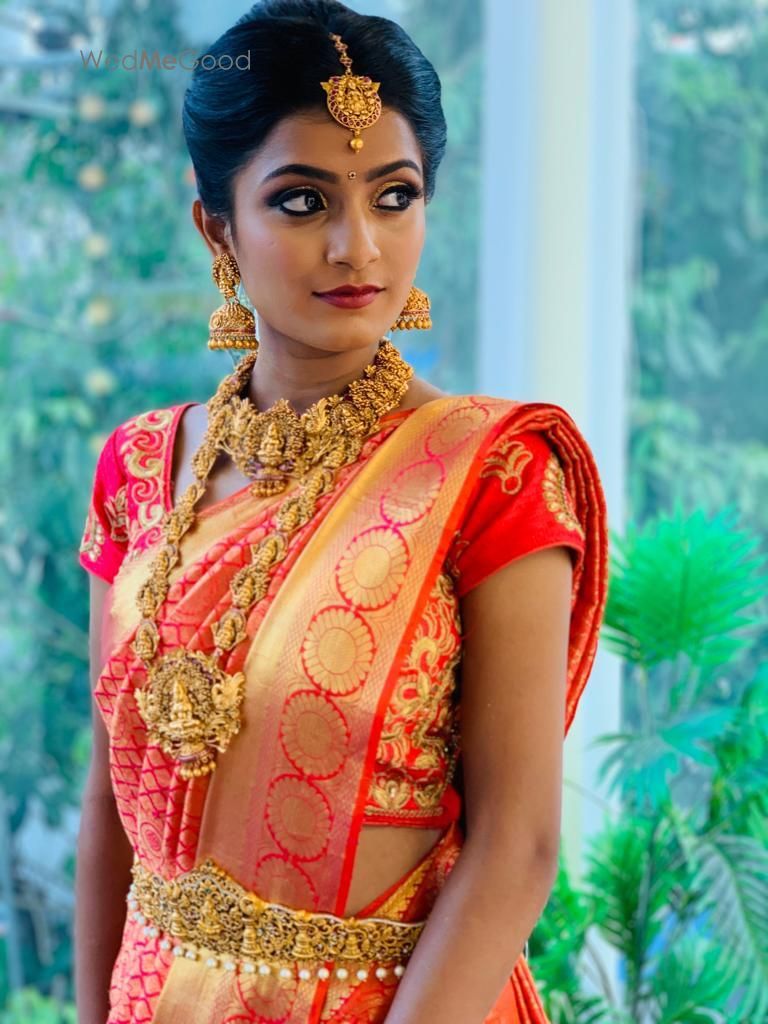 Image Courtesy - Noor Makeup by Niharika Sharma 
Common motifs or patterns found in Temple Jewellery are the depictions of Gods and Goddesses as the inspiration is drawn from various south Indian temples. The bridal jewellery set usually comprises of bottu or maang tikka, jhumki or earrings, 2-3 necklaces like lakshmi sara and muthu sara, vanki or armlets, sari waist belt, anklets and toe rings.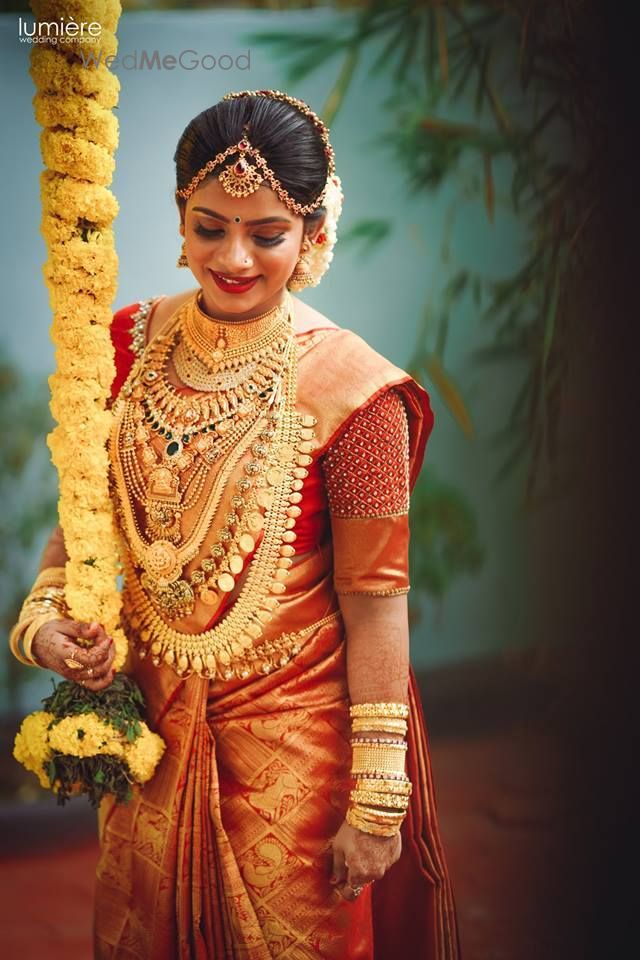 Image Courtesy - Booking My Events
This assortment of bridal collection more or less remains the same for most South Indian brides - kannada, telugu, tamil and kerala bride. The style and the designs changes according to the respective region. If you are a bride you loves the detail of temple jewellery, then it is perfect for you.
Kempu Jewellery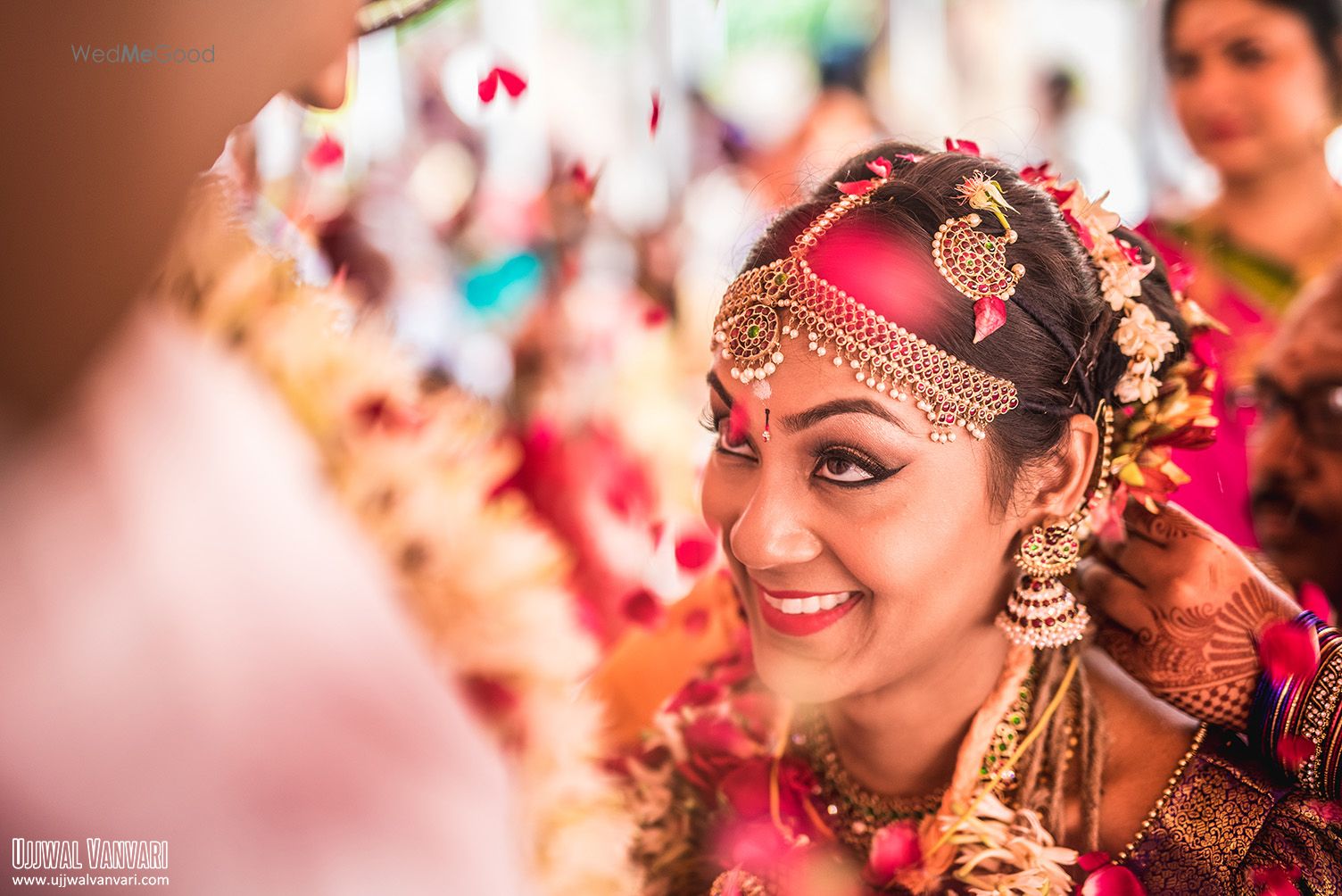 Image Courtesy - Ujjwal Vanvari Photos & Films 
Kemp Jewellery is a style of temple jewellery with gemstone cabochons mainly in Red colour, hence the name kemp meaning red. The stones can also be in green or blue. It is a very popular style, especially among the Tamil brides. It is a compulsion for a Tamil bride to spot Nethi Chutti in Kemp Jewellery and pearl. This is complemented with matching necklaces and jhumkis in kemp stones.
Image Courtesy - Aaharya 
In the olden days, Kemp Jewellery was specially made for the royalties. The used jewellery was then given away to the palace dancers and that's how this style of jewellery became a part of the common people. Each piece is created by carefully placing shaped polished kempu stones into pure gold or metal-based design.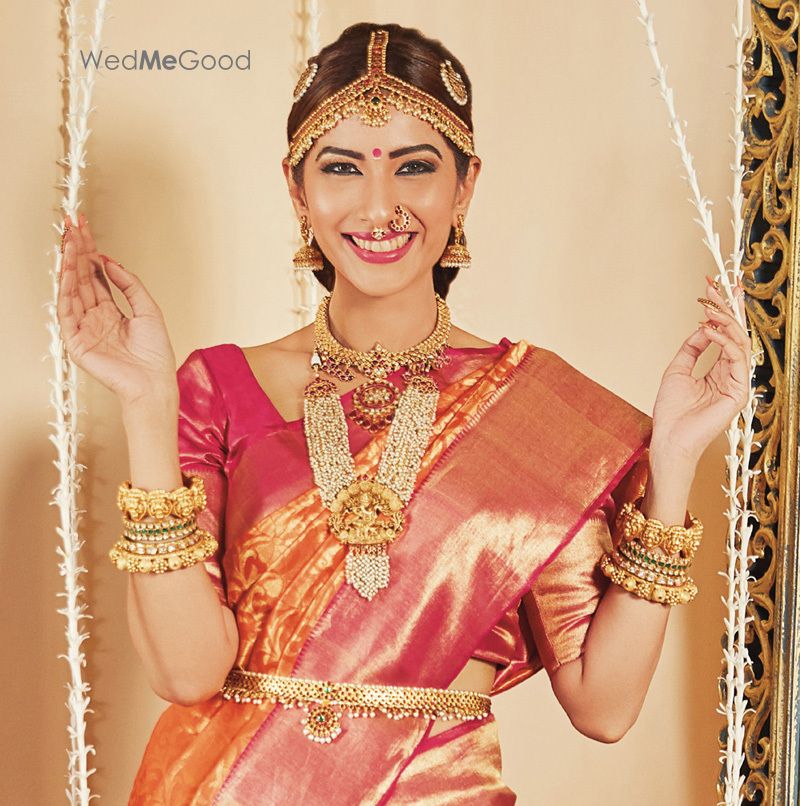 Image Courtesy - Noor Makeup by Niharika Sharma 
As a bride, if you are looking for the original Kemp Jewellery, then you can check out many jewellery stores especially in South that are dedicated to Kemp Jewellery. And for the less expensive ones, you can always select the imitation or gold-plated Kemp jewellery. There are quite a few options available online.
Diamond Jewellery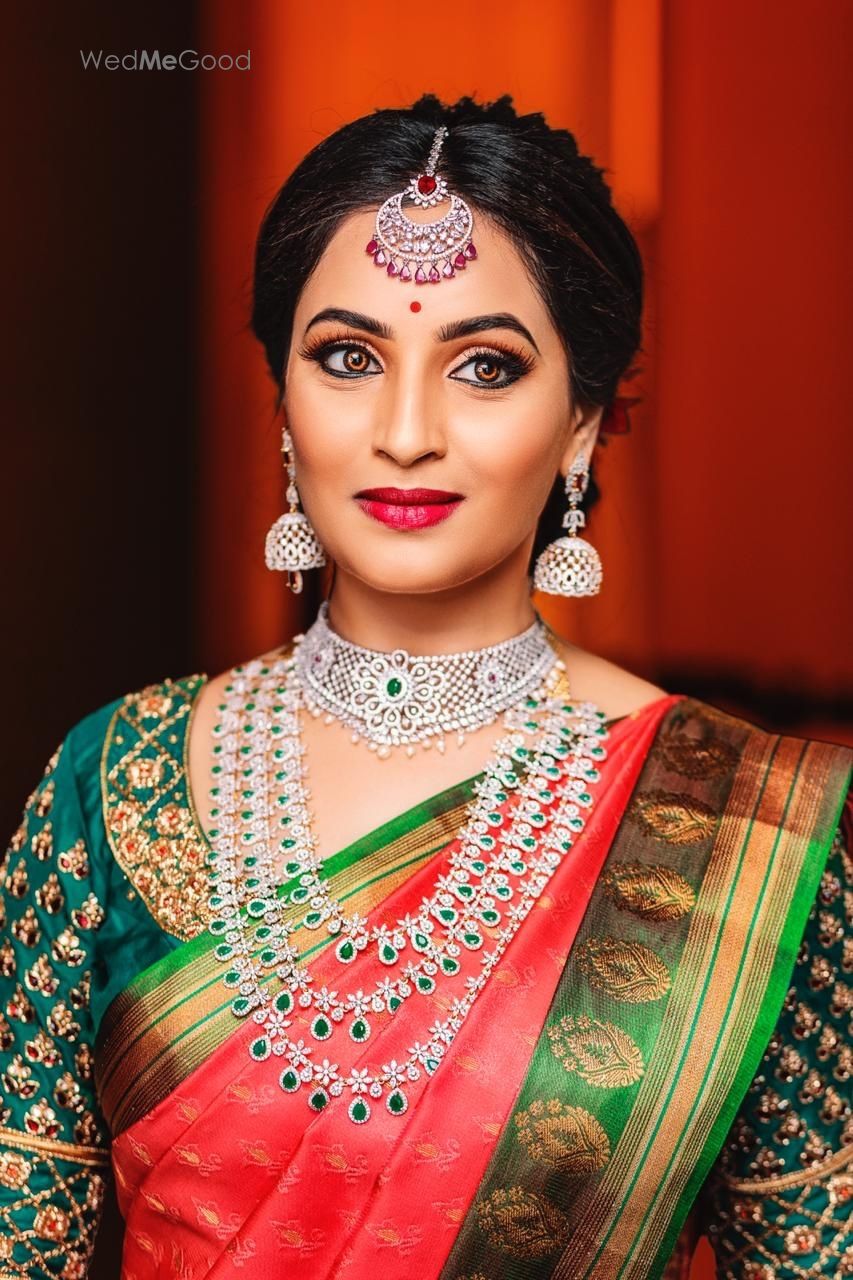 Image Courtesy - By New Ideas Fashions Jewellery
Are you a bride who loves the shiny sparkling stones, then you can opt for diamond jewellery. Diamonds in India can be traced to the mines of Golconda region in Hyderabad, which had the earliest producing diamond mines. Diamonds began to be polished in India as jewels in the late Middle Ages and that's how diamond jewellery entered into households.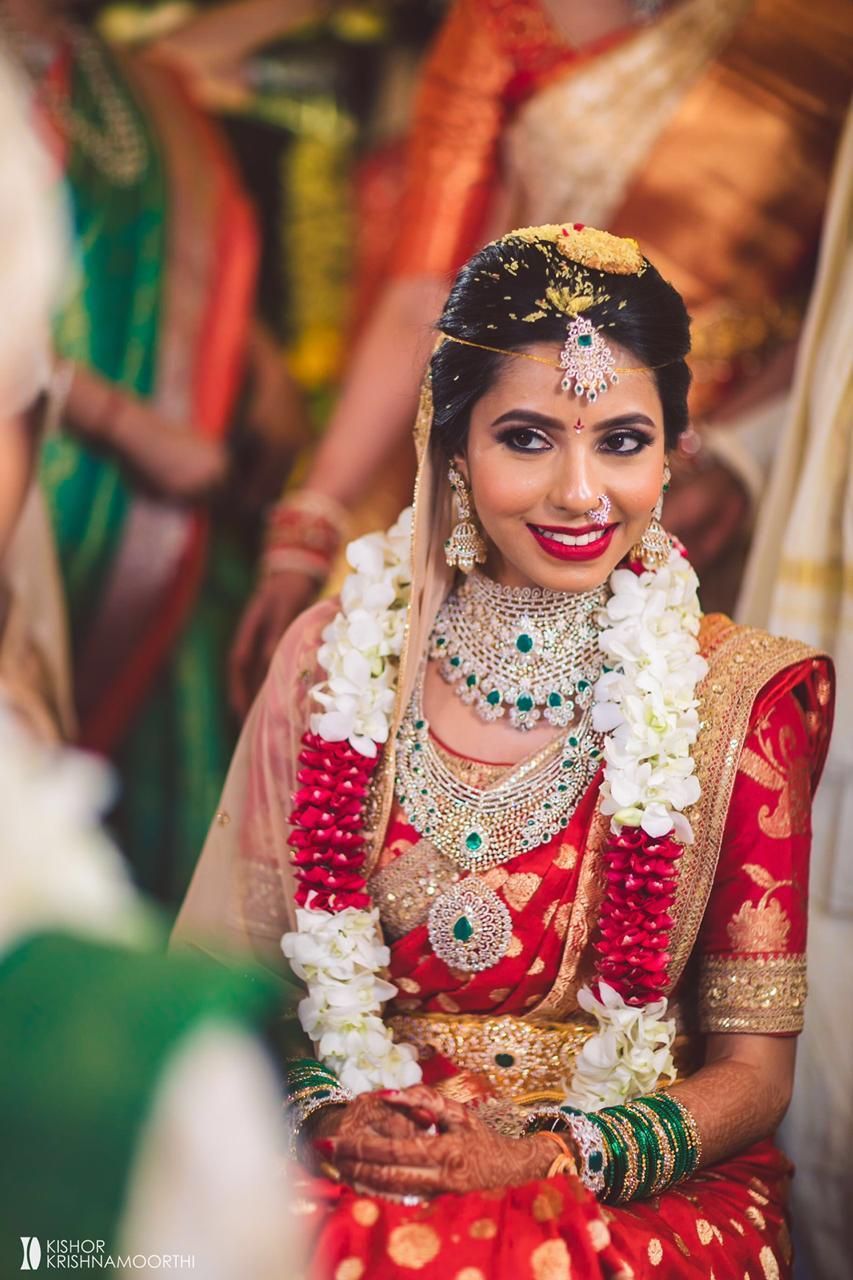 Image Courtesy - Make-up by Afsha Rangila
Diamond engagement rings are popular among the couple in today's times. Diamond Jewellery adds a nice contrast with the heavy Kanjeevaran sarees with gold zari. Your entire wedding bridal jewellery like the waist belt, vanki and jadas for the hair can be made of beautifully set precious gemstones.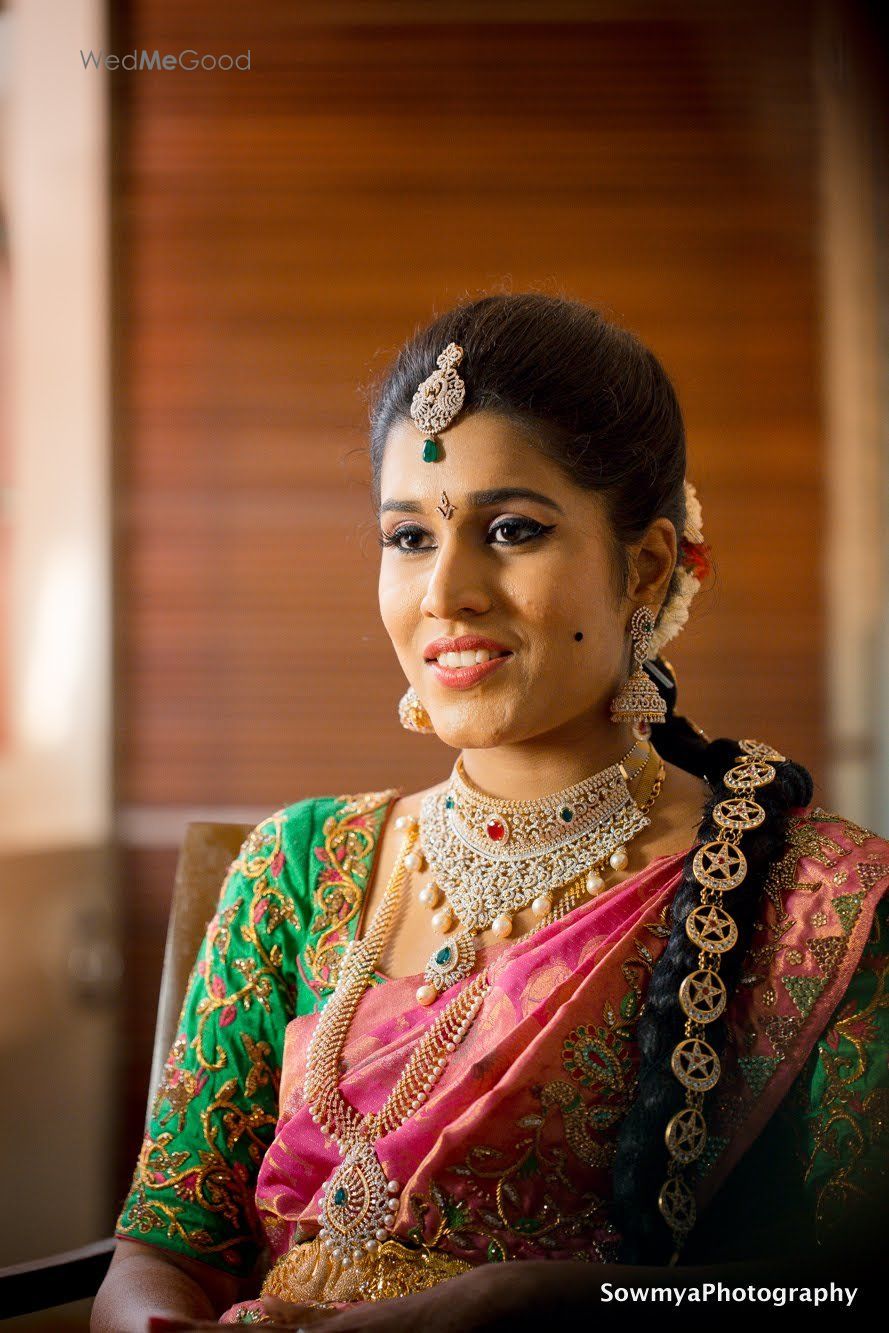 Image Courtesy - Blush Fine Makeup Art 
The sparkle of white diamond stones combined with emeralds, rubies and pearls is going to be a showstopper at your wedding.
Looking to save big on your wedding shopping? Purchase Mynt today! Download or update the WedMeGood app today to access Mynt - WedMeGood's Premier Membership Program.