Last Minute Brides: Getting an outfit in under ten days?
BY The WMG Bride | 04 May, 2015 | 1453 views | 4 min read
Having the luxury to shop over the course of a month and scouring every bylane of your city may be a privilege for some, but for many finding an outfit can be totally stressful. Maybe you are visiting a city for shopping and just need an outfit in those ten days, or maybe your Panditji decided to play a practical joke and fix your dates so insanely close (Trust us, it happens). However do you find your outfit??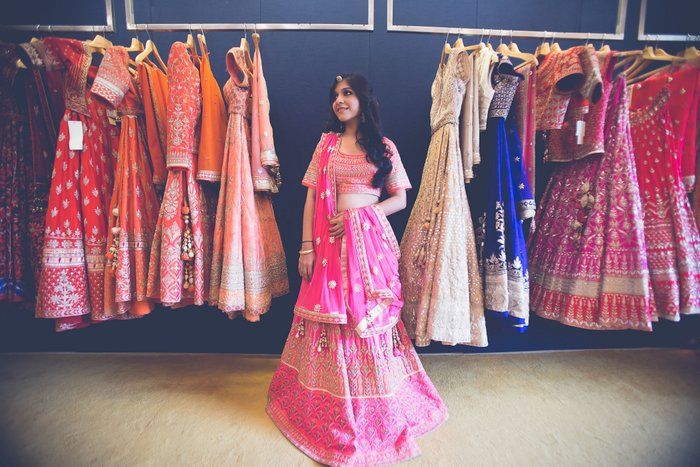 Photography by The Photo Diary. Outfits by Anita Dongre
1. Do your research & know each stores policy before entering
The last thing you want to do is to head to a market and then figure it out from there. You have two days- Go through our
Bridal wear vendor guide
and our
bridal wear gallery
- shortlist a list of places you want to hit based on your budget . The FAQ  on each profile mentions whether they are ready to pick up stores, or require custom orders. You may also want to call before hand and check which stores will be able to deliver an outfit to you in that much time.
2. Ready to wear store list 
While most of what you will find in India is custom made - head to some ready to pick up stores and avoid the other ones no matter how tempting. For instance multi designer stores such as Aza, Ogaan, Ensemble, Carma, are generally places where you can pick up an outfit and they will alter it for you in a week as opposed to local stores say in Chandni Chowk which take over 3 weeks to make a piece. Some stores like Frontier in Delhi and Kalki in Mumbai also offer a limited selection of ready to pick pieces. Give them a call before to understand.
3. Take the trial piece 
Entered a store only to be rejected saying that it is "IMPOSSIBLE" for them to give you an outfit in 4 weeks. Well, they can. Here is the thing: the actual outfit only takes about a week or ten days to make, it is the backlog of customer orders that keeps your order in the queue for so long. If you are totally serious about buying something and ask them if  they alter a trial piece for you and you can take that home instead of getting a fresh one made. Persistance pays off.
4. Keep an open mind
Always wanted to wear a pink and mint lehenga? Well we hate to burst your bubble but you wont find it in ten days. Keep an open mind about colors- you may end up picking something you NEVER thought would like but it looks fabulous when worn!
5. Certain styles can be made quicker
Think of lehengas made of
brocade
or
banarsi
- where the fabric does most of the talking and embroidery is minimal, or where the skirt is simple but blouse is ornate. A heavy blouse takes just about a day to make- a heavy skirt takes way longer.
6. Pick a designer blouse, pair it with self- embroidered fabrics
There are a lot of designers who sell blouses seperately- Anita Dongre, Suneet Varma to name a few have some absolutely exquisite pieces which you can just pick off the rack and they wont burn a hole in your pocket. Once that is done- head to your local fabric store and buy a fabric which already has a ton of embroidery on it - think chikan work , or just a fabric with stunning detailing. All you need to do then is head to a trusted tailor who can stitch a lehenga for you in a weeks time and add some gorgeous borders at the end.
7. If you are coming from out of town, certain services can help
If you know you will have just ten days before the wedding to shop because you are coming from out-of-town, then work remotely with a few people. You can hire services like
Brides by P&B
who coordinate with NRI brides, or use whatsapp or email with designers who are comfortable with online orders. Place your order before hand, and pick it up while in store.
8. In an emergency situation, change the silhouette
So if you have headed to all the stores and not found a single ready made lehenga you like? Well wear a lehenga sari instead. Saris are ready to pick up and the only thing they require is 2 days of finishing. A lehenga-sari gives a look similar to a lehenga and is flared at the bottom. Do this only as a last resort though, because you should never compromise on something your heart is set on!