Lego Kaleeras, Airplane Kaleeras & More: Everything You Need To Know About Customised Kaleeras!
BY Sakshi | 06 Sep, 2019 | 3767 views | 5 min read
Are you a bride-to-be obsessed with bridal kaleere like we are? Well, then you should know what are the trends out there! Brides are going out of their way to customise their bridal kaleeras, and the results are simply amazing.. they're gonna make you think, why didn't I think of this before? From our real brides to bloggers to celebs- loads of inspiration here!
This blogger bride who wore adorable Safari-inspired personalised kaleere!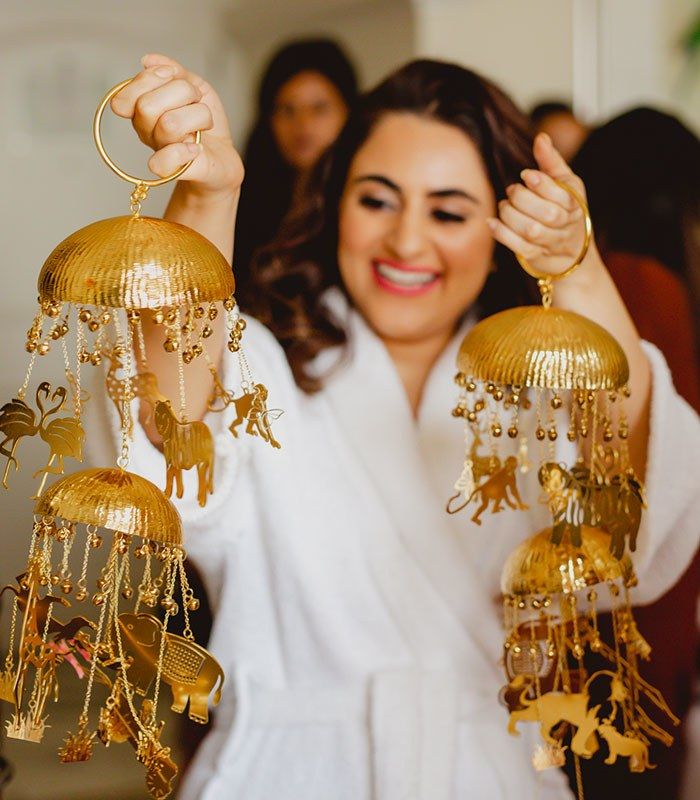 Image via The Wedding Salad★ 5 ; Kaleere by Mrinalini Chandra★ 5
Blogger Trishala got her customised handcrafted #safariKaliras inspired by her love story and they were adorable with animal motifs hanging from them!
Or these which were personalised with Legos!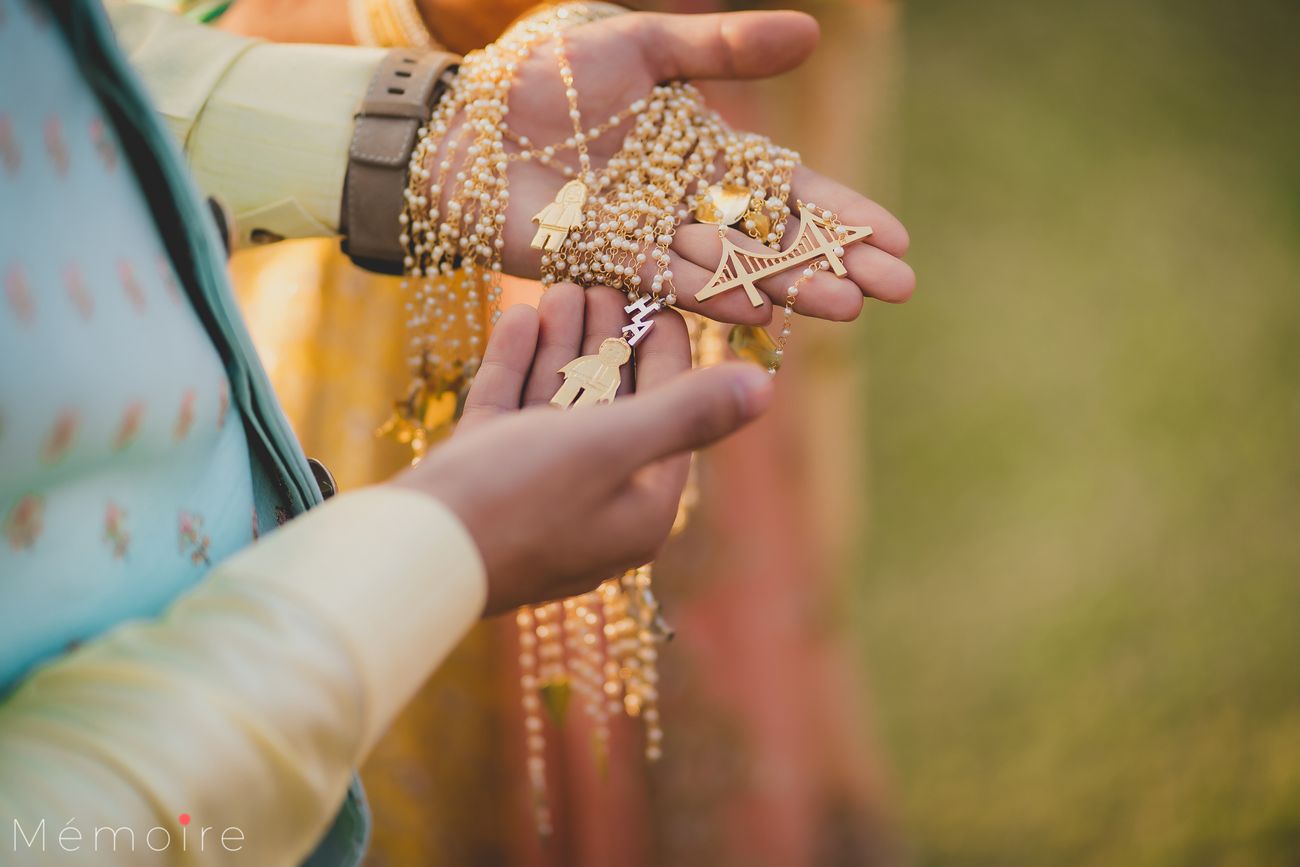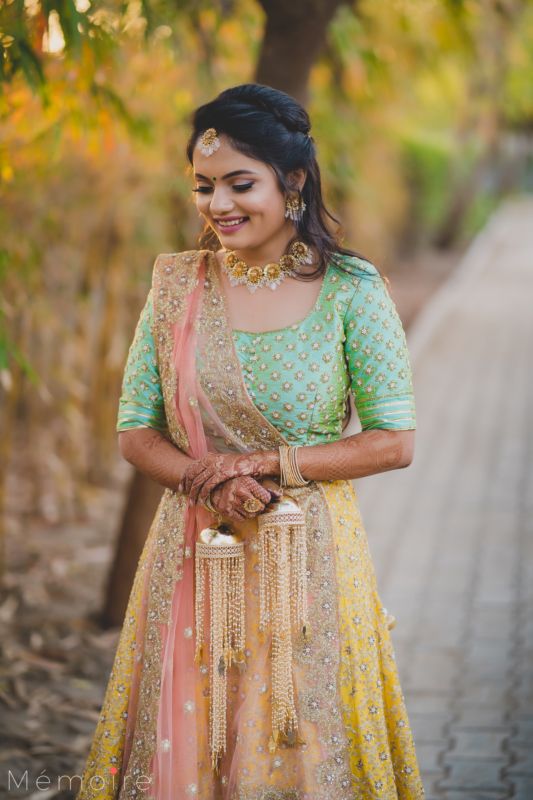 Image via Memoire★ 5 ; Kaleere by Hyperbole Accessories
The bride, who happens to be the founder of the jewellery label personalised a pair of kaleeras for herself! Gazal wanted her and her husband's beautiful story in the Kaleere, so the team came up with an idea which was never done before - adding personalised charms to the Kaleere. Fenil (Gazal's husband) is a huge Lego fan and has more than 200 mini figures with him. So we made metal lego charms a male and female apart from that the first time where they met which was Golden Gate Bridge California charm, Wine Glass charms, their wedding hashtag #FEZAL and Lotus charms which was the theme for the wedding. 
These special meenakari kaleere which are all kinds of amazing!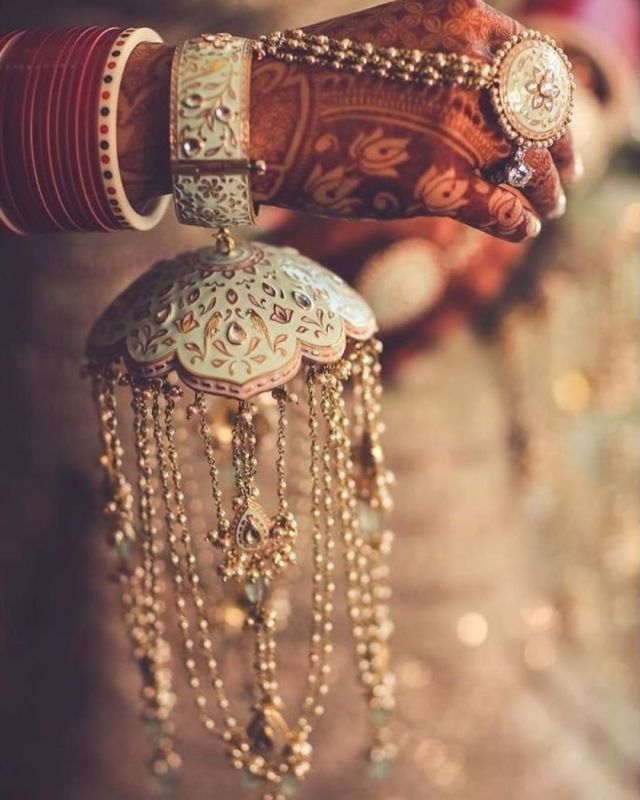 Image via Morvi Images Photography★ 5 ; Kaleere by Purab Paschim by Ankit Khullar
We fell in love the minute we saw these, and these were specially curated for the bride with meenakari work!
Or these gorgeous seashell kaleere for a beach wedding?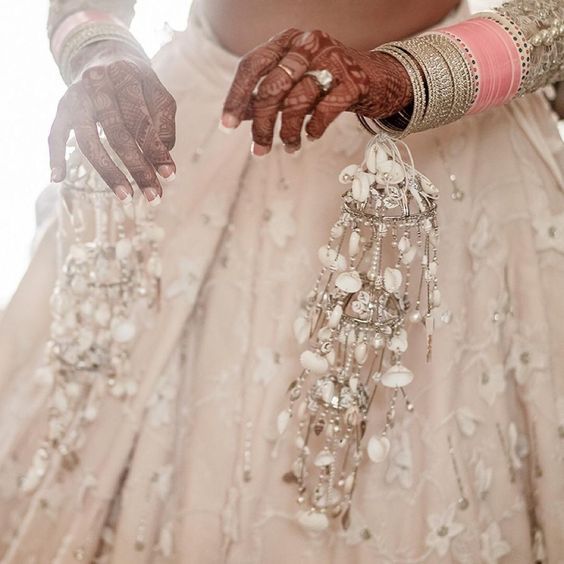 Image via Naman Verma Photography★ 4.8 ; Kaleere by Outhouse★ 4.8
Now those are unique to the T, and so so perfect when you're getting hitched on the beach!
This pilot bride who got cute little airplane kaleere!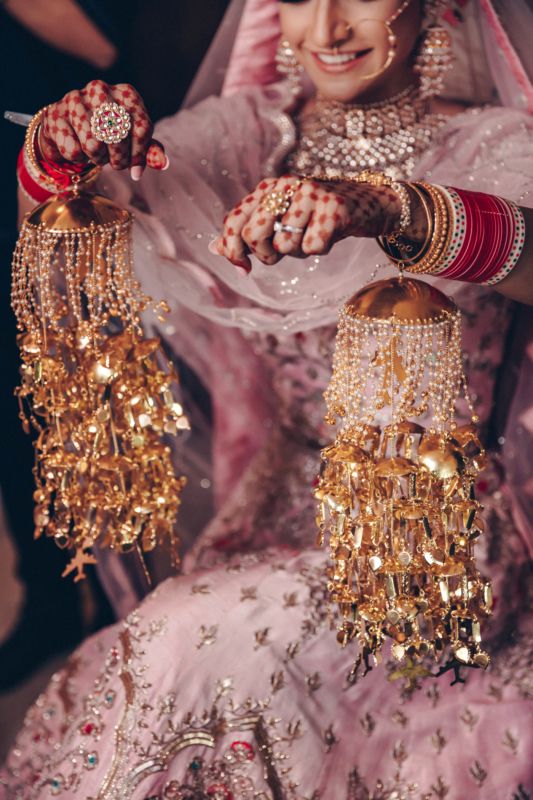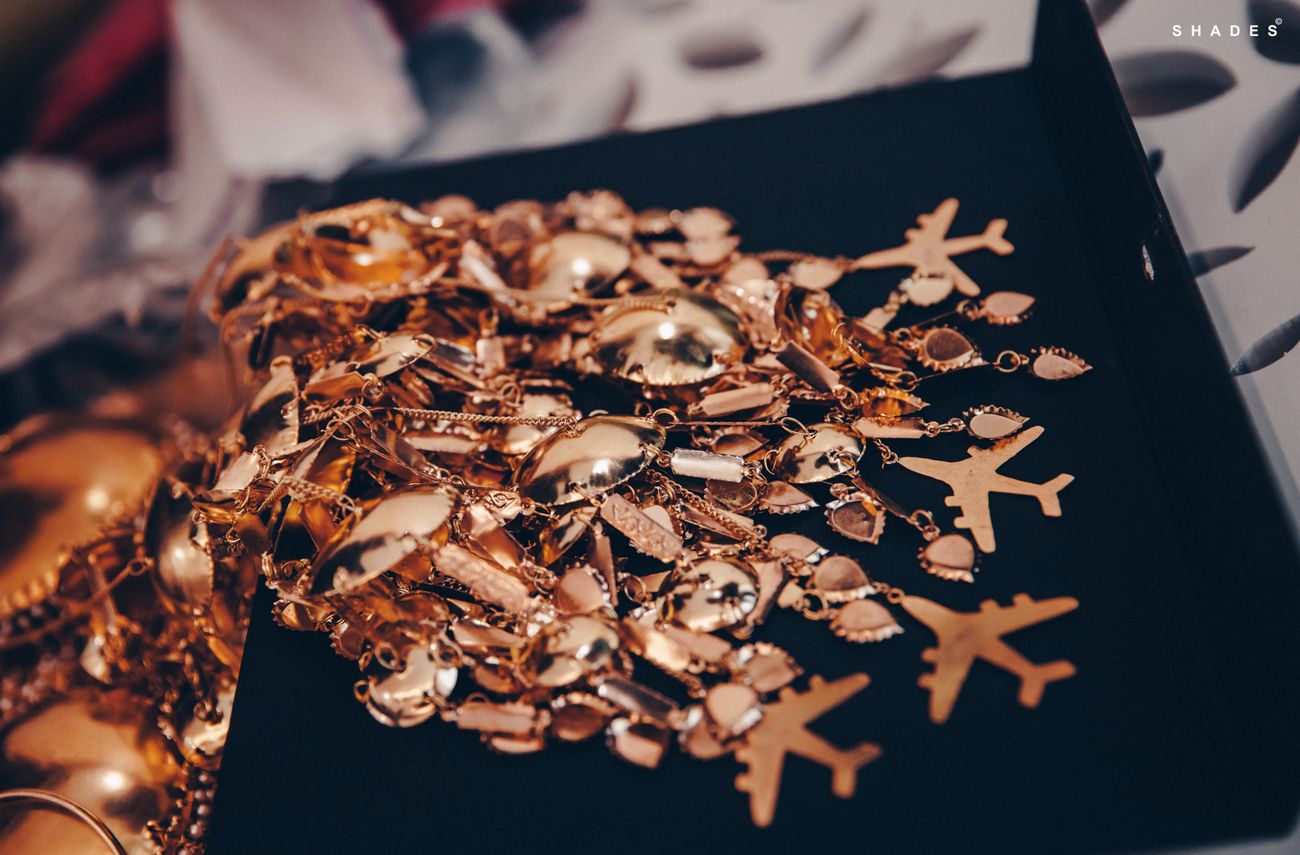 Image via Chanu & Digvijay; Kaleere by Ra Abta By Rahul★ 4.8
The cutest kaleere we have seen off late- so unique and pretty, and totally totally apt for a bride who happens to be a pilot, getting married to a pilot!
This one with picture charms of loved ones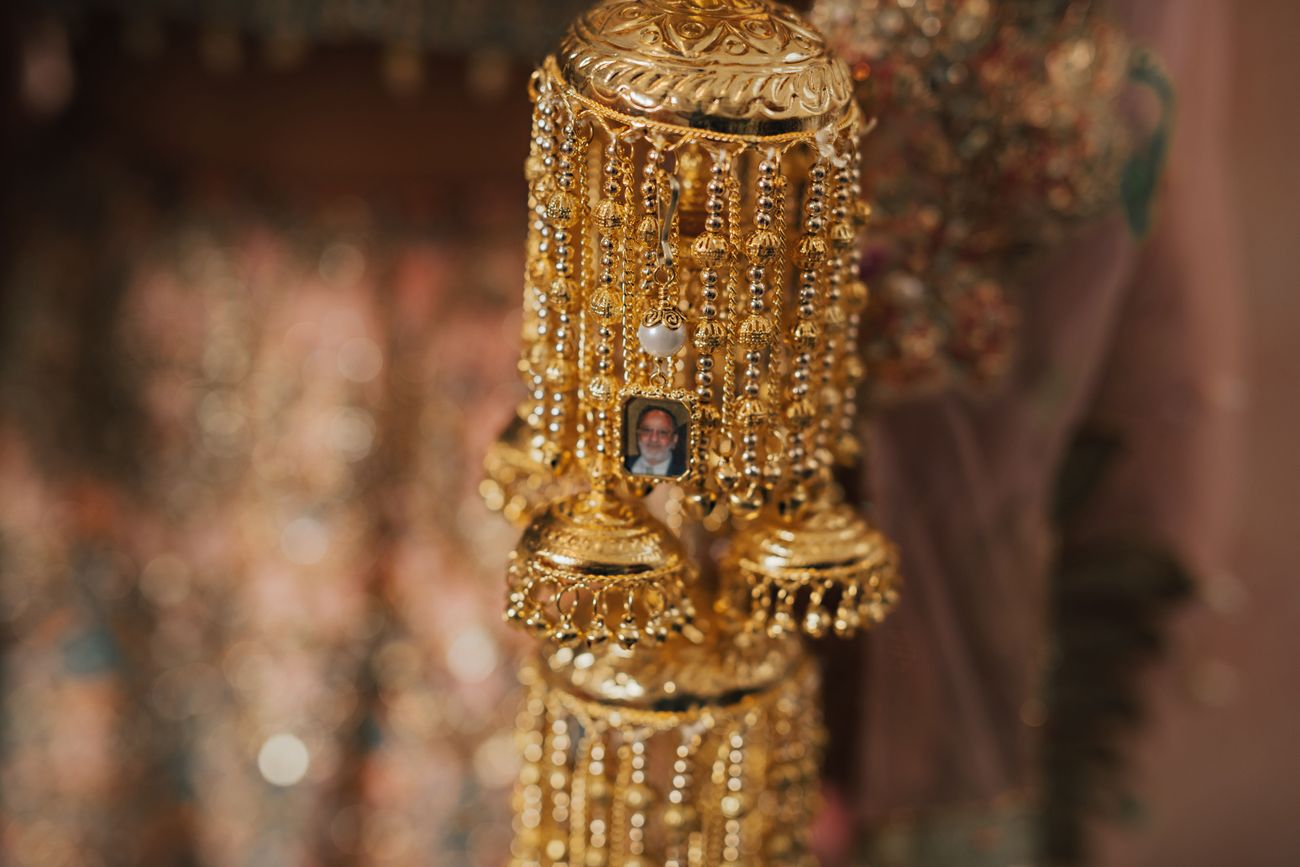 Image via Amrit Photography
Now that is a special idea, isn't it? Real Bride Savina came up with this, which is so nice to treasure your loved ones!
PeeCee's unique personalised kaleere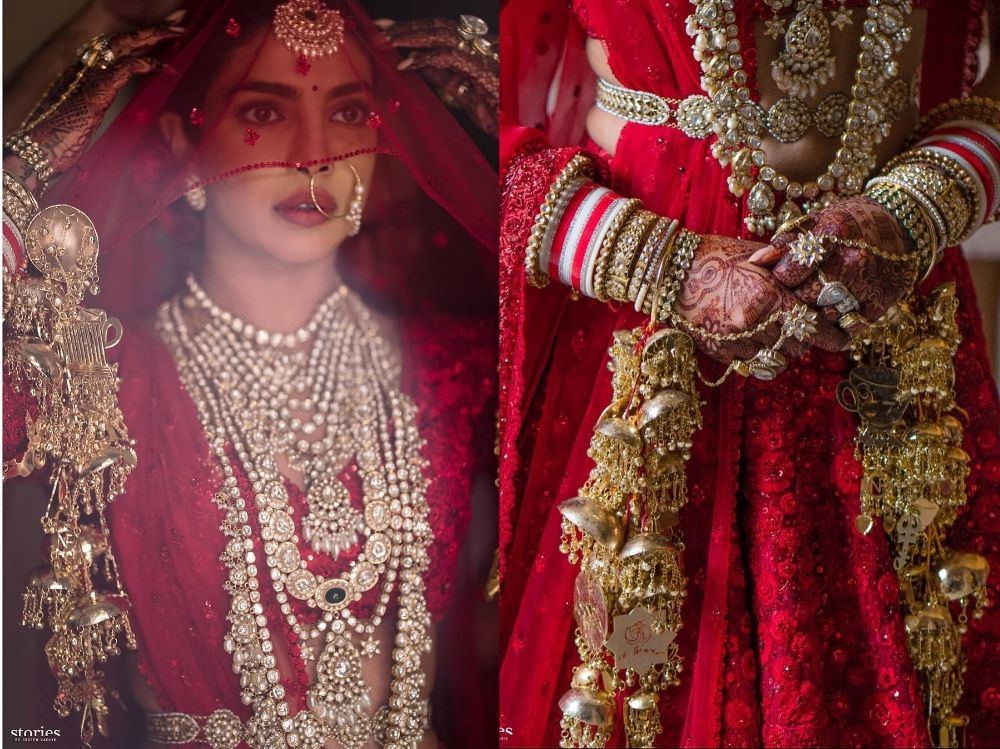 Image via Stories By Joseph Radhik★ 4.5 ; Kaleere by Mrinalini Chandra★ 5
Her kaleere were customised to tell their love story! From a symbol from Greece where Nick proposed to PC to Cupid, to a cross and the Trishul from both their religions, the steps of the MET where they first met, to an engraved silhouette of both of them to Mr. Chip Potts - The couple's favourite character from the Beauty and The Beast and many more. Each kaleera was a symbol of their love for each other!
Sonam Kapoor's peacock bridal kaleere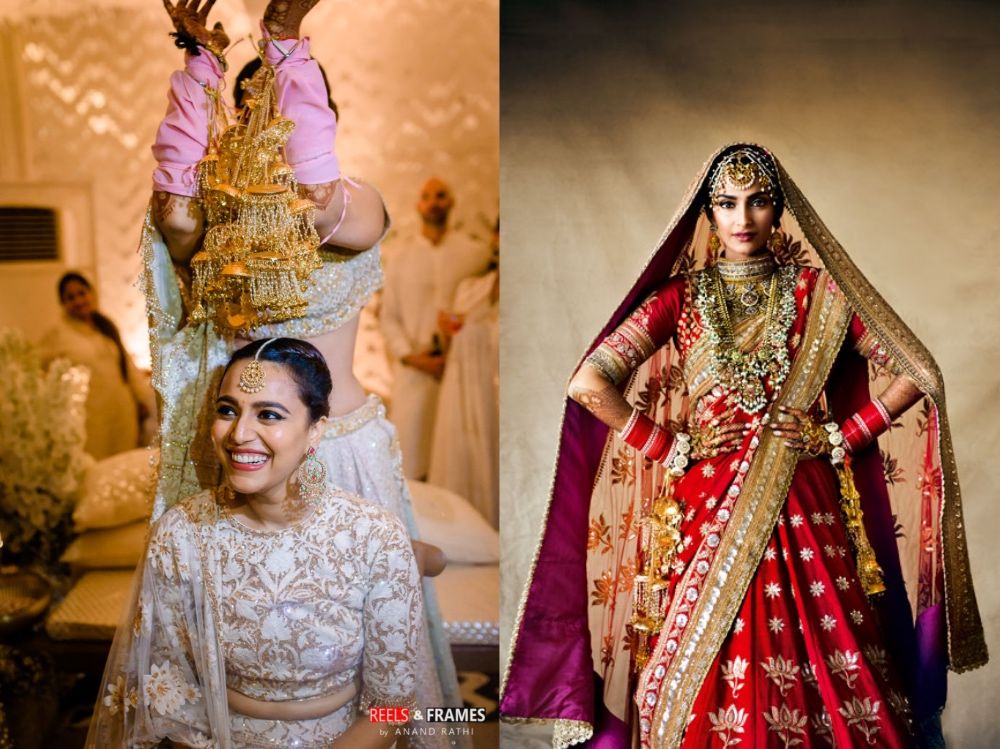 Image via Reelsandframes★ 5 and Vogue; Kaleere by Mrinalini Chandra★ 5
Sonam Kapoor also picked customised Kaleere for her wedding, and this one had floral patterns as well as peacock motifs, which really made them stand out!
Deepika also went the customised way!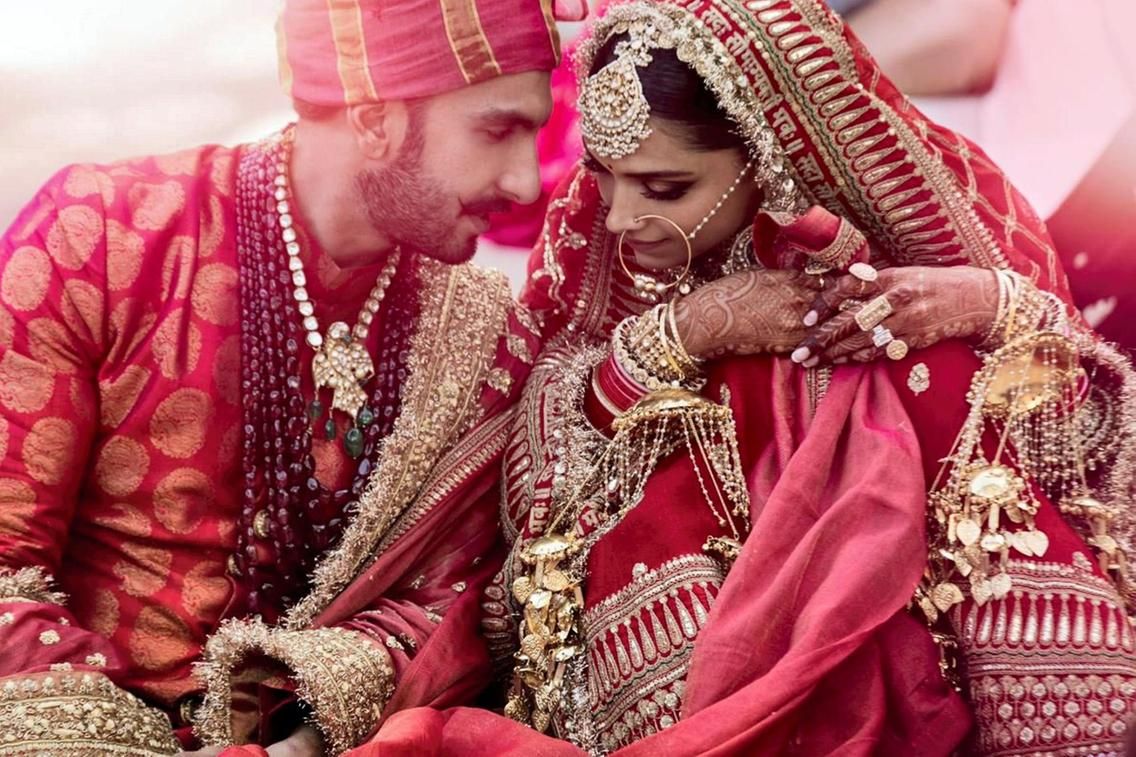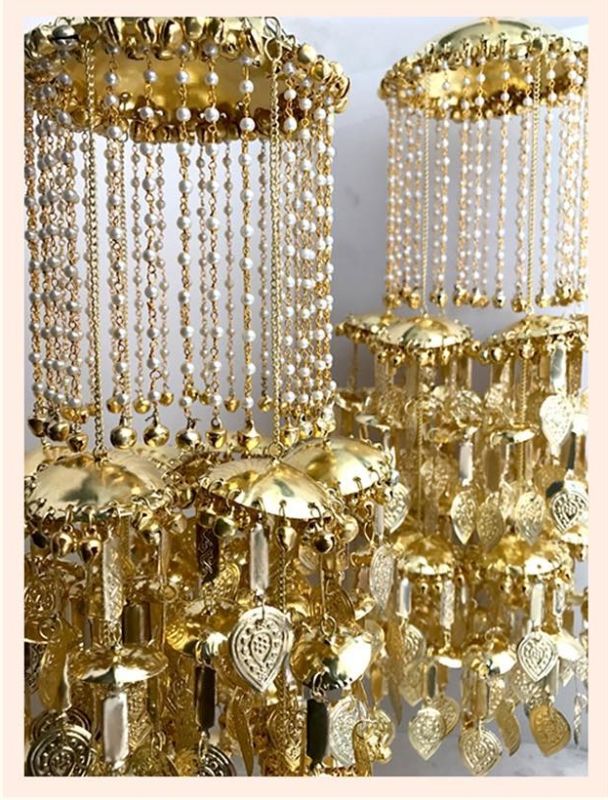 Image and Kaleere by Ra Abta By Rahul★ 4.8
Deepika also chose customised kaleere, but did not personalise them- but they did go totally on point with her Sabyasachi bridal lehenga!
These bird and parrot inspired Kaleere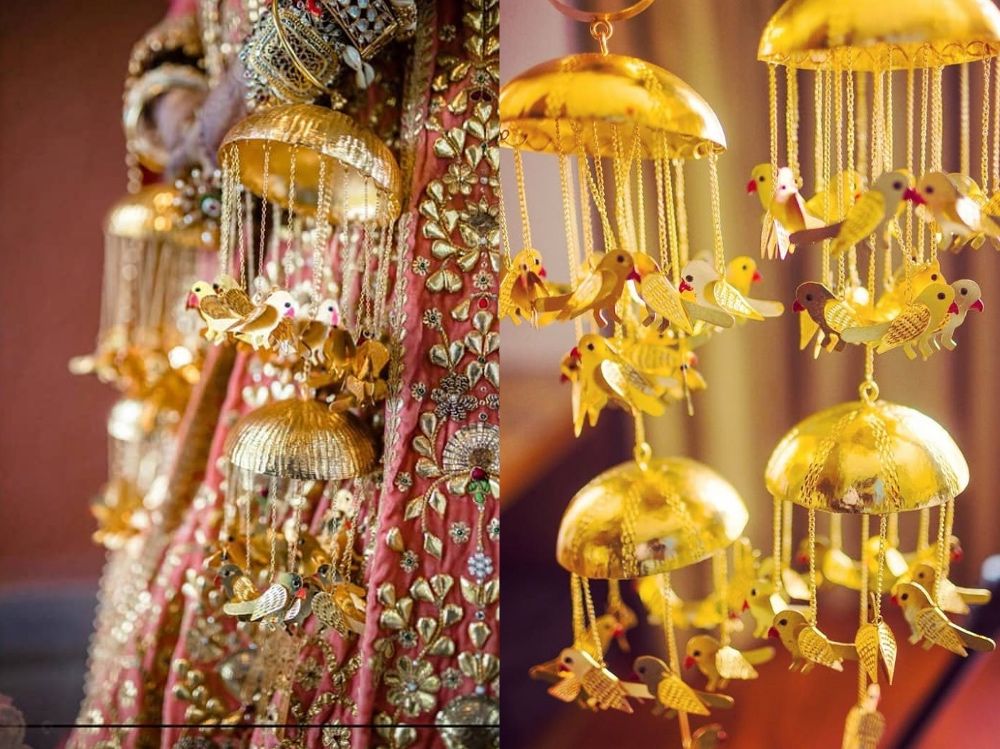 Image via The Weddingwale★ 4.9  (R); Kaleere by Mrinalini Chandra★ 5
These brides picked the pretty bird kaleere which seem to be very popular and not to mention, pretty!
These ones with the couple's names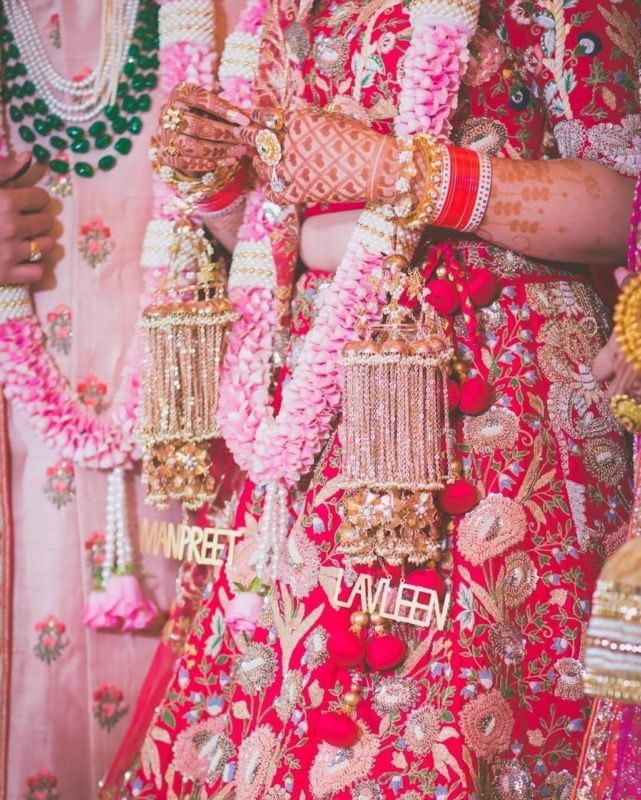 Image via Studio Kelly Photography★ 4.7
Names in kaleere are trending majorly these days, and if it's something you'd like, then there are a lot of vendors who can customise it for you!
These with the couple's initials or the bride's name hanging from them!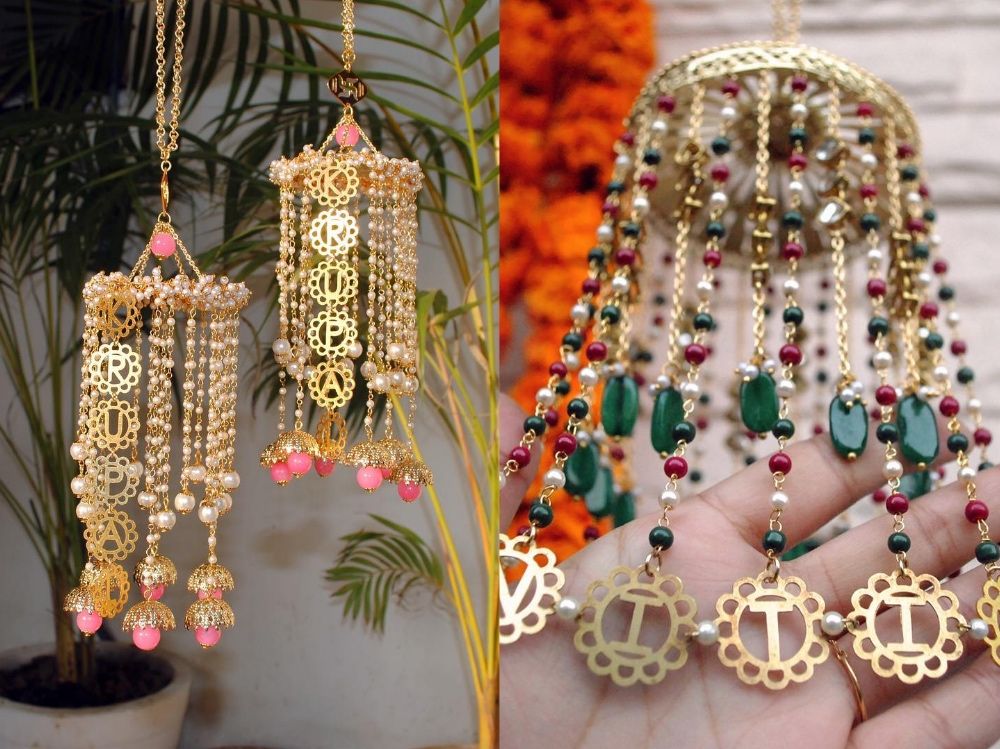 Image and Kaleere by Abhika Creations★ 4.1
Isn't this a neat new idea? Customising and personalising the bridal kaleere with the couple's initials!
Rose Quartz Kaleere which are customisable!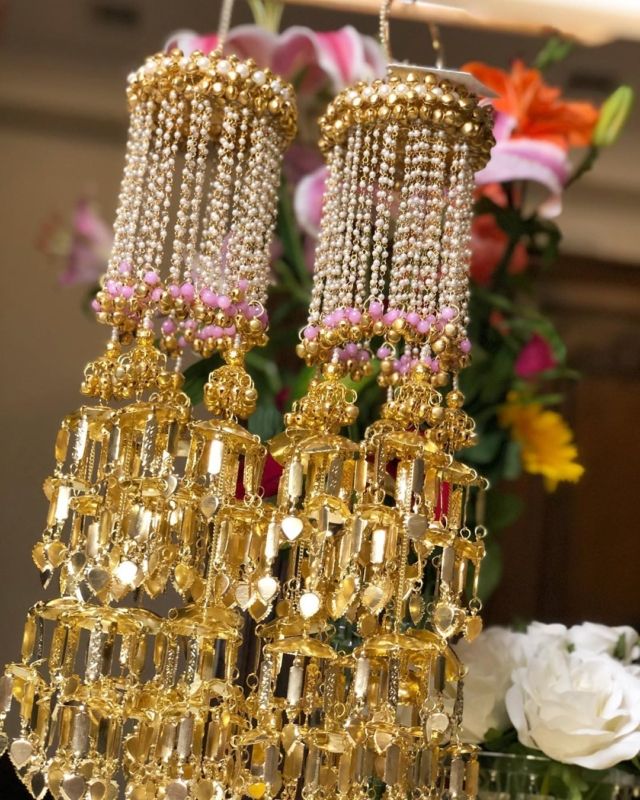 Image and Kaleere via Devanshi Seth Designs★ 3
Customised 'Rose Quartz Kaleere', which are intricate or minimal, which can amp up your bridal game!
Or parrot kaleere which are so offbeat!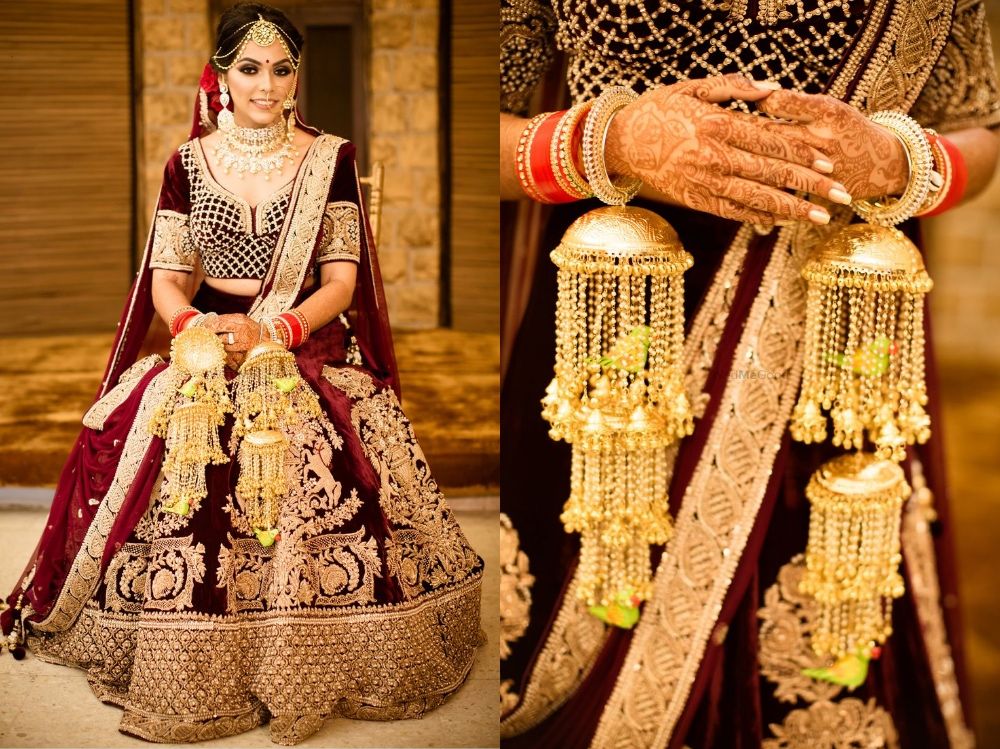 Image via Rupannshi & Vipul (Delhi)
This bride got bright green parrots added to her kaleere, and they really popped against her deep maroon lehenga!
So how do you go about customising your kaleeras? Here are some tips!
Have a theme in mind- be it your love story, your wedding theme or just something quirky which is special to you!
Know clearly what kind of kaleeras you want- be it made of real gold or silver, costume jewellery, floral, beaded, gota- or a combination of them.
Personally, we like personalising kaleere with charms in them which look adorable and chic!
Names in kaleere are trending these days, and if it is something your style, then go for it.
Keep in mind customising or personalising your kaleere might come at an additional cost, depending on the effort that's going to go into it.
Here are some vendors you can customise your kaleere for you. While some can deal with real gold or silver, there are other which do costume jewellery, some gota and some floral creations! So choose accordingly!
ALSO READ: #Trending: Mini Kaleere For Brides Who Love The Minimal Look!