Let The Games Begin: Fun Stuff to get your Sangeet Rolling!
BY The WMG Bride | 24 Sep, 2014 | 36258 views | 6 min read
If there is one event we all totally look forward to during a wedding, it's the Sangeet! The whole gaana bajaana and performances bit is just too exciting and make for great memories (not to forget, pictures!)  So while most of you put up a great show with all those dances, putting together a few fun games for sangeet sandhya will just add that extra tadka to your evening. Throw in a game or two between your dance sequences and give your guests an evening they'll remember for long and also some cool ideas for fun Indian Sangeet games.
We've put together a list of  enjoyable and easy to execute games for your sangeet sandhya, though more ideas are always welcome :)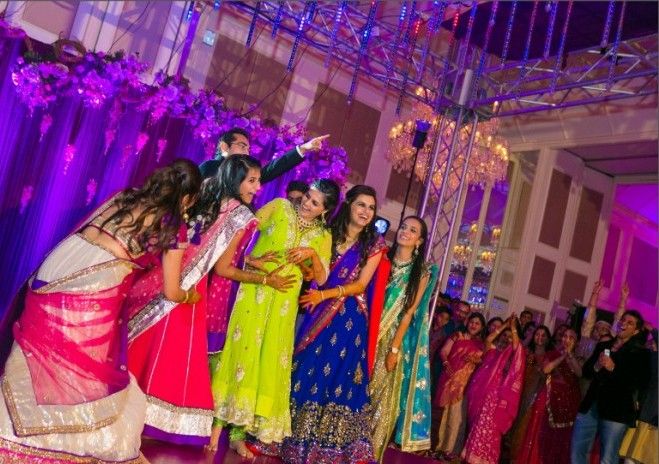 Photo from Ameesha & Jai's fun wedding sangeet games night that we had featured, shot by Atul Pratap Chauhan 
1.Dance-breaker!
Now this one's a real icebreaker. The purpose of this game is to get members from both the sides to ease out, have fun and break away from all the awkwardness! All you need is a bunch of blue and pink balloons. Make little chits with names of the boys family members and put one chit each in the blue balloons. Do the same for the girl's family with the pink balloons. The emcee calls out one person from the boys side to pick out a pink balloon, burst it and read out the name on the chit. And now these two have to shake a leg with each other. The sangeet game continues with either side picking out balloons and breaking into a jig with their new found family!
Make sure you have some peppy and fun numbers ready and this is going to be a fun sangeet game idea for your dholki night, just without the dholki, ha-ha!
  2. Whistle the loudest
For this exciting sangeet game idea, place seetis (whistles) on the guests table in two different colors (one for boys side, one for girls side). While the families are performing, let the audience use seetis to cheer on the audience. This is SO much fun, it looks like a full on carnival is happening with guests going crazy whistling for their favourite side. Ask your emcee to decide which side got the loudest cheers in the end and get them rewarded for it. This is a wonderful idea for a peppy and fun sangeet night full of fun games!
 3. Musical Housie
Think of some fun games for sangeet sandhya like Tambola, but instead of numbers on the Tambola chits, put songs. Let the emcee sing a song for 2 minutes- if the song is on your Tambola ticket, you have to get up, dance and cross that song from your ticket. This initiates a lot of fun grooving together-  and after that the regular tambola rules apply- prizes go to the first line, second line, third line as you cross out songs on your ticket. You can tick off your awesome sangeet night with this fun Indian sangeet game, or keep it for a separate sangeet games night with a smaller gathering.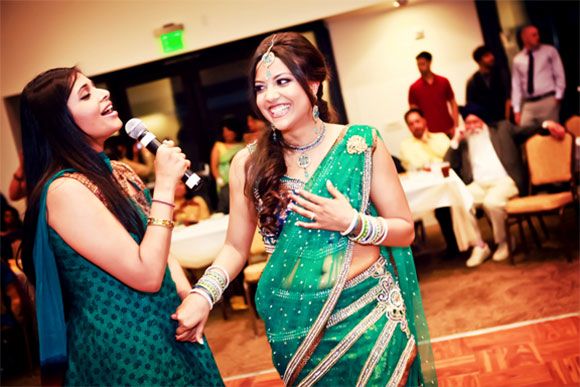 Photo Credits: Aaron Eye Photography
4. Fun Awards Night for a Sangeet Game!
Okay so this is not a game, but it's definitely a fun thing to do on your sangeet. Organize a mini IIFA! Ditch the usual dholki night and make it an award night!Get actual trophies made from a local vendor and award all the special people in your gathering! 'The shor sharaba gang' award  goes to all your friends, 'Hasso aur Hastate raho' for the funny man, 'Dance like no one's watching' to the crazy dancer of the family and so on! Make it creative and fun. This one's surely going to be one of the most talked about sangeet ceremony for a long long time!
 5. Beer Chug
Isn't life always more fun the moment you mix in some alcohol? Now every family has this one chacha or jija or mama who just LOVES drinking! It's time to put them to test! Have a beer chugging competition between two members from either sides. This is gonna be an unusual element for your sangeet sandhya but make sure to slay it the right way! The one who chugs an entire bottle first, wins. Involve more members or involve more bottles, that's your call! You can even throw in a fun challenge once both the sides are tipsy enough!
 

6. Make 'em Kiss
However cheesy it may sound, but who doesn't want to see the soon-to-be-weds exchange a kiss in full public view! It's just super cute! So this one's a joint effort by all the guests to make them do it! Works on the basic principle of passing the parcel. Circulate an item around, music stops, guests opens a chit and performs a dare. On every successful completion of the dare, the wedding couple exchanges a kiss! Sounds like a fun sangeet game eh!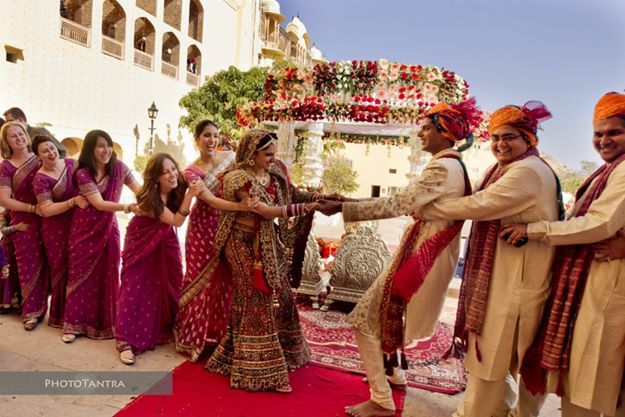 Photo Credits: Photo Tantra
 7. Tug of War
Only this time it's slightly different. This is solely between all the sisters and sister-in-laws of either side. Place two items of the bride and grooms choice on either sides of the stage. So if it's a vanity box for the bride, it could be a set of cufflinks for the groom. Throw in a rope in the middle and women from both the sides have to tug the rope in opposite directions to grab the prize for their member.
8. Guess who
Another ice breaker between performances, have a slideshow showing clues about different family members. For example one side saying "His favourite actress is Katrina Kaif , he would kill for a Hot Chocolate Sundae, and he was born in Nagpur. Guess who?" Let your family members guess which member of the family the slide is referring to. First correct answer wins!
You could also try the good old  Musical Chair as a fun game for your sangeet night! It's very engaging and a lot of fun!
Do read about this couple who hosted a wedding olympics with some really fun games.
Getting married anytime soon? Do tell us if you'll be executing any of these and just in case you got an idea bobbing in there, do share!
Play Hard!
Stay updated with the latest wedding trends, Download the WedMeGood app now.