#Lipstick-Ready On Your Wedding Week: How To Make Your Lipstick Last Longer!
BY The WMG Bride | 28 Aug, 2015 | 667 views | 4 min read
If you're anything like me, you'll just be obsessed with the smallest of details on your wedding day. And lipstick is by far the tiniest and yet the most important thing to focus your attention on in your wedding week. Yes, you might have your make-up artist behind you on your wedding day or a helpful cousin carrying your favourite brand in her
potli
but don't think that it's the scene on your wedding week. Let's start counting shall we? The sagai, engagements sometime happen a few days before the wedding, lunch with family, lunch with his family, small mehendi, sangeet....wedding, reception and the functions afterwards - there are so many and you need to look your best. Wearing the right lipstick and making sure it lasts is one such detail. So we give you 5 working tips that will make your lipstick last longer at every event, making you look like a star!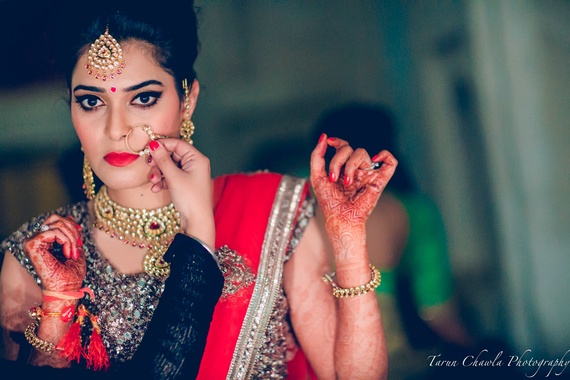 Photography: Tarun Chawla Photography★ 4.8 , Makeup: Shruti Sharma Bridal Makeup 
1. Pre-lip care is a big deal 
Yes, you need your lips to look more than good but not without some good pre-care. Do these two things and you'll be safer than safe. 1. Use a home-made exfoliator made of coconut oil + brown sugar. It will soothe your lips and make them super smooth. Do it twice a week for best results. Or you can buy one that keeps your lips young. Another tip, rub your old toothbrush on your lips to exfoliate and dry it with a damp cloth.
Buy: Elf Lip Exfoliator in Mint on Flipkart, Rs 899
2. Make sure you apply a good lip balm before hand. Applying lipstick on dry lips is a big no-no. This will remove dry skin and smoothen out all issues in a jiffy.
Buy: Vaseline Lip Guard with Cocoa Butter, YesStyle.com, Rs 279
2. Foundation can be used in different ways 
Did you know this super cool tip that makes sure your lipstick stays on in times of need? Dab a little foundation on your lip before you apply lipstick and viola, a natural long-lasting formula. The reason: the foundation or concealer that you apply can cancel off the pink your lips come with giving them an even tone for the colour of your lipstick to come through. Choose waterproof foundation/concealer for extra long staying power.
Buy: Tarte Waterproof Concealer at Elitify, Rs 2690
3. Outline your lips extra carefully 
A lip liner is most essential here. I know, I know, we all think that a lipliner can make us look old or like 90s Kareena Kapoor ( gross, that brown liner!). But that is not the case. Lipliner looks terrible when you don't choose the right hue. Choose a colour that goes best with your lipstick of the day and apply it around the lips to seal it. It is dry, but its ok. It will make sure your lipstick won't bleed.
Buy: Nyx Mechanical Lip Pencil in Natural at Amazon.in, Rs 982
4. Apply lipstick, choose well 
When it comes to lipsticks, few rules must be followed. 1. Choose matte lipsticks over glossy. They last longer and give your mouth an even finish! 2. Lipsticks applied can be drying and can make your lips look parched! That's why prep needs to be done. 3. Use a lip brush to apply lipstick - more spaces lipstick can go, more lip that gets covered and more precision in applying. 4. Buy a good sealant to throw on top of your lips so they stay happy all through the ceremonies! 5. Look for long-lasting formulas - as if!!!!
Buy: Sealed With a Kiss Lip Sealant at Faces
4. Blot & apply translucent powder 
After you apply the first apply your favourite lipstick, blot excess foundation. Put in your lipstick and then, blot again to remove excess lipstick. Then hold the tissue paper on the lips and brush it lightly with translucent powder. Sealed! Then re-apply the lipstick once more. Solid foundation and your lips will stay good all through the events.
5. Caution is necessary
Do keep a few things in mind when you are applying lipstick. Weddings have daaru, so step one, drink only with a straw. Secondly, discreetly, lick the ed
ge you're drinking from - the slight wetness stops your lipstick coming off on the glass. 
Have a few tips that you found out about making lipstick last longer? Tips us off down at the comments section!