#LongHairDon'tCare: 20+ Floral Hair Inspirations For The Modern Bride!
BY The WMG Bride | 09 Sep, 2015 | 5576 views | 5 min read
Hair is such an integral part of a bride's big day - well, yes, even if it's probably covered by the damn dupatta or it's never photographed , there is something about flowers and hair that go together like wine and cheese.  No wonder our brides love all the hair attention we can get, so we picked out 20+ Bridal hair inspirations for the modern bride. So many cool ideas to suit every palate. Enjoy!
1. Back Bun with Jasmine
Archana & Sheeraj's Thailand Wedding 
Back buns have always been a favourite with us - just make sure they are simple and are put together with just a strand of gajra so they show up through the net dupatta.
2. High-bun with Tiny roses 
Picture Courtesy: Nishka Lulla's Wedding 
Tiny roses are so avant-garde and when they are put together like a maze on a high bun, they exude a certain vintage vibe!
3. Braided Bun with Kitshy Hair Accessory 
Braided buns are amazing - they give volume to the hair and suit fine hair-ed girls. When paired with a strand of flowers around them and a kitschy hair accessory - they're just perfect!
4. Full roses for a Vintage Look
Into Candid Photography★ 4.9 Into Candid Photography★ 4.9  
Bright pink roses make for great additions - they add contrast to the lehenga and give out a Parisian elegant twist.
5. Roses Under the Bun
Vivek Krishnan photography★ 4.9 Shiv Sharma Photography★ 4.9 ; Vivek Krishnan photography★ 4.9
Peach roses are our biggest love - they give out a very delicate feminine vibe and make sure your look is classy and smart at the same time.
6. Full Mogra Hair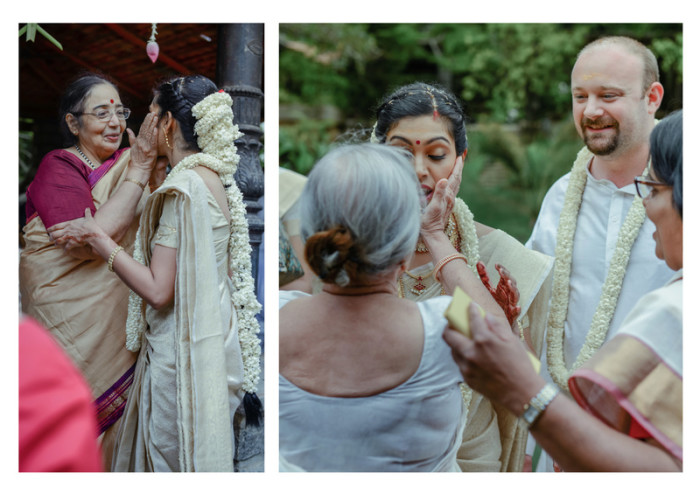 Picture Courtesy: The Independent Eye Photography
A full gajra hair plait is tradition practically but newer brides have been draping them more beautifully every year!
7. Gajra Two-toned Hairdo with Two Kinds of Flowers with Juda Pin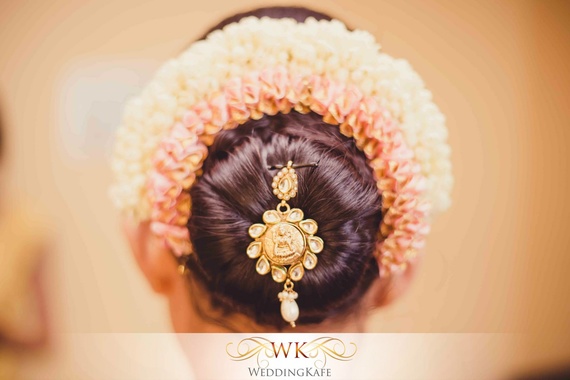 Use two kinds of flowers one on top of the other so you have balance and contrast. Pin them with a juda pin for amazing photographs.
8. Long Flower Braid
Sonam & Rahul's Wedding; Prerna & Abhineet's Wedding 
Add a floral braid with a neat paranda to add a bit of tradition and spunk to your outfit.
9. Petals in your braid
Image source: Pinterest
How elegant do these wispy petals look in the braids of these Pakistani brides? Delicate and feminine , this is an unusual way to use flowers.
10. Delicate 'Baby's breath' flowers on your hair
We love how Mira Rajput chose to go delicate, and get wispy baby's breath flowers as a small tiara on top of her bun. It complemented her pastel pink lehenga perfectly.
11. Side Swept Hair with Flowers
Picture Courtesy: Tamanna Rooz★ 4.9
Side swept hair is a great option for brides who are looking for a chilled-out hairdo. But do look for flowers that are non-traditional like carnations etc.
12. Full Gajra
A full gajra bun is a welcome change in a sea of "done-to-death" hairdos.
13. Sparse Floral Additions
Picture Courtesy: The Creative Lens★ 4.9
If you don't want to go over-the-top, then look for just sparse floral ideas like this one to stay on top of the trend game.
14. Typical South-India Flower Hairdo with Temple Jewellery
Picture Courtesy: Kripa & Ajay's Wedding 
The jasmine and temple jewellery route has been explored before but it still takes top draw at weddings. Change the flowers or go completely crazy over with jewellery to add more drama.
15. Modern Gajra Braid 
Almost like a modern-day mohawk, this maang tika + floral hairdo is so unique and awesome that it gets our vote ASAP.
16. Big Roses
Picture Courtesy: Pinterest
Big roses are great for modern brides - just choose a colour like white or light pink so it doesn't take away the glamour from your outfit.
17. Floral Hair-bands
Picture Courtesy: Dolce & Gabbana Show
The good thing about this look is how it incorporates jewellery and flowers so effortlessly. The awesome thing about it is the fact that floral hairbands are not just limited to bridesmaids - they can crafted beautifully to fit your hair too!
18. The Half Moon Bun 
Picture Courtesy: Style Me Pretty 
A fun bun and a half-moon strand of flowers are so so modern and so contemporary, also minimal effort!
19. The Waterfall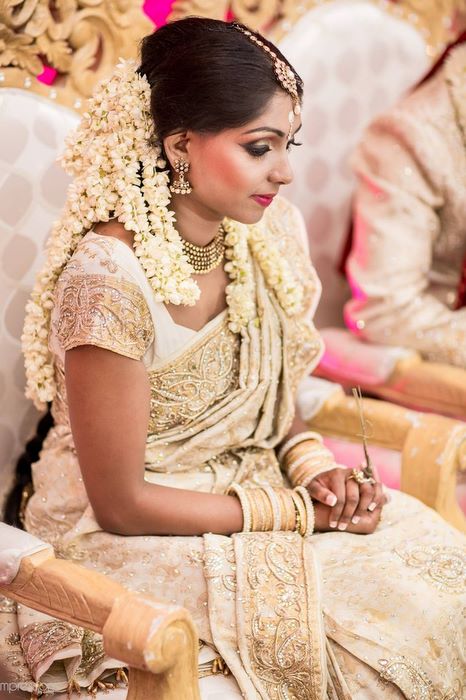 Picture Courtesy: Anu Goby Hindu Wedding 
This is another fairly common floral hairdo in the south. A bunch of jasmine strands are taken together and pinned so that they fall on the bride like a waterfall. Cute!
20. The Concentric Circles 
Picture Courtesy: My Shaadi.com on Pinterest 
This one is super easy - just have two circles - one small, inside the bun and the other around it. Pin a nice accessory and you're set!
21. The Rose Line-up 
Picture Courtesy: The Dulhan Diaries
Just add a line of roses at the top of the bun and accentuate them with a nice pearl necklace. So so chic!
Have a hairdo that you think might fit the story? Tell us in the comments section!