Mangalasnanam Snippets Bursting With Freshness & Bright Hues
BY Garvita | 24 Jan, 2023 | 13794 views | 4 min read
For us, weddings are majorly about scouting beautiful, ethereal images, and going gaga over them! While looking for such captures in South Indian weddings, we realised how alluring is the Mangalasnanam ritual. Probably, the most fun yet enthralling of 'em all!
It's a wedding ritual in which the pellikuthuru (bride) and the pellikoduku (groom) are given a purifying holy bath to further attend the wedding rites and ceremonies.
Keeping in mind the stunning aesthetics of this ceremony, we dug deeper and found some beautiful Mangalasnanam portraits that would make you go 'WHOA'. Scroll down for a heartwarming rollercoaster of emotions!
Need cues on how to elevate the celebration?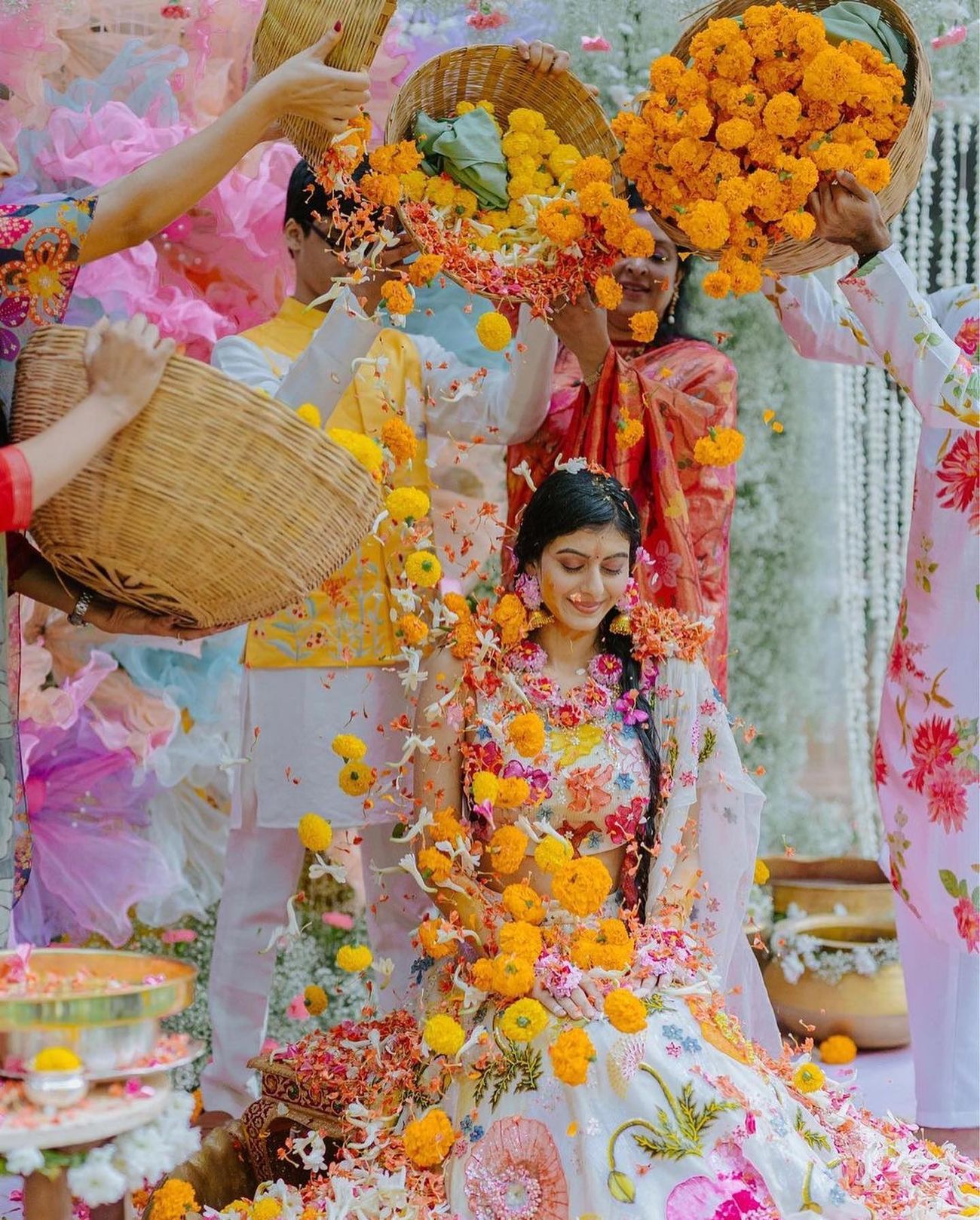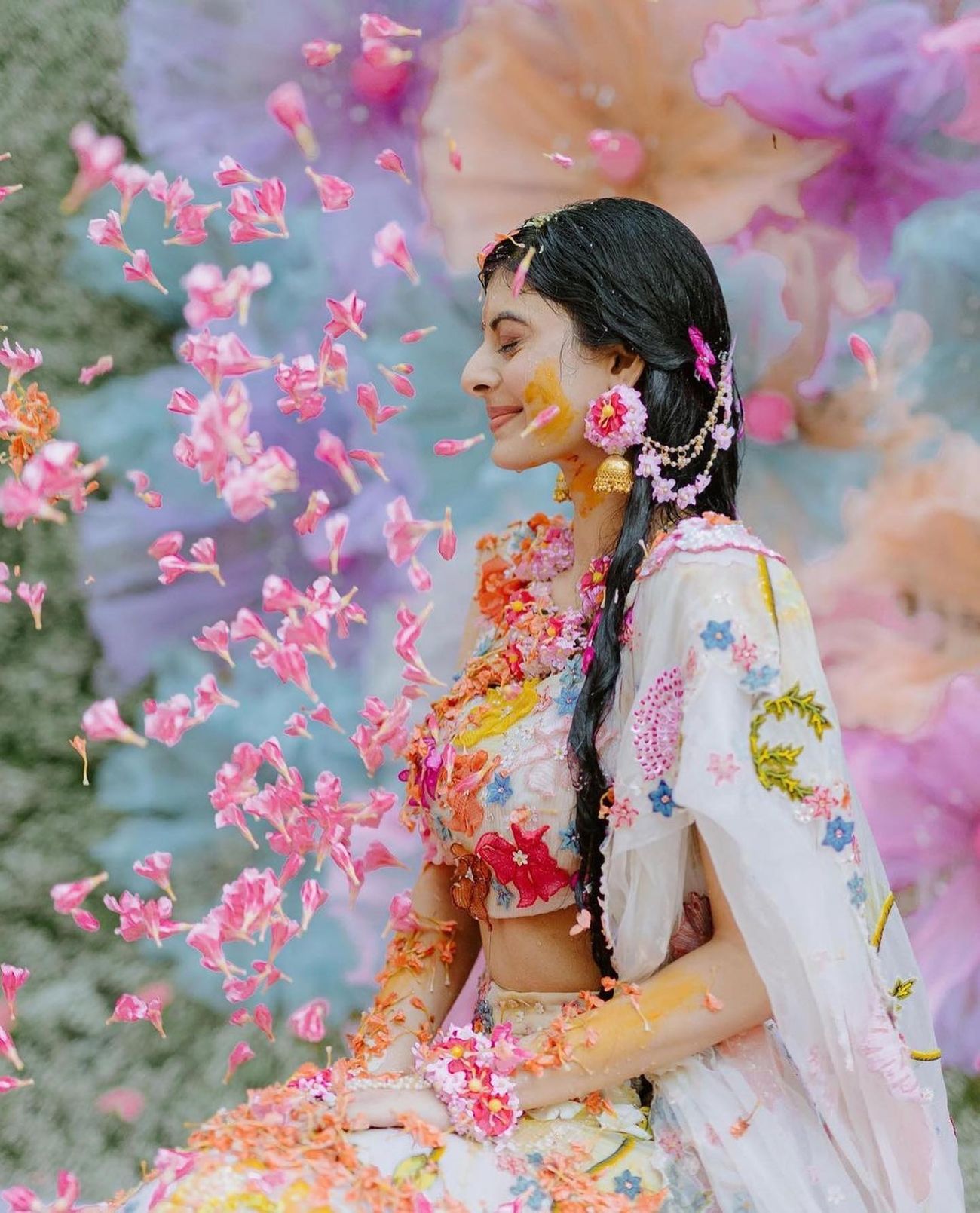 Image via Gautam Khullar Photography
Just add vivid blooms and a multi-hued outfit!
When the mangala snanam setup plays a main role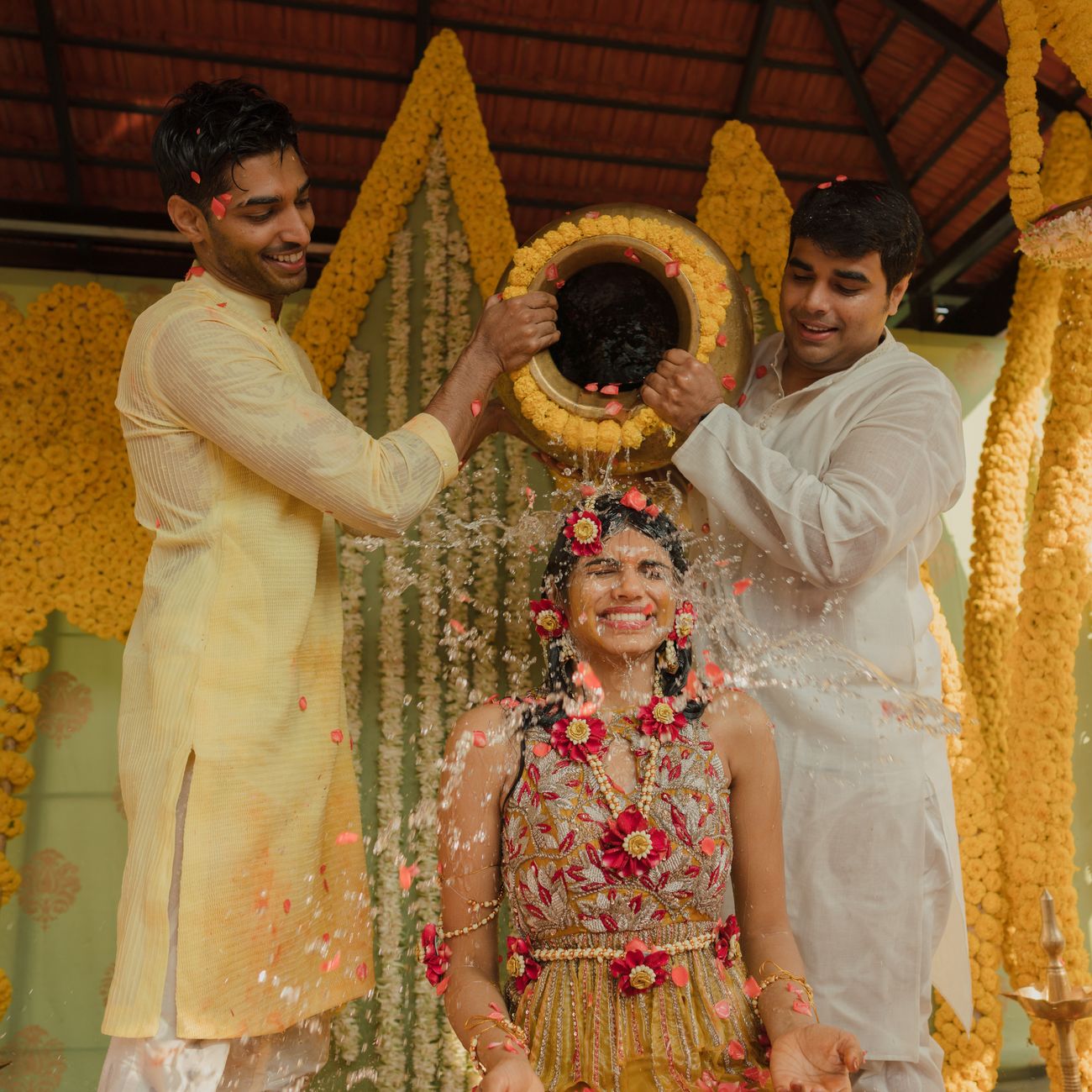 Image via Manvitha and Vishwak
Marigold laden backdrops with cascading jasmine strings truly add a dash of uniqueness to this bride's mangala snanam photo.
We are here for the gleaming smile and effervescent vibes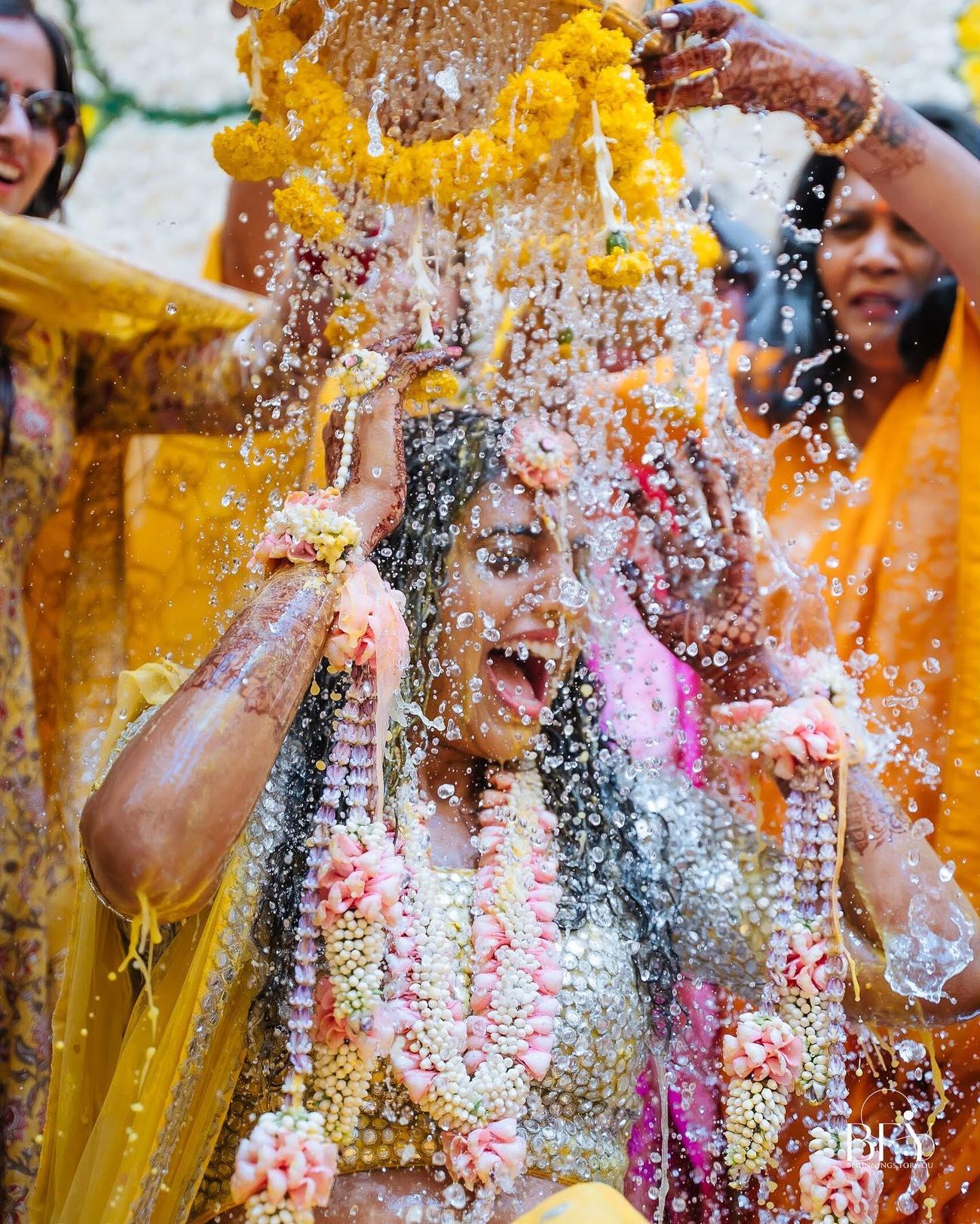 Image via Beginnings For You
What's not to love about this one?!
Mangala snanam pictures as vibrant as these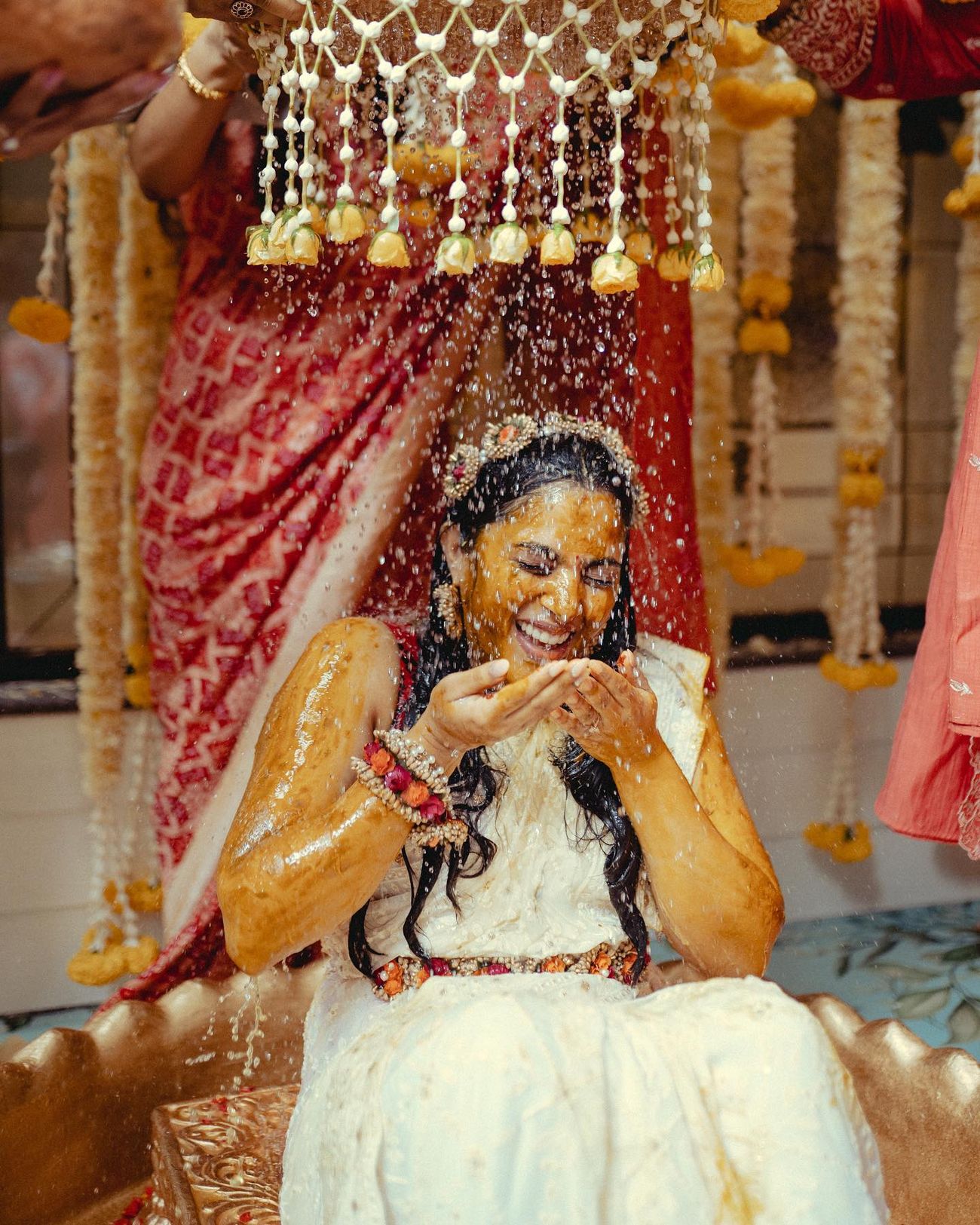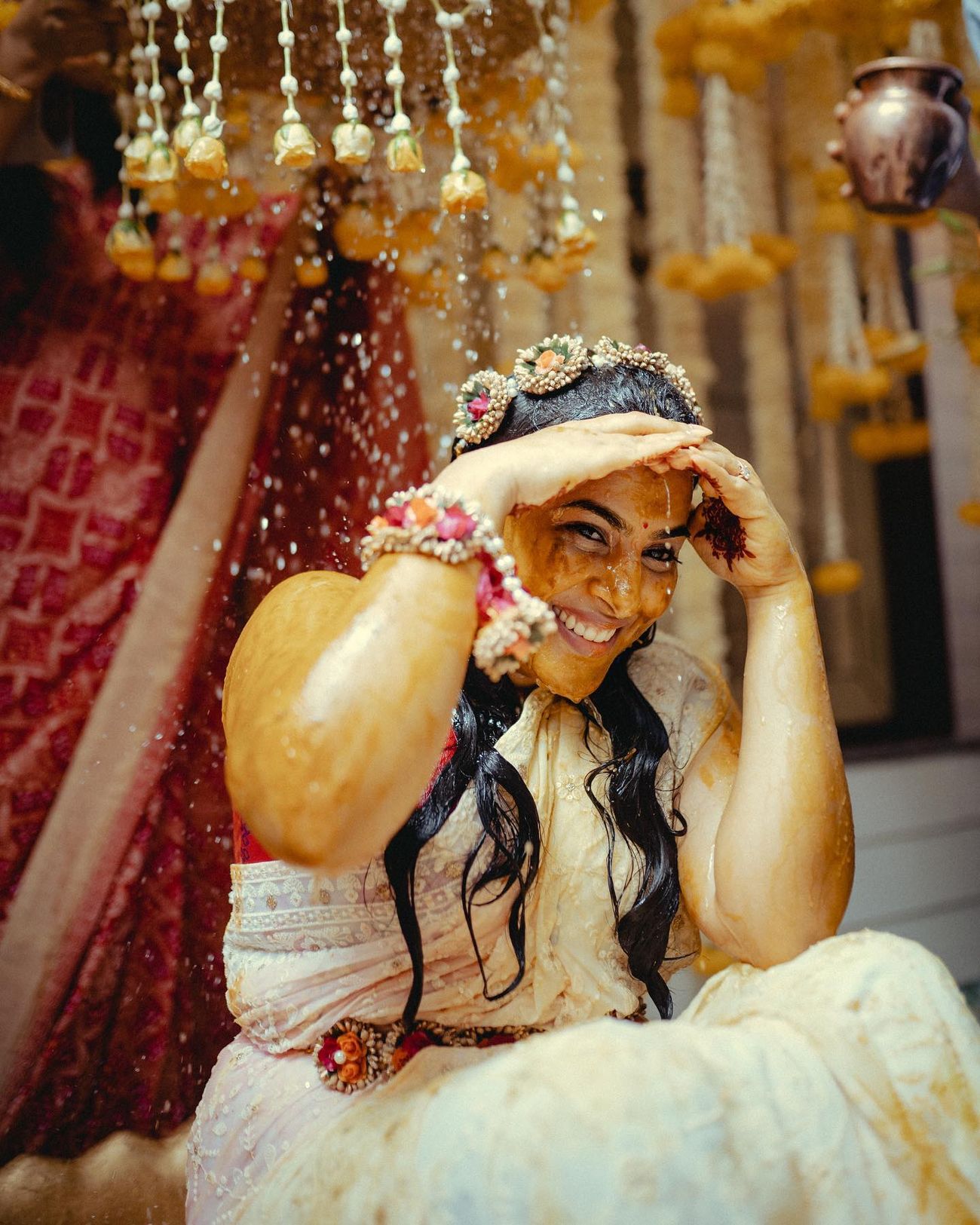 Image via LightBucket Productions
Our favorite takeaway: Those cutesy expressions
A riot of bright hues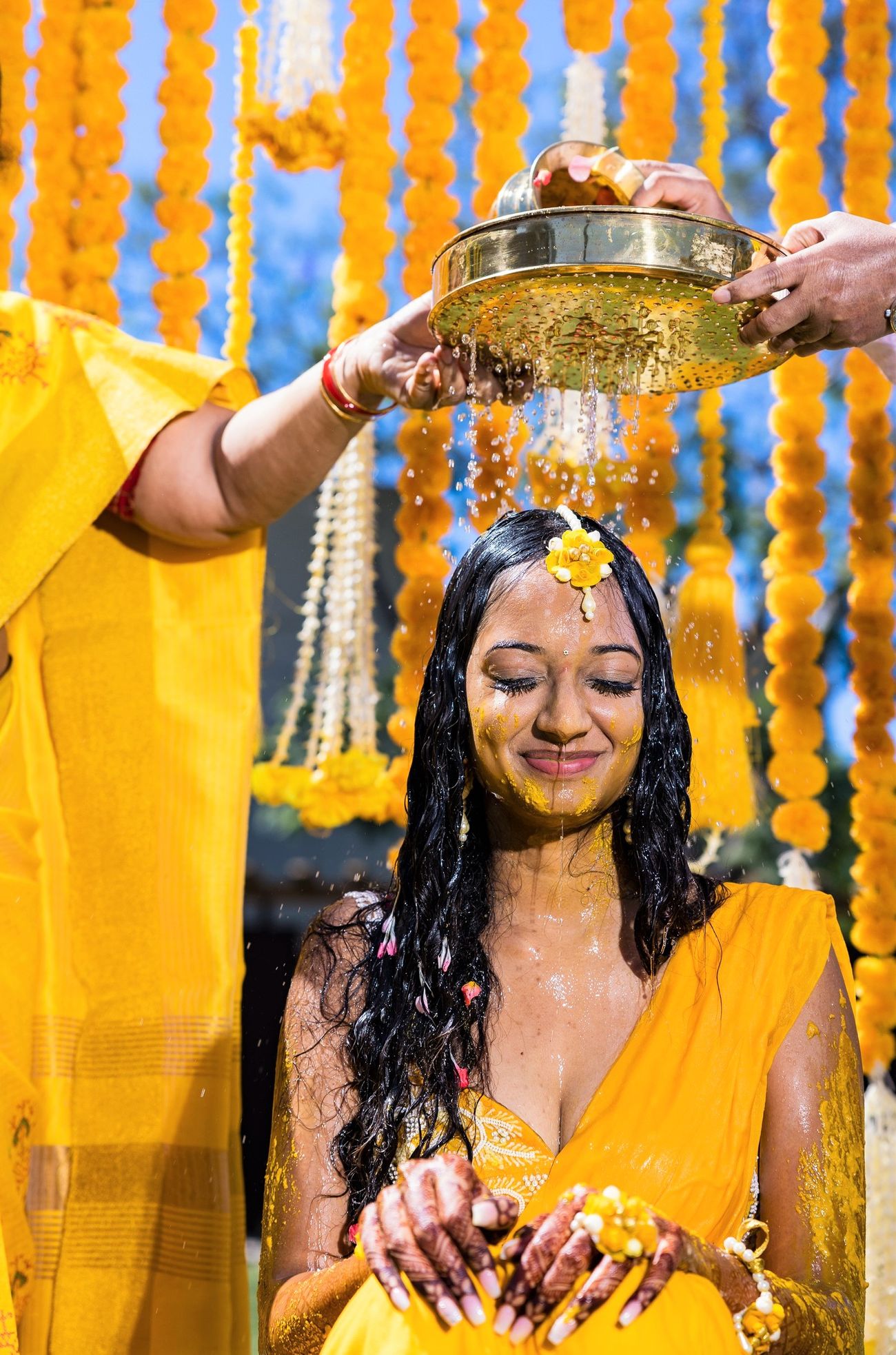 Image via Rohan and Shravya
Don't miss the matching floral jewellery!
Splashes of laughter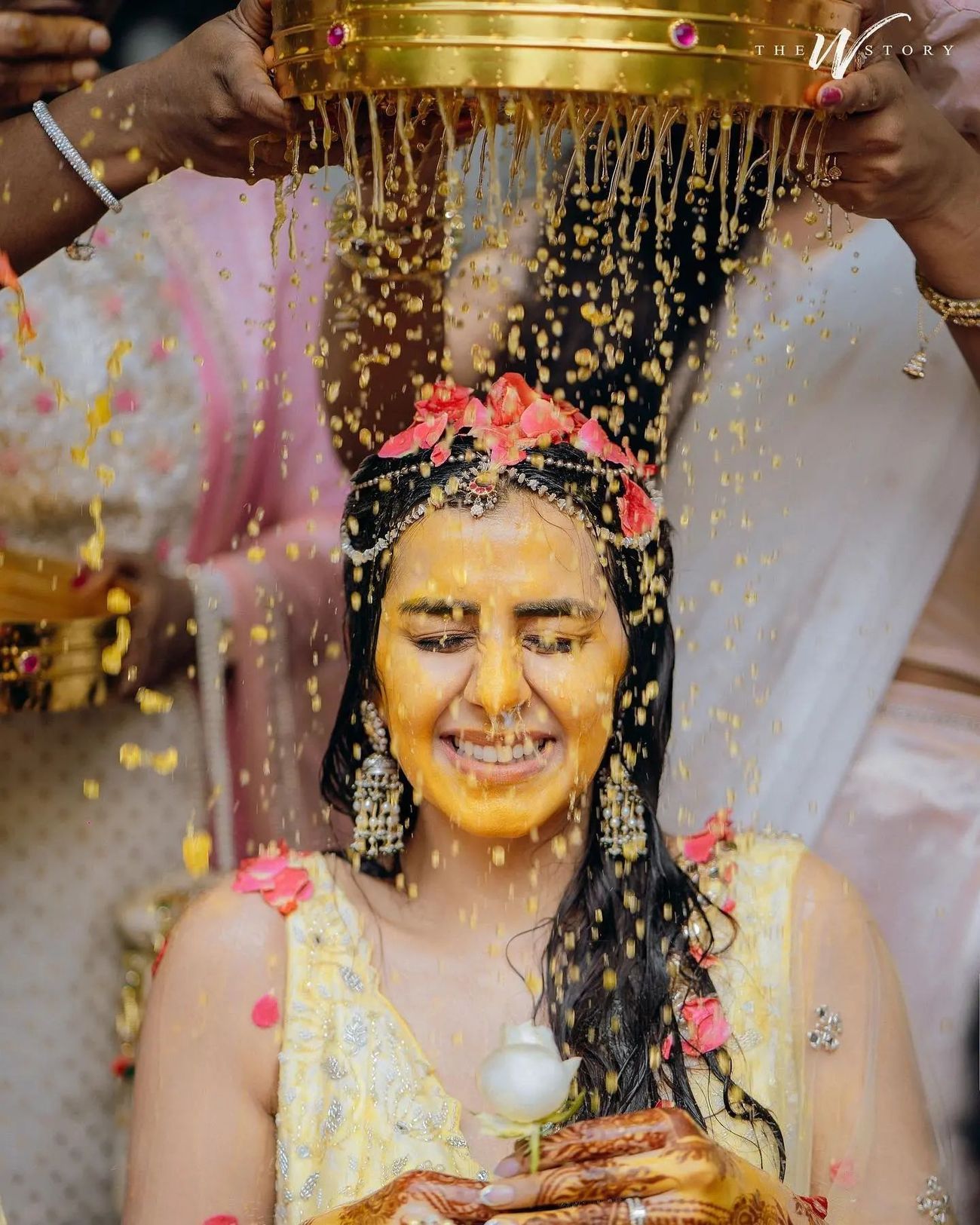 Image via The Wedding Story
Love how those popping rose petals add so much vibrancy to this portrait.
Niharika Konidela's mangalasnanam portrait was a visual delight
Image via niharikakonidela
Everything about this mangala snanam photo screams beautiful.
Surrounded by love & happiness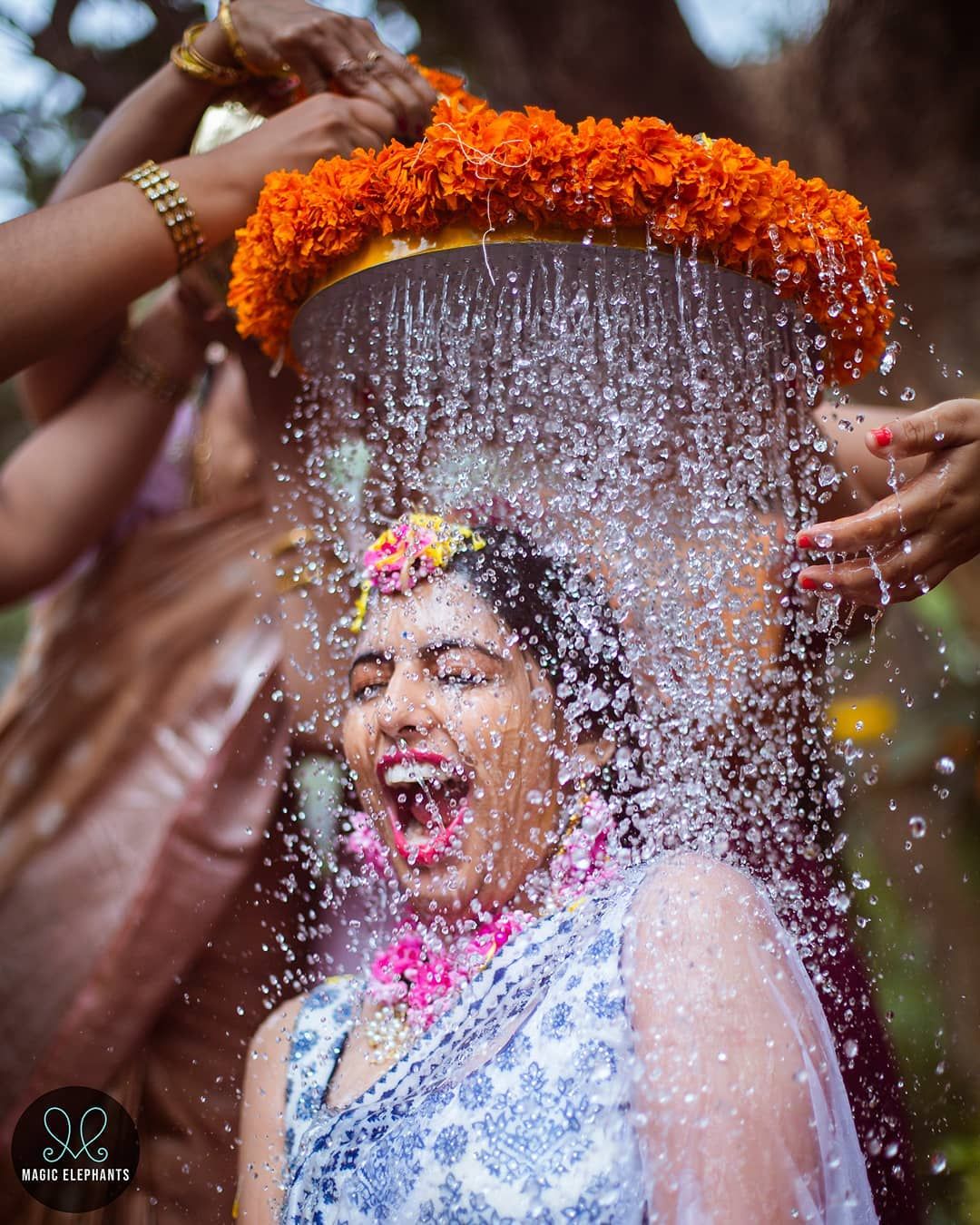 Image via Magic Elephants
Looking for vibes that are downright enchanting? Take inspo from this one.
The bridesmaids' expressions say it all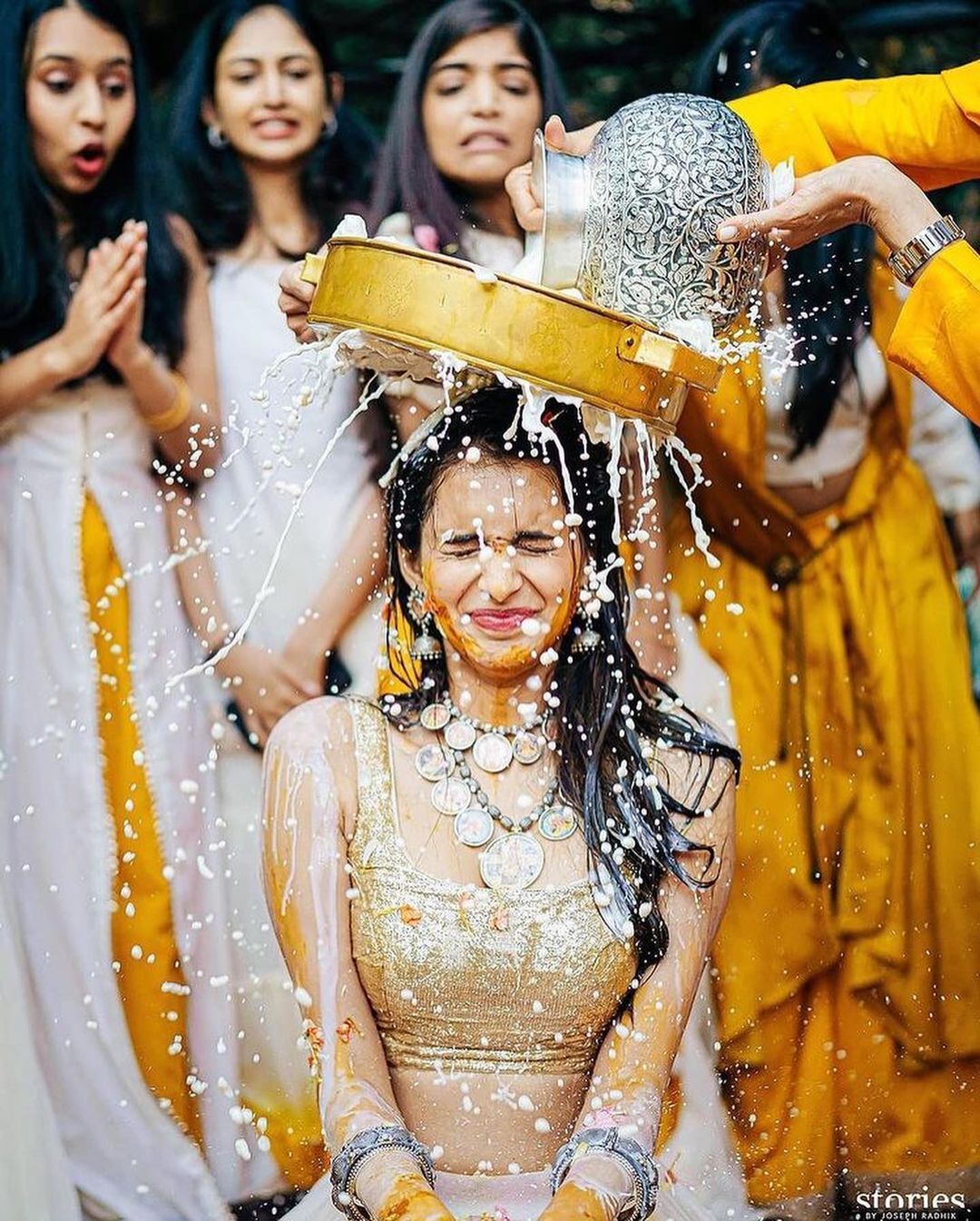 Image via Stories by Joseph Radhik
Do you relate?
We just found an ogle-worthy mangalasnanam photo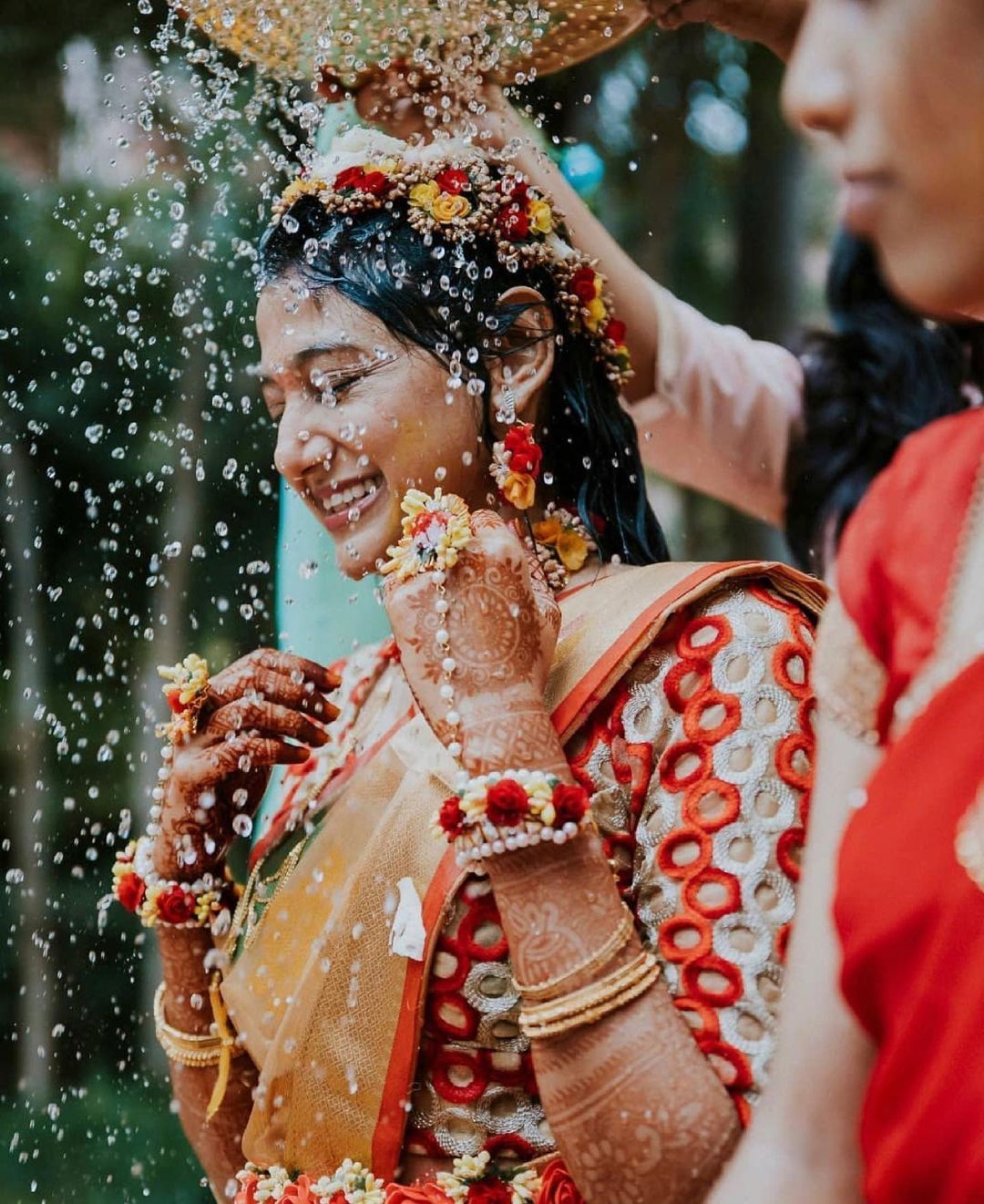 Image via Pixel Chronicles
Add it to your mood board already!
Is this what being drenched in joy looks like?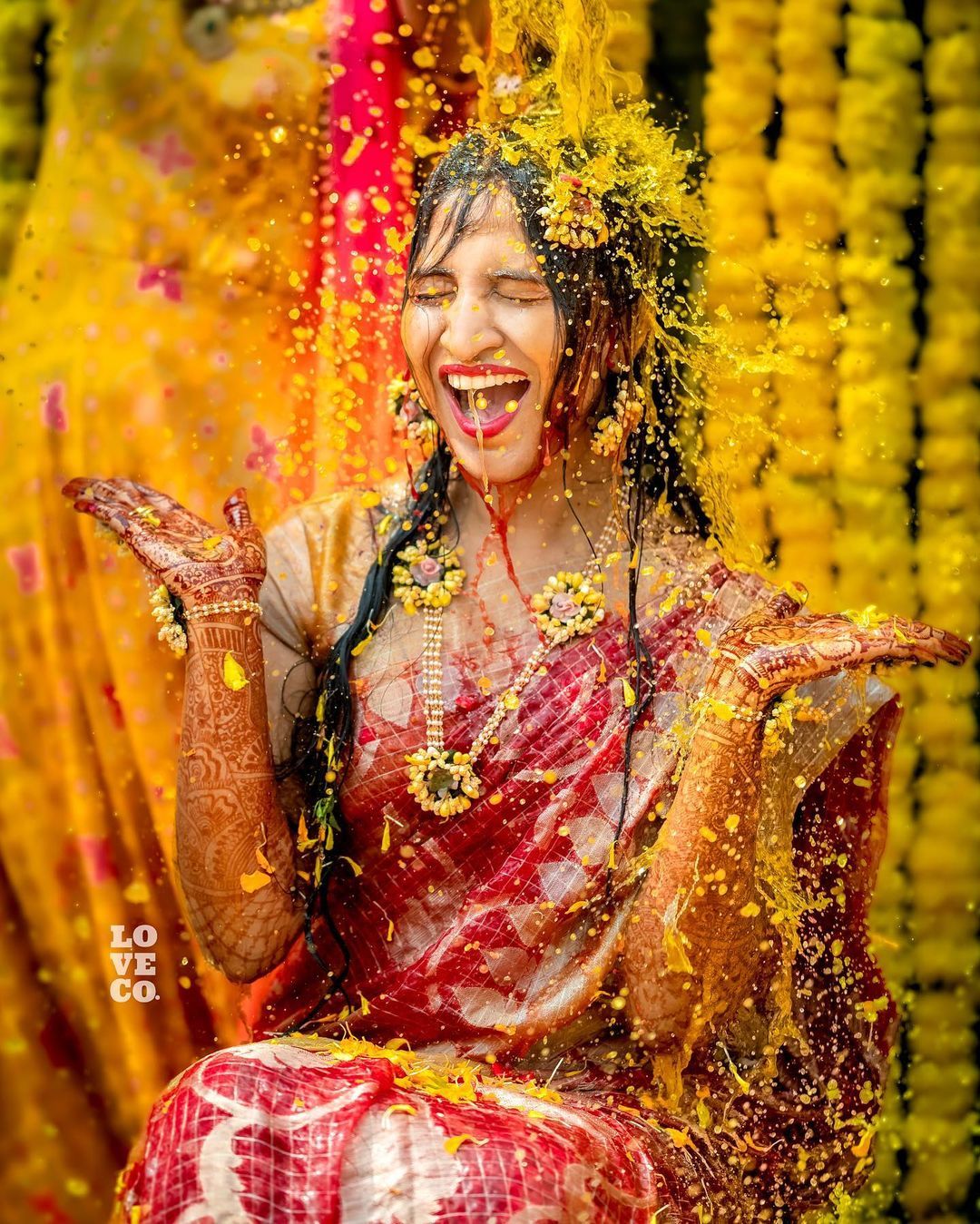 Image via Loveco Photography
Our vote says, yes!
What a match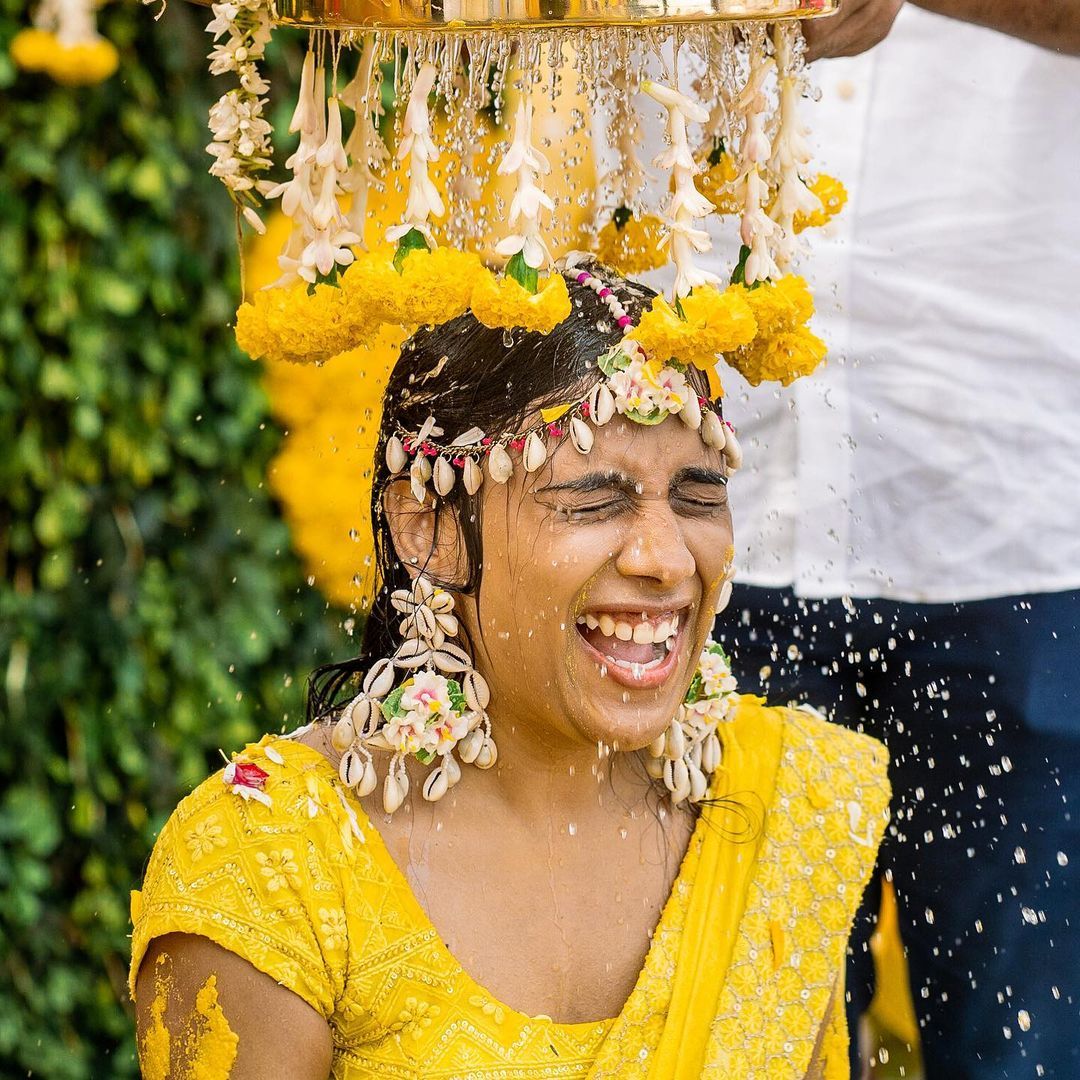 Image via Pixel Army
We're so obsessed with this bride's seashell jewellery.
And this one induces so much serenity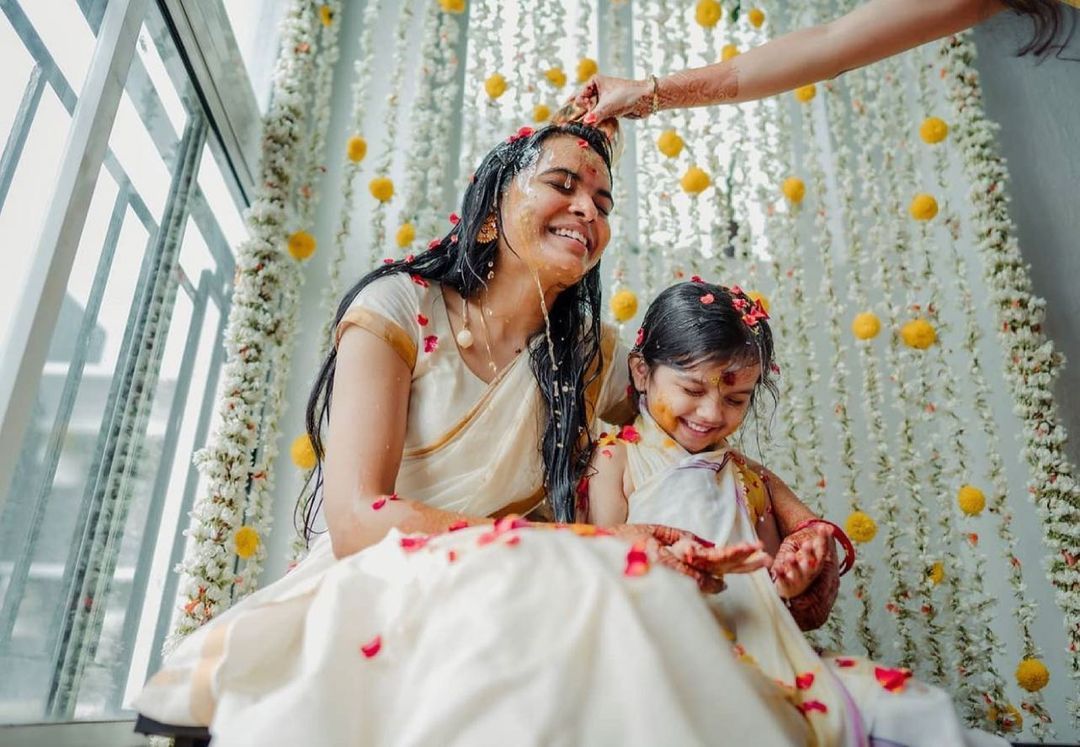 Image via Vivek Krishnan photography
Brb, manifesting a mangala snanam photo like this!
We're swooning over this one with yellow vibes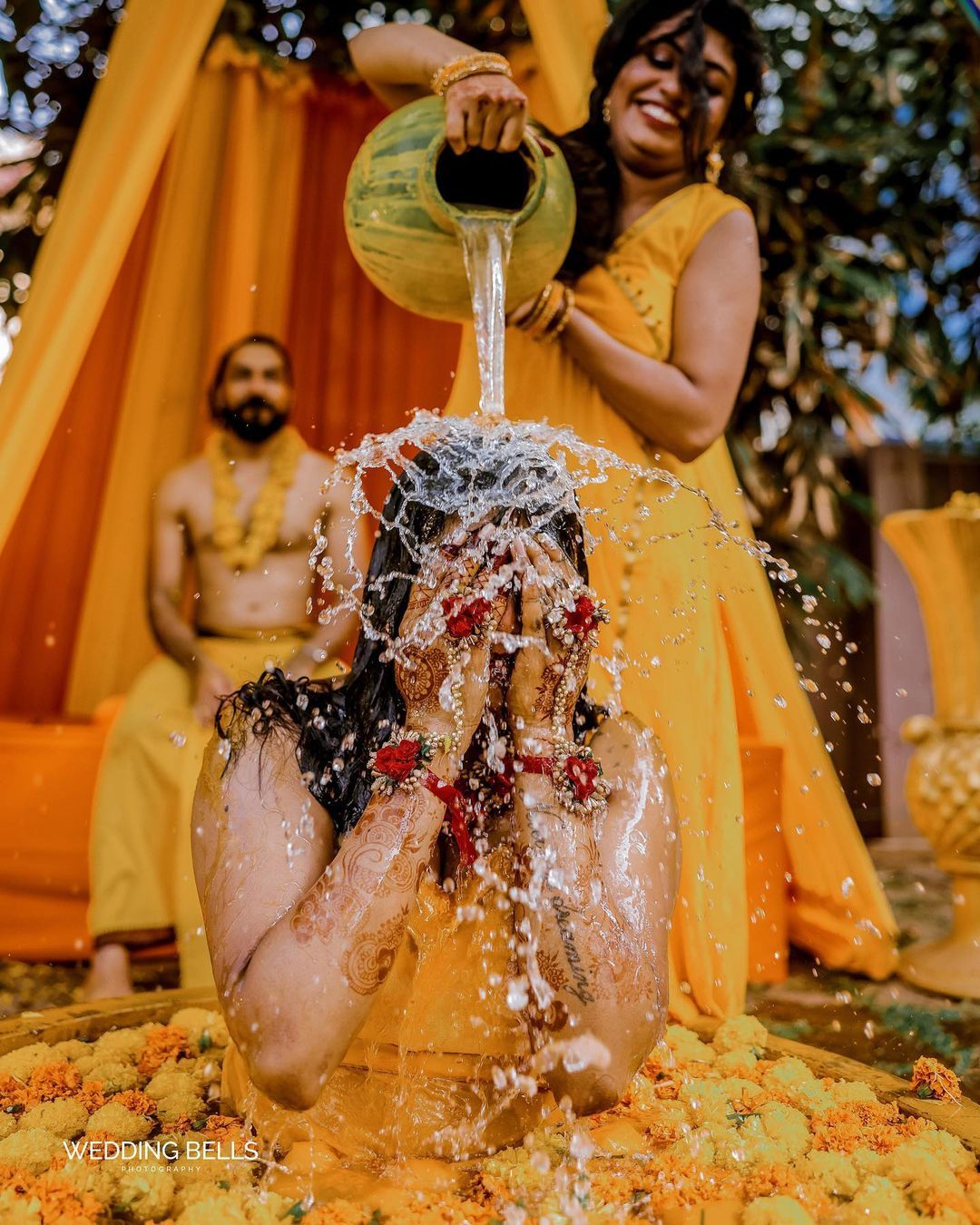 Image via Wedding Bells Photography
For those who want to stick to sunshine hues.
This shot is no less than a 'splash' paradise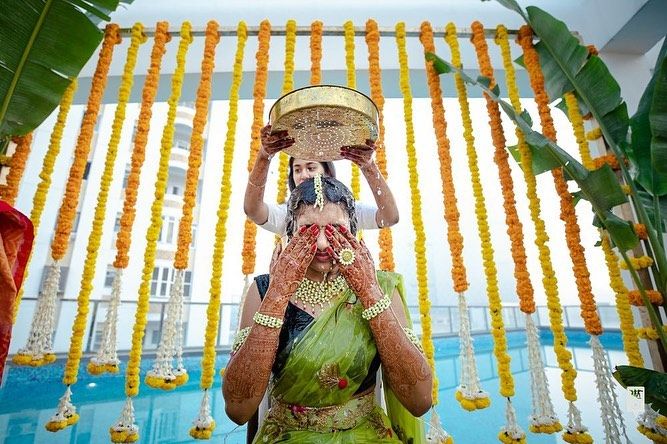 Image via Pixel Army
Psstt.. sending some DIY mangala snanam setup inspo your way!
A change in angle makes so much difference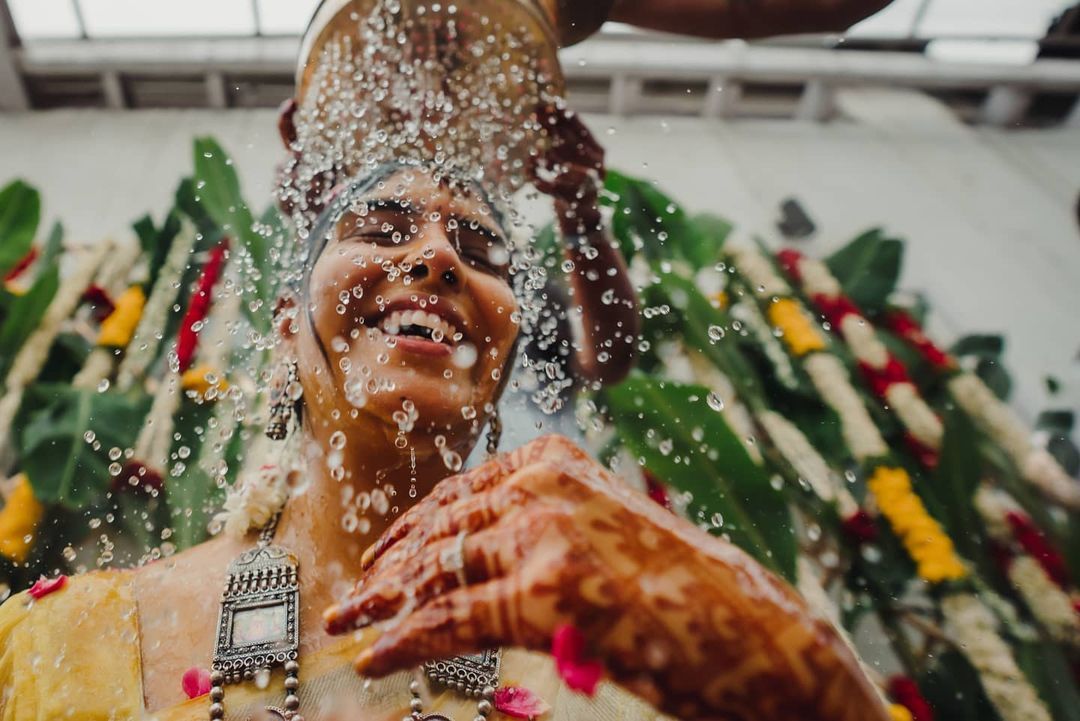 Image via Vivek Krishnan photography
Yet the magic is intact!
Happiness galore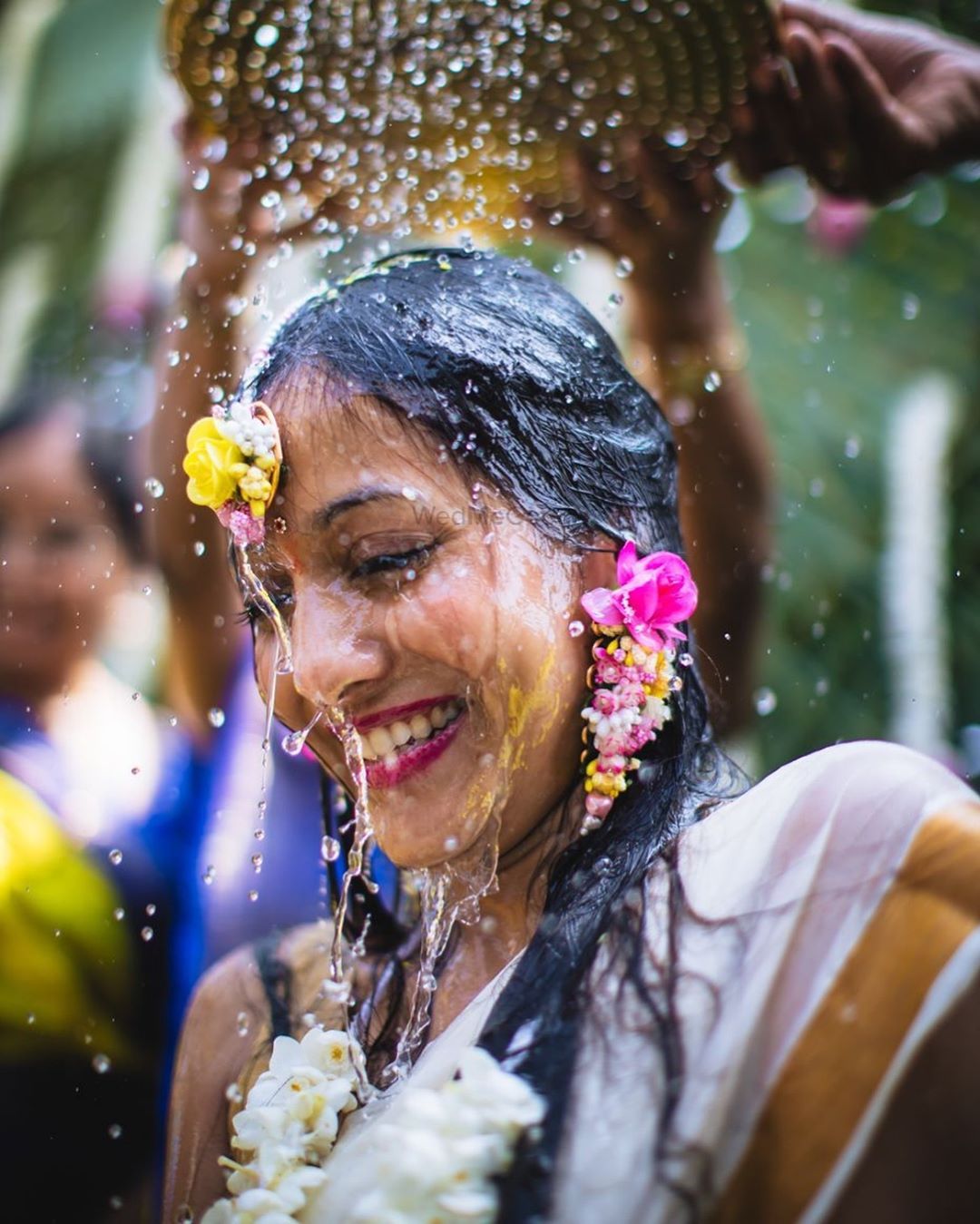 Image via LightBucket Productions
Mangalasnanam photo like this one!
Utterly gorgeous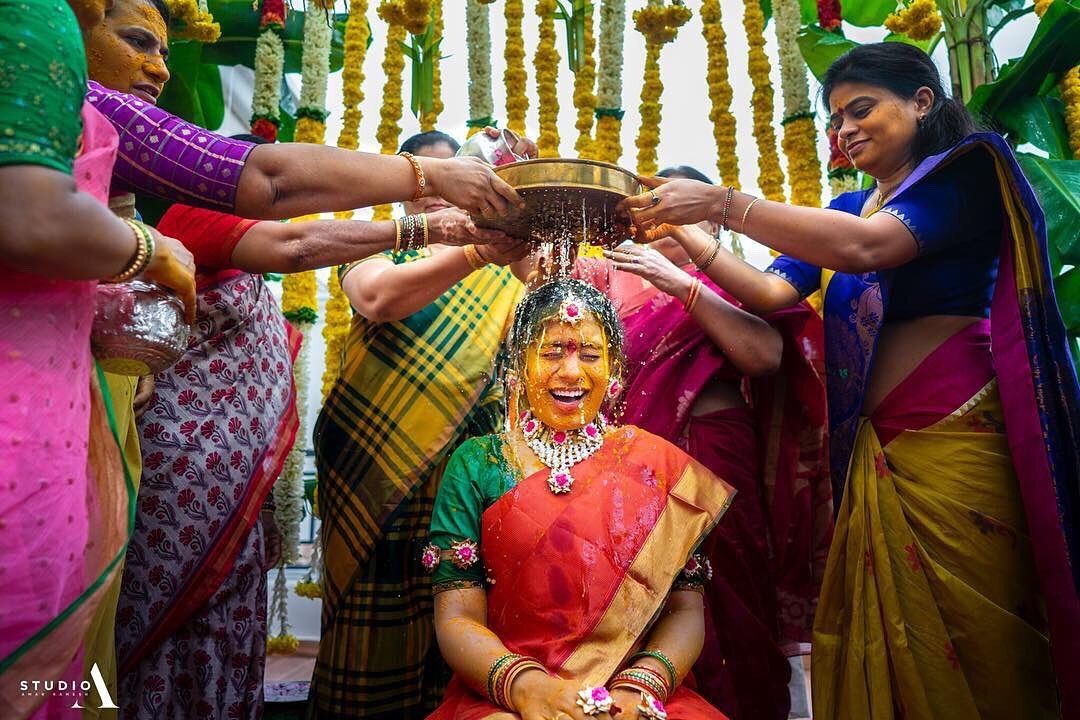 Image via Studio A 
A splash of colors at this bride's Mangalasnanam.
A splash to fill her life with love and happiness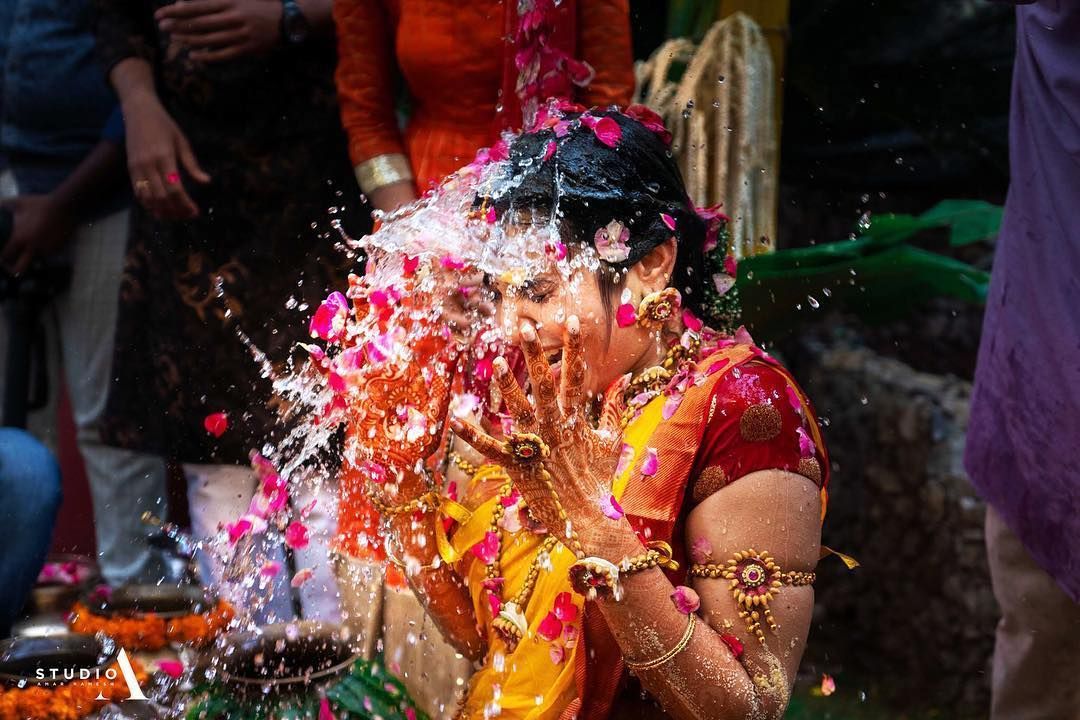 Image via Studio A 
We love how this one spells au naturale.
Bring in your furry friend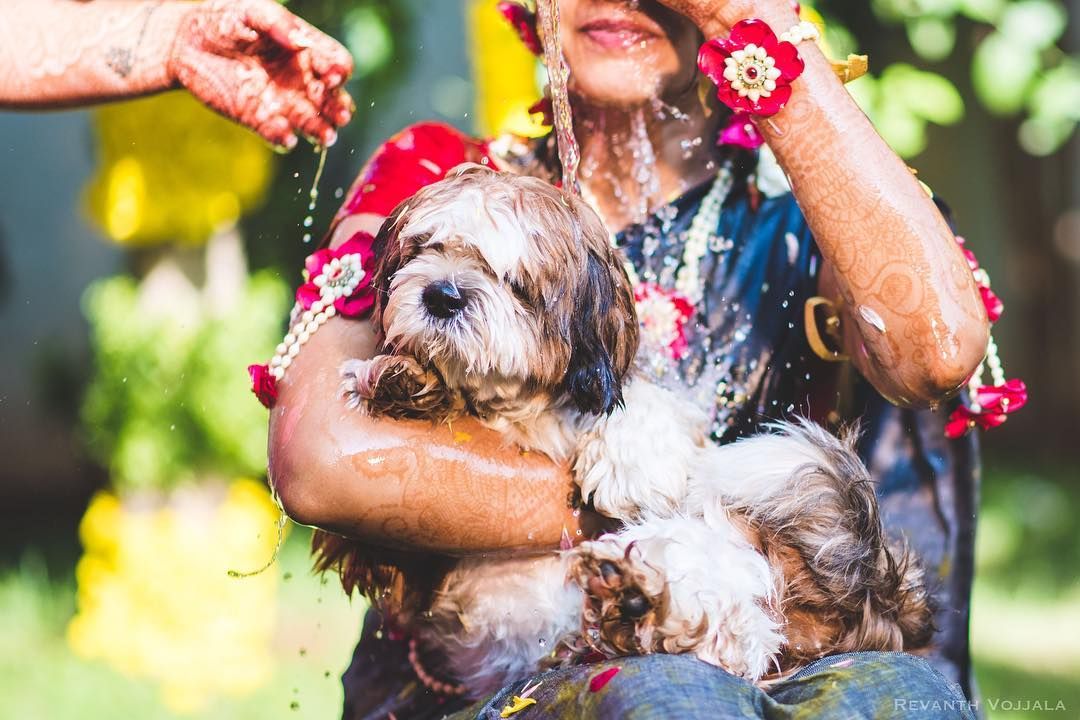 Image via @vojjalarevanth
And the doggo makes this Mangala Snanam shot absolutely #pawdorable
This bride is in the 'bring it on' mode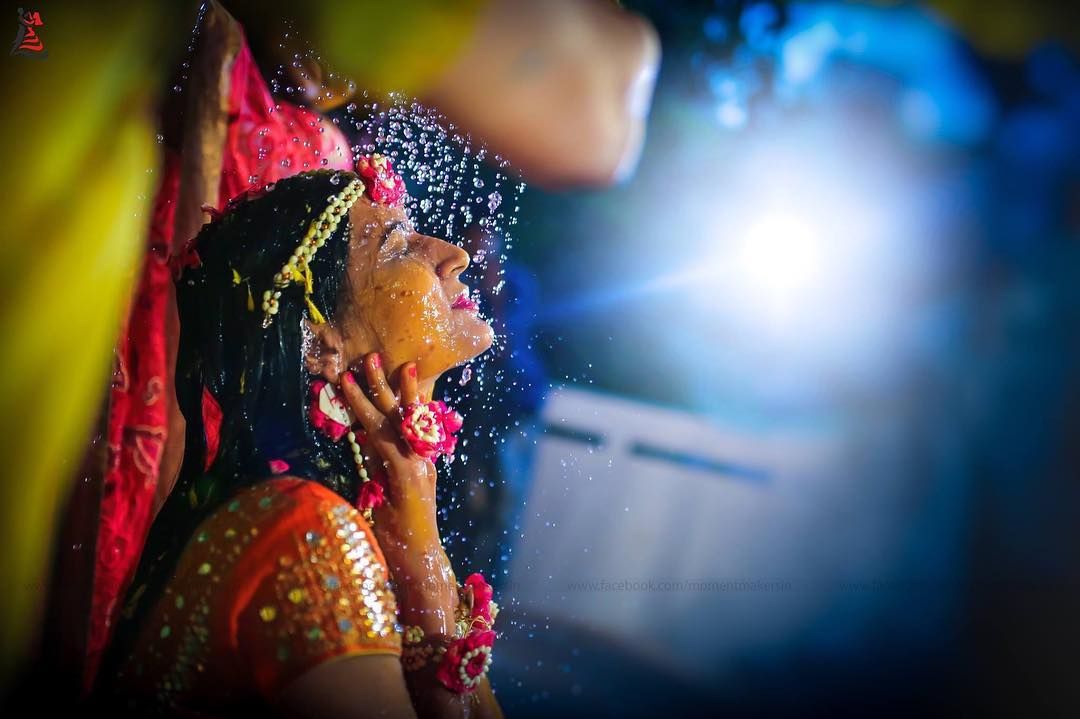 Image via @momentmakersphotography
Woahh!
A happy bridal shot amidst this beautiful moment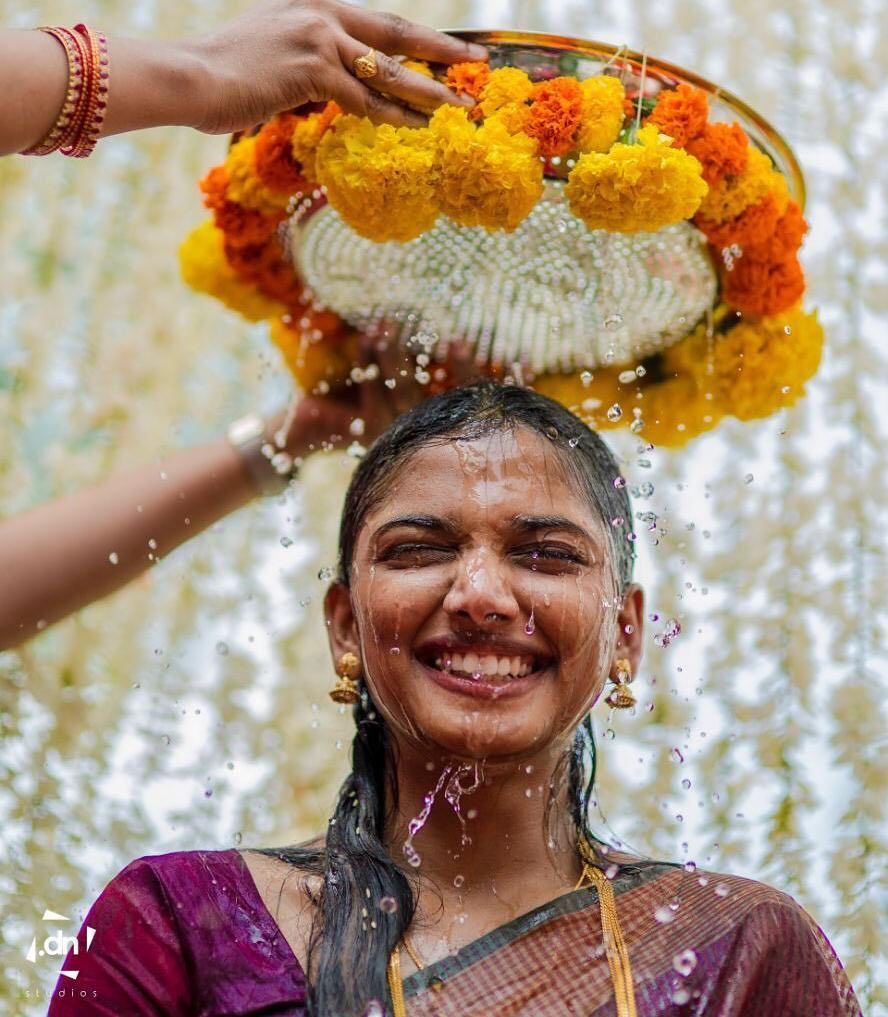 Image via Dot DN Studios
One of our favourite mangala snanam pictures
The joy of becoming a bride is pretty evident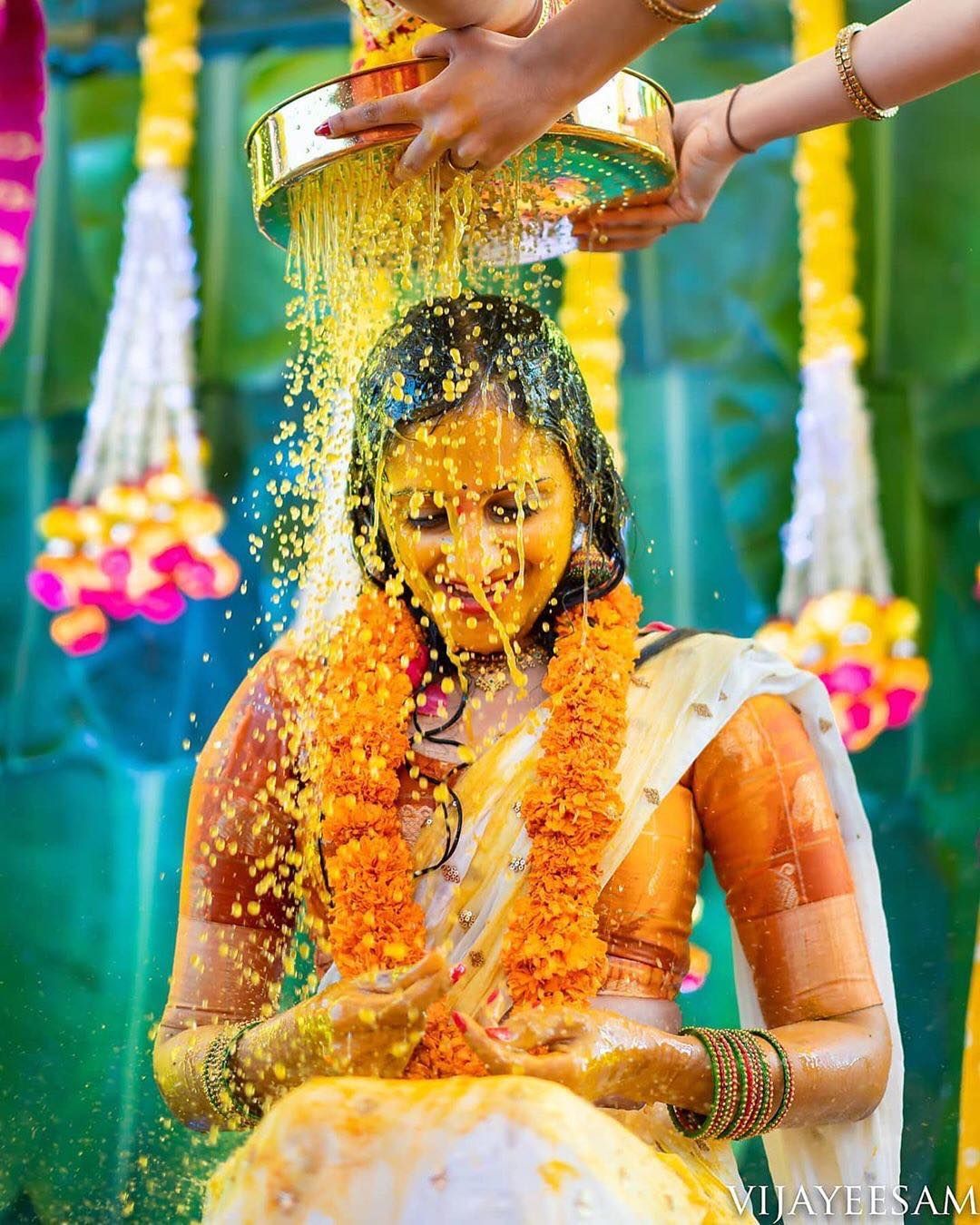 Image via @vijayeesamandco
Isn't it?
The sheer happiness on her face left us ecstatic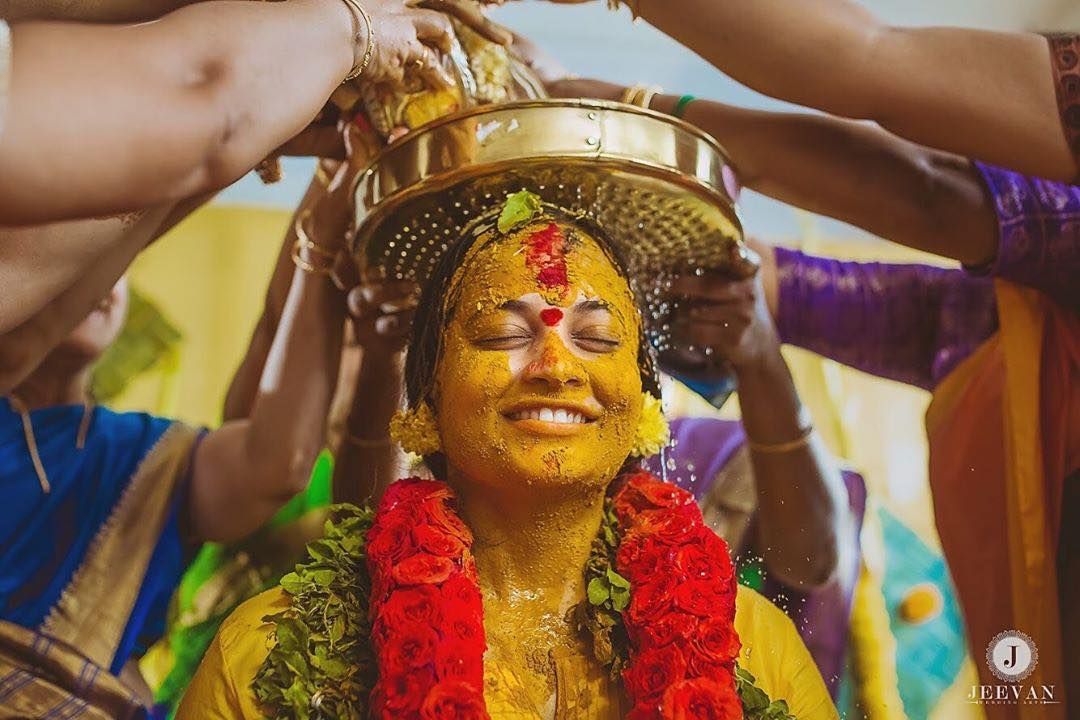 Image via @jeevan_wedding_arts
Just imagine the glow post this ritual!
It's the happiness on her face for us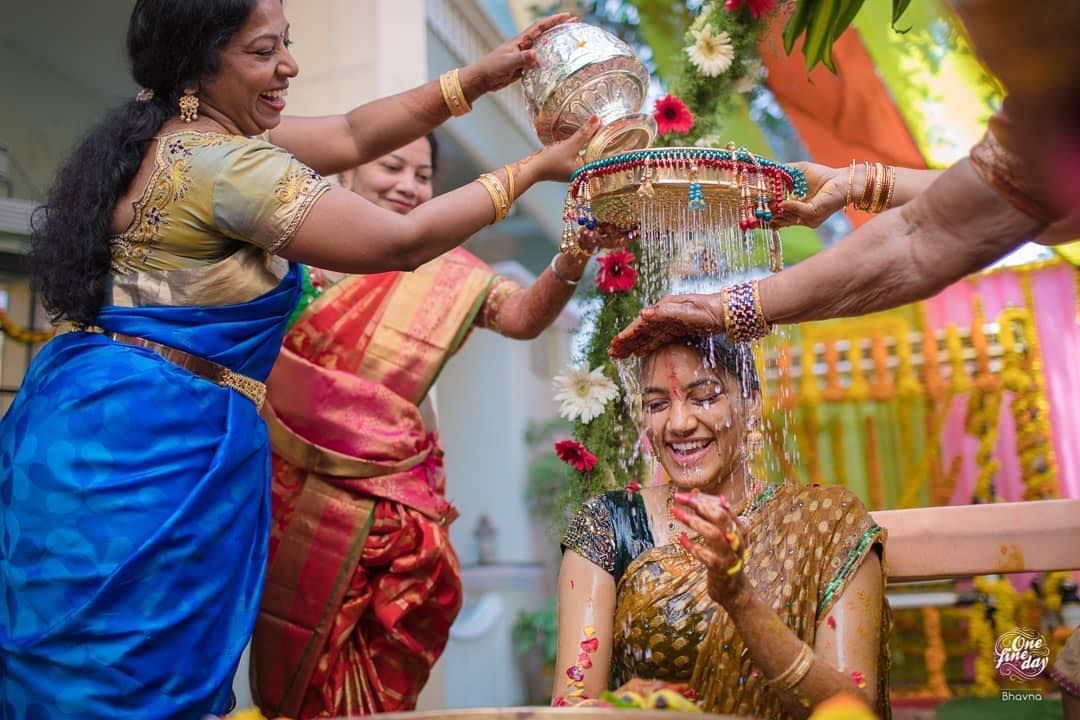 Image via One Fine Day 
Isn't it evident that Mangala Snanam is the most fun ceremony?
Sheer gorgeousness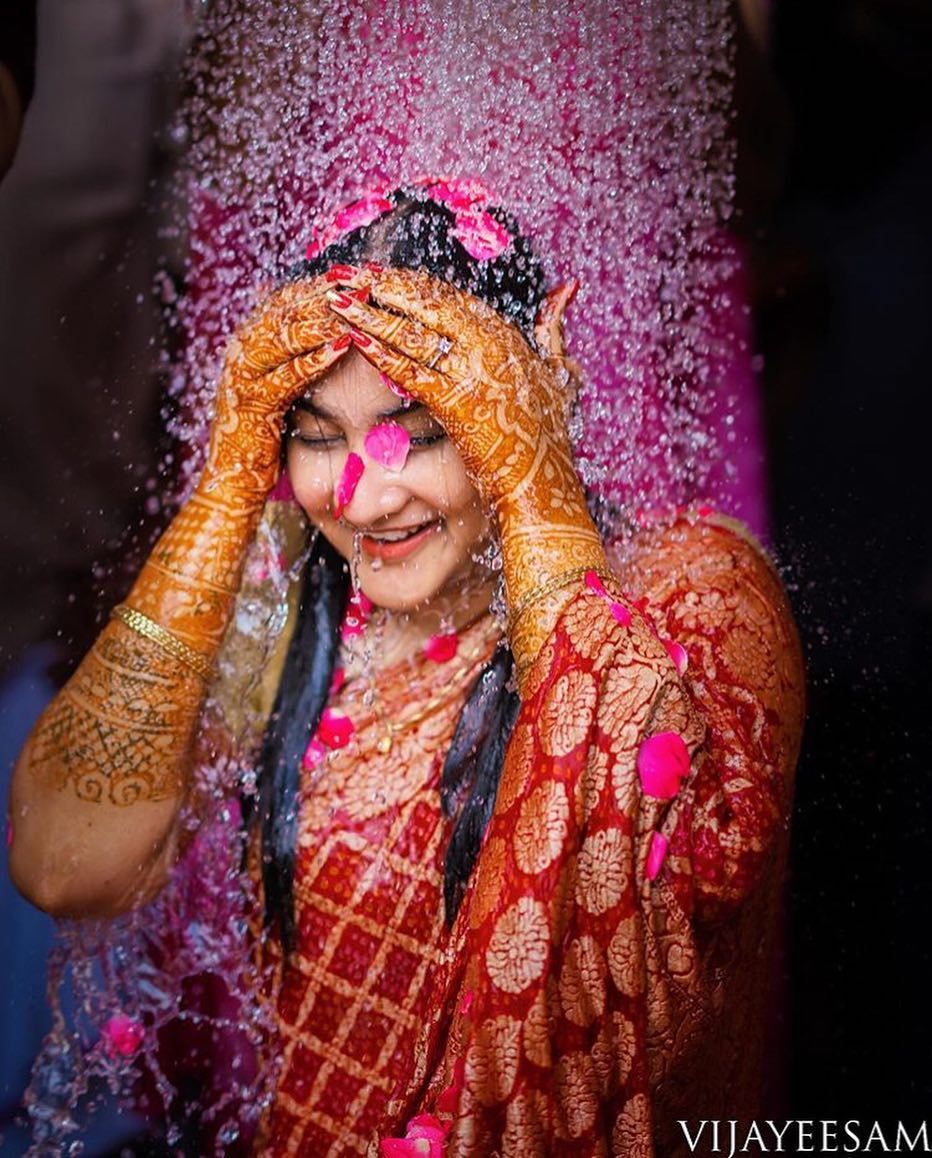 Image via @vijayeesamandco
A red silk saree adds so much effervescence to this mangala snanam photo
All drenched, yet full of happiness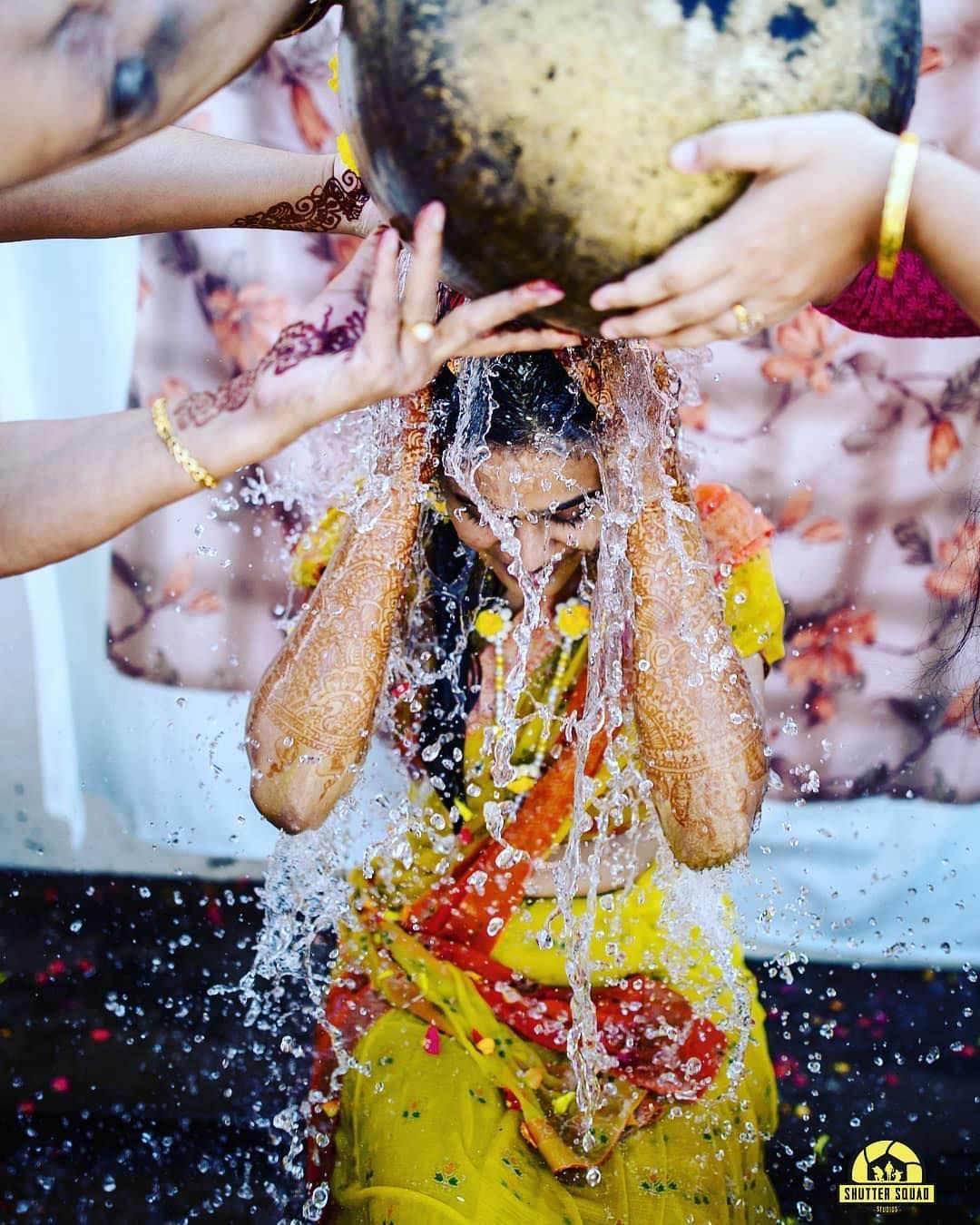 Shot by @storiesbyshuttersquad
We can't get enough of this one
All things beautiful?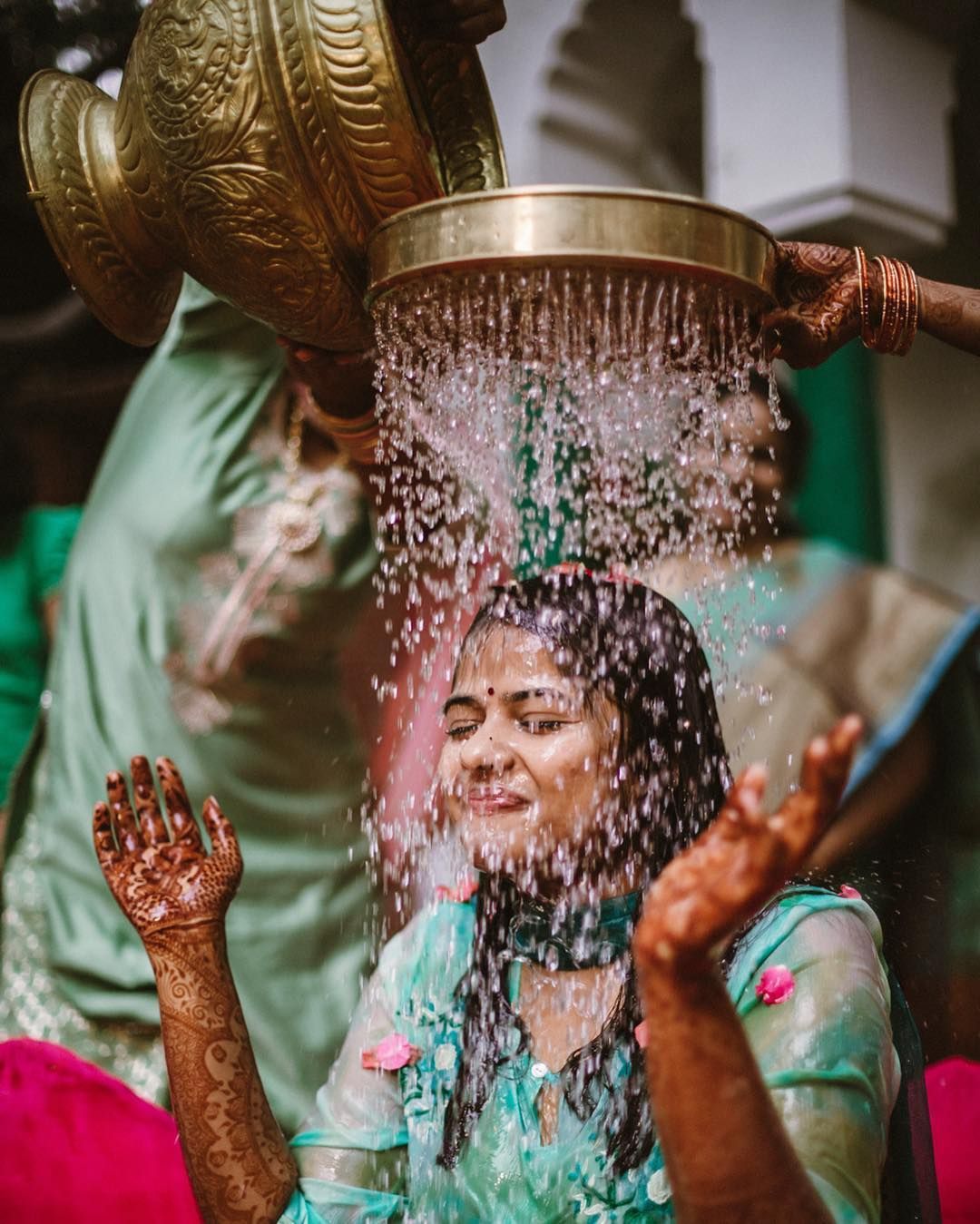 Image via LightBucket Productions
And then there is this picture which exudes minimal vibes
She wasn't prepared for this one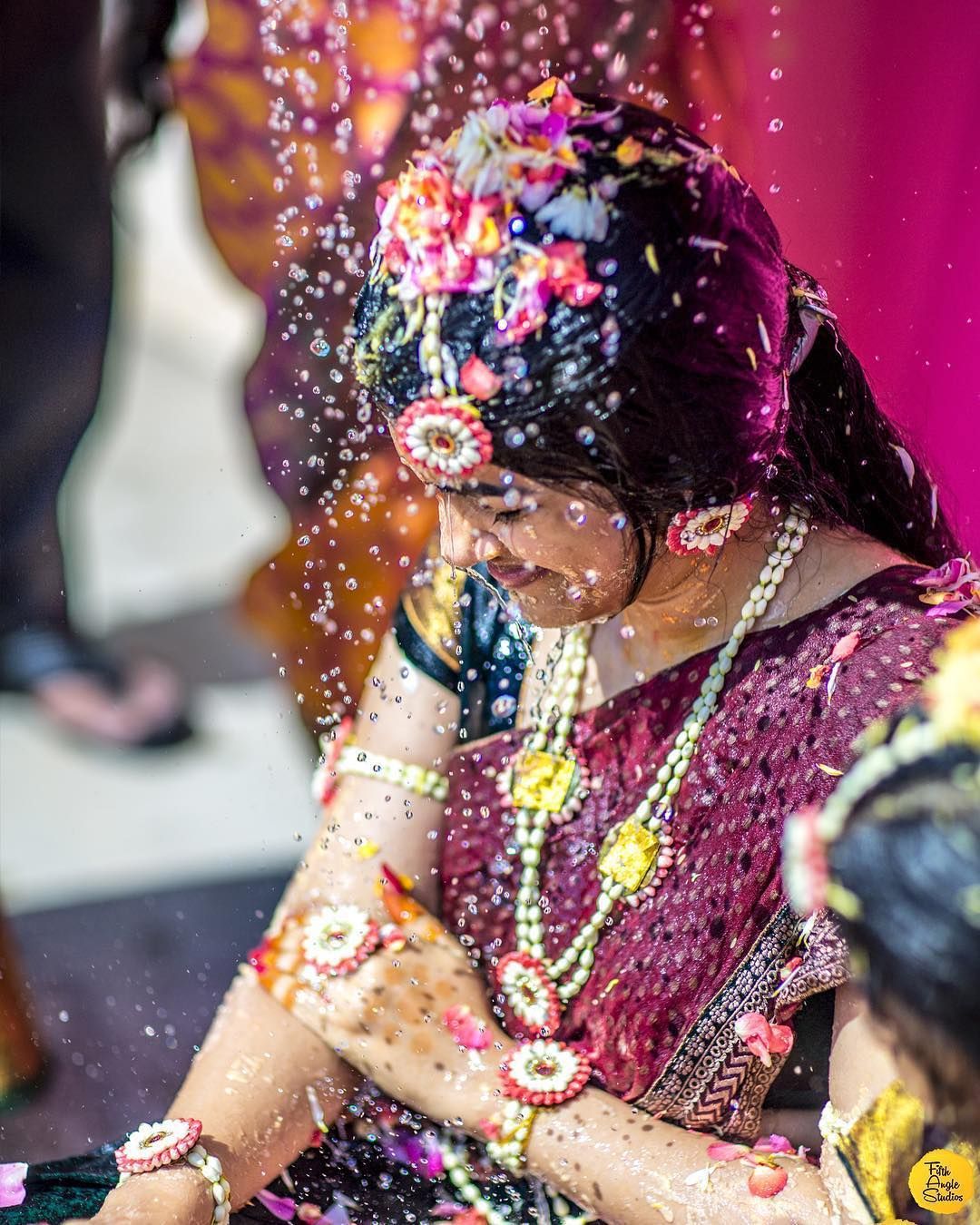 Image via @fifth_angle_studios
Haha!
Whereas, this bride is the epitome of calmness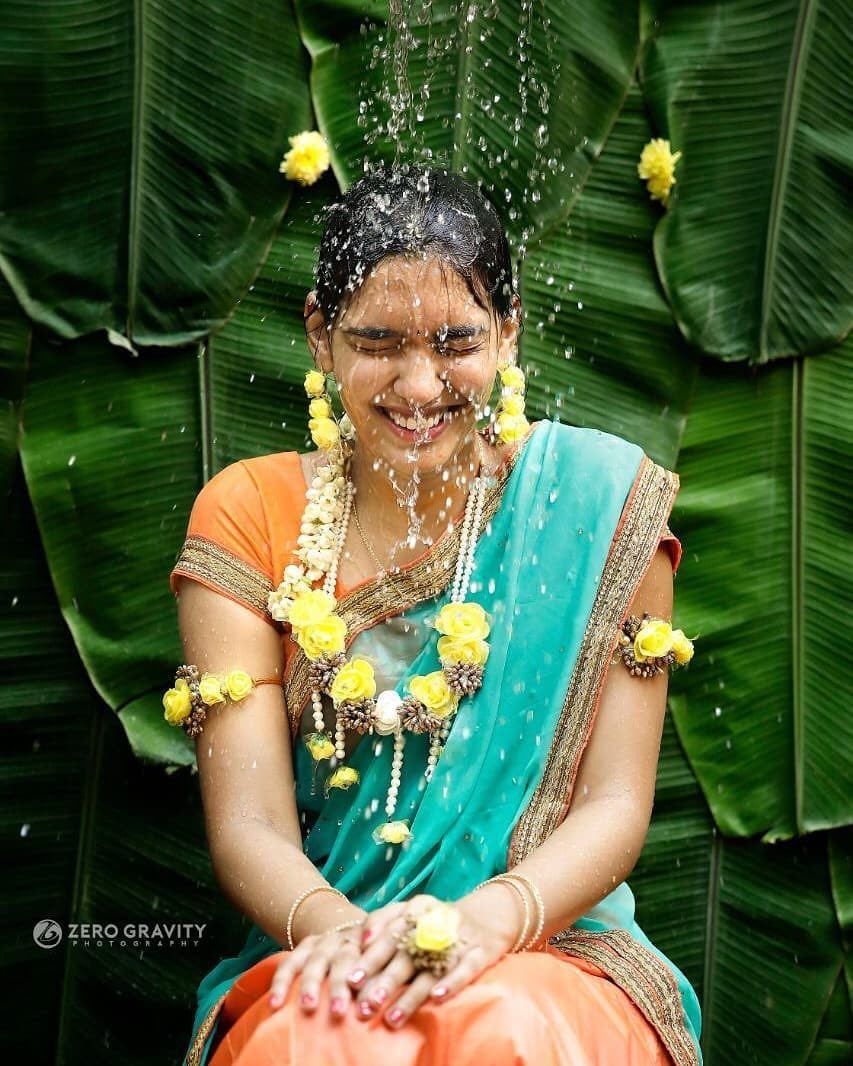 Image via Zero Gravity Photography 
Gorgeous at first glance!
And this one is definitely a fun riot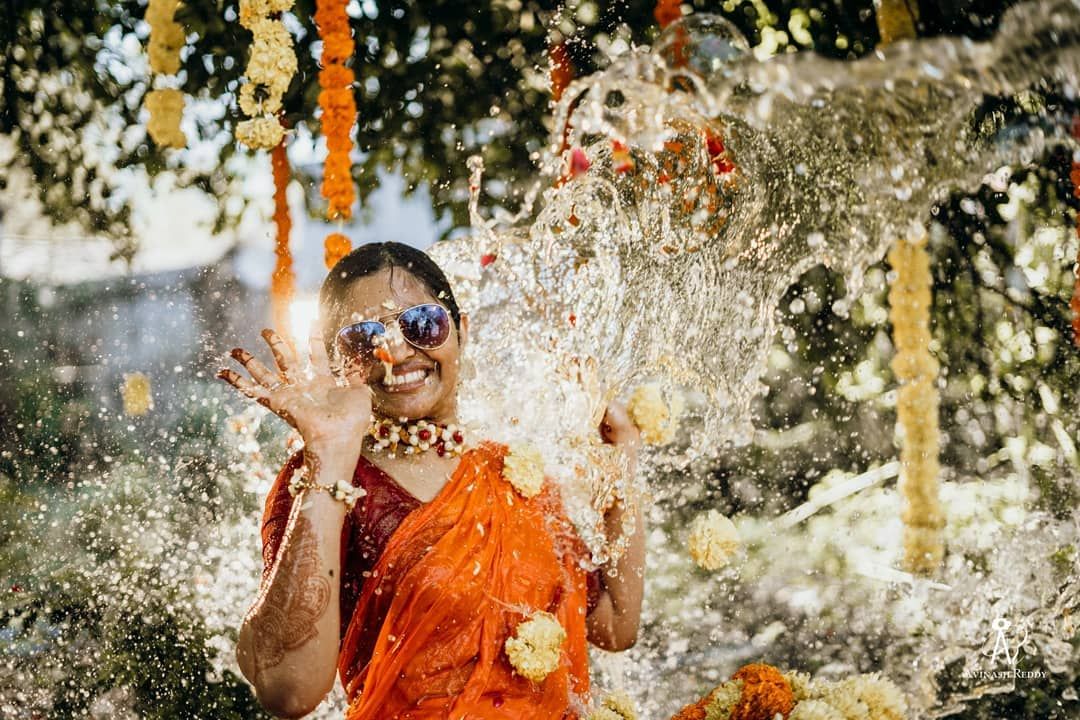 Image via Avinash Reddy Photography 
The key is to ENJOY the moment!
This one seems super excited for the ceremony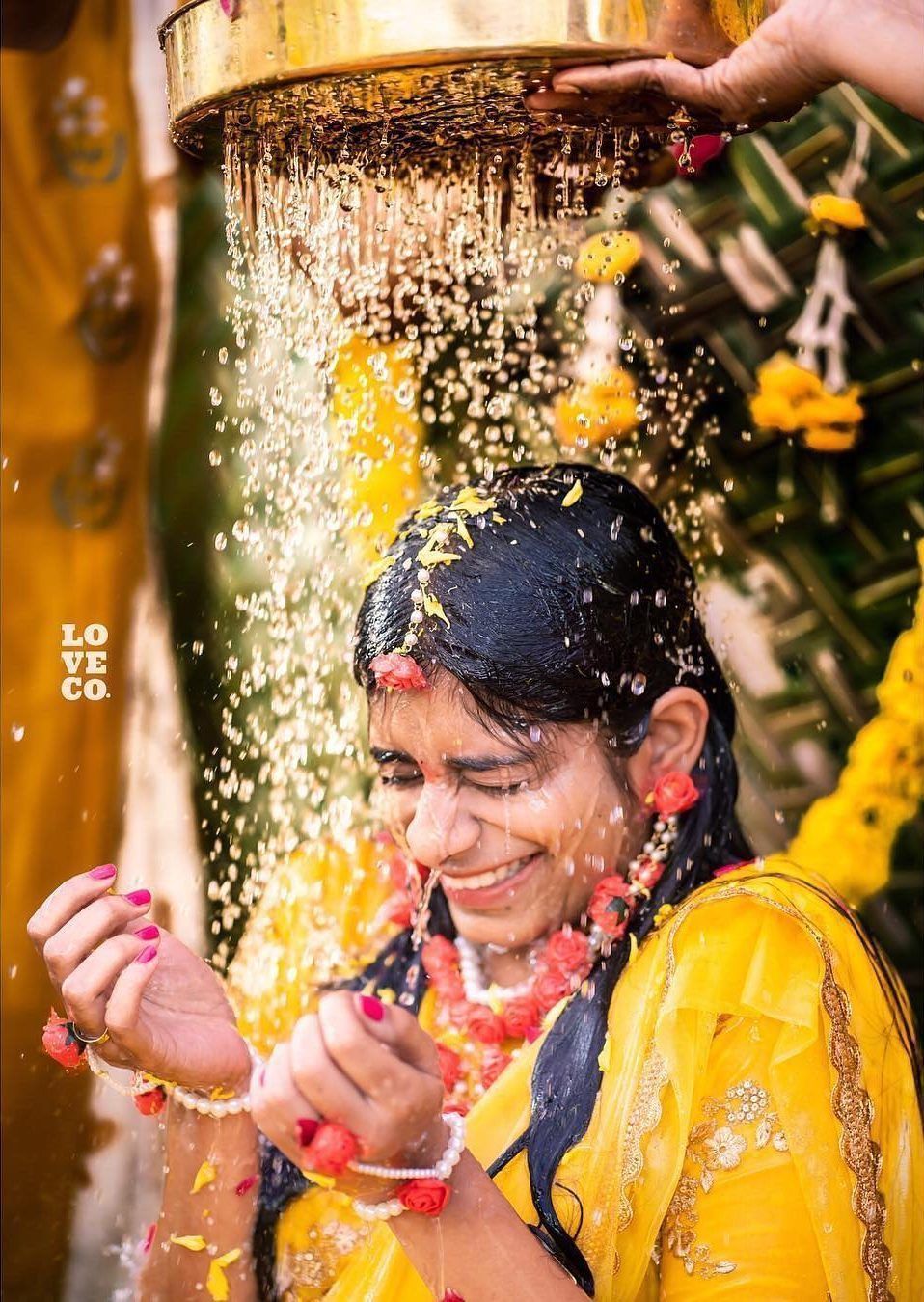 Image via @akhil.kairamkonda
Contrasting floral jewellery for the win!
Aw, looks like we've found our favourite South Indian wedding ritual! Don't you want such great shots for your wedding album already? Do tell us your thoughts in the comments section.
ALSO READ - Cool Pellikuthru Decor Ideas To Make Your Haldi Ceremony Memorable