Mistakes To Avoid While Choosing A Bridal Lehenga!
BY Sakshi | 09 Mar, 2018 | 13624 views | 5 min read
You might think you know exactly what you want- but trust us, it can be very very overwhelming once you start your bridal shopping! With so many designers and options out there, it can be hard to pick what you want, but we can help you decide what you don't want- yup, brides-to-be tend to make a few mistakes here and there during their bridal shopping, and we have a whole list of things for you to steer clear of- avoid making them and you shall not have as many or maybe even zero regrets later!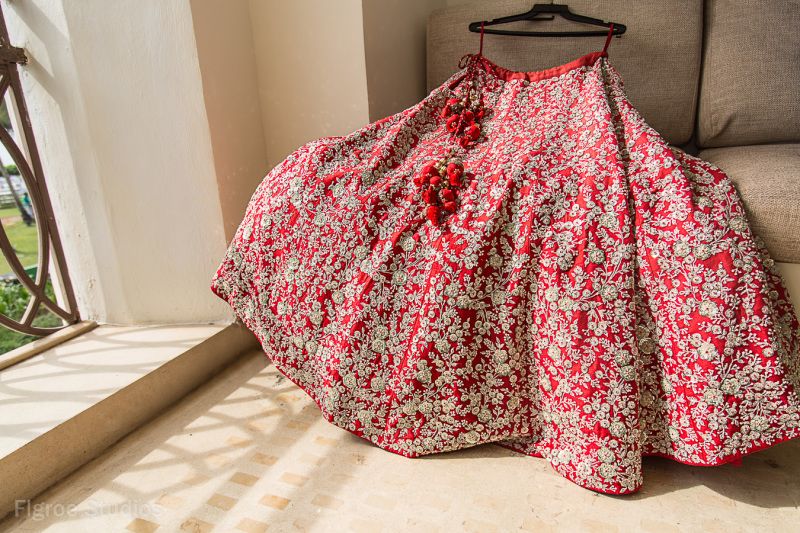 Image via Flgroe Studios
Rushing to buy your outfit as soon as your wedding is finalized
So your wedding date has been taken out a year in advance, that doesn't mean you start lehenga shopping! Keep an eye out yes, start doing some online research, but start shopping only about 6 months before- that way your lehenga won't become outdated!
Not doing some research online before hitting the stores
This is something a lot of brides forget to do- do enough online research before starting to visit the stores- that way you'll have a clear idea before hand of what you want and what you definitely do not want. Have a tentative idea of your dream wedding lehenga in mind, and try getting something as close to it as possible- but keep an open mind!
Not keeping an open mind
Do not get stuck up on one particular type that you have- have an idea, but go shopping with an open mind! Do not stress on one particular hue of a shade, see options, but be open to the idea of liking something else too that maybe suits you more.
Getting stuck up on trends
Something might be trendy at the time of the wedding, but might become outdated just 6 months later! Yes, your wedding photos should have this timeless quality about them, so choose your 'trends' wisely.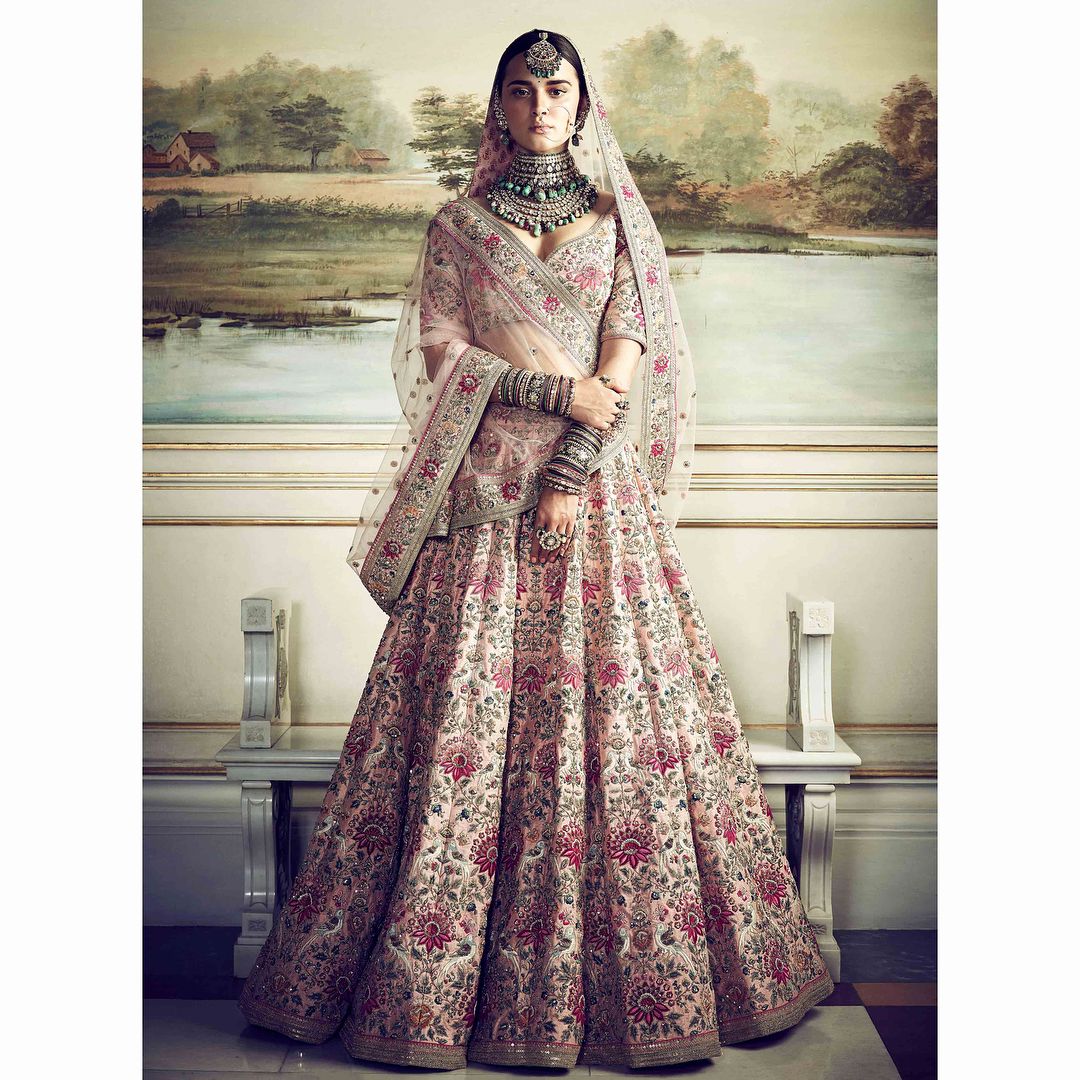 Image via Sabyasachi Mukherjee
Trying something or going to stores out of your budget 'just like that'
If a certain designer or lehenga is out of your budget and you know it- just do not try it on for fun. Nothing else you pick might match up to it and might pale in comparison, making it much harder for you to zero in on something more within your budget.
Buying your lehenga before buying your jewellery
This point is valid only if you intend on getting some real jewellery to wear on your wedding day- if its artificial, then it can work the other way round. Polki, Diamond or Jadau Jewellery is a bigger investment than the bridal lehenga, and you should work the lehenga around the jewellery and not the other way round!
Not considering your body type
Just because that lehenga looked fab on the model doesn't mean it will look amazing on you too! Everybody has a different body type and structure, so make sure you get something that suits you, not blindly picking up something you like. For example broader horizontal borders on the lehenga skirt will make a short bride look shorter, and if you have a heavy chest, a blouse in thick fabric with work on it will make you look top heavy- so work the lehenga around your body to make sure it flatters you! Here is a guide to help you!
Not paying attention to the fabric of the lehenga and the blouse
Flowy, stiff, rich- bridal lehenga fabrics are of a lot of types, and you should pick one according to your needs and the final look that you want. Yes, the work might be pretty, but the fabric is super important for the final look and your comfort too! Here is some help on that!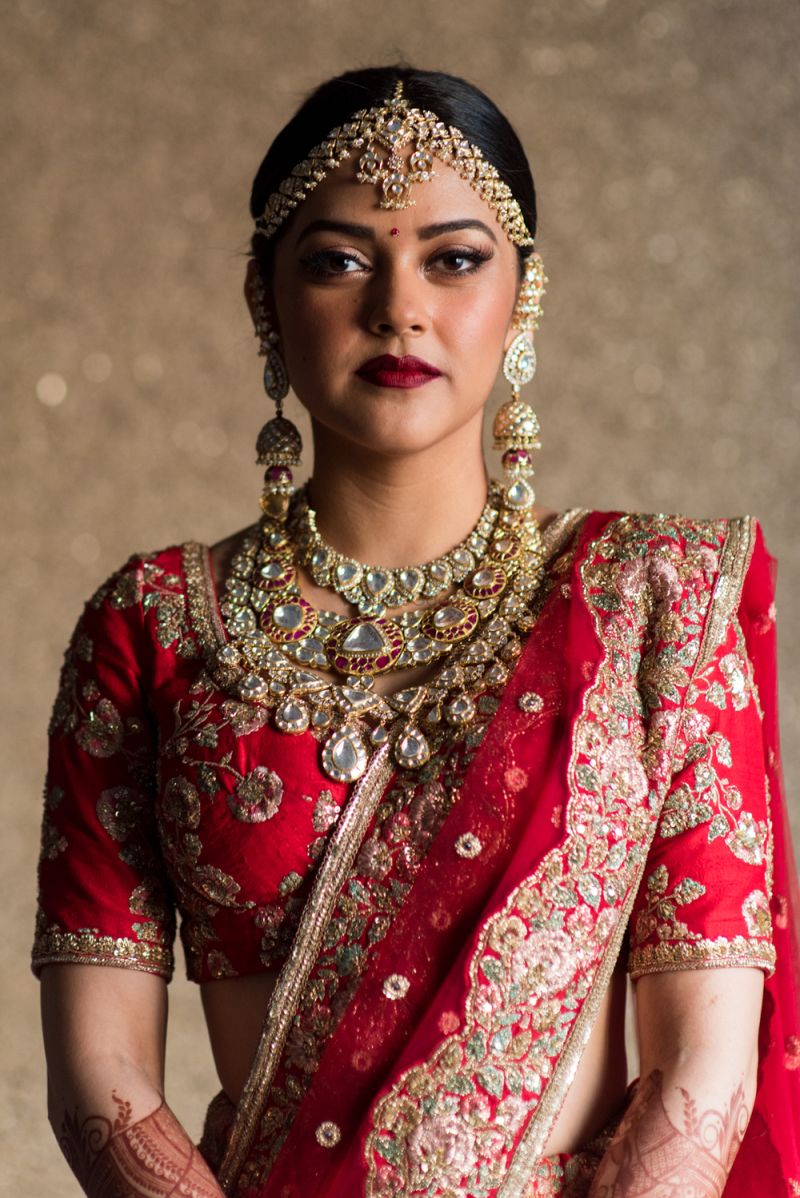 Image via Vivek & Dimple (Mumbai)
Not ordering the right sleeve length
Notice how this bride's sleeve length is so flattering? This is crucial for your lehenga to be perfect! The fit of the blouse can literally make or break your bridal look. A complete guide on it here.
Not being realistic about your expectations
Yes, every bride wants to look her best on her wedding day, and most of them try and lose weight for the big day, but be realistic in your expectations when you give your measurements- its easier to alter something bigger than ordering something too small and being uncomfortable in it.
Focusing on the skirt and ignoring the blouse and the dupatta
Most of us obsess more over the skirt of the lehenga- it is, after all, the showstopper on a hanger. But always remember that your lehenga skirt will only show in full shots or sitting shots, and the blouse and the dupatta- in every shot that has your face! So pay a lot of attention to them as well!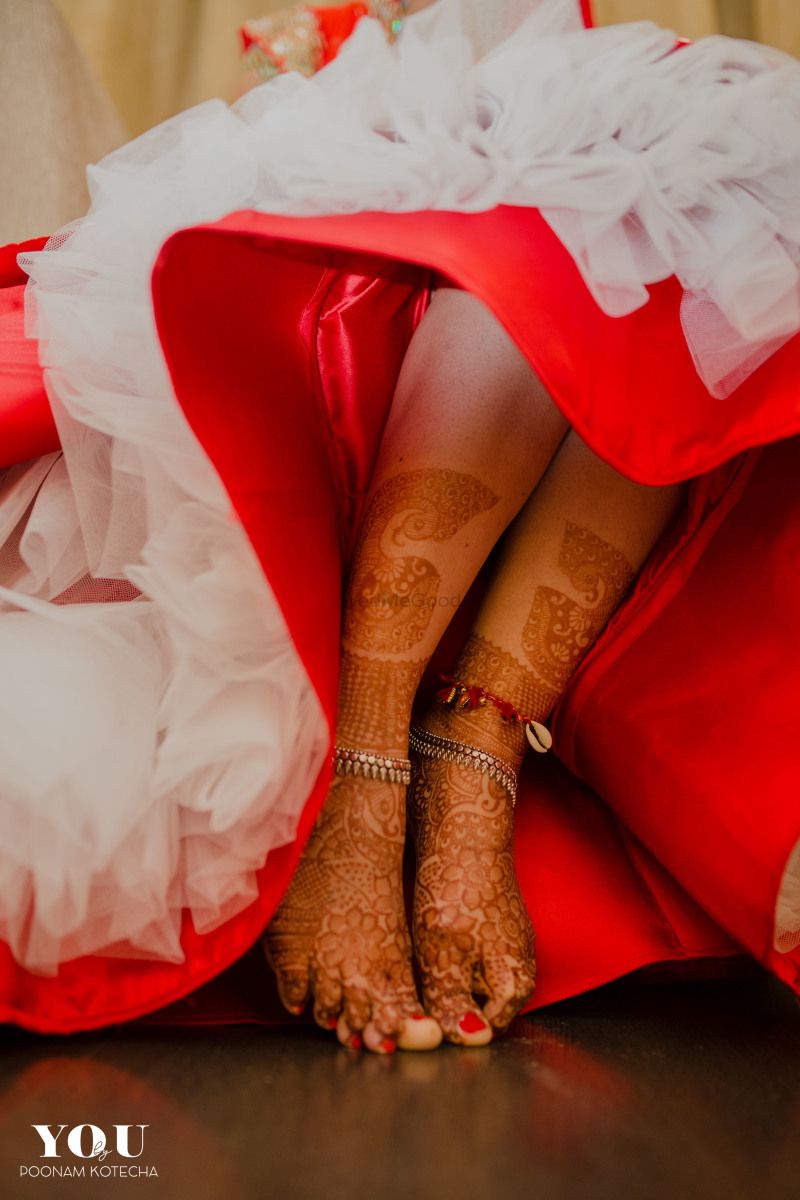 Image via YOU by Poonam Kotecha
Not paying attention to the fluff of the lehenga
The fluff and flare of the lehenga is important too- it can really escalate your bridal look when done right. Increase or decrease the can can as per what looks nice on you- don't just blindly think it'll be ok. Here's all you need to know about it!
Not keeping time in hand for alterations
There is a lehenga shopping timeline, and you should aim to stick as much to it as possible! The fittings matter and a lehenga needs to be ordered in time to make sure its ready on time with extra time in hand for some additional tweaks and trims!
Here is a list of best bridal wear designers you can check out online and take ideas from before you start you bridal shopping !!!
ALSO READ: The 7 Golden Rules of Bridal Shopping!