Most Adorable Props To Use At Your Wedding Photo Booth!
BY The WMG Bride | 24 Aug, 2015 | 46804 views | 5 min read
These days, it's all about getting good pictures at the wedding. And more importantly, creating an atmosphere that clearly encourages good pictures and interesting ideas. Enter: Photo booths. These sweetly designated areas are just made for Instagram and FB album-worthy images. They're fun, dramatic and sometimes, over-the-top but they really make any wedding super-duper fun. But the real part of a photo booth is the way the props are used to create drama.
So we decided to get into your planning process and give you some really adorable ideas that make a great photo booth . Those that can be easily manipulated to fit into any theme. And also, like we said, you can use a great photographer to capture the spirit or use the Selfie Suite.
1. The frames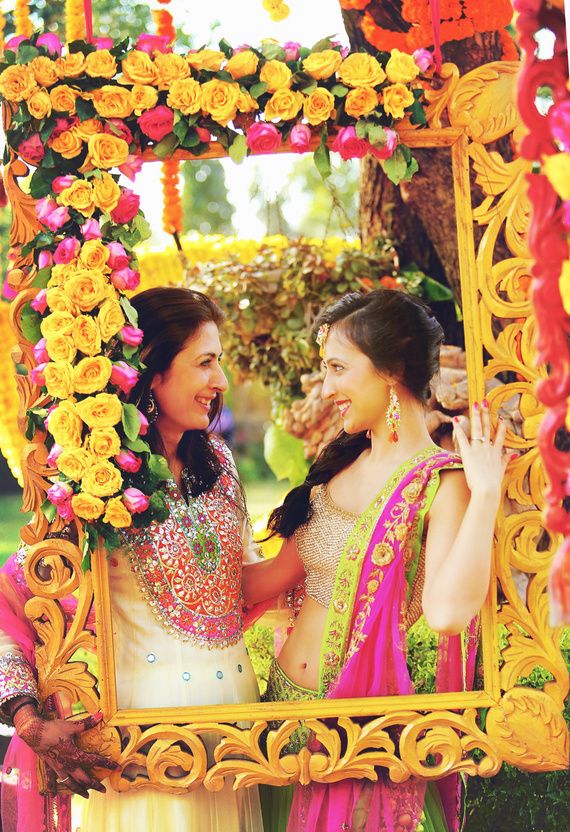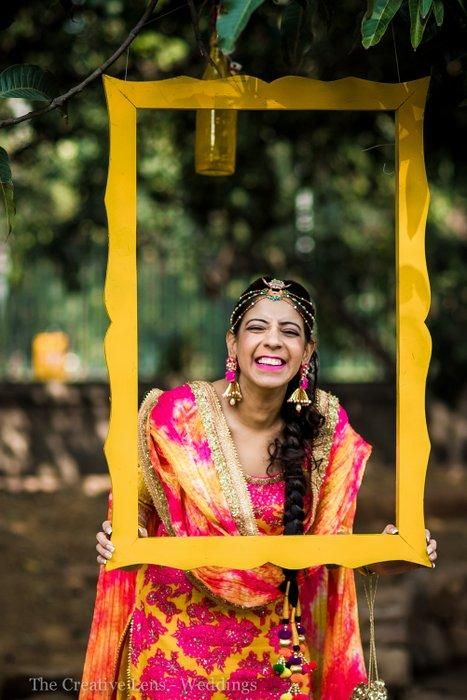 Pics: Dipak Studios★ 4.8 ; Avnni & Aneesh's wedding 
So this one's probably the easiest idea to execute and the most popular. Buy empty frames - paint them in the colours of your wedding and just get your pals to have fun. Go from simple square ones to metallic ones for effect and ornately-shaped ones to add a classic look. Our favourites are the Parisian frames in nice pastel shades that make any wedding look sophisticated.
Top Tip: Decorate them with flowers, pinwheels and other interesting things and you're the benchmark for more weddings that come by.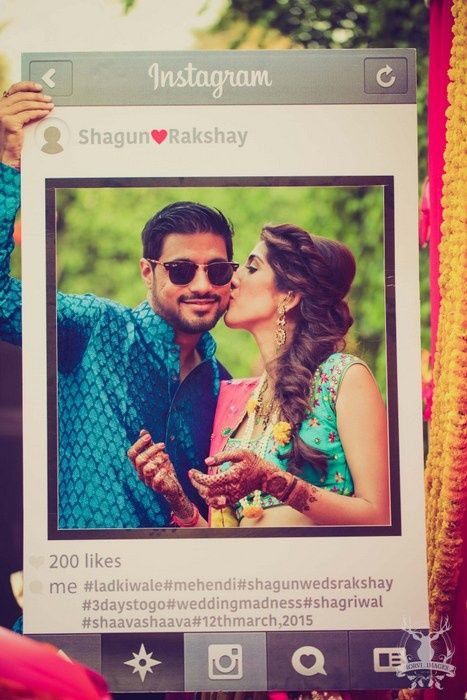 Pic: Shagun & Rakshay's Wedding 
Well, this one is self-explanatory too. Why put up pictures on Facebook and Instagram when you can make your photo booth a virtual Instagram picture? Huh? Huh?
Top Tip: Add good #hashtags for the wedding right there to give people an idea of what you want done to the insta feed right there. 
2. Vintage Props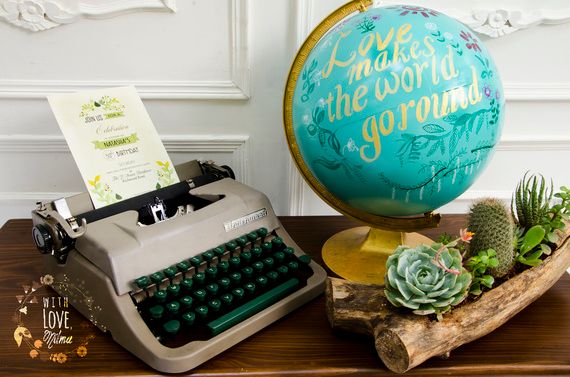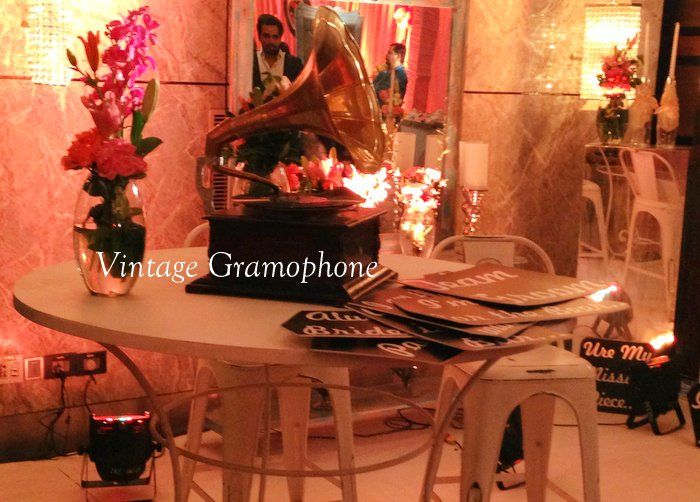 Have a vintage tea party at your photo booth with a gramophone, old books, teacups and even type writers. Eclectic but fun!
3. The Crazy Dialogues
Photography: Ruby Singh Photography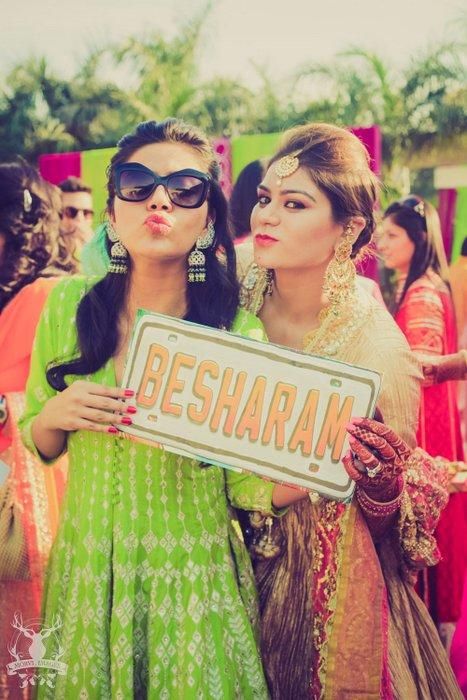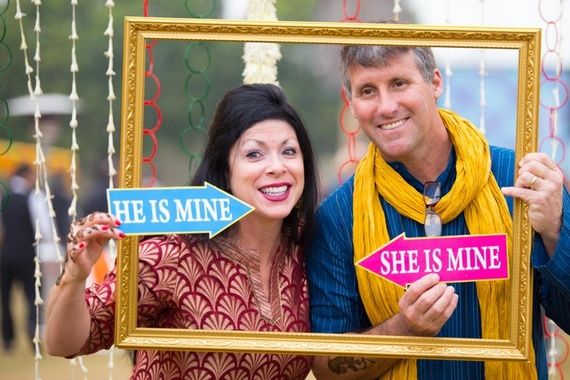 "He's Mine" and "I'm The Crazy Bride" and "Besharam" or "Came For The Drinks" kinda dialogue boards are increasingly getting popular these days. Use good fonts and understated blackboard-ish backgrounds and you will emerge the winner.
Top Tip: Get a witty copywriter friend of yours to write you some unique sentences that will get the crowd going. Make them personal - sort out your crowd and know what would make them laugh!
4. The Bride and Groom Sunglasses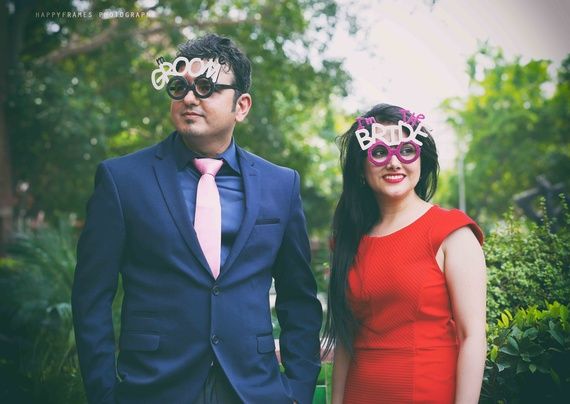 Pic: Happyframes★ 4.9
Yes, according to your theme you can either print out cute props or DIY them. We are talking about a pair of lips, a quirky hat, lots of moustaches of all kinds, sunglasses, feather boas and other sparkly nutty things. When in doubt, add balloons.
Top Tip: Crawl decor blogs and almost always you'll find nice printables that you can download and print. Cut them out, use a stick to get them on and show off!
5. Furniture-Awesome Props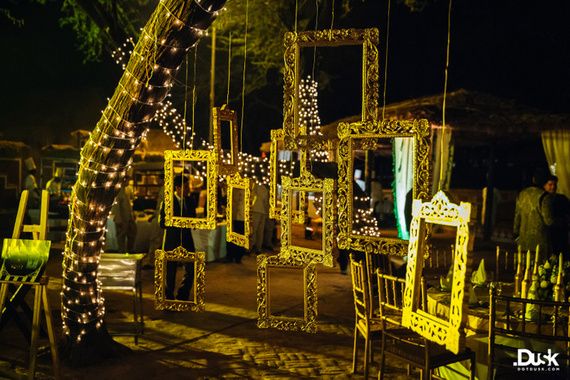 Pic: DotDusk Studios★ 4.9  at Divya & Dhiraj's Wedding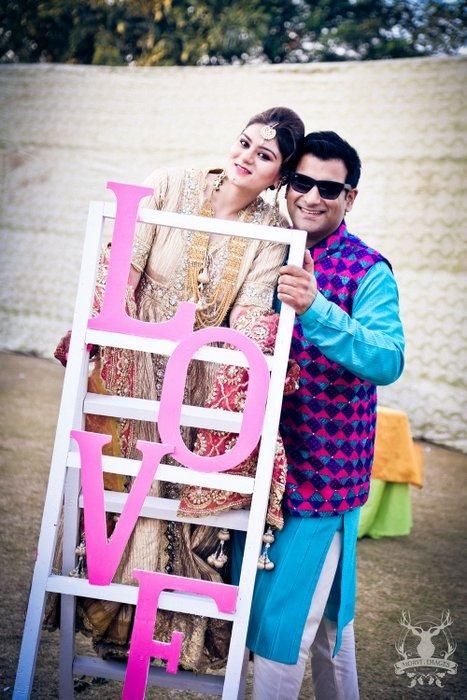 1. Use furniture as cool wedding decor. 2. Use it as a great backdrop for a photo booth. #winwin. Two goals won with the right decor.
Top tip: Use rustic furniture to give your pictures an edge. Add flowers or words that showcase your love for effect! 
6. The Backdrop Props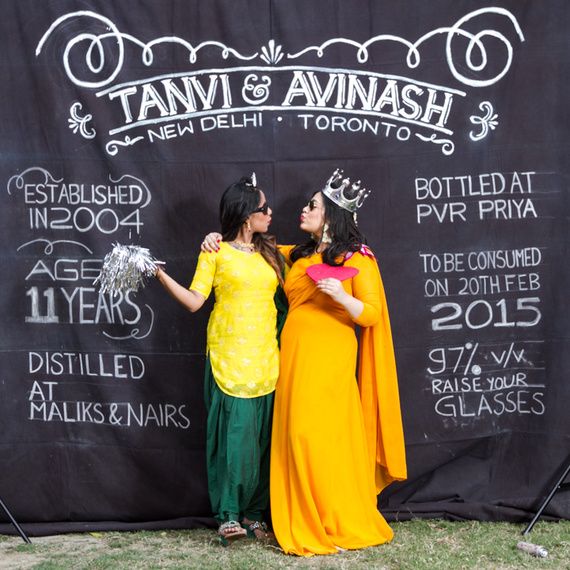 Pic: Tanvi & Avinash's wedding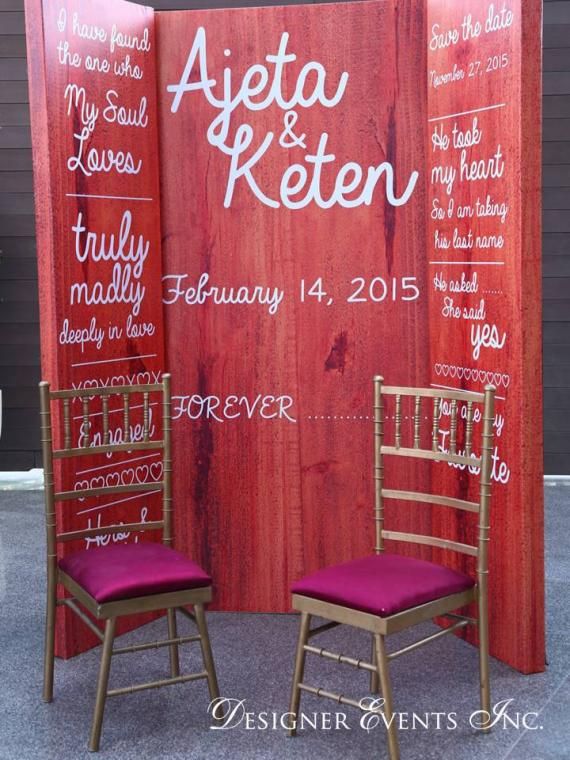 Create amazing backdrops so one can use the backdrop as a foil for the mood of the day. A background can be what the bride and the groom love or one that current decor trends are recommending.
Top Tip: We personally love backdrops that tell a story - maybe something that has your love story written down pat. So adorbs!
7. Floral Additions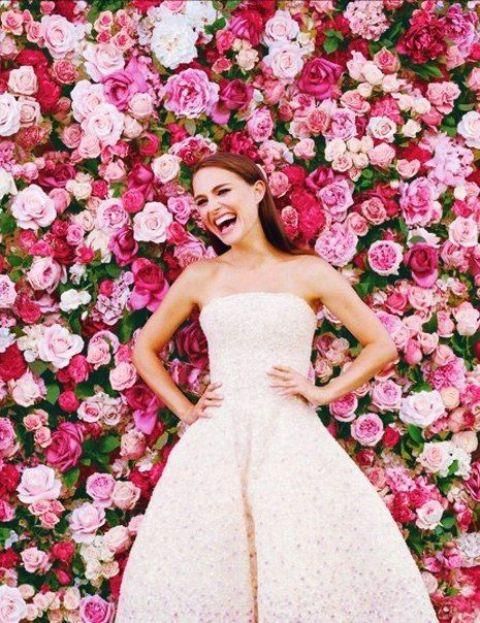 Pic: Dior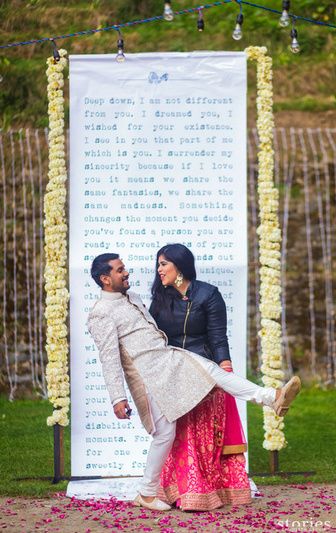 Flowers make for great photo booth decor. Dior made us wax eloquent when they had this beautiful backdrop made of roses and soon, it became major wedding inspiration. If you don't want a full-on floral thing, go easy, just hang a strands of flowers and call it a day.
Top tip: Put a love quote or a poem to enhance your booth, no one will forget that personalised attention! 
8. Mirror Props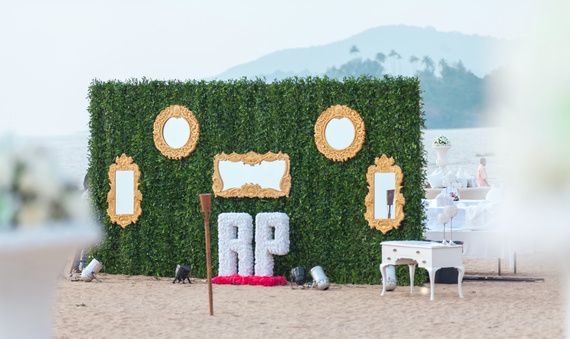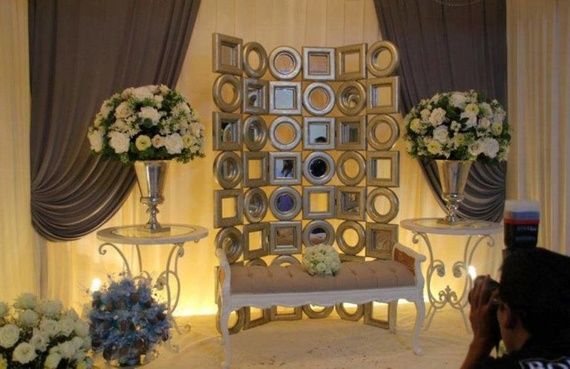 Pic: Jeevitha Decorator
Make mirrors your BFFs and see how they work. People love posing in front of mirrors so why not use them best at the booth?
Top tip: Look for ornate mirrors and tiny ones to make a big impression. The mirror should not overwhelm, the frame must! 
9. Vehicle Props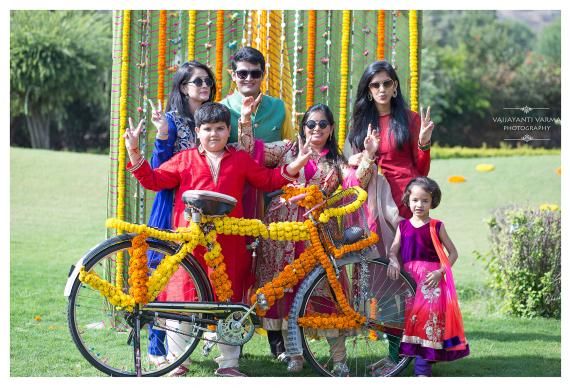 Pic: Vaijayanti Varma Photography★ 4.9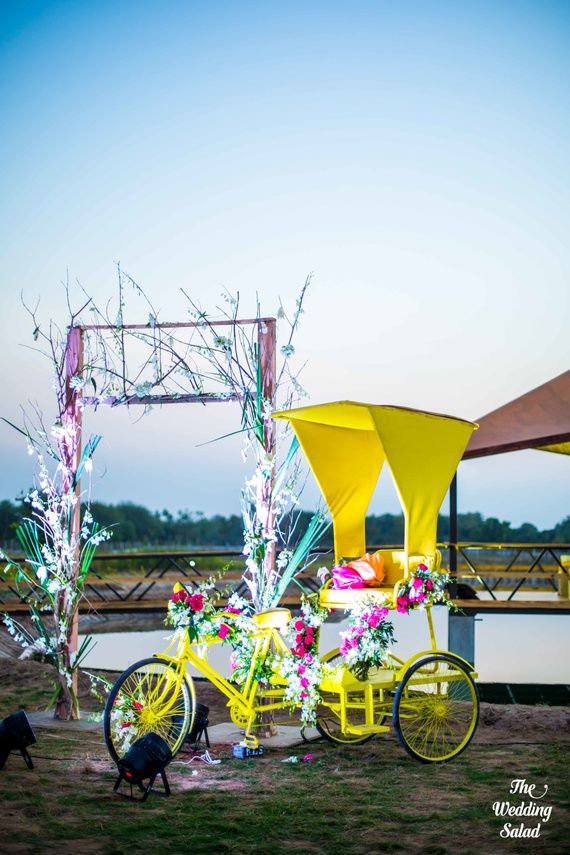 Indian vehicles like rickshaws, autos, scooters and bicycles make for cheap and easy photo props. Just get an old one, park it and decorate it and bam, you're done!
Top tip: Painting them a bright colour can really up the ante! Go for fuchsia, orange or yellow! 
10. Garden Props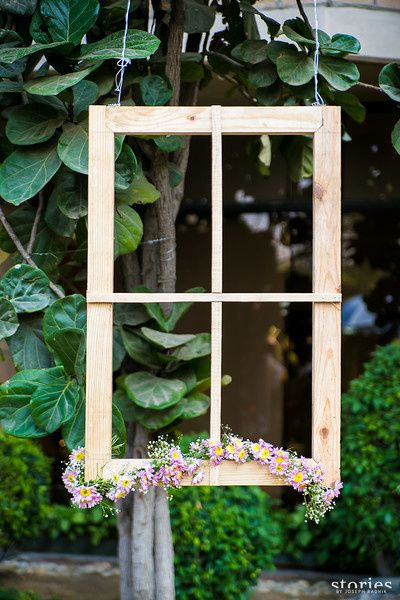 Pic: Decor bySM Weddings and Photograhy by Stories by Joseph Radhik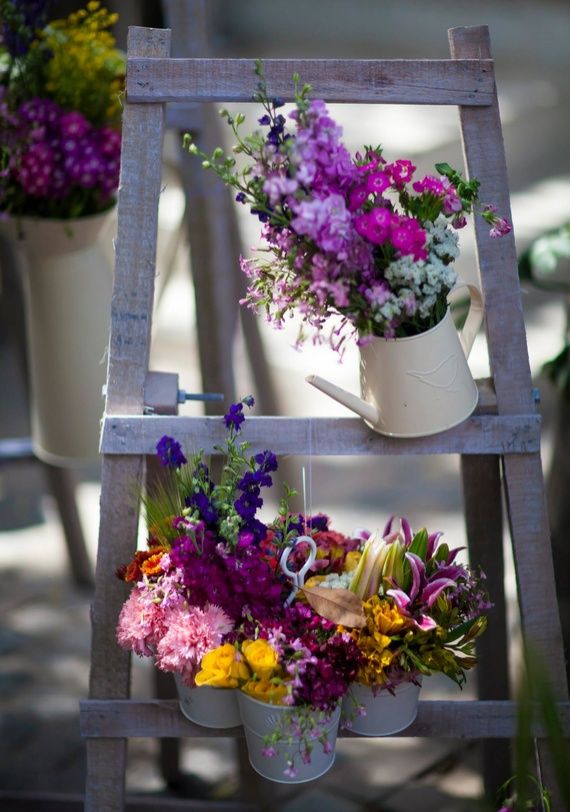 Pic: Mahima Bhatia Photography★ 4.9
Gardening tools, watering cans and greenhouse windows can add a bit of class to your booth. Make sure you bring in a lot of colour through this.
Top tip: You can even have cute herb gardens and interesting swings in it to make it look like a real garden. 
11. Cardboard Cut-outs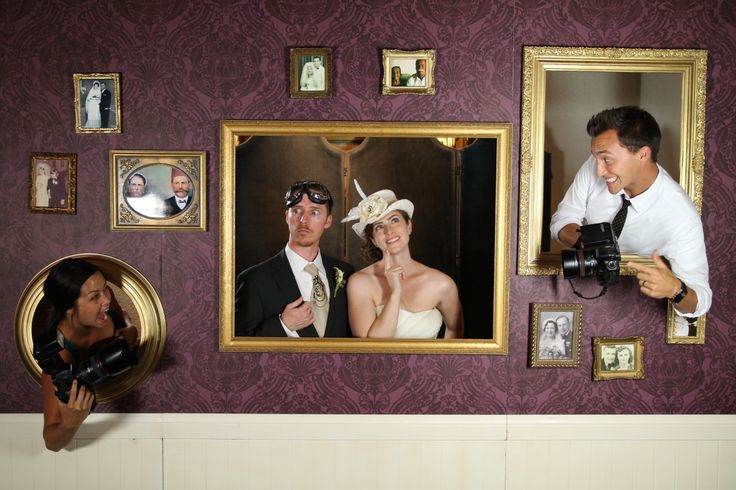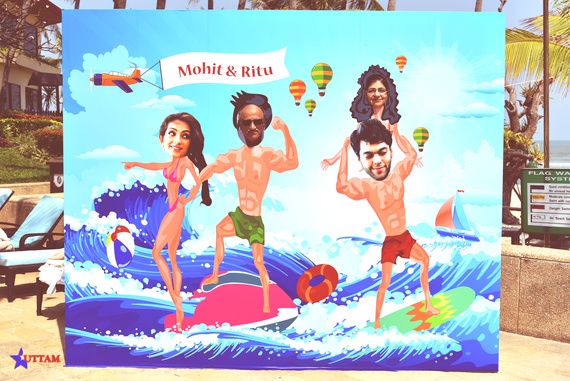 Pic: Uttam Wedding Photography★ 5
Preparing a backdrop and then making interesting cut-outs so your guests chill out behind them is kinda genius. Role-playing at it's best, we tell you!
Top tip: Create a mood and a story so they fit right in without a hassle. Your guests, that is. 
12. Monograms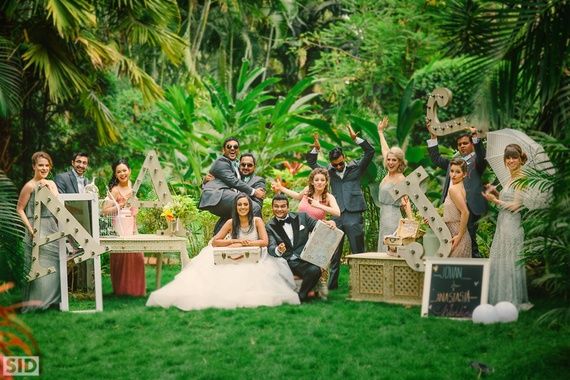 Pic: Swarovski display at The Vogue Wedding Show
Get your initials on Swarovski ( Yep, that's something that can be done!) or on wood with neon lights to add your special signature to the photos.
Top tip: Make them big and make them stand out in the crowd! 
Best resources to outsource and buy props online:
2. Etsy 
4. Amazon India
Ready with your photobooth idea? Now book a wedding photographer to capture all the awesomeness!