From Under Rs 500 - Over Rs 1000: New-age Wedding Invitation Favours For Every Budget!
BY Sakshi | 13 Oct, 2016 | 1127 views | 6 min read
Don't wanna give the same old mithai or dry fruit box with your wedding card? Yep, if you don't wanna go old school, there are a lot of new-age wedding invitation favours to choose from which are so fun and interesting, and don't necessarily pinch your pocket! Here are some of the interesting options we found for every budget!
Budget: Under Rs 500
Might not appear so, but there are quite a new neat things that can go along with your wedding card for this price!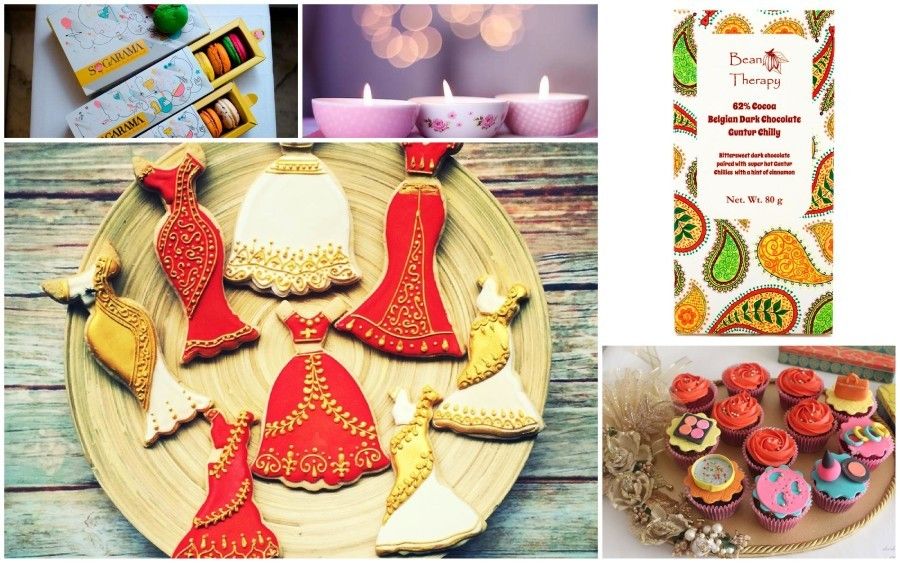 Flavoured Nuts
Nuts sound really boring, but with new flavours such as cinnamon and rose, nuts are the perfect blend of tradition and modernity .
Try Nutty Gritties★ 5 for 100 gms of flavoures nuts in 150 rupees
---
Jar of Cookies
Pistachio cookies, coconute rochers or Nutty Biscotti. If these are not your favourite then how about yummy cereals in a jar? Get your sweet craving fix with these.
Try desert fox for a 100 gm cookie jar for 150 Rs. For a more premium range, try Chokola for a box of cookies for 400 Rs.
---
Delish Granola
These granola bars are legit- super yummalicious (we tried them) , and are a healthy, sweet and affordable alternative to everything you usually distribute . You can choose from flavours such as chocolate , nuts and more and even make them into round circular cookies if bars is not your thing
Try Berry Heartys Granola for a gift under 300 Rs.
---
Macaroons
Just looking at macaroons makes everyone so happy! The average price of a macaroon is approximately starting Rs 80, so you can easily give a box of 4 or 6 along with your wedding card for Rs 300 onwards.
Try A Piece of Paris★ 5  (Rs 100+) , Miam★ 5  (Rs 80) or Sugarama Kitchen★ 4.2 from our vendor gallery for bulk orders.
Price:Box of 5  would set you back around 500 Rs
---
Fortune Cookies
Want a super unique wedding favour? Customised fortune cookies to the rescue. Get your wedding hashtag printed on the strip inside or just customise them with lines from your favourite romantic movies.  Get creative
Price: Rs 10 per cookie so go crazy
---
Cake in a Jar / Jar of Fudge
How cute would it be to send off your wedding card with two cute cake in a jar items. Or instead of a cake, give out coffe flavoured or truffle fudge. Its absolutely delish and so unique
Try For  Caramella India★ 5 & Love is Cakes★ 5 for Fudge Jars & All Things Yummy★ 4.5 for Cake in A Jar
Price: Rs 150 per jar approx
---
Customised Sari-Sugar Cookies
Cookies have gone so way past the usual boring or choco-chip ones! You can now get customised wedding cookies that come is such amazing shapes and designs- there are ones in the shape of a ring, some which look like wedding dresses and more. Customised cookies start at about Rs 100 per cookie... so you can consider sending  a few of them!
You can try Favors by Mishmash★ 5 or Spring Street Bakery★ 4.5 for your own customised wedding cookies!
Price: Approx 100 Rs per customised cookie so a box of 5
---
Artisanal Chocolates
Chocolates made from local Indian ingredients are also picking up popularity pretty well, like and they can fit well within your budget! Starts at over Rs 250 per box/bar.
Try Guntur Chilli Chocolates from Bean Therapy or Red Rice ones from Smitten Bakery & Patisserie .
---
Candles
There are so many interesting candles to choose from these days.. from designer candles to conceptual candles, eco-friendly ones to  votives, aromatic, therapy and even ghee candles, you can pick any of them to gift in under Rs 500!
Try Reflections from the WMG Vendor gallery for all these types of candles!
Budget: Rs 500 - 1000
Of course, you can get the same things mentioned above in higher quality or quantities, but here are some more things you can consider!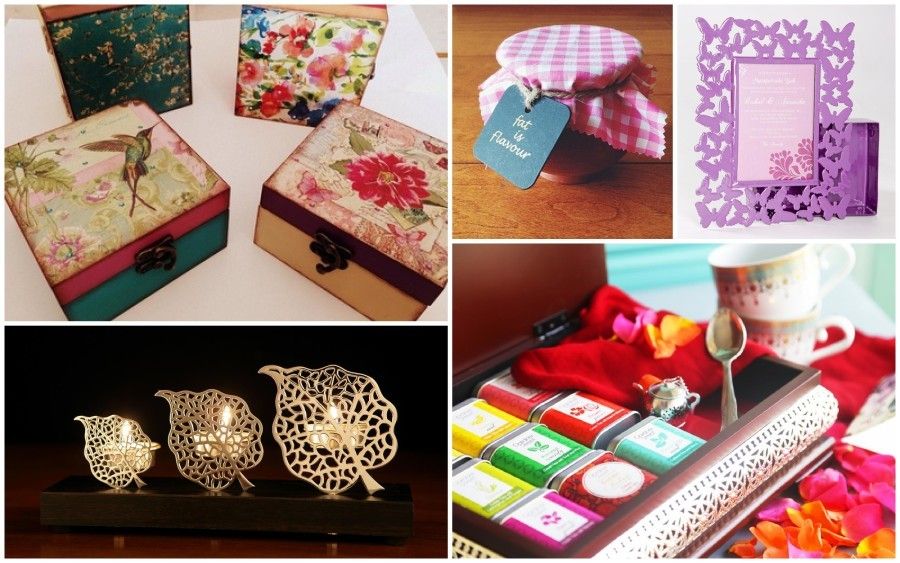 Art boxes
Putting the wedding invitations in pretty arty boxes which can be reused later is such a pretty and practical idea! Not only do the invites look amazing, but the boxes can also be reused later! They will cost you anywhere upwards of Rs 500 per box, depending on the design and material.
Try The Art Box★ 5 from the WMG Vendor gallery for such gorg boxes!
---
Photo Frames
Placing the wedding card inside a photo frame which can be used later is also a great idea that's catching up. Laser cut ones are light and look good!
Try Opium Celebrations★ 5 for photo frame invitations.
---
Assorted Coffee and Tea Boxes
You can get high-end coffees and tea boxes in a budget like this one and they come packed in such delightful boxes!
You can try Sancha Tea and Gardner Street Tea★ 5 for some quirky and beautifully packed tea/coffee.
---
Flavoured Butters and Soils
Flavoured butters are the new in thing, and they make for interesting invitation favours as well! You can always call and get them customised as well. And see how cutely they're packed!
Try Fat is Flavour★ 5 from the WMG Vendor gallery for some seriously yummy stuff!
---
Silver plated and Brass Artifacts
Simple silver and brass artifacts make for a useful and practical invitation favours. You can choose from candle stands, tea light holders, religious idols and a lot of other pretty stuff.
Try Code Silver★ 5 or Mystical India★ 4.5 from the WMG Vendor gallery.
---
Budget: Over Rs 1000
You can get a lot and more for a budget of over Rs 1000- try some of these options which you may find interesting!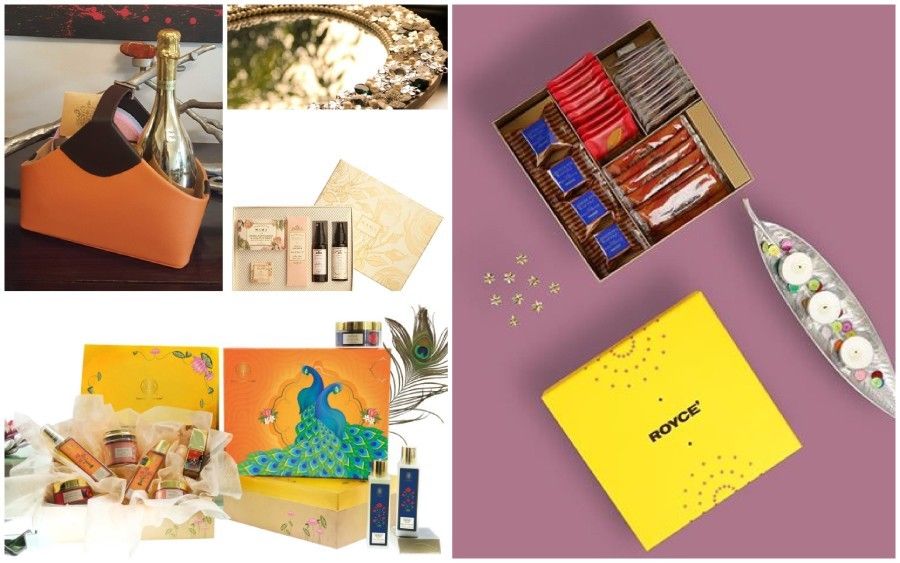 Spa Hamper
Oh! The amazing options that are available for this! You can try mid-end or high-end products and get them packed in awesome tin boxes or baskets! Might cost you over Rs 2000 for the entire finished favour.
You can try Pahadi Local, Ananda Spa or Forest Essentials and pick products depending on your budget
---
Designer Mirrors and Frames
These look so pretty and make for good wall hangings.. something we're sure your guests will love!
Try Studio Blaq from the WMG Vendor gallery.
---
Kama Essential Gift Box
This one is available for Rs 2000, and comes with incense, a handmade soap, facial oil and other awesome stuff. You even get his and her varieties!
---
Fine Imported Chocolates
You can give a box of the absolute best chocolates from around the world if you have a higher budget!
You can try Royce Chocolates which cost approximately Rs 1500 for a box (lower end).
---
Alcohol
You can give wine bottles or champagne along with the invitation for those relatives and friends who drink. You could even try mini alcohol bottles which are so adorable!
Try Indian-made wine and champagnes like Sula if you're looking for a cheaper alternative, otherwise sky is the limit!
So, see something you like?