Subtle & Dainty Mehendi Designs For Your Minimony!
BY Apoorva | 01 May, 2021 | 33729 views | 10 min read
Every bride is different. Not all brides like something that is over the top and completely bridal. Some brides like to keep it simple. Especially in mehendi designs, brides are choosing to go for fuss free and simple hand mehndi  designs instead of breaking their backs for 6 hours.
The weddings are getting as intimate as they can get since last wedding season. It's time for our minimalist brides to grab the opportunity to choose to go minimal with everything she wants to. (wink-wink).
No bride wants to sit 5-6 hours just to get their mehendi done while everyone keeps grooving on the dance floor. This wedding season we are going to help our brides to enjoy her mehendi ki raat while dancing and grooving on the dance floor with the help of these minimal hand mehndi design that are simply unique. So, check out these modern minimal mehndi designs that you can say yes to!
Nothing like this simple half & half hand mehendi design with dotted motifs on one half of the hand and detailed swirls on the other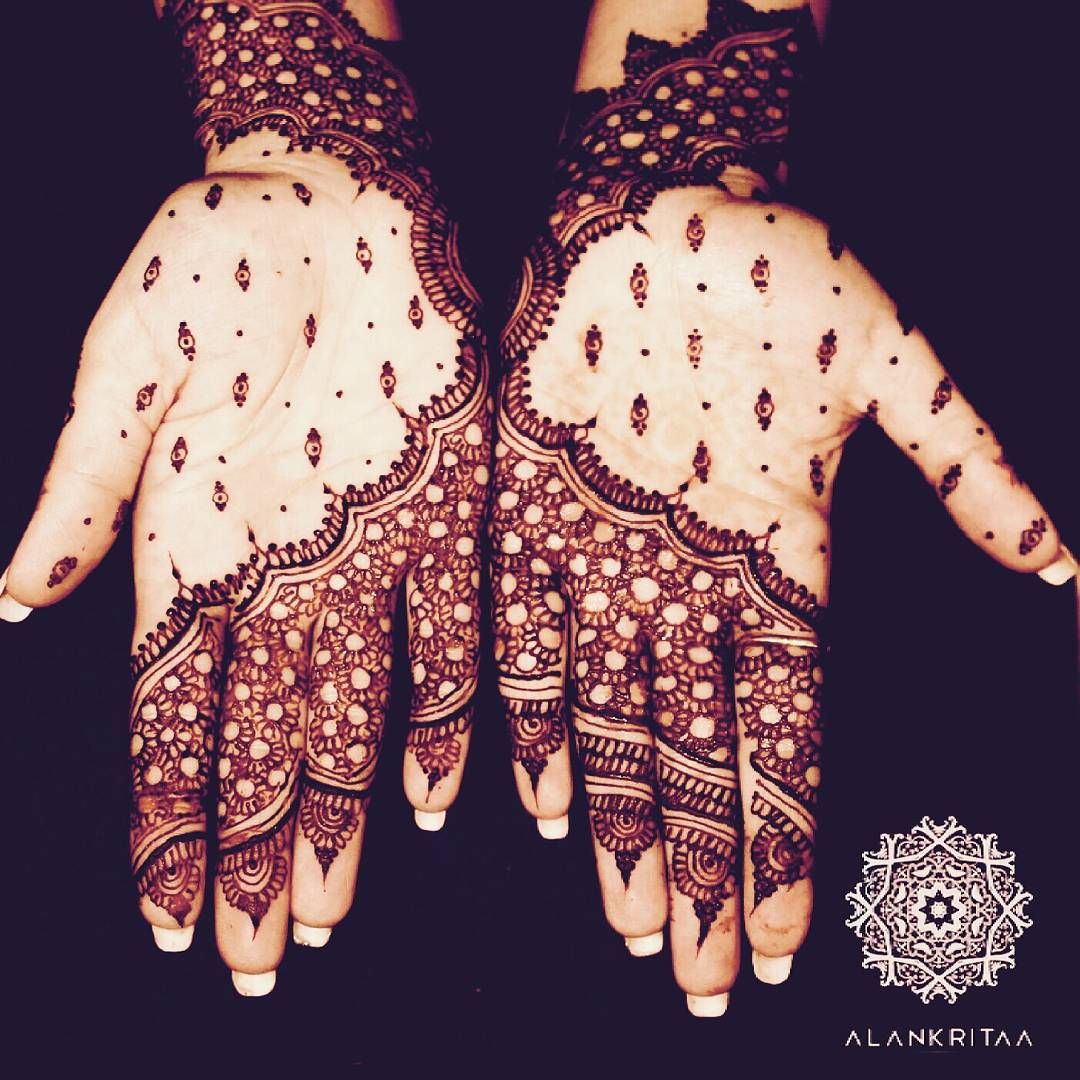 Image via Alankritaa★ 4.9
Instead of going after the trend of circular design in the middle of the palm, this detailed yet minimal mehndi design will get everyone's attention. The dotted motifs on the palms of your hands makes this mehendi design look simple and the detailed design flowing down to the wrist from the fingers will compliment every piece of your hand jewelry in a perfect way.  This minimal mehendi design will not take more than an hour or two, which means you get to spend the night before your wedding partying with your lovely bride squad.
For the urbane brides who want to keep their mehendi minimal & understated, this mehendi design is just apt!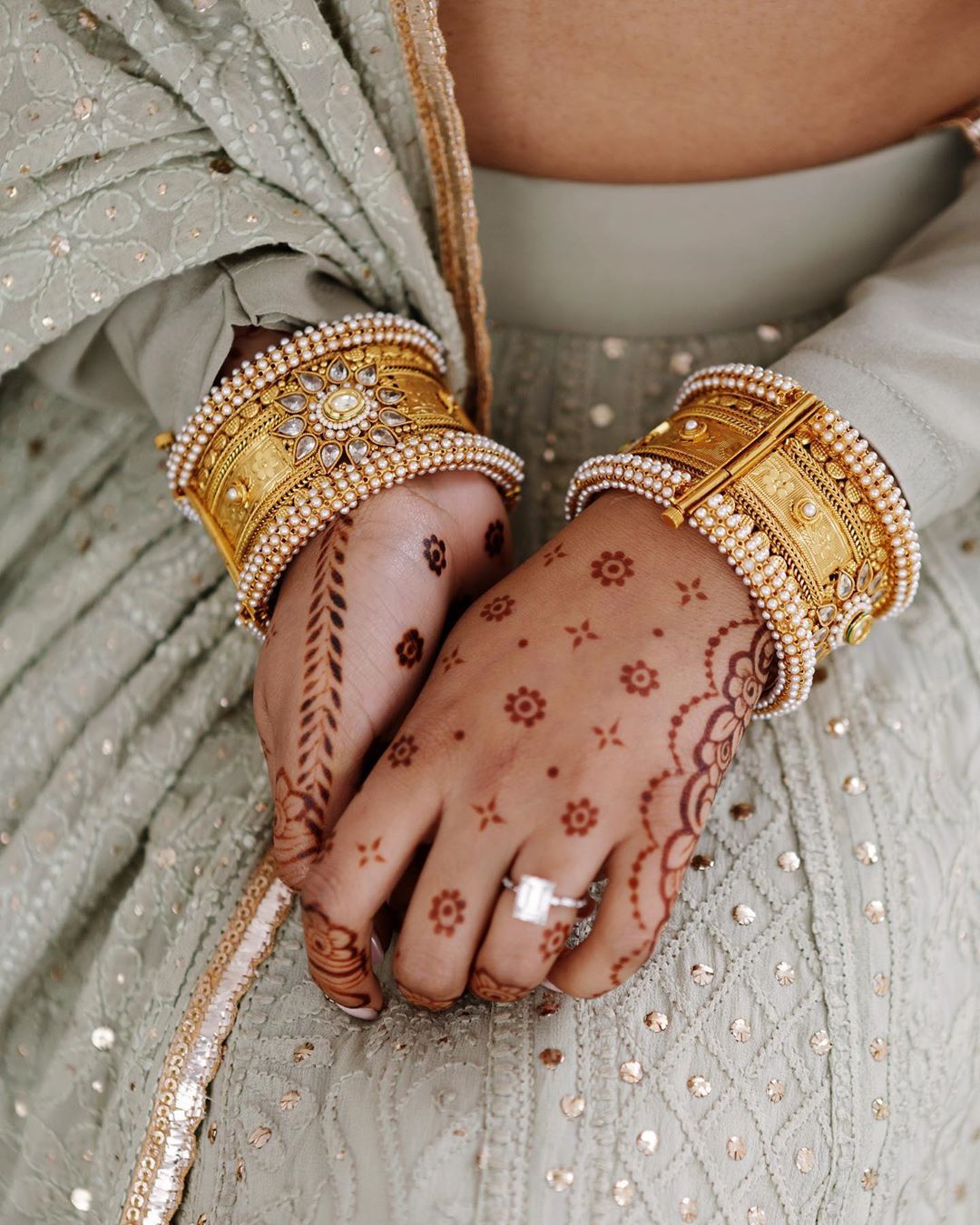 Image via Henna by Divya
The brides who spent hours struggling to find the perfect bangles and other hand jewelry to complete their bridal look are no way to let the mehendi design take away the thunder of their beautiful jewellery. This minimal henna design is just perfect for those brides who want to keep it simple enough to let their jewelry stand out in the crowd.
In a mood for unconventional aesthetics? We found you this checkered minimal hand mehendi design topped with pretty floral motifs!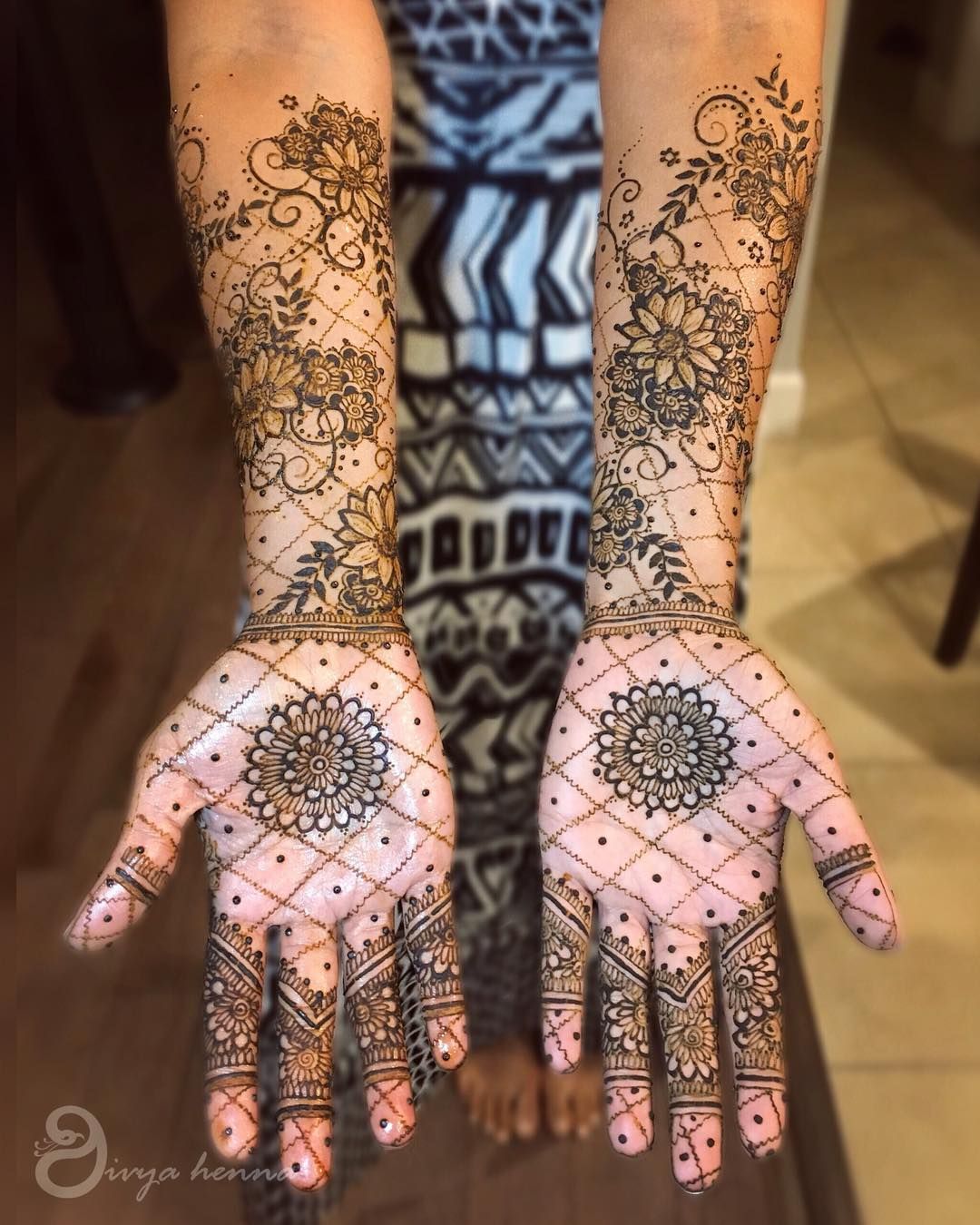 Image via Divya Henna★ 5
Peacock and leaf mehndi designs are too mainstream for our Gen-Z brides. This straight out of pinterest bridal hand mehndi design is something this season's brides are going to love. The floral design on the fore-arms is totally unique. The circular design in the centre of the palm has been loved by all the brides since it came in trend. At last the whole design is perfectly blending with the jaal design in the background which is making this design look the most unique and elegant yet simple bridal mehendi design.
This elegant bridal mehendi design curated with symmetrical swirls, dots, scallops and chain-like patterns is a sure shot win!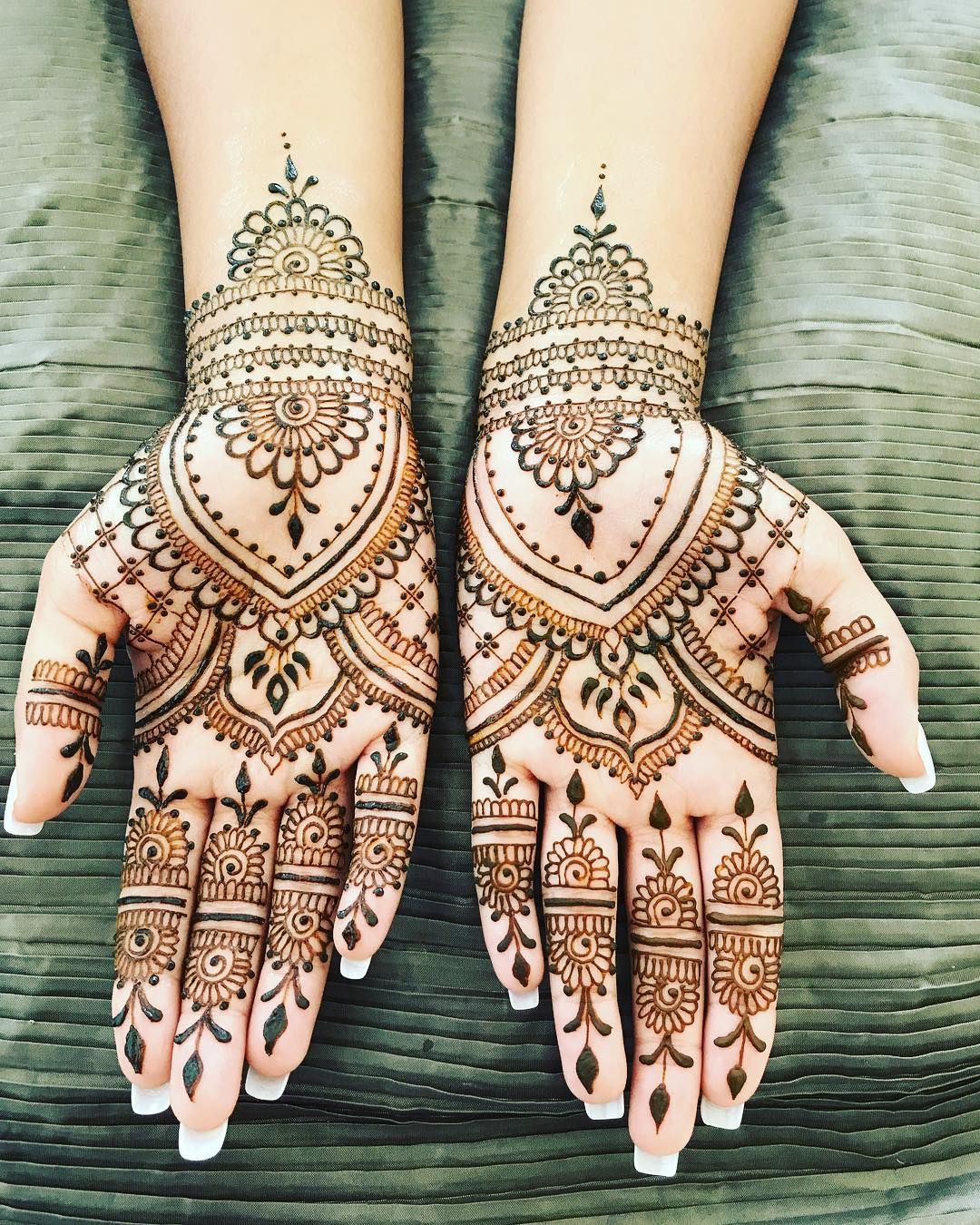 Image via @manraj_henna
All our beautiful brides out there who love mehendi but want to keep it simple for their intimate wedding, we found a perfect bridal mehendi design for you! Getting a full length of mehendi design can get really exhausting and we know that. Thus, this elegant looking short length mehendi design is here to save you. The beautiful detailed patterns starting from the wrist running down till the end of the fingertips makes this design look very minimal but very classy at the same time. This bridal minimal mehendi design will surely do the justice to your simple and stunning bridal look for your intimate wedding.
Talk about minimal mehendi designs, and this one is the perfect representation of it!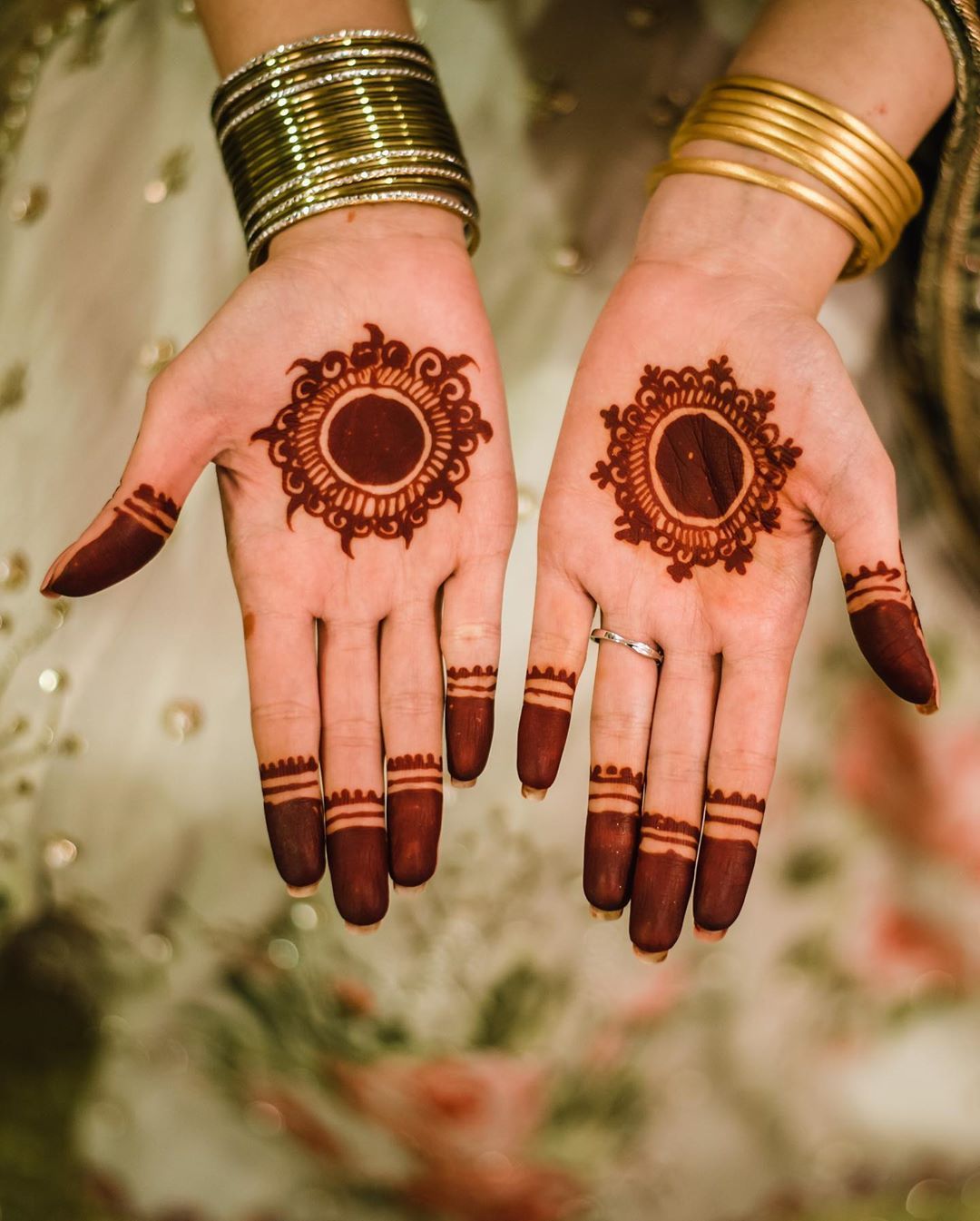 Image via @theweddingstorieslhr
No bride can ever go wrong when it comes to this design. Circle in the centre of the palm and fill in tips with mehendi. This minimum henna design is so calming and subtle and in no time it will make your hand look so graceful. If you are a bride who does not want to spend so much time thinking about the design and then spending hours on it's application, this is your go-to mehendi design!
Add a whiff of fresh air to your minimal mehndi design by including a groom portrait or a fun caricature into it!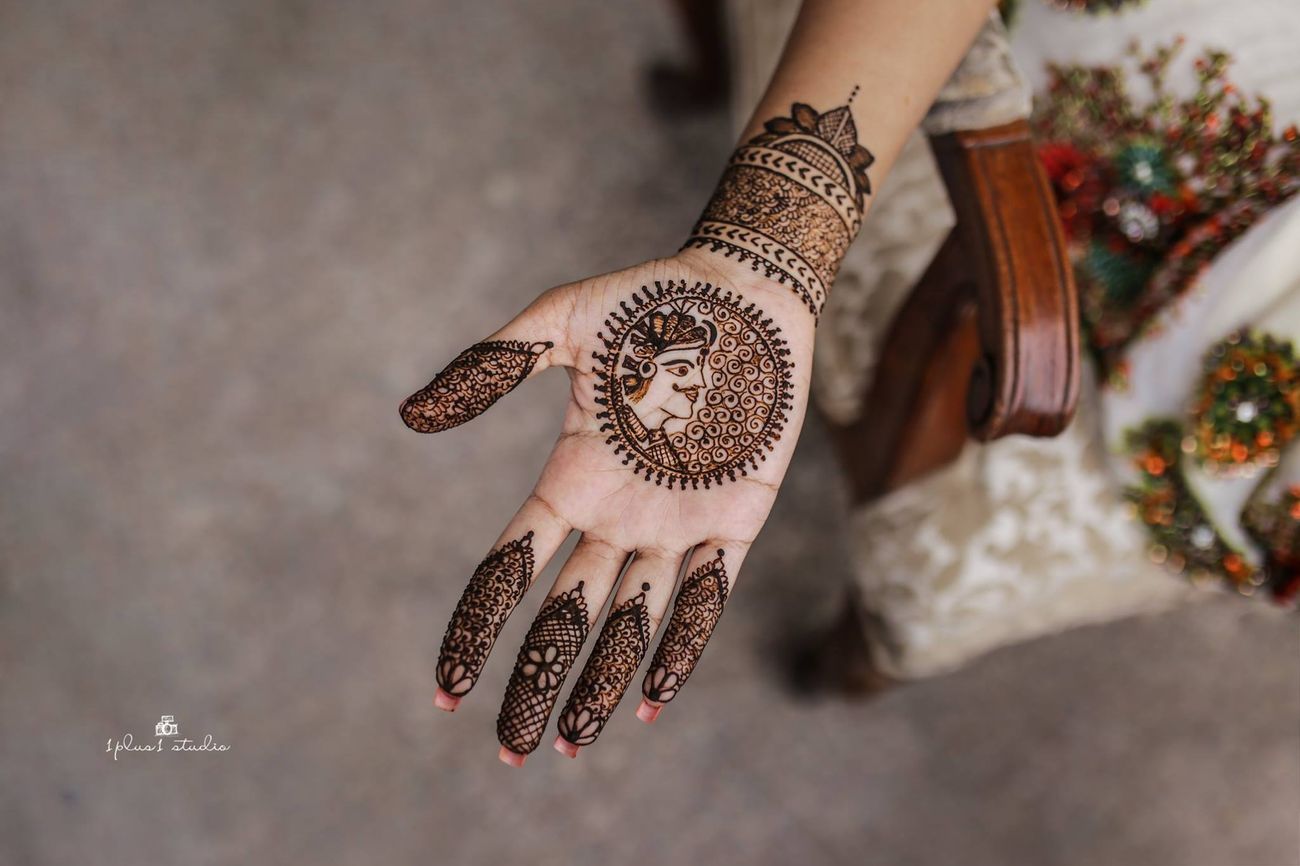 Image via 1plus1 Studio★ 5
If you are the bride who wants to hop on to the new trends but still want to keep it minimal when it comes to your mehendi design, could there be a perfect design for you as this? The detailed patterns on the wrist and the fingertips with the groom portrait in the centre of the palm makes this bridal mehendi design simple with a touch of trend. This design won't take more than an hour which makes it even more perfect for this season's busy brides.
Mandalas can also make for a great option for your minimal mehendi design, and here's a proof!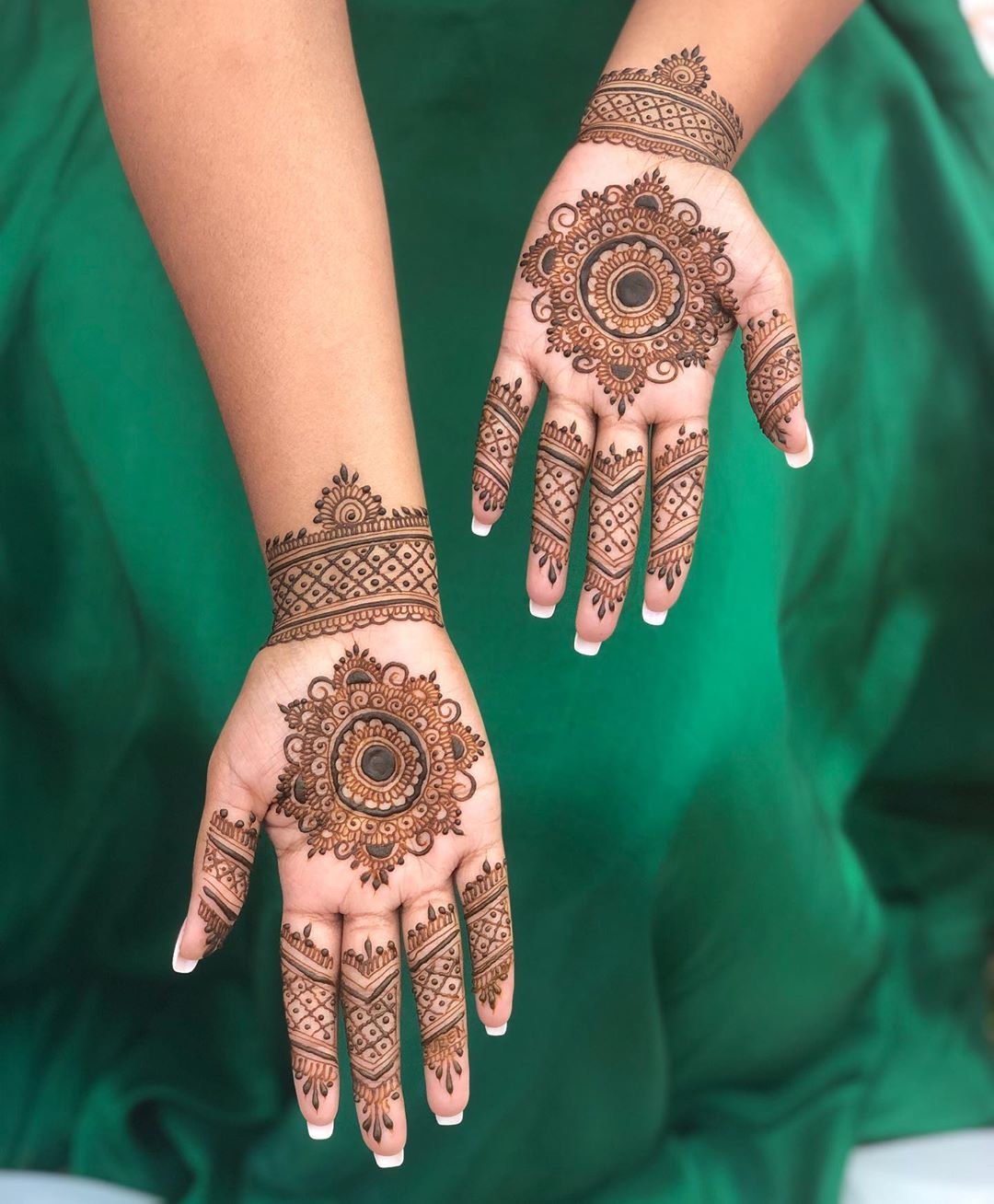 Image via @hennabynedak
There's something with mandala designs which keeps them in style forever. The swirls of mehendi turned into beautiful and subtle designs  patterns around a circle on the palm of your hand which is complimented with the evergreen jaal pattern makes this look even more beautiful. No one can say no to a mandala design because they are just apt for your bridal look.
Hearting over this dainty back hand mehndi design that is inspired from a hathphool!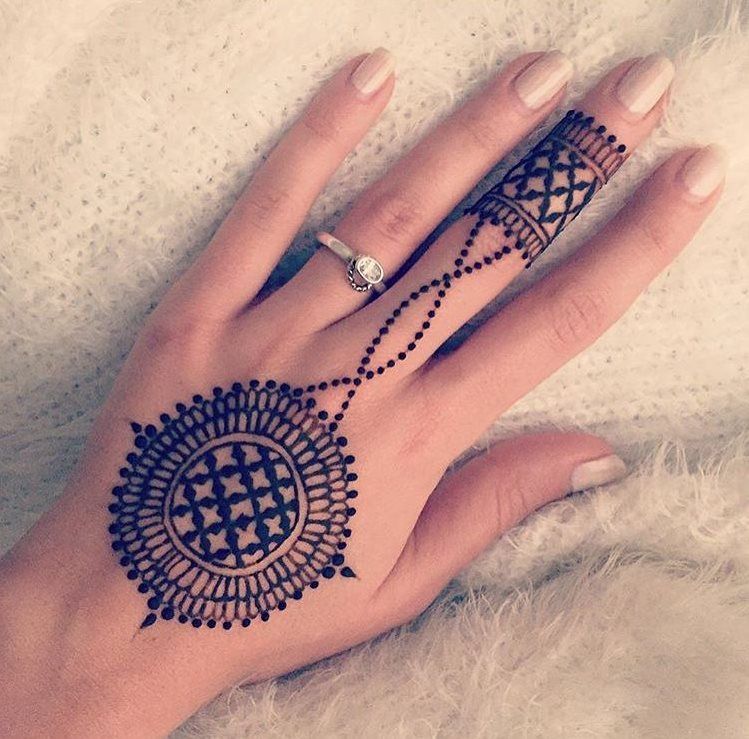 Image via @henna_sheike
Why wear hathphool when you can get your mehendi design to look exactly like that? This hathphool inspired design will get all the attention from our minimal brides. Also, if you are planning to have an intimate wedding at your home amid the covid crises, then this minimal mehendi design will complete all your mehendi needs. 
Love how those concentric circles in the centre added truckloads of charm to this particular design!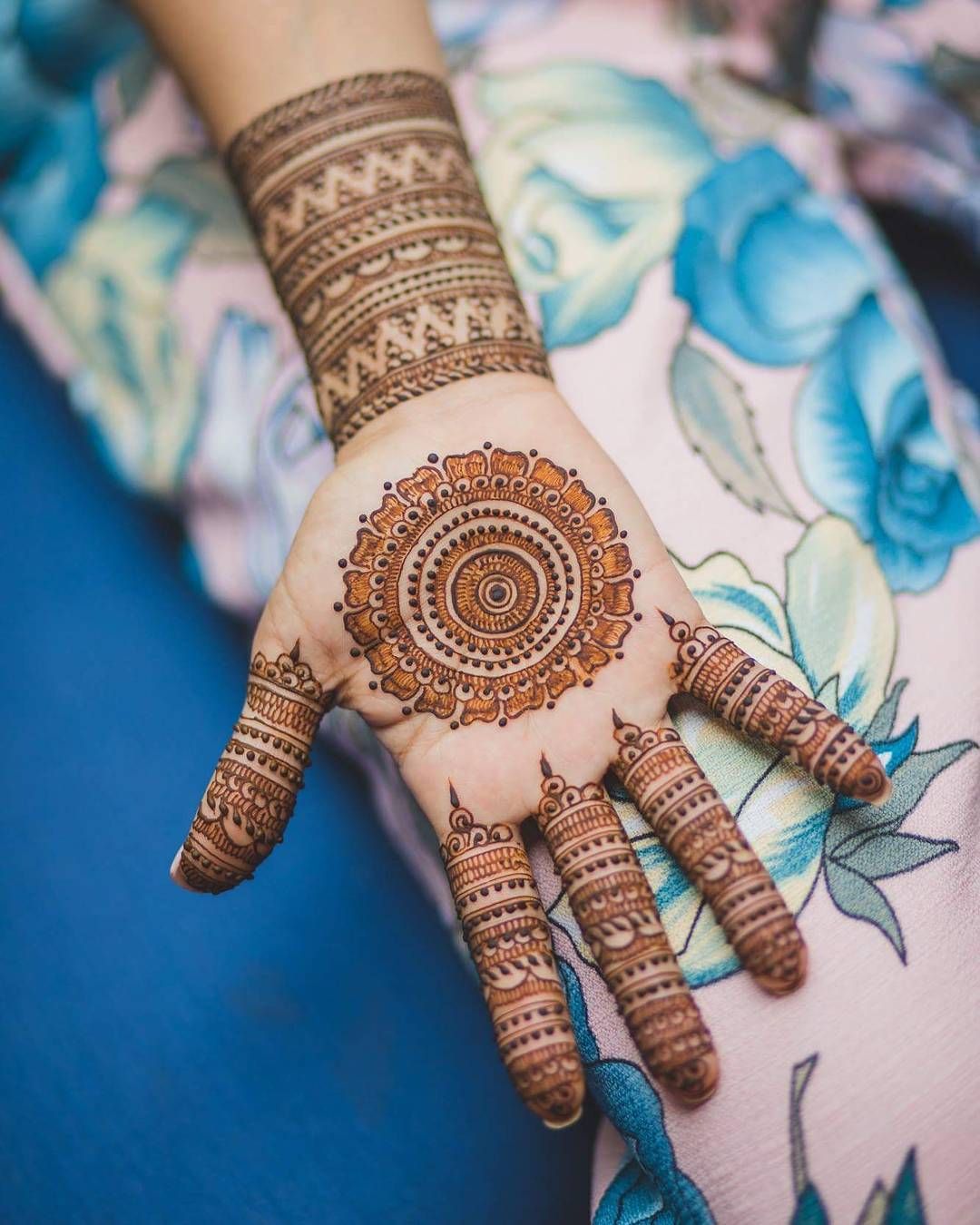 Image via The Lightsmiths★ 5
Who doesn't like to play with swirls and circles in their hand mehendi design? This minimal henna design is absolutely adorable for the brides who are planning to have a simple wedding. The one of the many amazing things about this design is that it won't take more than an hour for it's application! So you are going to be able to dance all night long with your loved ones. YAY!
Don't want to go all out yet want something unique? How about this proposal mehendi that is limited to the palms and a little above them only!

Image via Clicksunlimited Photography★ 4.6
The unique concept in this henna design has our hearts! Where are all our unique brides? This simple mehendi design is just perfect for your mehendi ki raat. The mehendi design is so bridal yet doesn't have to be stretched up to your arm. You can definitely opt for this mehendi look if you want to keep it simple yet unique. 
This beautiful lotus inspired one that is giving us all the feels!

Image via @rosemehndi
Who doesn't love flowers in the mehendi design? But isn't that too cliche now? Here's a beautiful twist in your floral and minimal mehendi design, this lotus inspired mehendi design is definitely going to get a lot of attention at your big day. This unique design will be complimenting your accessories throughout the festivities. 
A little dose of bride and groom love on each palm!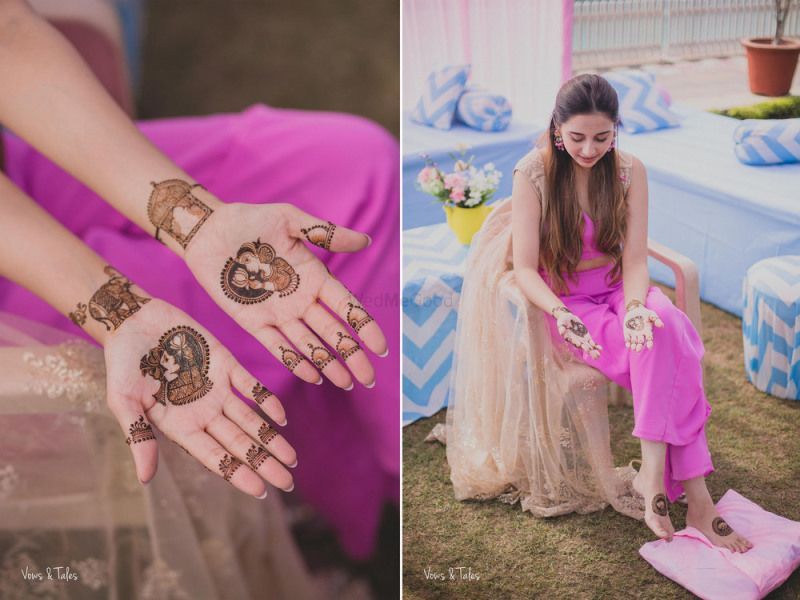 Image via Anuprit and Akshita's Wedding
Who said it always has to be a mandala or circular patterns for minimal henna design? We got something out of the box for you! The portrait design. The baraat & the groom on one hand and A doli & the bride on the other and cute little patterns on fingers. Is this design beautiful? YES. Is it minimal? YES. Is it just perfect? YESS. 
While this might be long but its delicate and simple mehndi design along with empty spaces is perfect for a minimal-loving bride!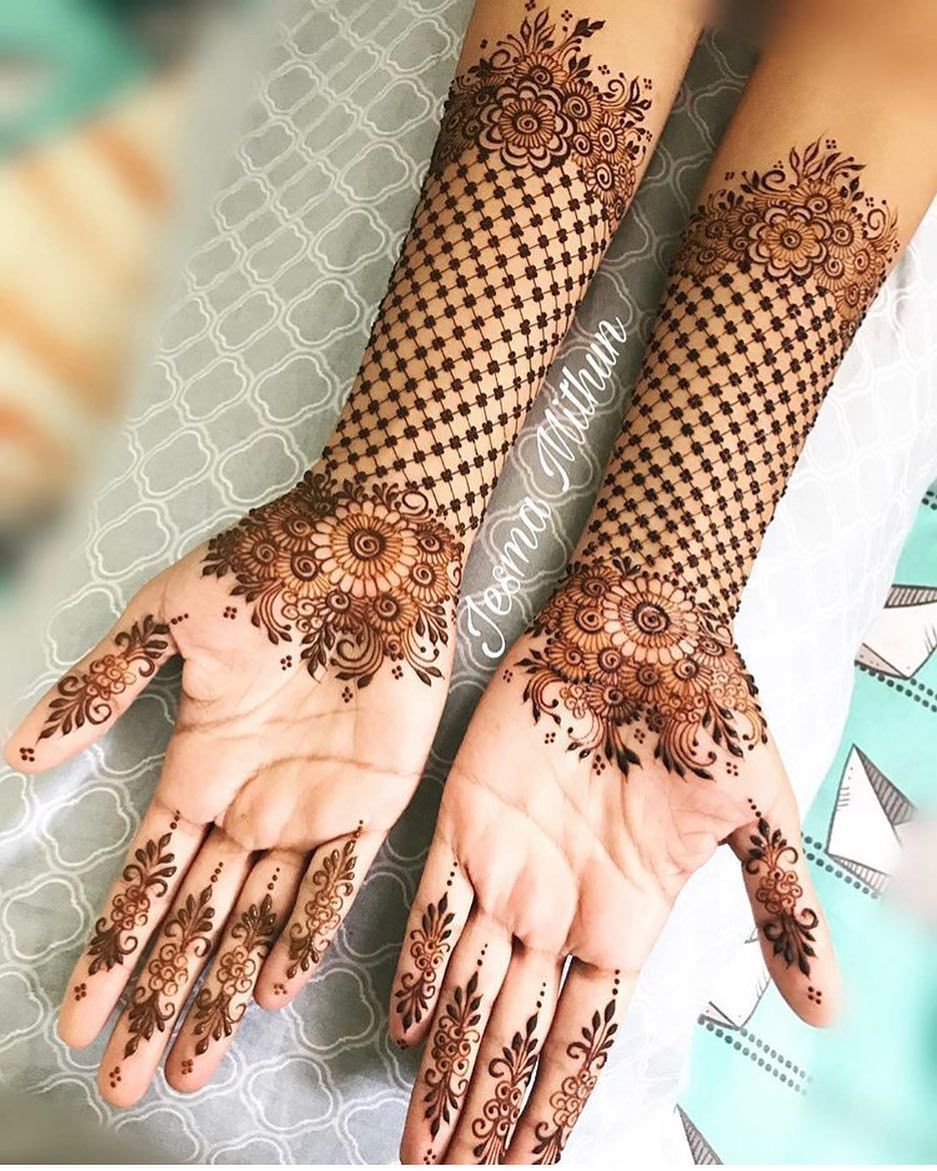 Image via Pinterest
Isn't the picture just enough to explain how gorgeous and perfectly simple this mehendi design is? It's love at first site with this mehendi design for us and we know it has stolen your heart already. We are too excited for you to get this done for your big day and get all the compliments.  
A little sun design with a wristband style design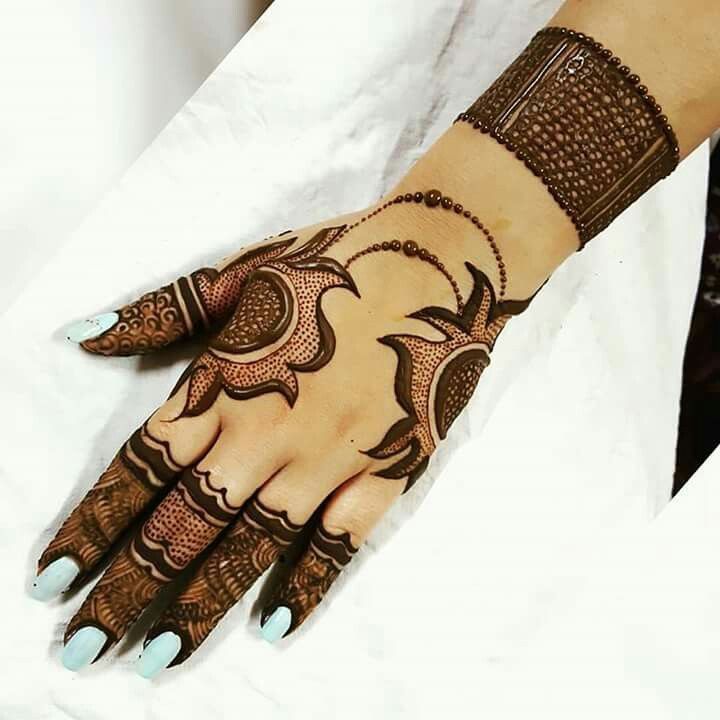 Image via Pinterest
The design for the back of your hand is as important as the front side, no one understands this more than you brides. This sun design is absolutely going to get lots of love and attention by our brides this wedding season. Even if you are planning to have an intimate function, this design would still be perfect for your simple mehendi. The suns and the chains and the detailed hand band everything in this concept is stunning, just like you.  
A little warli love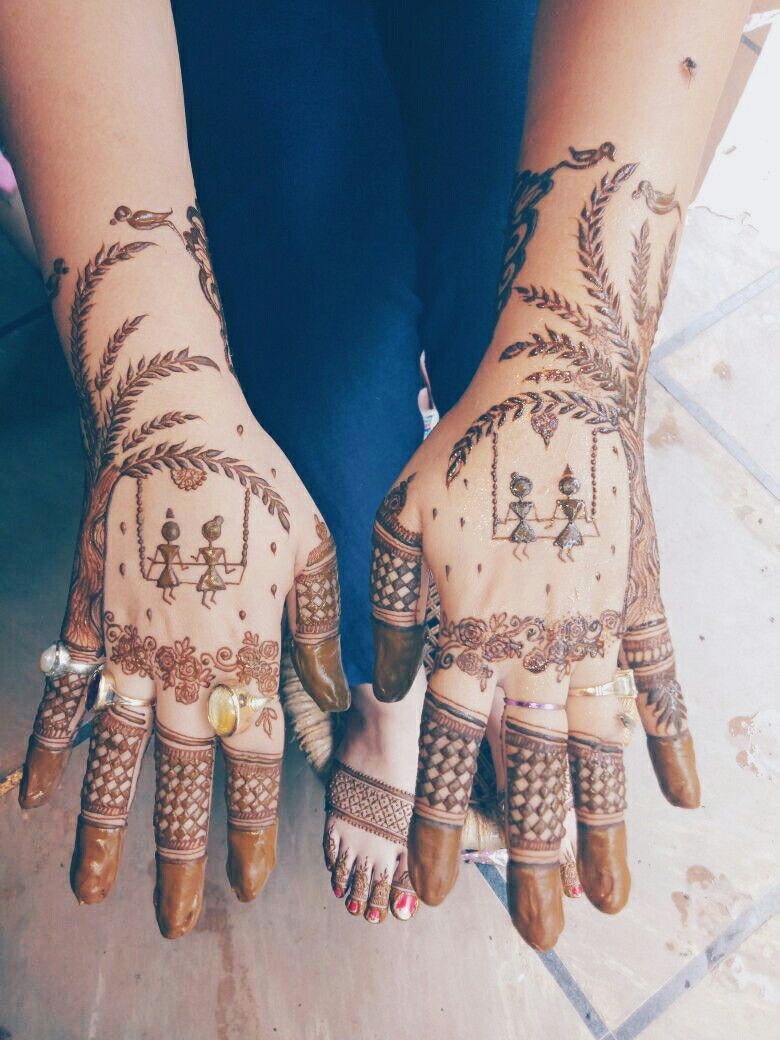 Image via Pinterest
We understand your love for warli designs. So here it is, your favourite but minimalistic warli design inspiration. You can definitely get this design for your mehendi ki raat. This minimal back hand mehendi design is just Apt for our brides who have a soft spot for the warli design. 
Floral mehendi with buttis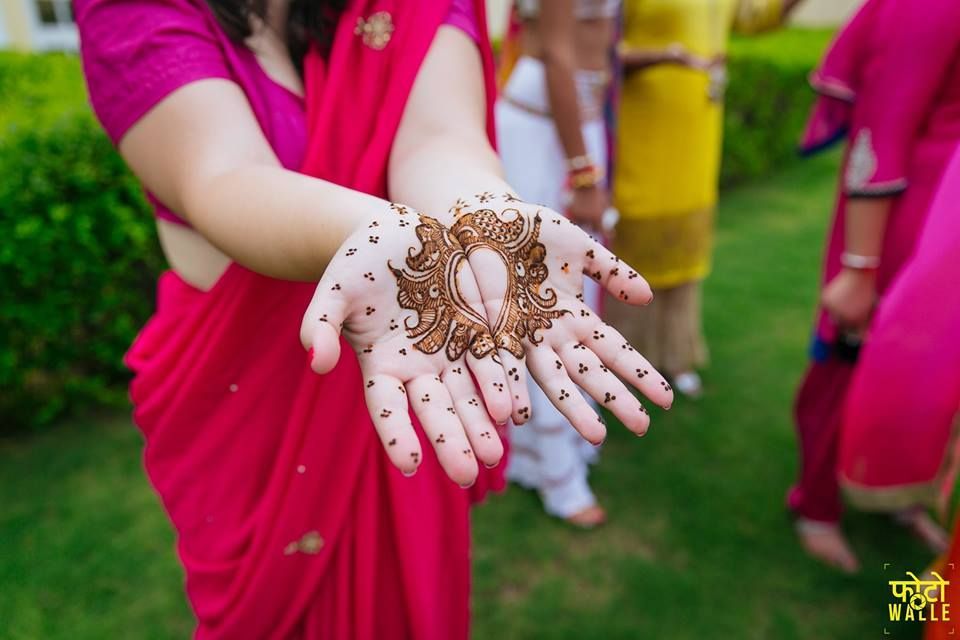 Image via Fotowalle - The Story Folks★ 4.9
This mehendi design screams MINIMAL in all ways possible. Planning to have an intimate wedding function and don't want to skip the festivities of mehendi ki raat? You can keep your worries at the bay because we have got your back. The floral mehendi design at the edges of your palm, surrounded by beautiful bootis is just perfect for you. This is a very beautiful,  minimal and hassle free mehendi design that we totally adore. 
This Simpsons-inspired with delicate floral design
Image via Simpsons Mehendi Feature
Did anyone ask for unique and trendy mehendi designs? Don't worry, we got something for you. This simpsons inspired mehendi design is too adorable. We cannot wait to see you brides getting this done for your big day! It is not at all bridal and at the same time it is minimal and unique mehandi.  We know you want to get this creative and simple hand mehendi design for your big day and set a trend. All we have to say is..GO GET IT GIRL! 
For all the brides who love jaali work, this simple mehndi design is just for them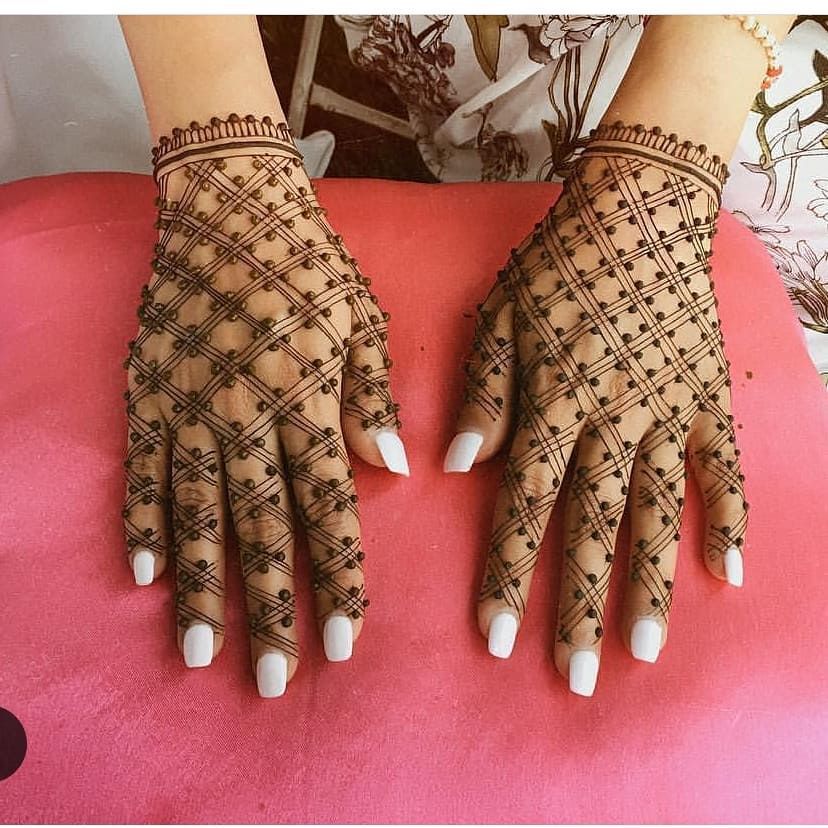 Image via Pinterest
You brides can't deny their love for jaali design for their mehendi. The love for jaal design has only increased since it first became trendy. Especially when the mehendi artists are bringing new twists to this  simple mehendi design, every now and then. Yes, we are absolutely in love with this jaal mehendi design for back hand and we know that you are too. 
Now that  you are sorted for simple mehendi designs for your hands. It's time to check out 20 minimalist mehendi designs for your feet.
And if you are a bride who likes all elaborate, traditional or personalised mehndi designs we have ideas for you as well!
Which minimal mehndi design will you pick in for your intimate wedding? Let us know in the comment section.