#NewBride: 5 Beautiful Things Every Bride Needs to Carry to Her New Home!
BY The WMG Bride | 05 Feb, 2016
Just the thought of starting a new life, in a new place, with a new mindset, seems so overwhelming. While this new chapter of life may have its own fair share of battles that may need your attention, don't forget who you were before you decided to share your life with your partner. It's a beautiful thought to carry bits from your old life to your new one. To help you out in your bridal packing, we got five sweet nothings that are going to make you feel at "home", at home:
Family pictures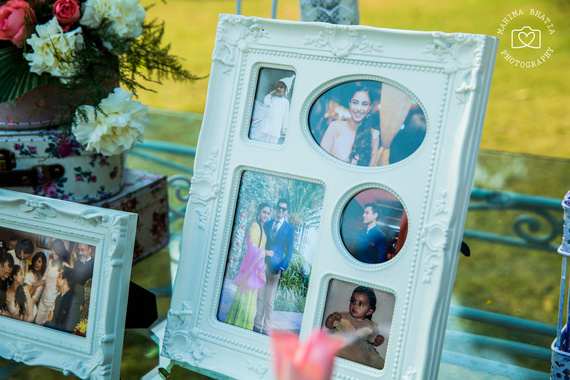 Picture Courtesy: Rudy & Dayaneet's Wedding 
Don't limit 'em memories to just your phone. Carry actual pictures from old family photo albums with you that'll remind you of what a fantastic family you've moved on from.  Put them in pretty happy frames and keep them on your bedside table. While looking at these may cause occasional tears, they're surely going to be happy ones, right?
A beautiful piece of jewellery...
Bride wears Platinum Evara Jewellery with Anushree Reddy 
You are starting a new journey and you need all the love and blessing from your parents. What if you can not only rejoice these blessing but also wear them. Evara made with the everlasting metal platinum does not fade or tarnish just like the eternal blessings from your parents. With those exquisite designs in tow, you can wear your favourite piece of jewellery again and again.
A special home-made recipe from your mother
Picture Courtesy: Hemant & Preet's Sydney Engagement Party
Whether to dazzle your mother-in-law with your culinary skills, or just to keep a jarful of your mum's pickles or sauces, carry a special recipe that you mother taught you over the years. Someday, you will love it when your daughter does the same. Or better yet, put in a book full of her recipes and remember her by. Plus, totally impress your new in-laws.
Souvenirs/Little nothings for the new family members (to make a good first impression)
Believe us, even a chocolate is better than going empty-handed! Carry along with your bridal suitcase some little nifties for your new family. They'll love to see how considerate and generous you are, despite knowing how utterly dreadful you must be feeling on the inside!
Your mom's coveted sari
Picture Courtesy: Nayantara & Sourabh's Wedding 
Remember when you were little, and watched as your mother draped one of your favourite sarees from her collection, and got ready in front of the dressing table? Don't know about you, but we sure had this dream of wearing that one saree or dress that our mum looked her best in. Well, it's time to turn it into reality - take it, keep it, wear it and revel in it.
****Sponsored Post: EVARA Platinum Blessings, as the collection is called, is a new range of bridal jewellery for the bride and groom who seek exclusivity and cherish the blessings from their families closer to them on their big day. The beautiful and delicate designs stand for blessings of eternal love from parents and family. A piece of jewellery that stands the test of time, just like the love that brings the couples together. It is not just exquisite and surreal, it is symbolic of the coming together of two families to create a beautiful, new relationship. Plus, it matches your bridal trousseau just right!