Opulence, Style & A Whole Lot Of Fun At This Le Meridien Jaipur Resort & Spa Wedding
BY Sakshi | 16 Dec, 2021 | 13711 views | 6 min read
When we hear of a whimsical celebration, we think of refreshing lush greens, a picturesque landscape, and a whole lot of love. And Bhavya & Kritarth's wedding at Le Meridien Jaipur Resort & Spa turned out to be a beautiful representation of it. This palatial venue served as a breathtaking, beautiful canvas where the couple could make their royal wedding dreams come true. One that was a beautiful reflection of their roots & Indian culture! Le Meridien Jaipur Resort & Spa is an extravagantly regal resort, a resort that pays homage to the grandeur of Indian architecture with peacock arches and gleaming white stone.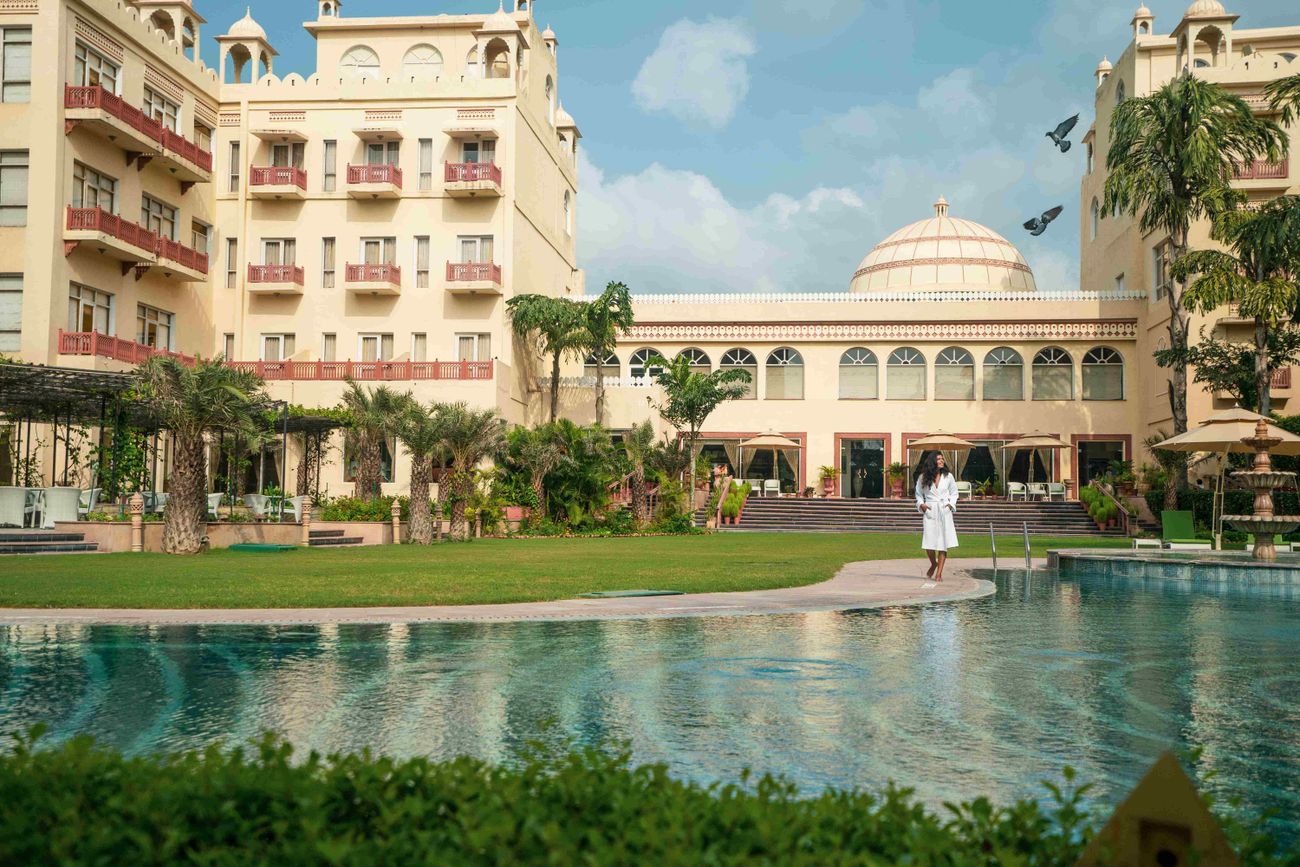 Each and every ceremony was truly a unique experience thanks to the different, spectacular backdrops. So much so, that the bride herself says that they managed to have 4 functions at the resort, each in a totally unique venue within the premises! From a quirky mehendi to a fun haldi to a glam engagement and of course, regal nuptials, this destination wedding had a lot of elements we totally loved.
The photography by Safarnama Films★ 4.5 captured the wedding in all its glory.
Meet Bhavya and Krirath

"We were schoolmates and were friends for the longest time. We both were each other's best friend and decided to be together forever", Bhavya tells us.
Mehendi

Haldi
   
Engagement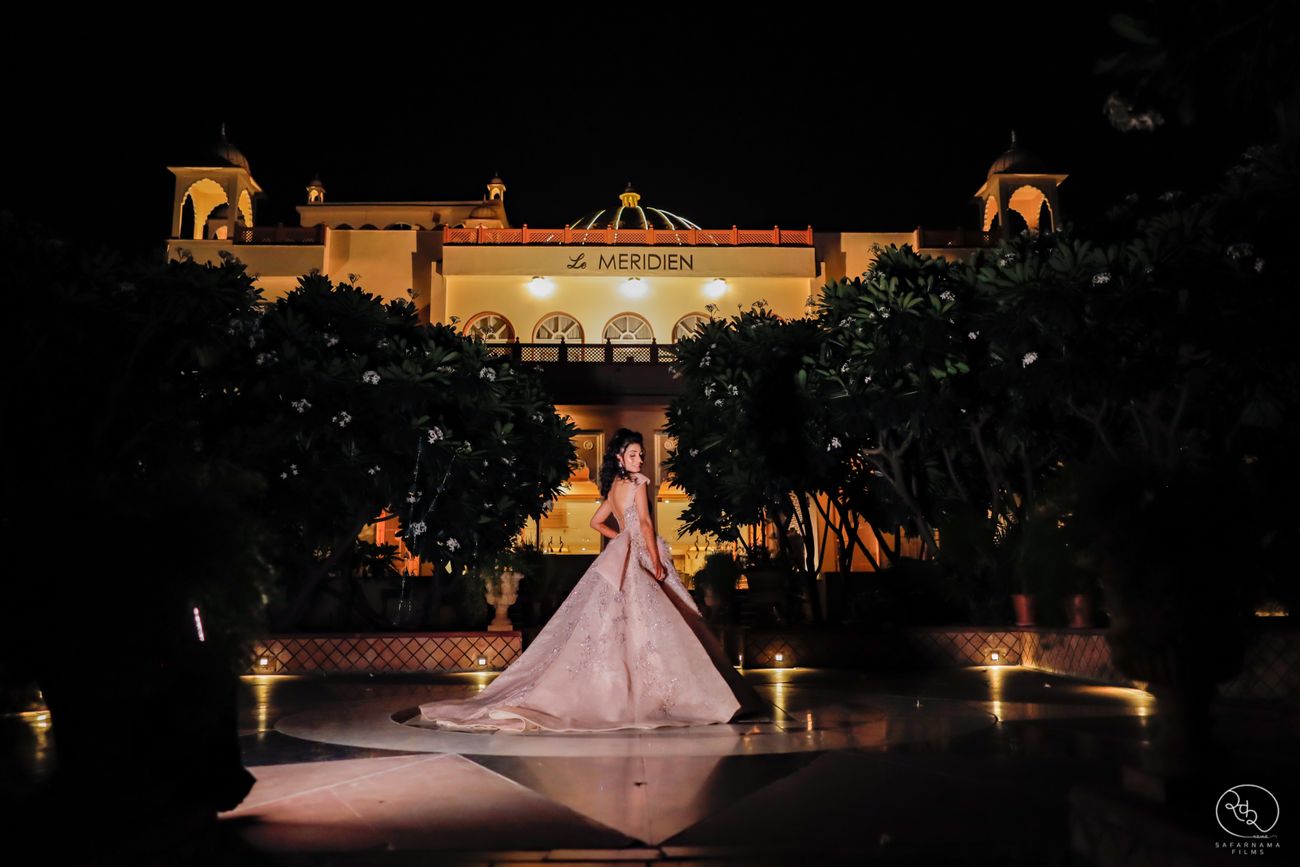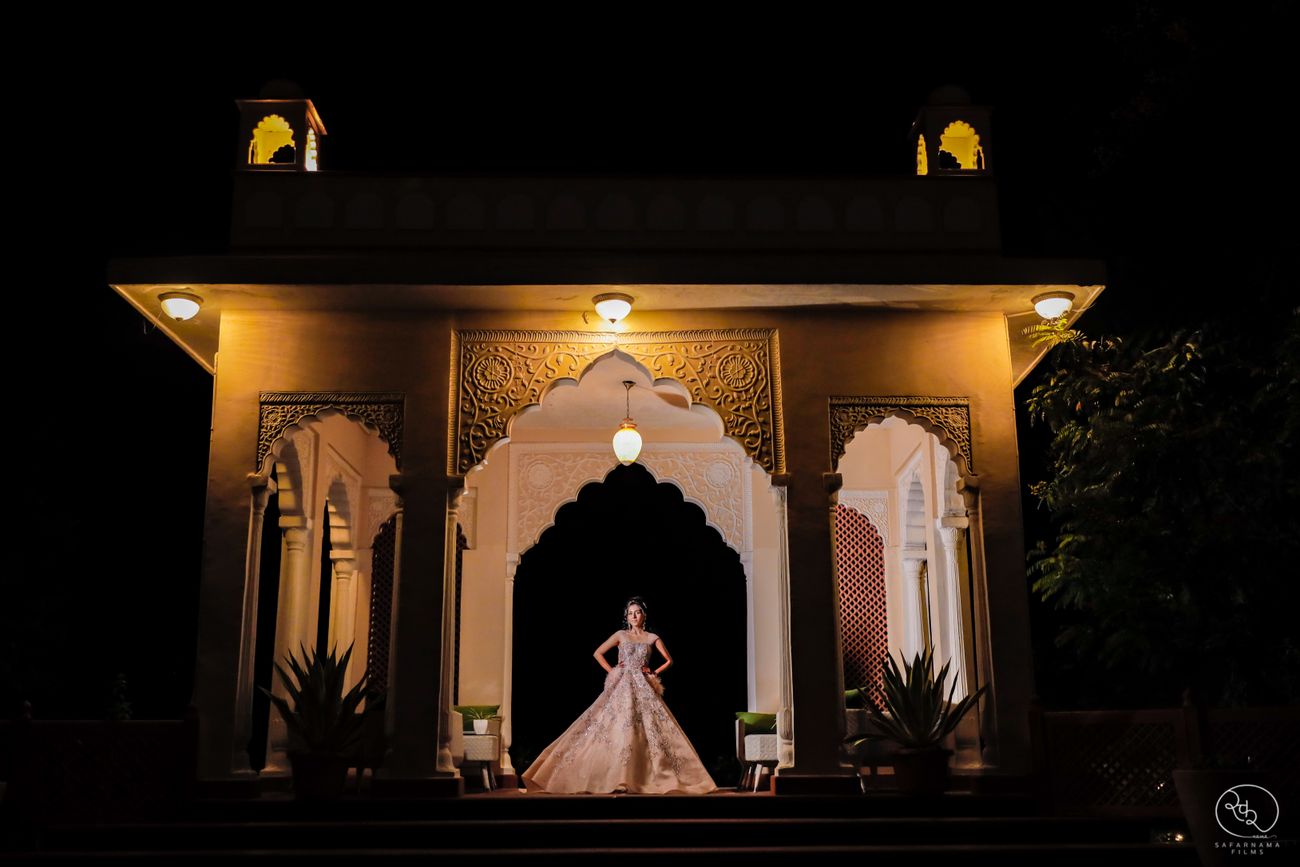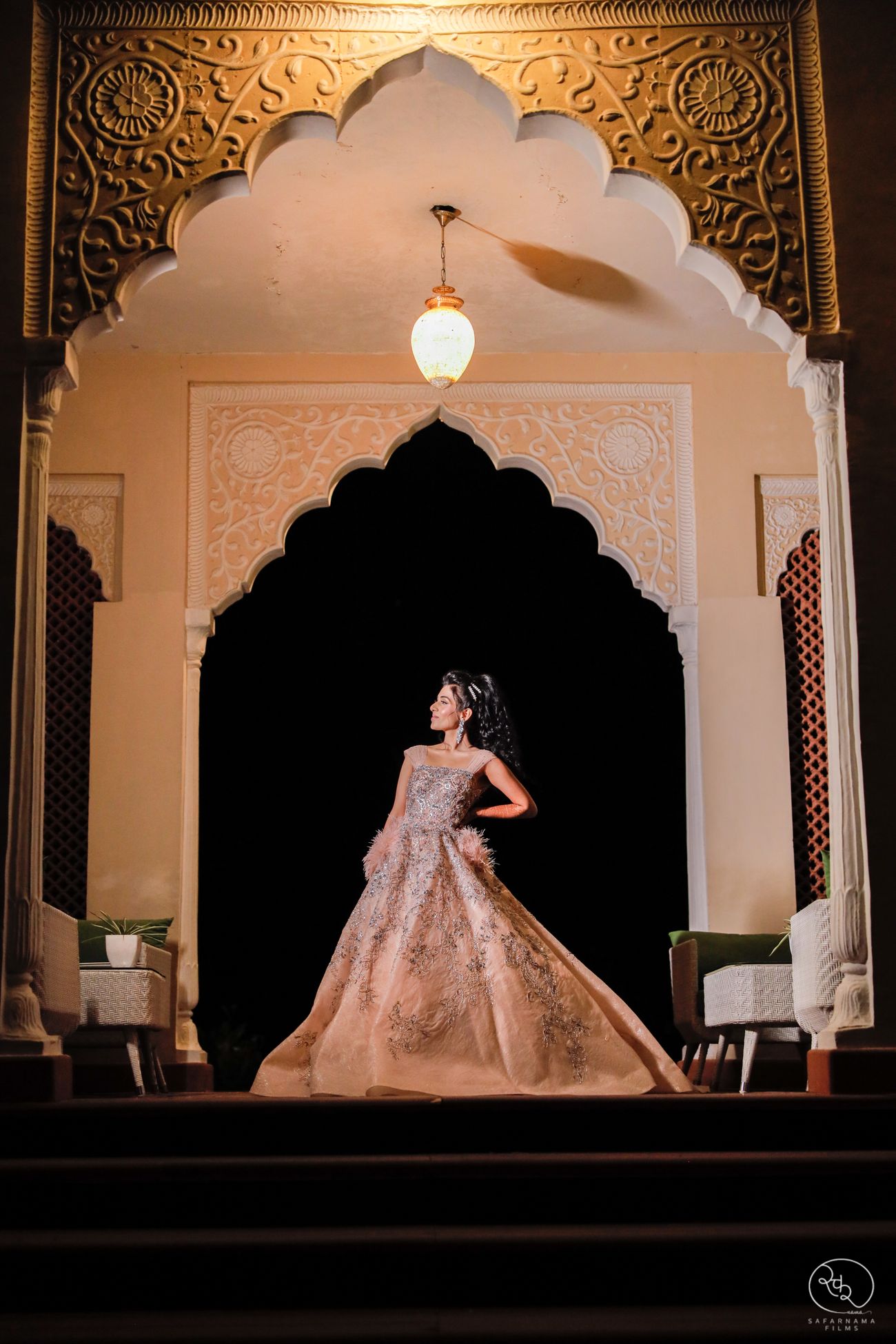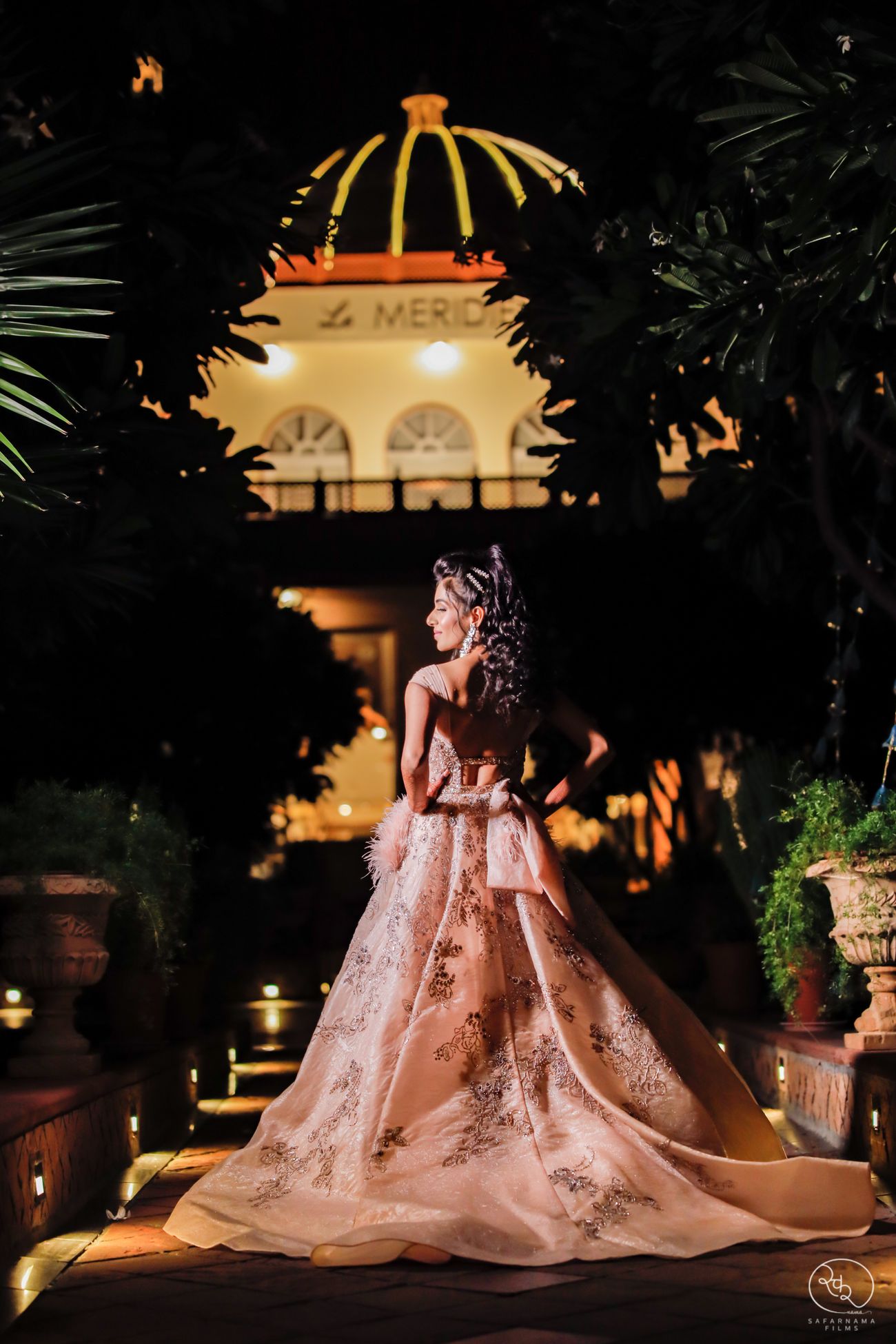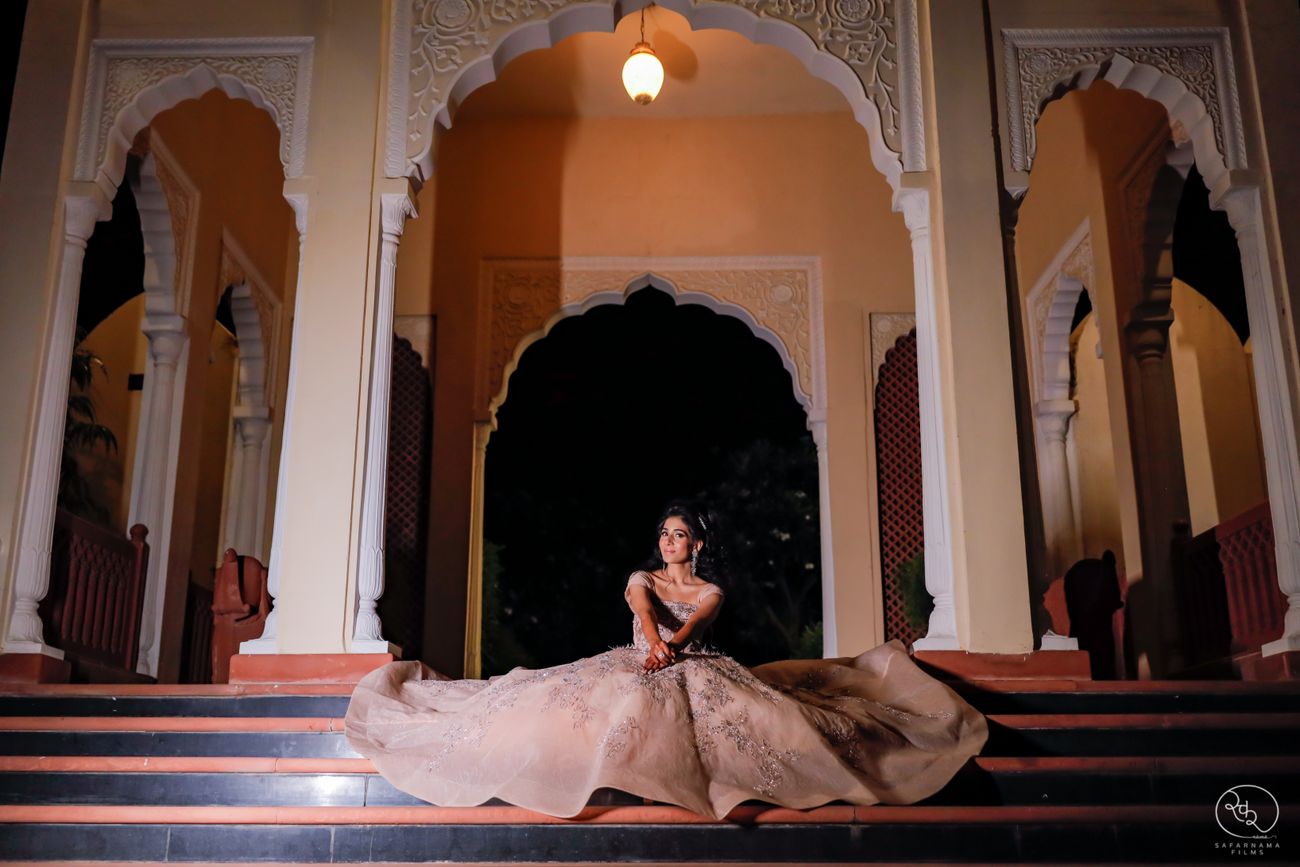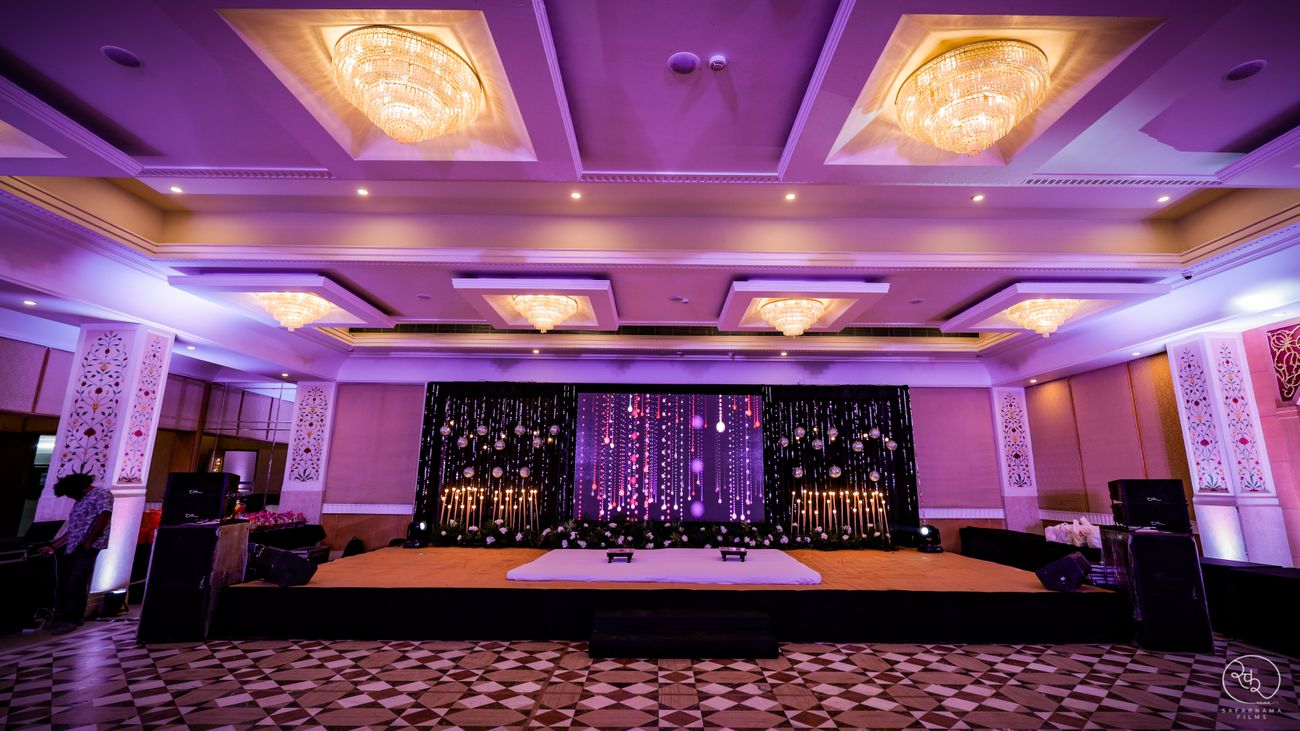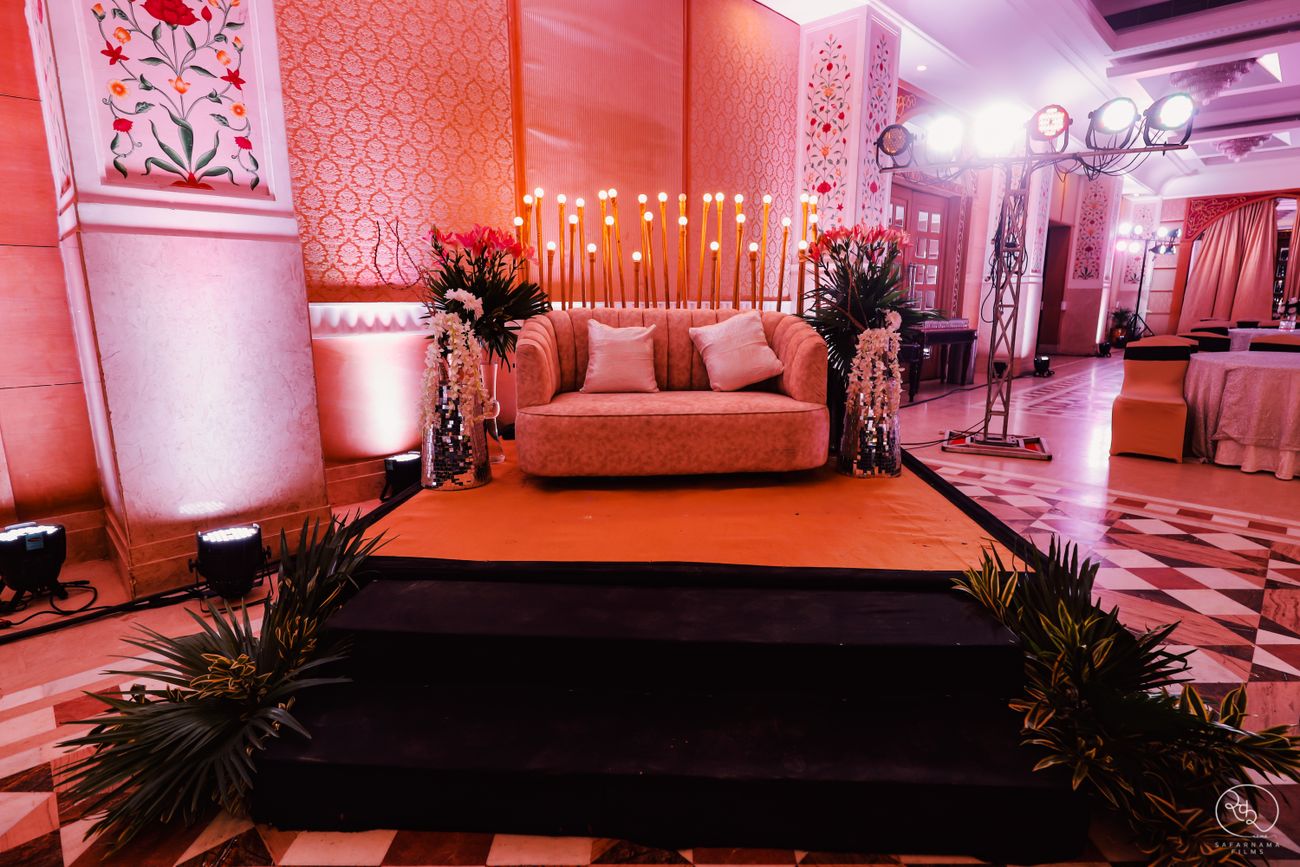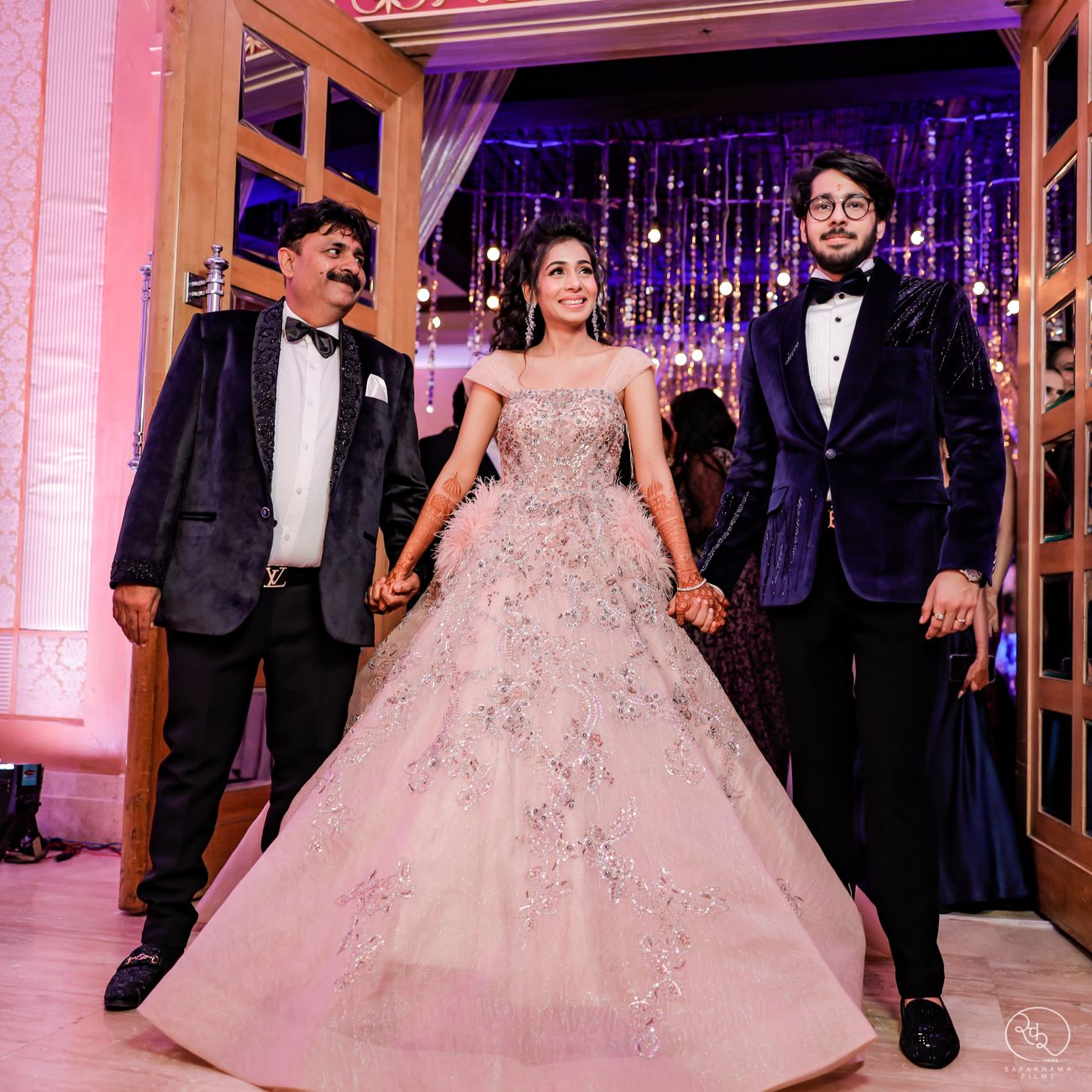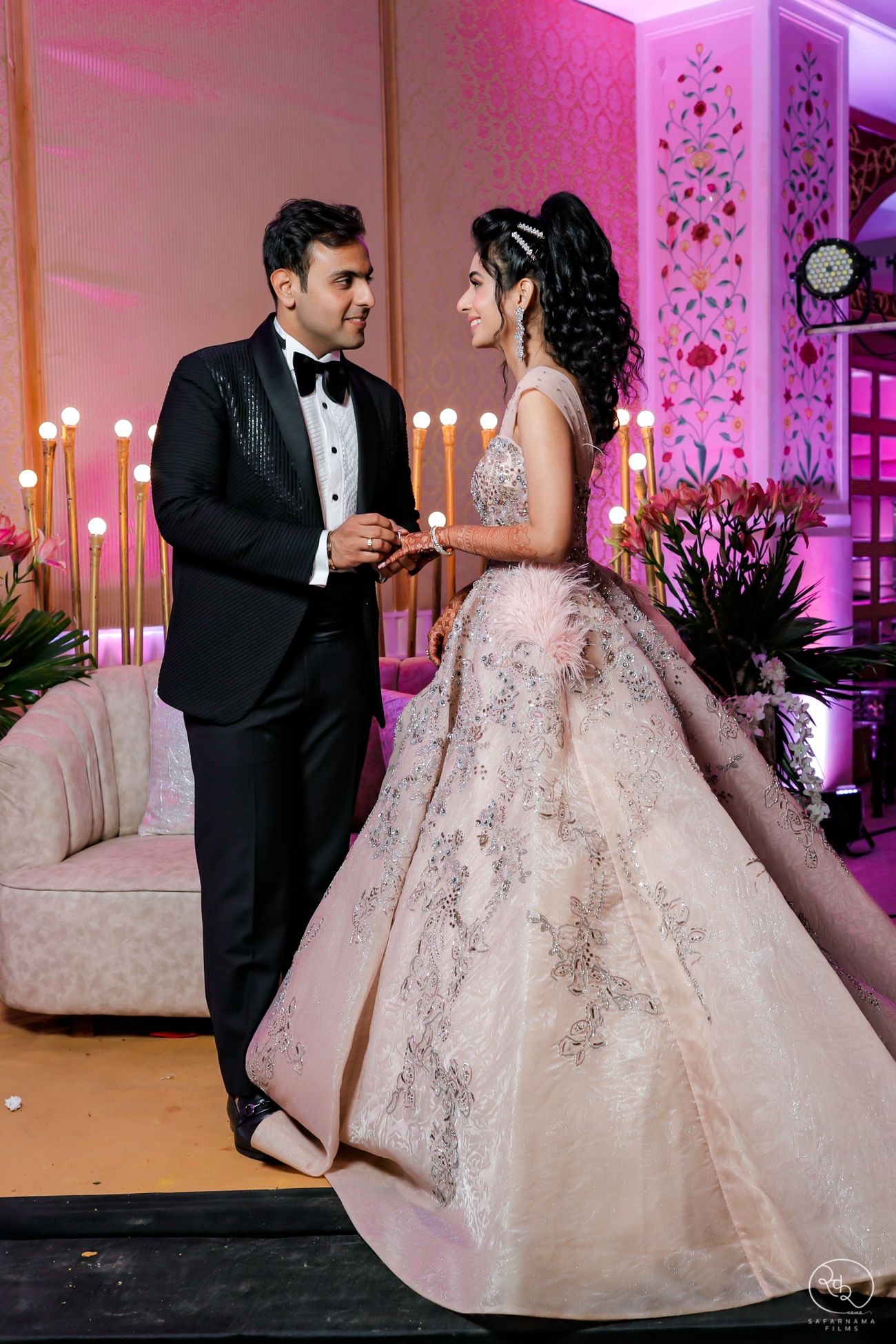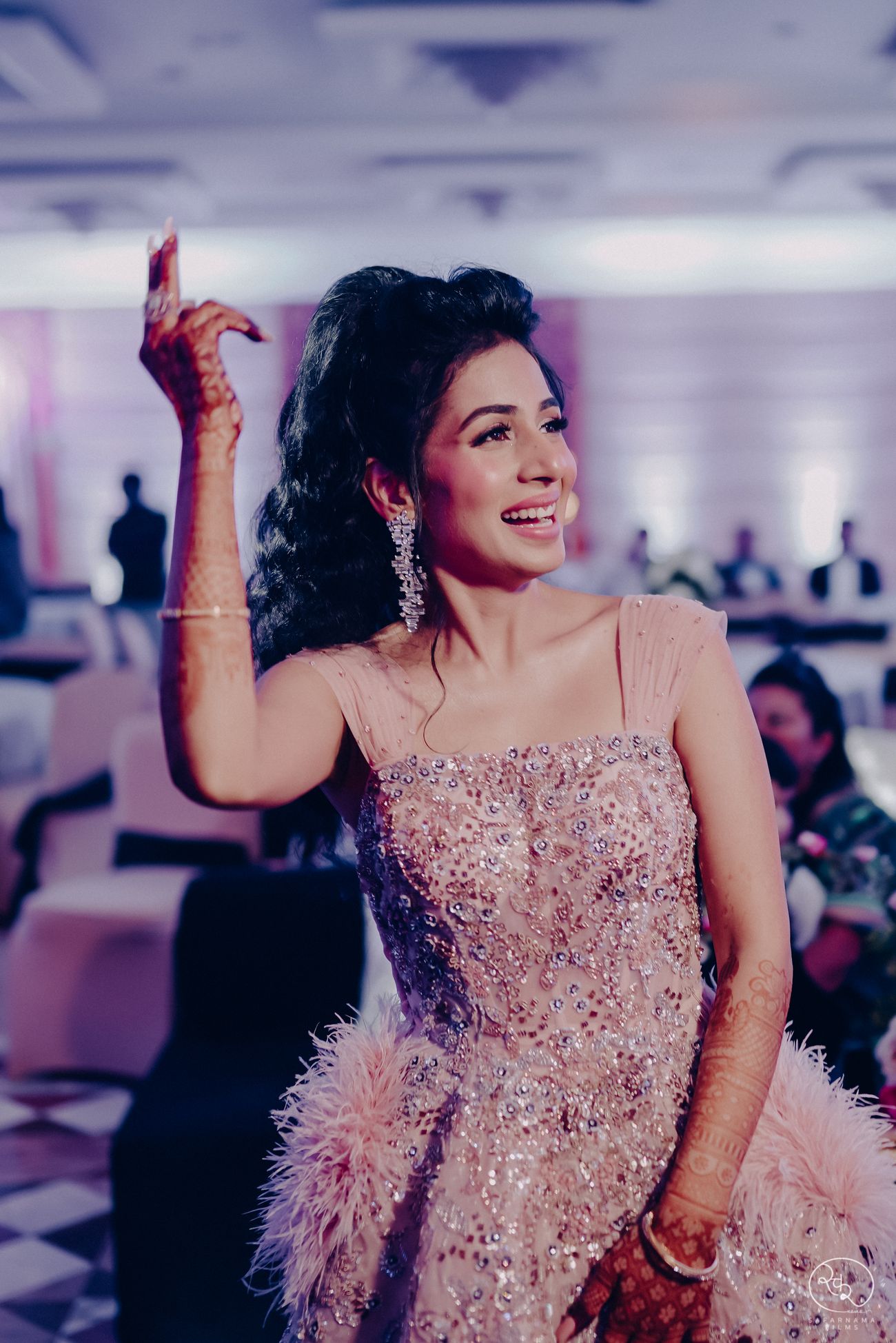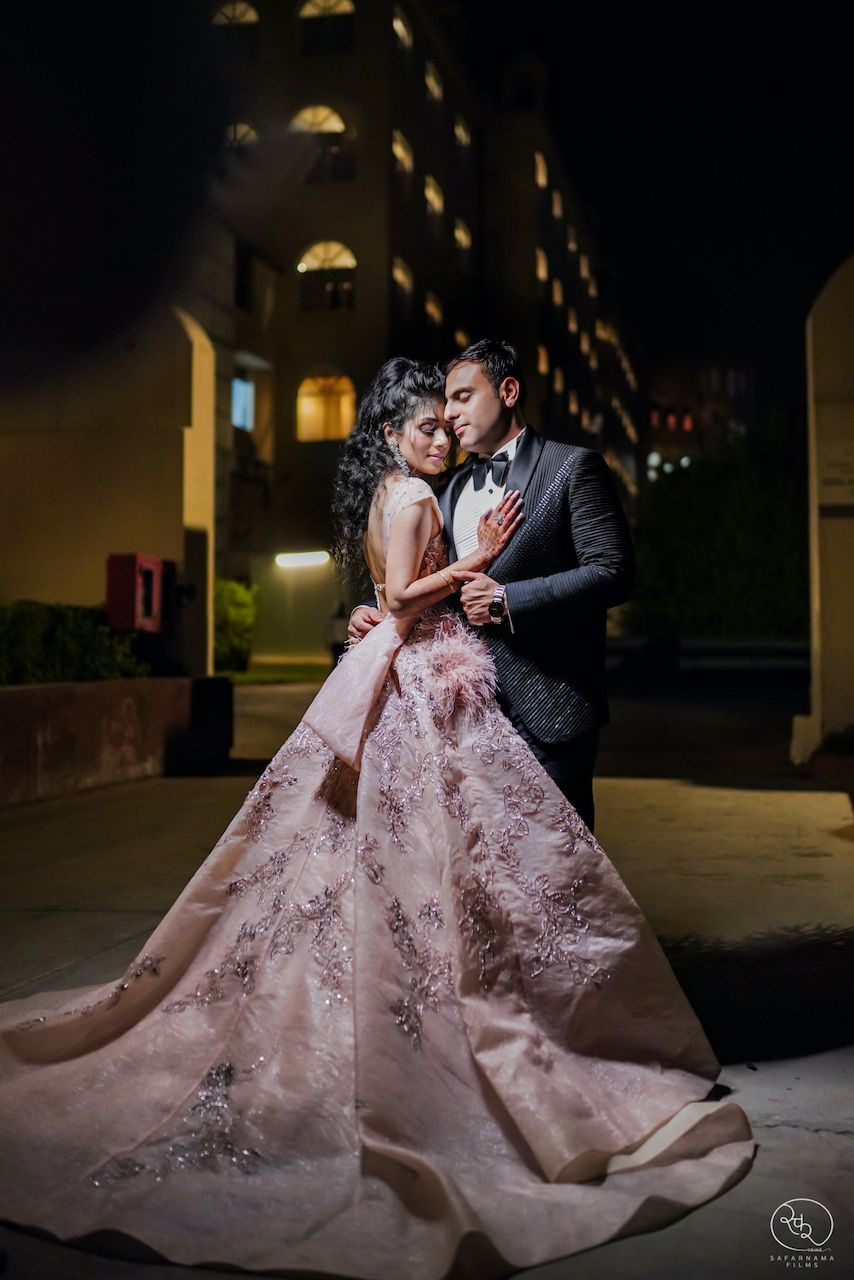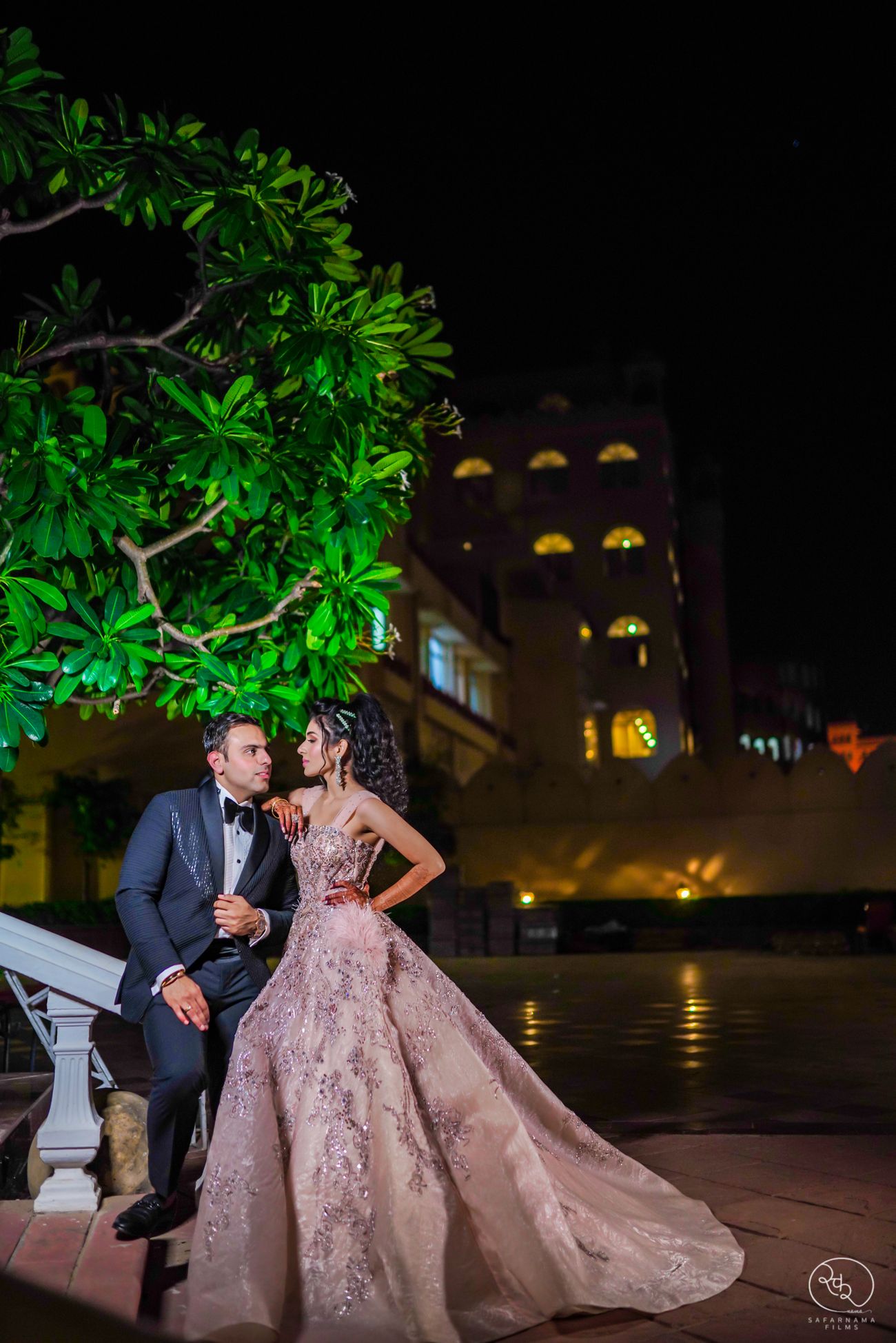 Wedding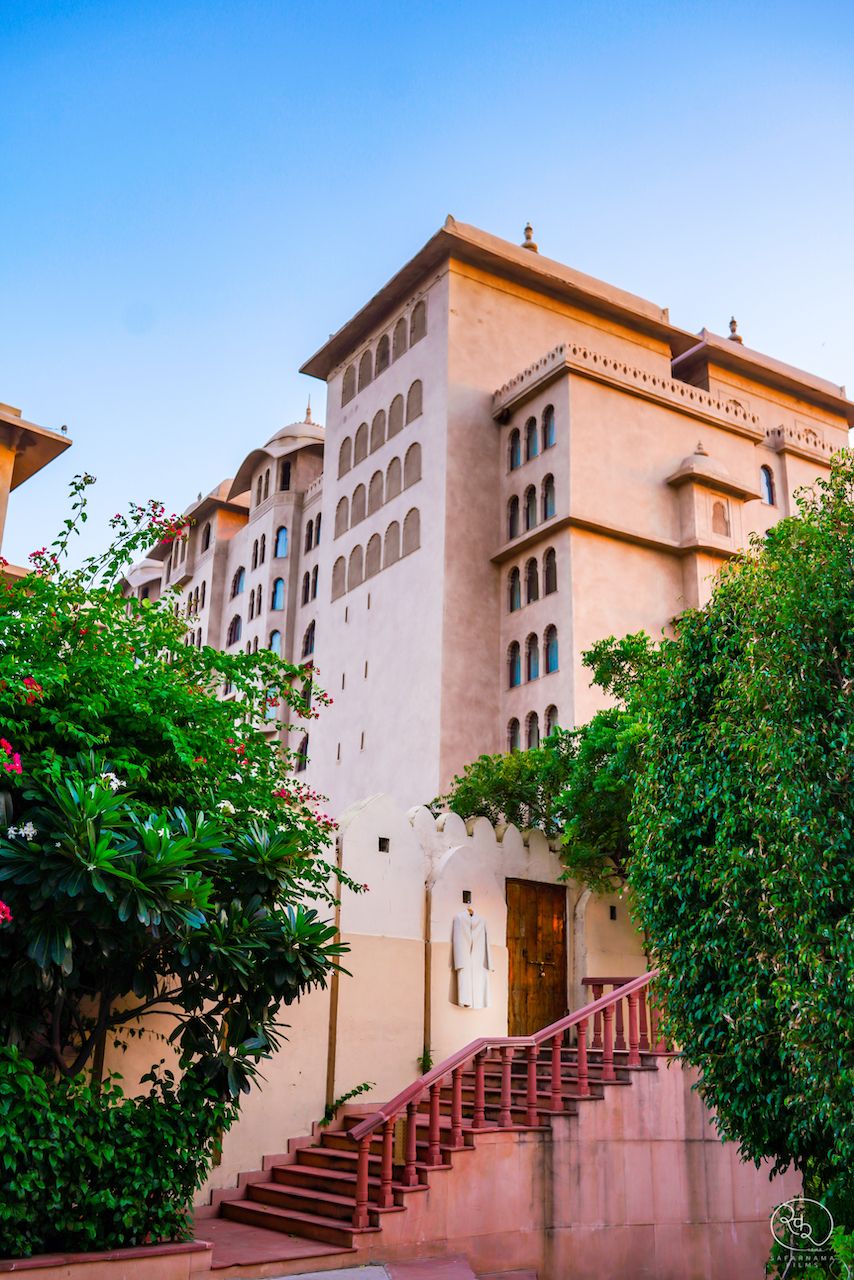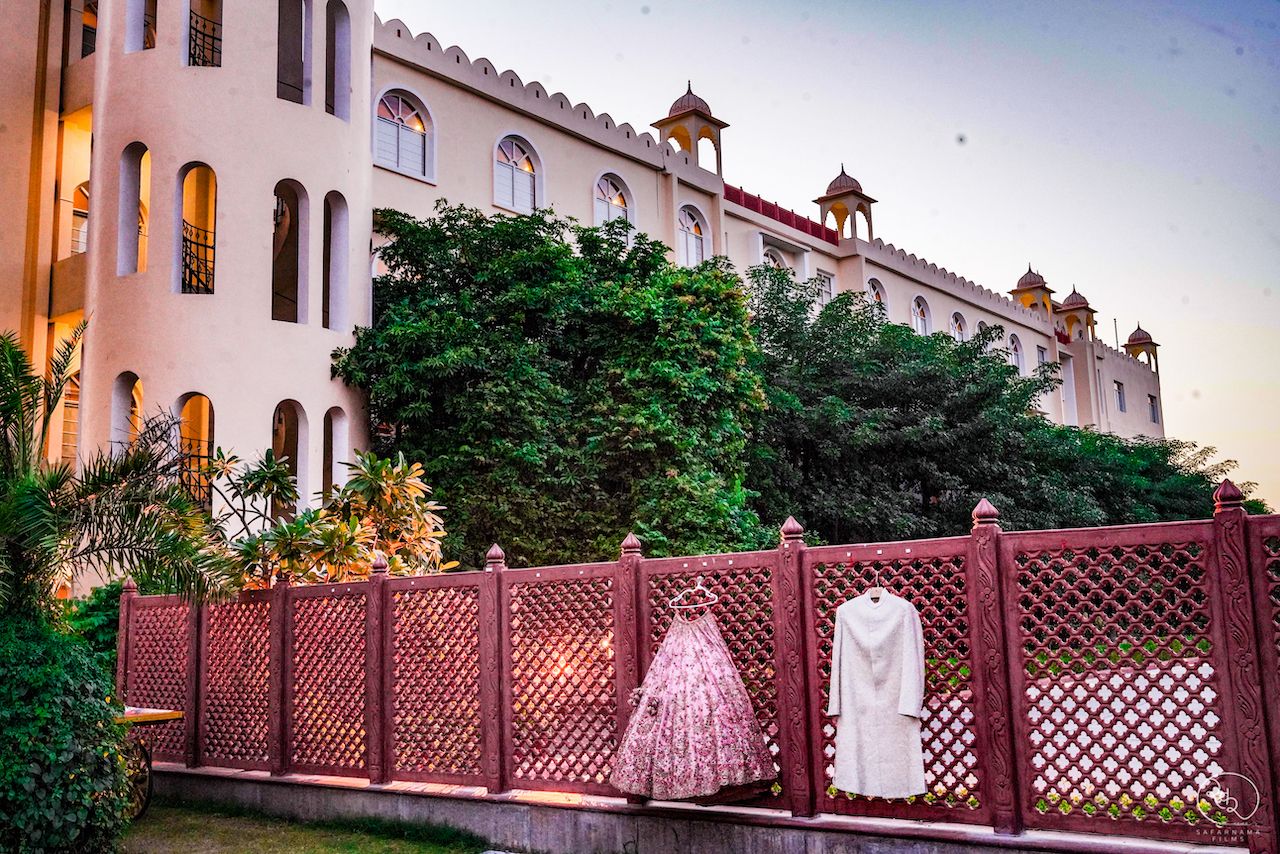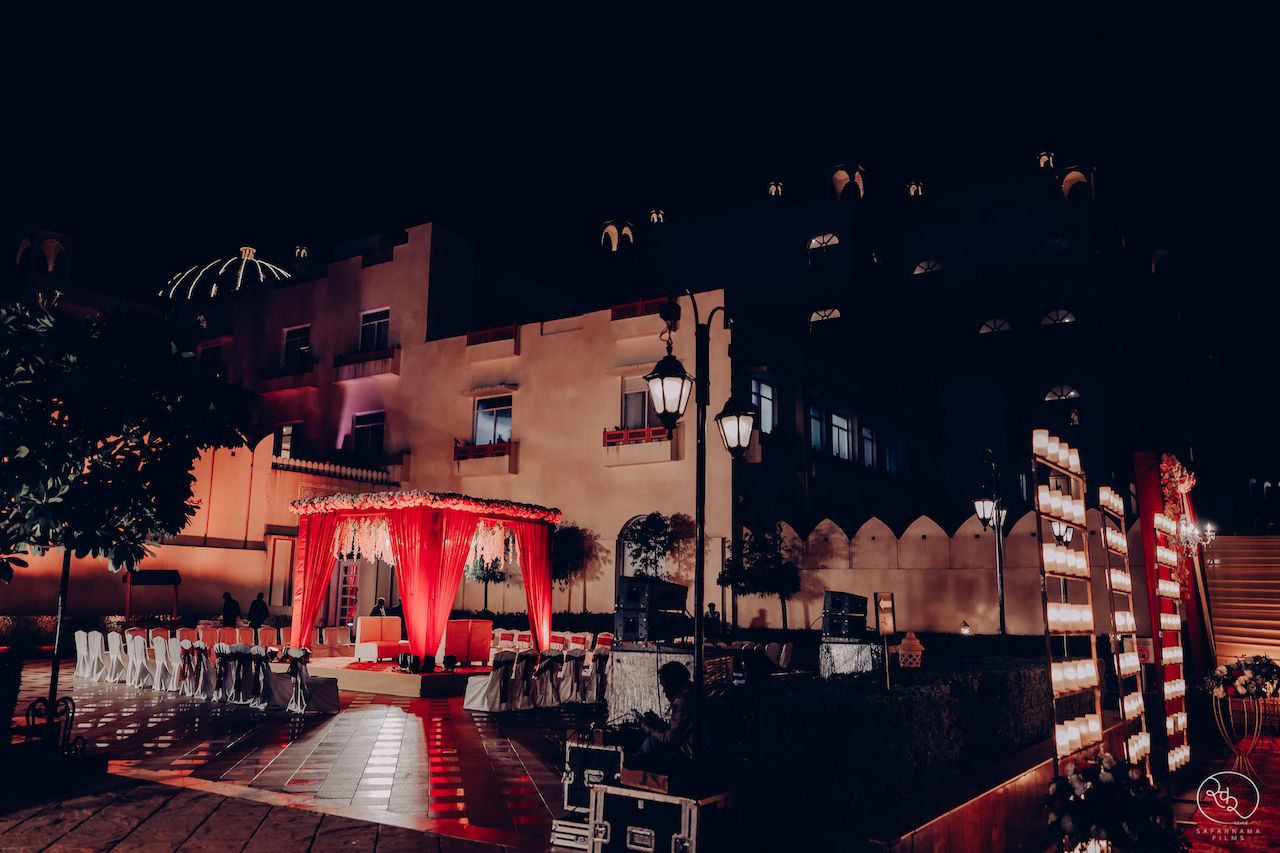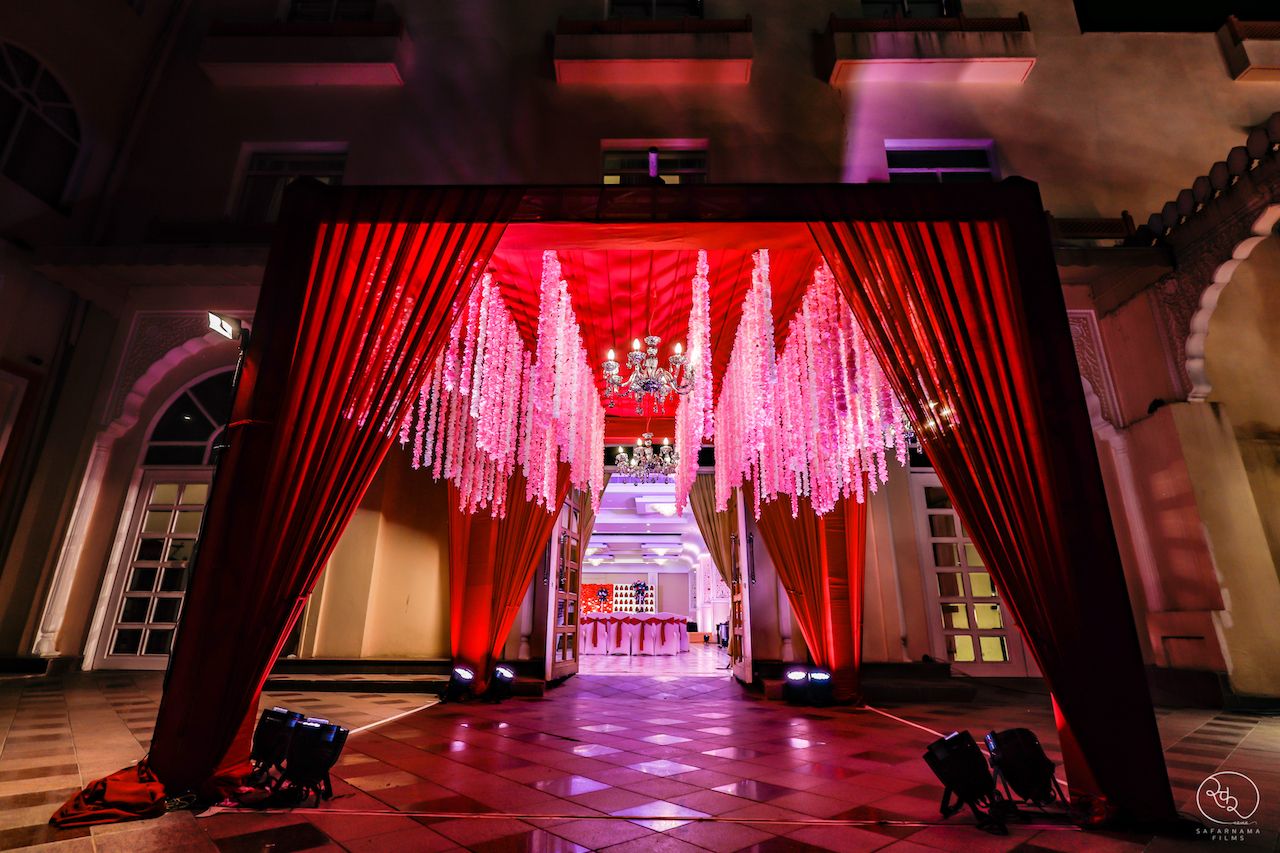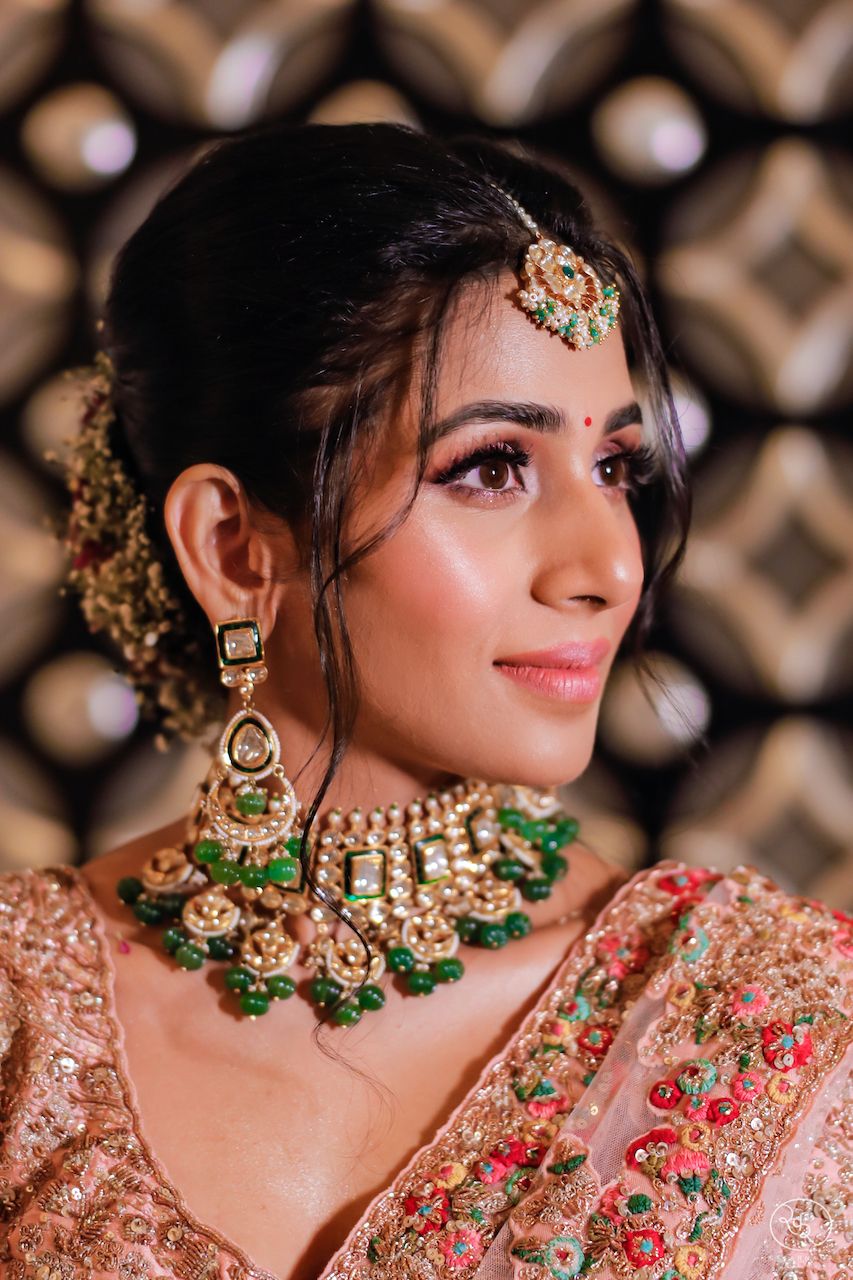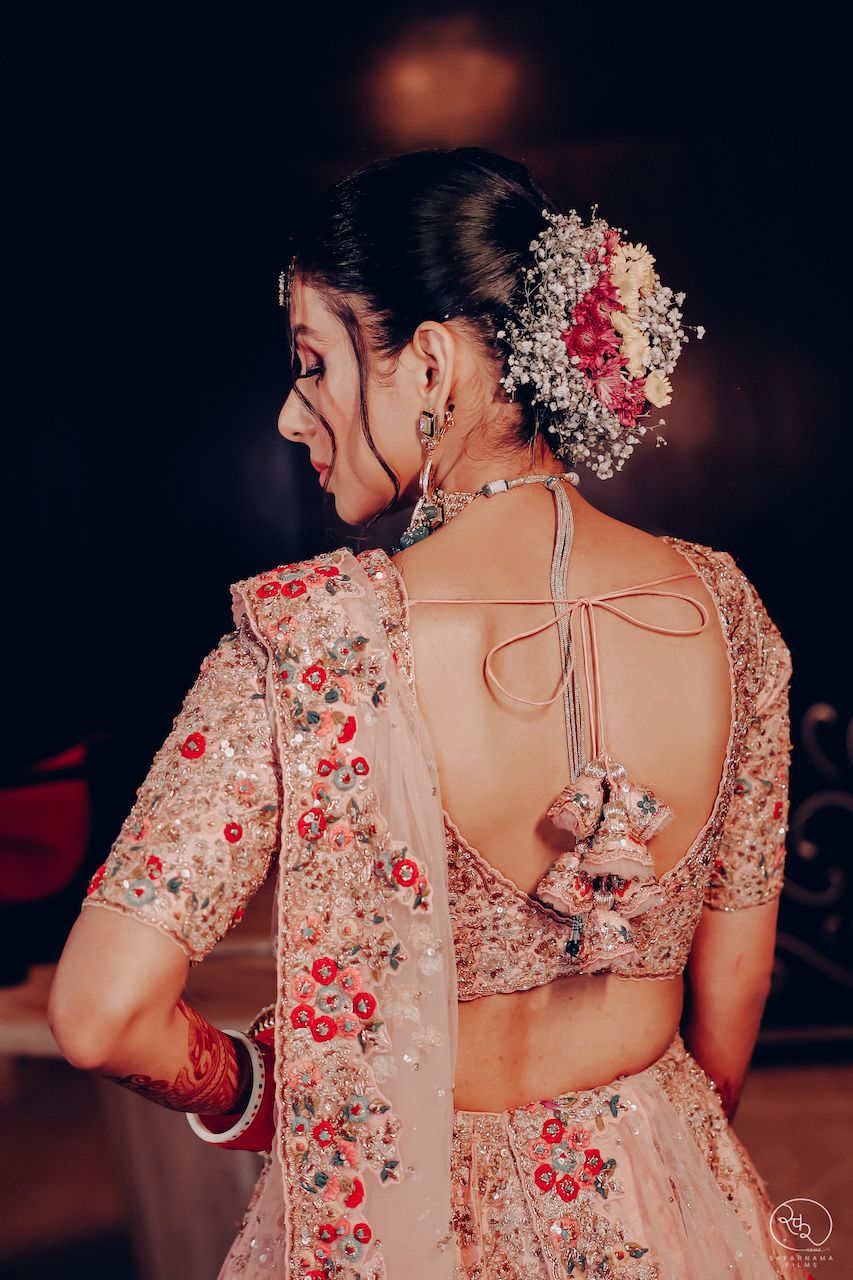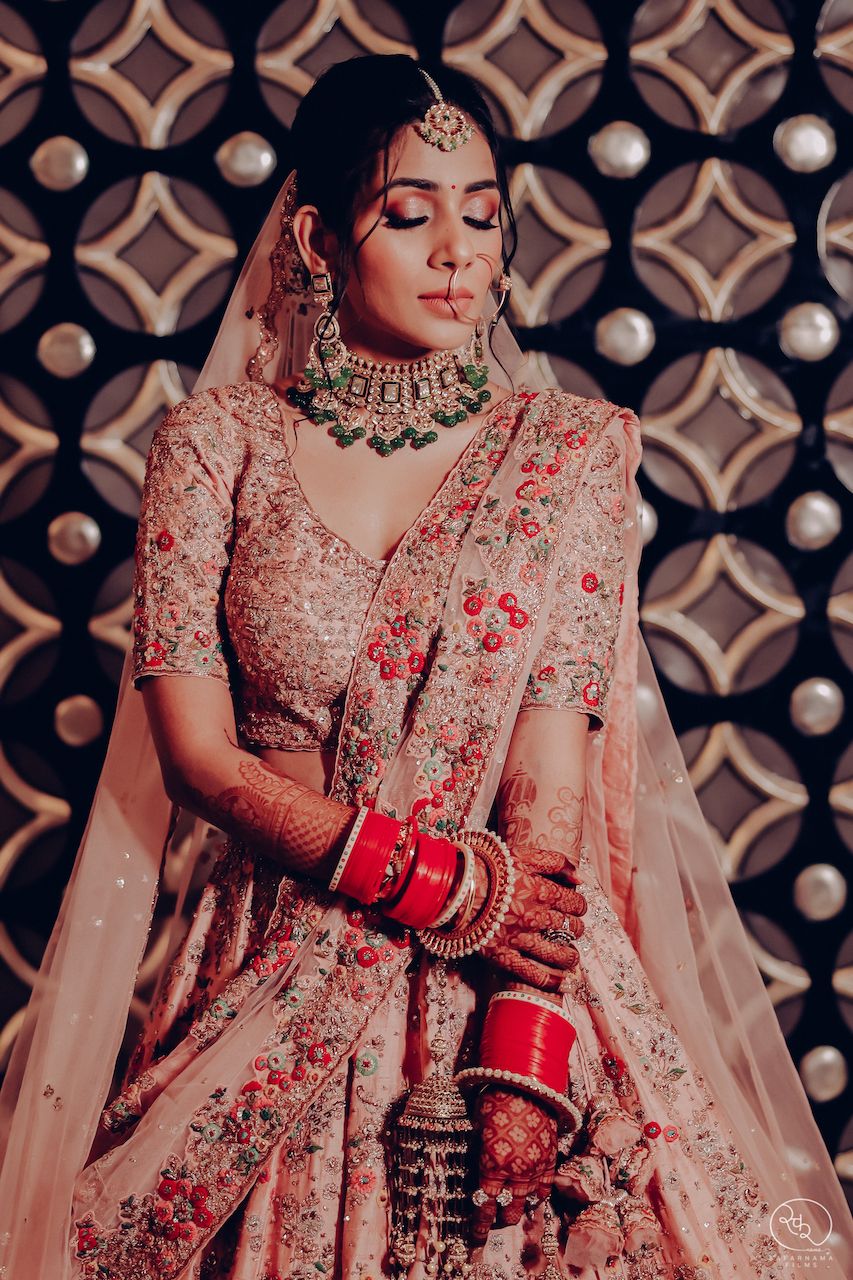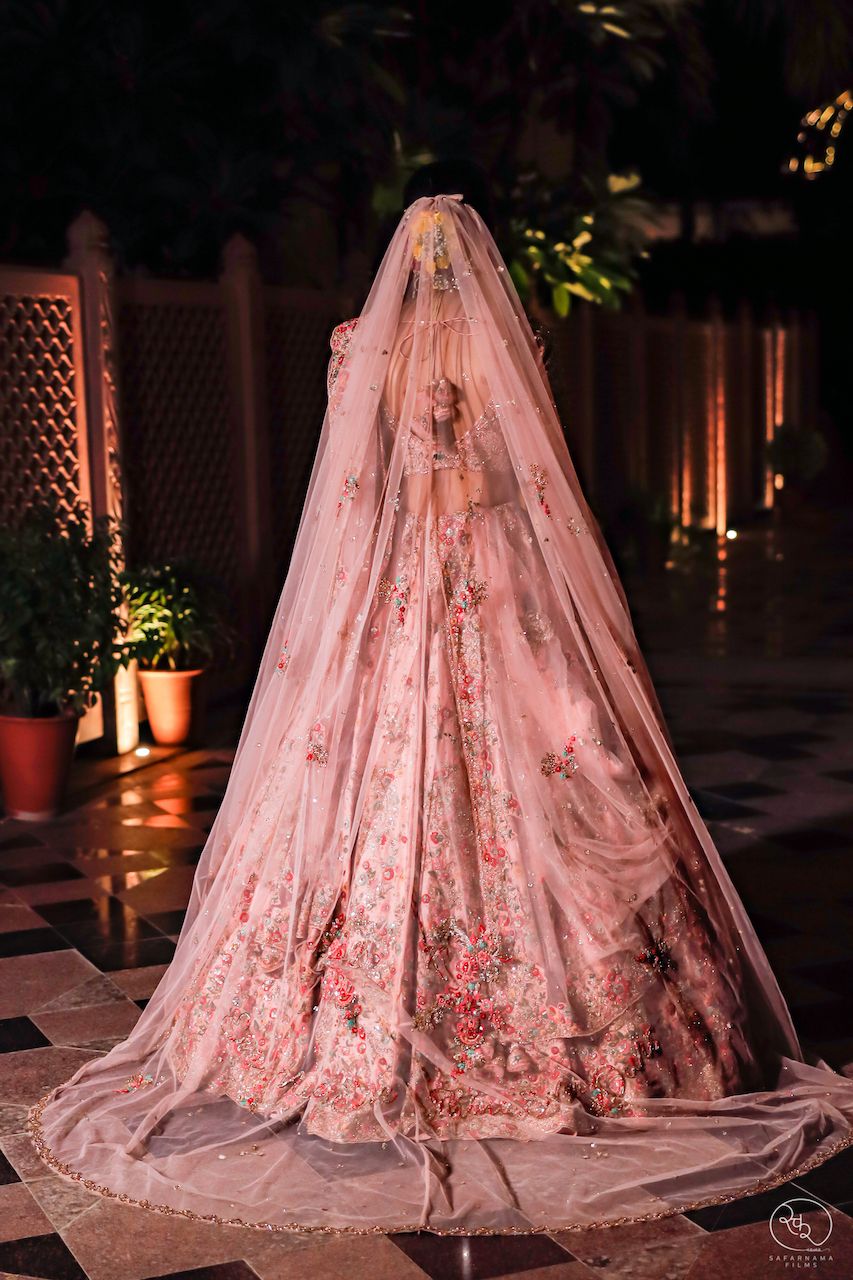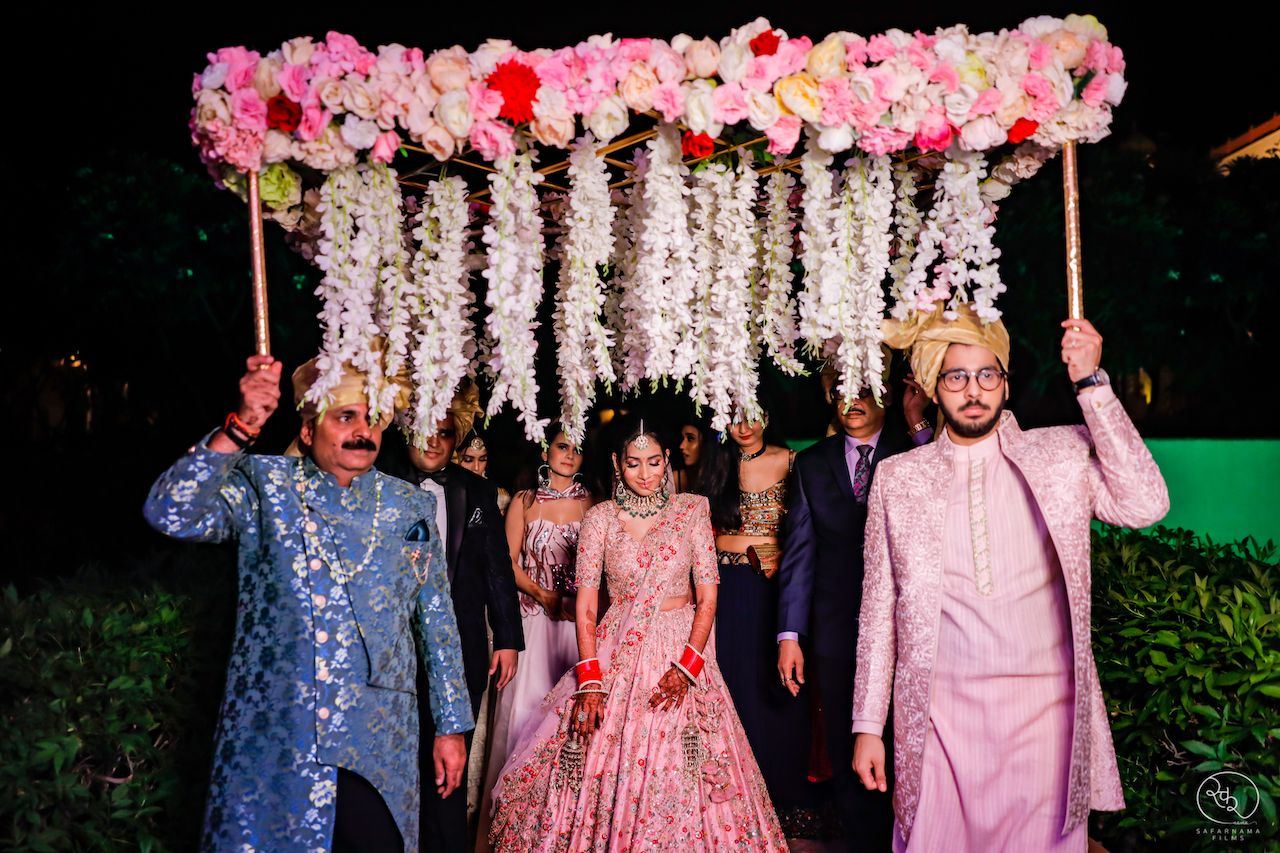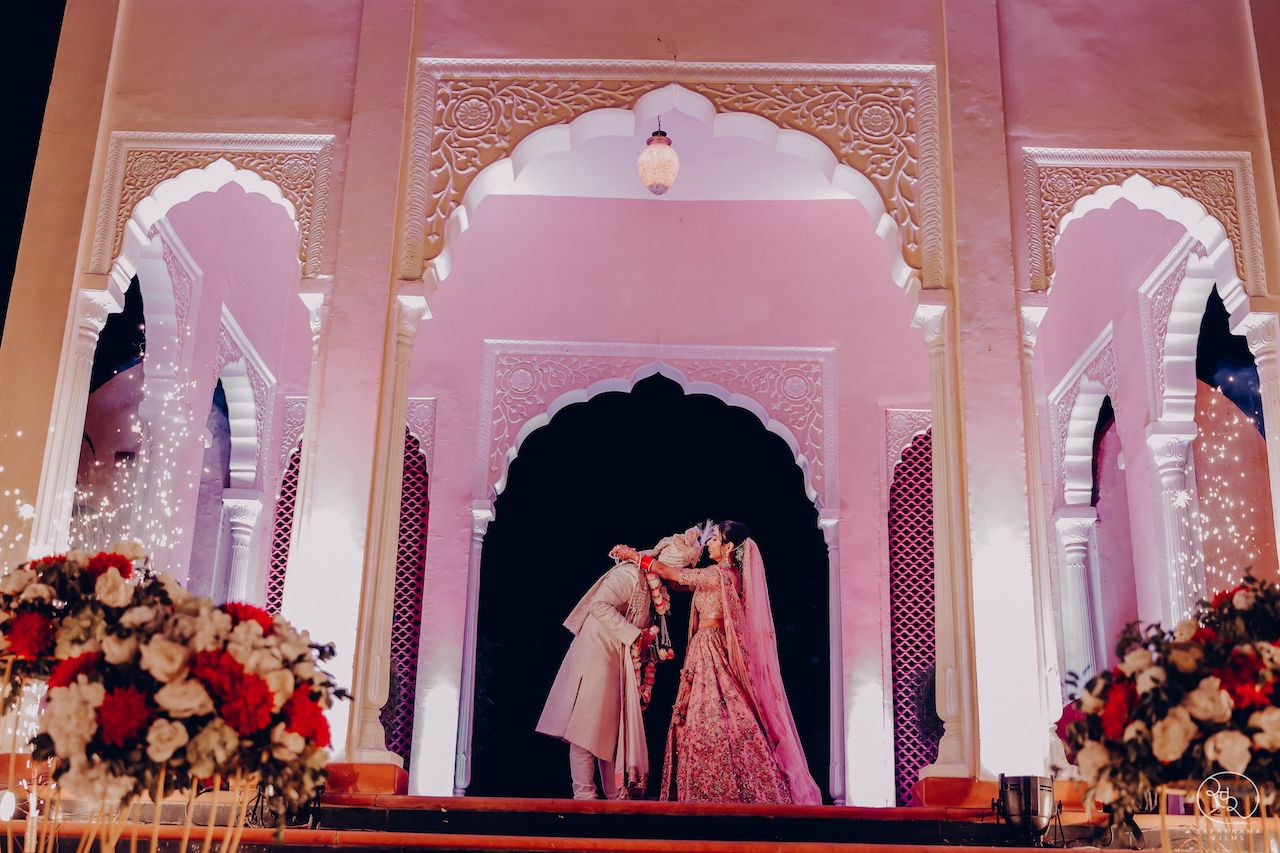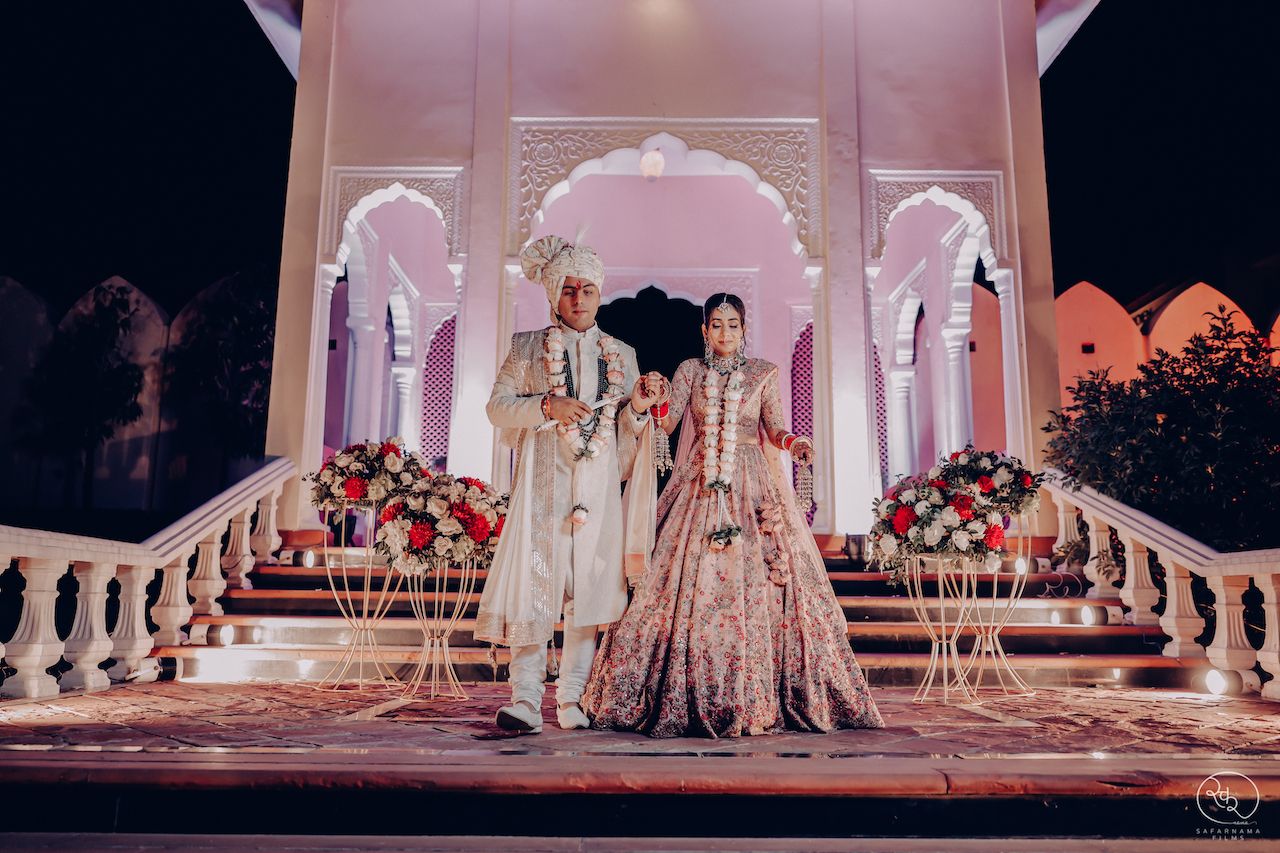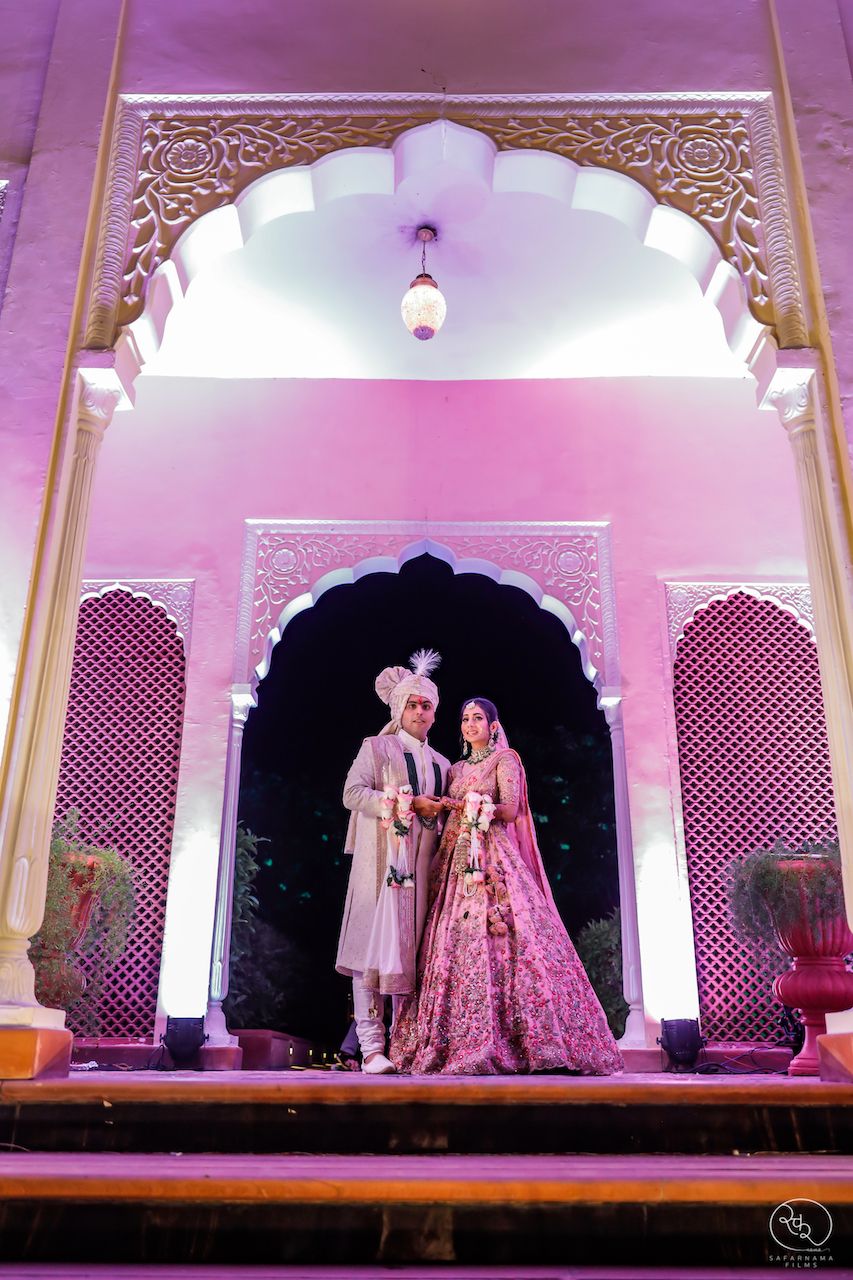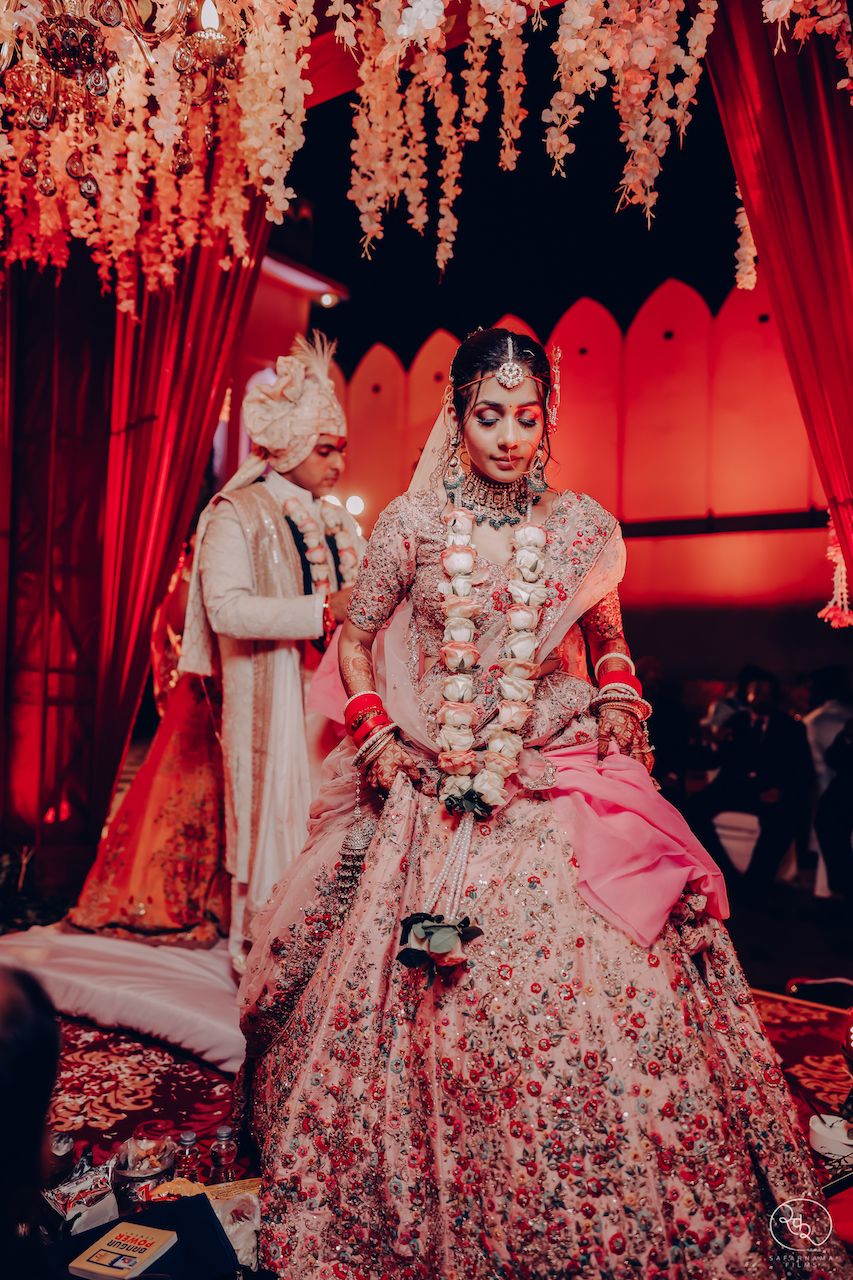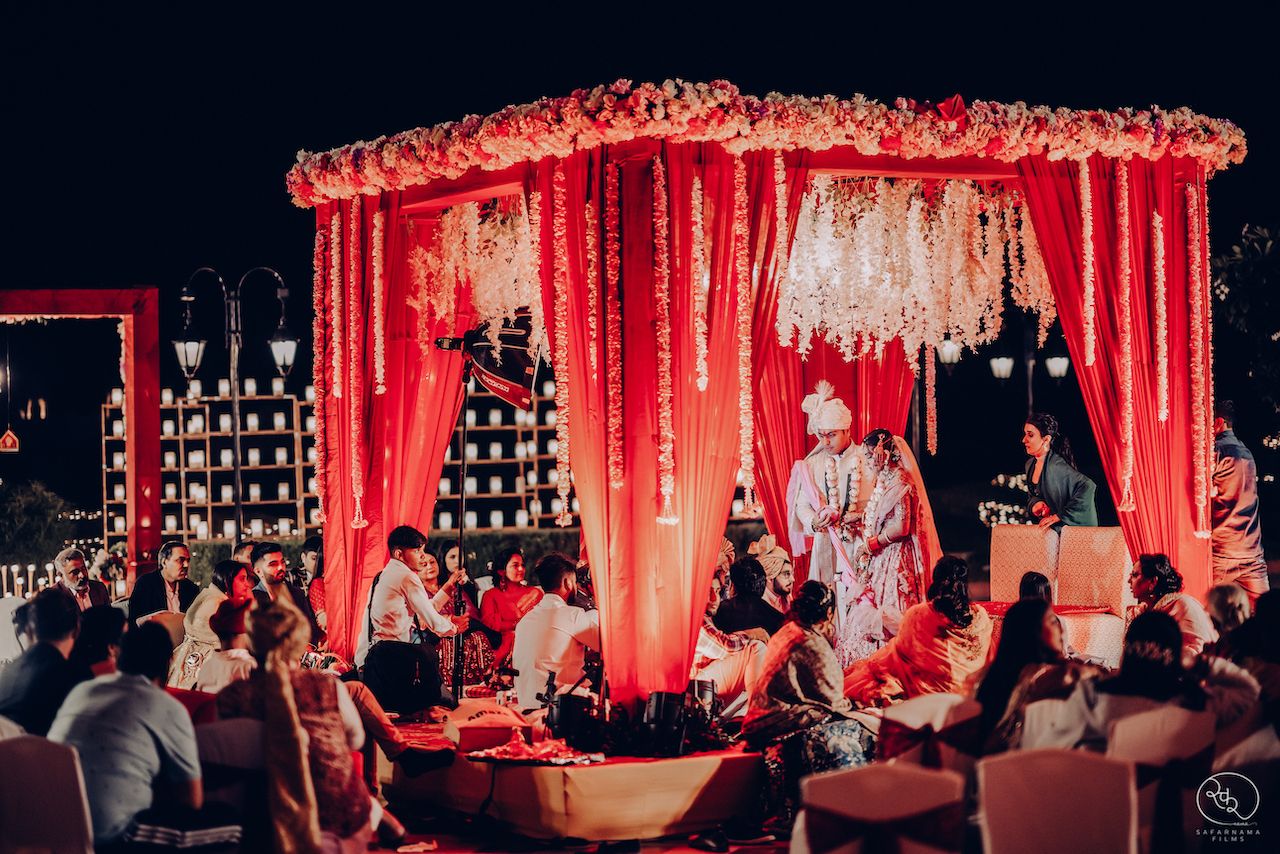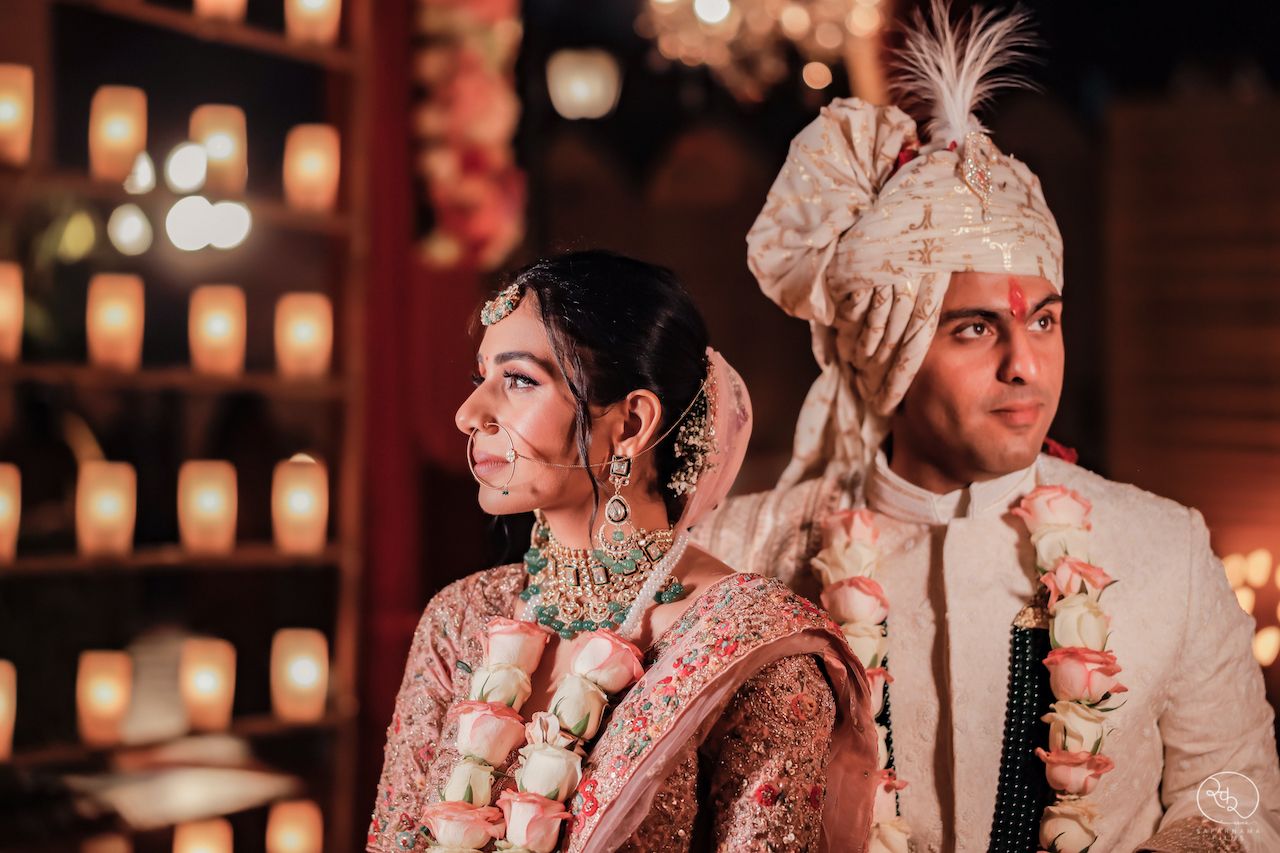 From The Bride:
Our wedding took place on the 21st and 22nd October 2021. Both Kritarth and I are deeply connected with our roots and Indian culture, we love our families to the core and wanted everyone to enjoy each ceremony and celebration, thus a destination wedding was something that we always wanted to have. We wanted our wedding to be a perfect reflection of our taste, personalities and things that we stand for. Being an avid follower of art and archaic history, we love the culture, vibrancy and royalty that Rajasthan offers and thus we wanted to host our wedding there. And then, we stumbled upon Le Meridien Jaipur Resort & Spa, which was the perfect amalgamation of both modern and contemporary worlds. The venue quiet literally made our wedding come to life.
Vendor Reviews
Venue
Le Meridien Jaipur Resort & Spa is an exquisite property. The whole staff is super supportive with all your needs and treat you like a king. All the suites bed rooms are so tastefully designed and well appointed. The venues for all the functions are unique and distinct. I was easily able accommodate all my 4 functions at separate venues. The food is to die for! All my guests loved the food! All and all we enjoyed our stay and wedding at Le Meridien Jaipur Resort & Spa to the fullest.
Makeup Artist
MakeupbyRevaa: Revaa is the best makeup artist I have ever met. She was super professional with her work but at the same time she made me feel so comfortable. It was like having your best friend as your makeup artist. Revaa discussed the looks for all three functions almost a month prior so that there was no confusion or disconnect at the last moment. She even went an extra mile by getting all the hair accessories by herself as I wasn't able to manage on my own. She really took care of what I needed and delivered exactly what I asked for and even more. 
Hairstyling 
Deepak Thakur: Since I have curly hair, I was always scared of experimenting with my hairstyles as no one really understood the texture of my hair and what exactly will suit my face. But then came Deepak, he instantly understood what styles will look good on me and had all the equipment and products specific for curly hair type. He treated my hair as they should be and still gave me stunning hair look on all my functions. I will highly recommend every curly bride to book Deepak as he literally knows to make wonders with our curls.
Wedding Planning
Konark Events - Extremely professional service by Mandeep and team, they were with us through-out our planning journey. In fact, we did the wedding venue scouting together. Every function's decor was planned to the T and shared with us over presentations and they delivered exactly what they promised. We didn't have to worry for a single thing as the whole team took care of all operational, logistical woes.
Photography
Safarnama Films: What can I say about them! This team is just marvelous! They made sure to use each and every corner of our wedding venue and took some breathtaking shots and pictures- not just of the bride & groom but or entire family and friends. Everyone was so happy to have their individual pictures clicked with utmost love and dedication. They made sure we looked our best and get every picturesque shot possible. We were delighted to have Safarnama films cover our wedding - I will 100% call them for my brother's wedding too.
Bridal Outfits 
Mehendi - I needed something quirky yet traditional for my mehndi and the Rasha outfit from Qbik was the perfect pick. The whole team was really helpful in designing the jewelry to go with the outfit. I had a wonderful experience with Qbik.
Engagement: Dolly J is a bride's haven - the moment I entered the store I loved everything and hence I picked all my main outfits from them. They really designs outfits to die for.
Mayra: Swati Narula designed a traditional Pakistani gharara outfit and I just loved it to the core.
Haldi: Karigiri Studio: For my haldi I didn't want a typical yellow drape so Arpita from team Karigiri designed a orange bandhini pant saree - exactly what I need something which was not yellow and mix of traditional and modern for my Haldi. 
Groomwear
Mehendi: Kudrat Couture. Chirag is one of the best and most talented budding fashion designers. We totally loved the Mehendi look he designed.
Engagement and Wedding: Amaare: They best the best groomswear in the whole of North India. Their designed are so unique and simple - something that every millennial groom what like and what to say about their service! the whole team there is extremely helpful and talented.
DJ
Shail Sharma is an extremely talented and the best DJ I know. He with his mixes can make any party go fab! We loved his performance at our engagement. 
Vendors: Venue: Le Meridien Jaipur Resort & Spa; Photography: Safarnama Films★ 4.5 ; Makeup Artist: Makeup by Reva; Hairstylist: Deepak Thakur Makeup Artist★ 5 ; Wedding Planners: Konark Events★ 3.9 ; Bridal Outfits: QBIK★ 4.9 (Mehendi), Dolly J Bridal Collection★ 4.7 (Engagement, Choora and Wedding), Swati Narula★ 5 (Mayra), Karigiri Studio★ 2.8 (Haldi); Bridal Jewellery: Fooljhadi★ 4.8 (Mehendi), Raabta By Rahul★ 4.9 (Chura),Shri Hari Diagems (Wedding); Groomwear: Kudrat Couture (Mehendi), Amaare Couture★ 5 (Engagement and Wedding); Invitations: Invites and Room Hampers by The Exotic Invites★ 4.9 , DJ: DJ Shail Sharma★ 5
Wish to host your dream destination wedding at Le Meridien Jaipur Resort & Spa? Then contact their in-house wedding specialist Utkarsh Pandit on +91 9358891706 or at utkarsh.pandit@lemeridien.com
You can also reach out to Marriott here to plan your dream destination wedding at any of their properties pan India!