Our Favourite Lehenga Styles For Curvy Brides!
BY Sakshi | 28 Aug, 2019 | 6948 views | 4 min read
Are you a curvy girl and a bride-to-be? Well, how you style your curves can go a long way in making or breaking your bridal look. You can choose to flaunt your curves or cover them up- that's totally your call, and here we have tips, tricks and lehenga styles which we feel flatter curvy brides the best.
Go as deep as you want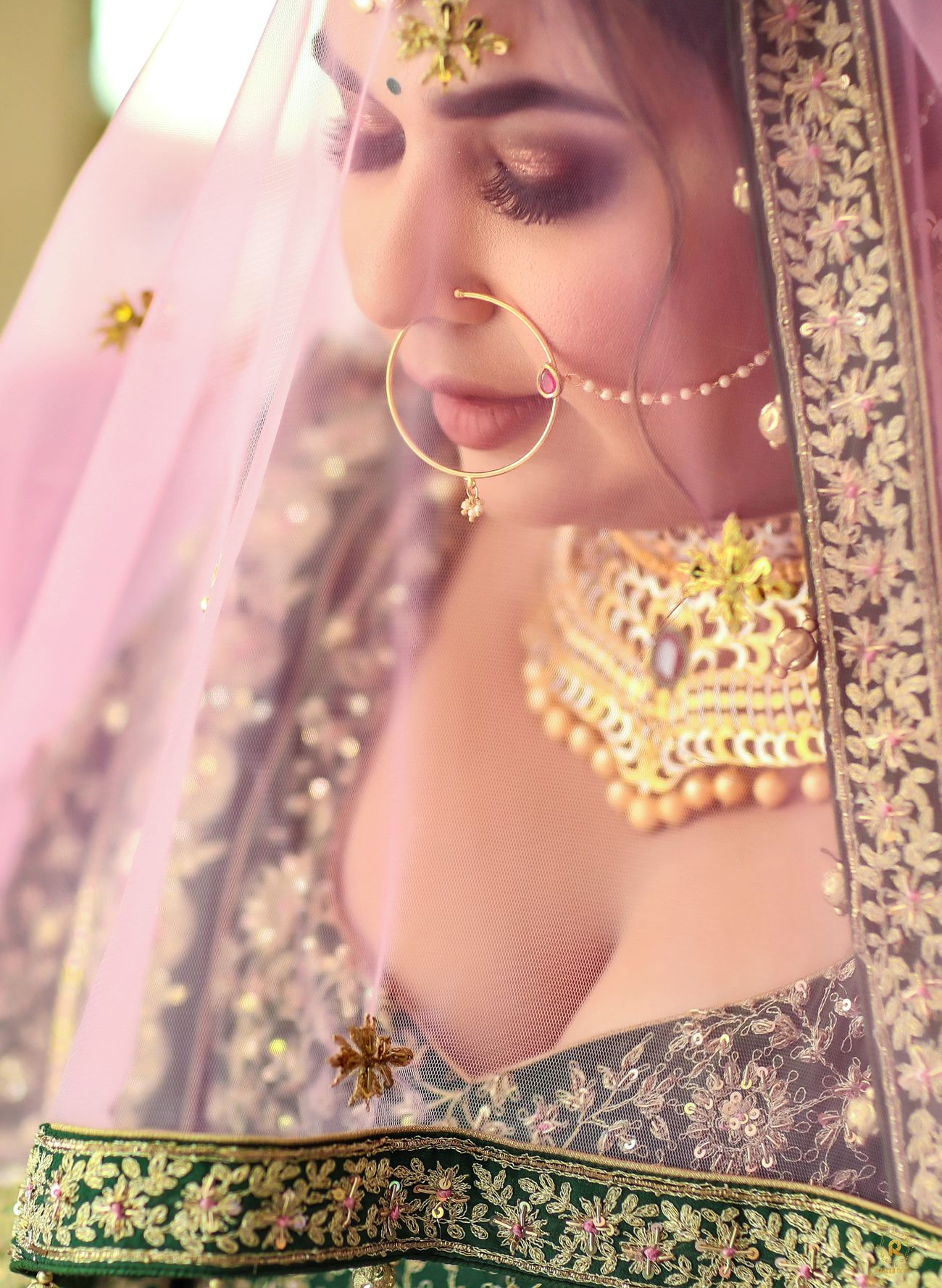 Image via Ishleen & Ankit
If you're heavier set on the top, then don't let anyone tell you that you can't flaunt it. Go as deep with the neckline as you want, but one tip here- a V neck or a scoop round neck will flatter you more than other necklines, especially stay away from high necks which can look awkward and stuffy.
Lehenga with a waist belt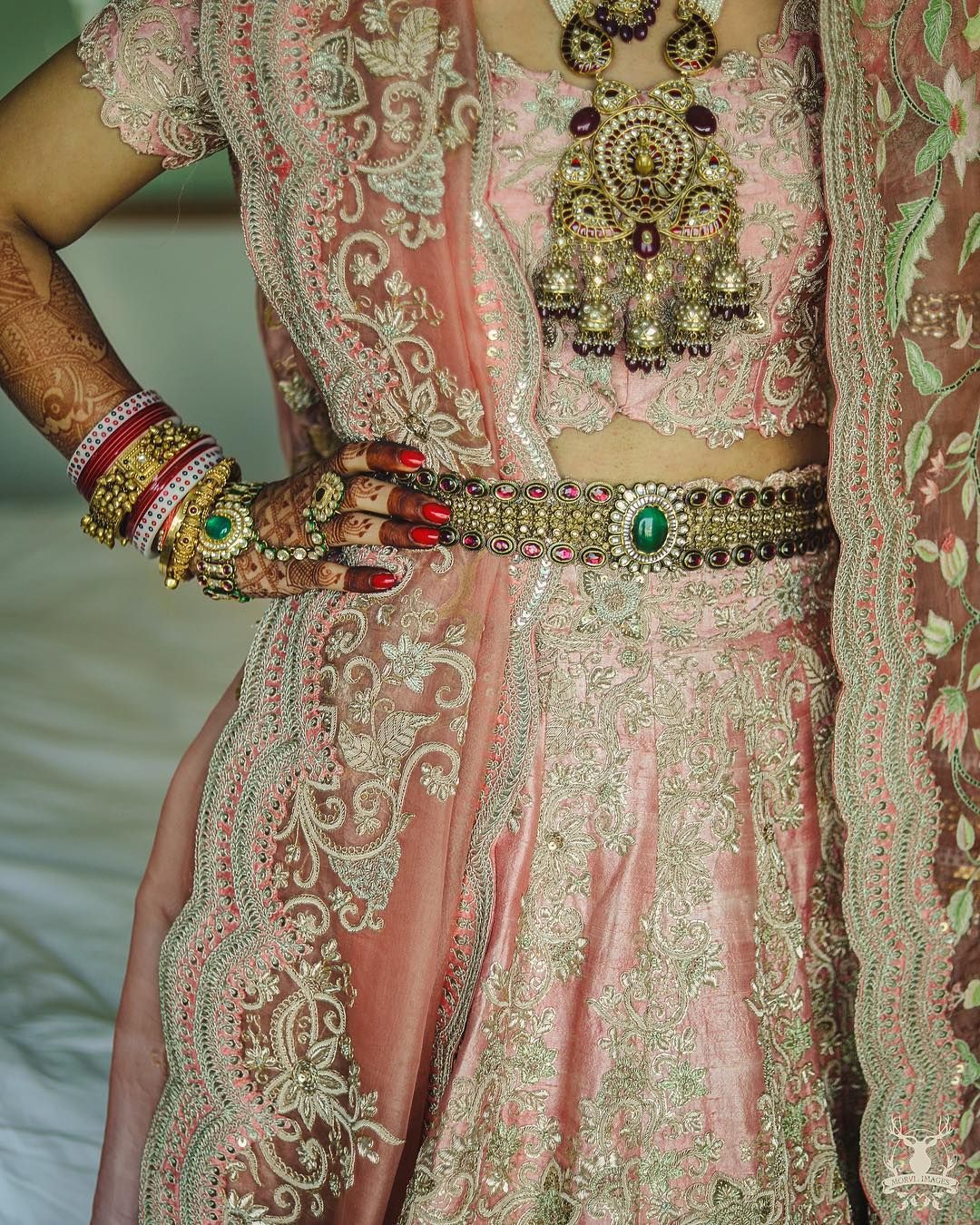 Image via Morvi Images Photography★ 5
Flaunt those curves right with a waist belt, and trust us, it will look super flattering when the belt is placed at the right point on the waist. It sort of brings structure to the look which otherwise might be a little too all over the place in case of a curvy bride.
Lehengas with peplum blouses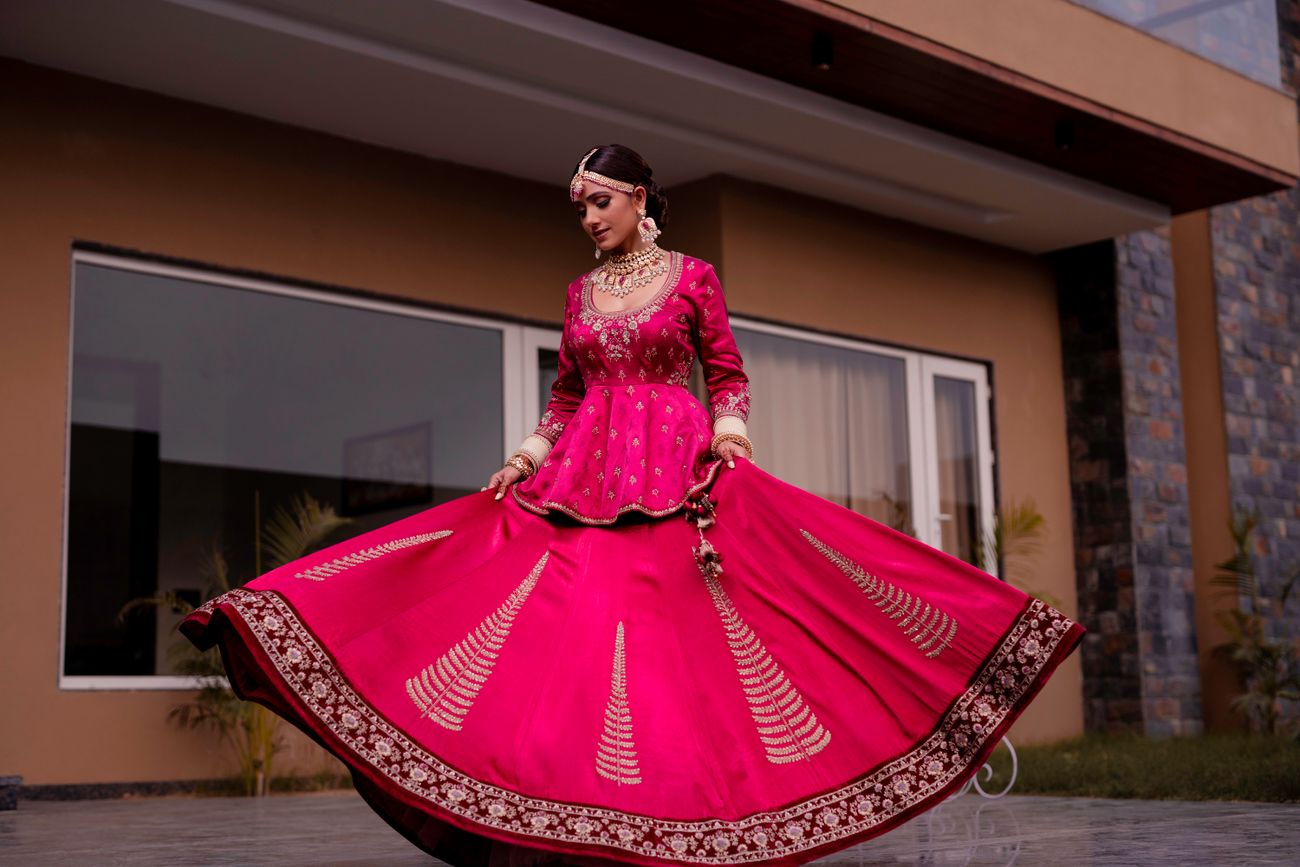 Image via Shahid's Makeover★ 4.2
Peplum blouses look amazing whether you're looking to cover up or not- they are flattering, they hug at the right places, and if you're conscious about the tummy, then they work like magic!
Lehengas with more vertical work than horizontal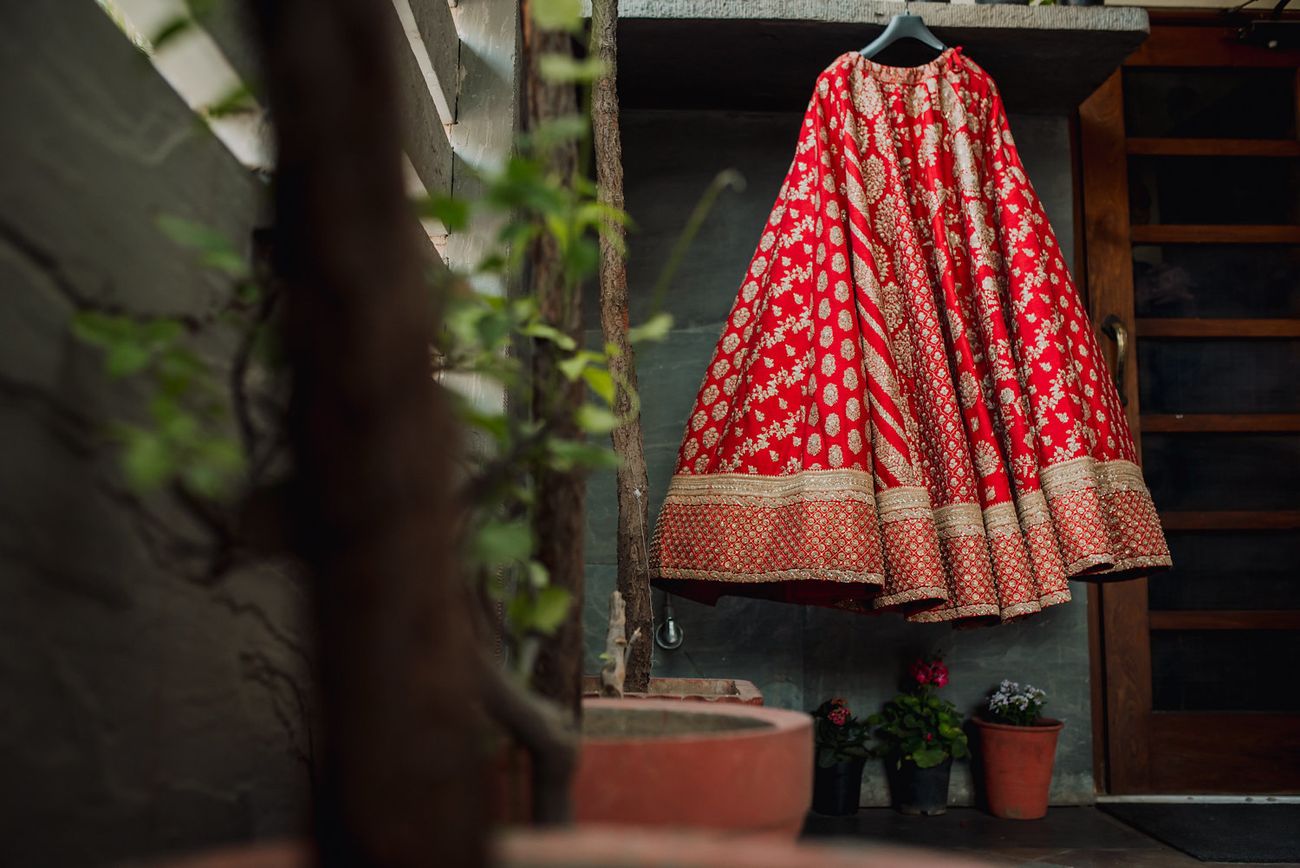 Image via Ambika & Athang
This one is more of a visual thing which can really help curvy brides who are on the broader side. A lehenga with more horizontal work than vertical can make you look even broader, so having vertical embroidery or designs on the lehenga can really help in balancing out those curves!
High waisted lehengas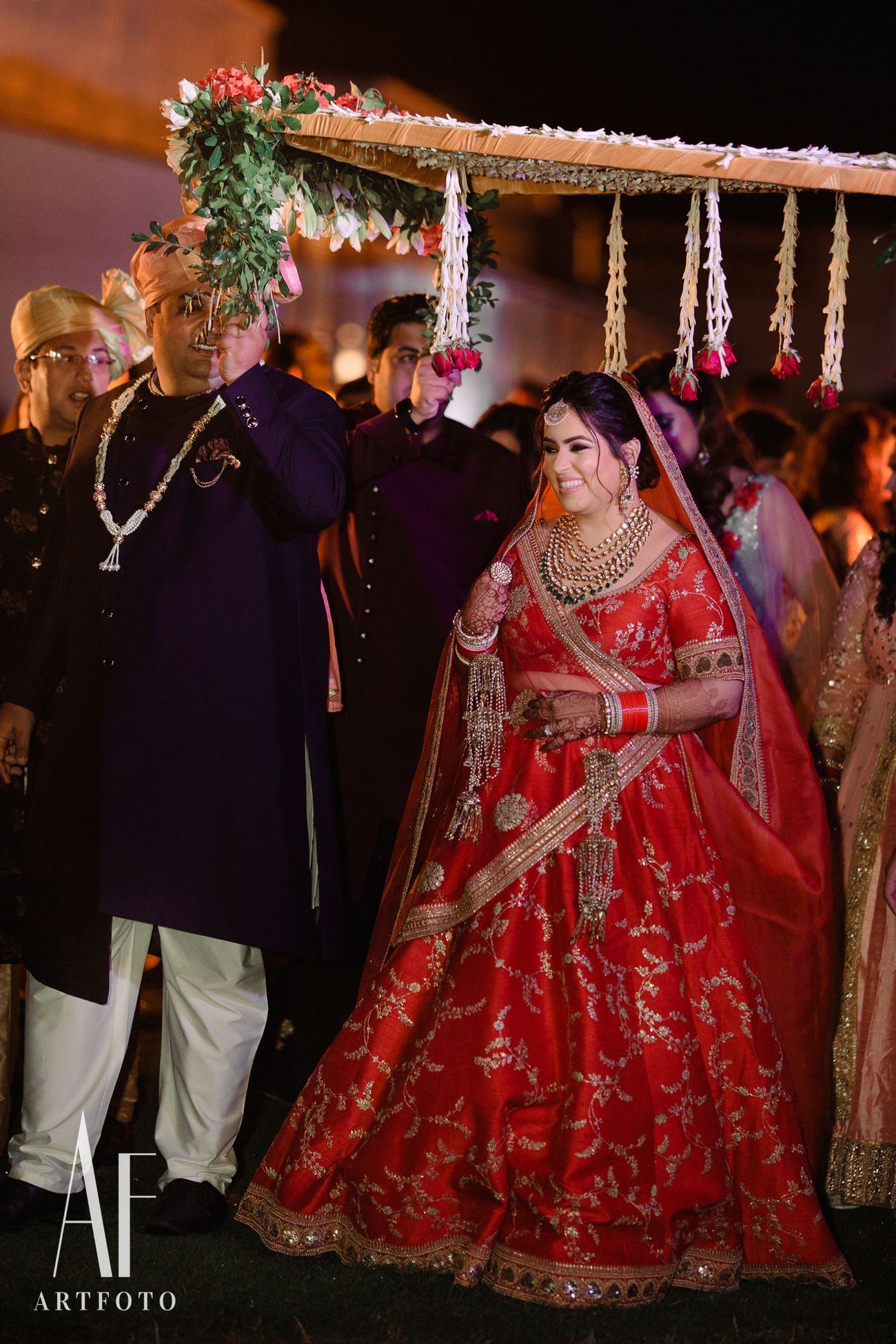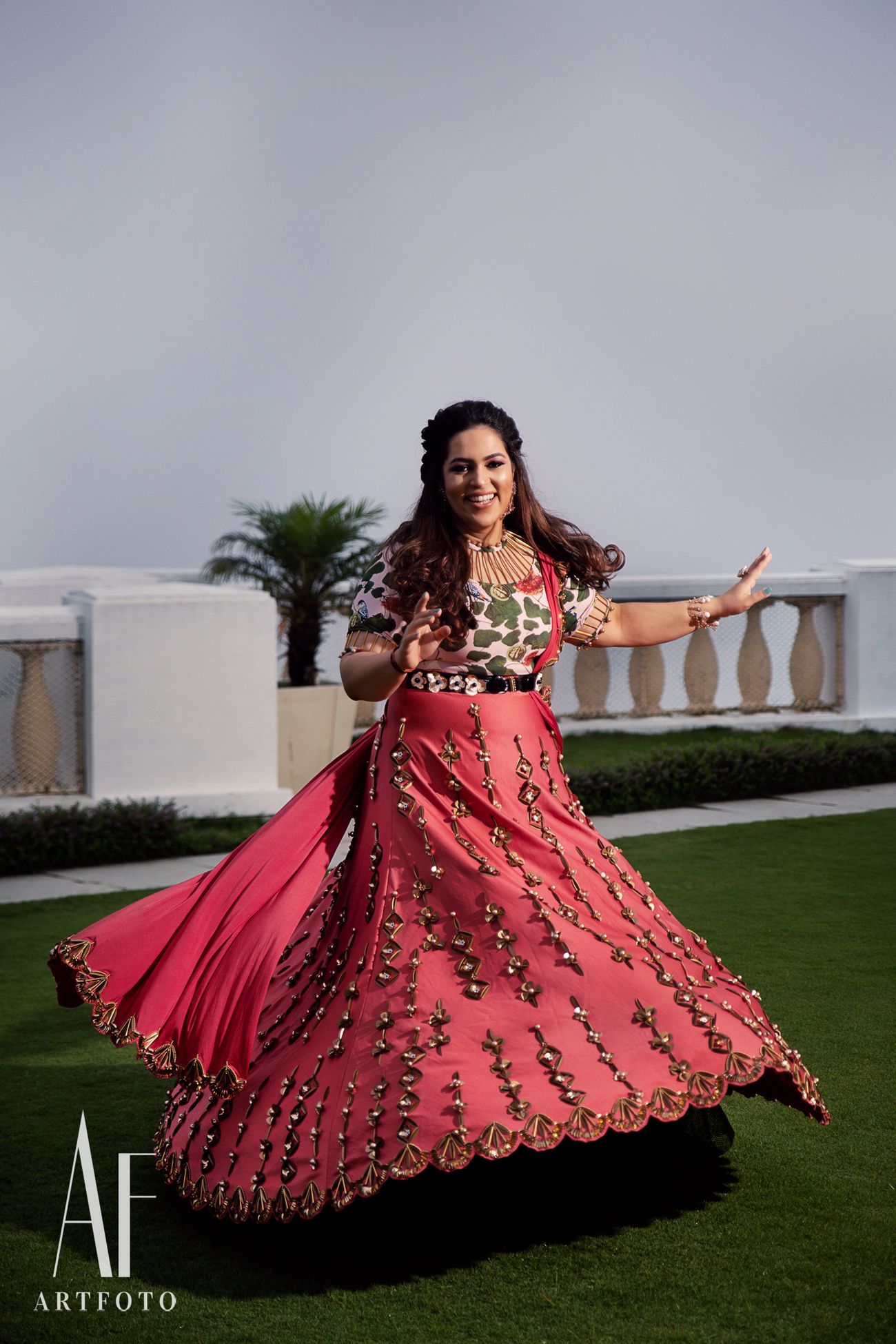 Image via Mansi & Sagar
High waisted lehengas look flattering either way- whether you're curvy or flat. But they look even better on curvy brides when you wear them at just the right place on the waist.
Monotone lehengas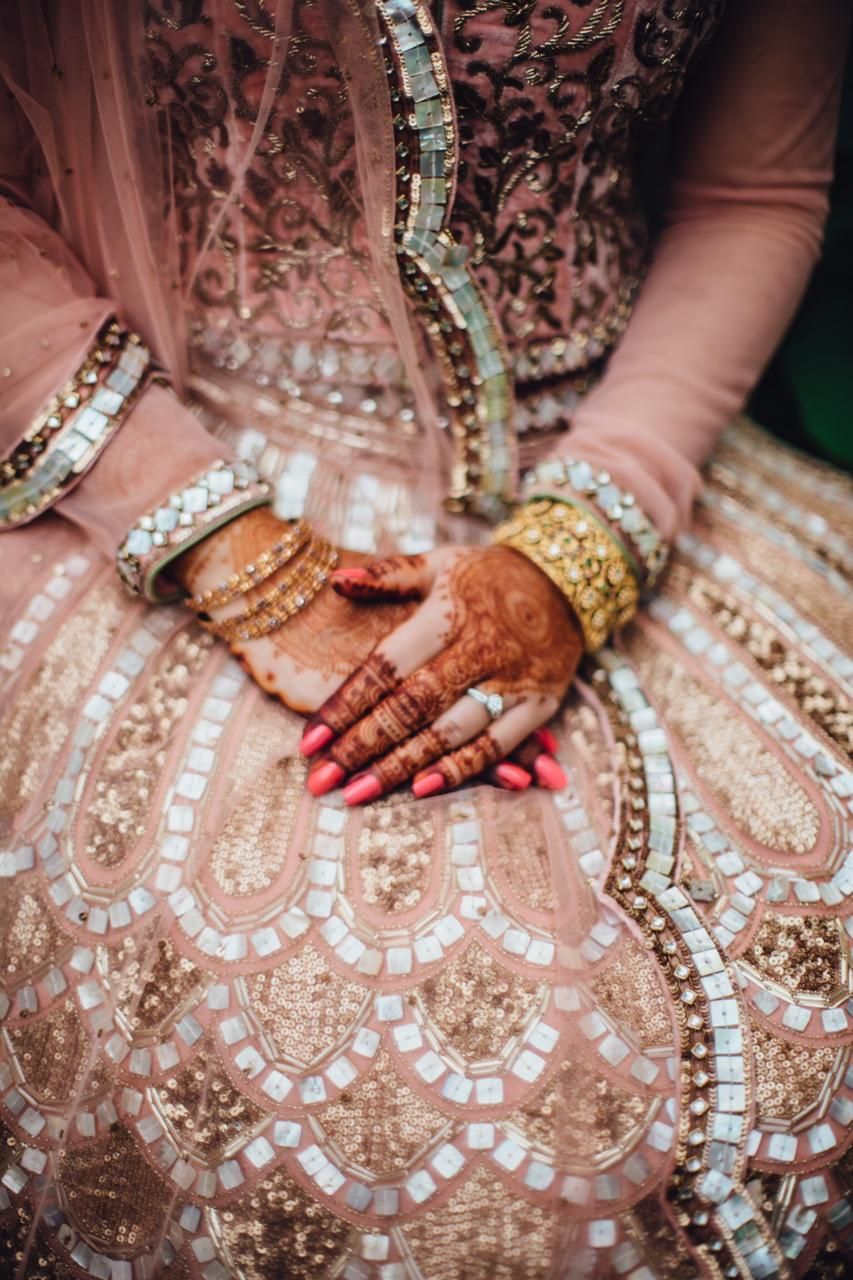 Image via Diva'ni★ 4.6
Monotone lehengas are also very flattering for curvy brides-and make sure that the work on them is also as subtle to the colour of the lehenga, which can give the illusion of more flattering curves!
Lehengas with an long jacket-kurta on top
Image via Fotowalle - The Story Folks★ 4.9
Lehengas which come with longer jacket style kurtas are also a great option for brides who are looking to show off or cover up their curves! Just make sure it isn't in a fabric which is not flattering.
Longer kurta-style blouses cinched with a belt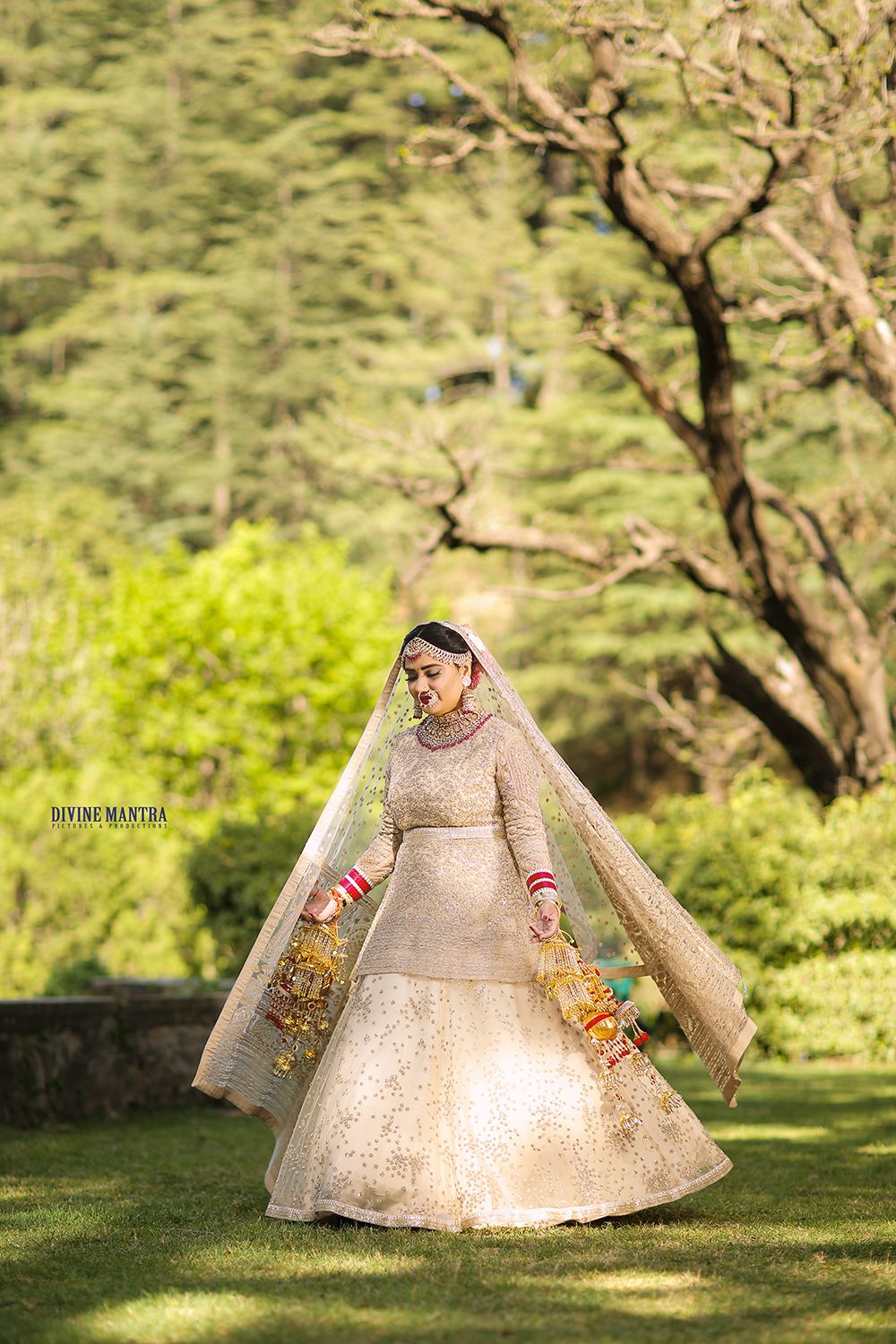 Image via Divine Mantra ★ 4.2
This is another great way to show off or cover those curves- depends on whether you choose to cinch the waist or not. This is something like a peplum, but sits down on the body straighter.
Lehengas with smaller motifs and prints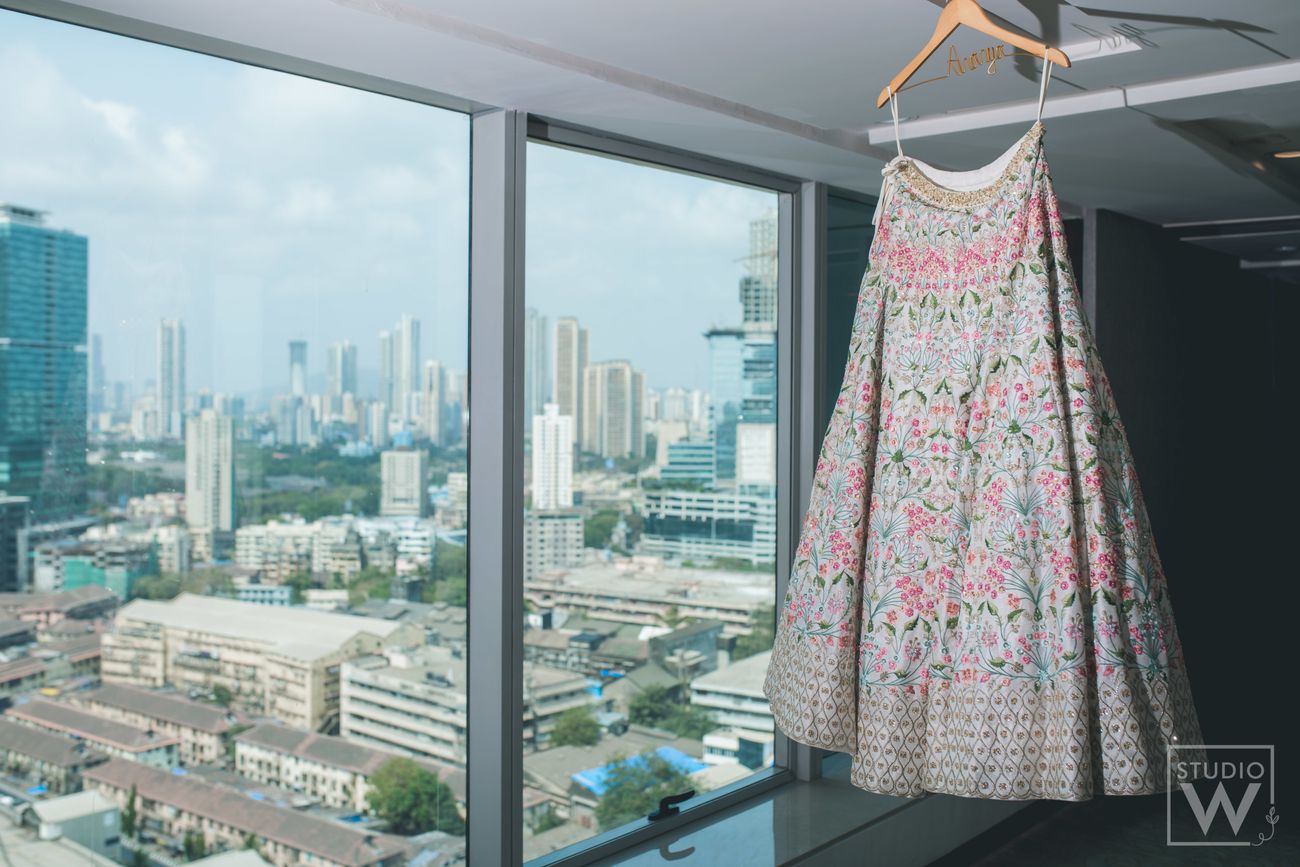 Image via Studio W- Photography & Live Stream Experts★ 4.3
If you are a curvy bride who tends to look broad, then do not pick a lehenga with big butis or designs- pick something more dainty and subtle which will look so much better on you!
Lehengas with the saree drape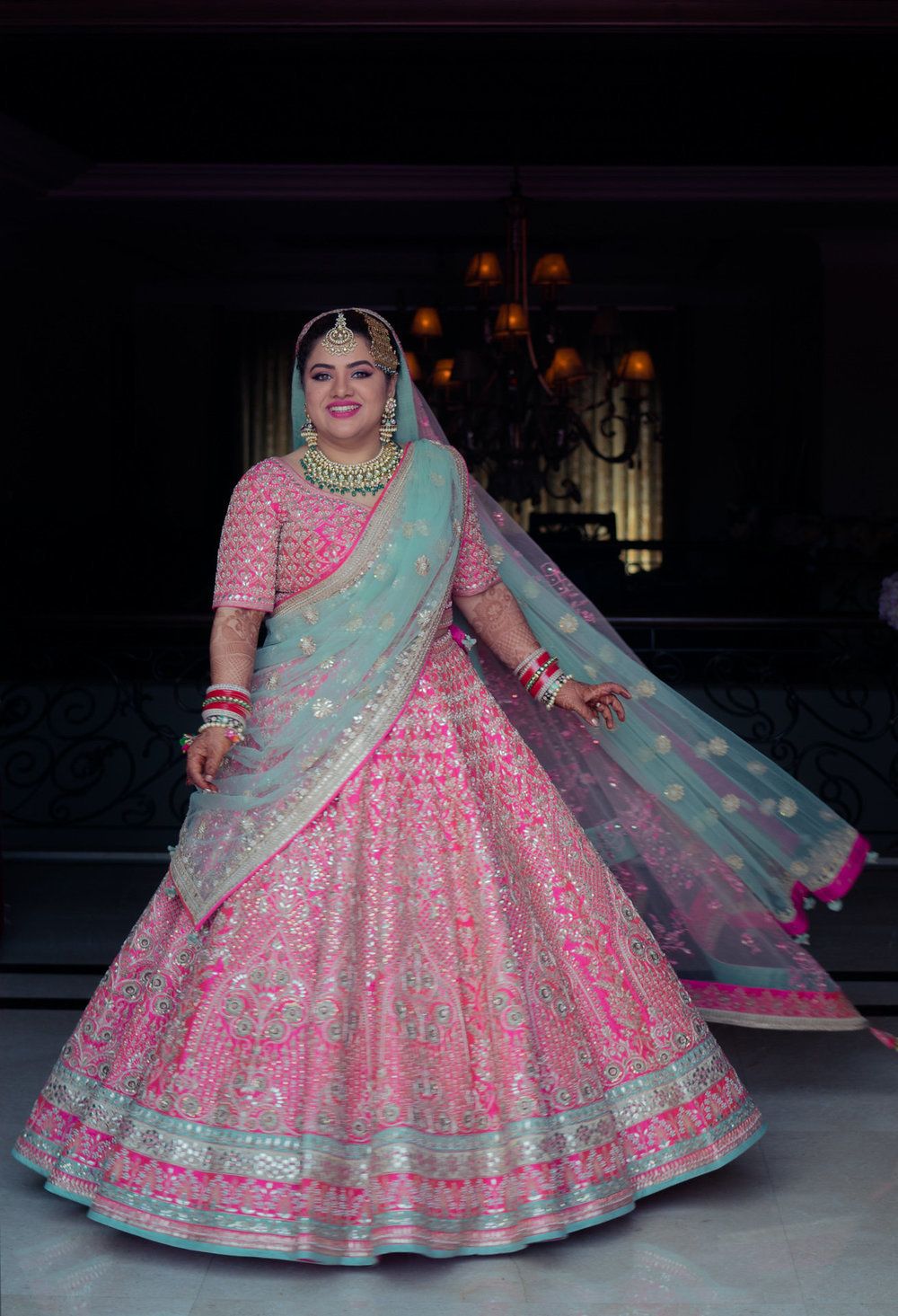 Image via Harman & Rajas
This is one of the best dupatta drapes for curvy brides when done right- it hugs the body in just the right places, and if you don't want to show the tummy, works for that too!
Lehengas in a flattering fabric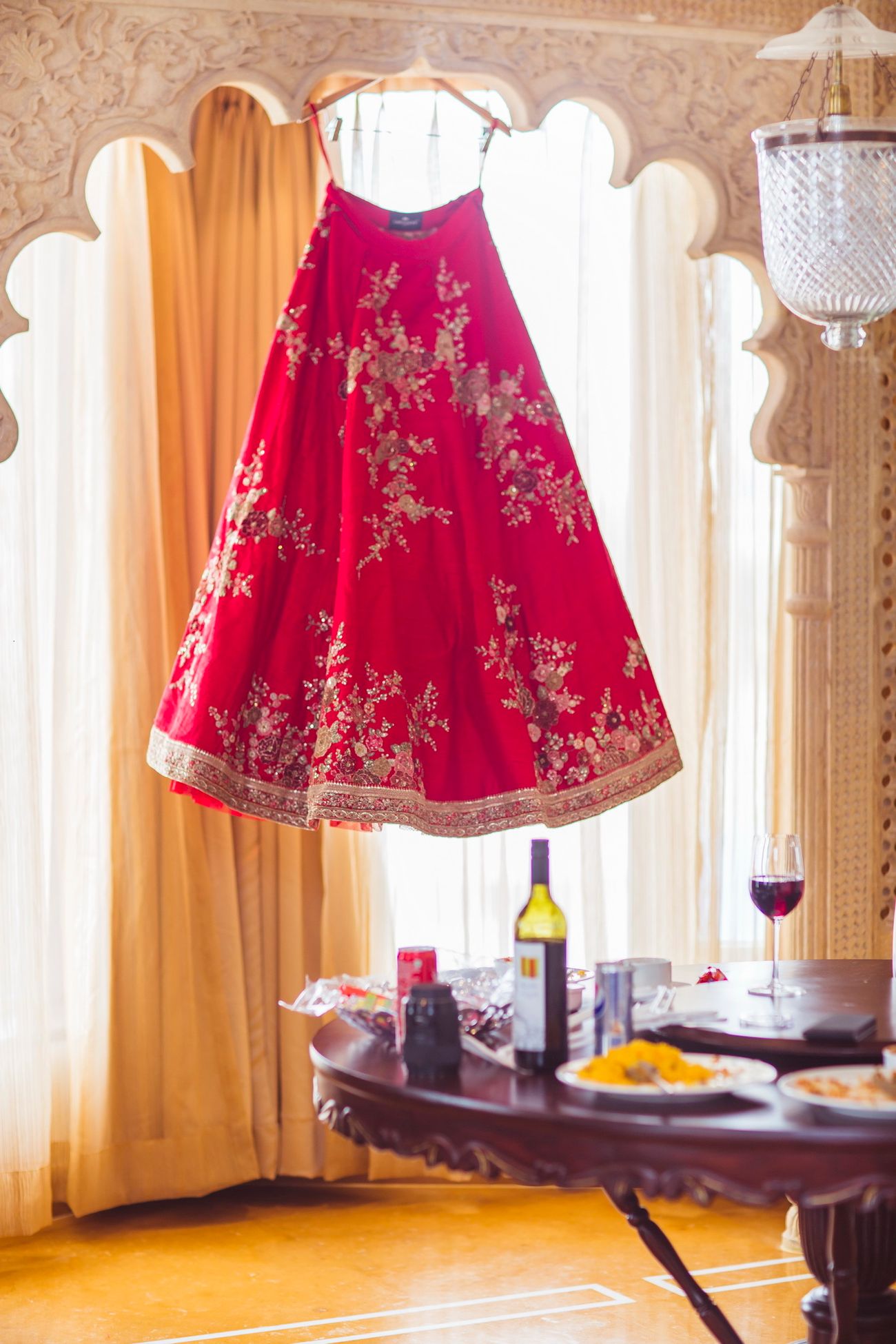 Image via 35mmcandids★ 4.7
Lightweight fabrics are the key here. Fabrics like satin, georgette, crepe or even pure silk which hug the body well but not too much as opposed to stiff fabrics like raw silk which might add some unwanted bulk. Chiffons and Lycras are also something you should stay away from as they might just hug too much and stick to the skin in an unflattering way.
All images for representative purposes only.
ALSO READ: What Curvy Brides Should Know Before Getting Their Wedding Lehenga!