Pastel Mint Nikaah With Gorgeous Attention To Details!
BY Soha | 11 Aug, 2019 | 3756 views | 7 min read
A beautiful landscape with the setting sun in the background, pretty outfits in pastels and oodles of gorgeousness- this Nikaah had all the hallmarks of a Sanjay Leela Bhansali film!
What we absolutely loved about this celebration was the attention to individual details and the perfection with which each idea was executed! Right from the bride choosing to wear her mother's lehenga and dupatta with a modern peplum style Angrakha, to her mother-in-law using swarovski crystals and beads to personally make her wedding bouquet and their wedding stage inspired from Anushka Sharma's Tuscan wedding setting, everything was purely magical! Goes without saying, we must thank  Haseeb Amjad for bringing the best of this Nikaah to our screens! 
Meet Hira & Mansoor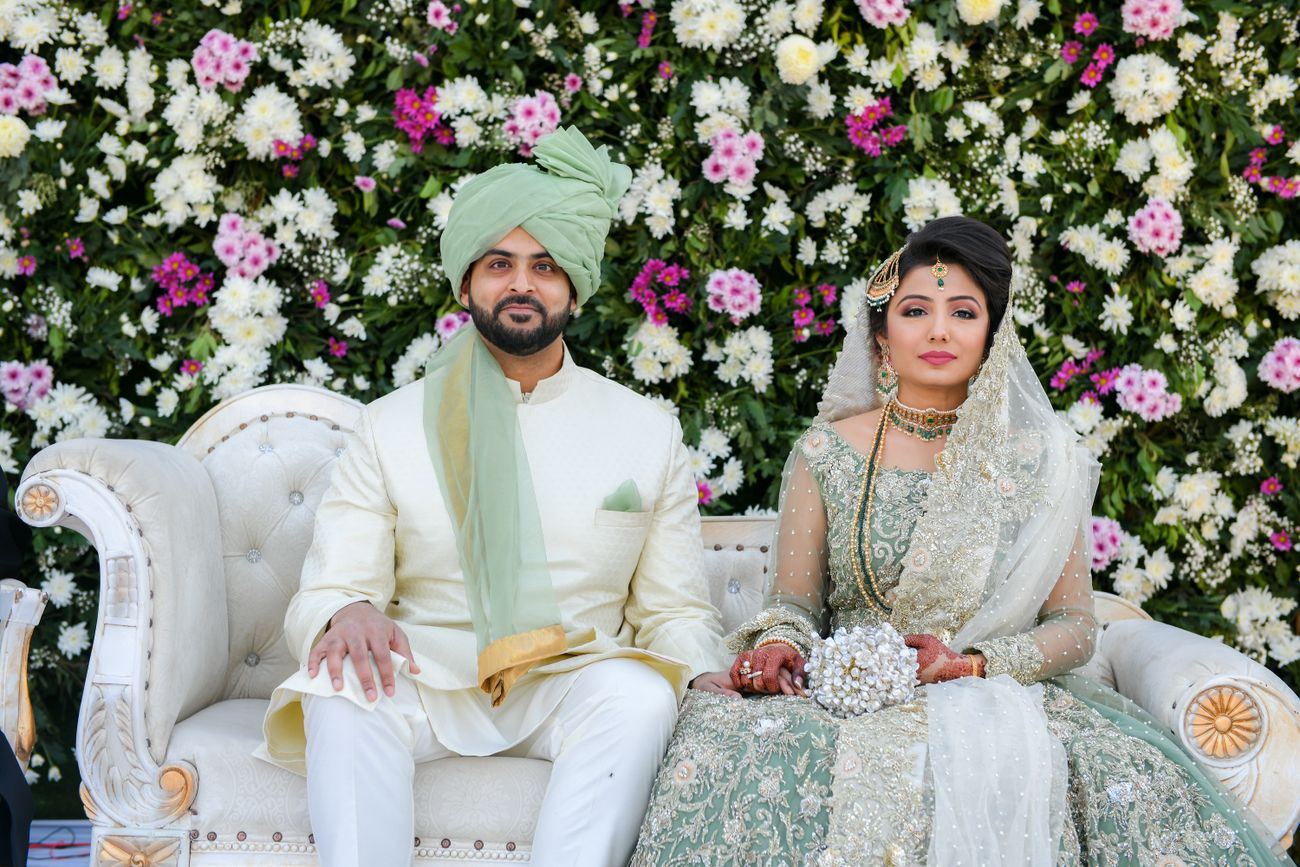 "We met on my vacation in 2016 to the USA. I was having a big fat family reunion when we first saw each other, right after I landed at my uncle's house in Texas after an 18-hour-long flight from Pakistan. My family wanted to introduce him to me. I was on a vacation and that was the first thing they wanted. A family round table conference, gazillion tantrums, and a few threats later, I agreed to meet him. I had never been to Starbucks before, so my aunt suggested we go there and I agreed (thinking if nothing, I'll at least get a free coffee out of it). 
Fortunately, we both found each other a tiny bit interesting and went on to know each other better. He literally followed me across America-from east coast to the west, North to South from Houston to Portland, Atlanta to Savannah, New York to Ohio to Michigan. 
We got engaged in Portland a month after knowing each other. And a month after that exchanged our vows and got legally married on a beautiful sunny afternoon in Flint, Michigan. It still seems surreal, when I get asked how you met your husband and my answer is, on a vacation!
We had our traditional wedding ceremony earlier this year with family and friends in Pakistan. He's back in California now. With us working,and  living away from each other and Skyping through different continents for the past three years, we are hoping to be reunited soon.
Lastly, in defense of a long-distance relationship- a healthy, happy relationship together isn't always together :)," shares Hira.
The Nikkah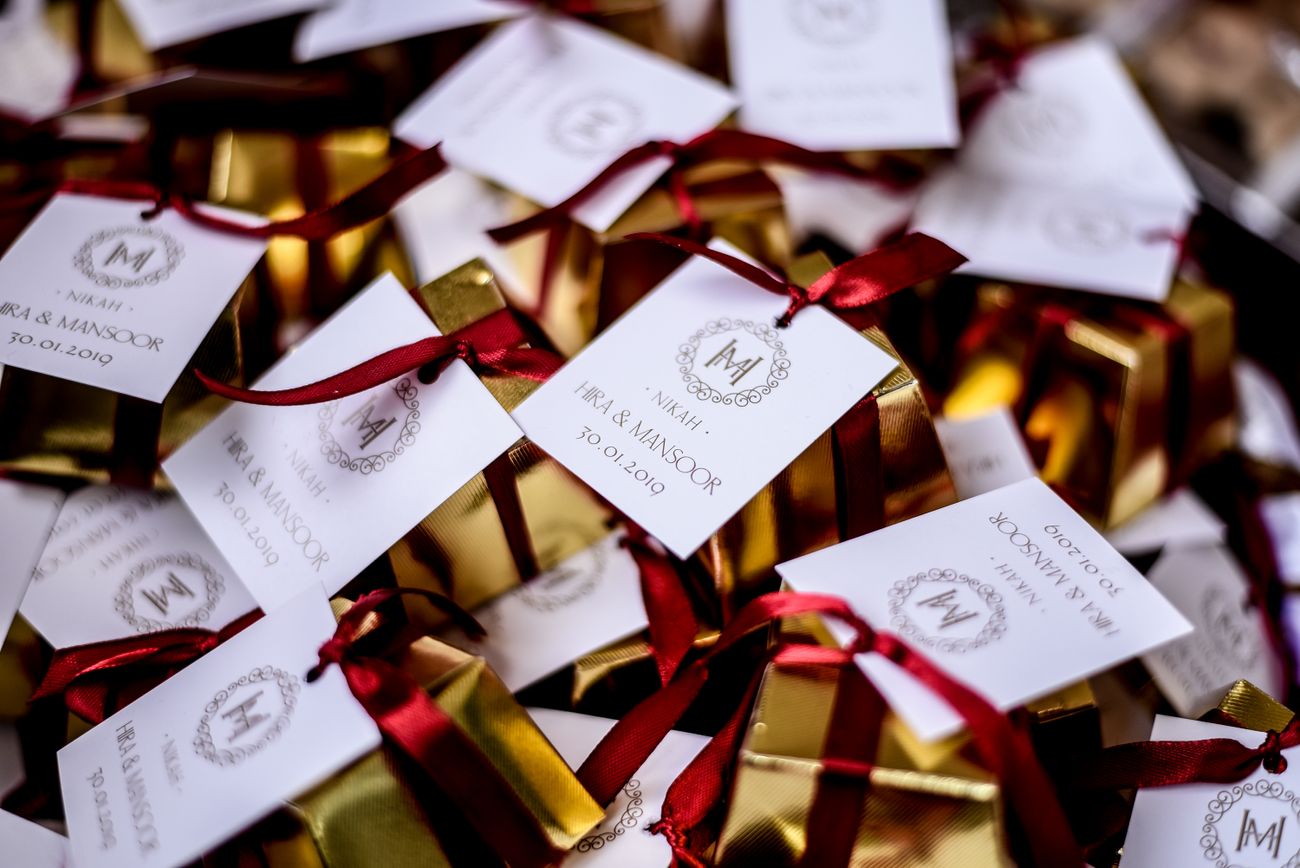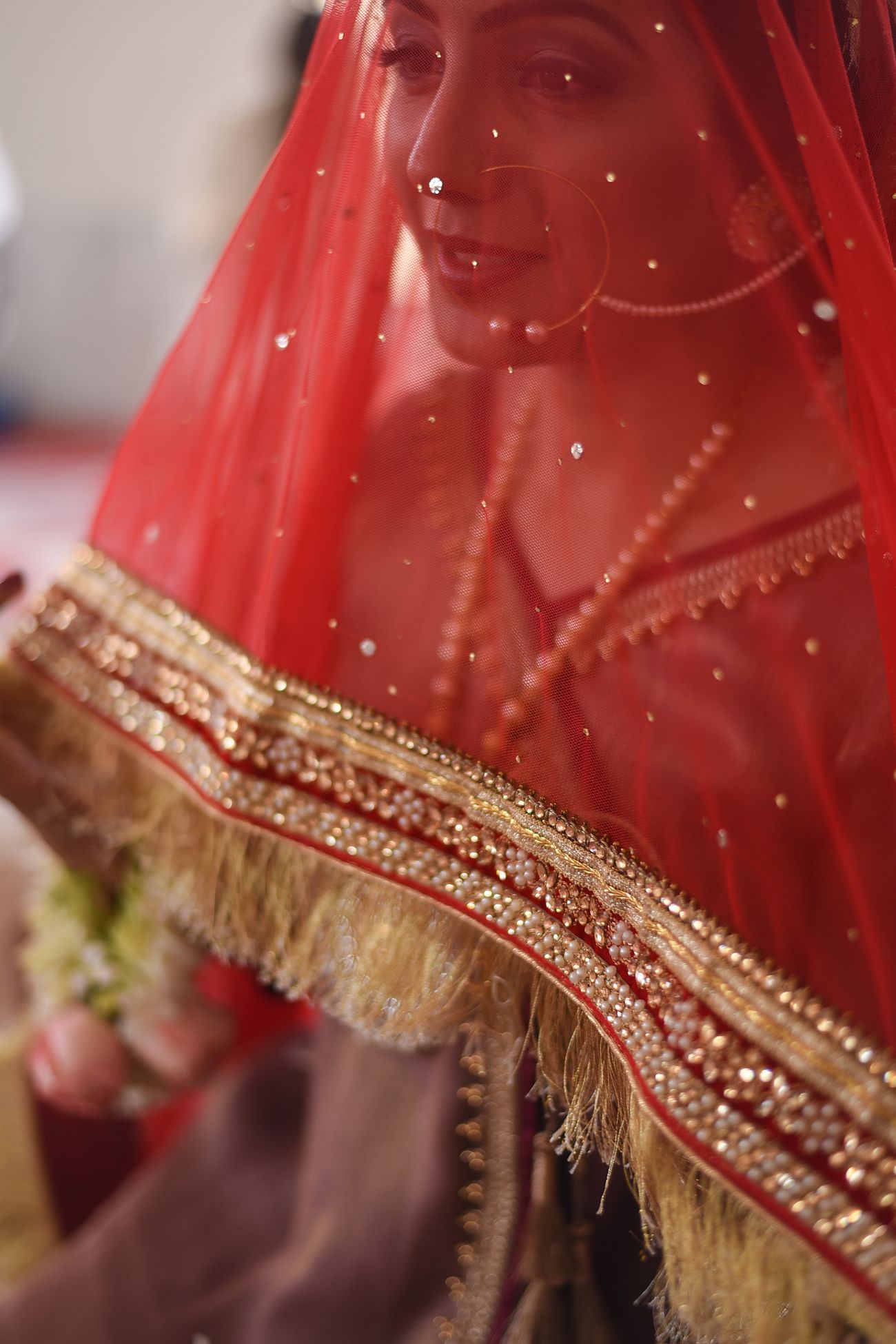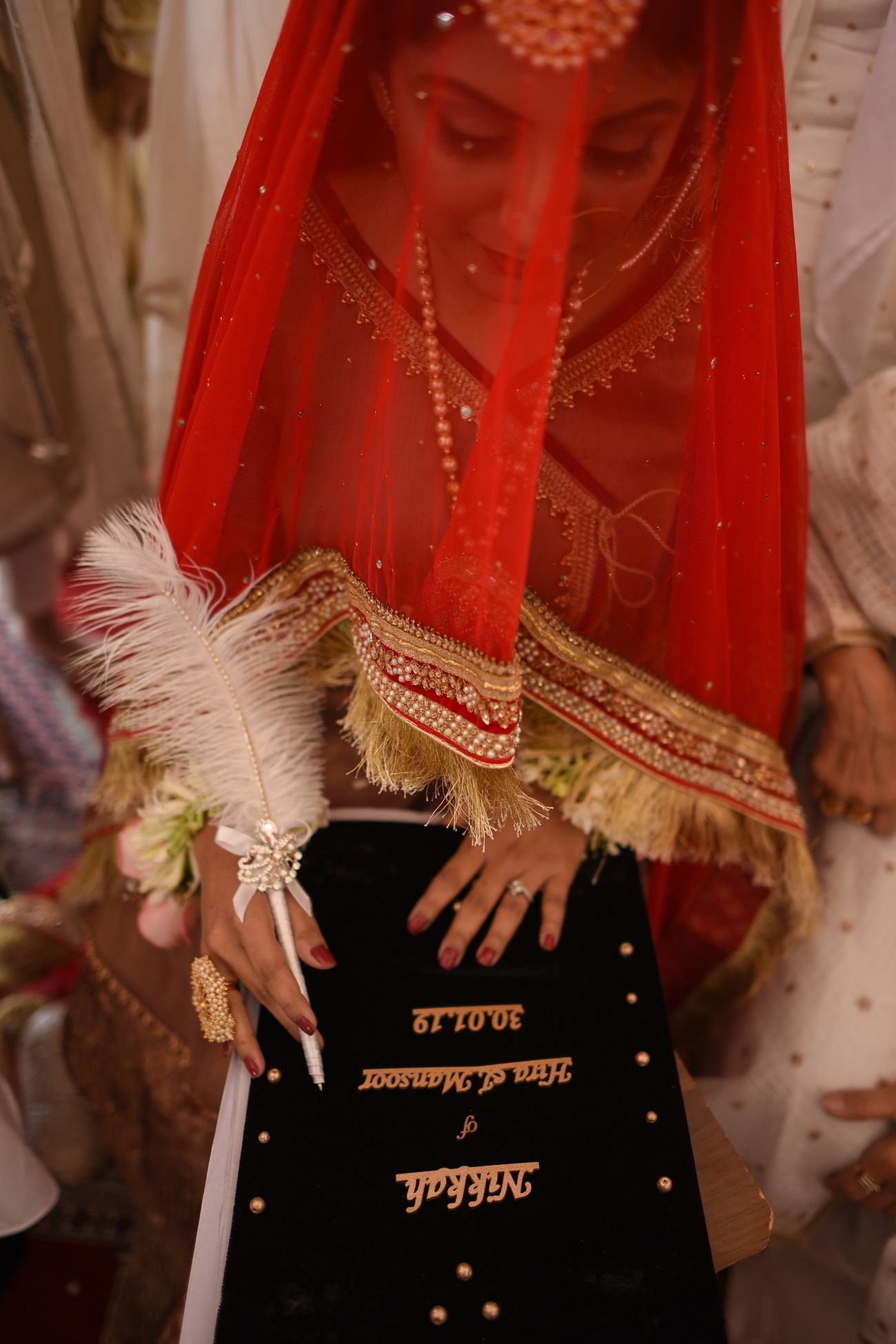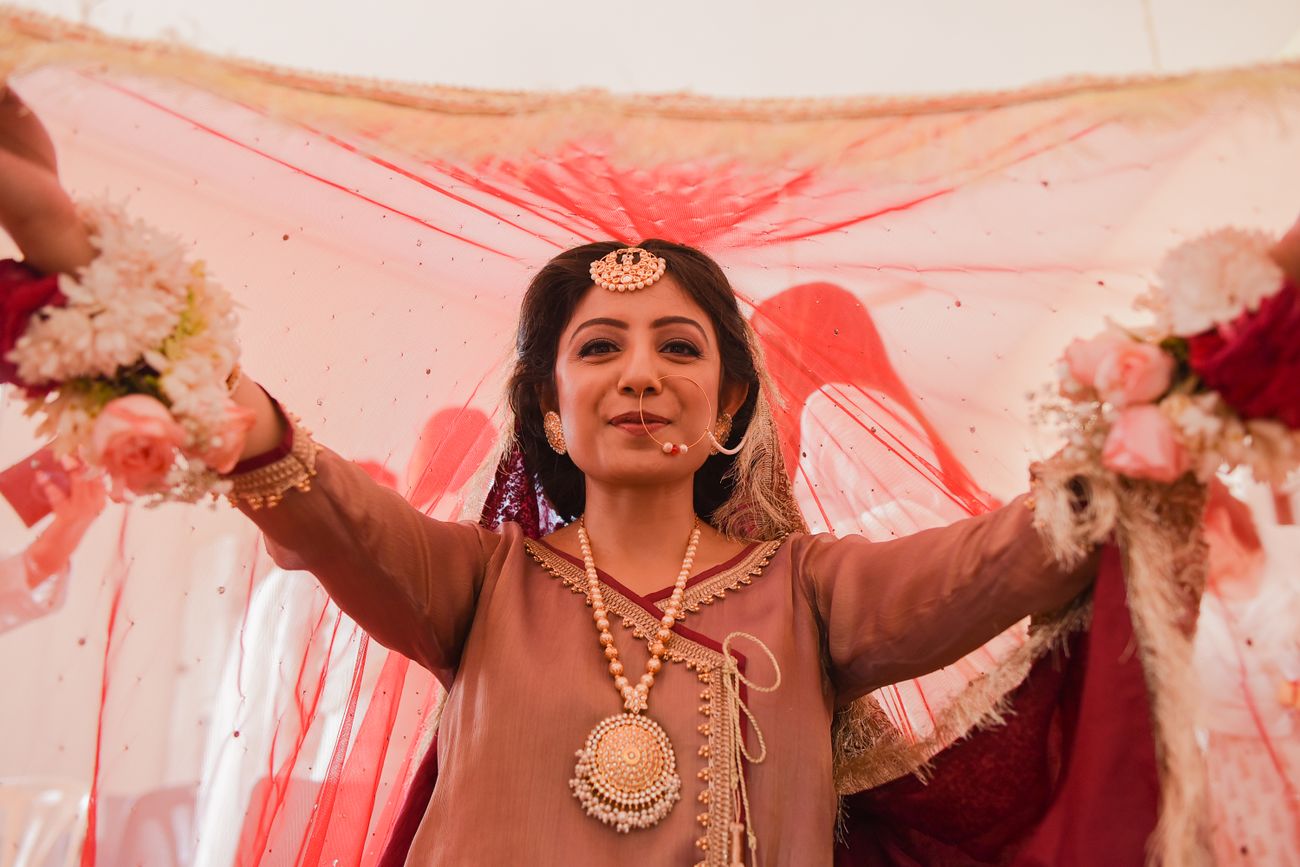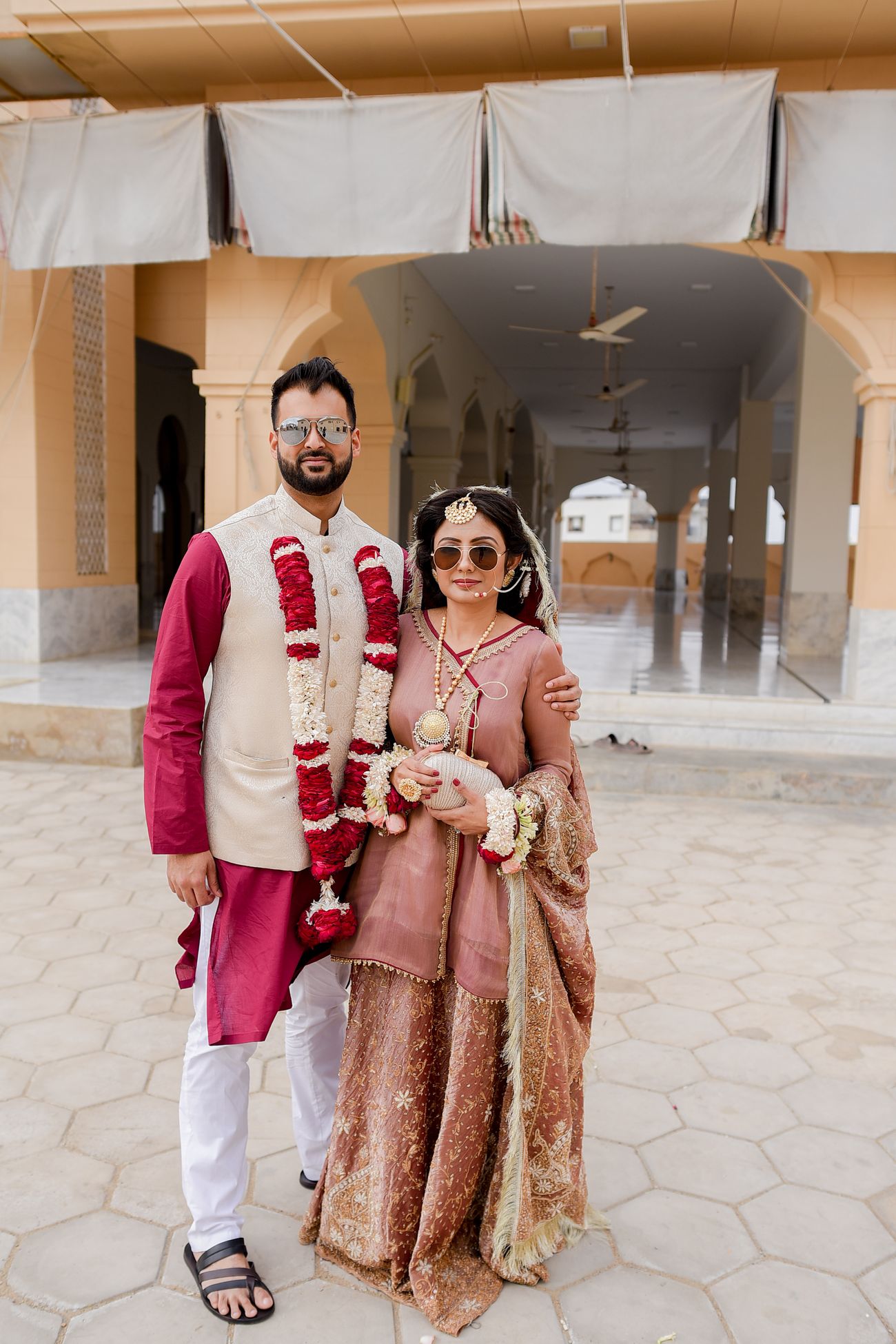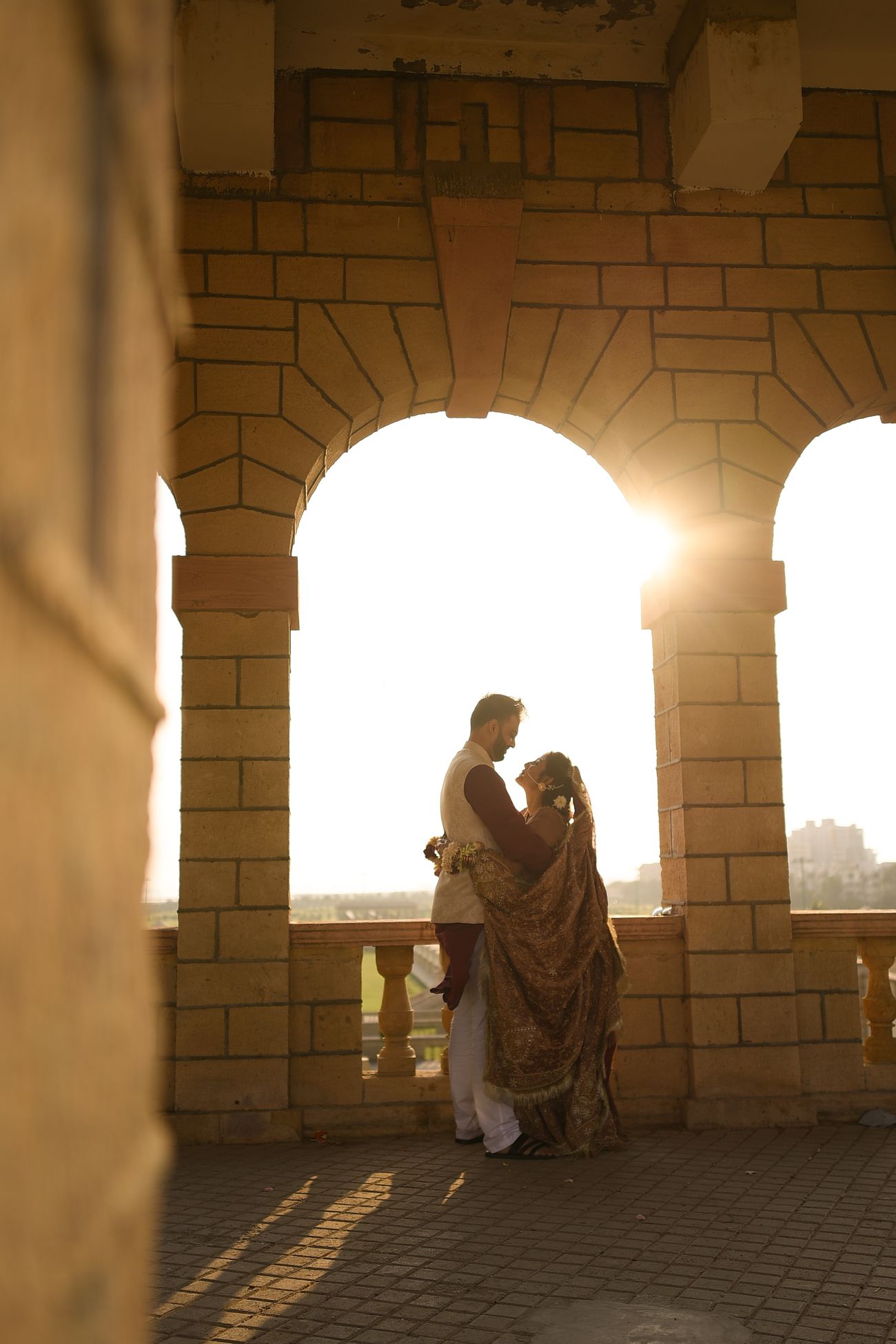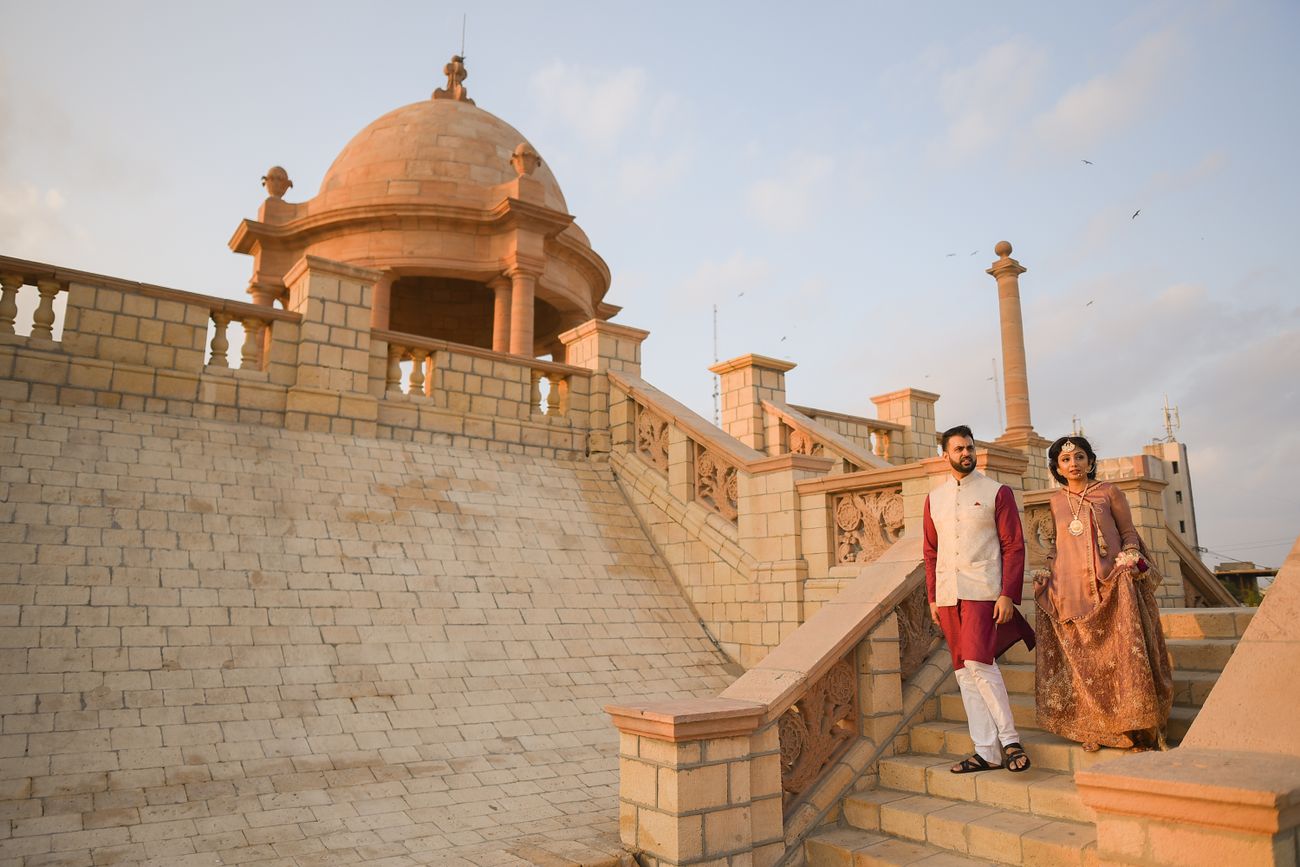 Wedding Celebrations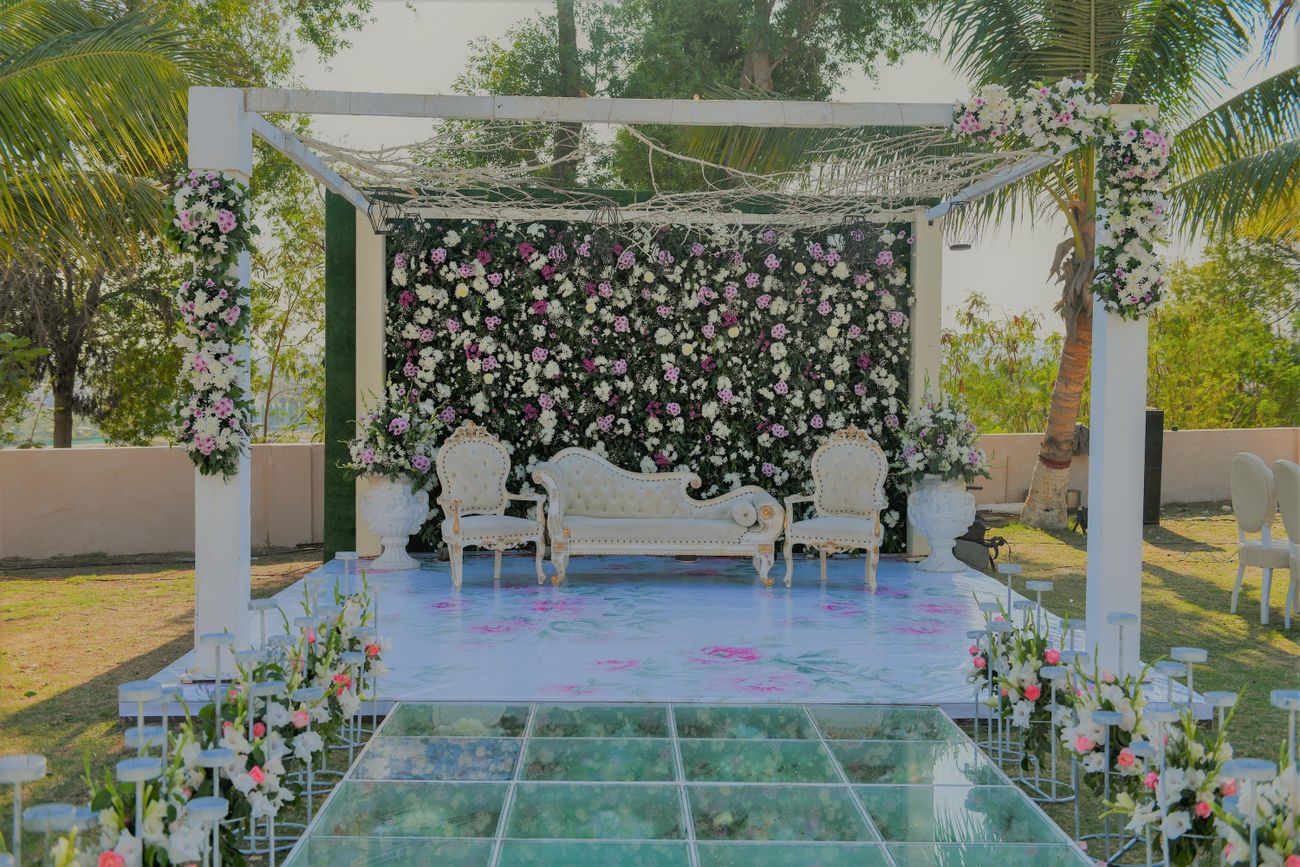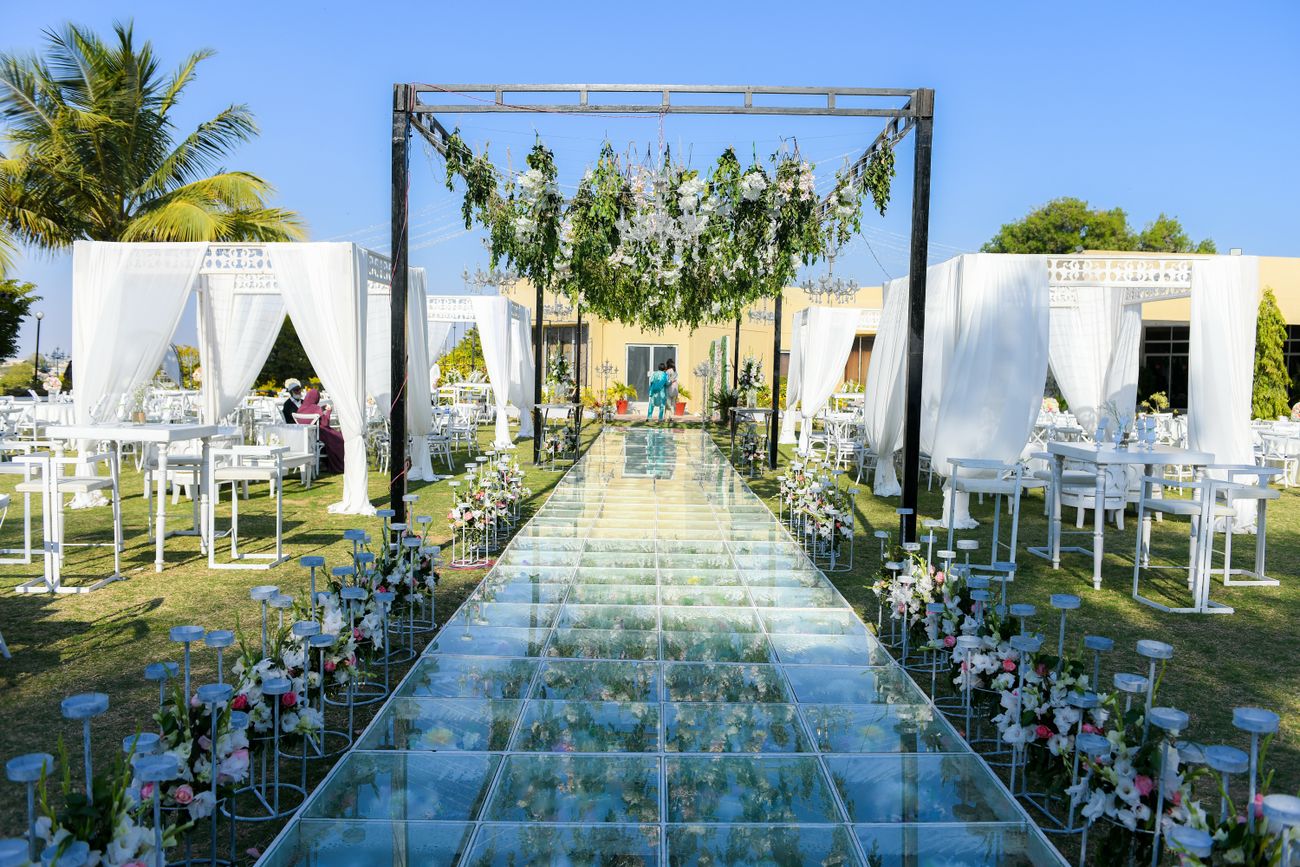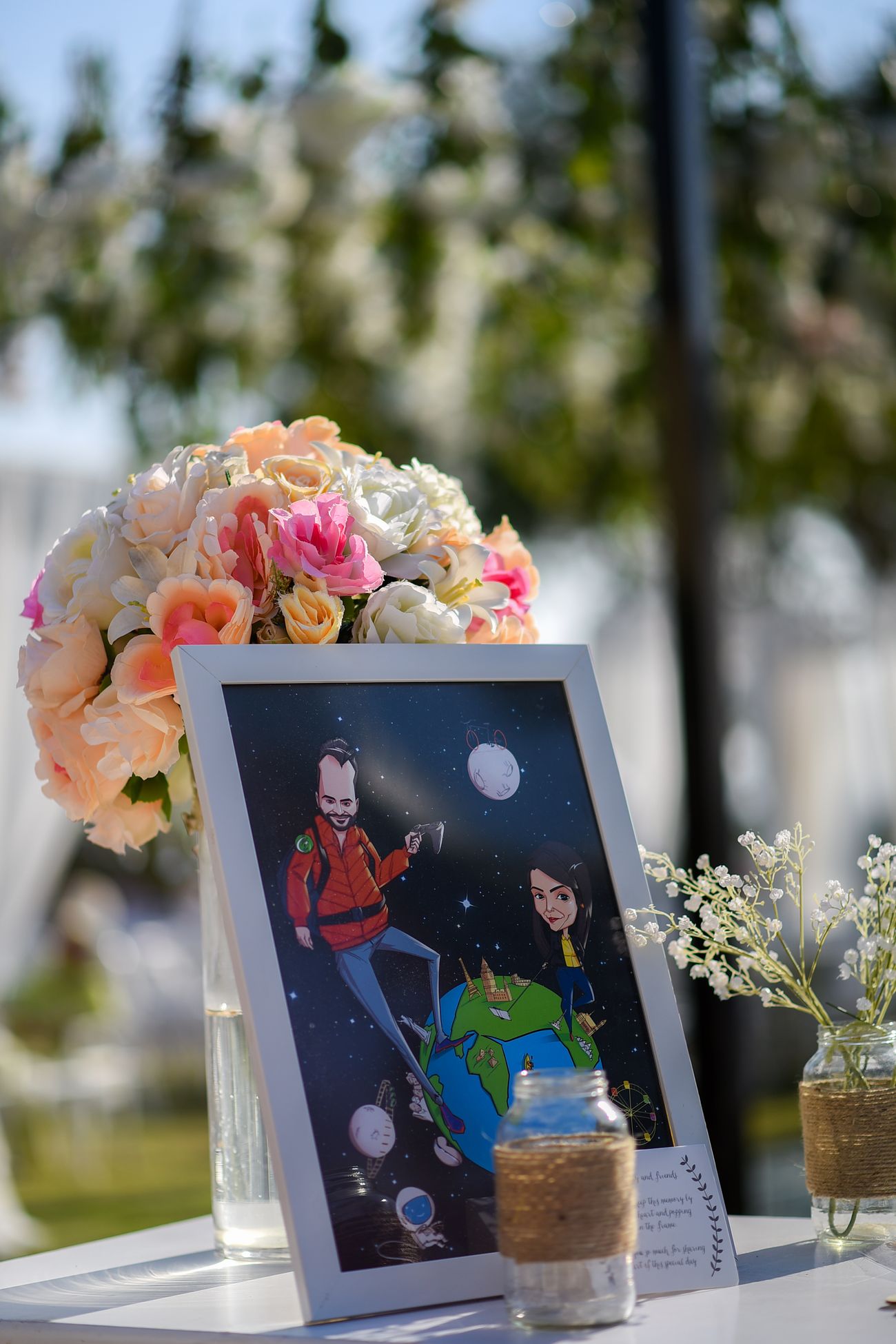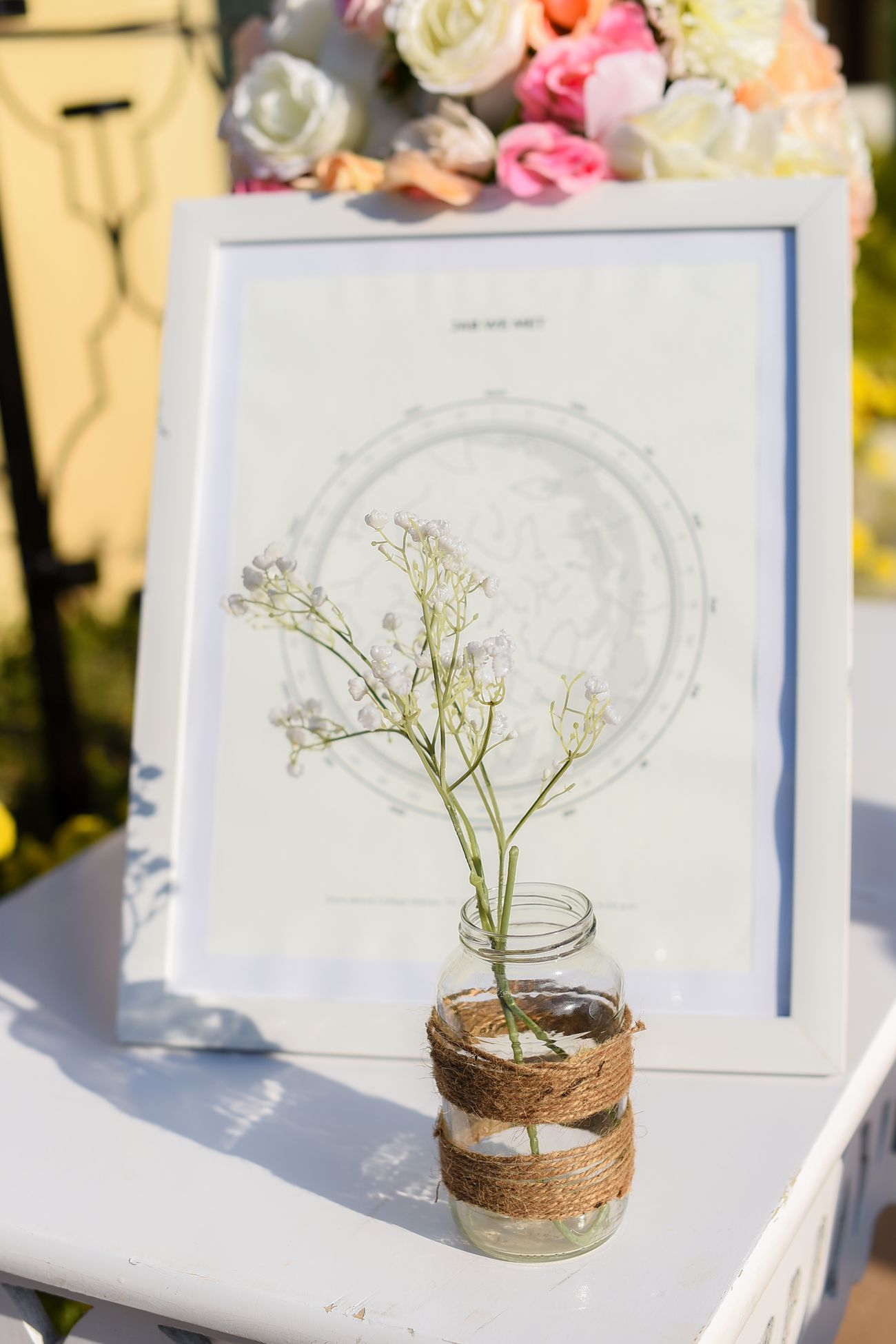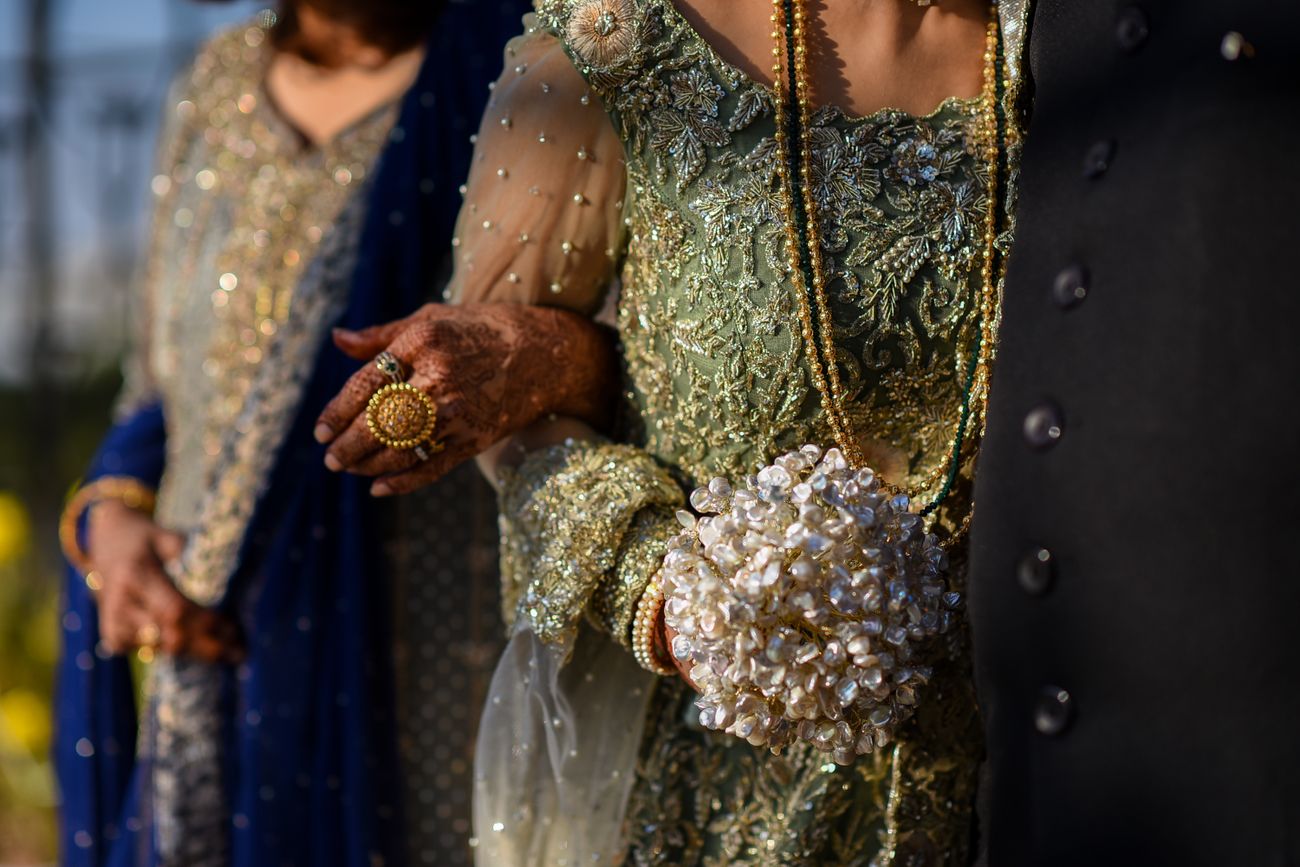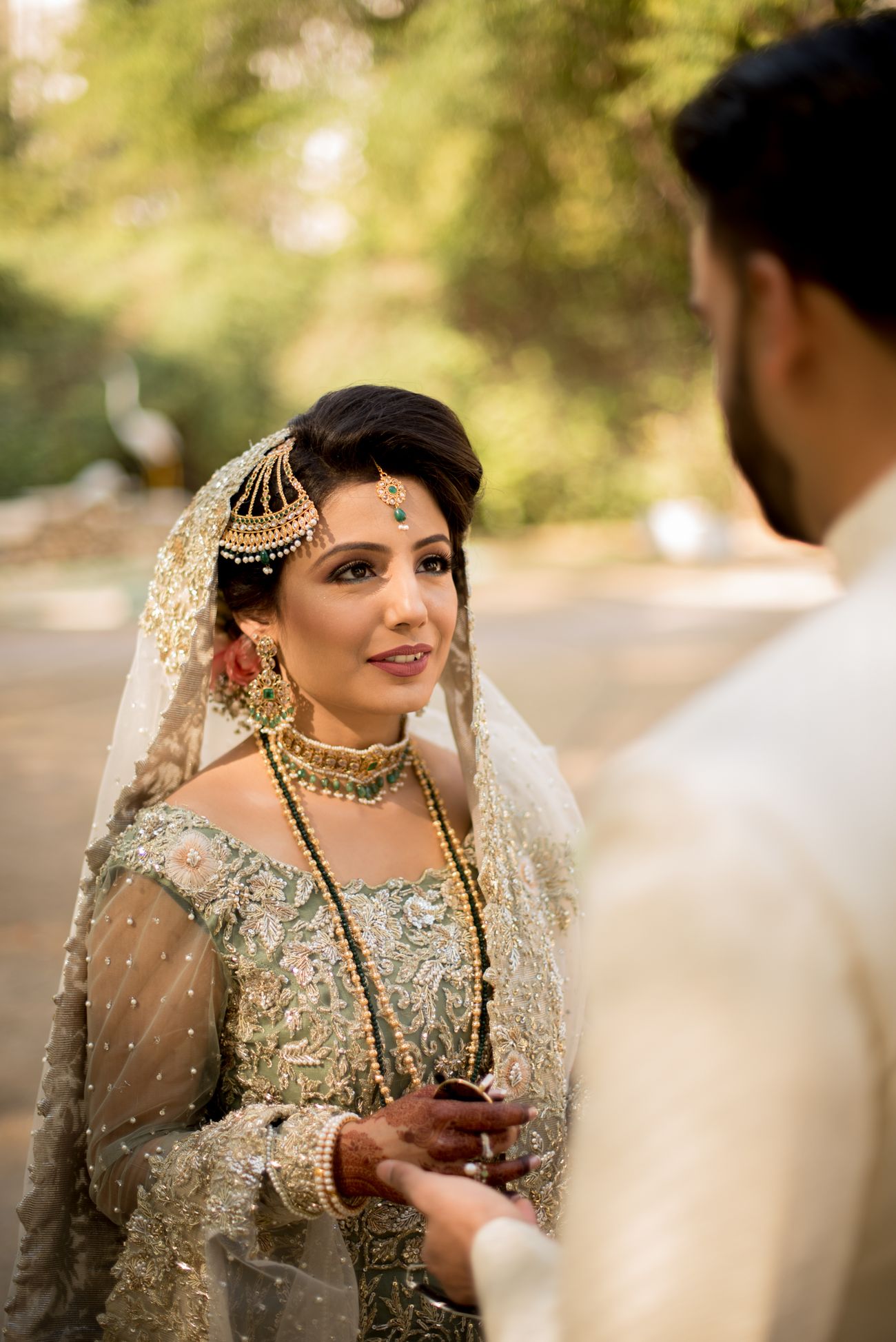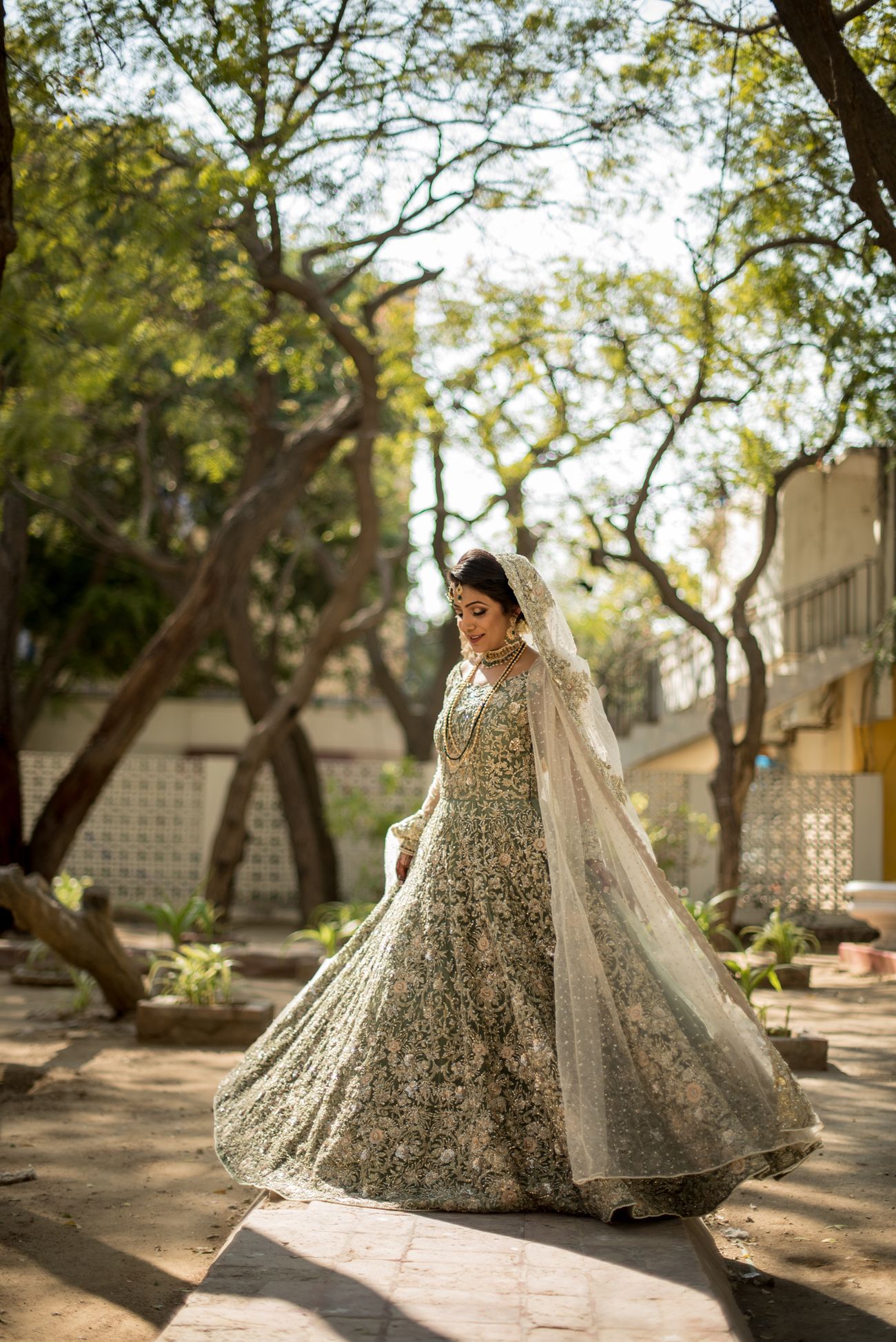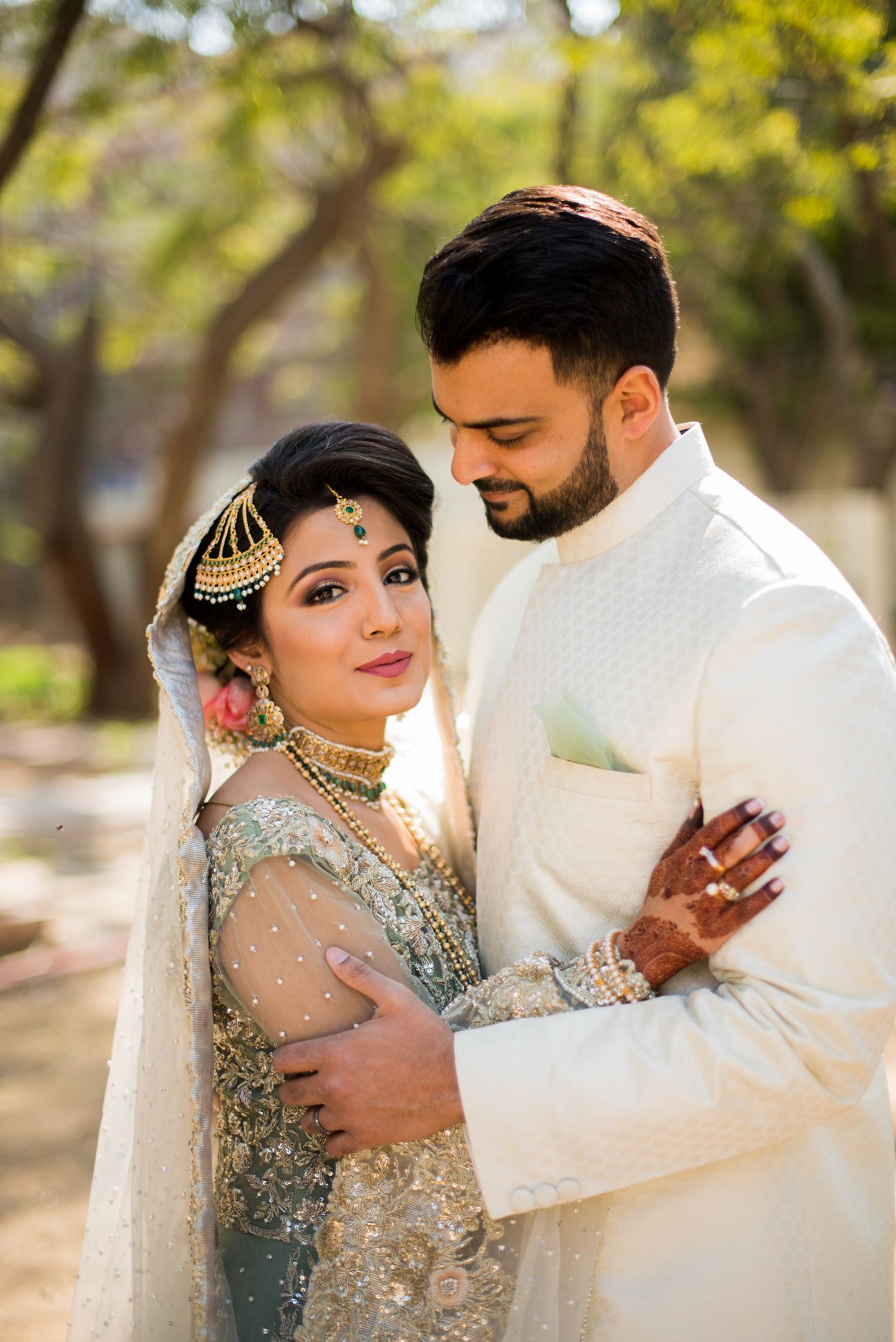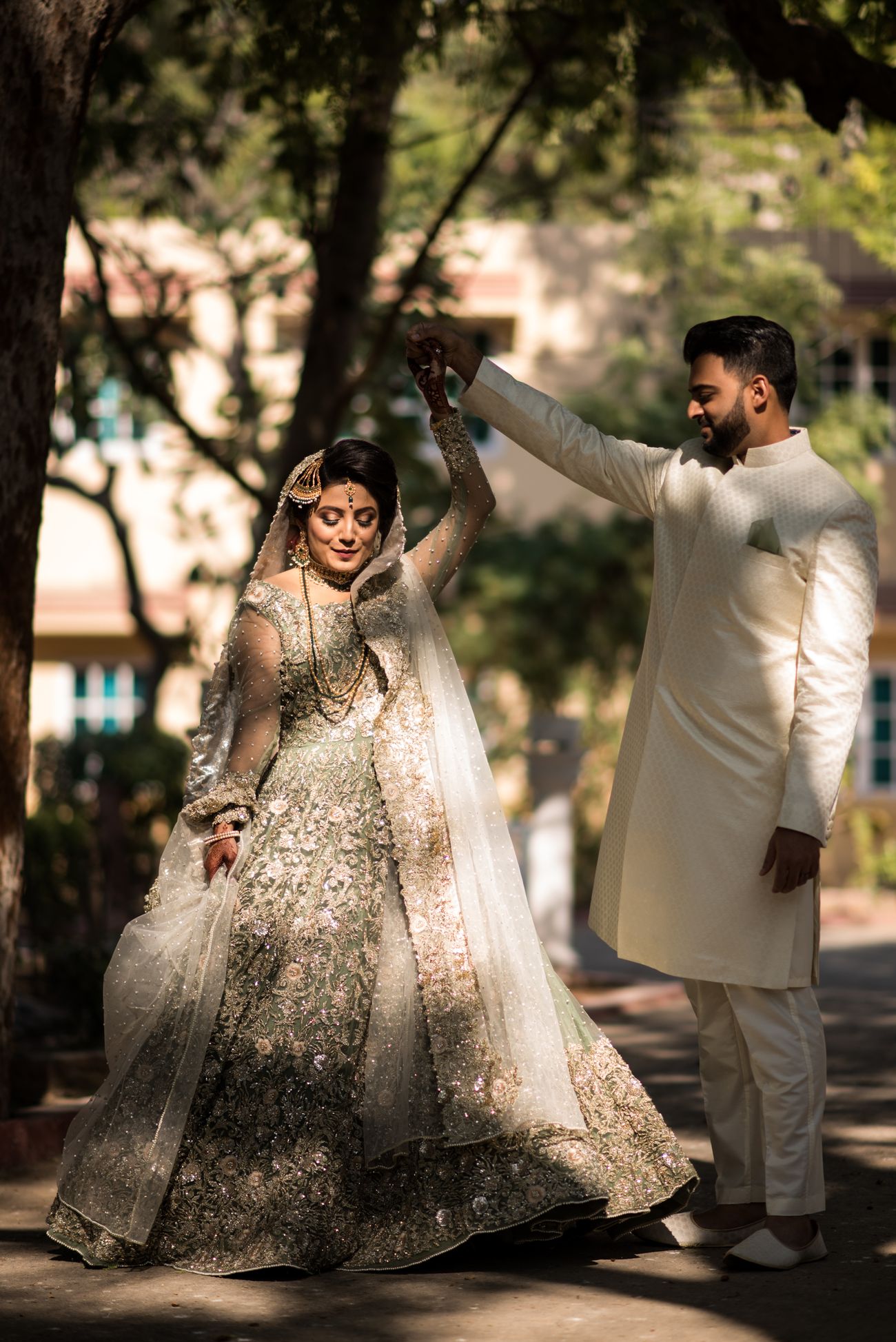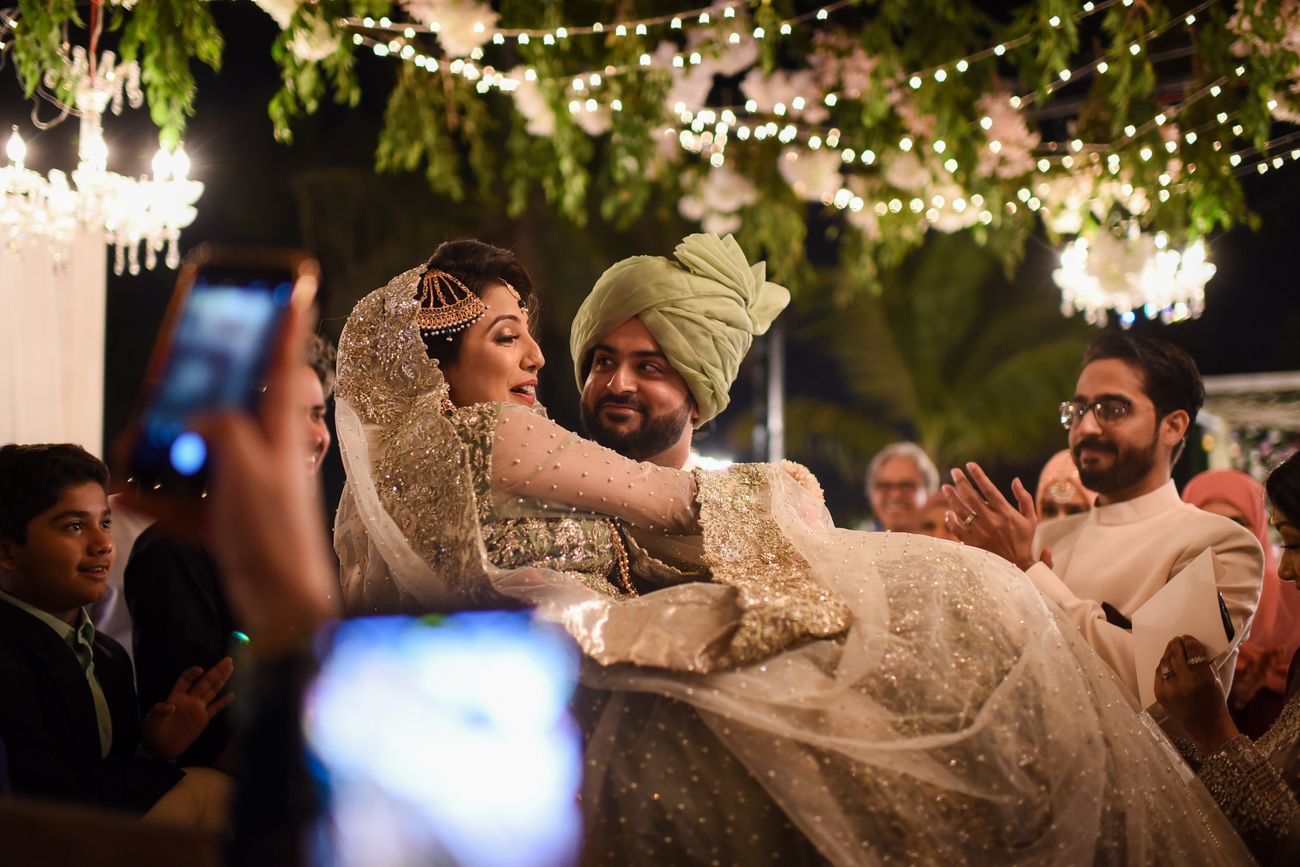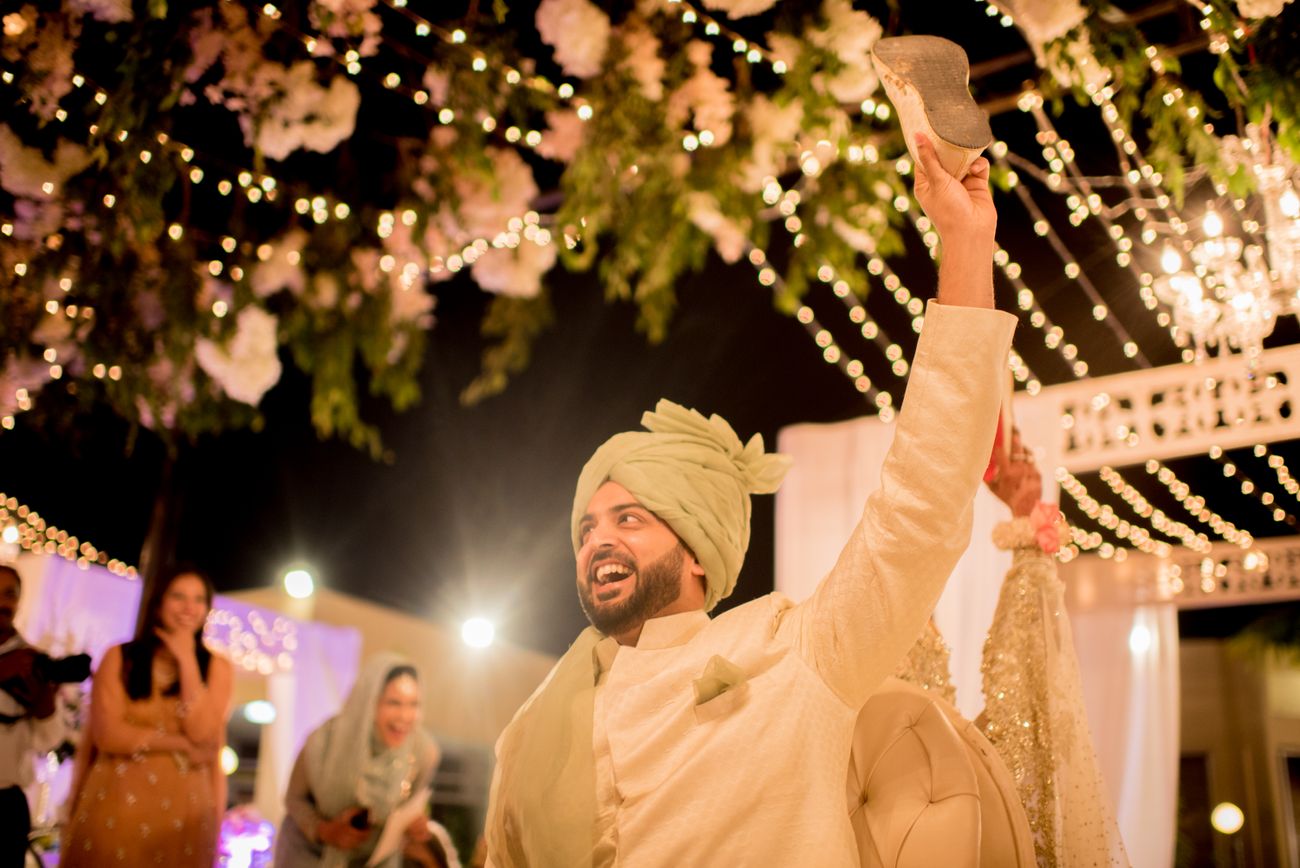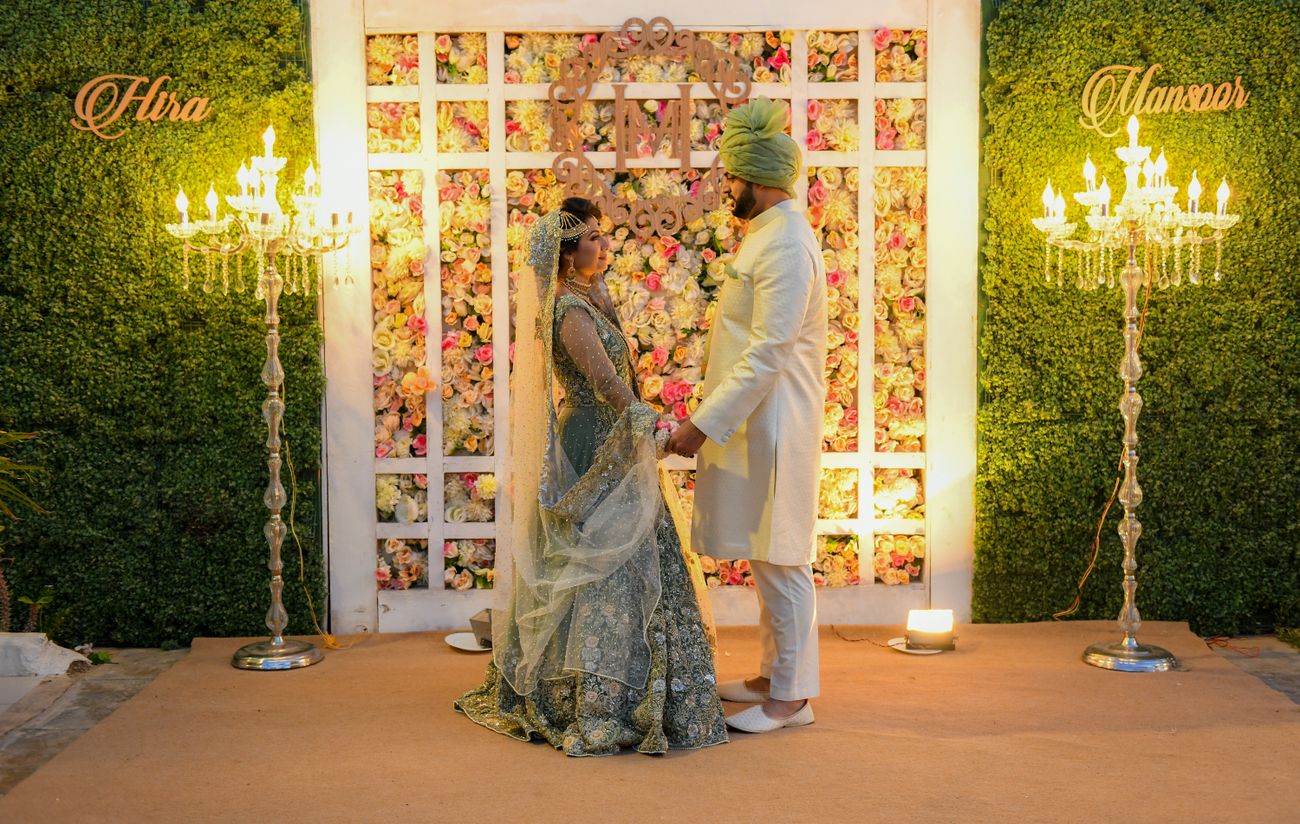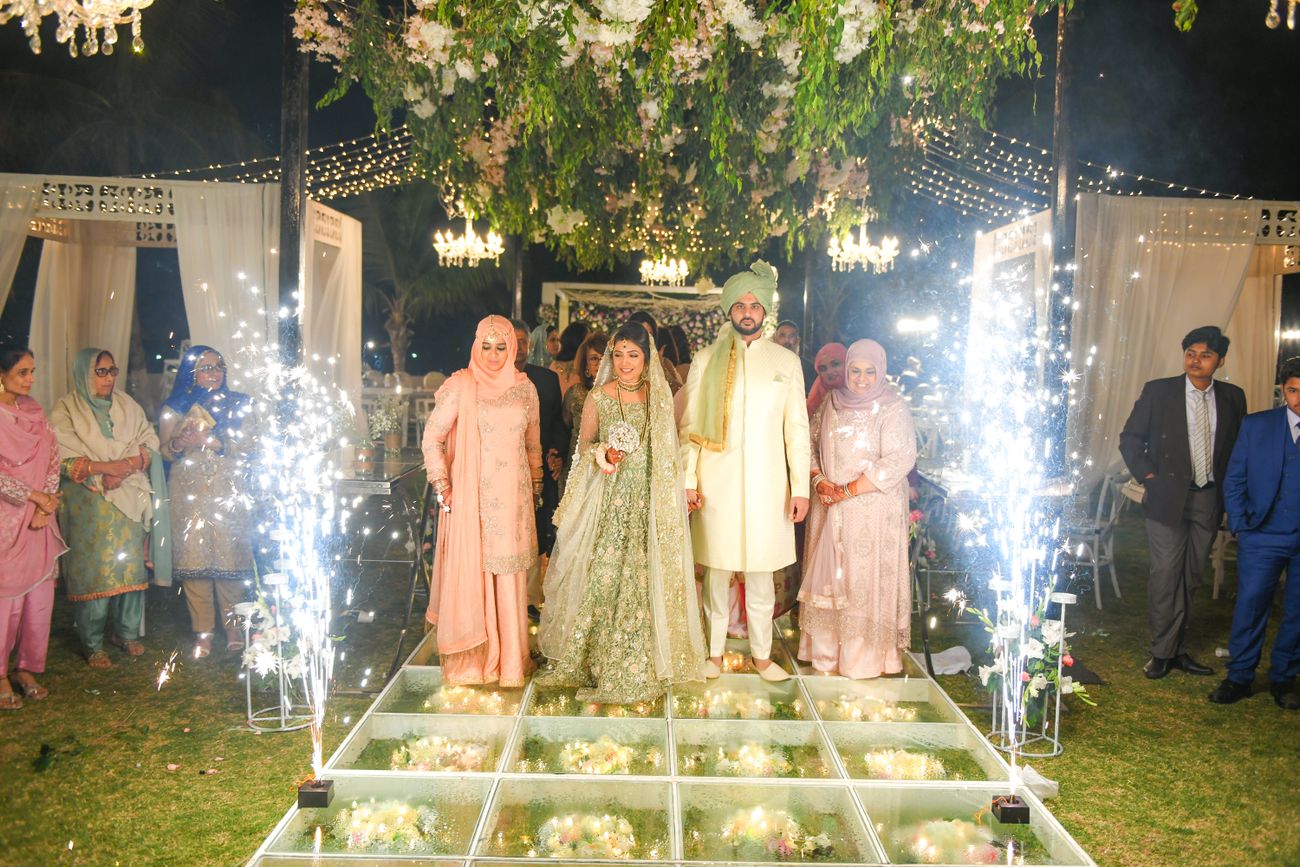 Valima Lunch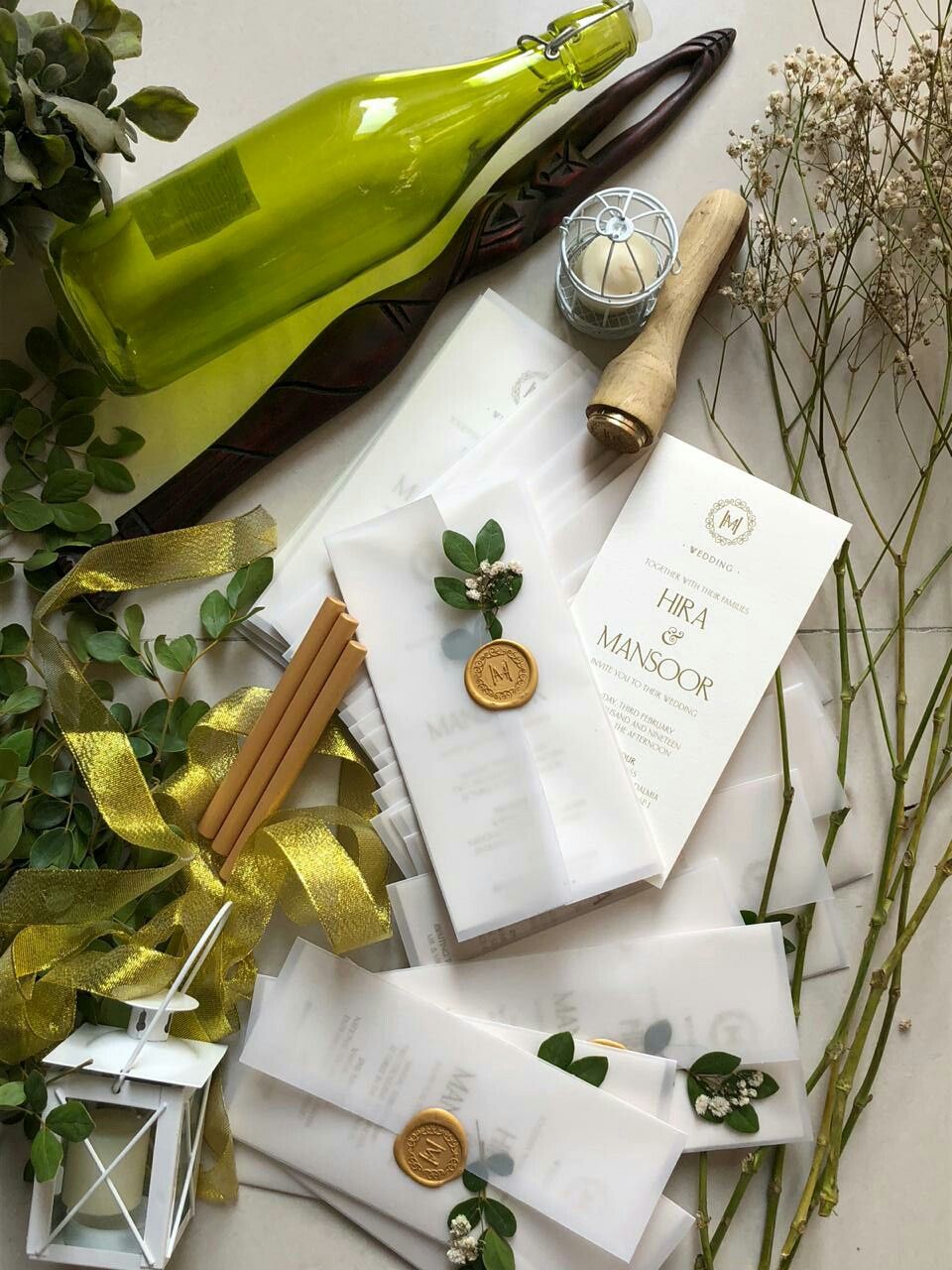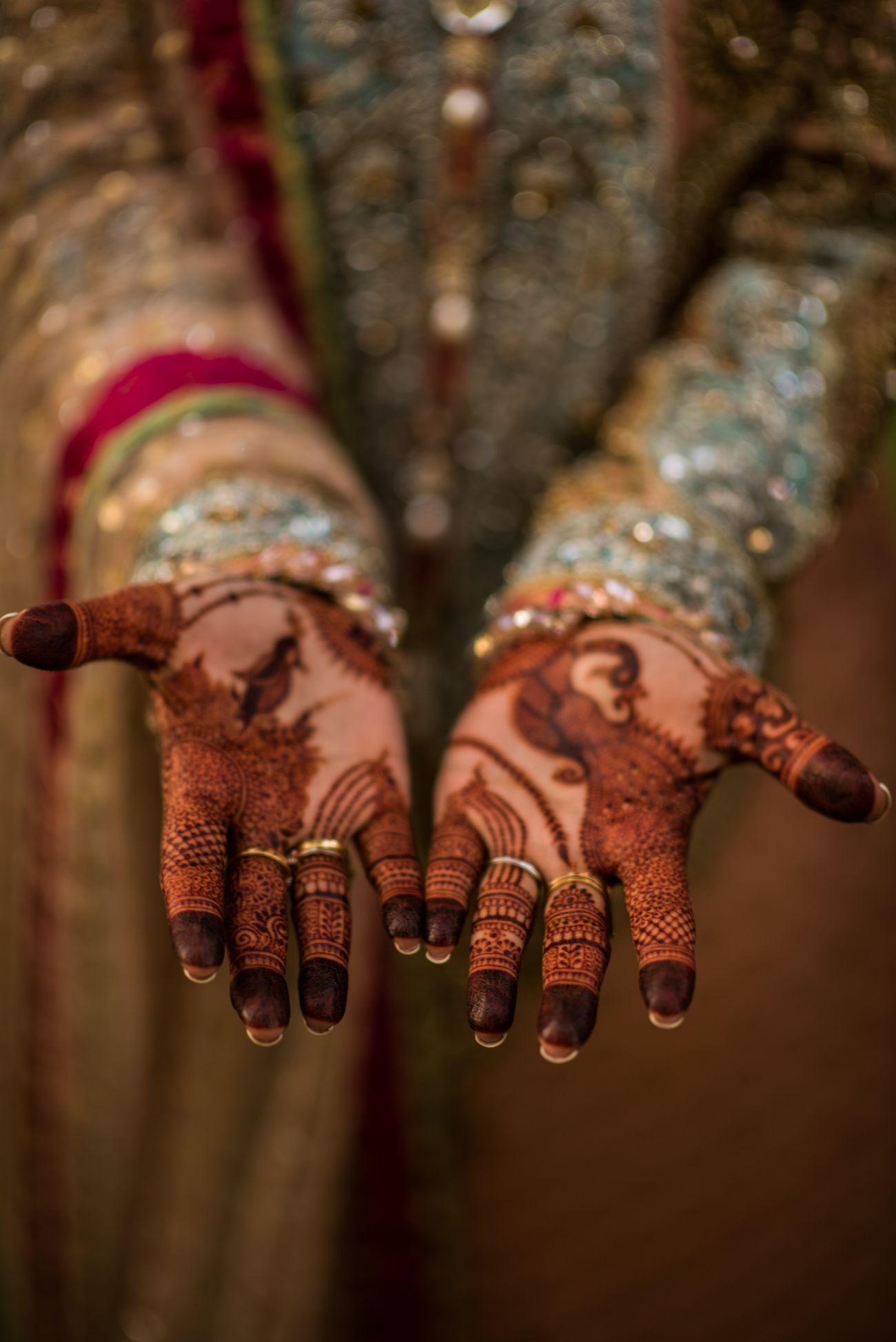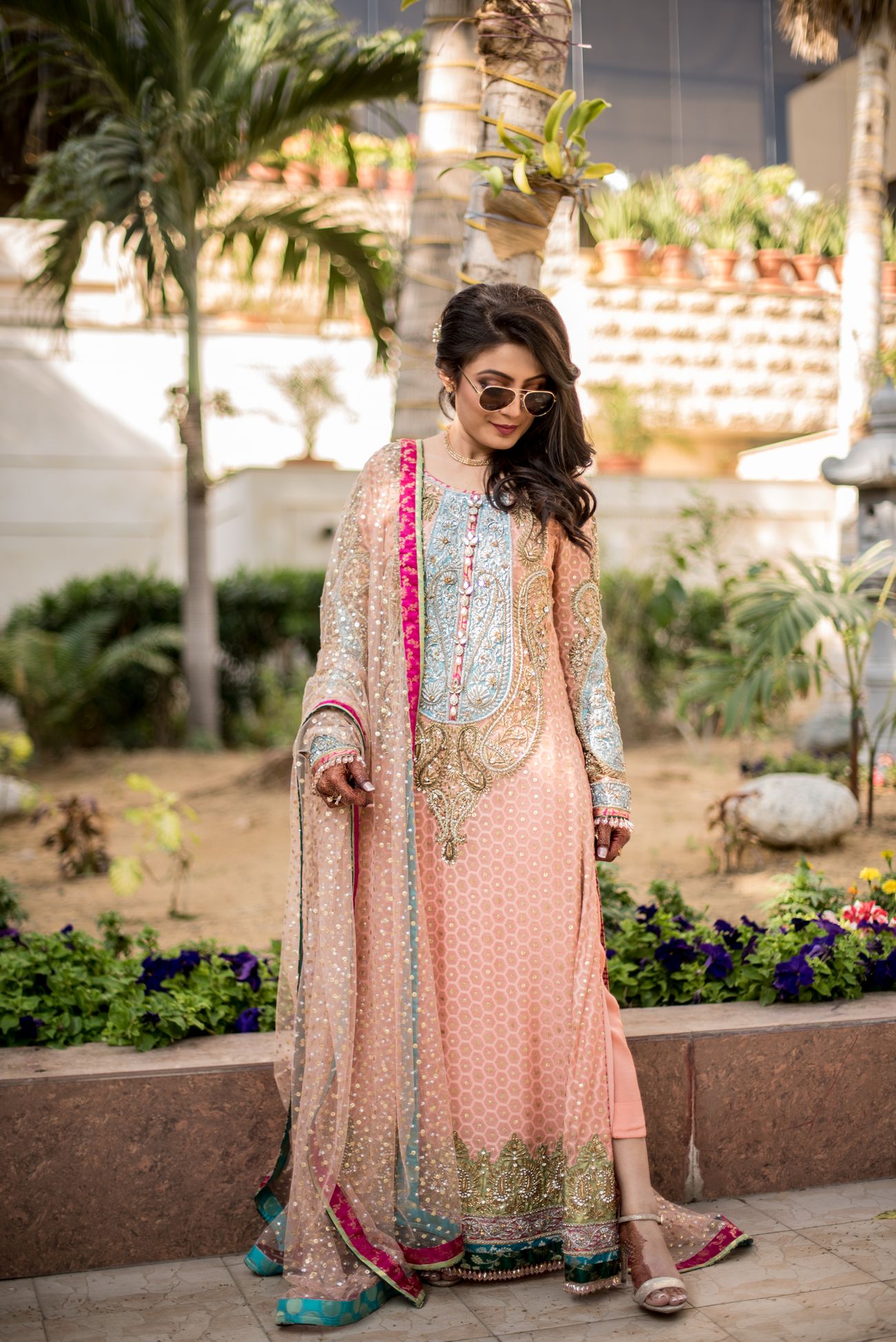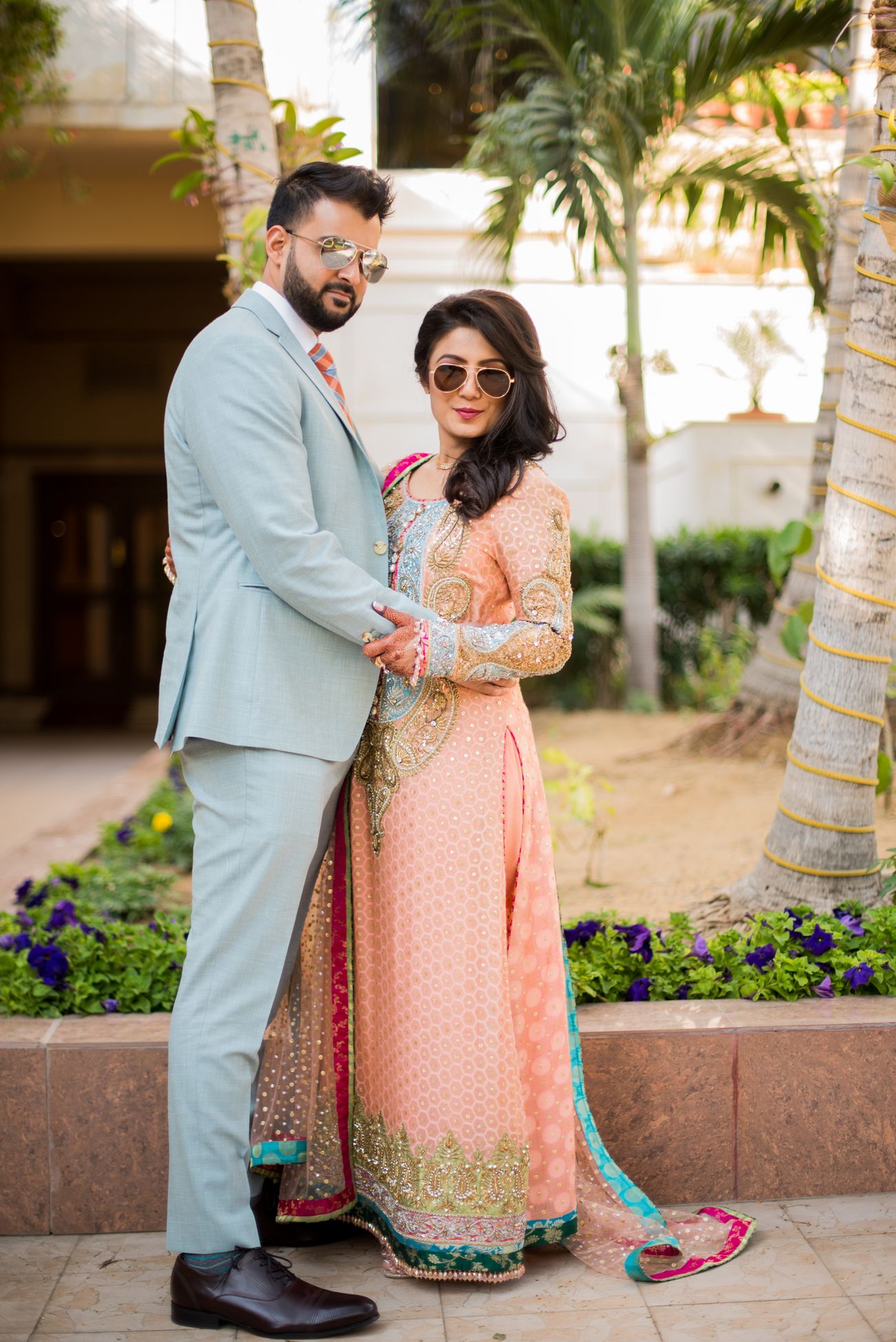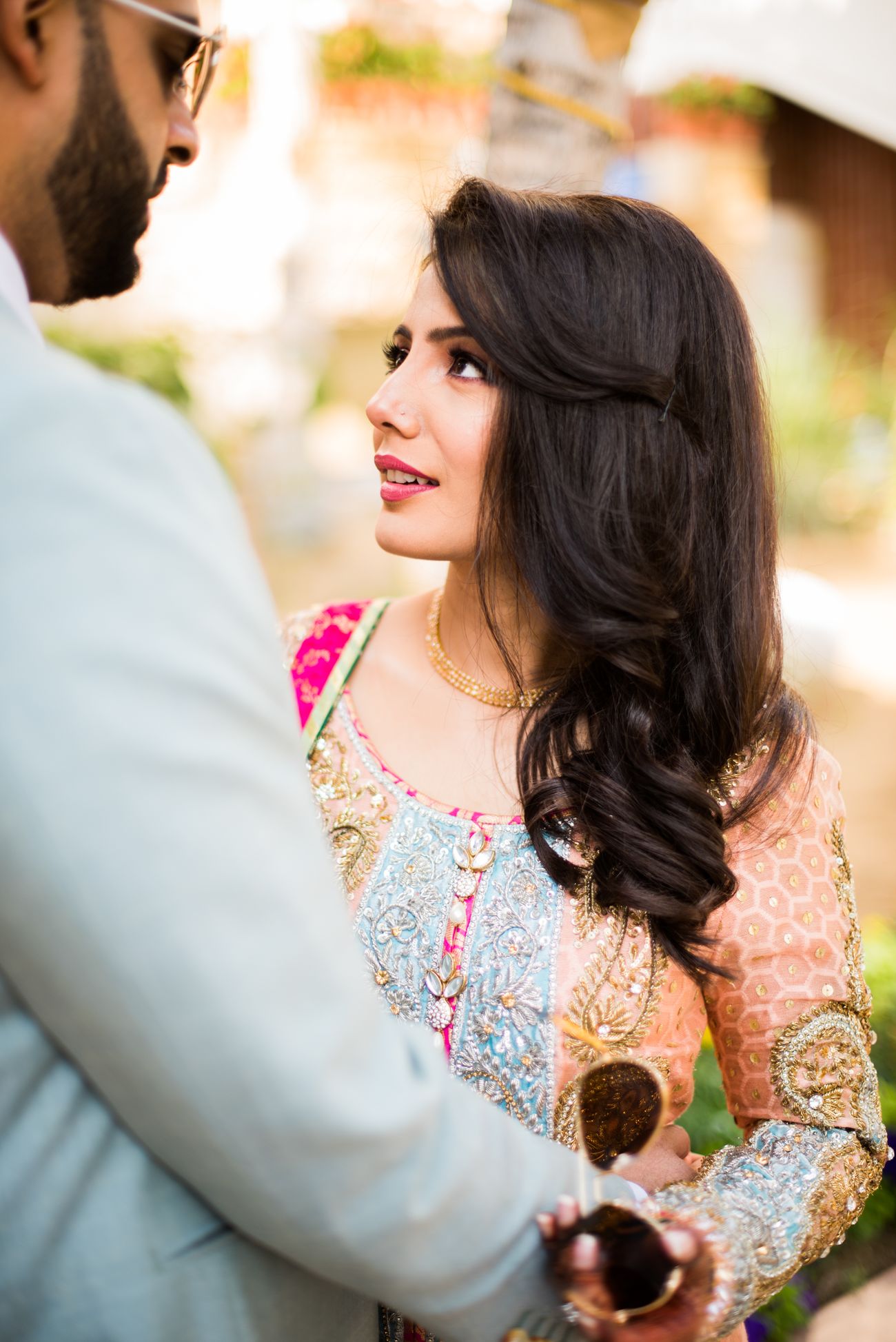 From The Bride
"I always wanted a sun downer, chic, all white themed color palette with a hint of pastels for my Big Day. Being an Architect myself, I'm extremely particular and OCD about the minutest details. I would sit down with my event planner making charts/diagrams/layouts and visited several venues hunting for an appropriate one for a day time event literally all around Karachi; until he suggested and we locked down this location. Everything was executed beautifully.
Elevated lush garden overlooking the city, surrounded by the palms, the cool Karachi winter breeze, white pristine decor and seating under the open sky with instrumentals in the background was the perfect winter wedding setting I could ask for. People kept telling me, it looked no less than a wedding in Maldives. My friends got asked a lot on their Instagram posts if the wedding was happening somewhere outside of Pakistan.
We started off early during the day with fresh juices and appetizers, serving food by sundown and then winding up with close family and friends. It was an unconventional wedding that people usually don't get to see in Karachi.
The "Shoe game" was the highlight of the night. We shared some great
memories and everyone was amazed about how well we knew each other by the end of the game, despite being in a LDR.
The stage was inspired from Anushka Sharma's Tuscan wedding. Mine was modern, hence the white painted structure with flower bunches and manzanitas spread all across the ceiling along with suspended lanterns really created magic and blended so well with our outfits. The 80' long glass walkway led to the stage. The flowers & fairy lights reflecting underneath its floor looked even more stunning when the sun went down. We made use of both the day and the night, so there was a huge variety of lighting options for the photos as well. Everything, from the photo wall, to the furniture, the flower work, and the timings for the cold fireworks including the napkins on each table with a ribbon that matched my outfit was very neatly and nicely executed. All in all it was the kind of wedding I ever wanted!," shares an evidently ecstatic Hira. 
Vendor Reviews
PNS-Bahadur Ward room Mess is a 20' high elevated garden overlooking one of Karachi's neighborhoods. The area is lush green surrounded by Palm trees and an expansive viewing deck provides beautiful views of the city; Perfect setting for a sun-downer party or wedding.
Makeup
Wedding &  Valima Lunch: Anam Farooq Khan at Tariq Amin- 
Anam created two really different looks on me. Considering both were day-time events, she gave a very subtle yet classy look to me for both. Nobody believed me when they found out I got party makeup done for the day we had a Valima lunch. Her makeup skills are really a work of art; it's like
she's painting your entire face and neck with different sized brushes, sticks and her fingers as well. She took time and interest in working on something as nominal as my collar bones. I got a million compliments, and the best art is I didn't look like a bride all caked up in tons and layers of makeup:
I looked myself.
Mehndi: Narjis Jafri Salon- light look with a mathapatti and a hairdo with lots of flowers. Iqra and Shafaq spent a lot of time creating and detailing the look I wanted. Their team is extremely helpful and they don't let you step out until you're 100 percent satisfied.
Nikkah: Hena Parker- I chose Hena Parker, a home-based make-up artist for my Nikkah day and it was the best decision. She gave me a very traditional look (something I always wanted) I always tell people, she is one person who knows exactly how to work with all kinds of faces and features. She really knows how to
enhance them and bring out the best without overdoing it.
Photographer
Haseeb amjad- Haseeb and team captured all the moments so beautifully. Whether it was our entrance, or couple shoot, the décor or the shoe game. The Candid shots were very nicely documented including the moments from Rukhsati in the video highlights that still make me go teary eyed. 
Decor
Sabih Arshad from Opulin Events - Sabih did an outstanding job with both the Mehndi and wedding décor.
Nikkah Outfit: Mother's wedding Lehenga and dupatta paired with a modern peplum style Angrakha.
Invites: We mostly had e-invites and just the wedding card as a hard copy. I wanted a very chic, minimalist look for the invites as well. All the designs, including our very own customized logo was done by Asad Bajran (my super talented brother-in-law).
Vendors: Venue: Photographer: Haseeb Amjad ; Decor: Sabih Arshad from Opulin Events ; Bridal Makeup: Nikkah: Hena Parker , Mehendi: Narjis Jafri Salon, Wedding &  Valima Lunch: Anam Farooq Khan at Tariq Amin  ; Bridal Outfits: Nikkah Outfit: Mothers wedding lehenga and dupatta paired with a modern peplum style Angrakha, Mehndi Outfit: Haris Shakeel, Wedding Outfit: Republic Womenswear ,Valima Outfit: Nomi Ansari  ; Mehendi: Uroos Mehndi ; Groom Wear: Nikkah kurta: Shahnameh, Junoon, Mehndi: Threadz, Wedding: Junoon, Valima Lunch: Indochino ; Invites: Asad Bajran