Planning an Inter - Religious Wedding in India: Here is how NOT to go crazy doing it
BY The WMG Bride | 26 May, 2015 | 7020 views | 4 min read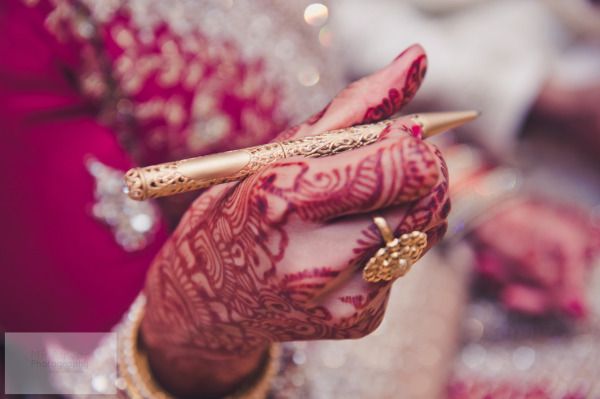 Photography: Mir Anwar
So you have broken the news to your parents and they have (hopefully) welcomed the fact that their daughter/ son in law isn't from the same religion as theirs. But now comes the task of planning a wedding- with two completely different rituals, different habits and different tastes - how in the world do you get down to planning this mammoth affair?
#1. Have a neutral ritual:
When this
Hindu / Muslim couple
got married they created their own ritual. It wasn't a nikah, and there were no pheras . Instead they wrote speeches for each other, and let their family speak about their love as well. They created something special to them, and also ensured the issues of 'whose ritual to follow?' dont get created.
#2. Have a ' themed' night for each religion:
Are you a south Indian marrying a Punjabi? Keep a Punjabi Dholki night one day where everyone is told to dress up in a Patiala Salwar and Parandi and a traditional South Indian theme the next morning for brunch where you can serve Appams and stew with 'Kanjivarams' as the dress code. Its a fun filled way for guests to truly be involved in each religions customs
#3. Keep extended family out of the ceremonies-
Throw them a big reception:
Keep the actual marriage ceremony close knit- just with your immediate families present. Throw a big reception so that the planning hassles of a huge function don't get overly complicated with rituals of two sides. You could even opt for a registered marriage with a lavish pre and post party.
#4. Keep it light and hearty
: Inter-religious weddings are tedious as it is, so embrace fun and light-hearted rituals & traditions of each faith. For example: The 'joota churana' tradition in a Catholic-Marwari wedding can be fun. Also, you can have a 'vaarat' instead of a baraat in a Maharashtrian-Gujju wedding making the 'bidai' more lively and happy.
#5. Educate the guests in a fun, personalised manner: 
If you have decided to go a particular route with your rituals, and all your guests are familiar with different rituals, hand them a
little scroll during the ceremony
explaining what the significance of each custom is, so that they don't get lost during it. Make it fun, give them little bells to ring during the rituals so they can join in too!
#6. Food, Food and Food:
Food is one of the most important aspects of a wedding ceremony, it better to include the traditional dishes of both the sides in your menu. Make sure that no food item offends the other religion or their guests. If you have veg/non-veg issues, have separate food sections.
#7: Don't be shy to ask help:
While planning all the functions, make sure one person from both the families is looped in. This will help you to understand and plan rituals which you may not have knowledge of. Also, you'll avoid the risk of hurting someone's sentiments. You may also want to rope in a friend who follows the same customs as your in-laws. Sometimes its easier to ask your friend about things you may be uncomfortable asking the in-laws.
#8 DONT try and incorporate two different outfits into one
: We encounter many a bride wanting to wear a 'Christian - Indian' fused gown with a dupatta, or something like that. While the thought is lovely and as a bride you should totally wear what you want to wear , it doesn't work in most of the cases. Stick to an outfit which makes you feel beautiful, irrespective of whose religion it belongs to. Love knows no religion, language, caste or tradition. So, do not let the love between you and your partner be affected by any of these things. Just keep these tips in mind, and make your wedding the most beautiful memory of your life.