Pre Bridal Skincare Routine for Combination Skin : Recent Bride Ankita Reports
BY The WMG Bride | 09 Apr, 2014 | 3135 views | 4 min read
We love that we get to pick the brains of  fellow beauty blogger friends like Ankita from
Corallista
 who by the way was a recent bride herself. Since she has combination skin  I asked her to dissect what she did to ensure her skin glowed like a 1000 lightbulbs on her big day (Apart from using highlighter obviously- Ankita did her own makeup. Yes, there still exist creatures like her who do their own makeup!!!! ).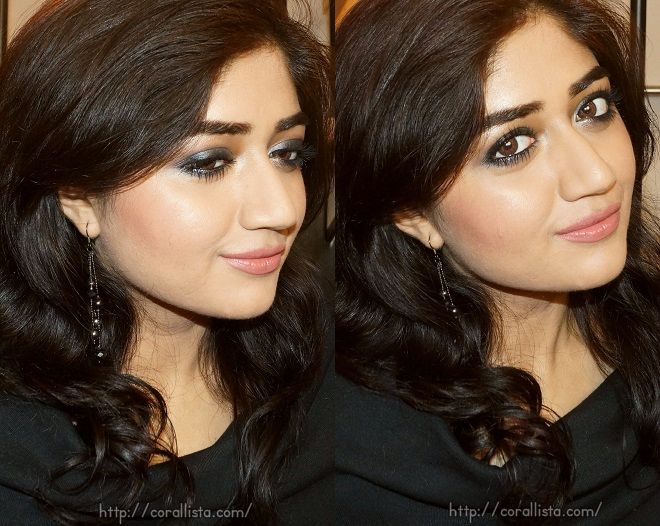 Skin type:
Ankita has combination skin with an oily T-zone but prone to dehydration during winters  (her wedding was a winter wedding) . She  gets occasional breakouts but her  skin is not overly sensitive. She needed a routine that kept her skin radiant, as well as hydrated.
 MORNING ROUTINE:
1. Switching to a Soap Free Cleanser: 
Ankita switched to using Cosmedic Avederm cleanser as her facewash as it is gentle and mild. If that is too fancy for you girls, she says she also used the very affordable Vivel Cell Renew Pollution Protect Face wash
2. Exfoliation: Lotus Herbals Scrub/ Body Shop Vitamin C Microdermabrasion twice a week
Twice a week, Ankita made sure to scrub to get rid of build up and black heads . She recommends the Lotus Herbal scrub which is gentle/affordable and she says her skin felt radiant . She also tried the Body Shop Vitamin C Microdermabrasion which kept her skin soft and supple
3. Toning : Colorbar Stay the Day Finishing Mist 
The Colorbar mist can be used as a toner or finishing spray for makeup . She used this since her skin felt slightly dehydrated and it seemed to soften and hydrate her skin
4. Serum : Lakme Youth Infinity* + Kaya Brightening Serum*
Ankita says "I had already been using the Lakme Youth Infinity Serum when I was sent the Kaya Brightening Serum for review. Though I was liking the Lakme serum (it brightened my skin and made my pores look a little more refined), I was tempted to try the Kaya one too. I started using both, at first only 2-3 times a week (just to see that my skin doesn't react adversely to using 2 serums) and then everyday. The Kaya brightening serum is really light weight – it feels almost like water and absorbs into the skin really quickly. It did help in adding radiance to my complexion."
5.  Day Moisturizer : Shiseido  Brightening Protective Emulsion*
6. Sunscreen : Lotus Herbals 3-in-1 matte SPF 40
EVENING ROUTINE : 
1. Makeup remover : Clinique Take the Day Off Cleansing Balm
Ankita says she absolutely LOVES this product. Its a makeup remover that has never broken her out and does the job well !! 
2. Mask : Forest Essentials Narangi & Nagkesar Ubtan/Avene Cleanance Mask
On the day of her reception (and ofcourse in the months following up to the wedding), Ankita used the Forest Essentials Narangi & Nagkesar Ubtan.
3. Night Cream : Lakme Youth Infinity Night Cream
Ankita said she ended up trying the newly launched Lakme Youth Infinity night cream.  She says it is rich but not greasy, and hydrates well without feeling heavy. She used the same cleansers and toners as mentioned above for her night time routine as well
Bridal Skin Care Tips
Drink at least 3 liters of water every day.
Stick to the basics : cleanse and hydrate at least twice a day, don't go to bed with makeup on, use sunblock before stepping out of the house.
Don't try anything new at least 2 weeks prior – be it products or treatments like peels etc. Don't try a new facial 2 days before the wedding, go for something you've tried before (I went for the Lakme Youth Infinity Sculpting Facial).
Incorporate at least 1 brightening product in your routine.
Don't overload your skin suddenly with too many products.
Add nuts, fruits and vegetables to your diet. Diet goes a long way in cleansing the system from within and adding a natural glow to the skin. Avoid too much sugar, oil and aerated drinks. Have home cooked and fresh food as much as possible.
Maintain hygiene – wash your towels, pillow cases, bed linen, makeup tools etc. regularly. And when you go for makeup trials, ensure that the MUA is using clean and sanitized products on your face.
Lastly, try not to stress too much!
Thanks Ankita, that was SUPER Helpful. Girls- check out
Corallista
for your daily dose of beauty product reviews and tutorials. Also my own skin is dry- normal. If you would like to know about my pre-bridal skincare routine (honestly its not as elaborate as this) let me know and shall do a post on it! Also comment below to let us know what other kind of Bridal beauty articles you want to read.
Getting hitched? Check out our recommended wedding professionals gallery