Pretty Chennai Wedding With A Meaningful & Sustainably Sourced Trousseau!
BY Sakshi | 26 Oct, 2020 | 2172 views | 6 min read
Not often do we come across a wedding where the outfits and the trousseau have so much meaning, thought and back story! But that's what you can expect when the bride has her own platform that promotes conscious fashion! New York based Dhanya and Vikram tied their wedding in a heartfelt ceremony in Chennai, and we love everything about it- right from the locally sourced and created outfits to the bridal looks to beautifully planned functions, which the couple did while sitting abroad! Also, we love the idea of a Sundowner after the Reception at a beach villa that the couple pulled off to celebrate with their friends who flew in from all over the world!
Meet Dhanya and Vikram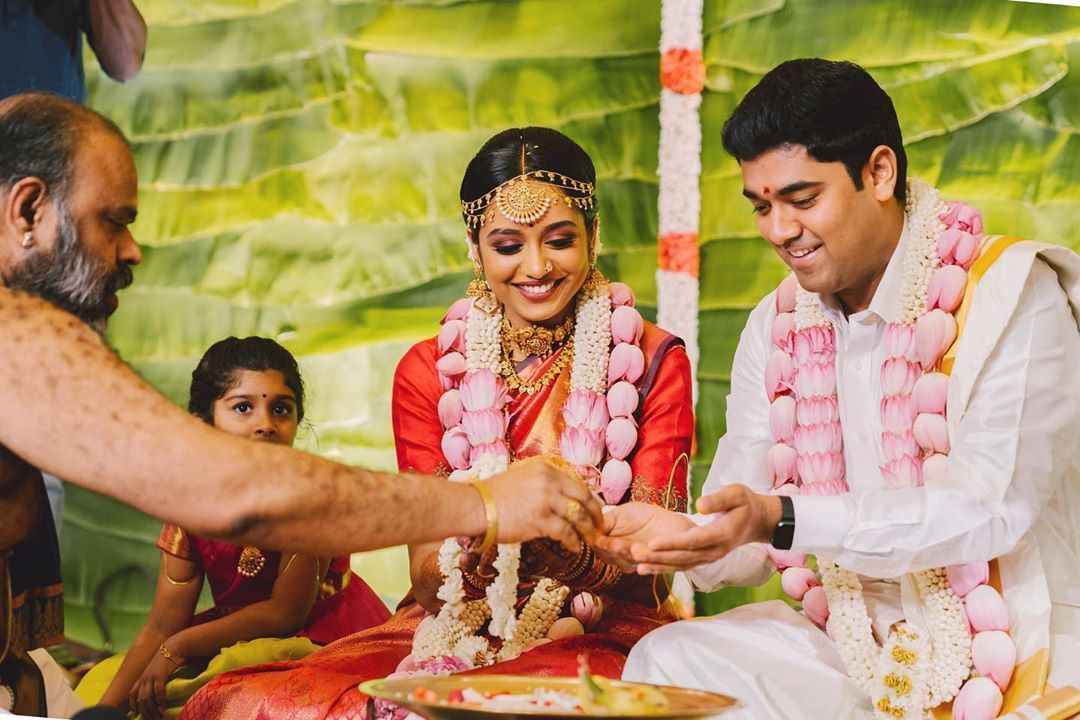 We met in Singapore, where Vik and I both got our undergraduate degrees. He was a few years ahead of me in college and was an avid photographer. He and another friend of ours started a photography company and as part of them building their portfolio, they were looking to shoot friends. I was their first guinea pig and that was the first time Vik and I met. In Jan 2011. We've grown into different human beings since, but somehow always stayed in touch with each other. In 2018, Vik moved to New York, where I was living and we started dating. We got engaged in March 2019 and got married in March 2020 in Madras, which is home for both of us. 
Mehendi
We wanted the Maruthani to be easy, welcoming and heartfelt. We set up a really simple tent in the grounds I associate most with my childhood. I've spent many saturdays here playing, watching movies with parents & their friends and enjoying conversations over dinner as we grew older. I carry many lovely memories from this place and it was the apt outdoor venue for our summer Maruthani.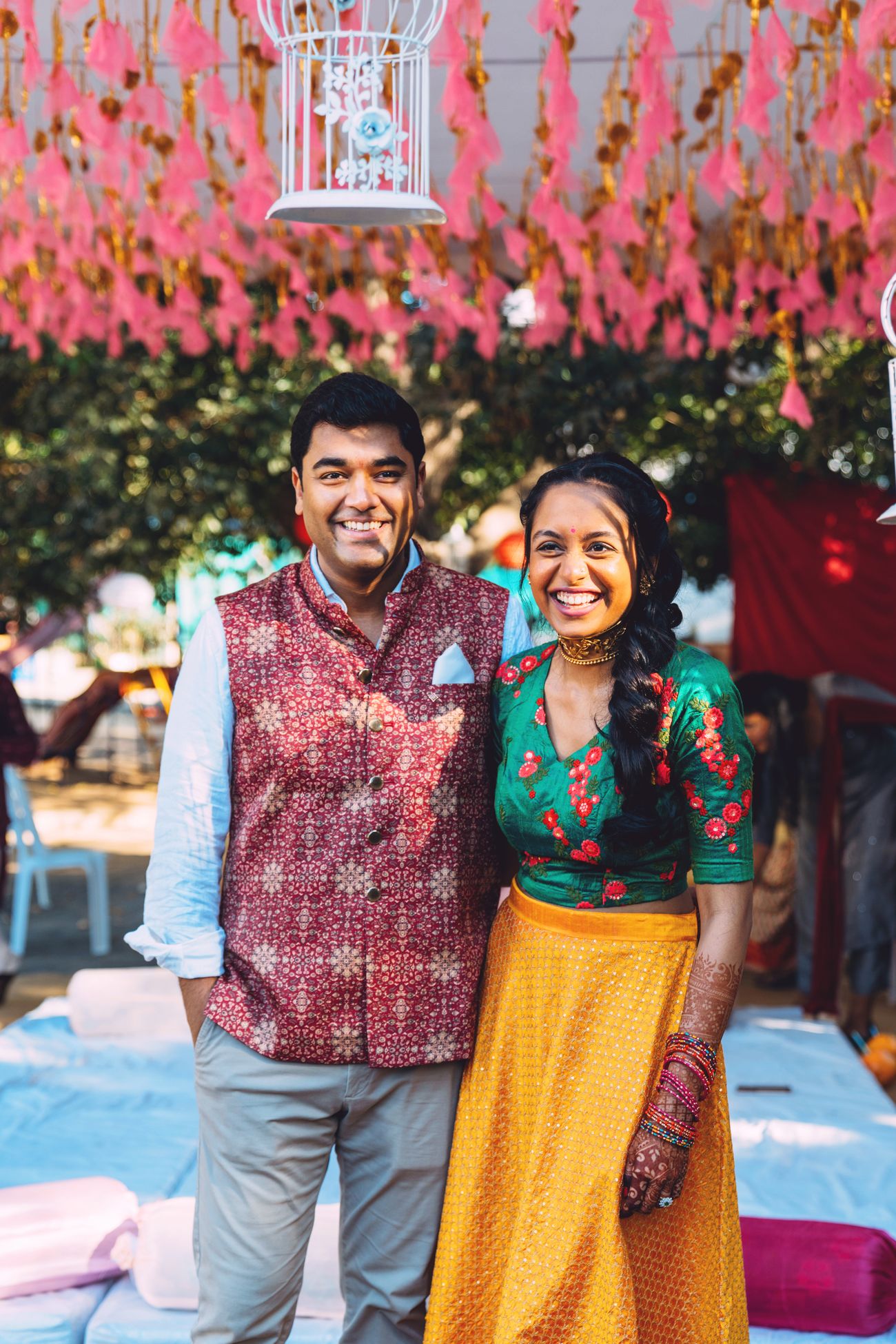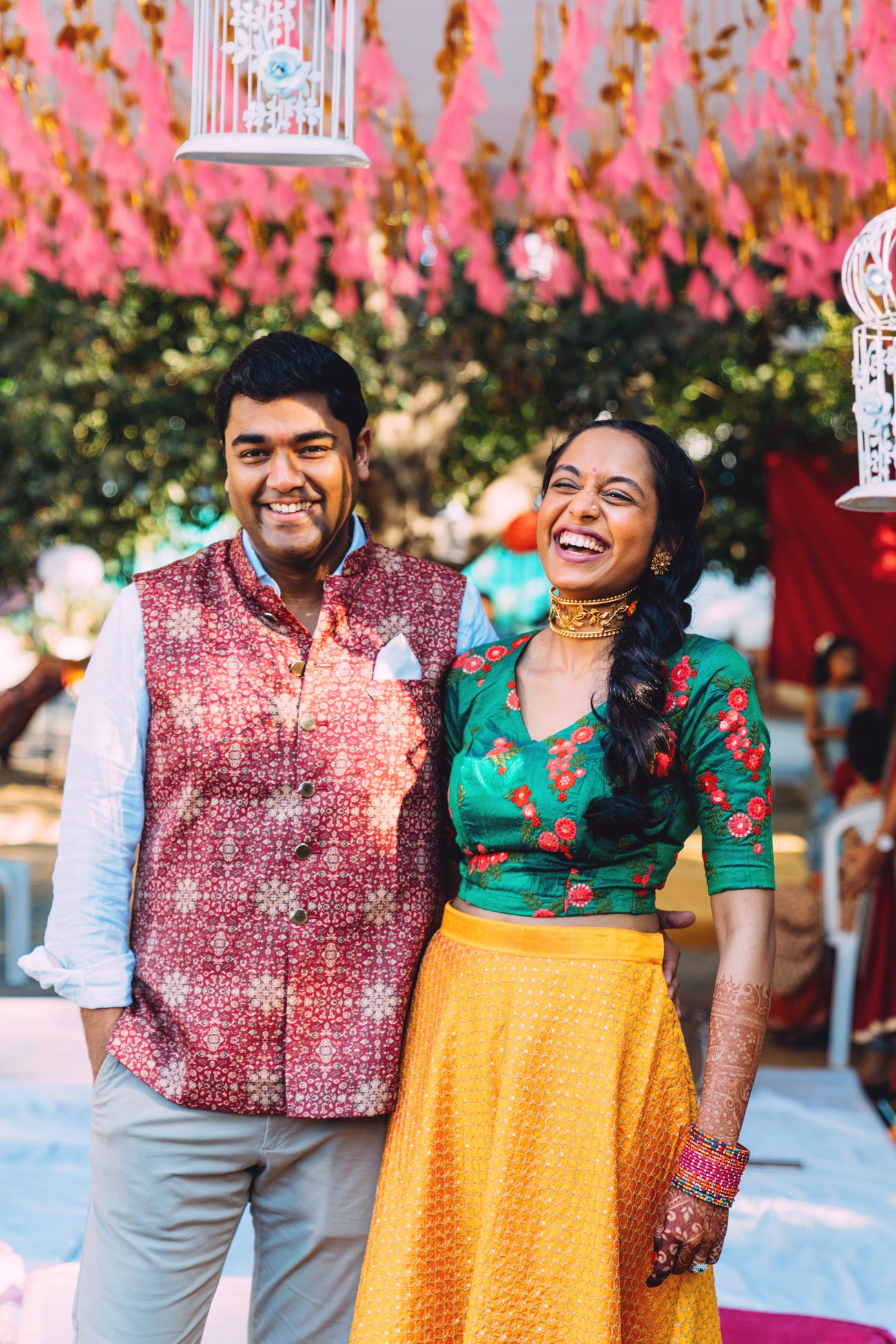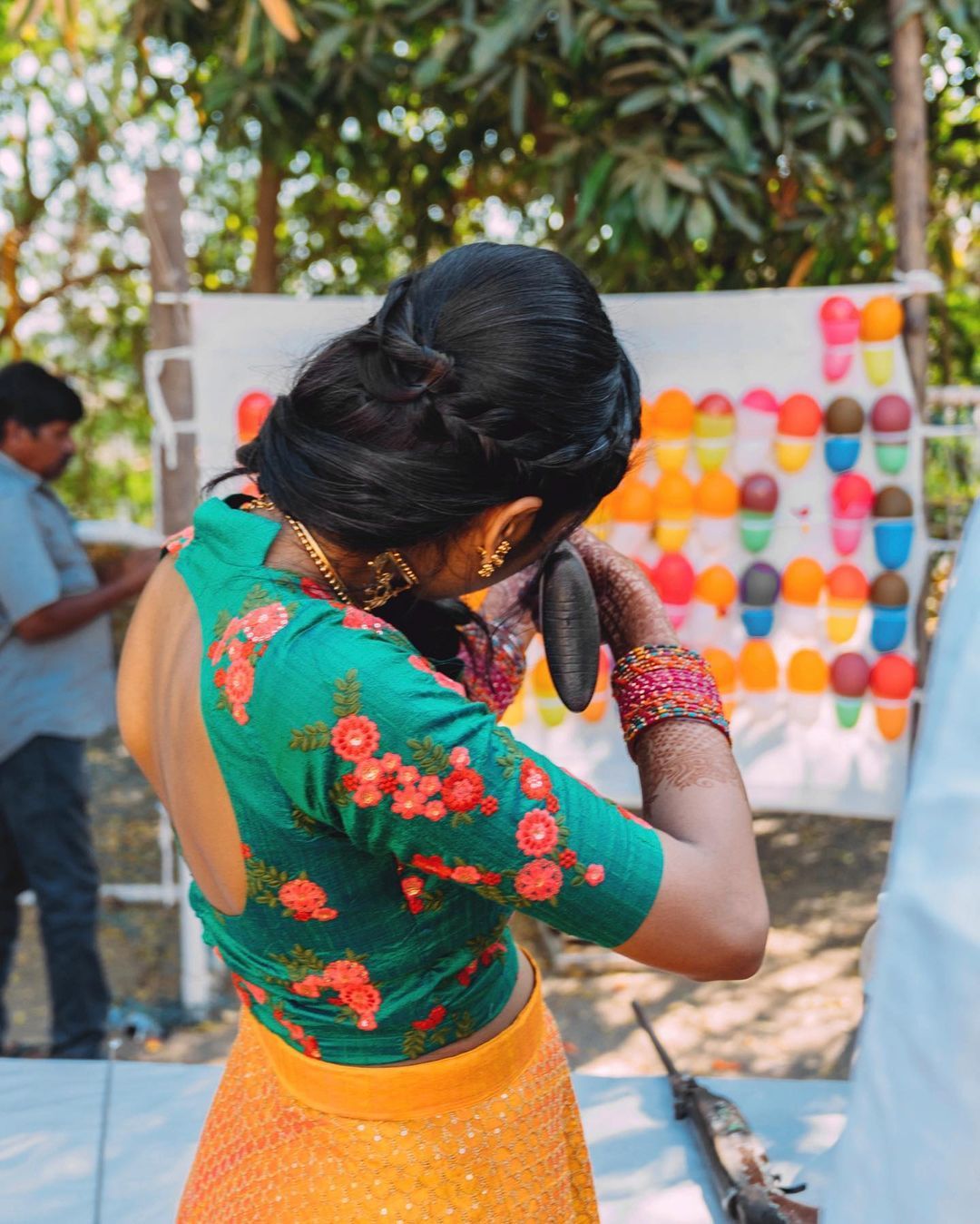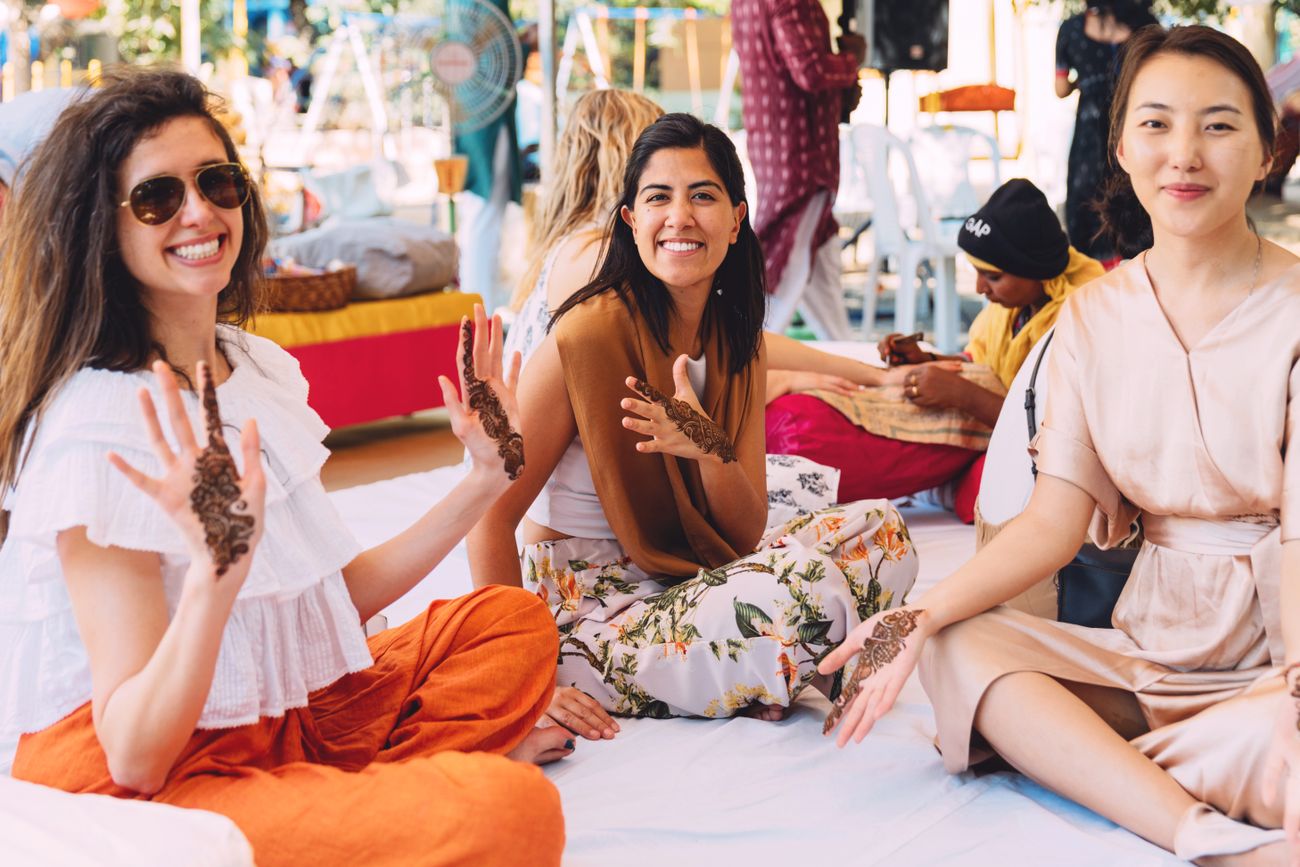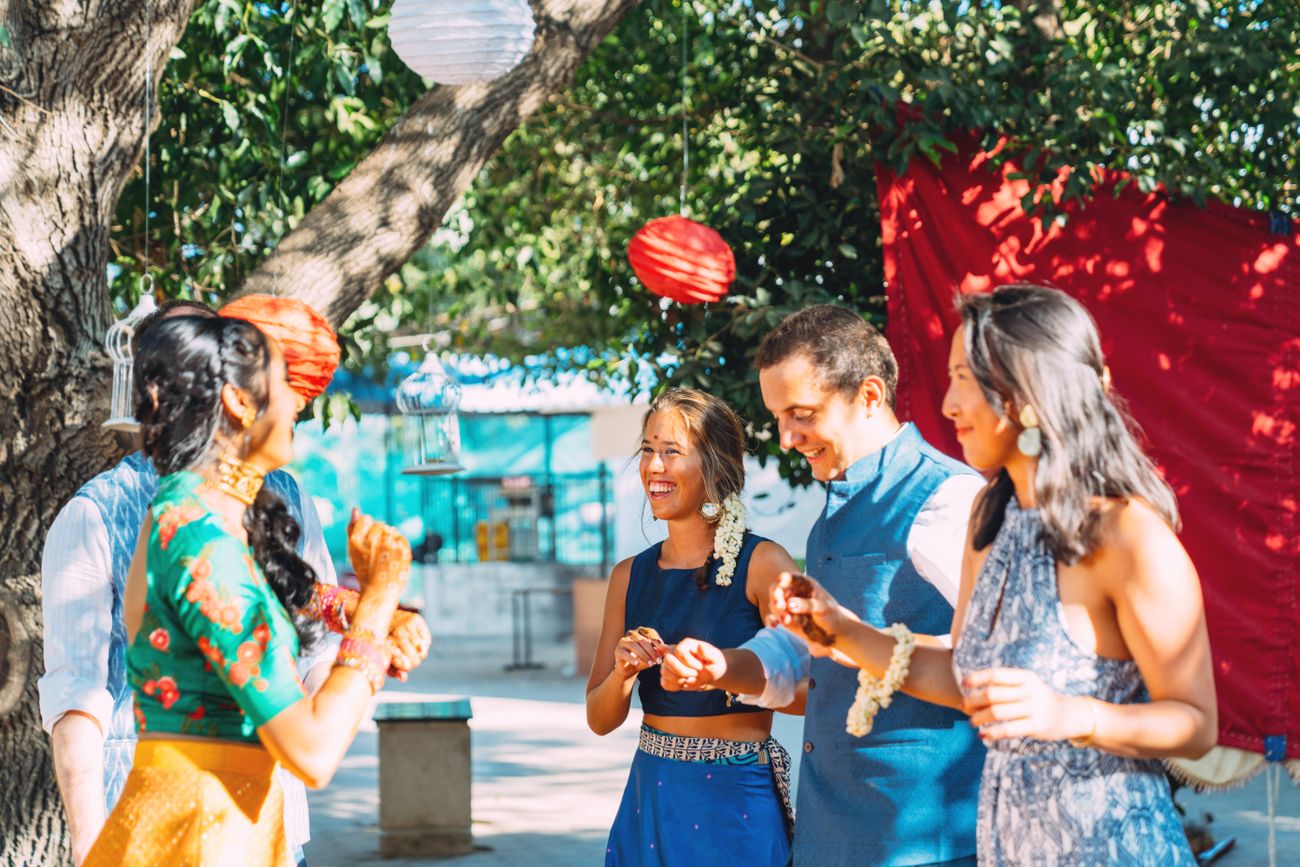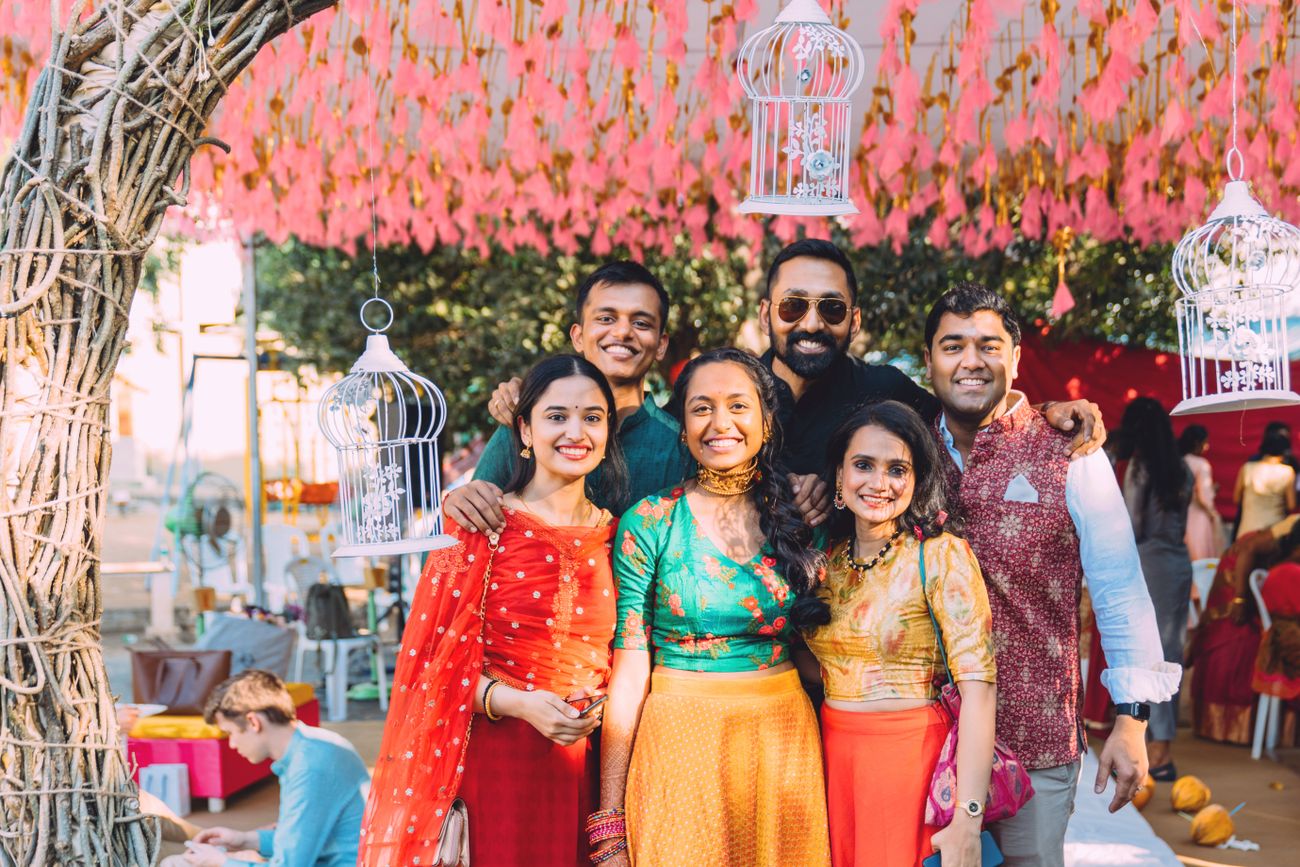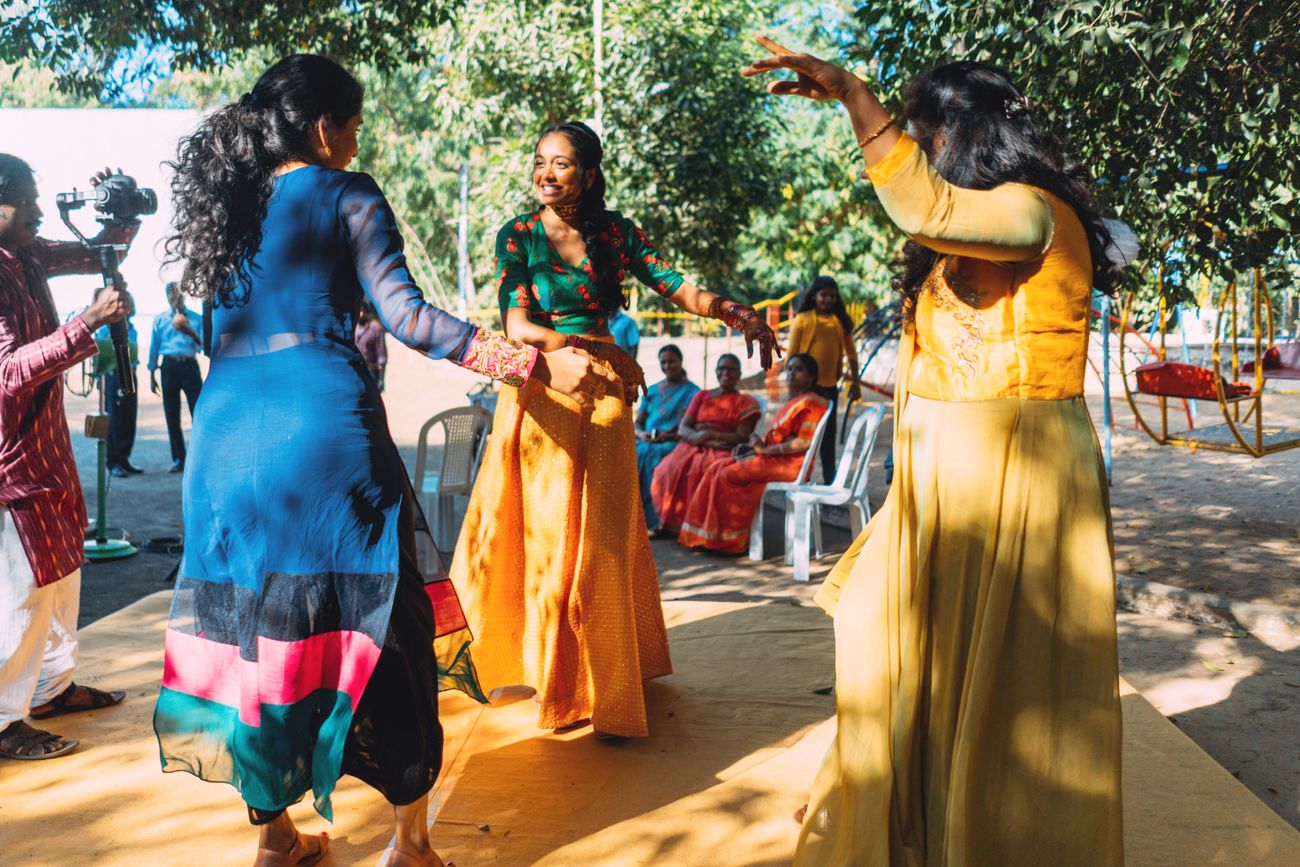 Wedding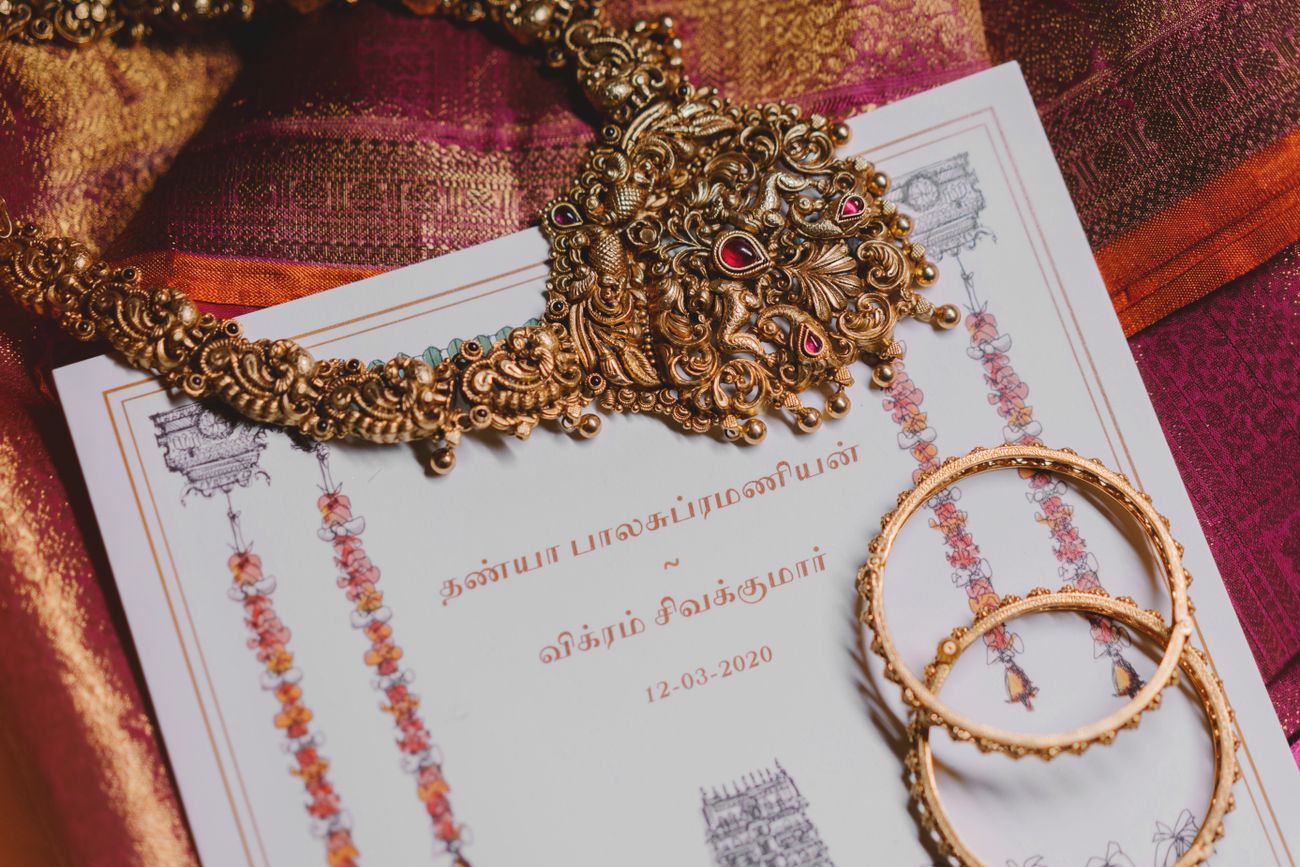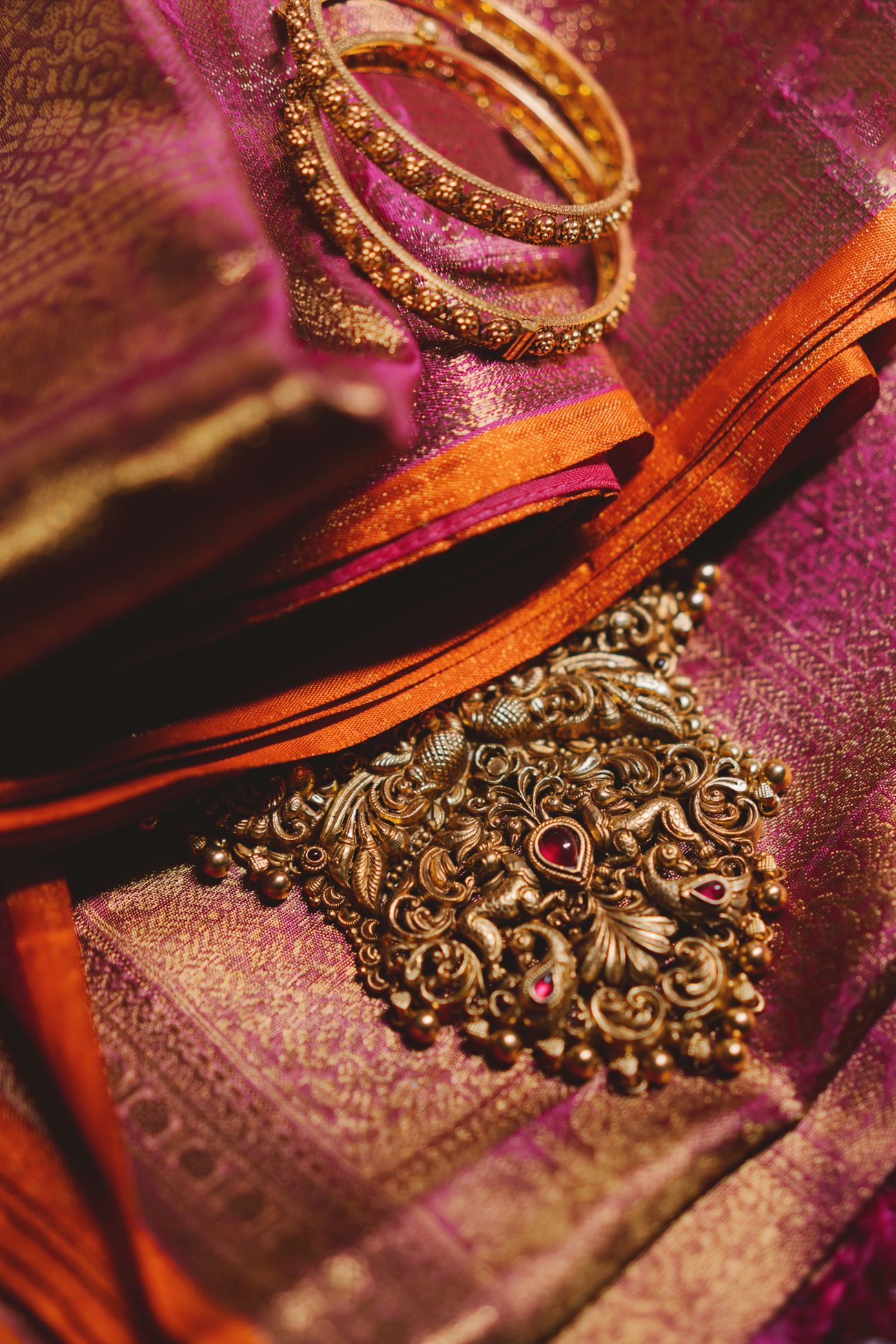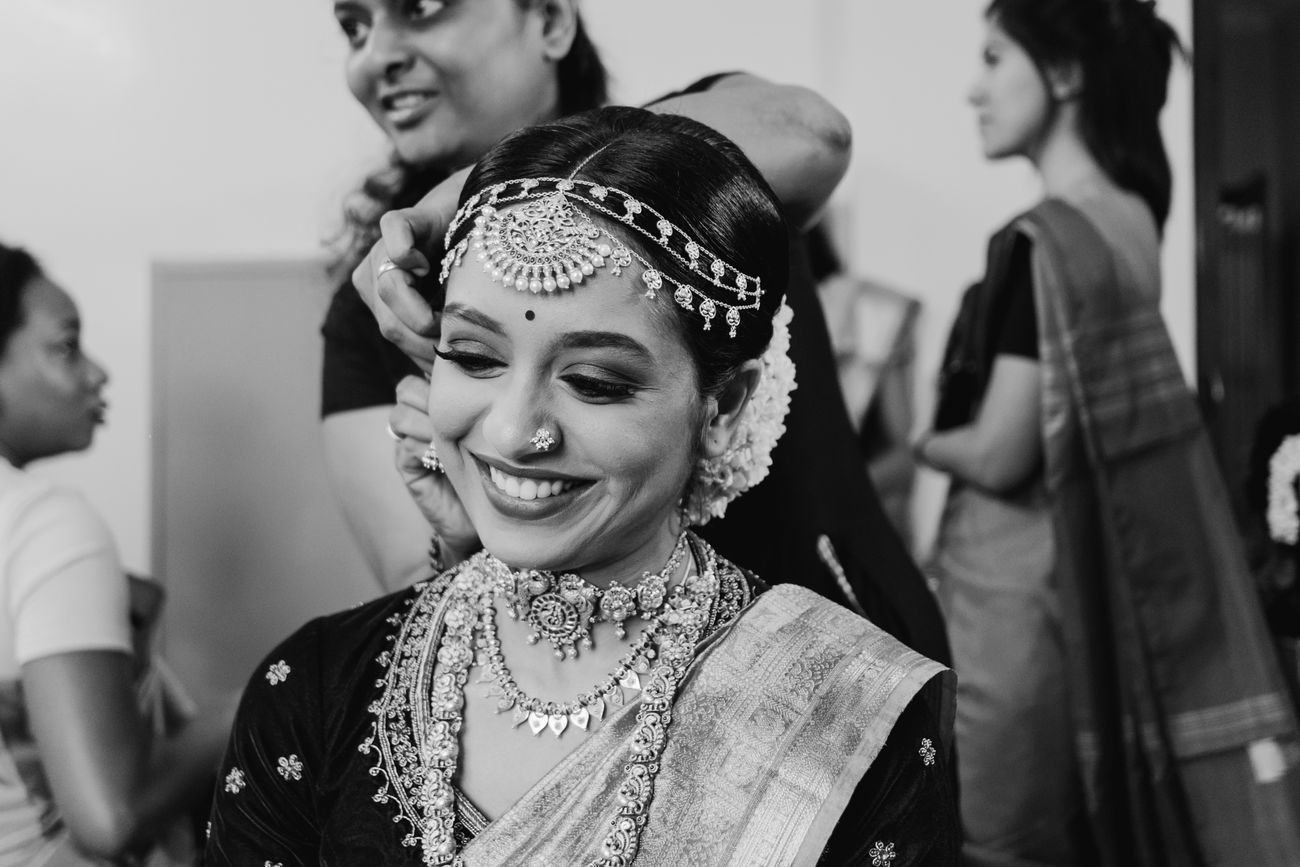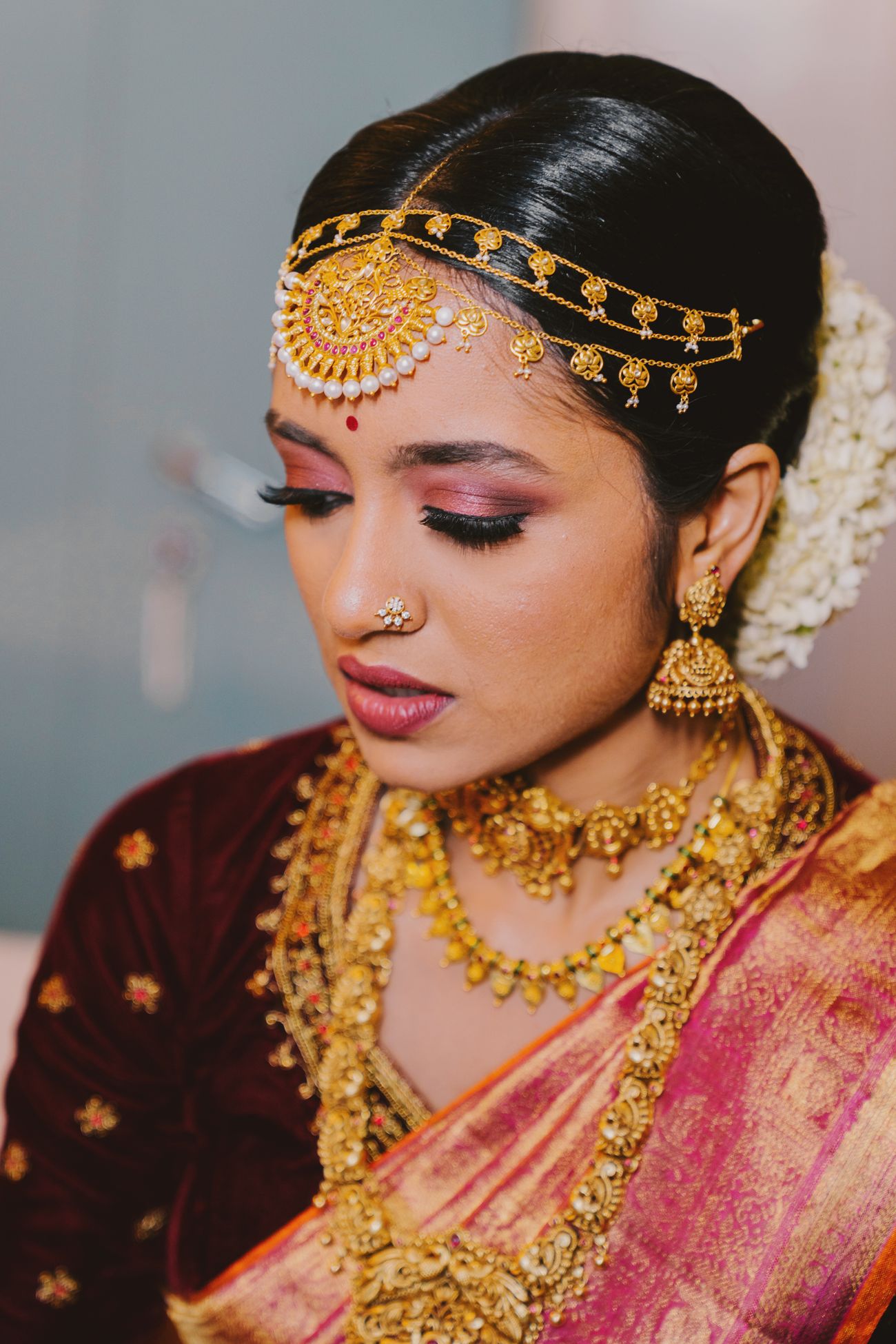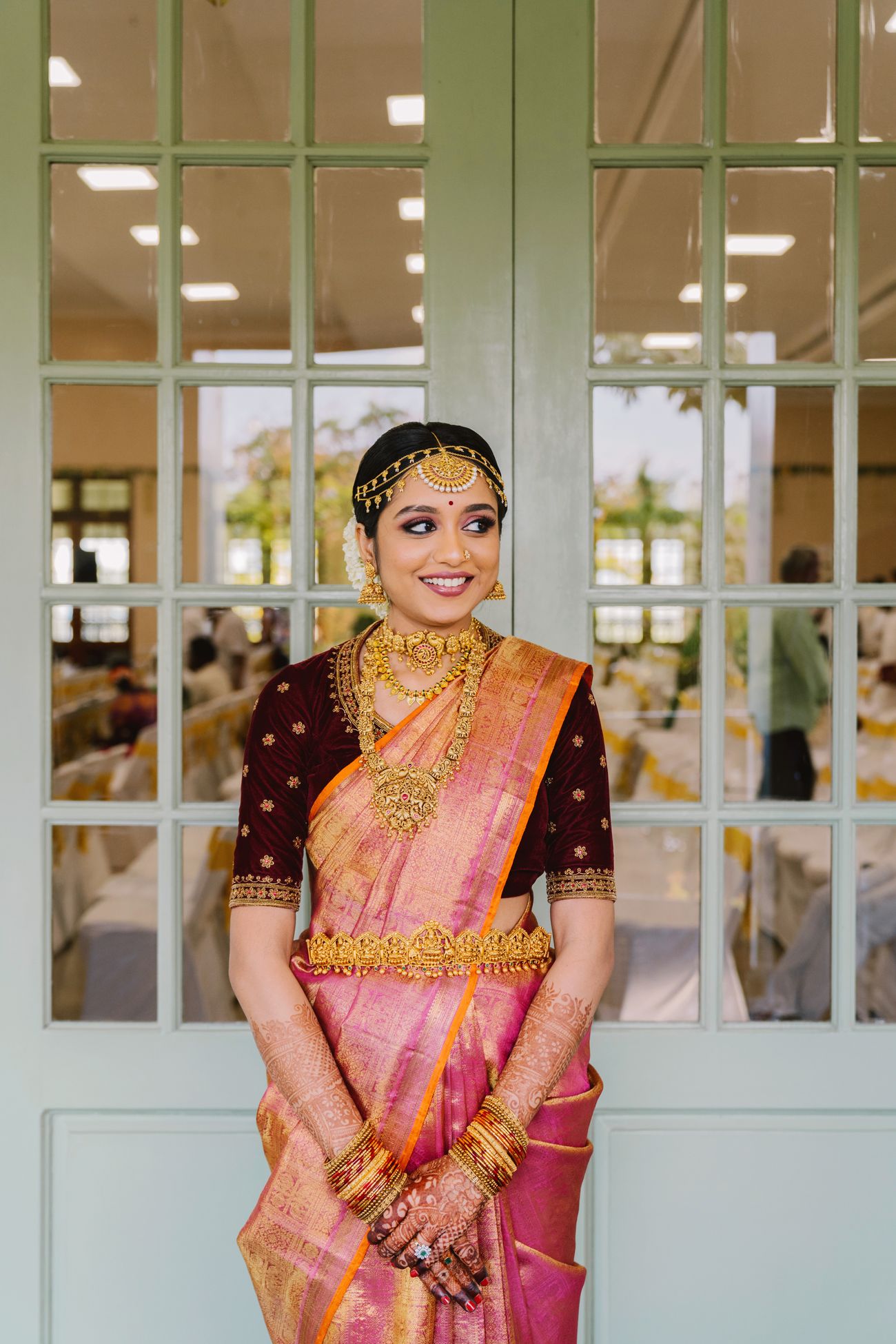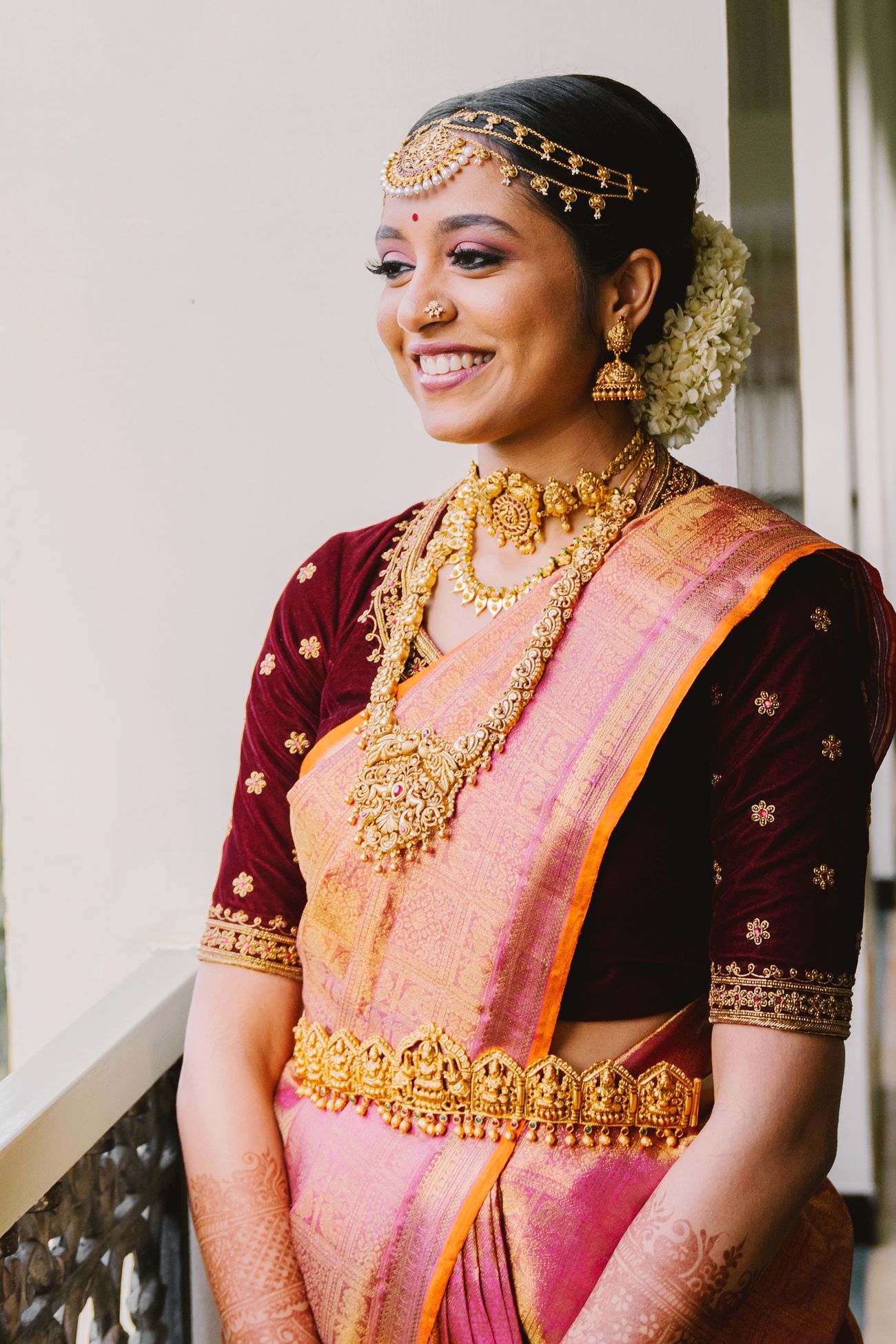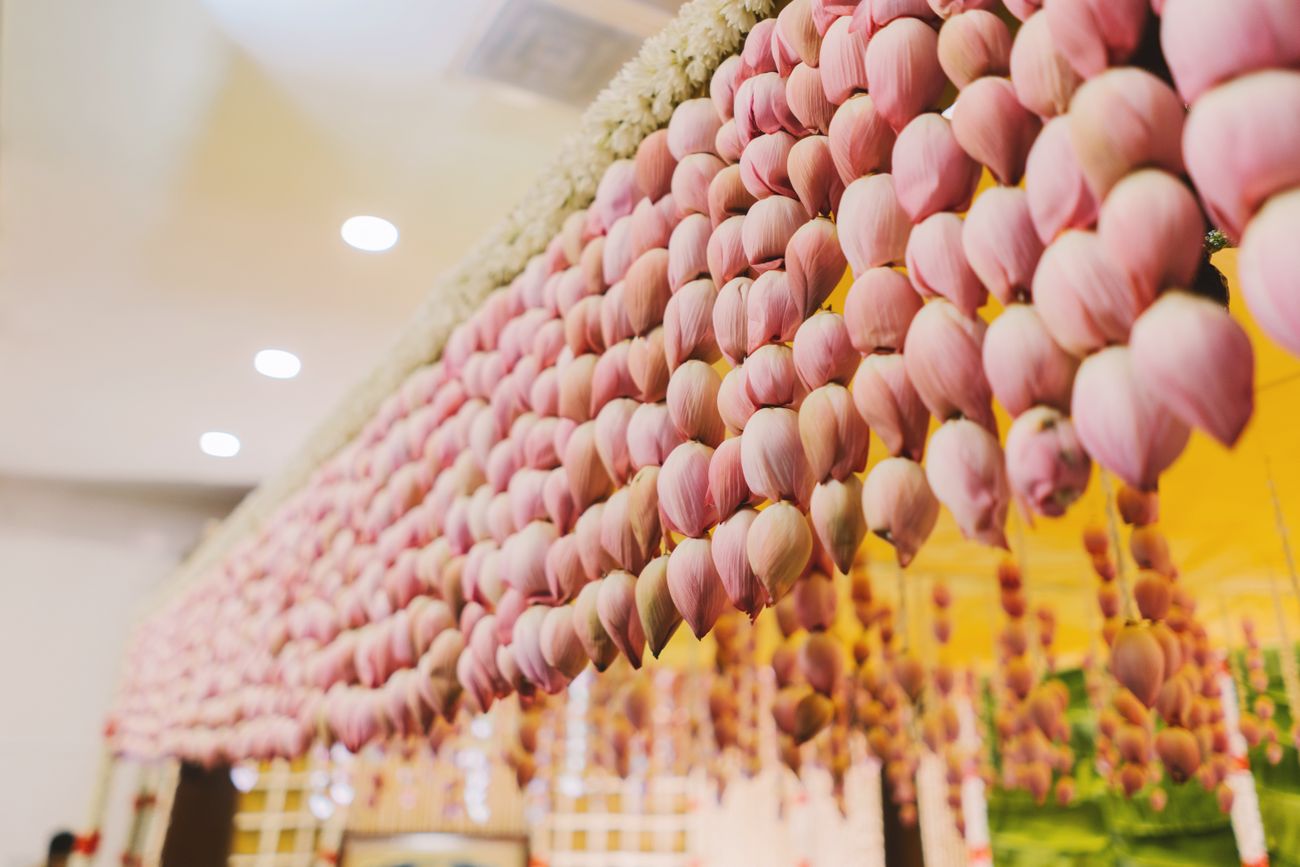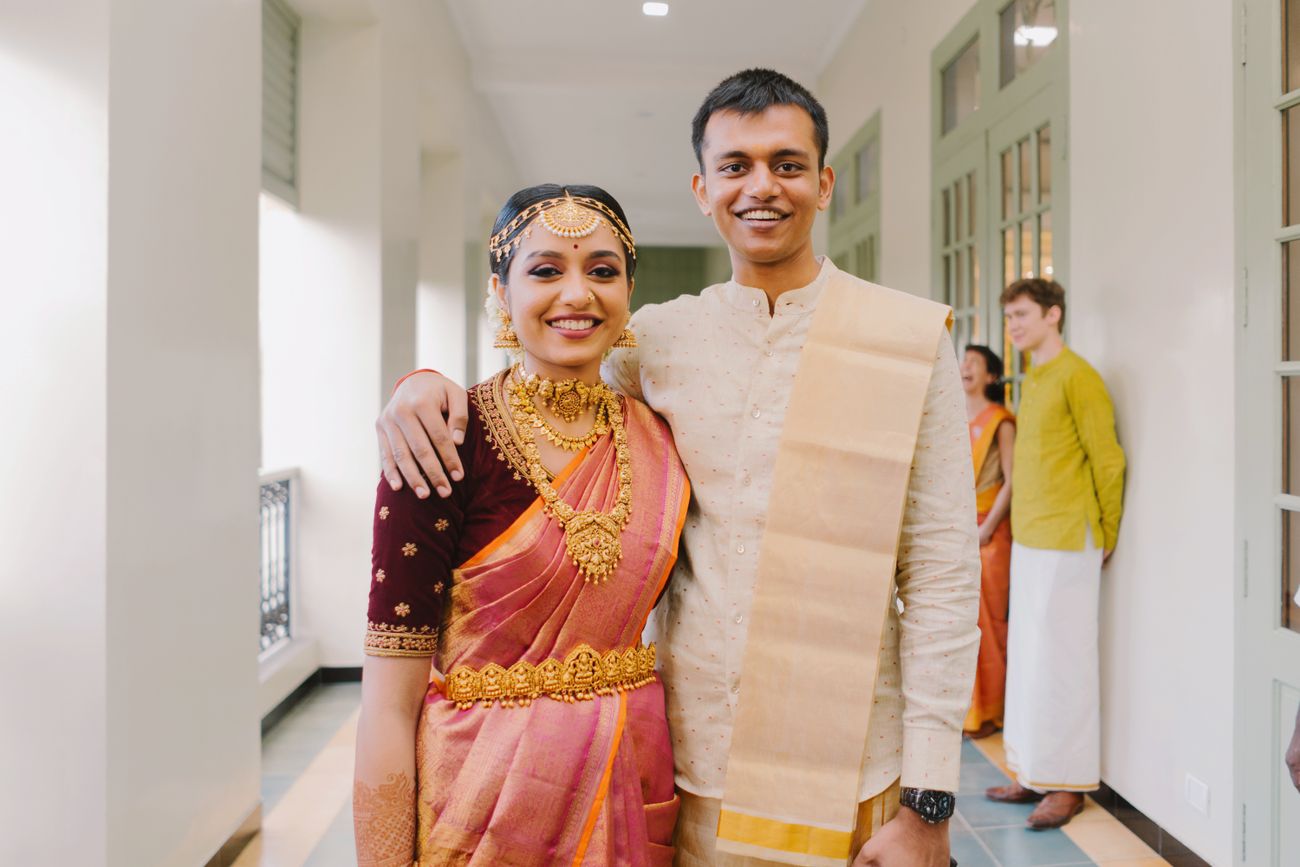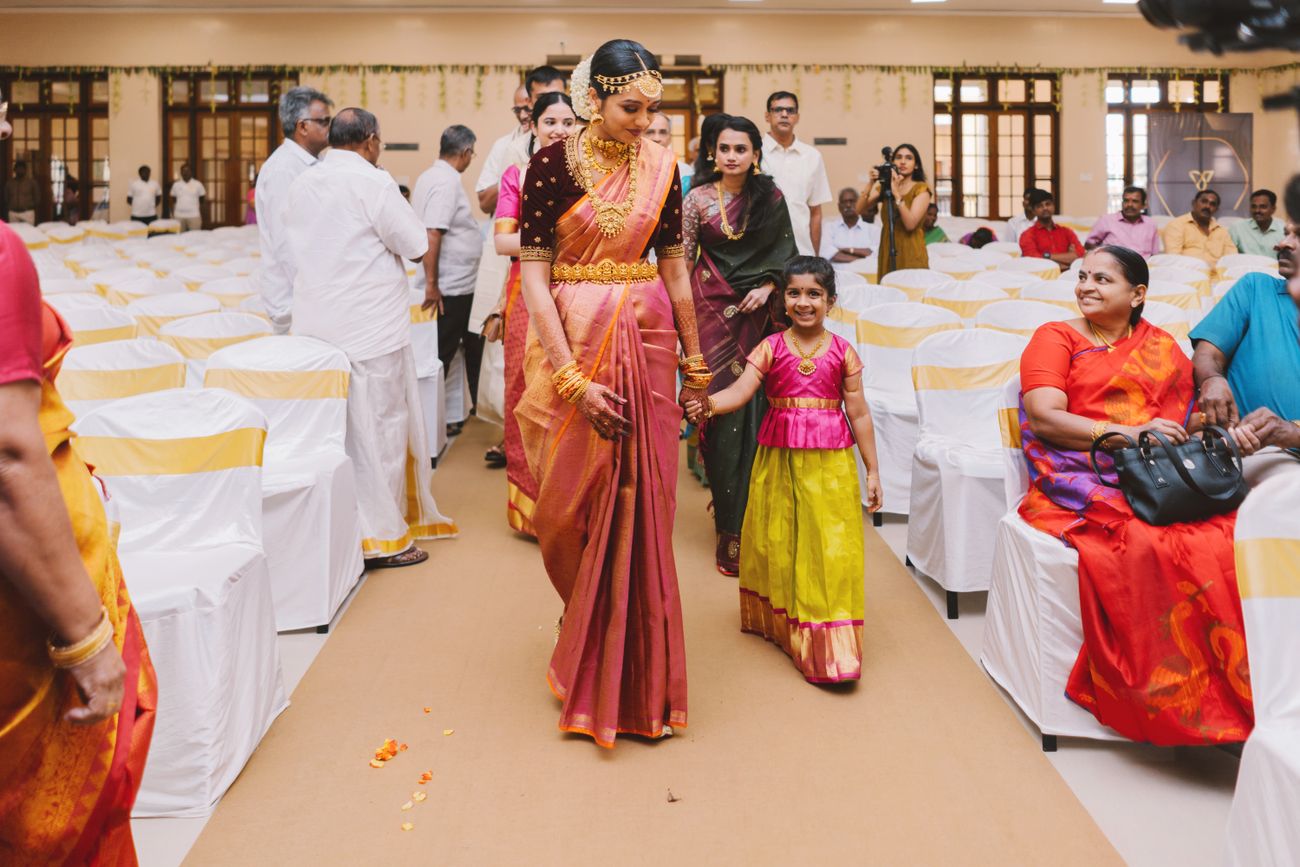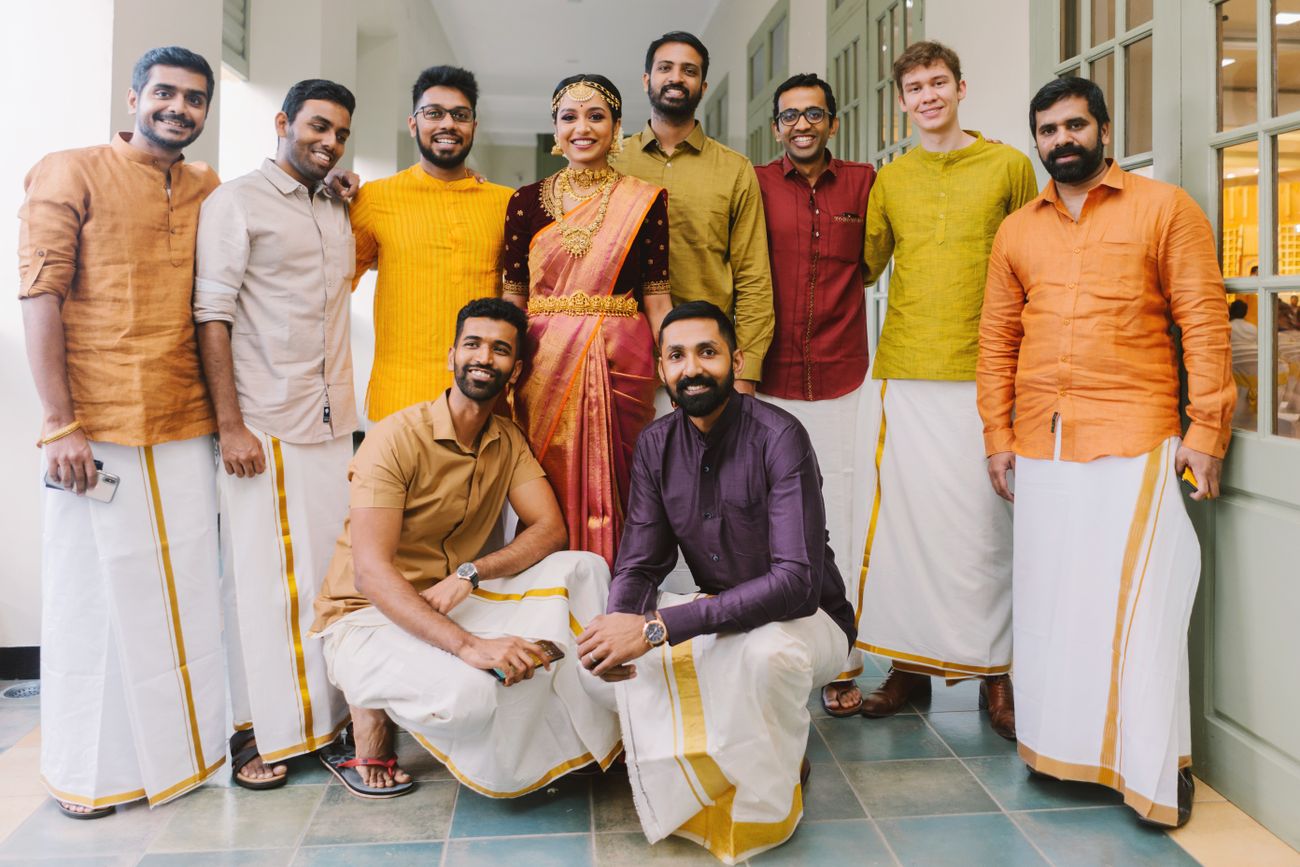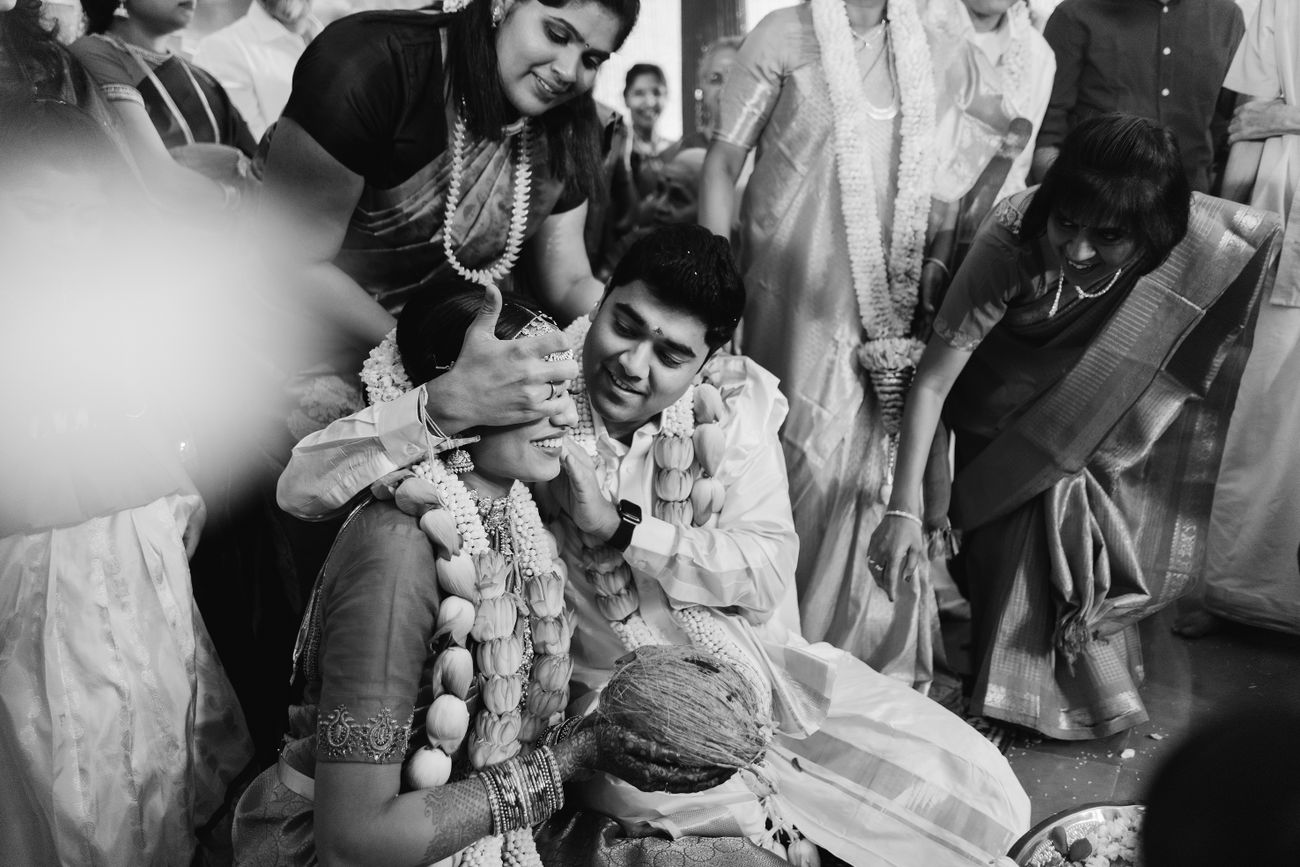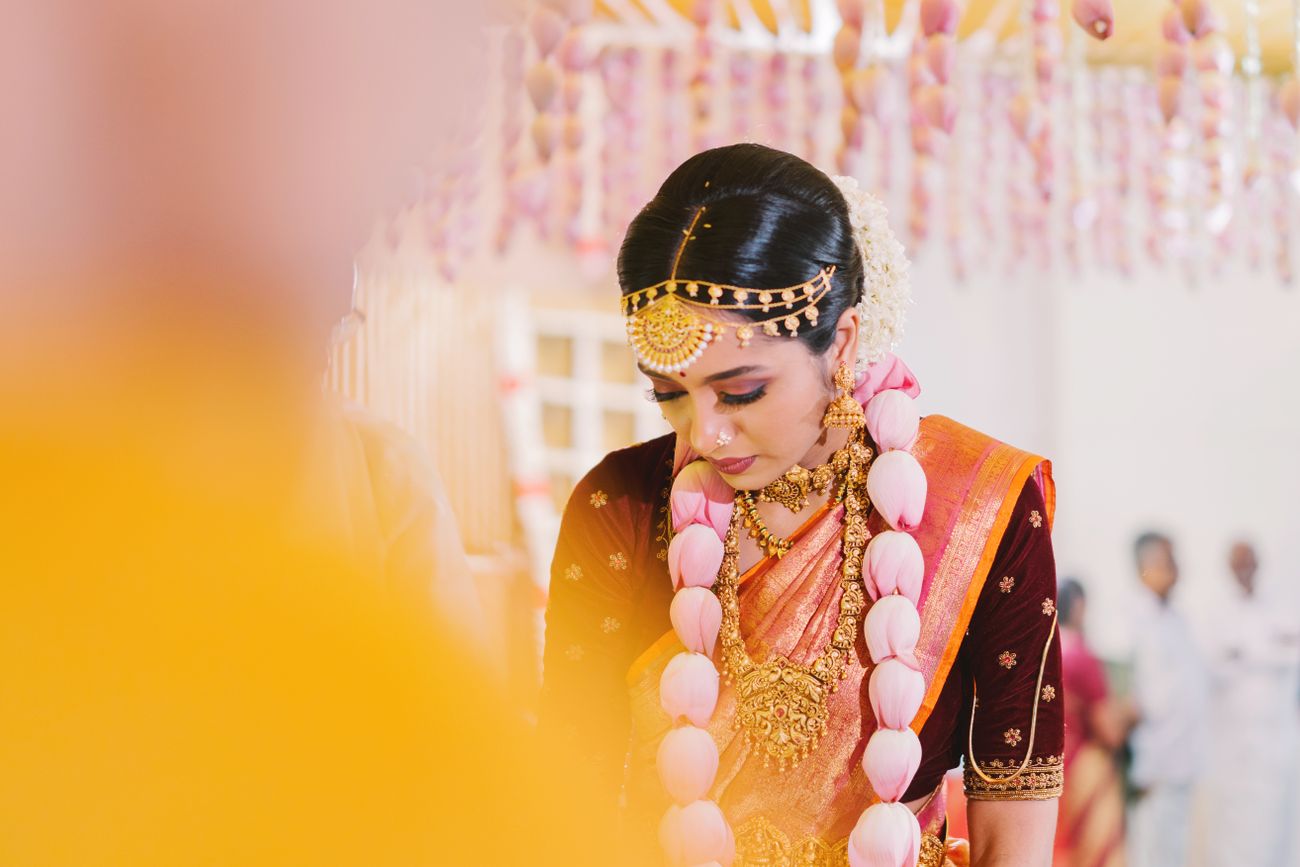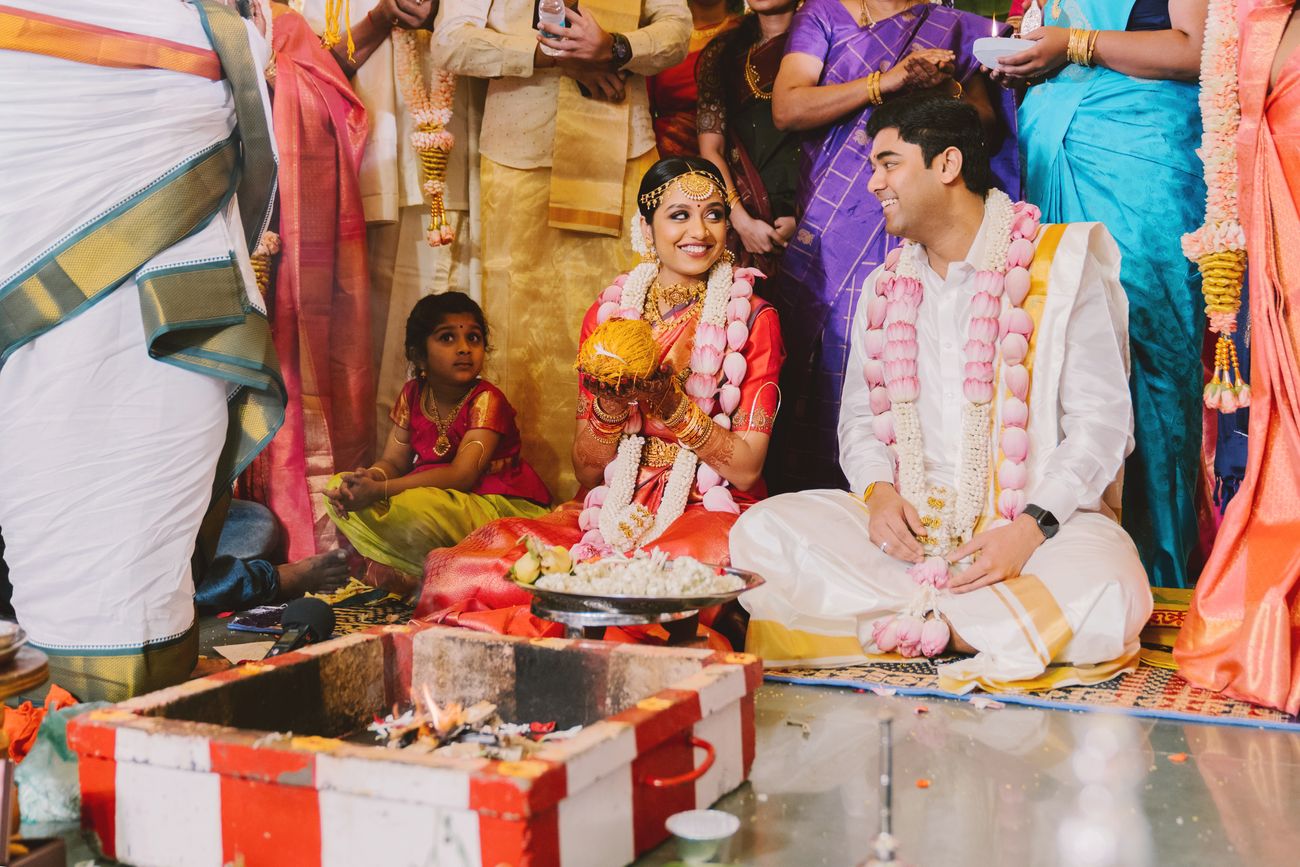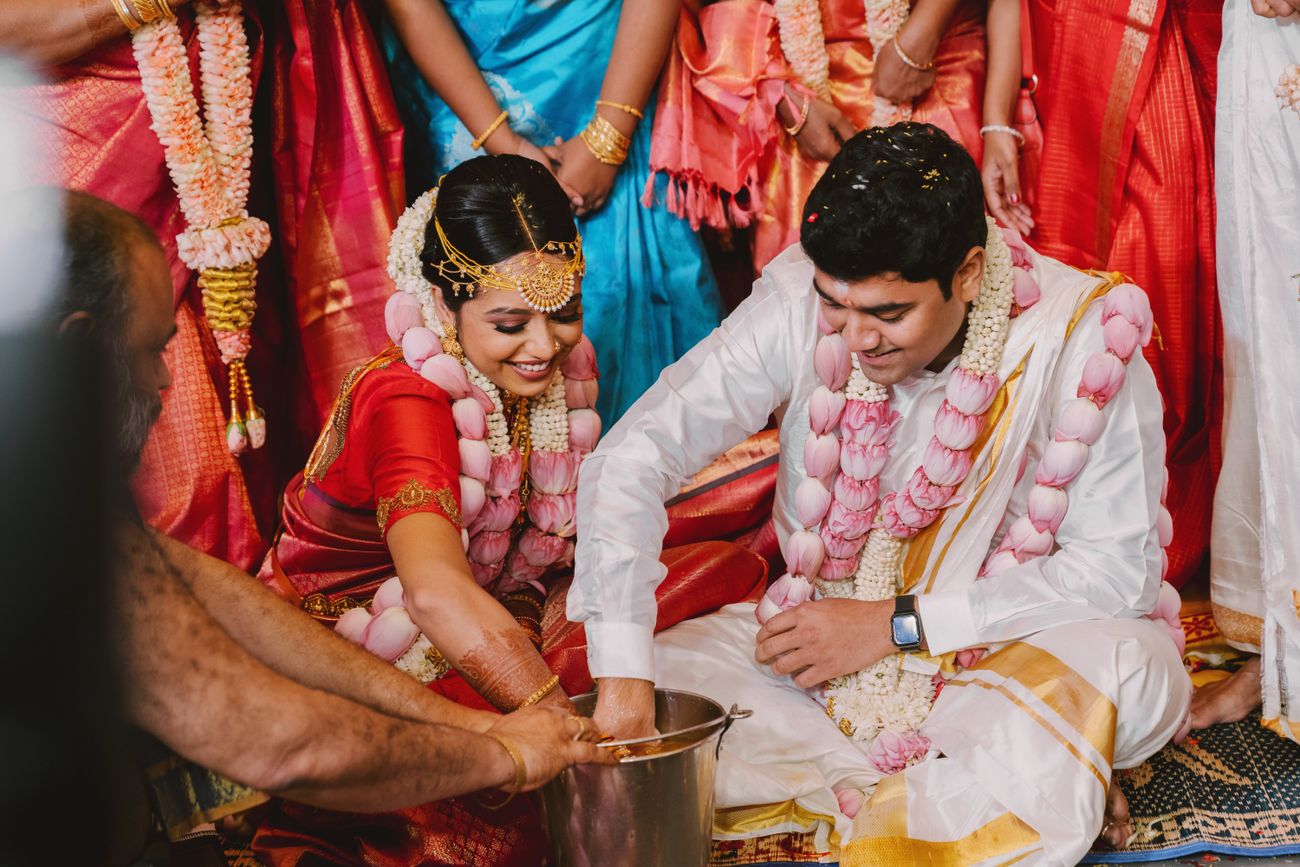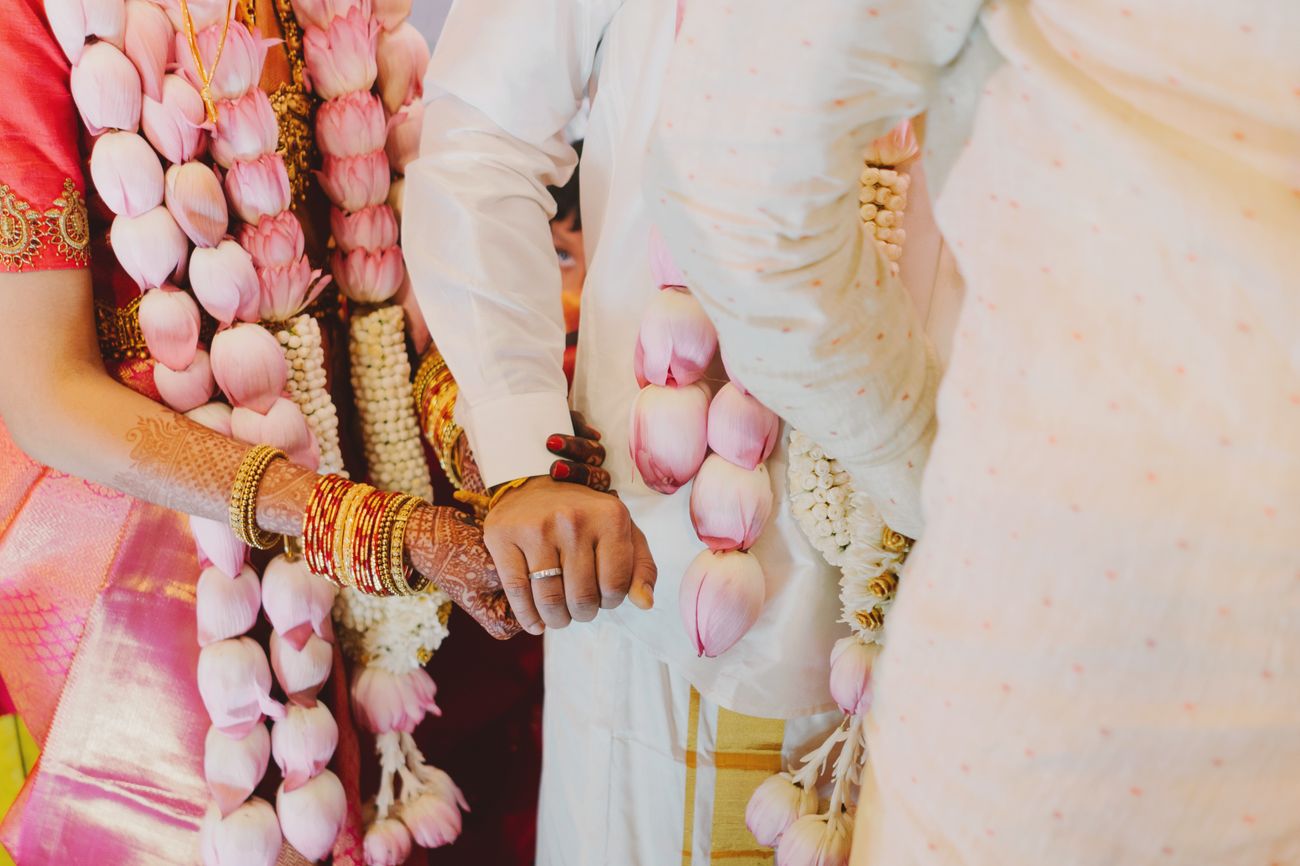 Reception
I enjoyed story boarding for the reception so much. I was trying to go for a Deepika-esque white saree which faced a lot of opposition with the traditional parents. We don't wear white at weddings in the Tamil culture.. so I had to pivot quickly to something equally gorgeous. I had been eyeing this Raw Mango saree for a while never knowing which occasion I would buy it for and realized this was the perfect excuse.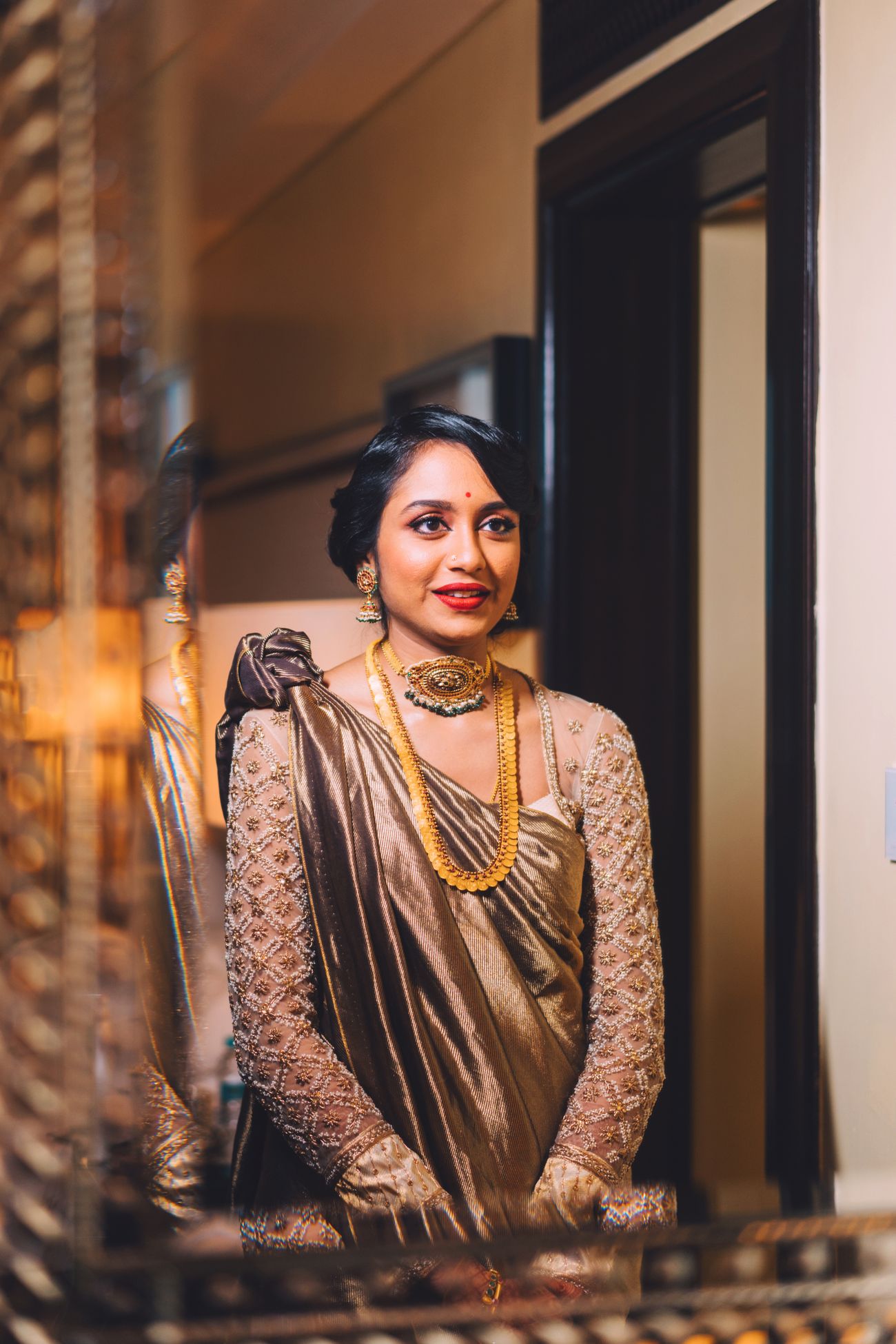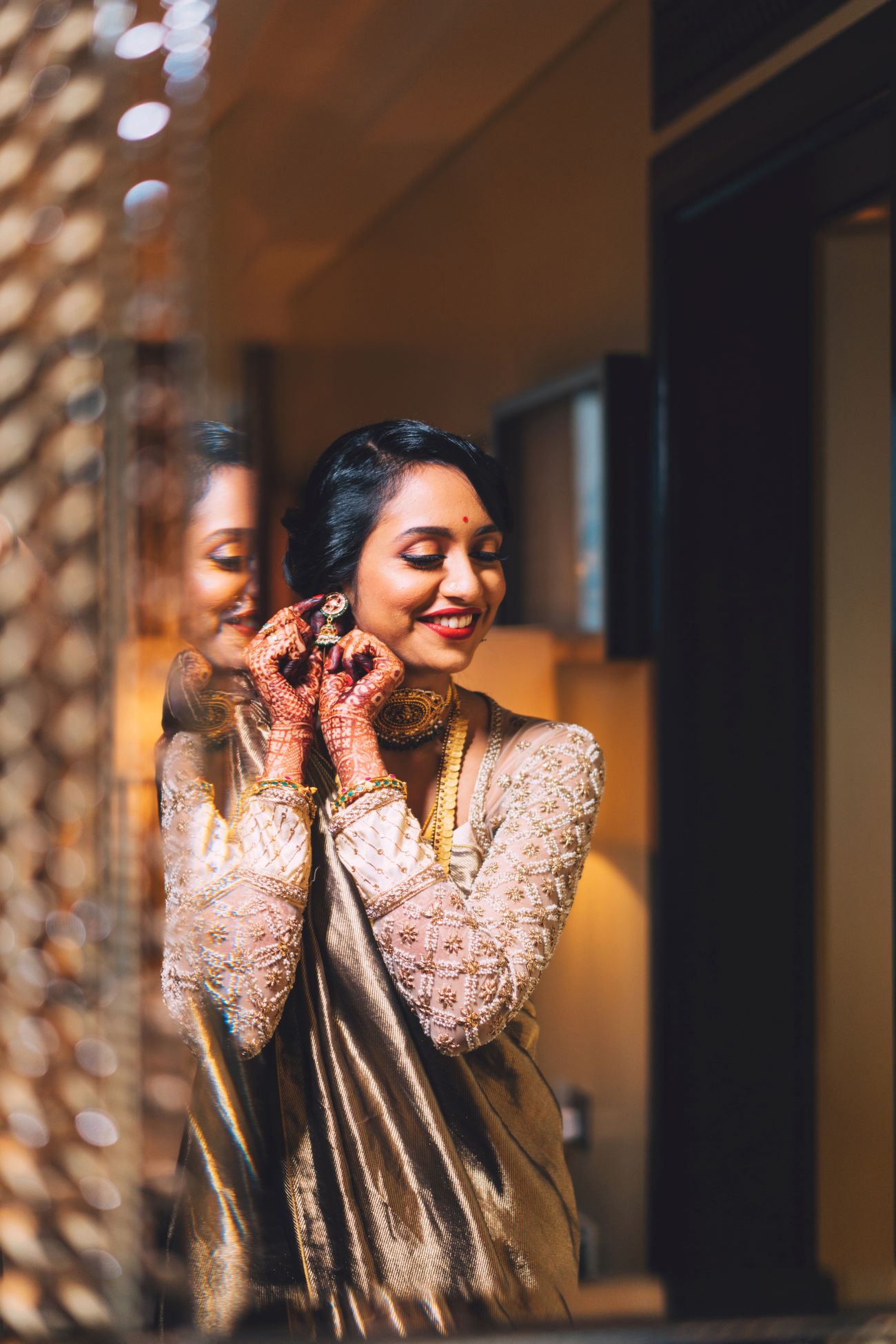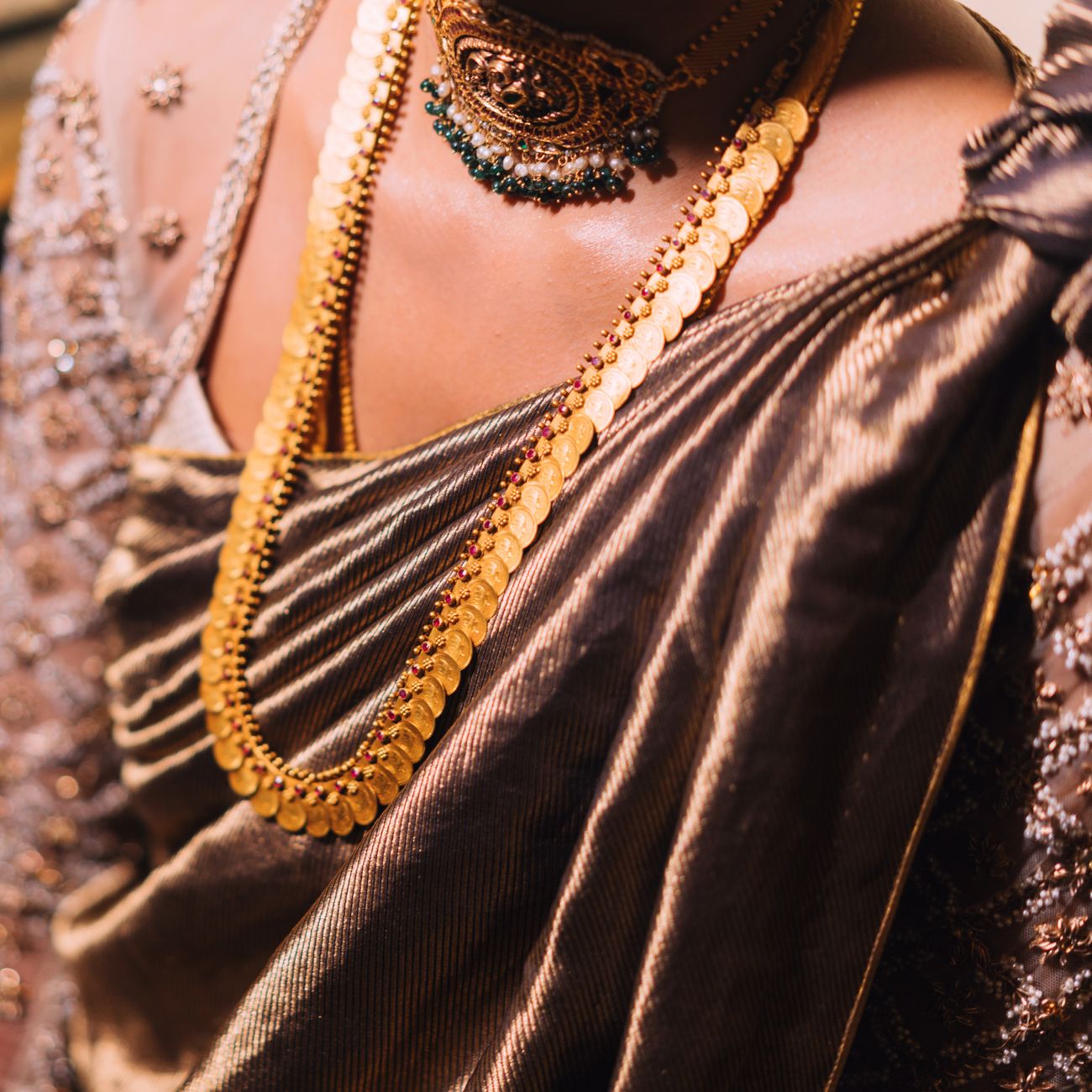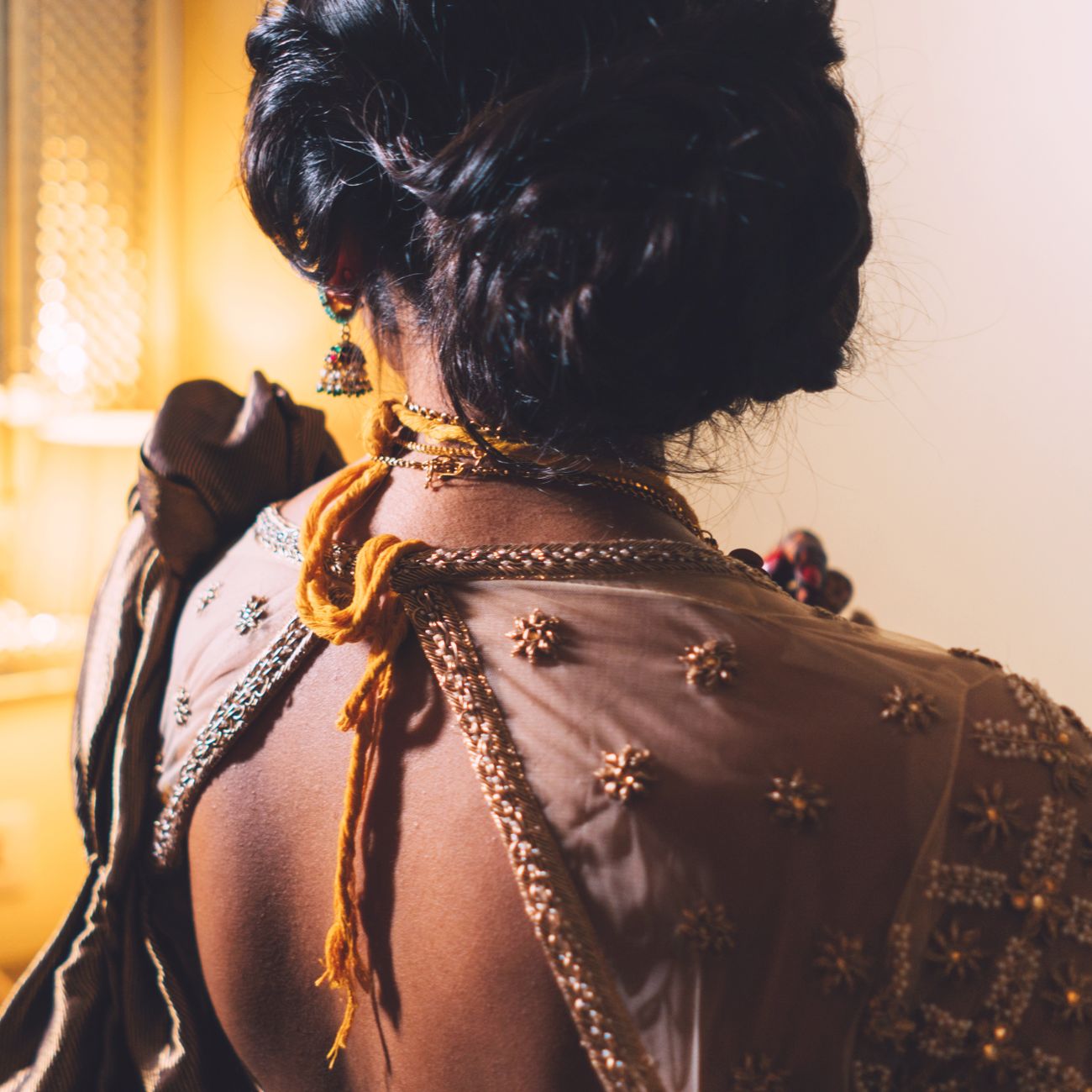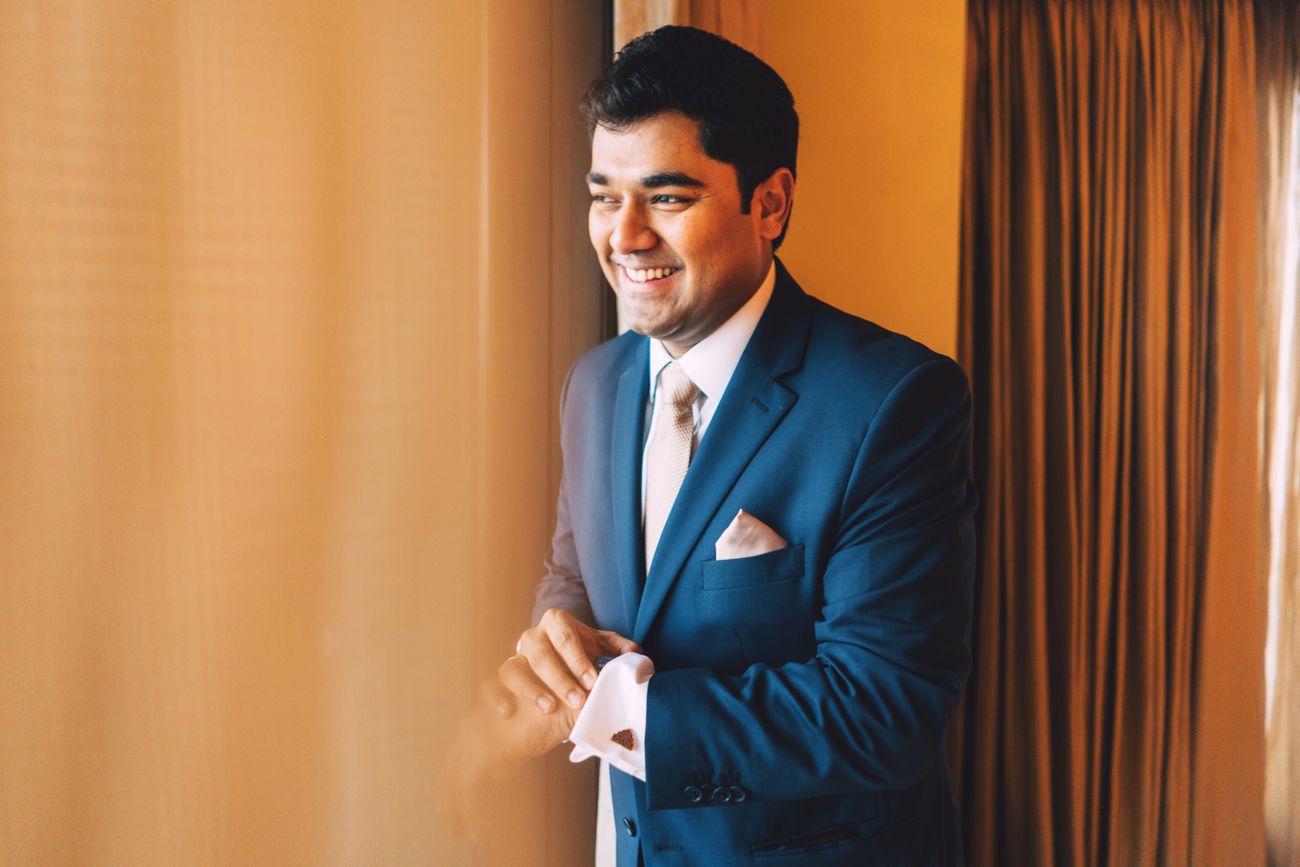 Sundowner
For our final hurrah with our friends, we got them all together at a cute beach villa.. Vikram and I wanted to share everything we loved about the city with our friends most of whom had traveled far to be with us.. we picked some themes that we loved the most - chettinad food, dancing, and cricket. We wanted to see exchange vows and this event felt like the perfect setting to do so! The day was confetti at its best - perhaps the best memory from the whole wedding for me.. icing on the cake was that we danced away on the roof as the sun went down!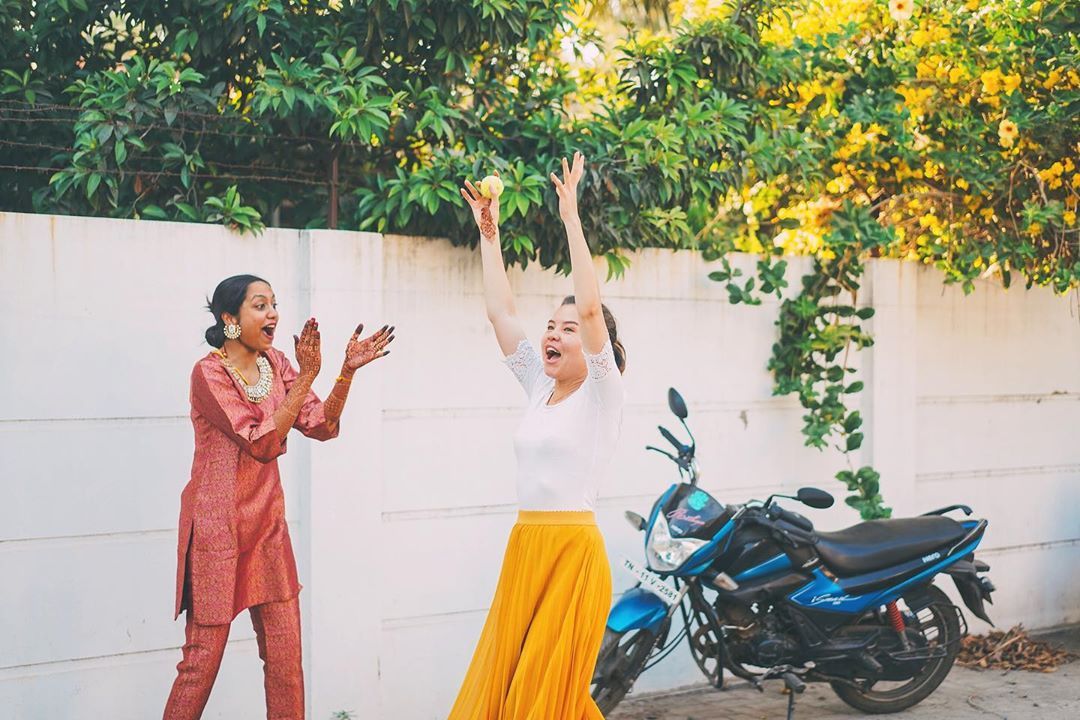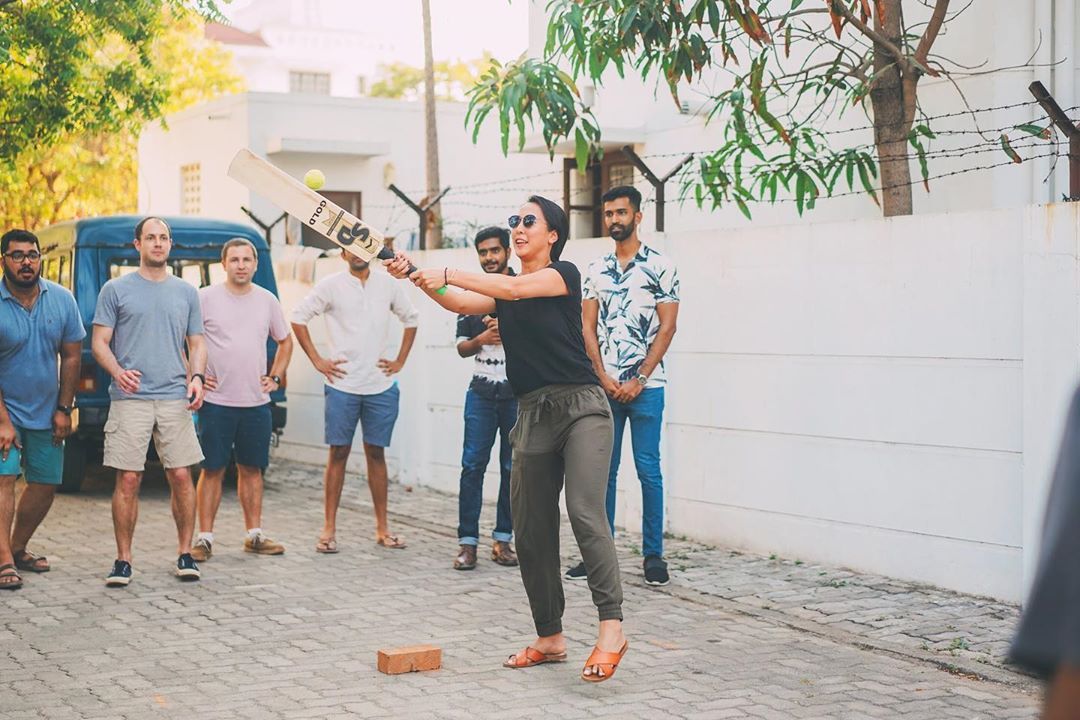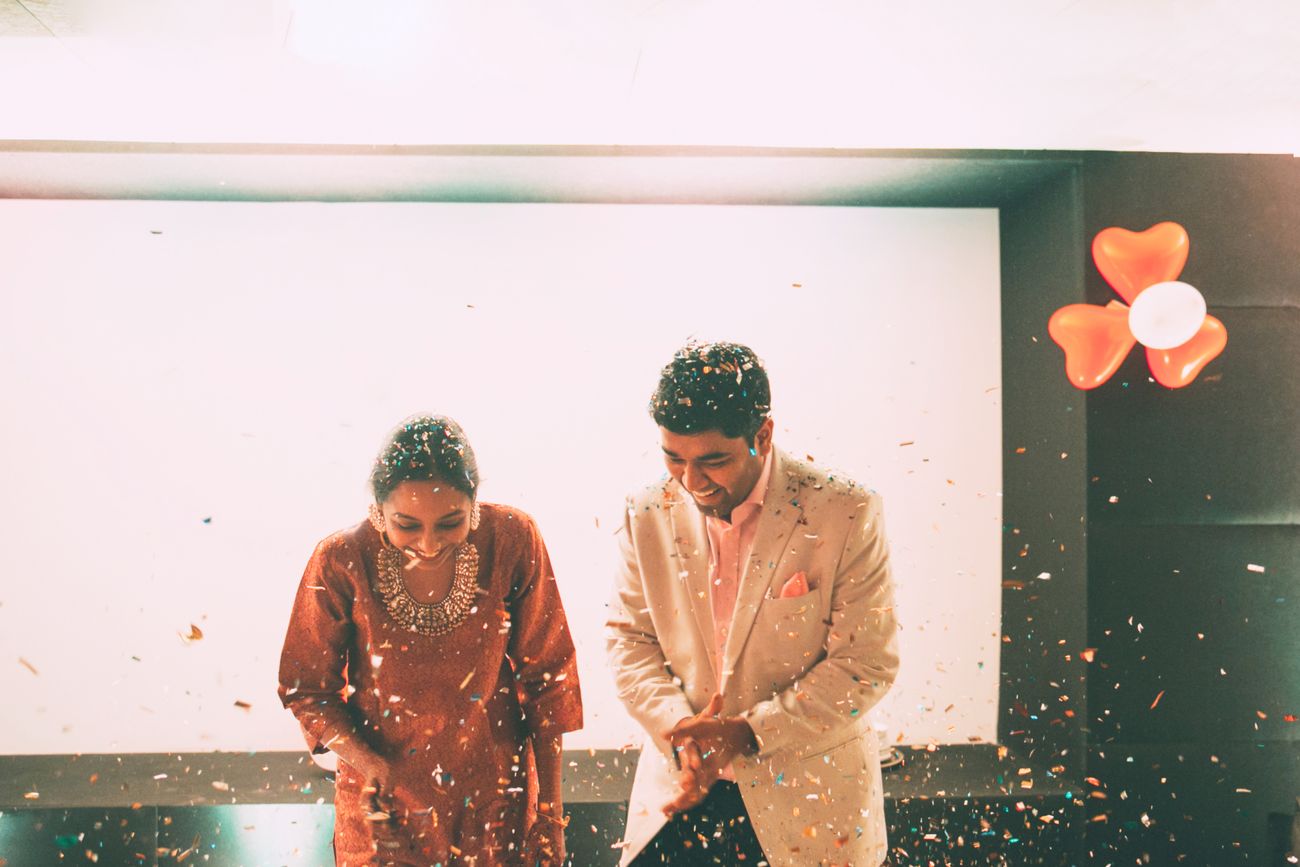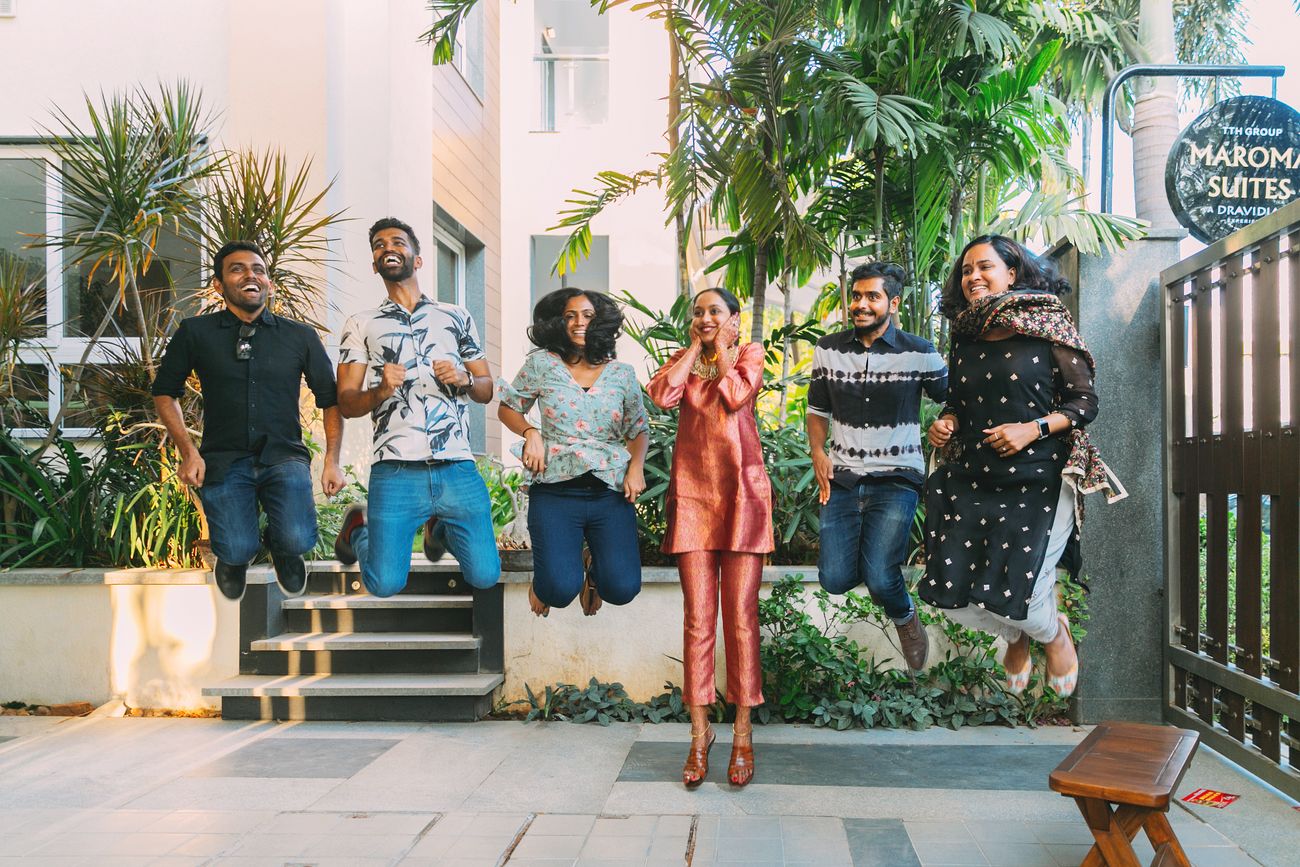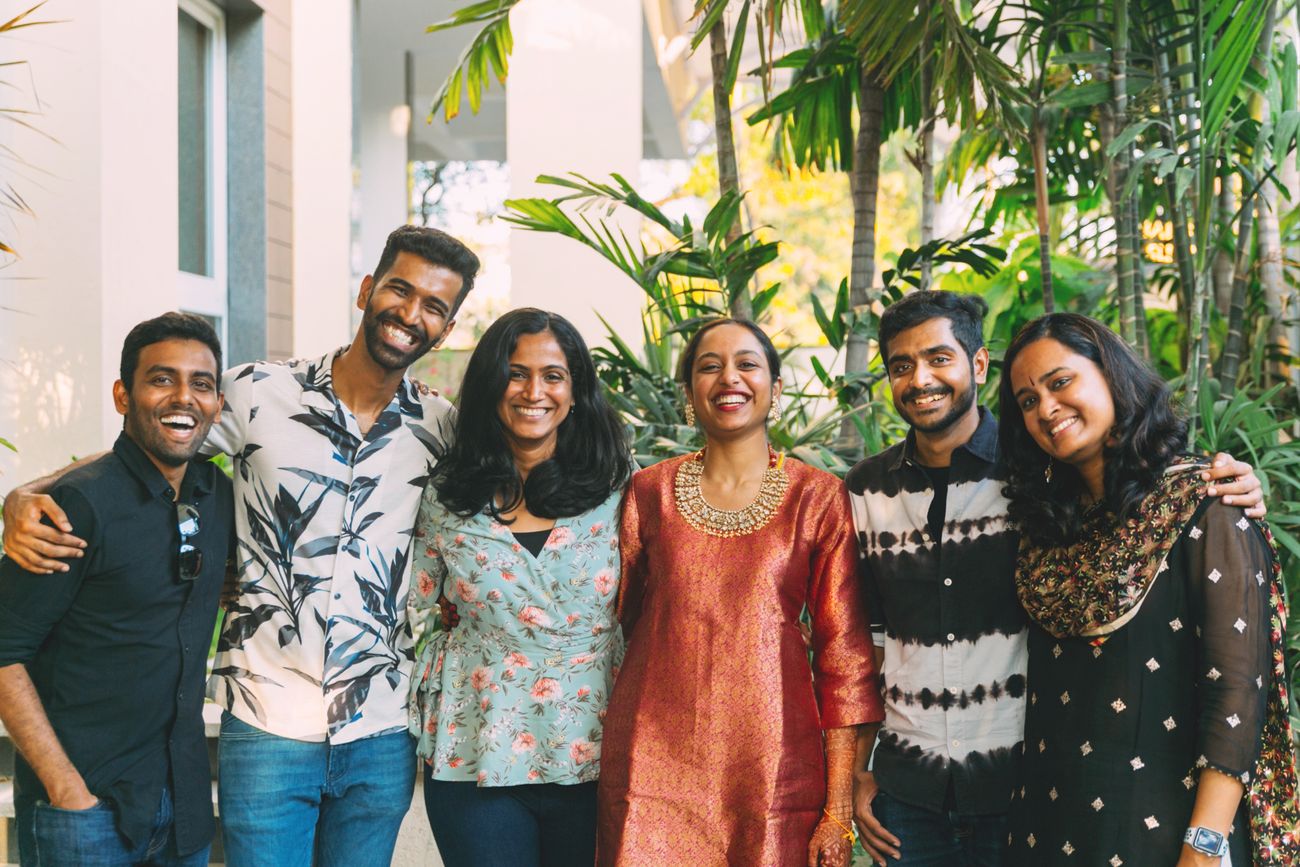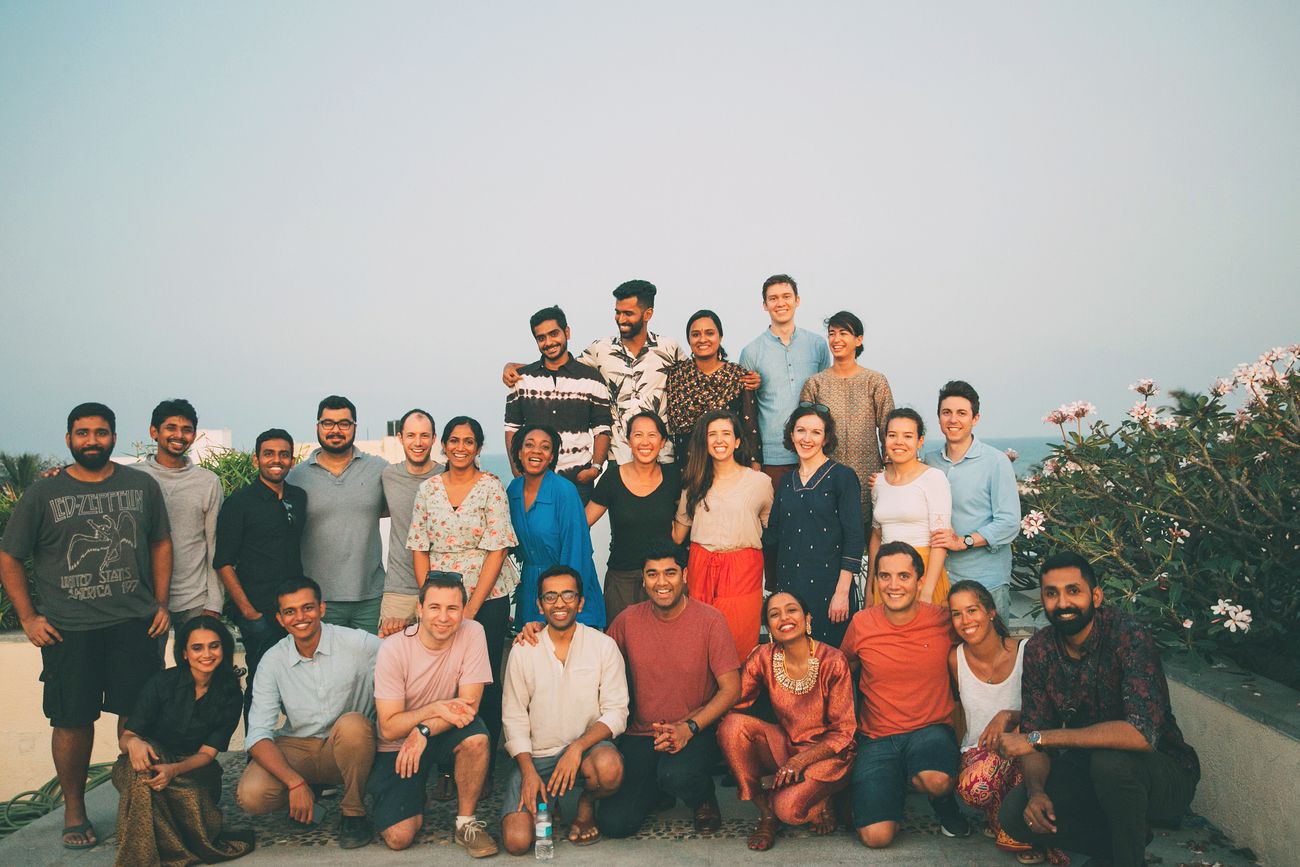 From The Bride:
We wanted a very real wedding from the start. I run Papreeka Tales, a platform that helps to scale & promote small and sustainable retail brands, since 2012 as a side project. I also work in the intersection of Marketing & Retail for my full-time career & generally spend a lot of time thinking about brands, customers & experiences. Weddings are a huge part of my work & I've helped several brands and friends build their businesses & lives around this event. When it came to our wedding, Vik and I knew it was all about the community coming together & we wanted that to be a center of our wedding. Every event held a significant meaning & naturally every part of our outfits reflected that. I gathered our trousseau with everything that held great meaning to us - brands, heirlooms and products! I also worked with vendors whom I had a relationship with through Papreeka & knew could trust them to take care of us. I prepared bridesmaid gifts with sustainable products since Papreeka stands for everything community-first and earth-first. My girl friends wore sarees that were directly sourced from weavers.. our food gifts were made of items that Vik and I enjoy so we could share it with our guests. We coordinated gentle outfit color themes for the different events to keep it interesting for the guests.. Since Vik and I were doing everything from New York, our parents spent a lot of time making things happen in person in Madras. They were kind, thoughtful & incredibly caring in making sure we had the best time. We're super grateful for their friends & well-wishers helping them make our dream wedding come alive! We were especially lucky in having been able to celebrate one of the last bigger weddings in the city before the lockdowns began.
Vendor Reviews
Venues
Mayor Ramanathan Chettiar Centre, Chennai : we were hosting a very traditional wedding and wanted a big space that could all our guests but be very centrally located & have some exceptional facilities for parking. So MRC was a natural choice.

Taj Connemara : wonderful heritage property where we had our engagement! Highly recommend to brides who want an older part of Madras to be part of their day, but also have 5-star service.

Taj Coromandel : we hosted an evening of performance by Benny Dayal & dancing for close friends & family. My in-laws led the prep entirely for this event & the management was so helpful in making their wishes come true.
Makeup Artist
Kabooki MUA: Sringa is a dear friend from Papreeka collaborations. We know each other since she started her career as a Make-up artist through instagram. She helped me achieve every bit of my dream looks for both the muhurtham & the reception. For all the other events, I did my own make up and Jamuna Devraj did my hair!
Bridal Outfits
Kanchipuram weavers - we went and handpicked several sarees from the weaving houses directly as we consider wedding trousseau to be very important & sacred. I also was on the hunt for sarees from the 70s & 80s sense of design, just like the ones my mom wore.
Vendors: Venues: Mayor Ramanathan Chettiar Centre (Wedding), Taj Connemara (Engagement), Taj Coromandel; Makeup Artist: Kabooki MUA★ 5 (Wedding and Reception); Photographer: Manasi Mahesh Photography and Anvitha Pillai, The Marigold Company for Wedding Film; Decor: Pandian Decor★ 5 ; Bridal Outfits: Sarees: Kanchipuram weavers, Nalli Silks★ 4.8 , 
Sundari Silks Chennai★ 5 (Muhurtham & Reception), Raw Mango★ 5 (Reception), Blouses:
Studio 149★ 4.7 , Salwar & Suit: Stitched by my tailor with fabric from Nalli Silks; Jewellery: Tanishq★ 4.8 , Vummidi Bangaru★ 5 (Reception choker), Suhani Pittie★ 4.9 ; Hair Accessories: Nomad - Jewellery★ 5 ; Groomwear: Manyavar★ 4.8 ; Invitations: Inking Light