Laid Back, Quirky Corbett Wedding With A Bride In Mint !
BY Latha Sunadh | 10 Feb, 2017 | 3879 views | 4 min read
If there is one thing you realise going through this Corbett wedding its that this wedding seems like a whole lot of fun with a relaxed, chill vibe. With 20+ bridesmaids, what else can you expect ?  Add to that a ton of kitsch colors , laid back paper decor and guests in ultra colorful outfits and you have yourself a quintessential morning wedding . We loved how everyone at the wedding had a distinct style - so relatable and chic and that the bride scoured through different avenues to put little things like decor and even entertainment together ! Photography by Fotowalle - The Story Folks★ 4.9  captured the carefree vibe of this wedding.
Meet Saanya & Varoon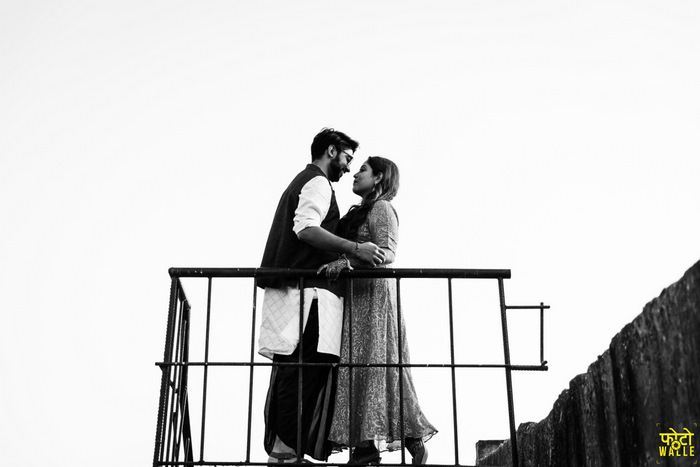 "We met ten years ago and fell in love, the moment we saw each other. The best part of our relationship is that we grew together. Apart from being lovers, we are best friends. He is the calm to my storm and I am the spice in his life! We met at a coaching institute before college and went through a series of dramatic ups and downs through the years, which included several long distances, break-ups, foreign trips, dating other people etc etc! But in the end, we wanted to make it work and we did, ever so beautifully" says Saanya.
The Mehendi 
The Wedding
From The Bride:
"If I have to say it, we did everything on our own. We planned everything - right from the decor to the wedding card and everything else. Every small detail counted. Each lantern and every decor item was ordered from places around the world. We sourced our chocolates from a bean farmer in Pune, found a graphic designer who designed our card and merchandise from Behance. We also individually sourced several design elements from Chandni Chowk. Hunted down an acoustic singer by going to several bar nights across Delhi. We got the best recommendation from our friends, about the photographers, Fotowalle. What we loved about their photos was the vibrancy and the way they captured emotions! The moment we met Kanupriya and Parag, we knew we would choose them. Parag captured all our moments so beautifully and it was quite effortless (at least for us). It was so important for us to hire a good photographer because it's the only way you can relive your wedding! We are so glad, we hired Fotowalle! The night before the wedding, our friends and family helped us put together the decor and it made the wedding much more special" explains Saanya. "We had our sisters plan the wedding doubling up as wedding planners. We thank all the people (friends and family) around us who made our dream possible. As for our wedding, we wanted an intimate one and had a guest list of not more than 200 people. Each person played a key part because they knew us from the beginning. It could not have been more beautiful than this. Our vision was to get married in the day, with a bohemian vibe. Our style is quirky, colorful, yet simplistic. We hired an acoustic singer for our day functions (Mehendi & Wedding). We played with the landscape and tried to incorporate the decor accordingly. Our dog (zozo) was the superstar of our wedding. My vision as a bride was toi be effortless and carefree, I wanted to be the bride who enjoyed her wedding. Even when it came down to choosing my wedding outfits, I chose upcoming designers, who were budget-friendly and also chic and stylish. A special mention to our decorators Short Stories and our sisters for pulling off the wedding
in three days. It was a bit scary because
 the designated decorator ran away in the last minute and we had to plan everything from scratch!" adds Saanya.
---
Vendors: Venue & Catering: 
Hridayesh Resort and Spa
, Corbett
Decor:
Short Stories
Mehendi Artist:
Chandni Chowk
Bride's Outfits:
Wedding outfit by 
Armaan Aiman
; Sagan outfit by
Bani Batra
; Reception outfit by
Pinakin
Groom's Outfits:
Wedding outfit by
Diwan Saheb
; Sagan outfit by
Anita Dongre
&
Rajesh Pratap Singh
; Reception by Custom Tailored Suit
Jewellery:
Reception jewellery from Chandni Chowk; Sagan jewellery by
Tanishq
and heirloom jewellery for the wedding
Makeup:
Savleen Manchanda
Photography:
Fotowalle - The Story Folks
Invitations:
Studio Kohl
, Mumbai & wedding stationary by
Azure Press
Favours:
Chocolates by
Indah
. Fridge Magnet + Invite Box