Real Brides Reveal - The Best Trousseau Packers They Used!
BY Apoorva | 05 Dec, 2017 | 1002 views | 3 min read
We love everything pretty and so do our brides! Trousseau packing has come a long way from basic saree bags to pretty baskets and trunks. We wanted to know who were these magicians who were weaving this magic, so we asked our very own brides to gives us the names!
Image via Wrapistry
Devika says
"I hate all those tulle wrapped baskets! It reminds me of those fruit and dryfruit packages that came in during Diwali from my dad's office, which were so boring. I wanted something reusable yet very pretty to look at – I am very visual. Trunks of joy -by Ruhani Arora★ 3.2 creates these amazing trunks which I fell in love with. I got a 5-piece set made in different sizes for my clothes, shoes, bags and jewellery boxes. I have the biggest one sitting in my living room today as a piece of art! Loved loved it! "
Shalmali says
"My wedding had a very rustic vibe and I wanted the same for my trousseau packing & hampers. When I saw The Artisan Atelier work, I was sold. They have the same theme happening! Lace dollies, jute bags and the works. I even got my gift envelopes, wedding favour packaging done from them to keep it in the theme!"
Sukruti says
"Anjalli Bhagnani from Wrapping Bells is your person! I loved how they made different packaging ideas for my clothes vs my bags vs my makeup so that we could know what is what and was so personalised."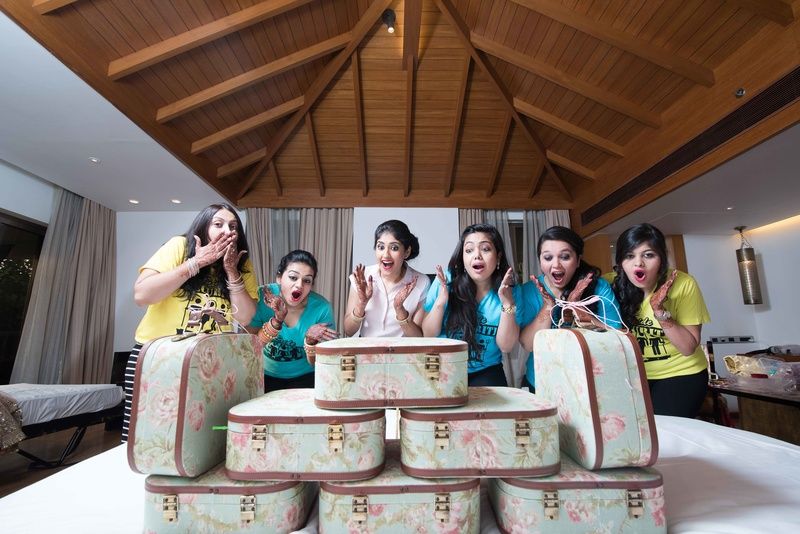 Image via Conscious Cinematic Arts
Vinisha says
"If you are looking for something delicate, simple and elegant go to Wrapistry I found them through a workshop and it couldn't have gone better. They did such pretty and delicate packaging for my trousseau that my in-laws were more interested to know where I got the packaging done rather than my trousseau!"
Shanaya says
"Wrap Love Repeat★ 4.5 was recommended by a friend and I really liked the work. I dint want something crazily innovative, I rather spend money on my trousseau than the wrapping so WLR fit the bill perfectly. One thing I liked about them was that they were ready to listen rather than just do whatever they 'felt best' something that is very common in wedding vendors so that is a very big plus on my list!"
Nitara says
"I was actually scouting for someone to do my gift/favour packing when I came across Little Miss Makes★ 4.9 . I loved the floral wooden trays they do and thought that it would go perfectly with my trousseau as well. So they ended up doing my trousseau packaging as well as gifts. They all looked so matchy-matchy and pretty when they were done!"