Real Bridesmaids Reveal: The One Store They Bought The Bridesmaid Outfit Of Their Dreams
BY Latha Sunadh | 02 Feb, 2017 | 781 views | 4 min read
Well, more than the bride, it's the bridesmaids that do the fun shopping. They don't go for the safe ideas, they don't fish out bills and bills to stay on trend and they definitely don't shop only at designer stores. That's why we asked a few where they shopped for that drop dead bridesmaid outfit and we got a few details. And from designer labels that you don't know about to ideas from vintage outfits to budget shopping stores, they gave us everything!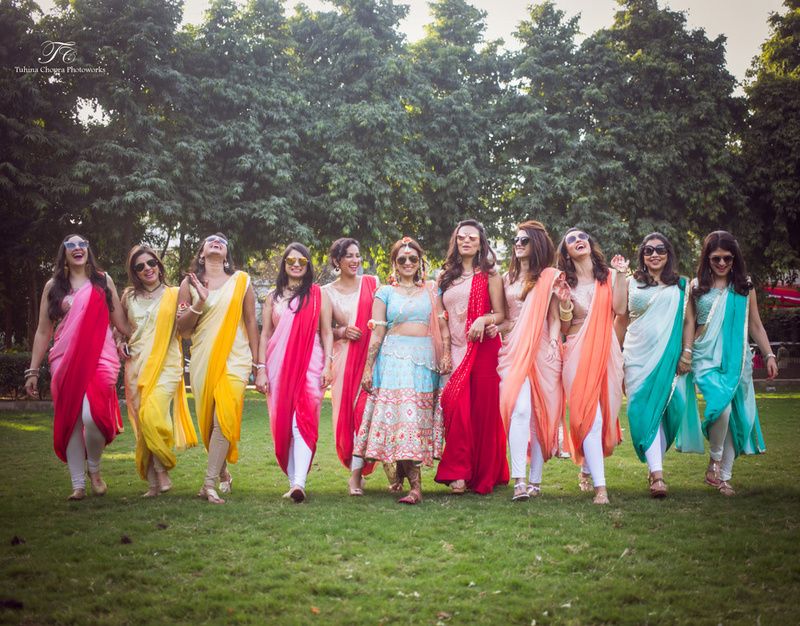 Photo:Tuhina Chopra Photoworks★ 4.9 . Outfits by Roshni Chopra
Mehak, Founder at WedMeGood says:
"I love

Salt and Spring

in Shahpur Jat, Delhi I
t's perfect for light lehengas and new silhouettes and she customises everything for you so you can find something anywhere between 25-40K . Specially if you want a nice modern blouse with pretty lightweight lehengas. I also like Agunj in Shahpur Jat if you are looking for something a bit heavier. I bought an off shoulder lehenga from here"
---
Aarushi says :
I like the pant sarees available at Gazal Gupta, as well as the lehengas. Their pant sarees are under 30K and their lehengas are around 50K . But apart from that, In Delhi I also like this label by
Dheeru & Nitika
 - they have some beautiful, high quality garments and they customise. They dont break the bank either.
---
Praachi, a Content Consultant says:
"I love wearing new labels and I hate repeating my outfits. So I try new trends and a new designer every single time. I usually shop at Aza in Mumbai because it's the only multi-designer store that offers ideas and outfits across all price ranges. From Rs 5000 to Rs 50,000, you have your pick and that's nice! So this time, for a friend's wedding, I picked my bridesmaid outfit from Natasha Dalal, this new designer and I was floored. It was a lehenga gown and she customised it perfectly for me. I believe that if you are paying a large amount, you need get that bespoke experience. Because why not? Her stuff is well-priced and the finish and quality are great. I also highly recommend Arpita Mehta, her mirror-work blouses are to die-for, you can wear them with anything!"
---
Vinita, a Fashion Stylist at Grazia says: 
"I am a big fan of crafts and local handlooms and I try as much as possible to use them in my outfits. I recently attended my best friend's Assamese wedding and wore a traditional mekhla to it ( I made her buy me one!). I went for a Marathi wedding and wore the traditional Paithani sari - I like being part of the culture of that place. My motto: tradition over trendy. I think every outfit needs to be timeless and for that the one store I recco is your mom's closet. I wear my mom's saris and suits all the time. I mix and match and add my own blouses or kurtas with them to make them look brand new! The only store I go to will be something like a Nallis, you get gorgeous traditional South Indian saris that are amazing!"
---
Smriti, a blogger at Realgirl.co says: 
"I'm a budget shopper and I have actually scored some great outfits at the Santacruz Market in Mumbai. I usually look for affordable and easy to wear stuff and places that cater to all budgets and sizes. And just for that, I feel the Santacruz Market is a treasure trove of stuff. First up, I recco Panihari, it's a small store but has every kind of outfit, from western to Indian to newer silhouettes. Then, there is Aishwarya, a great store for saris that are amazing and come at a great price. I also highly recommend Roopkala, a store that has some great lehengas. Another interesting store to know is Sapphire Couture on Insta, such cute stuff!"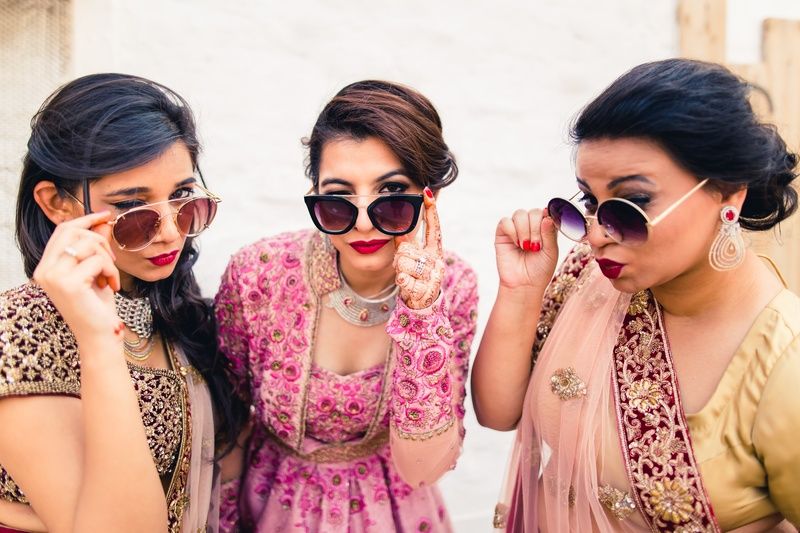 ---
Hansa, Owner at Dabka Shop says:
"I own this store
Dabka
online and I make customised saris and kurtis. I started this label to make fun affordable stuff for bridesmaids. I am a big fan of statement dupattas that really make your outfit stand out and I totally recco that to everyone. Buy a great dupatta and pair with a solid colour kurta and you are set!"
---
Sanjana, Content Head at a PR firm says:
" I'm a big fan of this new label called
Saaksha and Kinni
- they make effortless and chic outfits that are so trendy. They are perfect for the bridesmaid who wants to look comfortable and stylish at the same time! She makes these wonderful floral outfits that I'm crazy about and the designers also help the bridesmaid and customise things too"
---