#Red Carpet Bride: I Took My Bridesmaids Shopping to Ekaya And...
BY Latha Sunadh | 08 Dec, 2016 | 1768 views | 5 min read
Shopping is the best cardio you can get. What's even better than cardio is gossiping with your BFFs and shopping with them to your heart's content. So we found a bride who did just that - she took her besties shopping and had a ball of a time at 
Ekaya
, a contemporary bespoke store presenting the finest works of Banarasi art from the Indian craftsman's repertoire. All of them pure, handcrafted and timeless. And the bride Manitasha chose an offbeat grey with a vibrant orange Parsi Gara Lehenga set from the new collection Ziba. And all her bridesmaids wore handwoven Banarasi tissue georgette saris in shades of gold pista
(love the contemporary brocade blouse). And we also roped in a wonderful renowned photographer, 
Karan Sidhu Photography
to get all the madness documented to perfection. 
Bride in Vogue
did the makeup which made the girls look flawless and spectacular and the exquisite jewellery is from 
Nimai
, Delhi. The bride, Manitasha had a ball of a time and enjoyed every bit of the pampering while her friends tried and tested everything at the store. Go on, take a look at all the drama!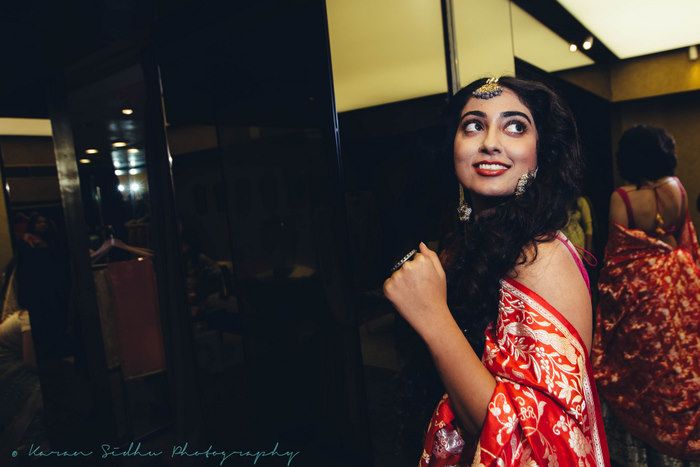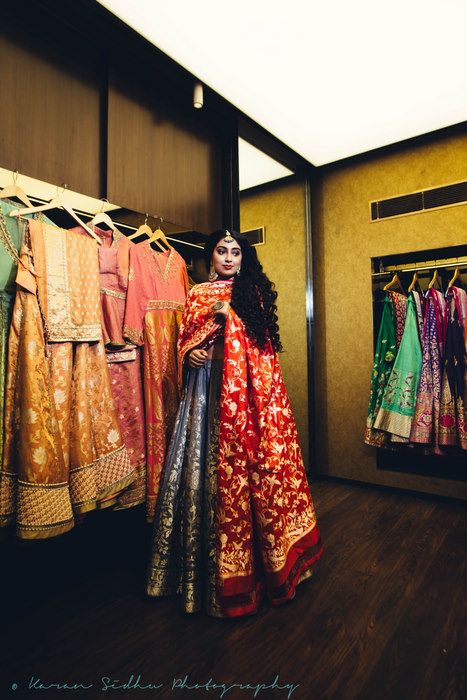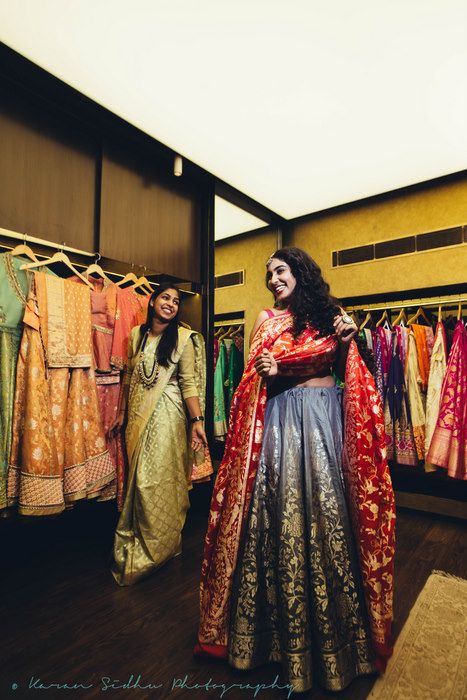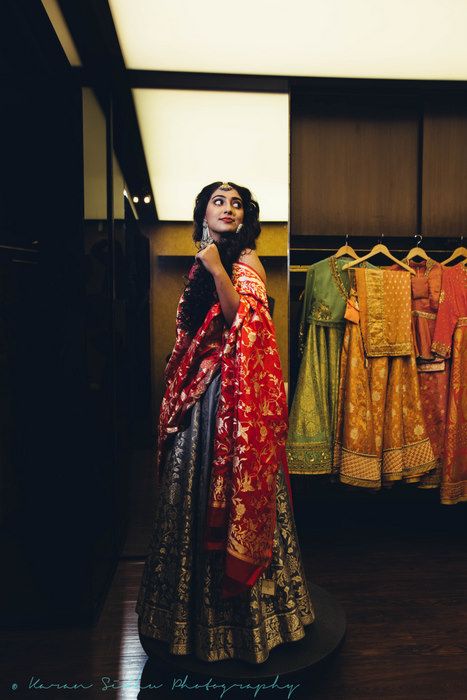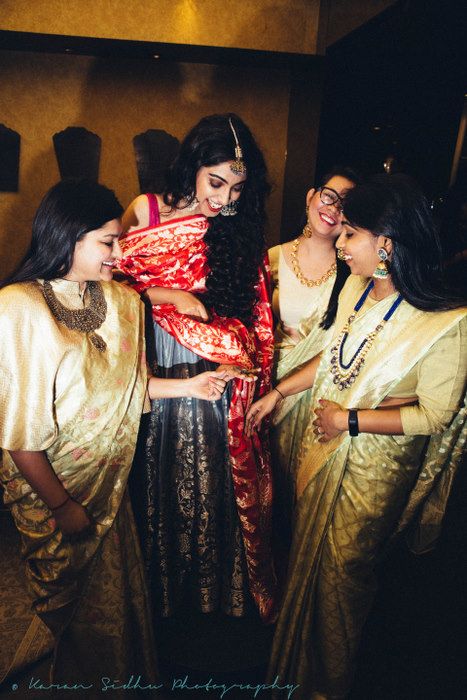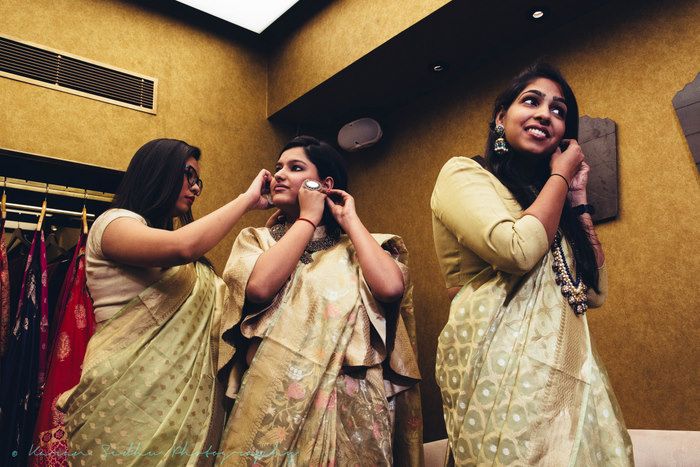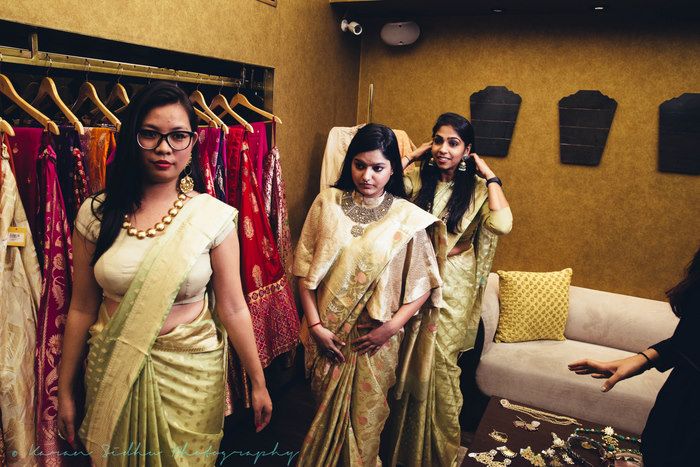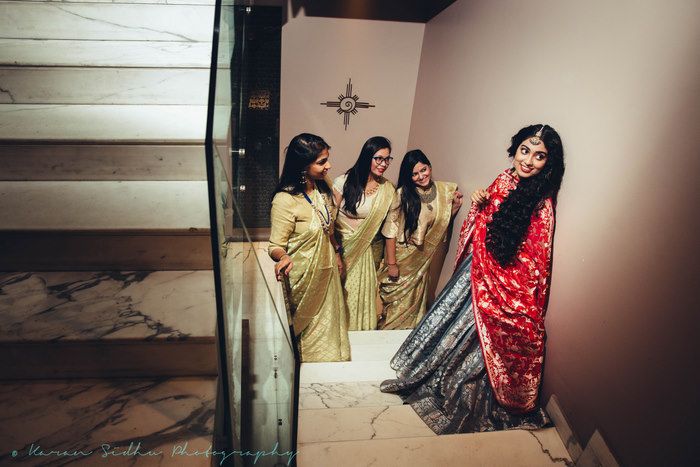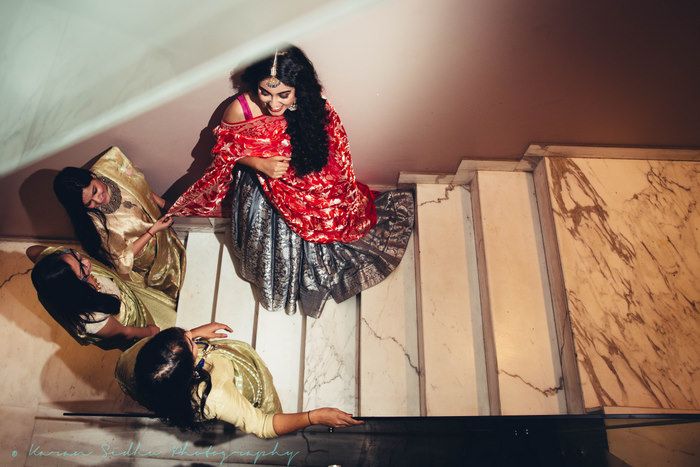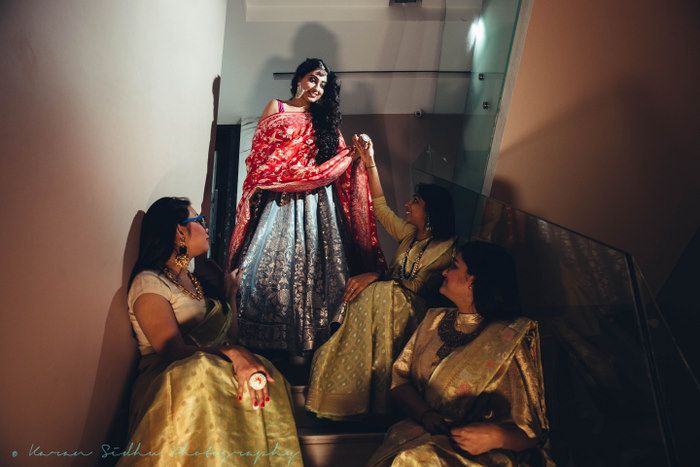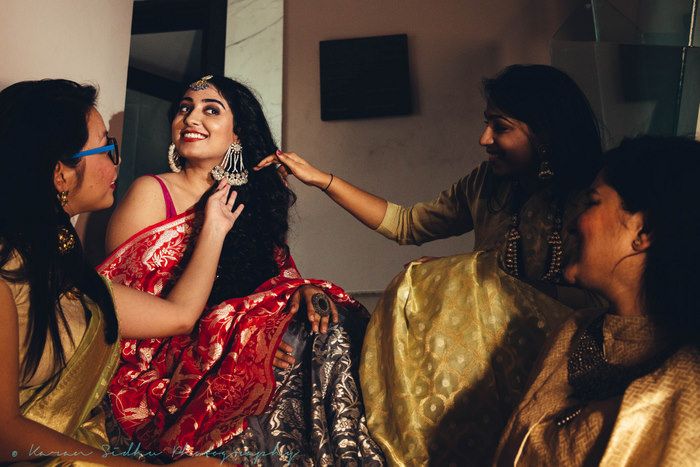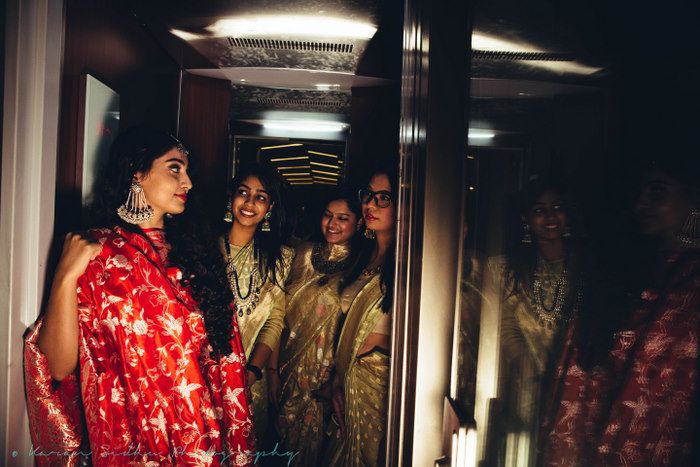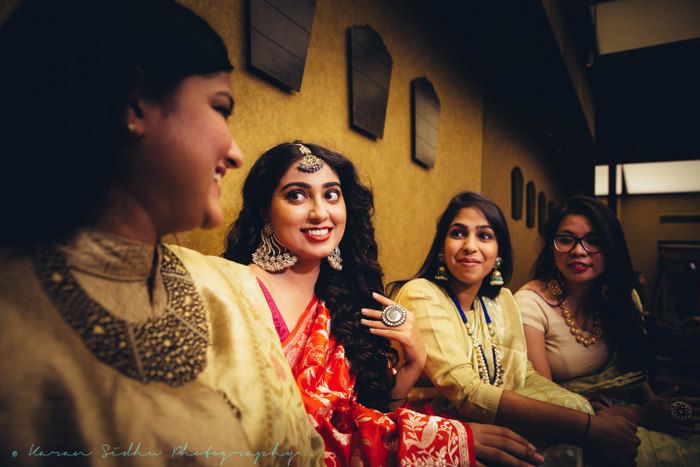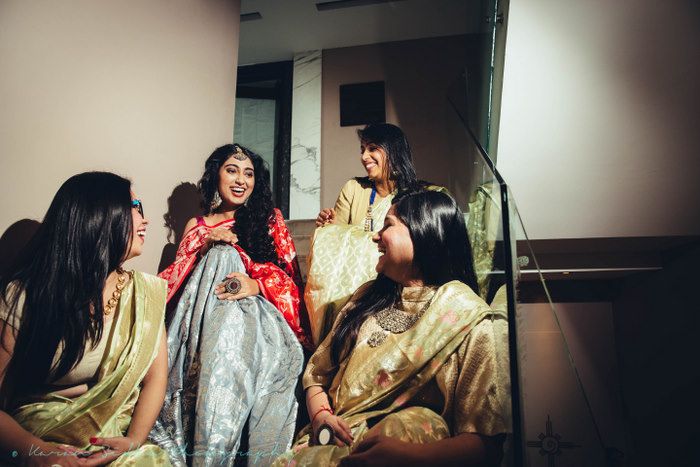 Outfit Details:
Lehenga: Bright orange dupatta, sleeve-less blouse and a grey Benarasi lehenga by

Ekaya Banaras

Bridesmaid Saris: Beige and gold saris by

Ekaya Banaras

Jewellery on the bride: Jadau and pearl earrings, mirror-work cocktail ring and jadau maatha patti by Nimai
Jewellery on the bridesmaids: Necklaces by Nimai
Photography: 

Karan Sidhu Photography

Makeup & Hair:

Bride in Vogue

Lehenga Price: Handwoven Parsi Gara lehenga by Ashdeen L For Ekaya at Rs 59,975; Dupatta at Rs 24,975
Sari Price: Bridesmaids in Handwoven Benarasi tissue Georgette saris that are available in the range of 25K onwards.
From The Bride-to-be Manitasha: 
"My girls complete my happy moments. Ever since my wedding got finalized, life has been pretty hectic for me. Working through the week, managing shopping and everything else over the weekends - meeting them had become a challenge.The WedMeGood-Ekaya Bride and Bridesmaids photo-shoot gave me and my bridesmaids a chance to connect and reconnect. It felt great to involve the girls in the wedding madness that I had been experiencing alone till now. Since Mehendi/Sangeet are events where the bride gets to spend quality time with the bridesmaids, we jumped at the chance of me being the 'Mehendi Bride' for the shoot. The day started with us picking our outfits. This was like the crazy shopping sprees we all had been missing. The beautiful Ekaya Banaras collection of bridal wear, lehengas, and saris was a delight to pick from. The Ekaya team helped me try on the pieces we liked and made some recommendations as well. I tried on a traditional red handwoven benarsi silk lehenga, then a muted pastel pink and blue with parsi work but we all finally agreed on a gray and orange handwoven Parsi Gara Lehenga.  It looked so regal, so elegant," explains Manitasha.
"We then went on to choose accessories to complete the look. We all had our favorites and it was so difficult to choose from with such a beautiful and unique display of trinkets from Nimai. That's when the the Nimai team and Harmeet Bajaj, Creative Director for Ekaya Leela
 came to our rescue. We picked a maang tikka with grey beads to go with the outfit. We also chose a pair of gorgeous earrings and a mirror ring for me.
It was time for make-up and styling. I did not have any specific look in mind, so I let Maya Dang and her team (Bride in Vogue) do what they do the best and decide the look for me. Meanwhile, I could hear my bridesmaids talking, picking their outfits and jewelry, and touching up their makeup, while occasionally coming up from behind and smiling at me in the mirror. That made me realize how exactly I want my wedding day to be - surrounded by my friends," adds Manitasha.
"The girls were dressed in gold/green handwoven 
Benarasi tissue georgette saris by 
Ekaya
, all draped and accessorised so differently. I feel dress code for the bridesmaids is so under-rated. The theme made them look like my gang yet they all stood out through their own personalities and style. 
It was time to shoot. I had come across Karan Sidhu's work on WedMeGood and Instagram and really like his style. No one in my group is a natural poser, yet Karan made it so easy for us to talk, laugh, and pose. We revisited our college memories, discussed the wedding, and caught up with each other, all while getting clicked. He made it effortless and fun for us. When the shoot came to an end, we weren't in a mood to get out of our outfits. Dolled up, we clicked tons of selfies and pictures to keep and cherish this experience for a lifetime. This experience has brought me closer to my girls. We talk almost every day and we are all so excited for the wedding" adds Manitasha.