Red Carpet Bride with Anita Dongre Part 3 : Classic Red
BY The WMG Bride | 03 Oct, 2014 | 1160 views | 4 min read
From blues to greens to yellows to beige,  new age brides are experimenting and how! And although we love all that , there is something classic and timeless about red and Veethi agreed. So when our
Red Carpet Bride
Veethi walked out in a beautiful red and orange outfit by Anita Dongre, we were more than just floored. Veethi not just looked beautiful, but she looked every bit of the traditional Indian bride and was the perfect complement to our other two gorgeous brides who had worn offbeat, modern outfits for their shoot ! Shot by
Manisha Ajgaonkar
and makeup by
Fatima Soomar
, this Red Carpet shoot is to watch out for!
Meet Veethi
"I grew up up imagining myself wearing nothing but a breathtakingly gorgeous Red
lehenga-choli
on the big day" , gushes the bride to be. And that's just what she chose for the Red Carpet shoot. Veethi had probably imagined being clad in an Anita Dongre outfit a hundred times, until it finally happened just a couple of months before her wedding!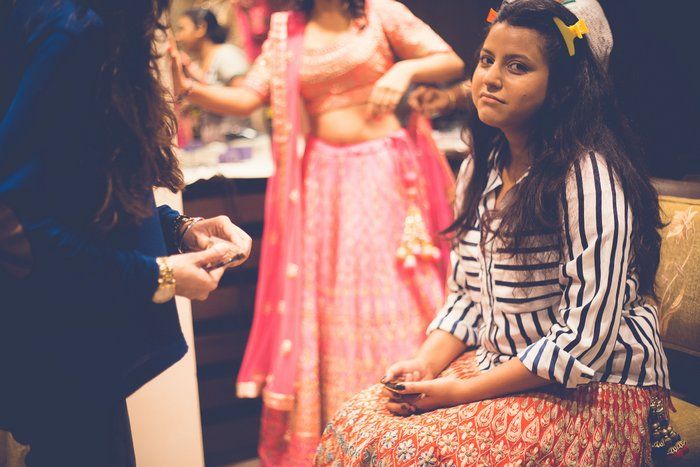 Veethi getting all preped up for the shoot! Why do i go last she says..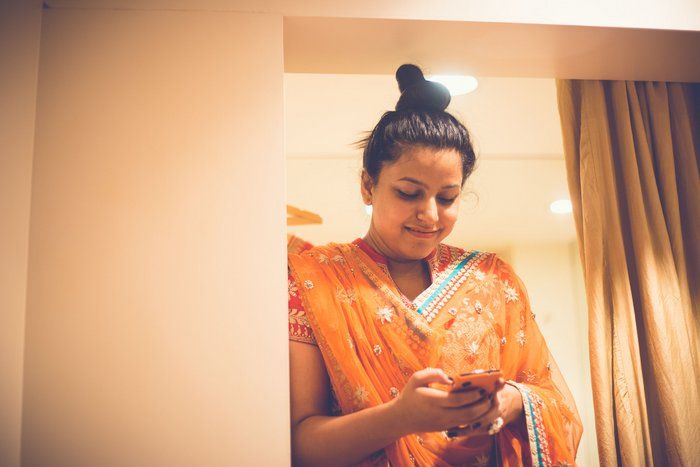 That smile tells me it's a text exchange with the special someone ;)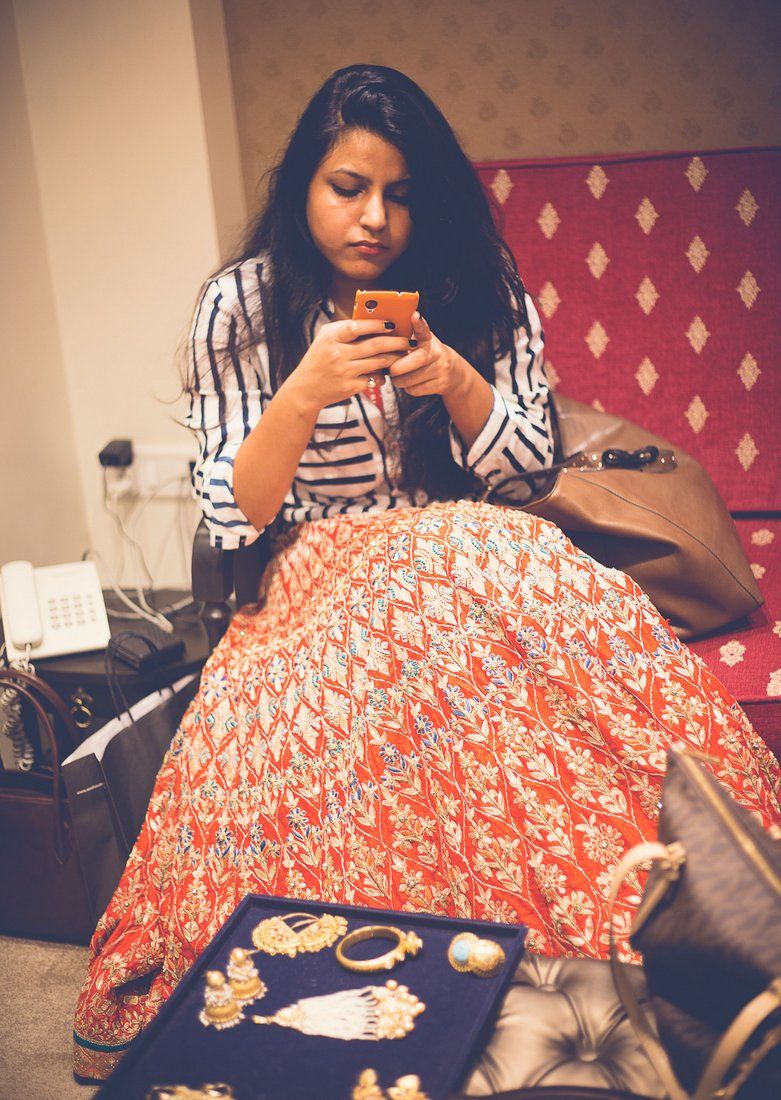 V
eethi is also a blogger by the way- hence the frantic phone typing!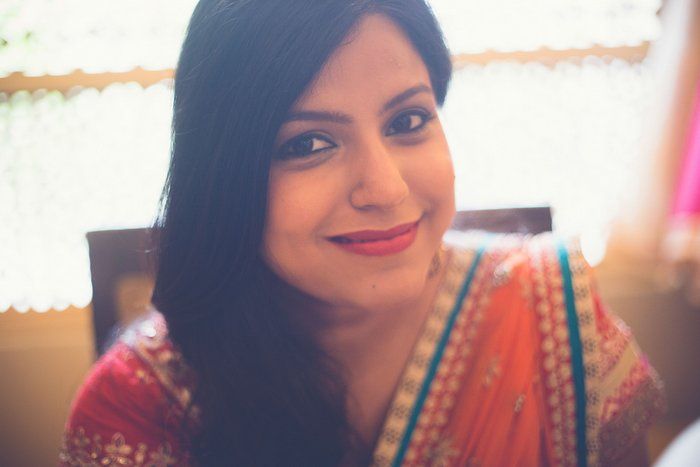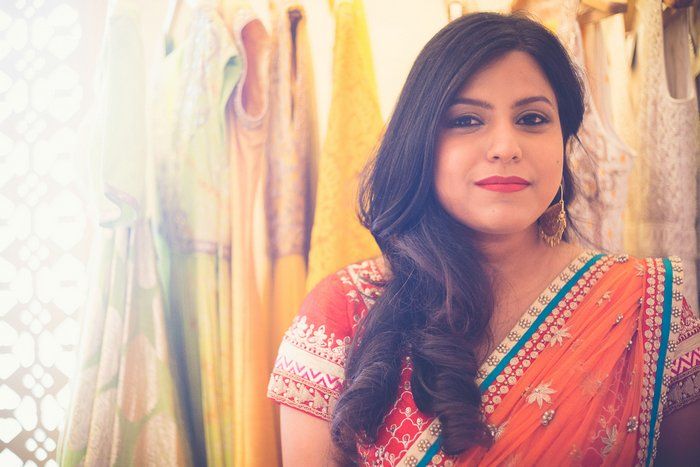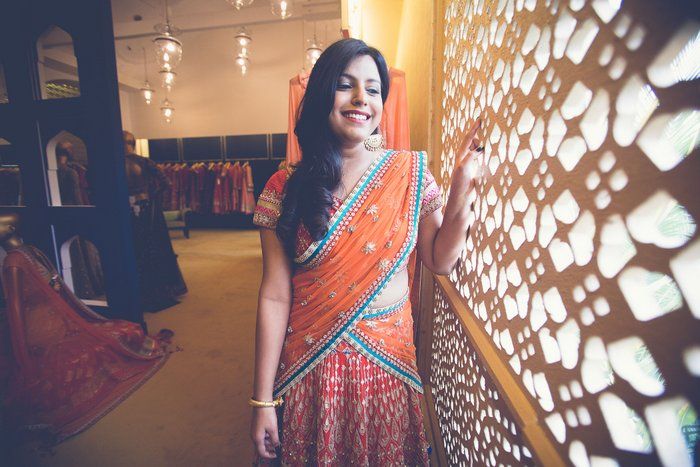 Love the hint of blue and the Anita Dongre pink city earrings are just the perfect complement to this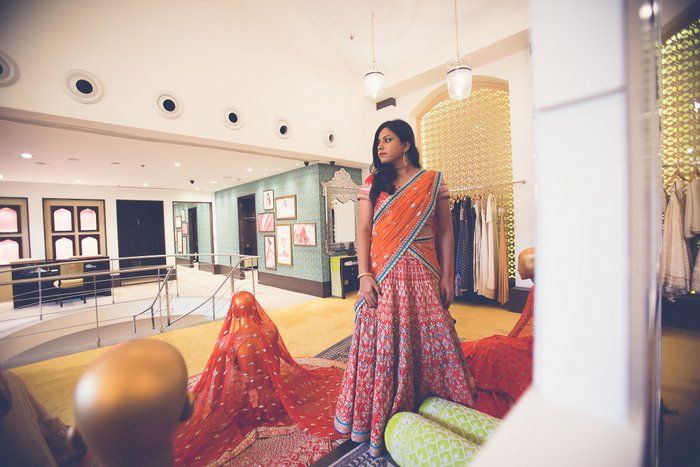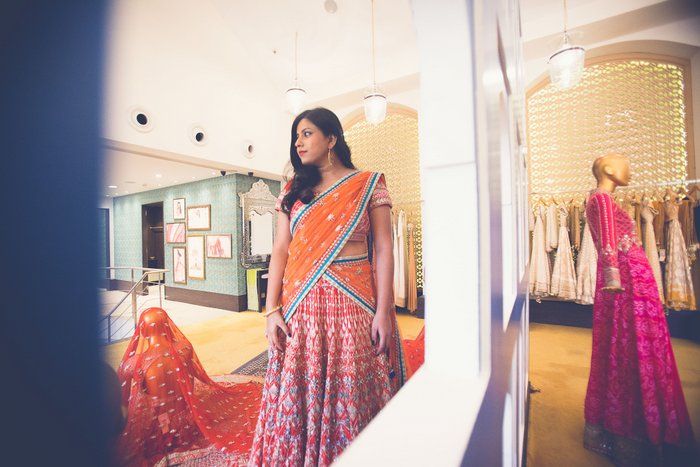 And there she is! Looking every bit of the royal princess!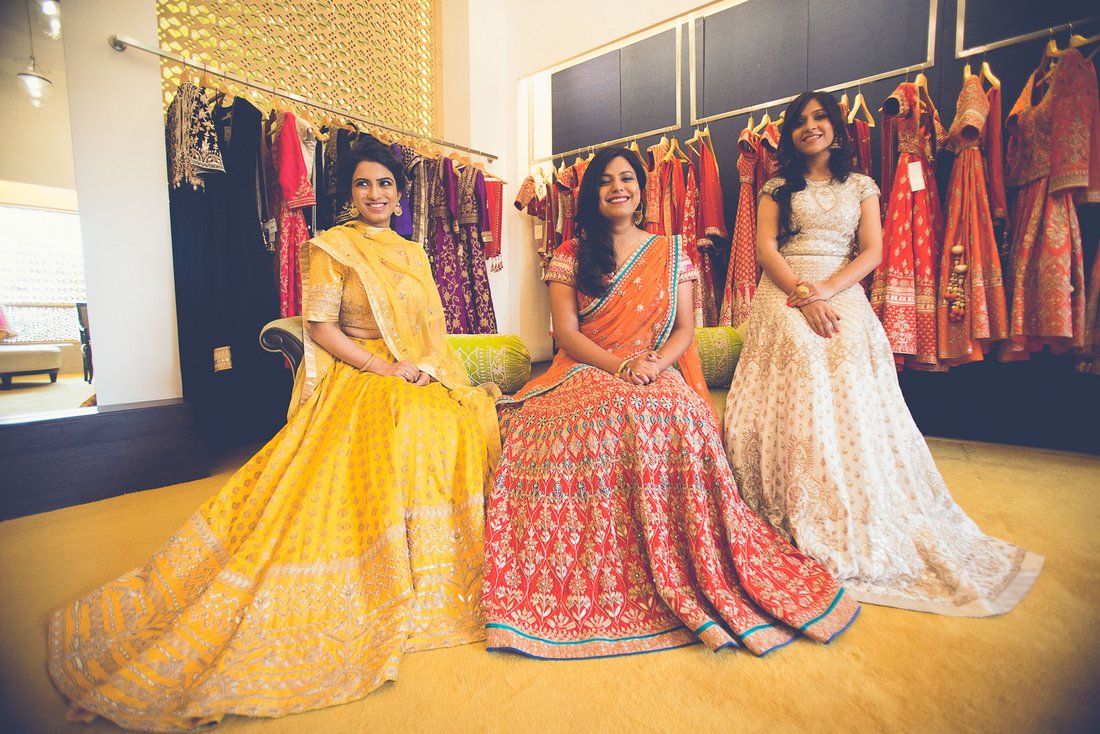 All the three girls. We were crushing on the yellow lehenga so bad we HAD to see it on one of the girls, unfortunately didn't have enough time to get solo shots of her.
Lehenga Details:
Red Anita Dongre Lehenga
Jewellery:
Anita Dongre Pink City Collection
Styling details:
Ishita Sehgal (Team WMG)
Price of red lehenga :
A bit over 2.5 Lakhs
Price of Yellow lehenga:
Approx 70K
Buy it:
Online from
AnitaDongre.com
, or from her bridal wear stores in Mumbai
(Phoenix Mills)
& Delhi
(Gallery at MG Mall)
From the bride:
How do you define an experience that you've imagined a hundred times in your head, only to be surprised by it when it actually happens? As a bride-to-be, just a mere visit to Anita Dongre's store can sweep you off your feet with the collection of your dreams. Imagine wearing it. And now, imagine getting clicked while there's a whole slew of people tending to your every movement. Does it get better? Oh yes, it does. Even if it took me a month to try every piece in that store, trust me, I would. But, after a heavy discussion with the lovely Ishita (from WMG), I settled on this gorgeous heavy-embroidered
lehenga
in red. I know, I know. Bride experimentation and all. But hey, I grew up imagining myself wearing nothing but a breathtakingly gorgeous Red
lehenga-choli
on the big day.  What's more, it was hard to find a single small patch in my chosen 
lehenga
that didn't have any sort of embellishment! Makeup artist Fatima took care of my requirements and lent me the look as per what I wanted. Thank you, Fatima! Last but not the least, Monisha, the photographer is absolutely adorable. The cool shutterbug made sure that we brides-to-be are clicked from the very beginning till the end and boy did we have fun posing! All in all, this day was one of my life's biggest highlights and I am going to carry the memories with me for the rest of my life. Dear WMG team, thank you for this lovely gift. Dear Veethi, it was a pleasure to shoot with you! Many many wishes for the big day! You'll make a gorgeous bride : ) [handbook]
The Photo Diary
,
Anita Dongre
, and
Fatima Soomar
are all members of the
WMG Handbook
[vendor]