Sabyasachi's Vintage Bridal Collection 2014: 'Ferozabad' at India Couture Week 2014
BY The WMG Bride | 16 Jul, 2014 | 6307 views | 3 min read
Why Sabya. Whyyy?
..were our first thoughts when we saw the set up at India Couture week 2014 at the Taj Palace. You see ...with a Sabyasachi show you can always expect something different, but this time the setup and structure of the stage was so different it was almost impossible to photograph or see clearly !  The stage resembled the inside of a vintage Indian Railway car, complete with lugggage boxes, coaches and even people. Weaving in and out of those coaches were the models displaying the gorgeous outfits and the setting could literally transport you into yester year- you almost wanted to have a kullad of chai in one hand, sheesha in the other  and enjoy the entire ambience created , except that setup was such that most of your view was obstructed with bobbing heads and raised cell phone cameras. Thankfully we had the talented team of  Creative Lens  to photograph this collection and they did a super job guys.
But as we all adjusted ourselves to the setup, took to our seats and wondered what it was Sabyasachi would be displaying this year- we saw outfit after outfit of gorgeous vintage detailing. Zardozi, Resham ,sequins and even crystals (yes, Sabyasachi used crystallls!!!)  interspersed with soft pinks, creams , mints and a pop of bright red . The vintage floral print gave this entire collection an almost Parisian feel . A whole lot of crop tops, achkan silhouettes, ghararas , churidars in Khadi, tulle  with a generous smattering of lehengas.
Wed Me Good Loves:
These were our FAVOURITES from the show!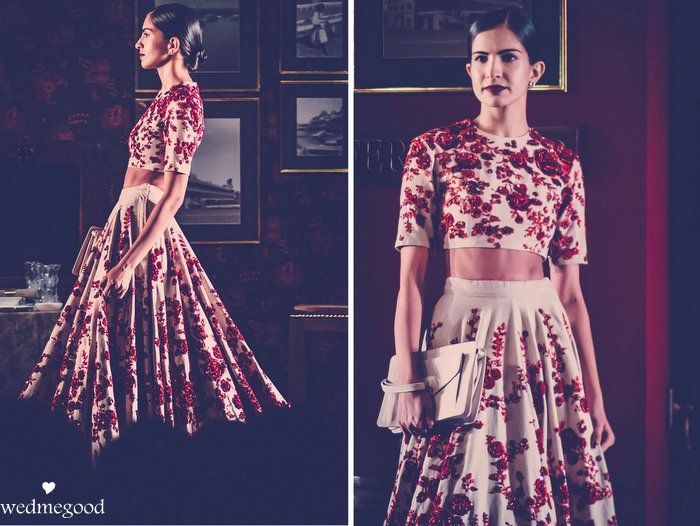 Possibly my favourite piece from the entire collection and one we would dieee to have in our closet ! The crop top silhouette , the sparkly red sequins against the cool , white lehenga almost has an oriental feel to it . This is the perfect lehenga for a modern, chic bride and we are DYING to see a real bride carry this off.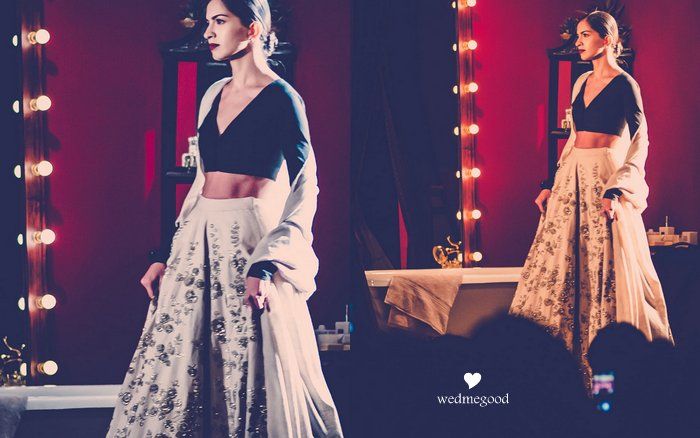 Love that blouse- full sleeves with a deep neck, complemented with a white lehenga with silver detailing.
Soft Peach Lehenga encrusted with Resham work and sequins al over . The floral belt is such a nice detail and the drape looks lovely. Wear this for your reception to make heads turn!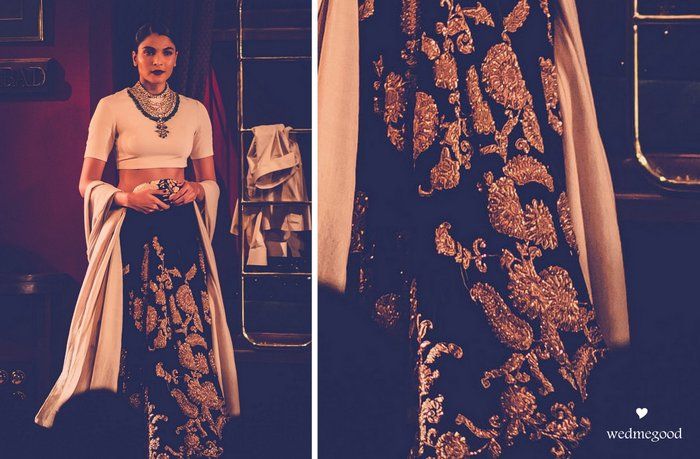 Black velvet with zardozi detailing lehenga with a plain white crop top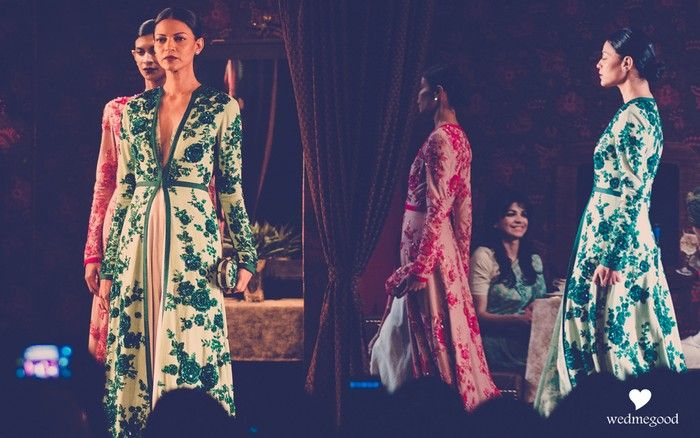 That green. oh, that green!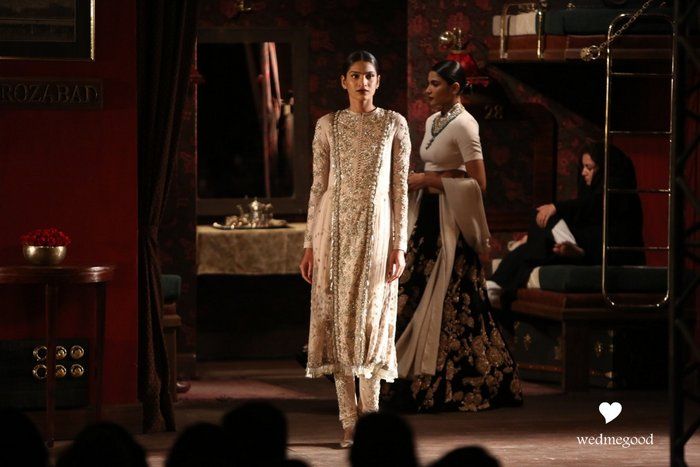 Embellished Kurta with churidar.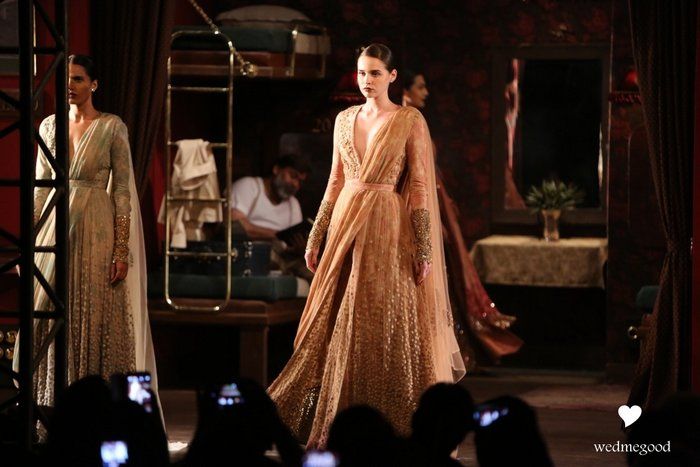 Both these outfits were just stunning, floaty and gorgeous. Love the encrusted sleeve detailing near the wrist and just the hint of a floral print
Other gorgeous pieces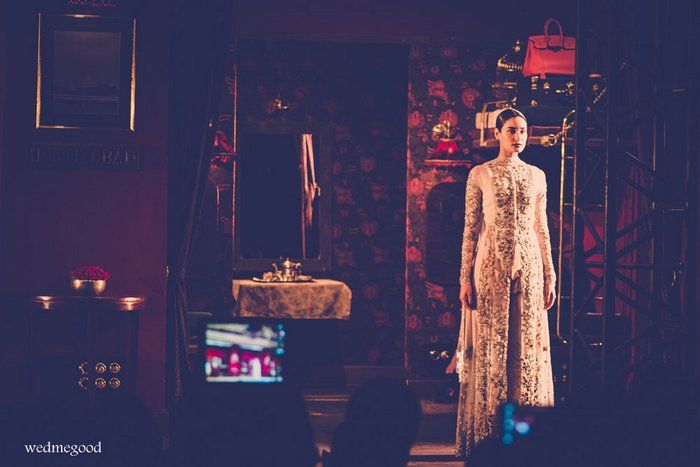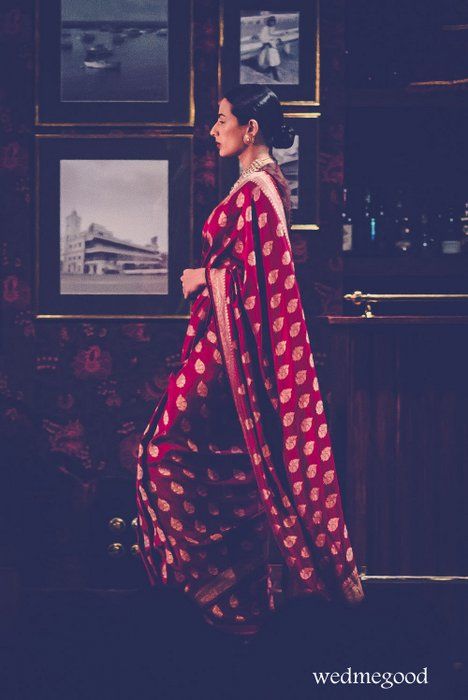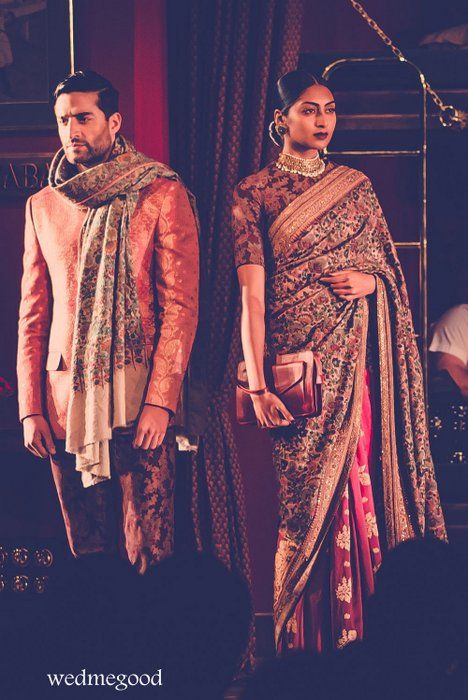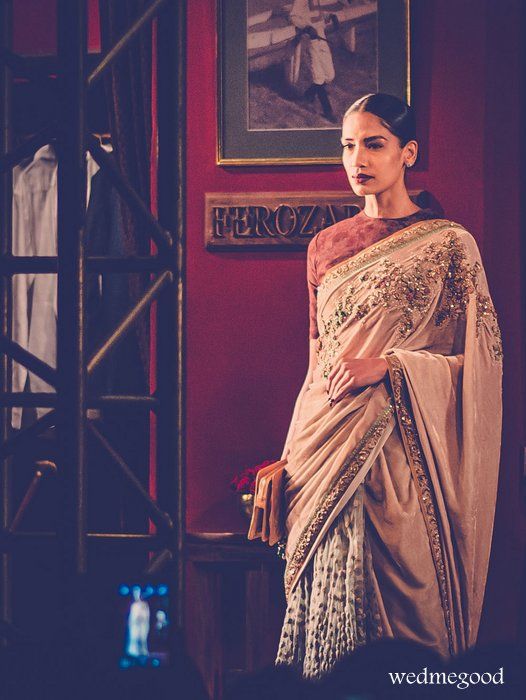 The saris were similar to what we have seen Sabya do in the past. Velvet Pallus, floral prints and toulle pleats.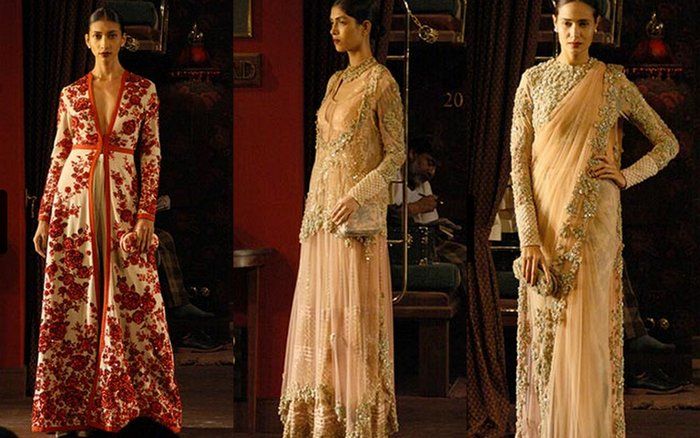 And part of the womens wear line up!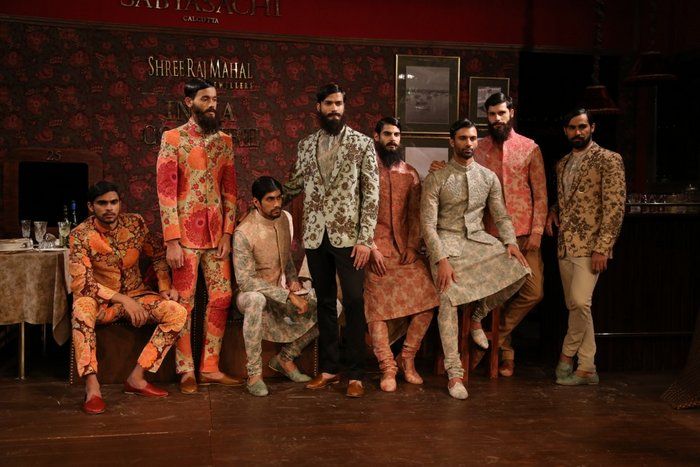 The mens collection was a bit too embellished for our taste in groom wear, but the pastel kurtas with bandhgalas were screaming vintage chic (Third from left, fifth from left , sixth from left)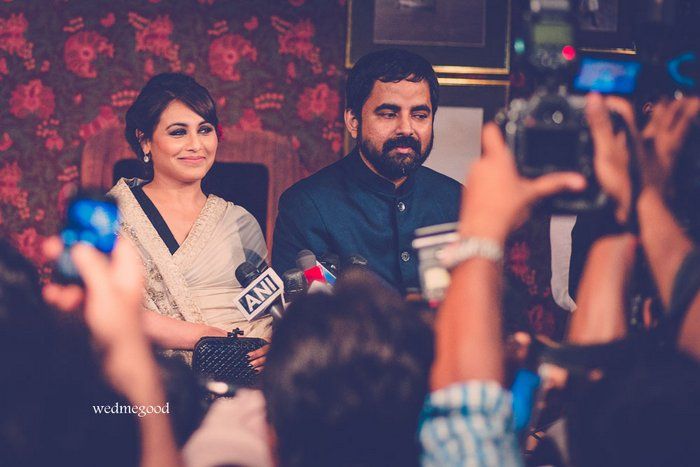 Rani Mukherjee was there to lend support to a rather unwell Sabyasachi
Stunning Photography by: Soumak from Creative Lens
Overall, a Sabyasachi show is always an experience and one as exquisite as this even more so. When we were watching , a lot of the collection seemed reminiscent of last years Opium collection, have to say on closer look it really wasn't. This is the collection fashion forward brides are going to be making a beeline for, and I can already see that white lehenga with the sparkly red detailing being lapped up as soon as it hits stores!