Save Or Splurge: My Big Fat Budget-Friendly Wedding In Goa!
BY Latha Sunadh | 13 Feb, 2017 | 6166 views | 7 min read
First it was the lehenga, then it was the Pinterest wins - Vihal had been featured on WedMeGood for having a wedding that was both thoughtful and budget-friendly. (See all her vendors here)  Who knew you could make your wedding look like a million bucks by spending carefully and weeding out the excesses. Well, so we asked this lady to tell us what made this beauty of a wedding happen the way it did. Was it the budgeting that helped? The little adjustments or the location that cut down their costs drastically? She gave us a lowdown that we were too happy to share with you. Here we go...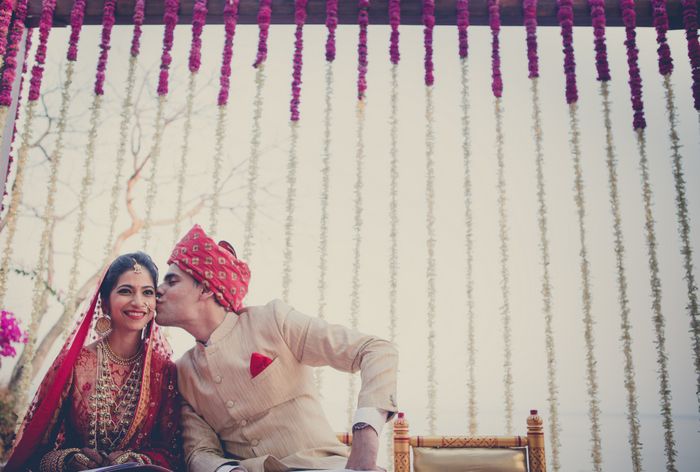 The Outline and The Thought Behind The Wedding
Weddings can be an expensive affair. People can have unimaginable budgets but we were not one of those people. We had a very practical approach to our wedding and I think that helped us keep the budget in check at all times. We refused to spend our life savings on a wedding  just to entertain 500 people we didn't even know. We had a close knit wedding in Goa with family and friends and it's safe to say it was a very Pinterest-inspired DIY wedding.
How We Divided The Budget
Being a destination wedding, we did take a bit of help from our folks - our parents paid for the big chunk just like any other parent. They did save up a bit for our wedding and we were careful enough to use that for the bigger things like a venue or travel. It is the other important things me and my husband Rajiv paid for - the Photographers, Videographers, the DJ, Makeup artist etc. It might seem to them that these are not the bigger things but for us, they were the big investment. Our parents had weddings that did not have photographers or DJs who are at such a professional level but in todays times, it is these which are considered an investment of sorts.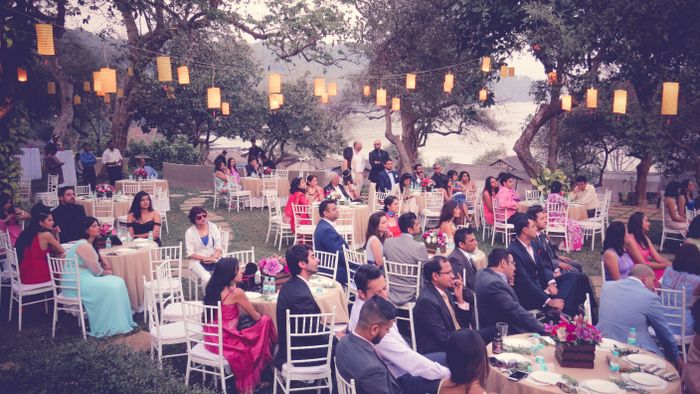 Splurges That Really Mattered
To be honest, it was the Venue, the Food and Alcohol that are the three things we splurged on at the wedding. And in that respective order because these are the three things that people remember most about a wedding. That means, we didn't want to compensate or compromise on these things. We chose Stone Water Eco Resort as our venue - a stunning property in South Goa by the sea coupled with 20 acres of greenery to boot. It was love at first sight! Even though our decor ideas were really simple, we had a lot of open space to work for our functions. To add to that, we chose a property that was pretty on it's own so that means, minimal decor and more space to play around.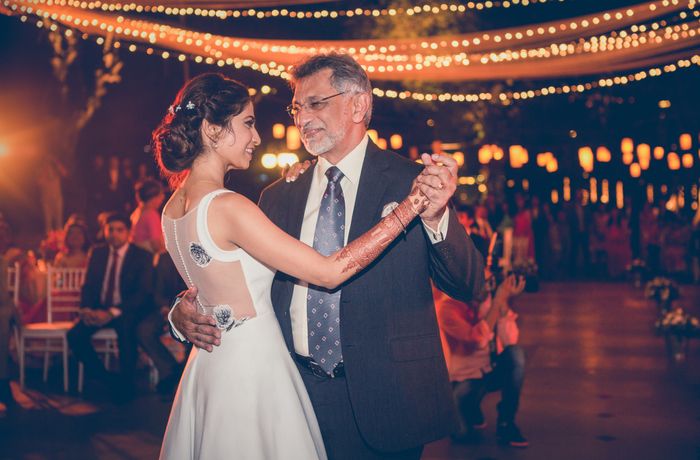 Functions and Pheras
We had four functions across two days. That was our way of fitting in more in less - we wanted to get more out of our venue and it's benefits. We had the sunset pheras followed by the Sangeet (yes, my Sangeet was after the pheras, way more fun I say!) on the first day and the white wedding and cocktail reception on the 2nd day. It is important to note that I'm a Gujju and my husband is a Malayalee Christian. Though it was a packed schedule, we also spaced our functions out in such a way that it gave our family and friends time to breathe and bond between functions.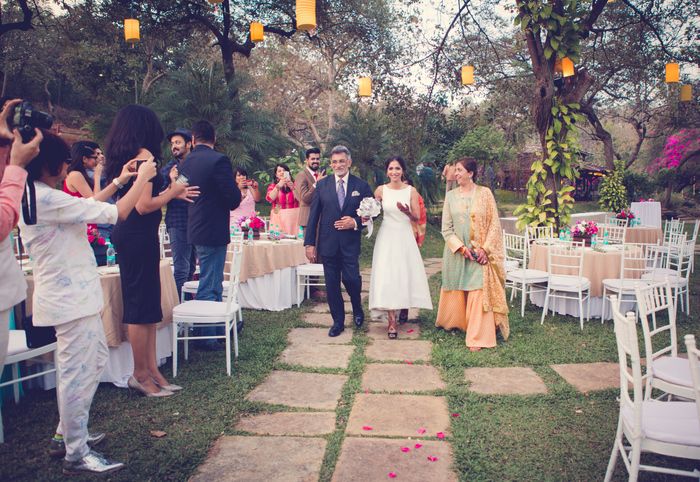 Timing and Tastings
We got married in Jan end - and that being the wedding season, the rates for everything was at a premium. And even though our decor wasn't too elaborate, our venue being so large a space we did end up splurging on it. Food and Booze were super important. Every guest that comes to a wedding , may or may not remember what you wore, your decor or even the invite but they will always remember the food and alcohol, come what may.
We made sure we had two to three tastings before the wedding for food so we knew where we could cut out stuff. We did have a variety of dishes but went easy on the menu. And we realised that it is impossible to eat 50 dishes so we had to choose and segregate. Every function had a different variety of cuisines  - Goan food being the predominant one in every menu of course. It was the right number of dishes that really stood out and was the talk of the wedding. Booze was again a big deal so we made sure we never ran out of it as that is one thing people will always remember, sober or not.
What Got Our Budget To Budge: Decor + Outfits
We really were very clear where we would save up. And that is, Decor at the venue and Clothes (Wedding and Trousseau). Both important but can be controlled. Decor was for a day or two and we already chose a pretty place so we went with a Pinterest-DIY-feel. Maximum impact with minimum efforts was the mantra. Being a creative person myself ( I'm a fashion designer and have a label called Buttermilk), most of the ideas were self incorporated. With months of referencing and researching DIY ideas, I self-designed every element for the wedding to suit our taste and style.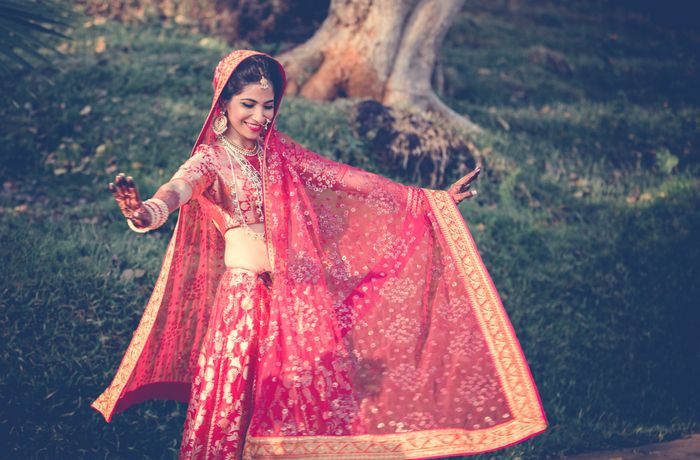 Bridal Outfits
I designed my own lehenga so besides my clothes I also wanted the wedding decor to reflect my personal style. From the invites to Thank you gifts for the bridesmaids to the decor at each function, trousseau and wedding outfits - everything was carefully budgeted. No splurging on any last minute stuff, no panic buys. I also designed my clothes in such a way that I would definitely wear them more than once.
I had two Weddings - the pheras and the White Wedding. I always wanted a white wedding and as luck had it, Rajiv is half-christian so this just worked in my favour ;-) My wedding Lehenga cost me 65 K and my white gown cost me 25K. Rajiv's outfits and my close family outfits were also done by me on a tight budget.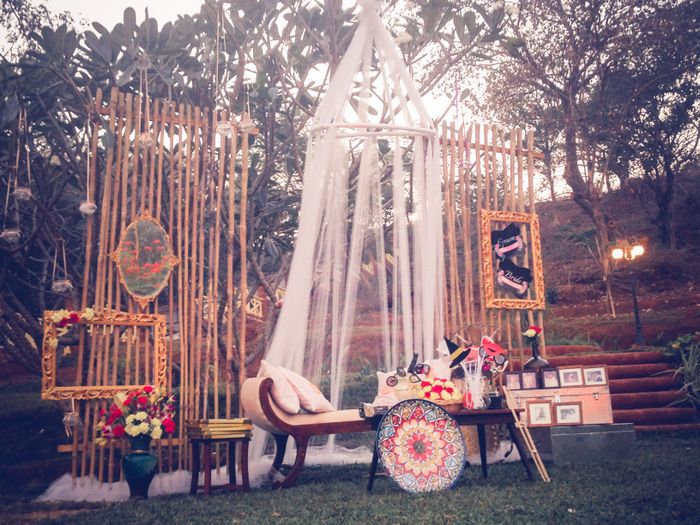 Decor
Decor was my big save - I was very clear about how I wanted each function to look like and reworked decor ideas to suit most functions. We used the same ideas differently so there was no excess or wastage. We also had the most amazing decorator (Francis) who loved the fun, non-typical and non-fussy ideas and understood exactly what we wanted /our vision and executed it to the "T". We paid for execution and not ideas so it was good. Our decor was simple and stunning and absolutely DIY.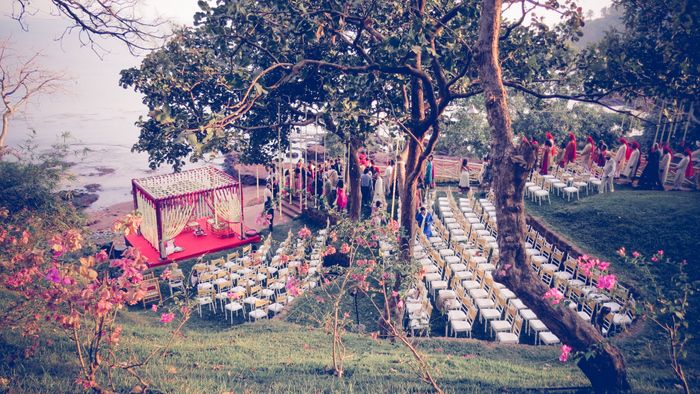 Tips for Brides:
Please have a clear idea about what you want because you'll end up getting more stuff that you will not use or end up following ideas that don't make sense. Know costs, ask the decorator. Don't just show a Pinterest picture and go ahead - it often might be maximum work but won't even show. I shared my Pinterest board with my decorator and one look and he understood our inspiration pins and budgets and gave him a clear direction to guide us accordingly.
You don't have to spend lakhs on designer clothes to look like a bride. Plus, look for comfort - nothing puts off people like an uncomfortable bride wearing an on-trend Sabyasachi.
It is *your wedding* so be completely involved and do everything you ever wished for.
Don't leave anything to chance - have backups for everything. From outfits to decor ideas - you can't trust the weather.
You are going to fight - with your boy, your parents, his parents, decorator - EVERYONE. But it will all work out only if you know your mind.
It's not possible to please each and every person at the wedding. Irrespective of what and how much one does, someone is going to be unhappy so budget with that in mind.
Get your creative friends on board. They know you better then the wedding planner you hired. Of course you can pay them in kind :)
A lot of people underestimate the costs of hiring a good MUA, Photographer and Videographer team. Don't compromise on that!!! The months of rigorous wedding preps get over within days and everything is a haze. All we have left are memories and stories through pictures and videos so invest wisely.
Photography by Aanchal Dhara Madan.