Sister Of The Bride Checklist: Duties For Everyday Of The Wedding Week!
BY The WMG Bride | 10 Apr, 2016 | 17258 views | 4 min read
Sisters before Misters, right girls ? You're the bride's BFF & sister, a valued confidant, and someone who the bride wants standing beside her when she gets hitched. Here are a few sure-fire things you need to do as the bride's go-to gal.
Before the Wedding
Go to all bridal exhibitions and shopping fairs with her (take pictures!)
Create a Pinterest board along with her. Also, a Whatsapp group with super close friends to help out when needed.
Attend vendor meetings along with her so that when she is panicking later, you have a hold on things
Throw her a bachelorette party! (The best part)
Keep in touch with the in-laws in case they need a point of contact for the petty things!
Smile, agree, smile, nod, throw in an opinion, and if it's shot down, move on. As opinionated as you may or may not be, you are there to play the supportive, open-to-the-bride's-crazy-ideas, role. Be honest but don't push it.
Keep an emergency kit ready with makeup essentials, a sewing kit, clips and pins, tissues and also a miniature of tequila!
When she is going shopping with her mom in law, tag along. She will need a voice she trusts.
Call up all makeup, hair dressers and bride-related vendors one day prior to the ceremony to re-check appointments.
Create a strategy on how to rob the groom's shoes!
Apply your mehendi one day prior to the actual function so your hands are free.
Keep a few close friends in loop so that in case you are tied up, you have extra hands on deck!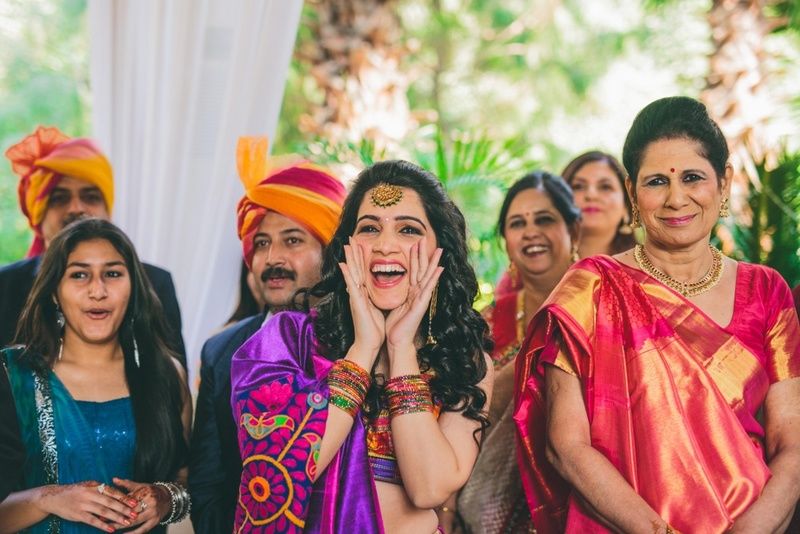 Picture Courtesy:Ishank & Jessica's Wedding 
Pre-wedding functions
Slip some of that wine yr drinking to her, she will need it !
Encourage her before all her sangeet performances. Be her cheerleader, also check on her moods.
Make sure there is at least one person with her during her mehendi application as she will be unable to do anything that day. From scratching her nose to feeding her food. You could be that person too.
Make sure you dance your ass off and be the super star from the bride's side!
Keep her makeup + outfits +jewellery  ready for all occasions. Keep the keys to the room + jewellery safe with you at all times.
Hold the bride's phone, know when to give her that call or answer it yourself!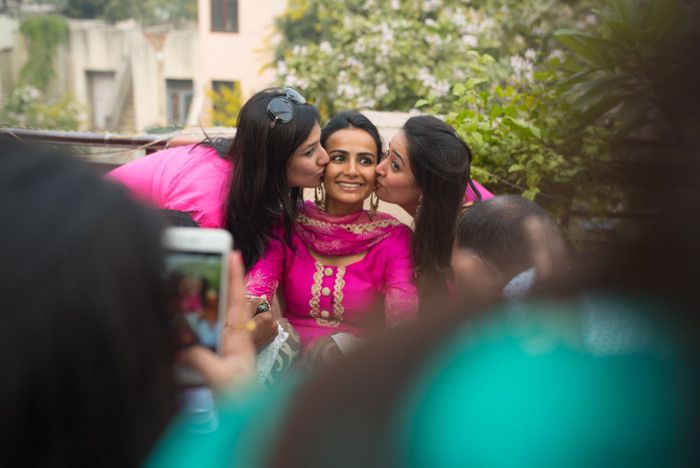 Picture Courtesy:Ankita & Ryan's Wedding
On the wedding day
Being a Micro- Manager - Why is the make-up person not here yet? Why is the blouse not fitting? Resolve all these mini-crises! Keep a tab on time, make sure the bride's up on time!
Give her a thumbs up sign behind the makeup artist when you see her work,
Help her Pee !! She can't do it by herself on the wedding day
Get ready before everyone does so that you are there for the bride from minute one!
Keep all vendor info with you; keep a power- bank, your phone and the bride's phone with you.
Keep the bride cool and collected and also the parents.
Always keep an eye on the clock, making sure everyone is fed, dressed and where they need to be on time.
Have an extra set of keys to the bride's room so that in case she needs anything you don't have to find that chacha's son who has the room key and has disappeared!
Be near or in the mandap with the bride. Help make adjustments as needed, whether it's placing the dupatta just so for the ceremony, adjusting the can-can in the lehenga for photos or dusting off extra kumkum.
Arrange for all the luggage to be transported wherever need be. Wedding night bag in the room and rest of the bags to her in-laws house.
The bride is likely going to be running all over the place chatting with guests and catching up. Keep an eye on her throughout all functions and make sure she takes some time to eat, drink, and catch up with her new spouse!
Be the punching bag - be there to listen and let her vent her frustrations without judgment or argument. And the butler - the bride will need things, and the closer you get to the wedding day, the more things she will need. You will fetch them. You will do it with a smile on your face. Enough said.
Throughout the whole process, your number one priority is to be there for her no matter what. As a sister you've likely had some practice with that, but in this situation, she's definitely going to need you more than ever. From planning mishaps to calming her wedding day jitters, she's going to be so thankful that you stood by her side on her special day. And off course, don't forget to have a blast at the wedding – after all your sister gets married only once!