Sister Of The Bride? Here's What You Need To Carry In Your Clutch!
BY Garvita | 23 Jul, 2019 | 6445 views | 4 min read
We know being a sister of the bride can be overwhelming, because you've tonnes of things to do! So much that at a certain point you miss taking time out for yourself. But you've got to be fully prepared, afterall it's your SISTER'S WEDDING!!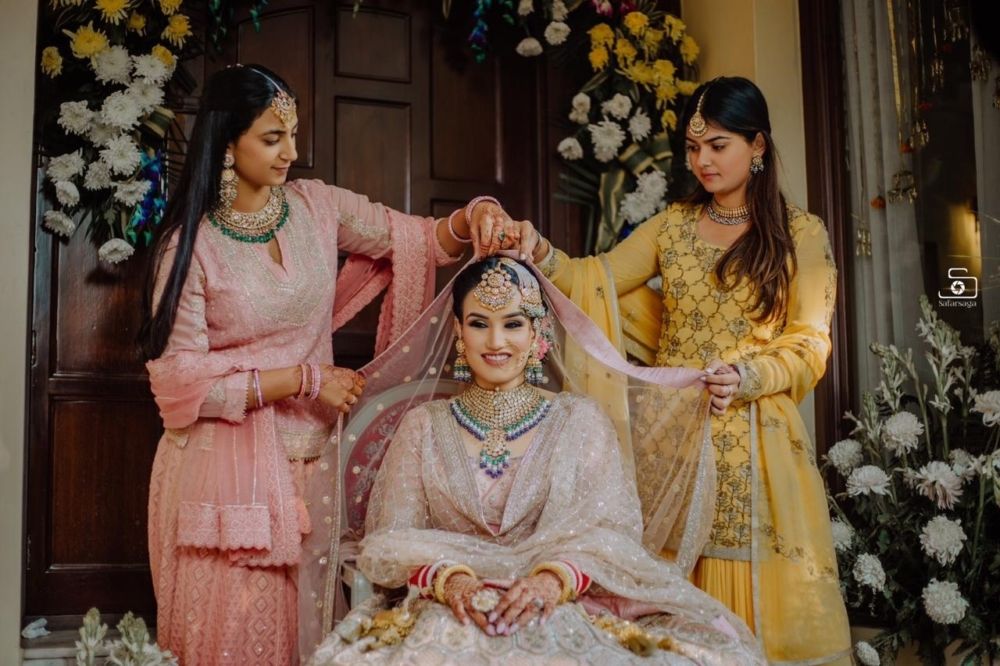 Image via Safarsaga Films
How you may ask? By keeping a few essentials that you'll definitely need to sail through the wedding thunder with an ease. Here's a list of items that you'll need to carry in your clutch! Make sure you bookmark this one.
Tissues & Face Wipes
You just can't do without tissues at your sister's wedding! From dabbing the excess oil, to wiping off those tears and sweat, you ought to have them in your clutch. If not for yourself, keep 'em for the bride or for the random chachiji who might end up spilling some gravy on her beautiful saree.
Makeup Products
Lipstick touch up is a must amidst the hogging and drinking at the wedding! Isn't it? Also if your mascara isn't waterproof, all the crying for your behena would make you look like a panda, and that's a big no no!
Quick Snack
Yea we know weddings are all about food, but trust us, being the sister of the bride you'll hardly get time to even go near the food stalls (until and unless it's food over your sister for ya! :P)! So slide in an energy bar into your clutch, because you'll really need one!!
Safety Pins & Hair Pins
Do we really need to remind you about this? So this one comes with a personal experience, I remember when my sister's outfit's zip ditched her and how safety pins came to her rescue! Hair pins to either secure the bun or to keep fray hair at bay (after that crazy dance session)
Powerbank
A switched off phone at your sister's wedding would be a nightmare! No selfies, no outfit pictures and no Instagram to post the updates. *sigh* Also looking for charging is a mere wastage of time! Can't afford that too. So please don't forget a powerbank, ladies!
Compact Mirror
You keep it otherwise too, right? Touch ups are more convinient with a compact mirror in your clutch!
Fashion Tape
Not many of you know but a double sided tape (DST) is extremely useful during weddings! Be it to keep the maang tikka intact or save you from falling sleeves.
Pain Relievers
Headache is bound to happen after those sleepless, crying drunk nights, and now with the loud music at the wedding, so make sure that you're covered!
Tampon
Period protection alert! All the wedding stress can lead to a not-so-expected period. If not for you maybe for the others in your sqaud! So a tampon or a pad in your clutch is definitely a must.
Minitiature Daru
Well, you know you can't rush to the bar again and again! So why not carry a mini bar in your clutch, instead? Have a sip or two in between, and you're good to go.
Perfume Vials
Bridesmaids/ sister of the bride ought to smell good throughout the wedding, which ain't easy until and unless you choose not to go on the dance floor! But are you even a bridesmaid if you don't dance? That's when a perfume vial comes to your rescue!
A Smaller Pair Of Earrings
Those huge, heavy earrings could lead to intense pain and discomfort eventually! And this time fashion ke liye sab chalta hai won't work, so keep an alternative handy, just like you'll keep a lighter outfit for the pheras.
Pair Of Flats
Lets Nachoo in a comfy pair of flats! We know you can't stuff footwear in your clutch, but it'll be a savior once your feet gets tired of the enthu dance performance.
And you thought being a bridesmaid or sister of the bride was easy! It's equally back-breaking as being a bride. But now that you've got a checklist of must have essentials to carry in your clutch ready, we hope it'll be a relatively smoother ride, for y'all! Don't forget to share this post with your #girlsquad.