Sister of the Groom Style: Meet Sneha!
BY Sakshi | 28 Sep, 2016 | 969 views | 3 min read
Remember Manoshi and Atit's Real Wedding in Mumbai, who had a gorgeous Indian and White wedding? Everything looked so elegant and classy, right from the couple to even their relatives! One person who caught our eye in the wedding photos was Sneha, who really stood out in all the photos she was in! We asked her all about her style in each and every function!
Sneha says, "I wanted my looks to blend seamlessly with the function decor/theme each time.
The Mehendi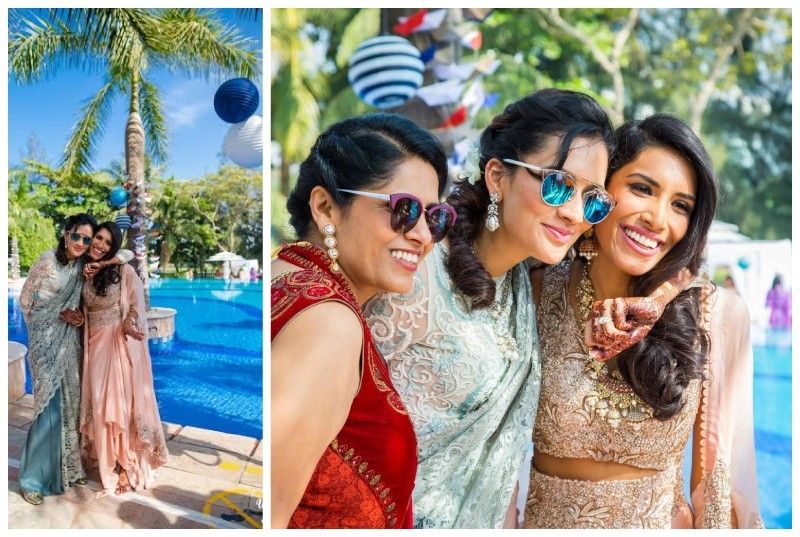 For the Mehendi, Sneha chose a pretty pastel outfit . The mehendi was a pool party and the vibe was relaxed so I went for a pastel gown saree and kept with the aquamarine colour palette. I added blue reflective aviators to up the look .
The White Wedding
Sneha chose a gorgeous nude dress for the White Wedding, going with the theme by Sahil Kocchar.
"The white wedding I was a bridesmaid so I was required to wear pink but since I was also the sister (in law) of the bride I decided to go with a nude dress with pink flowers hand painted and reverse appliquéd on it as conceptualised by Sahil Kocchar."
The Hindu Wedding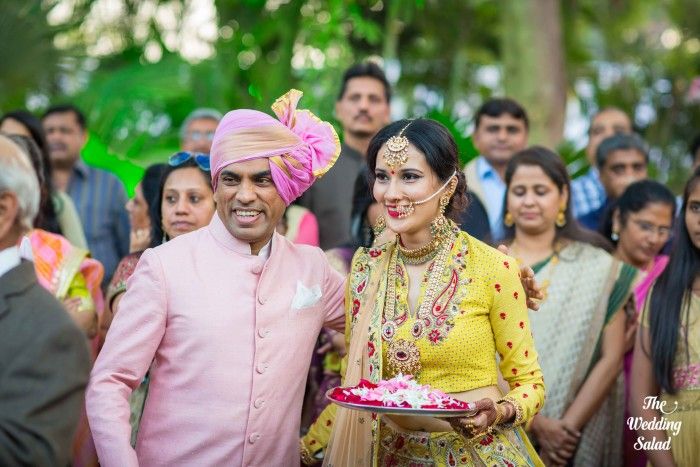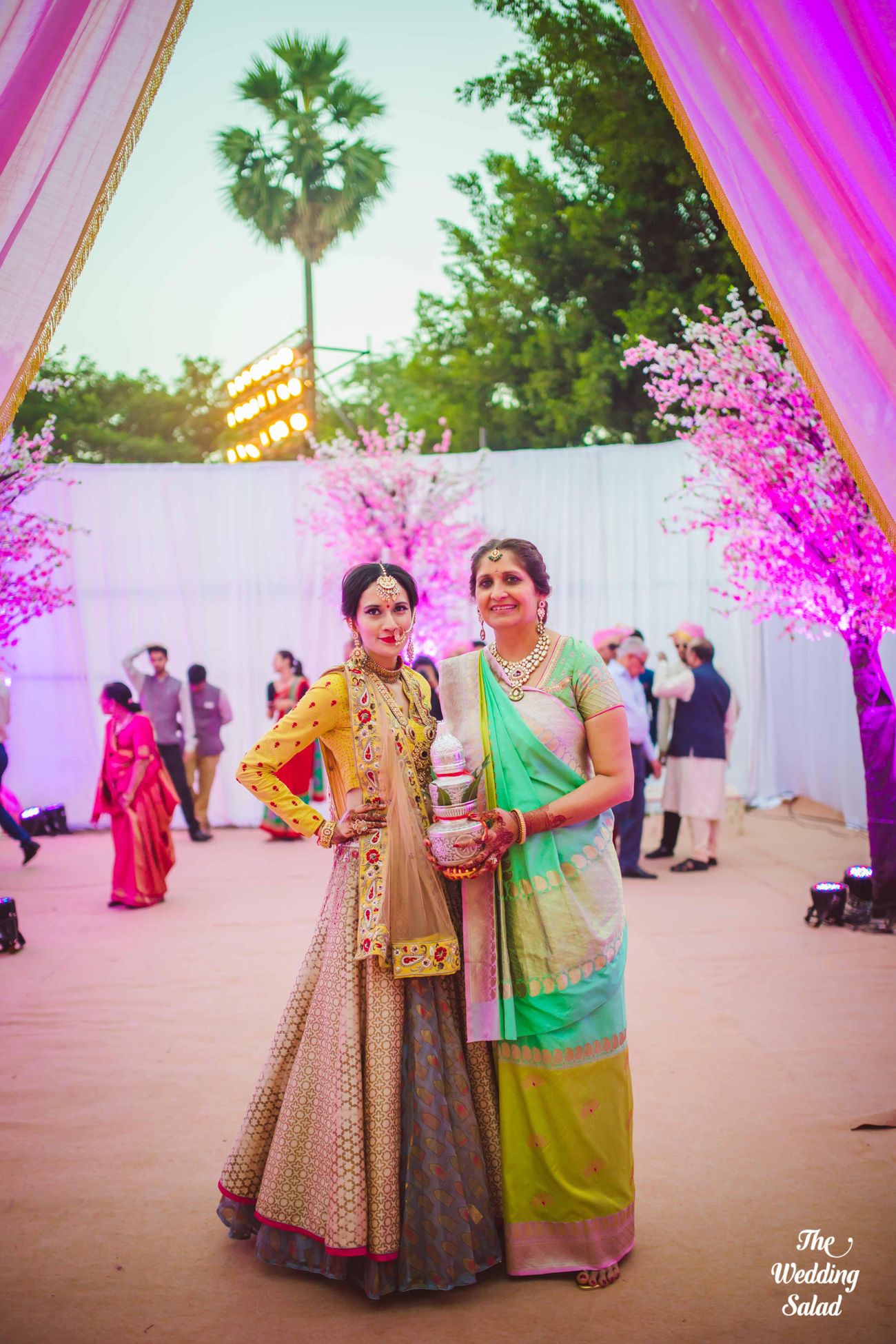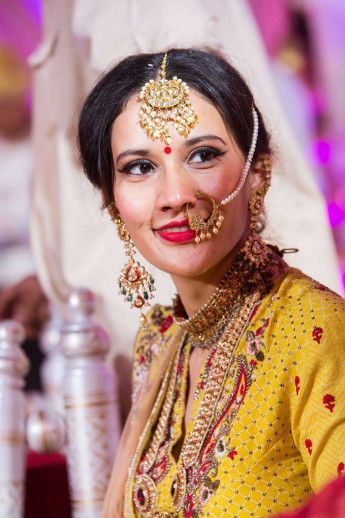 Sneha picked an Anju Modi lehenga for the Hindu wedding.
"For the Hindu Wedding I picked my favourite designer- Anju Modi and let her outfit just work its magic. She is the perfect combination of traditional and contemporary. Looks heavy but doesn't physically weigh you down which is important at a family wedding."
The Reception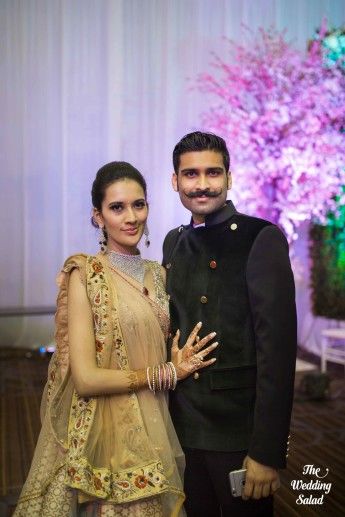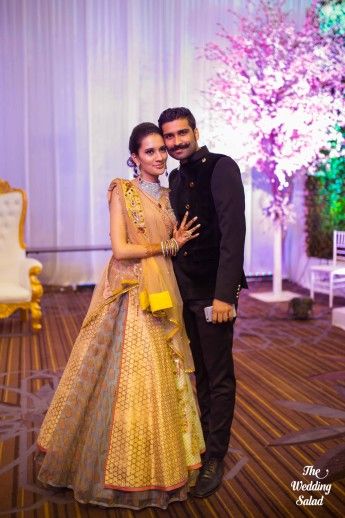 Sneha carried on with the same outfit as the Wedding for the Reception, but with a twist which made it look like a whole new outfit!
"For the reception I just changed my blouse and jewellery!"
Small things she did to make the outfit stand out
"I stood out from the other bridesmaids because I decided to use the theme pink not literally but with the work on the dress. Since the gown was too western, I added the lace saree by myself to make the outfit slightly indo-western. Also, my blue reflector sunglasses added some glamour. The sangeet I played my bomber jacket with a super traditional mango mala. For the wedding I picked a slightly offbeat combination of yellow, red, pink and grey. The bottom was layered with quirky birdcages printed and embroidered. I chose a mid sized nath, red bindi and red lipstick."
"I trusted my make up artist Prianka blindly. Honestly, no input in my hair and make up. My skin was breaking out so the only thing I asked for was to keep the base light."
You can view the full wedding in our Gallery
here
.
Which one was your favourite? If you flaunted some serious style at a wedding recently, then email us with photos at submissions at wedmegood dot com
Photos courtesy : Wedding Salad