Skincare Emergency Remedies For Brides-to-be That Are Right In Your Kitchen Cupboard!
BY Sakshi | 22 Apr, 2020 | 4032 views | 4 min read
Disclaimer: These are super easy to do, and do not require exotic ingredients or a lot of steps! Perfect for those looking for a lazy fix!
So you have your wedding coming up, and you can't go for your monthly facial or dermat appointment, and your skin is, let's say, not as perfect as you'd like it to be. And all that binging on chips and coke while you binge watch movies isn't doing any favours for your skin either. So what do you do when you're plagued by skin issues during this time? You know that zit might be small, but the mark it will leave behind might stay right up to your wedding! So here are some skincare remedies that are helpful in times of crises (and Corona :P) which are right in your kitchen cupboard or your garden or balcony!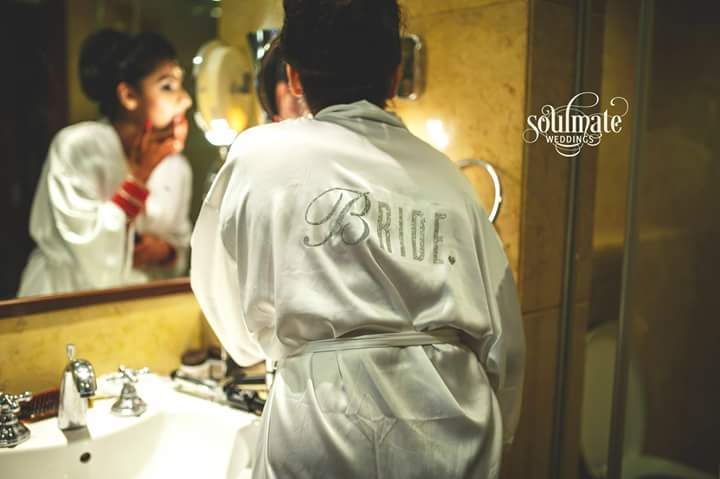 Image via Soulmate Weddings by Shalini Rao★ 5
Problem: Random Zit or Pimple
Do a cold compress. Take a cube of ice in a cloth and dab it on the zit. It'll calm the zit down to an extent.
Problem: Redness and agitated skin
Try oatmeal. Grind oatmeal and then soak it in some water. Use the water with a cotton ball to calm down your skin. Keep for a while and then rinse off.
Aloe Vera mask. Just cut off a part of the aloe vera plant and take out the flesh. Mash it and apply directly on skin to cool it down. Keep for a while and then rinse off.
Problem: Acne and bumpy skin
Use green tea as a toner. Steep green tea in boiling water for 3–4 minutes, then allow it to cool. Apply tea to skin using a cotton ball or pour into a spray bottle to spritz on. Allow to dry, then rinse with water and pat dry.
Try diluting some apple cider vinegar in water (1 part ACV and 3 parts water (or more if you have sensitive skin)) and toning your skin with it using a cotton ball every morning or night. Let it sit for 5-30 seconds and then rinse off. 
Try a honey and cinnamon mask.
Problem: Need to exfoliate
Grind oatmeal and then soak it in some water. Use this mix to exfoliate your skin. Keep for a while and then rinse off. You'll feel an immediate difference.
Coffee makes for an excellent scrub as well, and gives a glow to the skin too. Just take some coffee powder in your palm and mix a few drops of water in it. Scrub your face with it and wash off.
If you have dry skin, then make a scrub at home using sugar with coconut oil. Those with oily or combination skin can use sugar and honey. 
Problem: Acne spots and scars
Potato juice and really help! Grate some raw potato after peeling it and use a cotton ball to absorb the juice and put it on your scars. Keep for a while and then rinse off. 
Problem: Dry skin
Use Aloe vera. Scrape the gel from the aloe plant out with a spoon, and apply the gel directly to clean skin as a moisturiser by really massaging it in. 
Just rub olive oil into your skin and drape a warm damp wash cloth over it till your face cools. Then wipe away the excess oil, and we promise your skin will thank you!
Problem: Tanning
Tomato juice is really effective for this! Cut a tomato in half and rub the juice on your face or any other body parts which are tanned. Keep for a while and then rinse off or just go for your bath. Do this regularly and see the difference. 
Take some sour curd. Optionally you can add a pinch of turmeric to it. Apply it to your face and other tanned parts of the body and wash off with luke warm water after half an hour.