Small Little Additions To The Groom's Look That Can Make A Statement!
BY Sakshi | 10 Sep, 2018 | 675 views | 3 min read
Why be a boring groom when you can be a cool one? Yep, we like cool grooms, and love grooms who add a little bit of detailing or quirk to their look. Here are small little things- accessories and ideas which you think wouldn't matter, but really end up making a big difference to the overall look for the groom!
Changing up the buttons!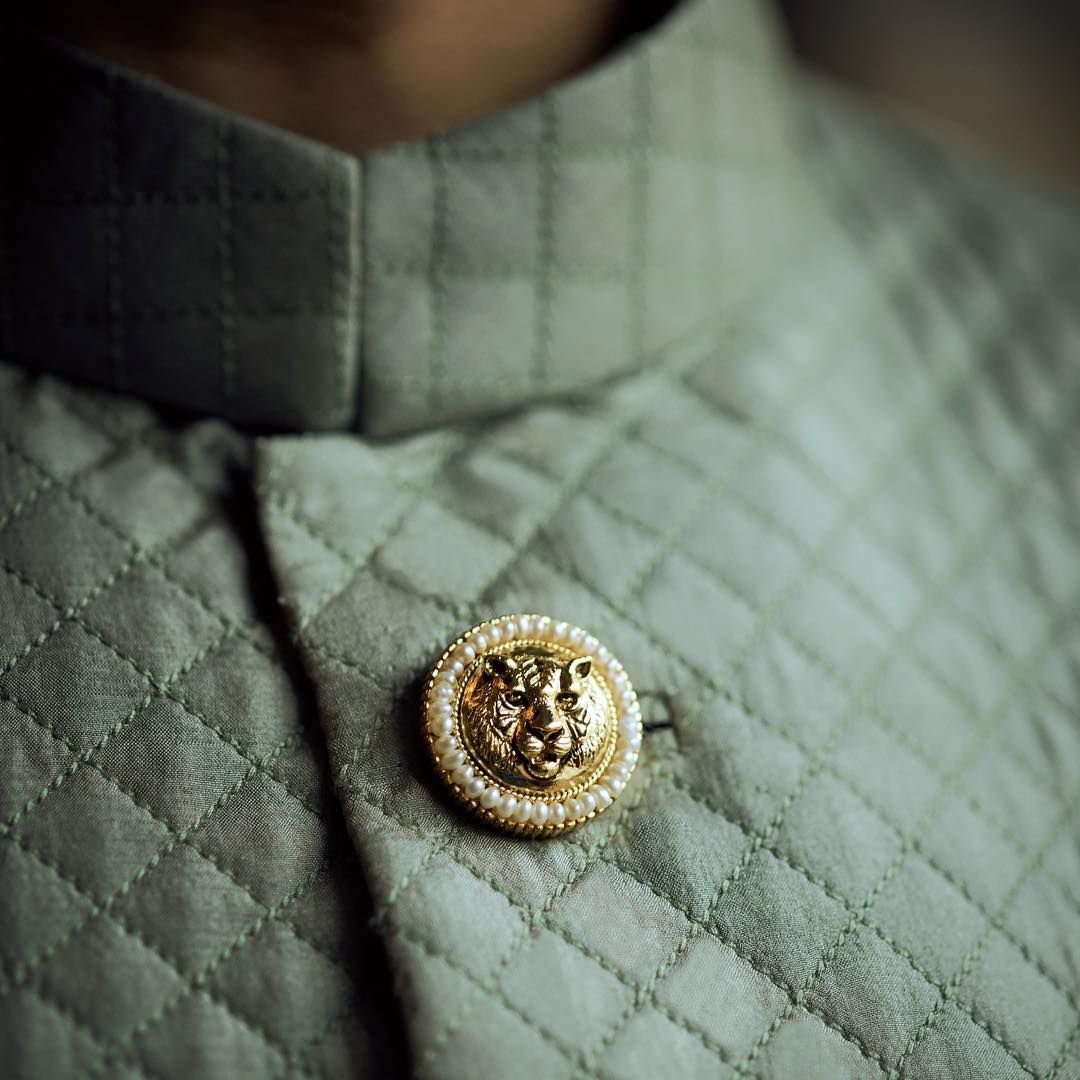 Image via Sabyasachi Mukherjee★ 4.9
Buttons matter, and don't let anyone else tell you otherwise! They can make a good sherwani look bad and a budget sherwani look classy! If you like a Sherwani and not the buttons, get the store to switch them up or buy some from a label, lots of them would be happy to customise too!
The Brooch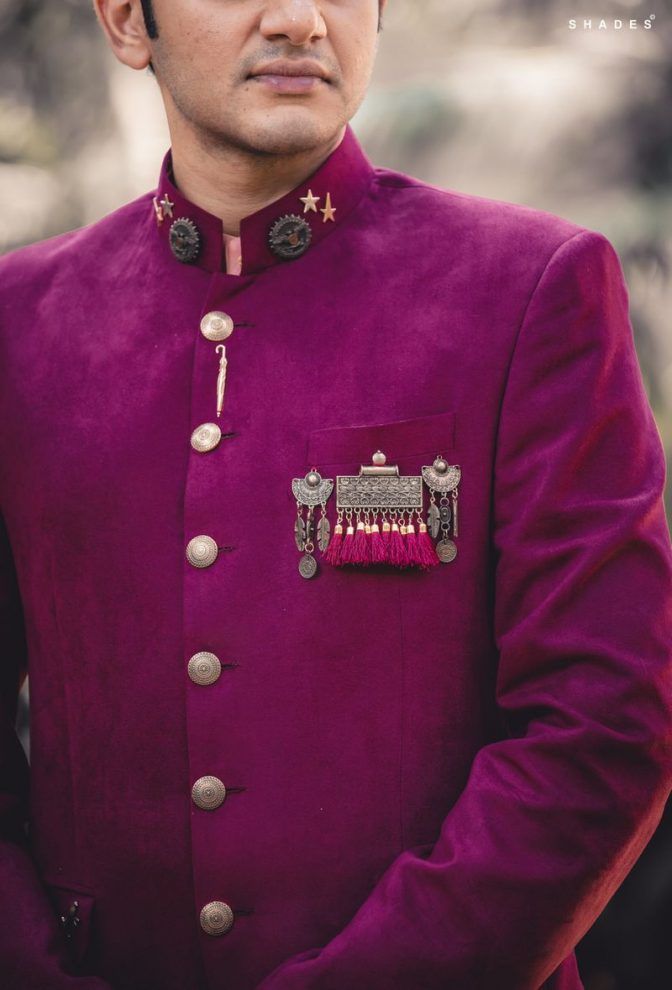 Image via Palak & Dhruv (Goa)
The brooch can also make a big difference, especially if you have a plain jacket or sherwani you're wearing. It can really add a unique look which can make the outfit stand out!
The Stole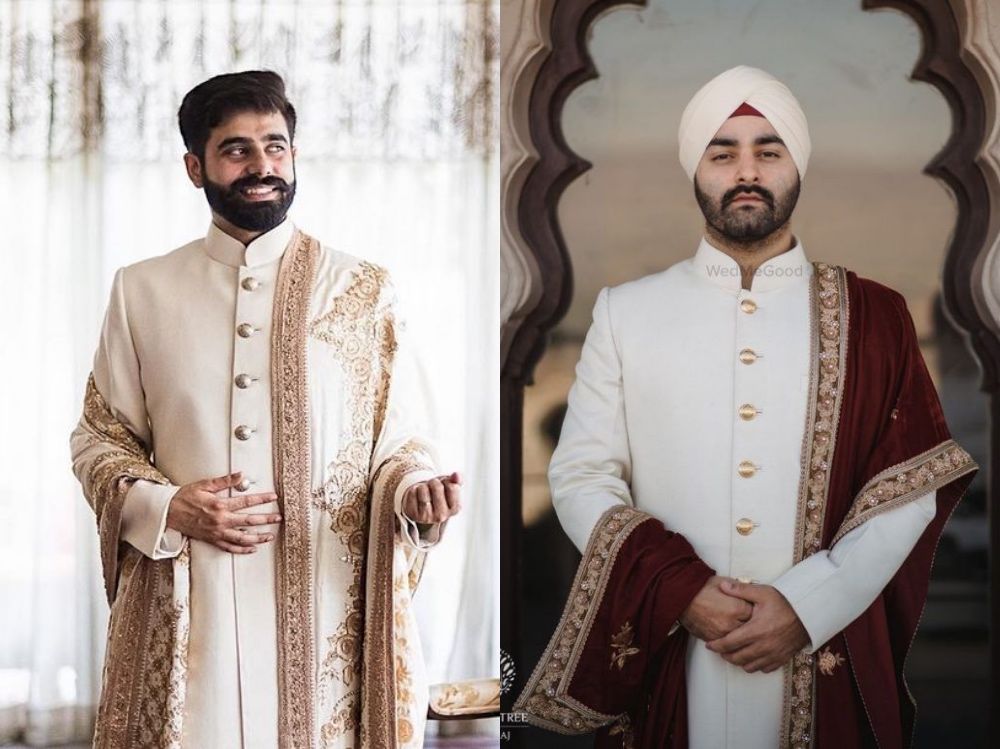 Image via Baraati Inc★ 5  and Savleen and Harman (Jaipur)
Notice how that's the same Sabyasachi sherwani, but how different the look of the grooms is just because of the stole- really put some thought into it- whether you want it to blend in with your sherwani or pop out and add some colour to the look!
The Embroidery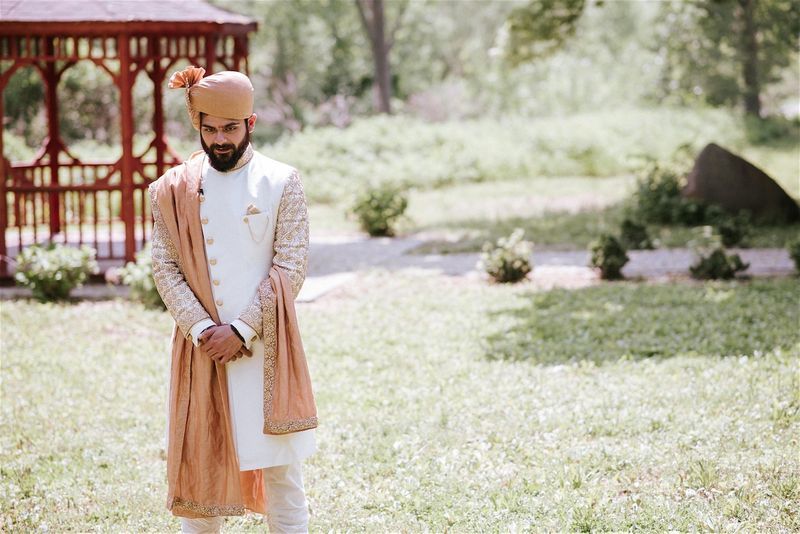 Image via Bindiya and Pooran
If a sherwani with embroidery all over is not your thing, then there's always a workaround! Notice how this groom only has the embroidery on the sleeves and the collar? Really packs a punch rather than a plain white sherwani!
The Safa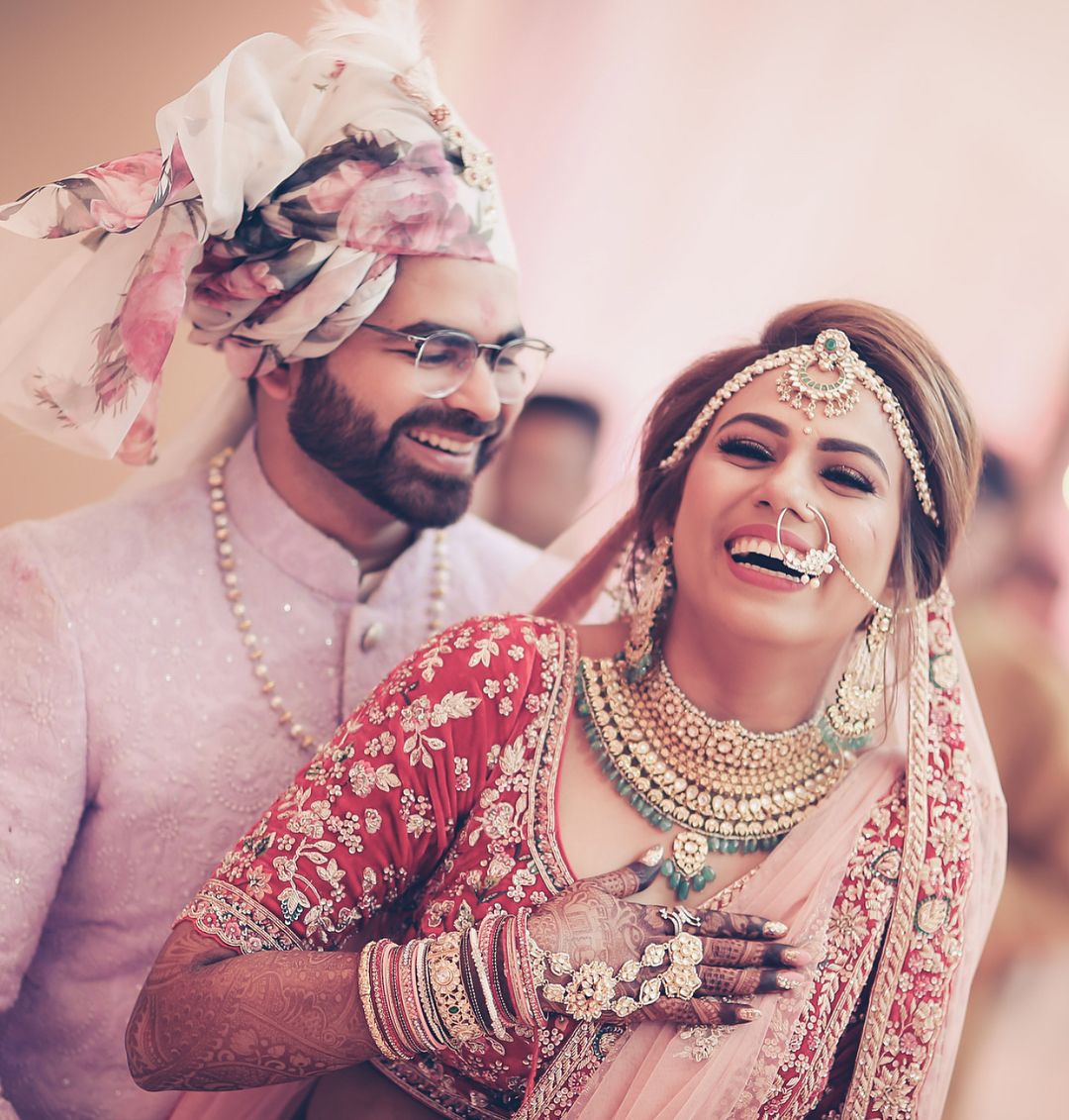 Image via Dipak Studios Wedding Photography★ 4.8
Since most of the photos on the wedding day will be from the waist up, the safa can really make a difference to your overall look, so really put some thought into what you want and try out a few options to see what works- whether it's pastel or bright and plain or printed!
Matching your Pocket Square with your Safa!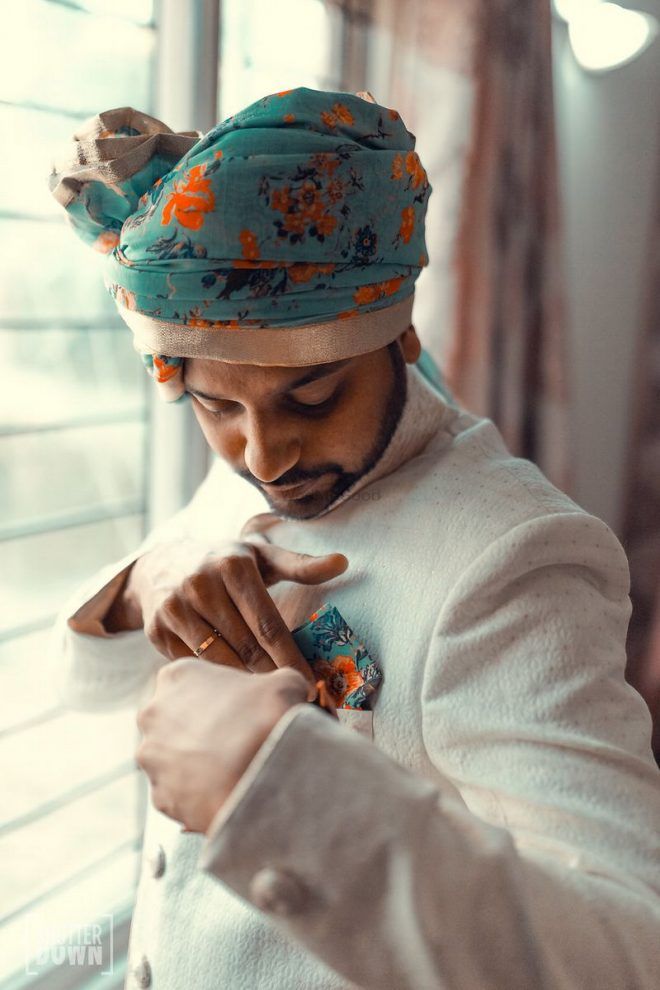 Image via Shutterdown - Lakshya Chawla★ 4.9
Instead of skipping a pocket square or wearing one of a random neutral colour, match it exactly to your safa, it's something that makes a big difference to the overall look, especially if your sherwani is plain!
The way the Safa is tied and styled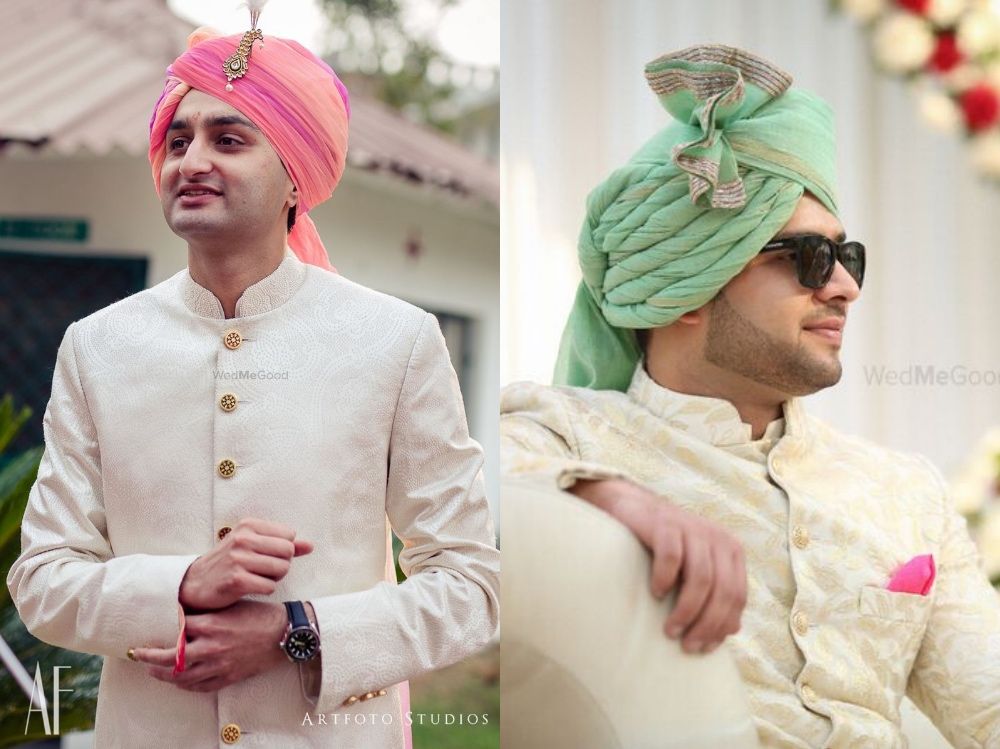 Image via Shiv & Vasundhara (Delhi) and Magic Touch★ 5
A lot of grooms don't really care how the safa is tied as long as they are ensured it'll remain on the head throughout the ceremony! But it does make a lot of difference to the final look- do you want something popping out or not, do you want that to be like a fan or just crumpled. And also, do you want some of it to come ahead on the side or behind? Lots of teeny decisions that will totally transform your look!
The Neckpiece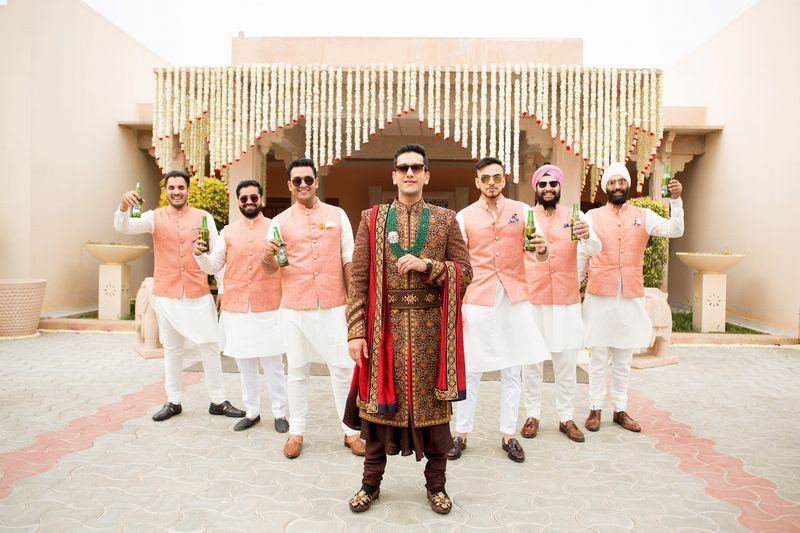 Image via Cupcake Productions★ 4.8
The Shoes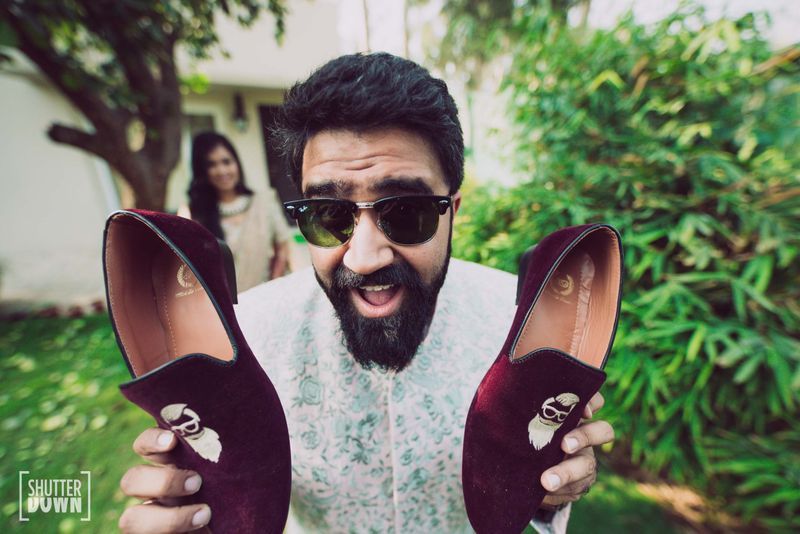 Image via Shutterdown - Lakshya Chawla★ 4.9
Instead of wearing the same kind of shoes you've always owned in life, adding a little quirk to your groomwear shoes can be a lot of fun! Whether you want to personalise them, add a cool motif or get them in a cool shade that stands out, it all works!
Personalising something small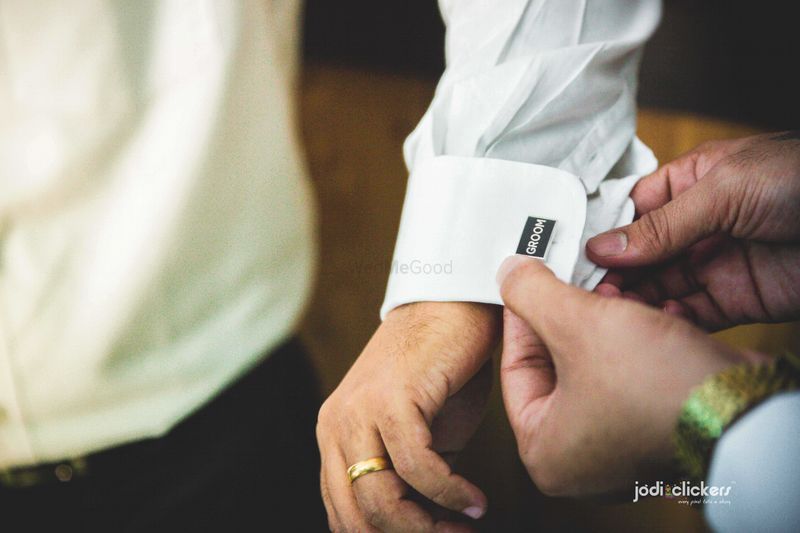 Image via Jodi Clickers
Adding a touch of quirk with something personalised or customised is always a good idea- whether it's something as small as cufflinks or maybe even the shoes!
ALSO READ: Stunning & Unique Accessories We Saw On Real Grooms!