So How Much Does A Manish Malhotra Lehenga Cost?
BY Sakshi | 01 Apr, 2019 | 159060 views | 8 min read
After addressing your curiosity about Sabyasachi lehengas, we thought we shall address the other elephant in the room- the cost of a Manish Malhotra lehenga! You would be very (probably even more very) surprised to know that Manish Malhotra lehengas can even beat Sabyasachi lehengas in terms of cost! Yes, after all, he's been around the block longer and his creations are flaunted by almost every celeb possible! Manish Malhotra's lehengas are more like a twist on the traditional, and have a more modern, new-age feel to them, which makes them very popular with brides and celebs alike. He has lehengas for all seasons and reasons, and here are the different types of lehengas Manish Malhotra lehengas we'll discuss in this post:
Customised Bridal Lehengas
Bridal Lehengas
Light Lehengas for smaller functions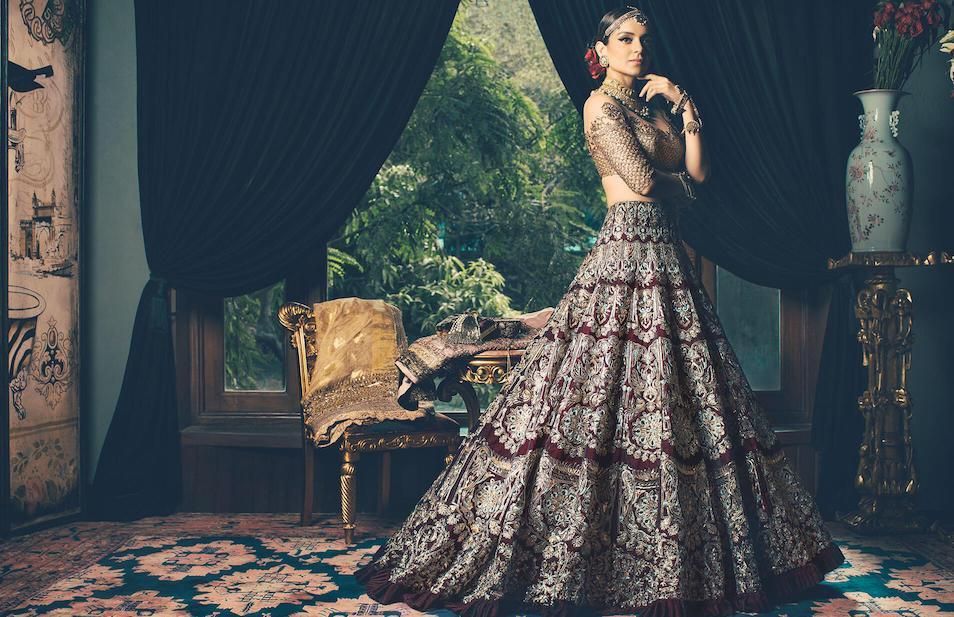 This bride's dreamy white lehenga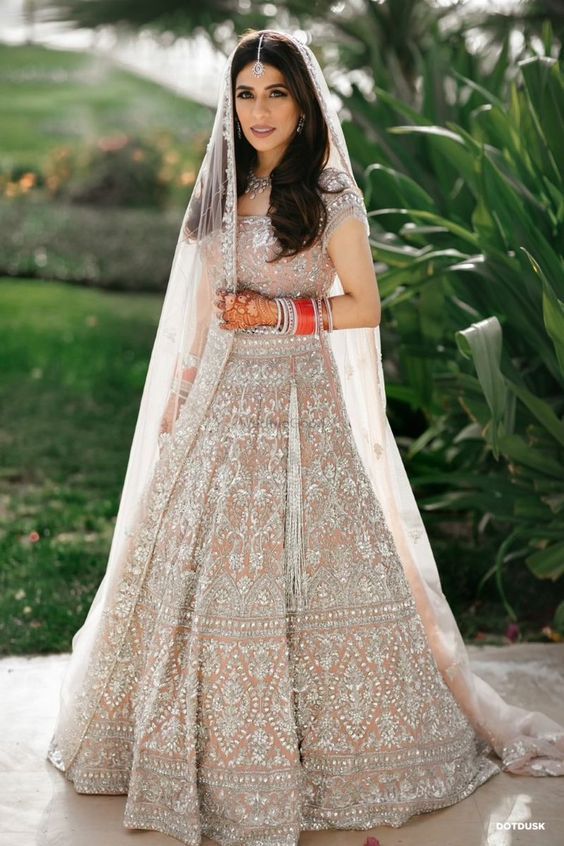 Image via: Pinterest
This bride wore an exceptional and extremely different white Manish Malhotra Designer Lehenga. Soothing to the eyes she chose the extremist colour to wear on her D-Day with gorgeous embroidery.
This bride wore a contrasting blouse with her Manish Malhotra Lehenga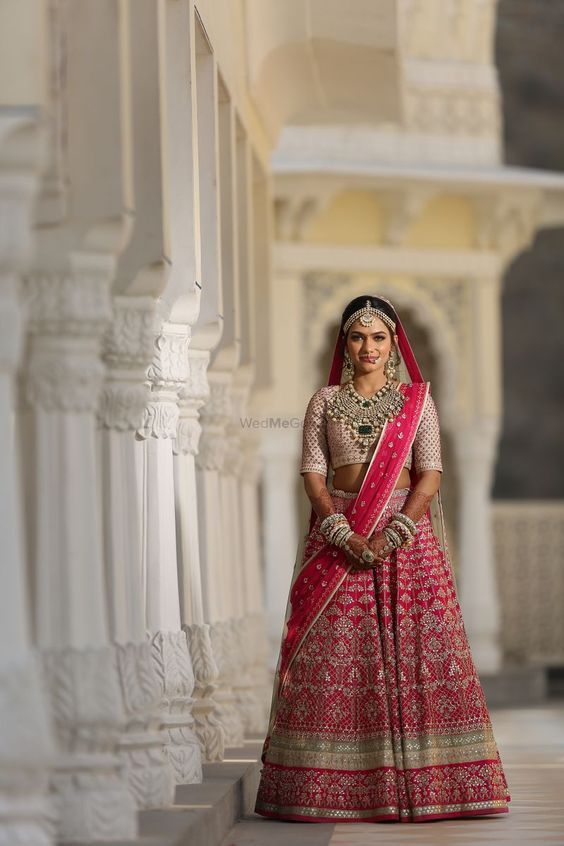 Image via: Pinterest
Traditionalism and Subtle Colours, what a combination! This bride embarked her new phase of life by ditching the usual red and wearing this pretty pink lehenga by the exclusive Manish Malhotra.
 Flowy and Princessy is what the brides love today.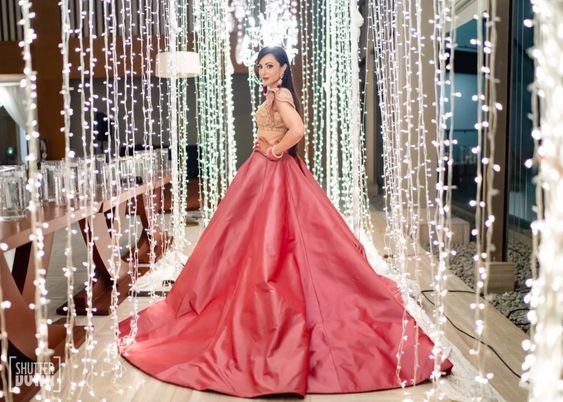 Image via: Pinterest
This bride wore a stunning two piece set by Manish Malhotra to her reception party. It gels together so well and looks perfect for this occasion as the flowy lehenga is simple with a contrasted heavy blouse.
Here are some exclusive pieces from Manish Malohtra's latest collection for all the upcoming brides to take inspiration from!
Nooraniyat by Manish Malhotra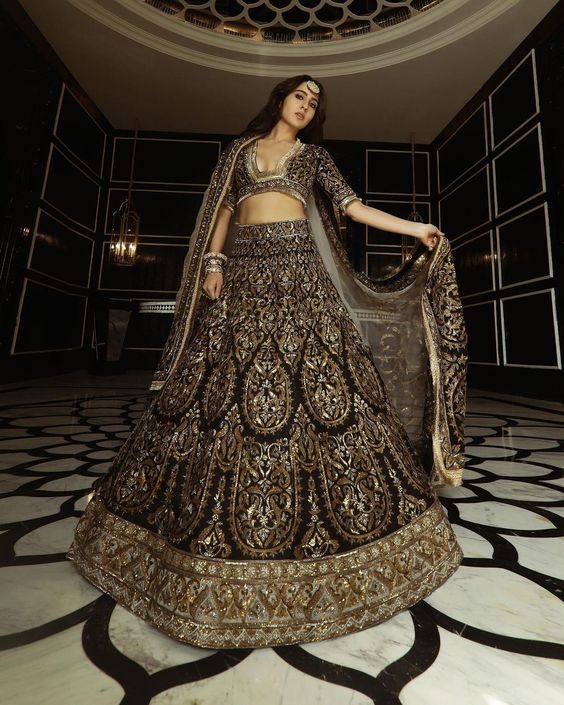 Image via: Pinterest
B-Town star Sara Ali Khan rocked by looking like a diva in this gorgeous lehenga. The neckline, colour and embroidery is something to die for. Totally trending, a Manish Malhotra Design that has definitely won our hearts this year.
Summer Wedding Edit- Manish Malhotra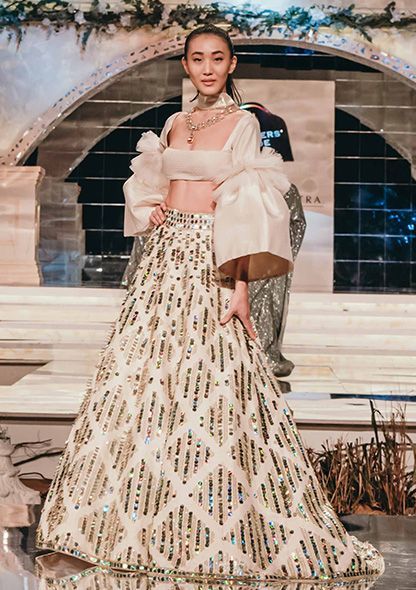 Image via: Pinterest
This year's edit has brought some of the most gorgeous and exquisite designs that those brought over since many years. Not just something for your wedding but also something like this to wear on your engagement or reception as those are also days to think about
Another Gorgeous Manish Malhotra Lehenga from 'Nooraniyat'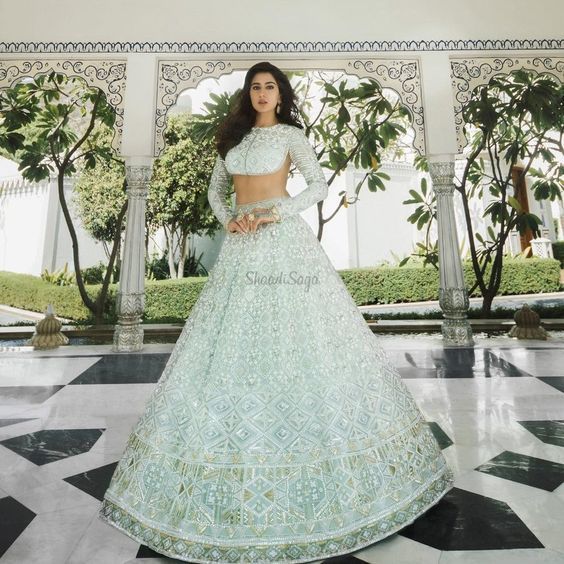 Image via: Pinterest
We're in awe to see Sara Ali Khan pulling off such amazing pieces by Manish Malhotra. We can't wait to see our brides wearing something so beautiful for their functions. So different in colour yet it brings charm to the eyes.
Here's your engagement look ready!!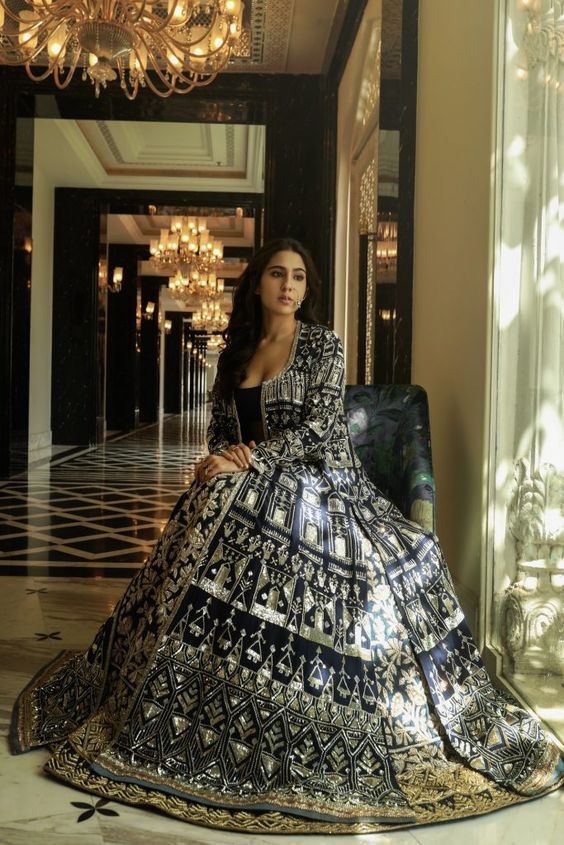 Image via: Pinterest
This party wear Manish Malhotra Lehenga distinguishes richness in colour and design. Try wearing a long shrug instead of taking a dupatta to really look different. A lehenga we definitely suggest you to take inspiration from.
Summer Wedding Edit- Manish Malhotra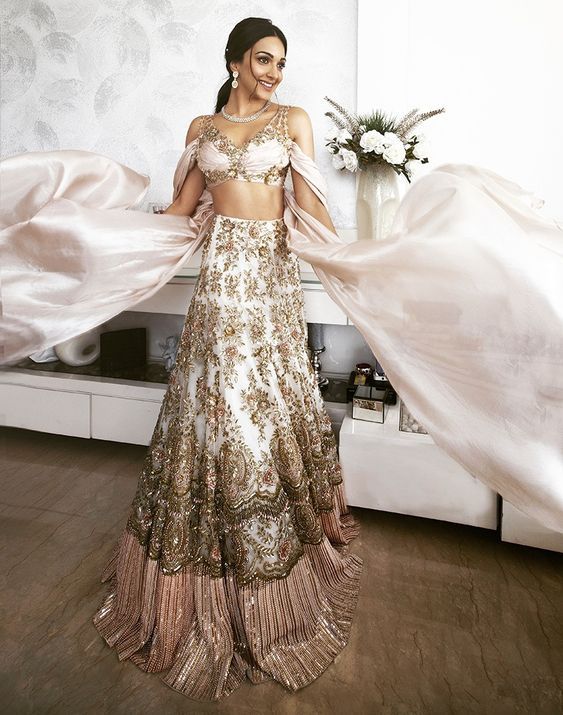 Image via: Pinterest
Kiara Advani is looking like an absolute diva wearing this beautiful Manish Malhotra design. The light rosy gold colour gives out this angelic and appealing vibe to the whole look all together. What we cannot miss is the new style satin dupatta attached with the blouse so that you are completely hands free and comfortable.
Manish Malhotra's stylish crop top and skirt look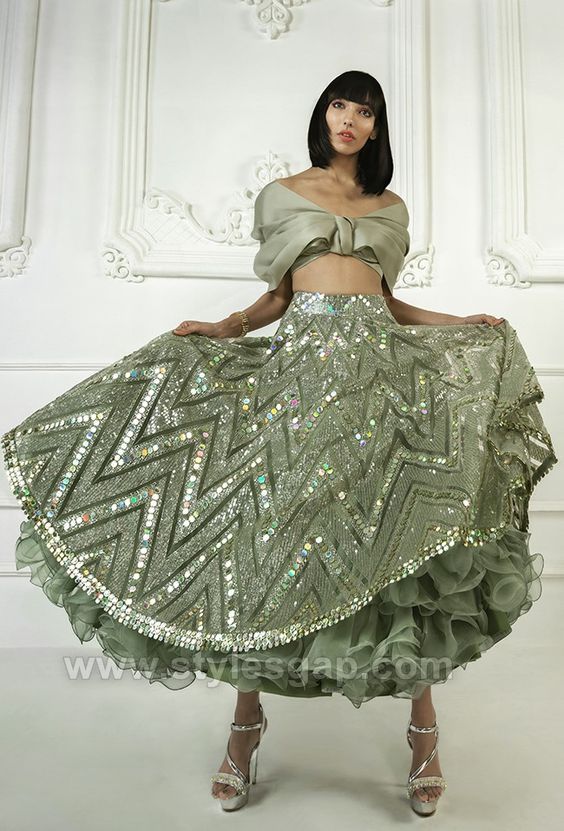 Image via: Pinterest
How can we miss something so trendy as a crop and a skirt. Your mehendi day can be completed if you wish to wear such a piece. Attractive in its own way, the pastel green gives it a perfect chance for you to make it a part of your trousseau that you will cherish your whole life.
So, how much does a Manish Malhotra lehenga cost?
So cutting straight to the point, his light Anarkalis, Kurta sets and sarees are usually in the region below a lakh. But when it comes to lehengas, they are priced more highly. Mehendi and Sangeet lehengas, which are not as heavy as bridal ones are in the region starting from INR 4 Lakhs to 5 Lakhs. Gowns are also priced somewhere in the same region.
And the bridal ones? Well, they start at about INR 5 Lakh and can go up to about Rs 13 lakhs or higher, depending on the level of customisation. And bear in mind, customisation starts at lehengas above the price range of INR 7 Lakhs to 8 Lakhs, not below.
Customised Manish Malhotra Bridal Lehengas
Here are some brides who got their lehengas customised by the ace designer!
This bride's light pink lehenga with a train!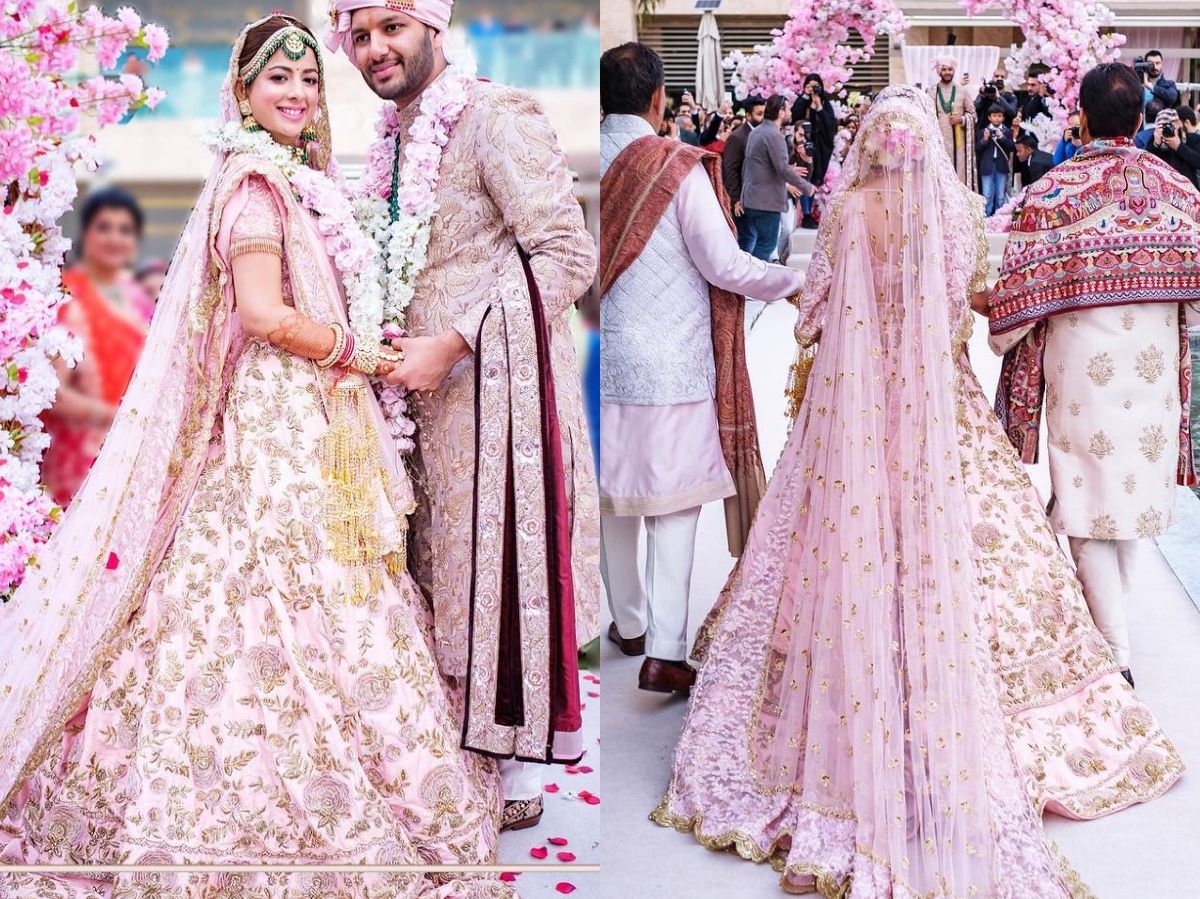 Image via mmalhotraworld
How pretty is this light pink lehenga with the dramatic train? So nice and light for a morning wedding!
This bride's gorgeous lehenga in that offbeat colour!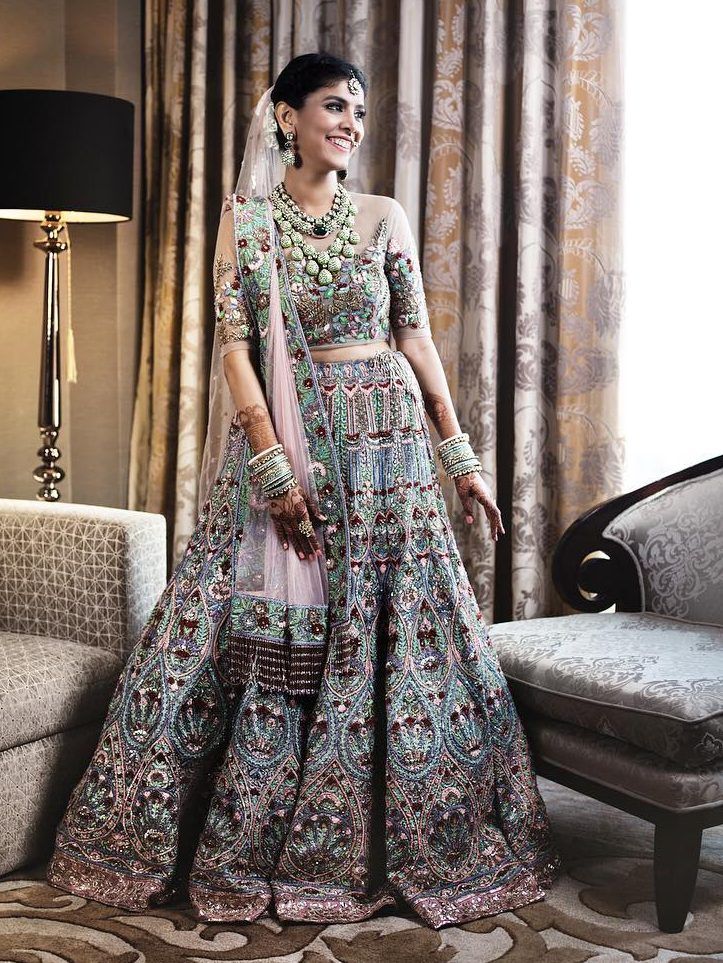 Image via mmalhotraworld
This bride's customised red lehenga with the baraat procession design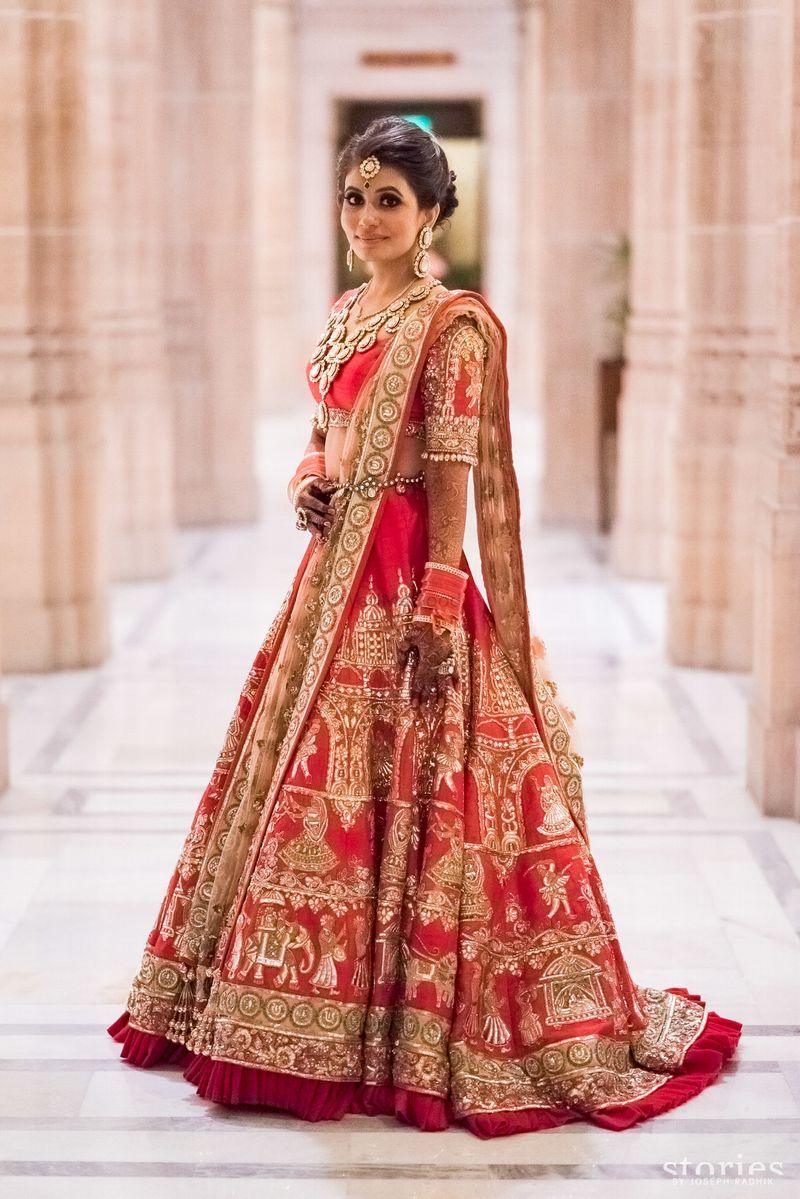 Image via Akanksha & Sushant
This bride got her lehenga customised with the while bridal procession and it was gorgeous! A very very interesting twist on the traditional.
Or this one who chose this modern bridal lehenga!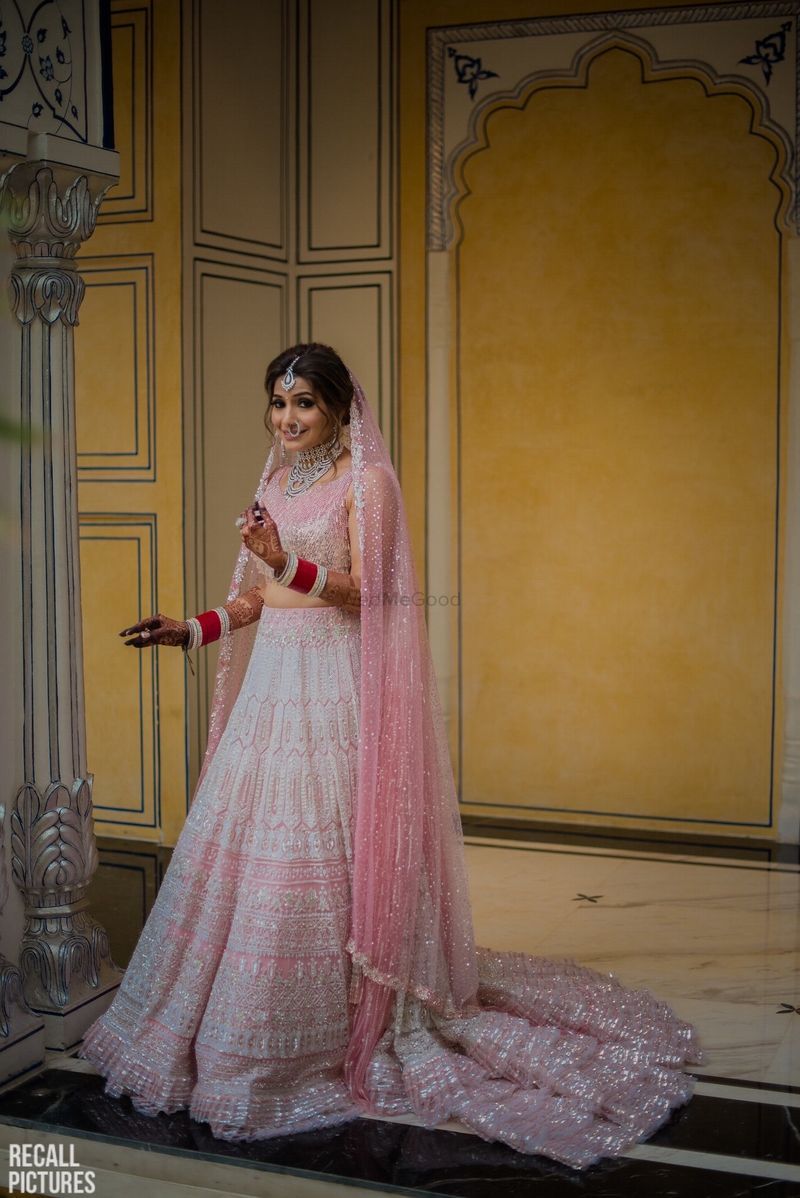 Image via Silky & Sarvesh
Talk about a modern bride! This bride picked a light pink lehenga with white work on it, and it looked so unique and offbeat for a bride.
This bride in her wonderful light pink lehenga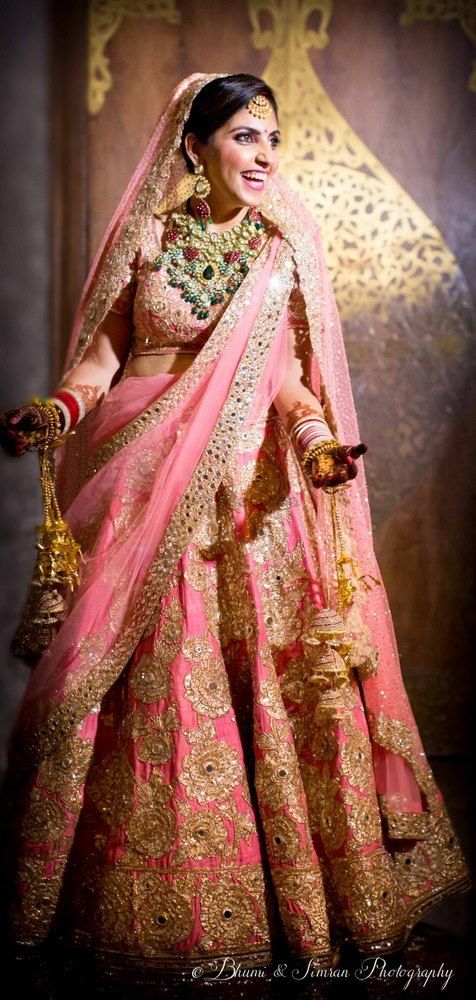 Image via Sanam and Suhel's Wedding
This is also a lehenga we haven't spotted on any other bride, and it looks wonderful.
This bride's bespoke lehenga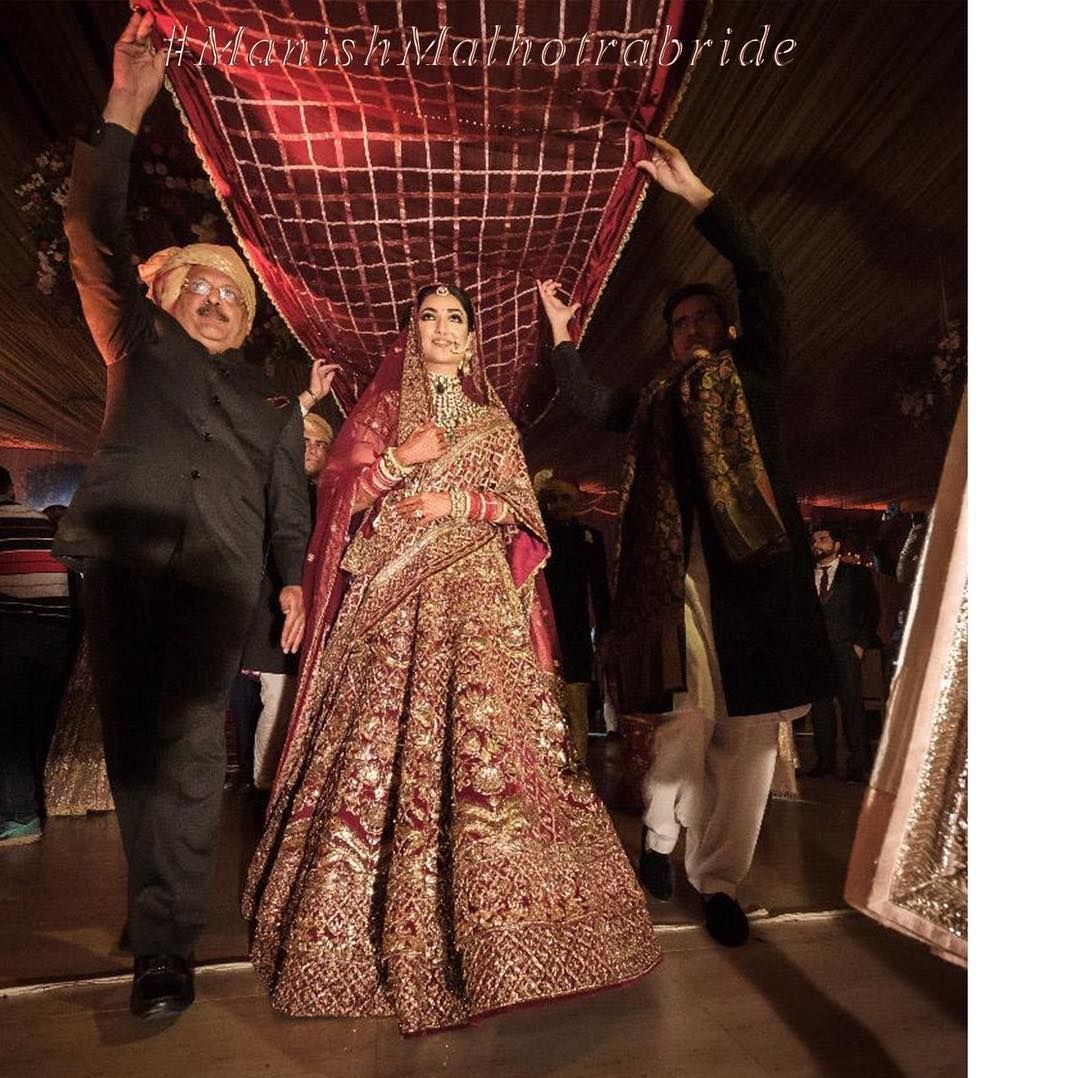 Image via mmalhotraworld
This bride's ivory lehenga with the butterfly motifs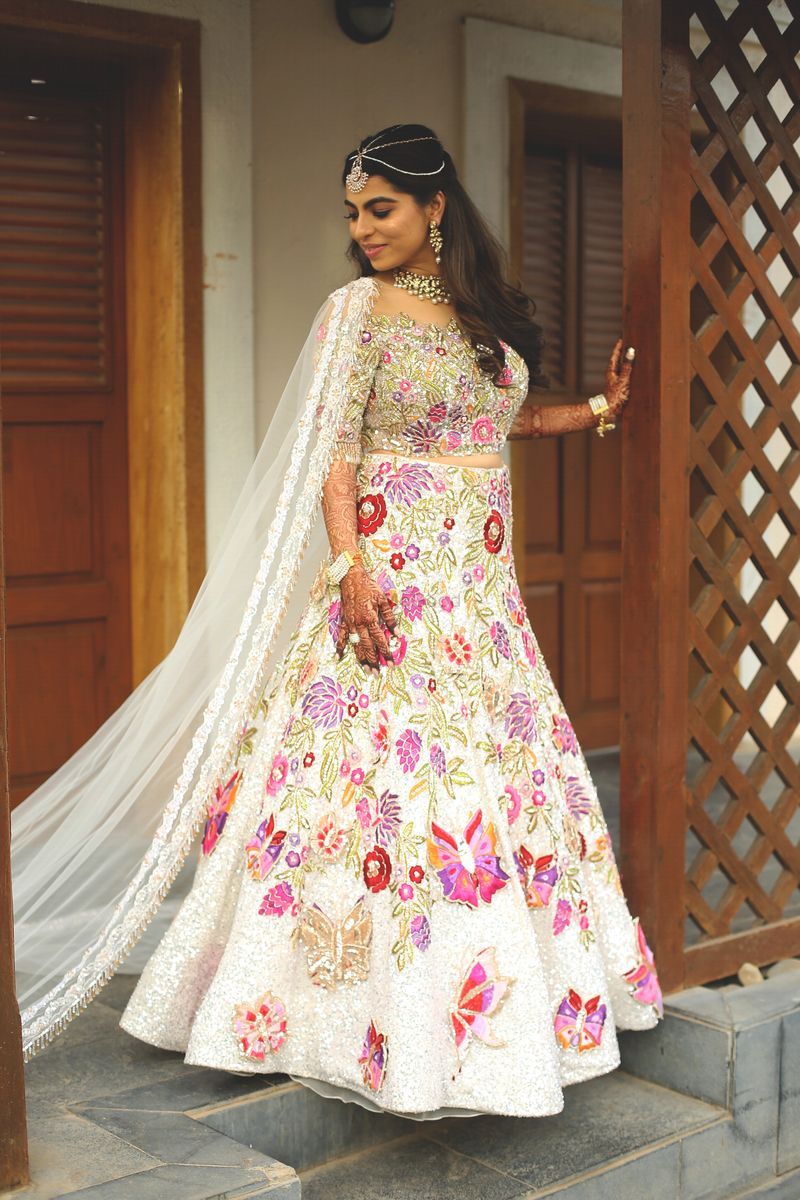 Image via Komal & Krish
This bride had a modern pick for her wedding- an ivory lehenga with butterfly motifs which looked unique and pretty!
Manish Malhotra Bridal Lehengas
Here are some brides who wore their Manish Malhotra lehengas on their wedding day to perfection!
This Benarasi beauty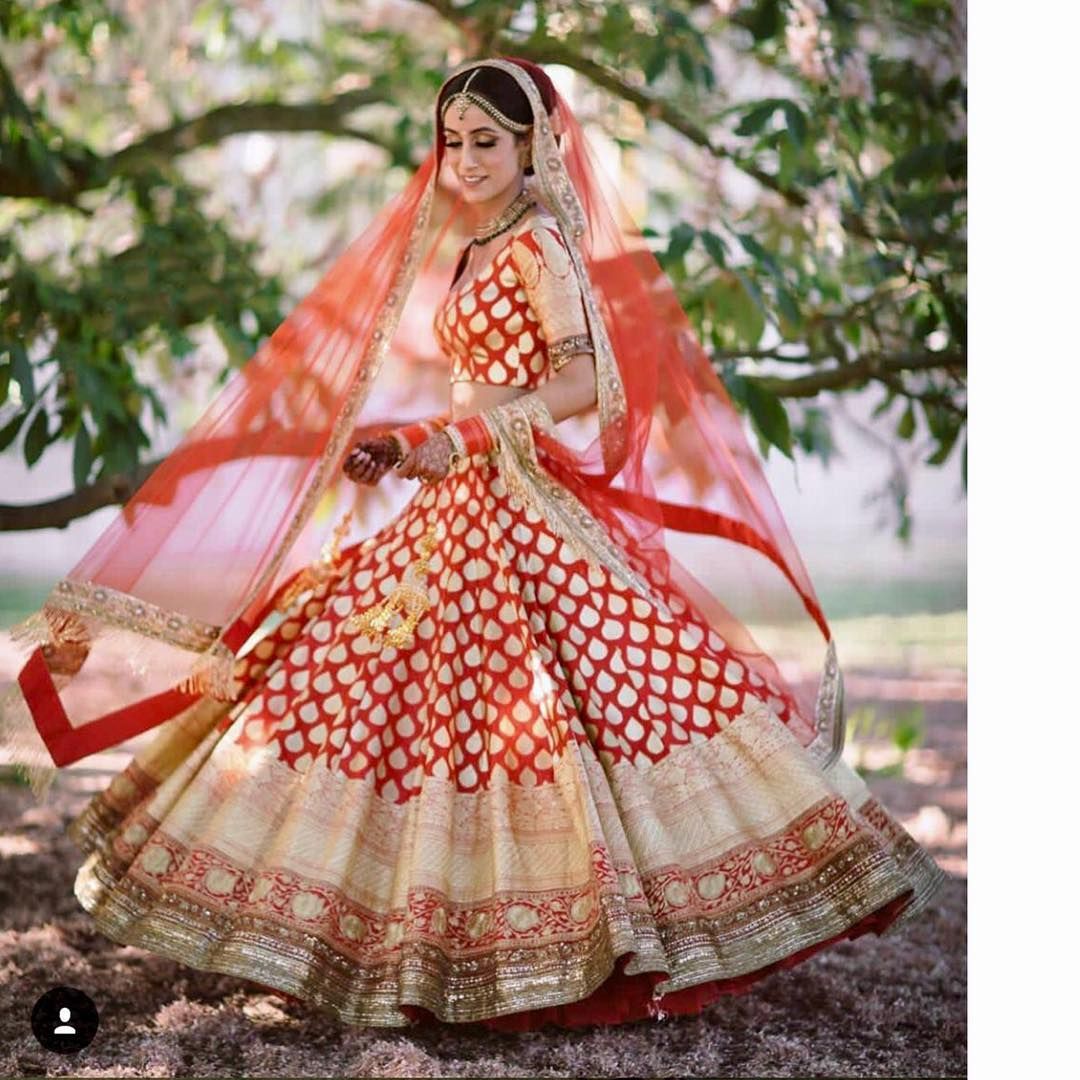 Image via @zohaibali.co.uk
This bride's deep maroon lehenga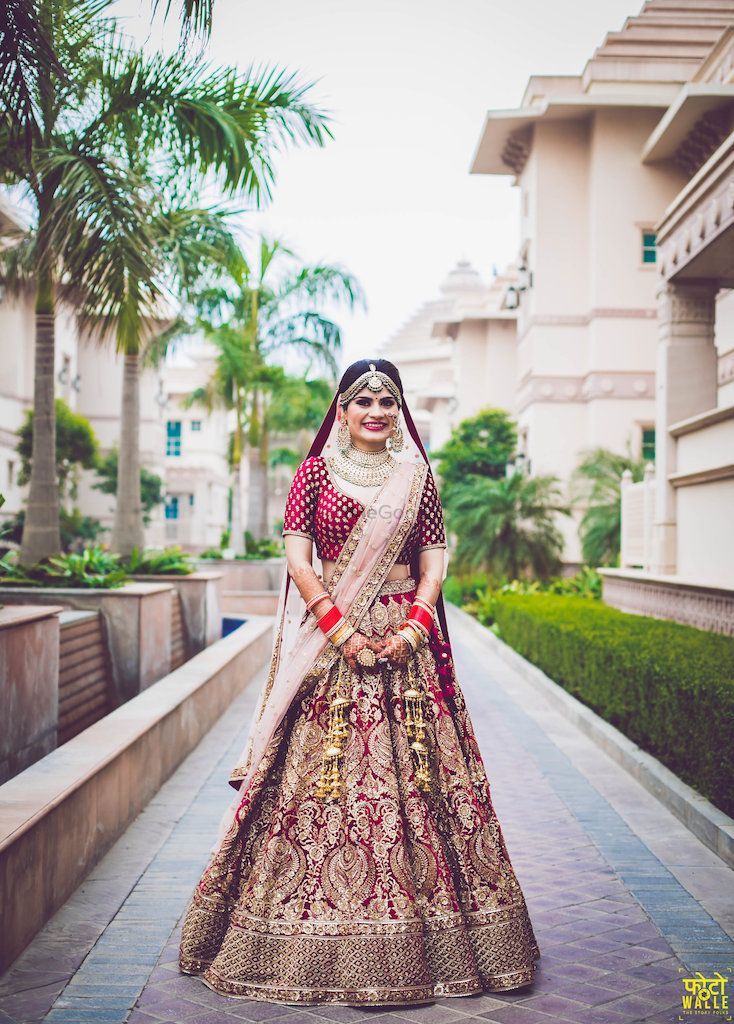 Image via Avantika & Aman
Another wonderful pick if you're looking for something a little more on the traditional side. Manish Malhotra Light Lehengas
This bride's Benarasi pick in red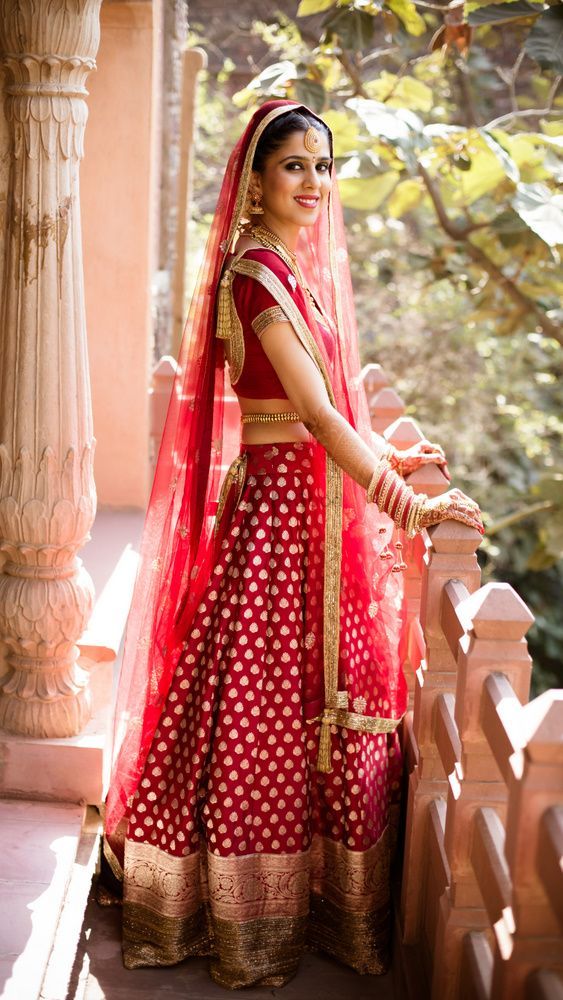 Image via Varun & Komal
This bride's red and gold pick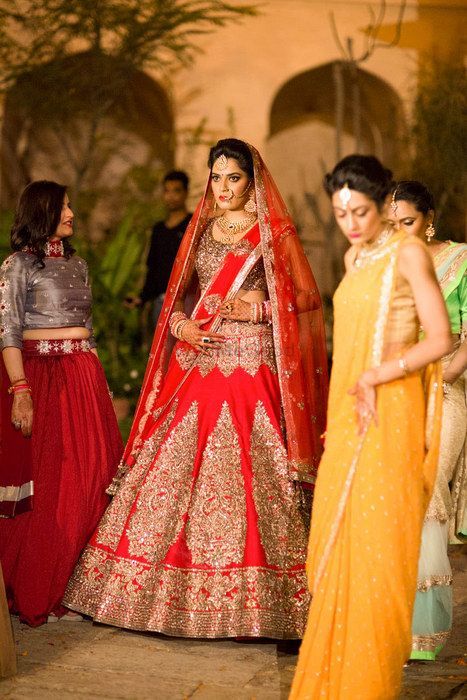 Image via Parnika and Akash
This bride's deep blue pick for her big day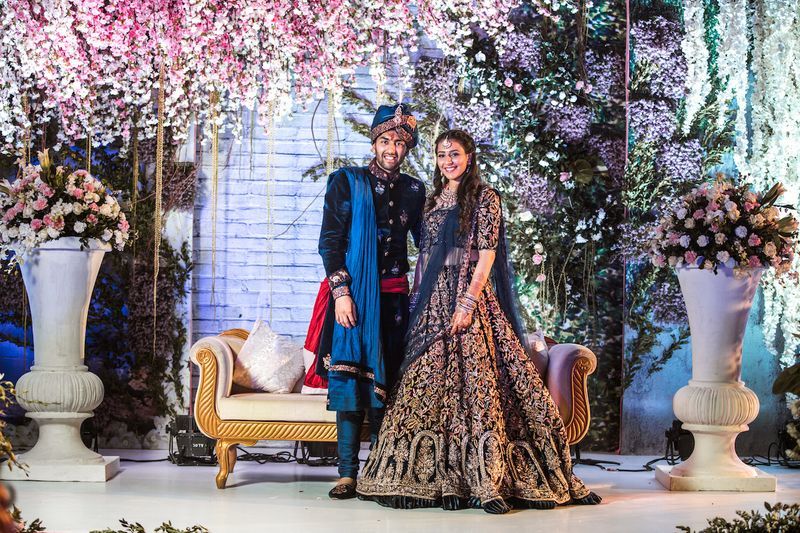 Image via Saloni & Ayush
Deep blue for the big day? This bride picked this gorgeous lehenga, which we haven't seen on any bride before!
Apart from the bridal lehenga, Manish Malhotra's lehengas are also very popular for smaller functions like the Reception, Sangeet, Cocktail or Engagement. Here are some brides who picked the ace designer's lehengas for them!
This bride's pretty pick for her Mehendi
Image via Tanya & Kapil (Jodhpur)
Now that is one pretty lehenga isn't it? Floral embroidery on that pretty lavender-ivory shade which is to die for!
This bride's princess-like pick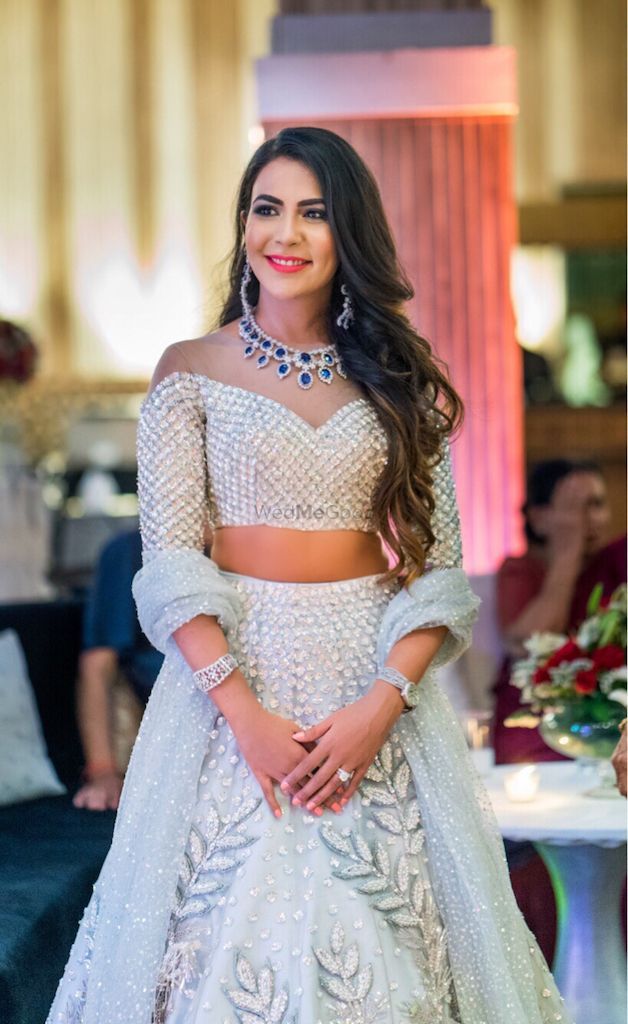 Image via Divya & Karan
Ice blue for the Sangeet? Yes please! So gorgeous and subtle, and not to mention, chic!
This bride who wore this gorgeous silver lehenga for her Cocktail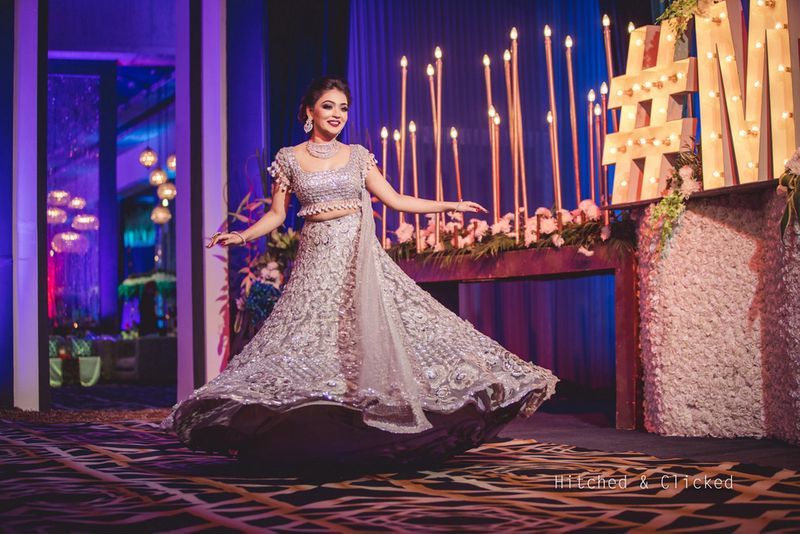 Image via Preksha & Mukul
So Sangeet-Appropriate and gorgeous with all the bead work and that unique blouse!
Or this onion pink one that's gorgeous!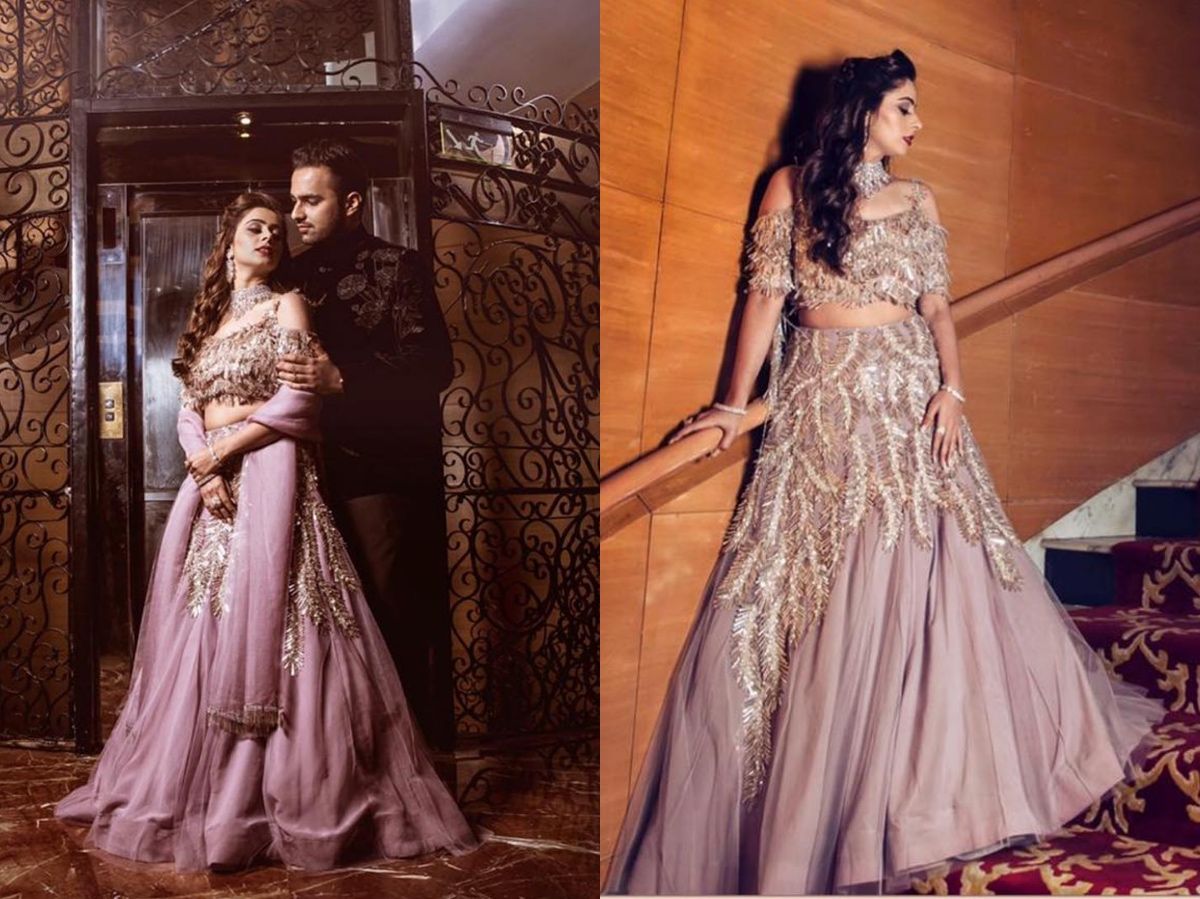 Image via mmalhotraworld
Love the shade, and that unique blouse! So apt for a cocktail!
This bride's dreamy pick for her Sangeet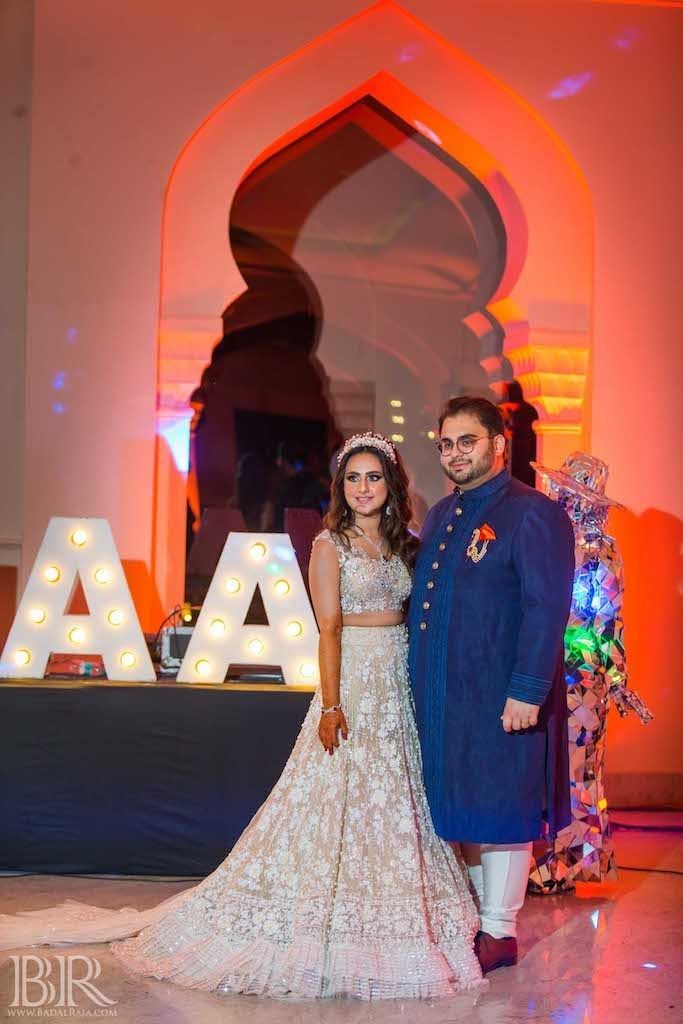 Image via Neha & Eshaan
Another dainty pick, which is perfect for the Engagement too- so pretty with all the lace work and that gorgeous train!
This bride's trendy lehenga with the fringe sleeves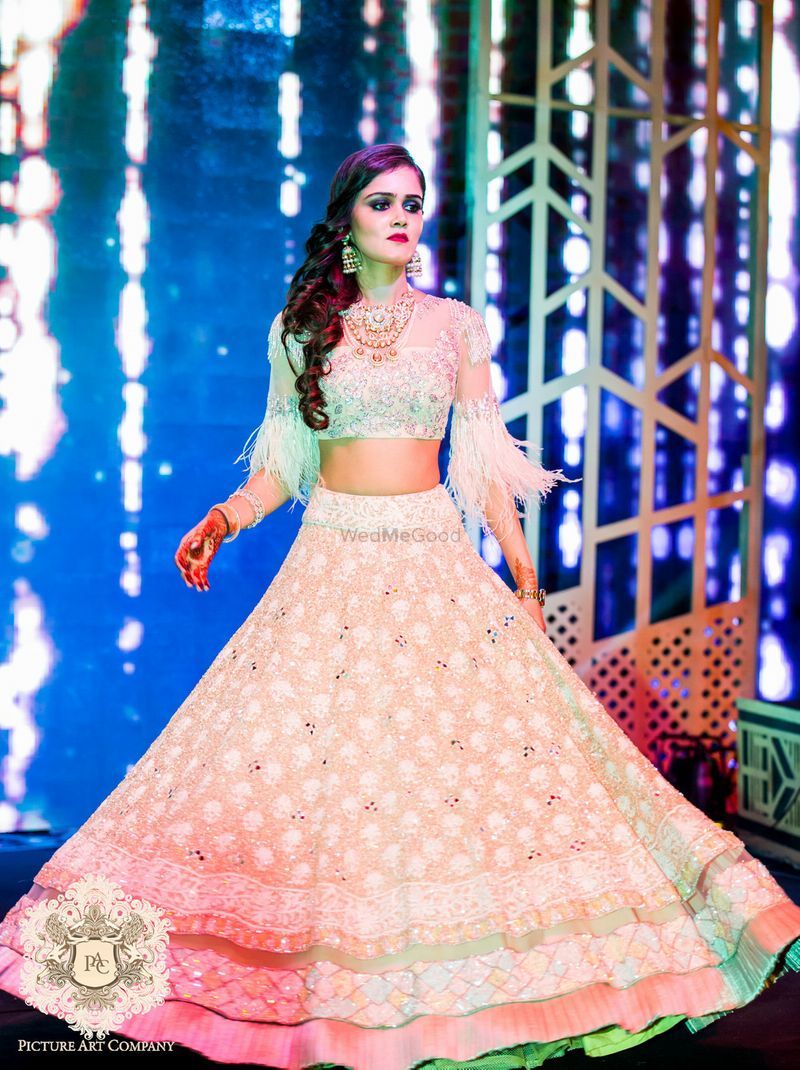 Image via Kritika & Sahil
Trendy and fierce, this bride wore this ivory lehenga on her Sangeet, and it looks wonderful !
This bride's rose gold stunner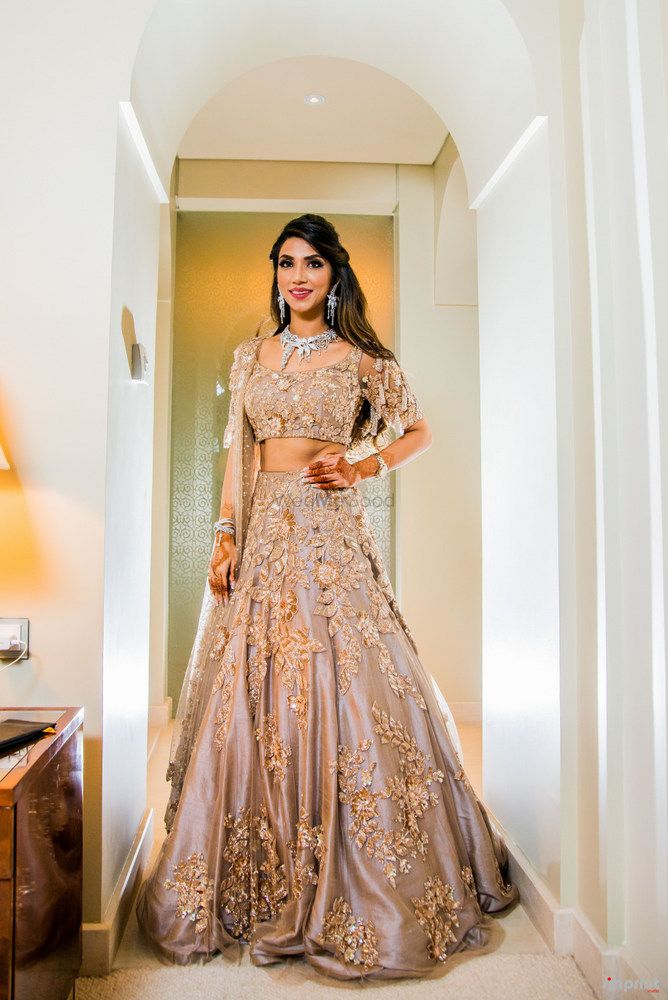 Image via Eshanka and Harit's Wedding
One of our most fave Manish Malhotra lehengas ever!
This bride's off shoulder embroidered outfit for her Sangeet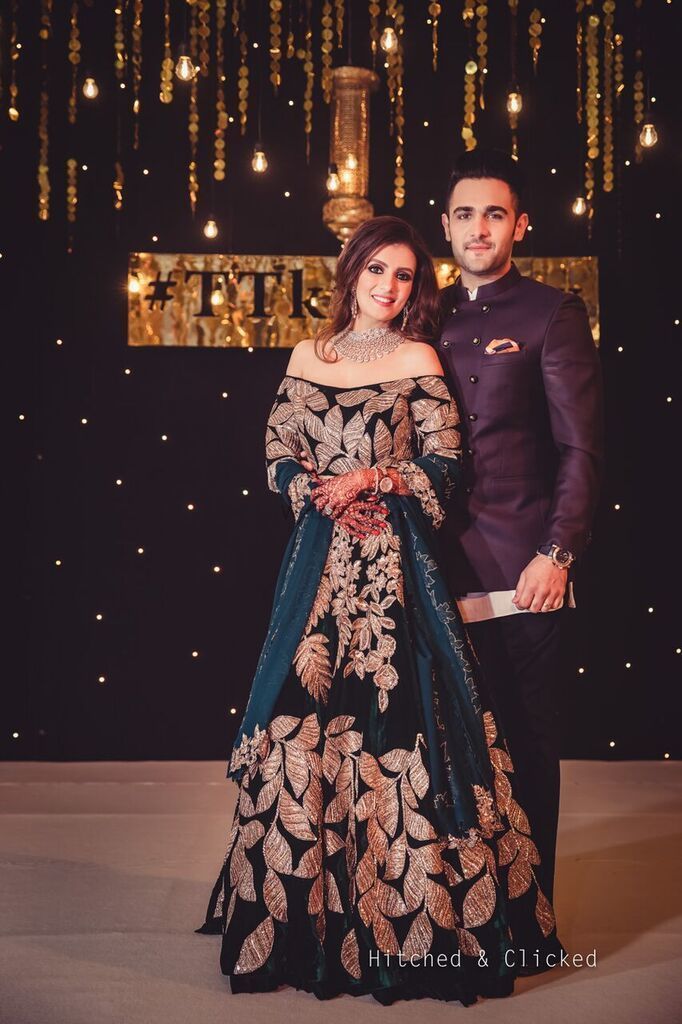 Image via Namrata & Tarun
Looking for a darker hue? Then how about this offbeat shade of blue!
This bride's ivory Sangeet lehenga
Image via Riddhi & Vaibhav
Princess-like and dainty, this lehenga was so nice and subtle for the Sangeet!
What is the ideal time to start browsing and placing the order for the lehenga?
Started visiting the store (or stores) about 6-8 months before your wedding. They require at least 3 months for the order and that's ideal for one to order from his latest collection as well!
So, can a Manish Malhotra lehenga be customised?
Now, this is where perhaps the biggest advantage is. While a lot of big designers like Sabyasachi might not customise lehengas- we mean in terms of altering the hues or the work or silhouette of the lehenga, or adding something to it. But Manish Malhotra does, with even the option of the designer making a bespoke creation for you. So you need not really wear the same lehenga as another bride has- if you like it, you can get it altered and customised to make it your own special lehenga! But of course, customisations come at an an added cost.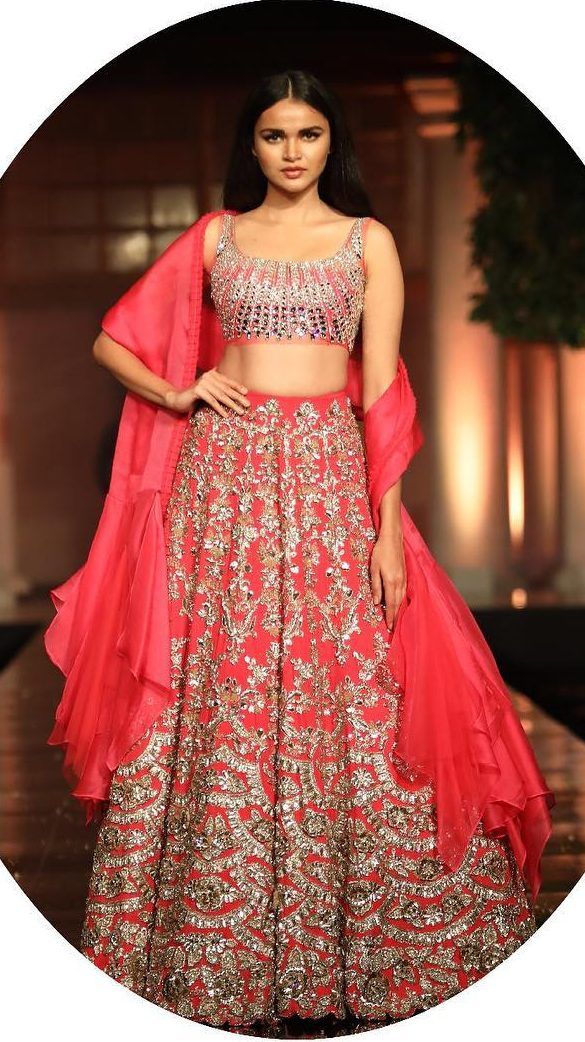 Image via mmalhotraworld
Can you mix and match and make a lehenga?
And that's another yes! The label allows you to mix and match and pick your lehenga as well! So that's a big plus point!
What is the waiting time for a Manish Malhotra lehenga?
So the waiting time for just about any Manish Malhotra lehenga you pick will be about 2-3 months, which is even in the case of the Mehendi and Sangeet lehengas apart from bridal ones. The lehenga is curated as per your frame and size, and even as per choice! If you want to go for a bespoke creation, then it might take longer, depending on the level of customisation.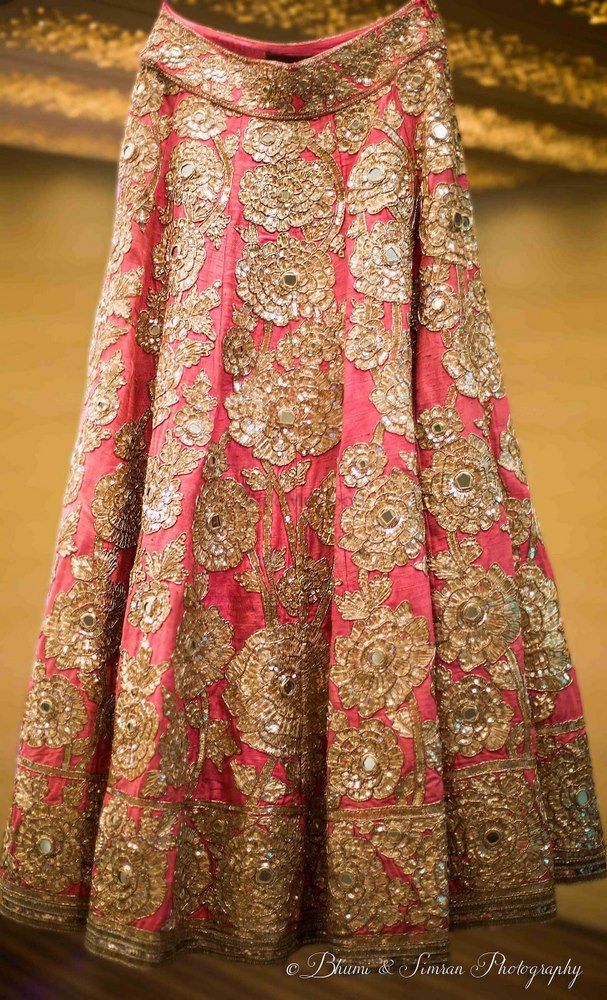 Image via Sanam & Suhel
So where can you buy a Manish Malhotra lehenga?
Manish Malhotra does have lehengas online for sale too, check out the ones on his website here.
So Manish Malhotra has flagship stores in Mumbai and Delhi only, along with multi-label stores like Aza Fashions and Ensemble. In cities like Hyderabad and Bangalore, you can get a Manish Malhotra lehenga only in multi-label stores like Angasutra, Elahe and Evoluzione. They are even available in Dubai at Studio 8. For more info on the stores, click here.
Also, find other designers with the best collection of wedding lehengas on WMG.
ALSO READ: So, How Much Does a Sabyasachi Lehenga Really Cost?