Spotted: 10+ WMG Brides Who Wore The Coolest Shades on Their Wedding Day!
BY Chandni Kumar | 04 Sep, 2018 | 297 views | 6 min read
Let's start- Lehenga - check. Makeup artist - check. Jewellery - check and Wedding venue - check. Brides! Do you still feel that something is missing but can't figure out what? It's Shades, baby! An uber chic pair of sunglasses or shades can make a big difference to your personality and bridal look. Whether you're sitting for long hours for mehendi under sun or sipping your favorite drink in mason jar, shades are something that will not only protect you from weather conditions but make you look ultra-cool on your nuptial ceremonies and even, at your own wedding (Tip: You can too wear sunglasses on your bridal entry like many other brides are doing these days!) Well, with this do ensure to try out many types of sunglasses (we me shapes & styles) and coordinate it with your outfit cos this small piece of glass can surely break or make your look. So wear your sunglasses or shades as 'Tenu Kala Chashma Jachda Ae". To help you out we gotta you these 12 coolest shades that WMG brides wore on their wedding day!
Aviators!
Everyone's favorite - Aviators have become a big trend in youngsters and now for brides too. Making you look ultra-cool and stylish this type of shades is best with any kind of Indian or western outfit. The spin-off of the brow bars gives the aviator a new look and makes it complete to wear in any kind of occasion.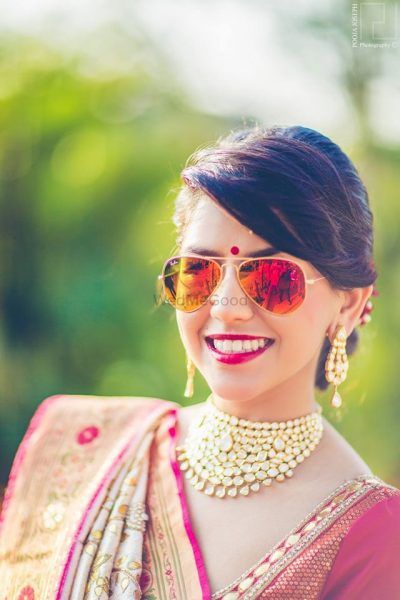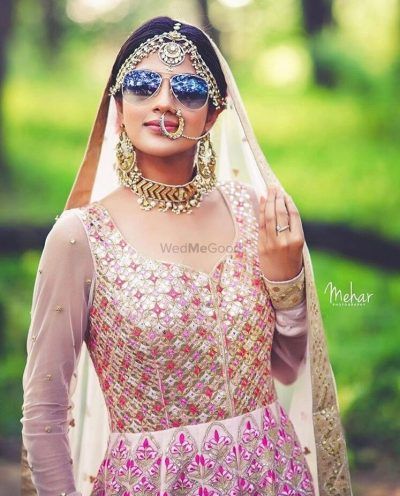 Image via: Pooja Joseph Photography★ 4.9 ; Makeup artist: Tripti Malhotra★ 4.9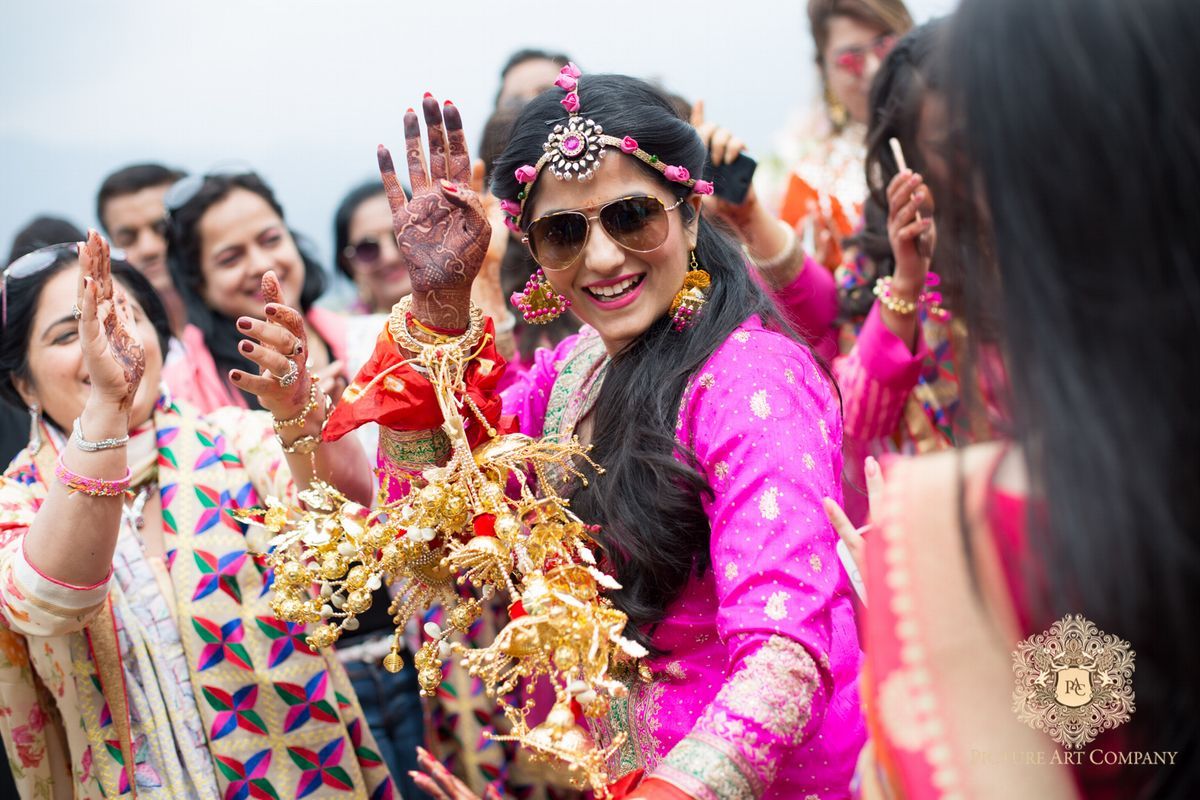 Makeup Artist: Priyanka Arora Makeup Artist ; Image via: Picture Art Company★ 3.9
Butterfly for those eyes...
If, you're are the bride who loves large lenses then, the Butterfly style is made for you. Almost covers much of the face this over sized butterfly shades comes in pastel and dark shades. Being unique in it's shape this shade is best to cover yourself from the sun. You can also choose a pastel printed shade that goes well with Indian outfits.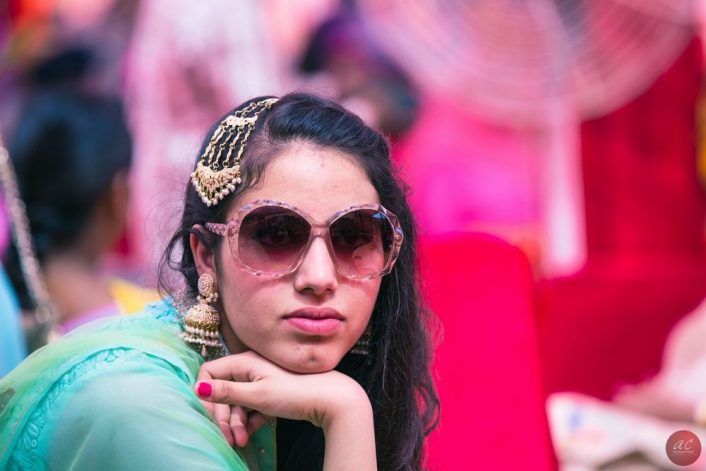 Image via: Artcapture Productions★ 4.5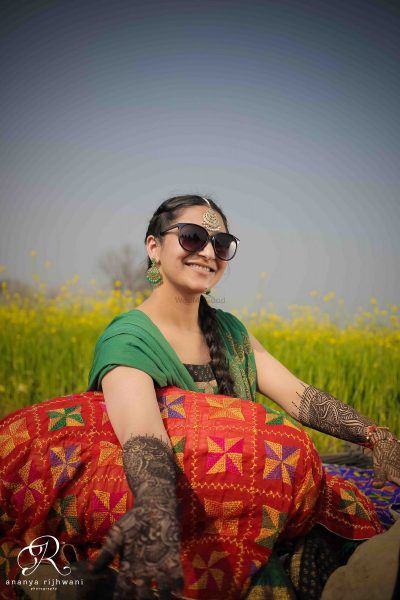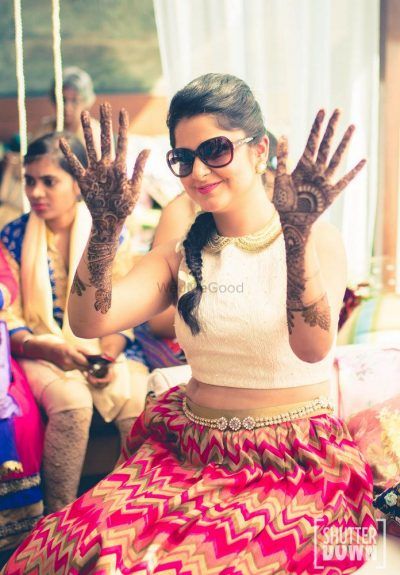 Image via: Weddings by Ananya Rijhwani★ 4.1 ; Outfit By: Salt and Spring★ 4.5
Cat eye shades to look super stylish
Want to have a old-school charm? Wearing a cat eye shade on your bridal lehenga is something that will make your look super stylish. Having super cute retro style frames this shade comes up with feminie vibes and feline prints that makes the body of the sunglasses more interesting. For the brides-to-be who loves retro vibes ensure to grab this stylish shade for your wedding day.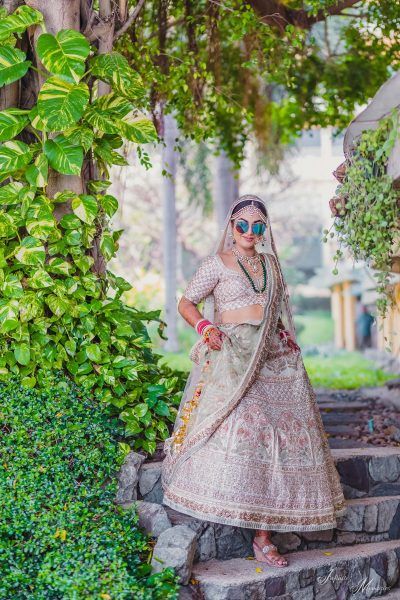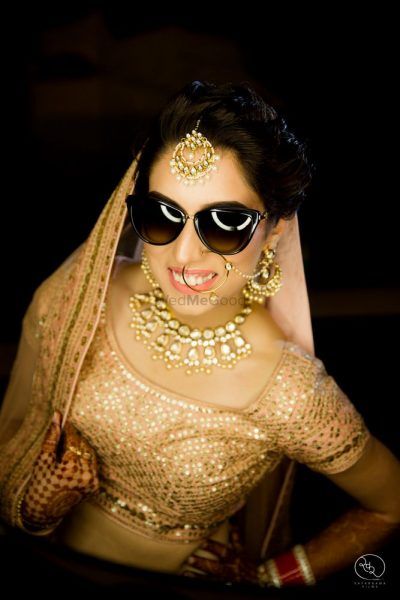 Image via: Infinite Memories★ 4.8 ; Lakshya Manwani Photography★ 4.5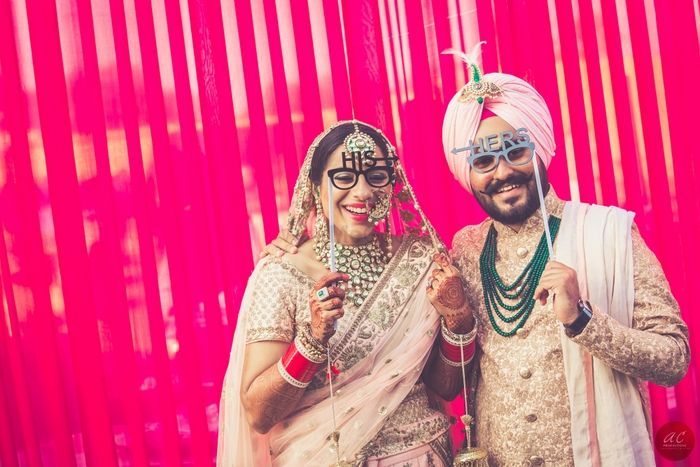 Image via: Artcapture Productions★ 4.5
Clubmaster for that retro-style vibes!
Well, you must have spotted this shade by many celebrities. Also, known by the name - Browline this shade has a thick top frame and extra-thin rim that makes it different and unique from other sunglasses. Also, having retro-style vibes this shade looks stylish and creates that glamorous look for sure. So, if you'r planning to go for your bridal trousseau shopping do ensure to pick this beauty.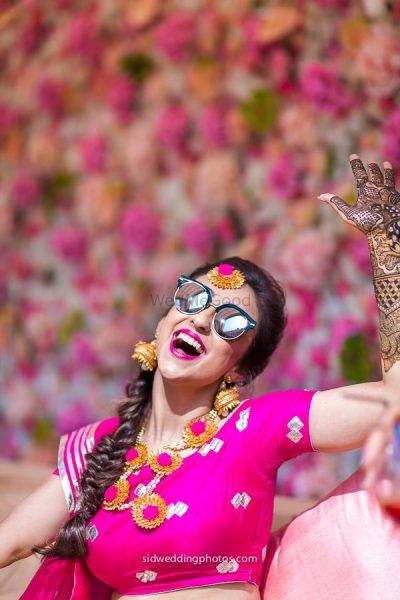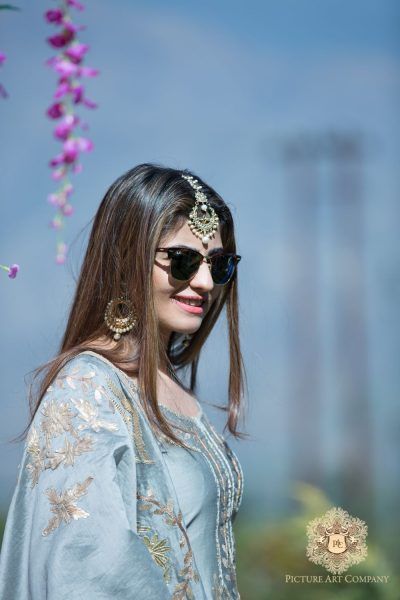 Image via: Sid Wedding Photos★ 5 ; Picture Art Company★ 3.9 & MUA: Priyanka Arora Makeup Artist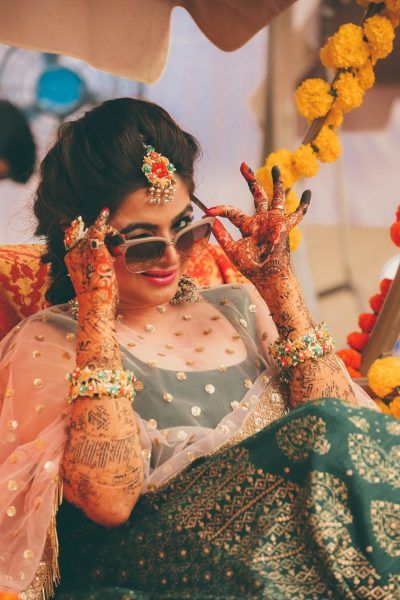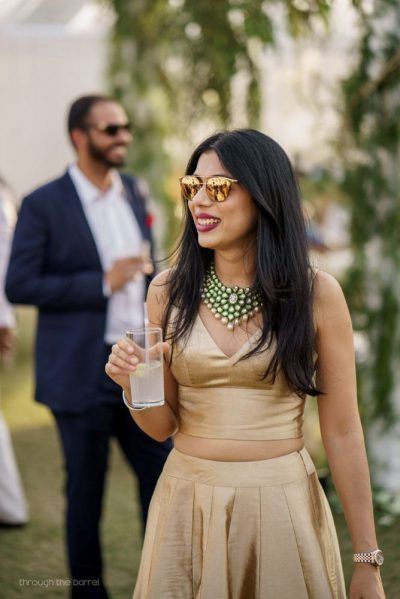 Image via: Iconic production ★ 4.5 ; Through the Barrel★ 4.6
Cute heart-shaped with reflector shades
Do you get that Chul-Bhul pandey feeling while, looking at these shades? Well, we surely get! Cute, funky and quirky these heart-shaped shades is our all time favorite. Being perfect to wear on mehendi this heart shaped sunglasses will make you look super cute for sure. Tip: Ensure, to pick a shade that will match perfectly with your mehendi outfit.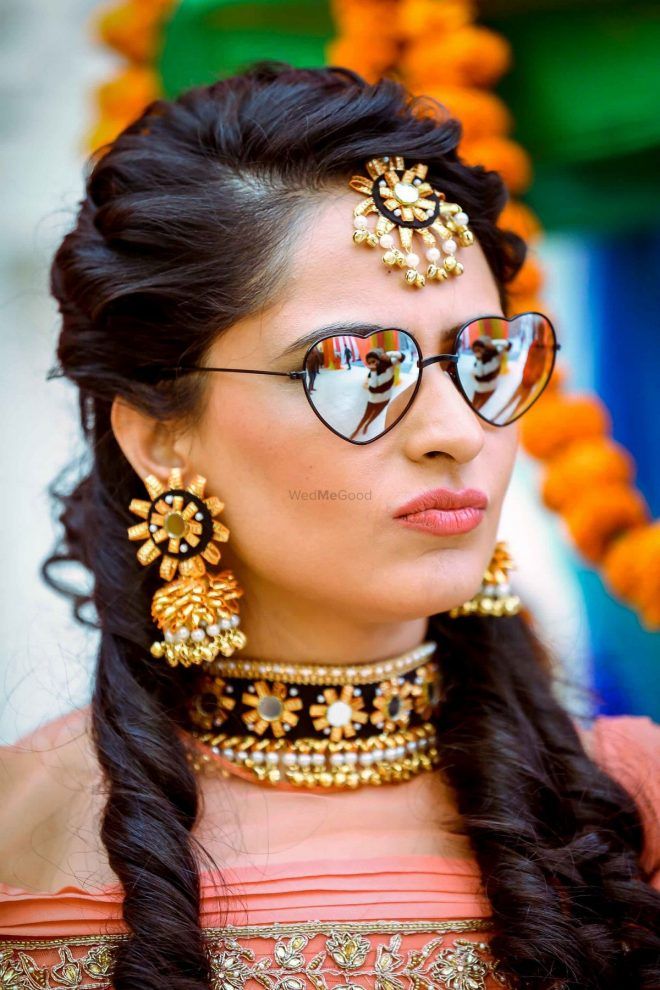 Image via: Happyframes★ 4.9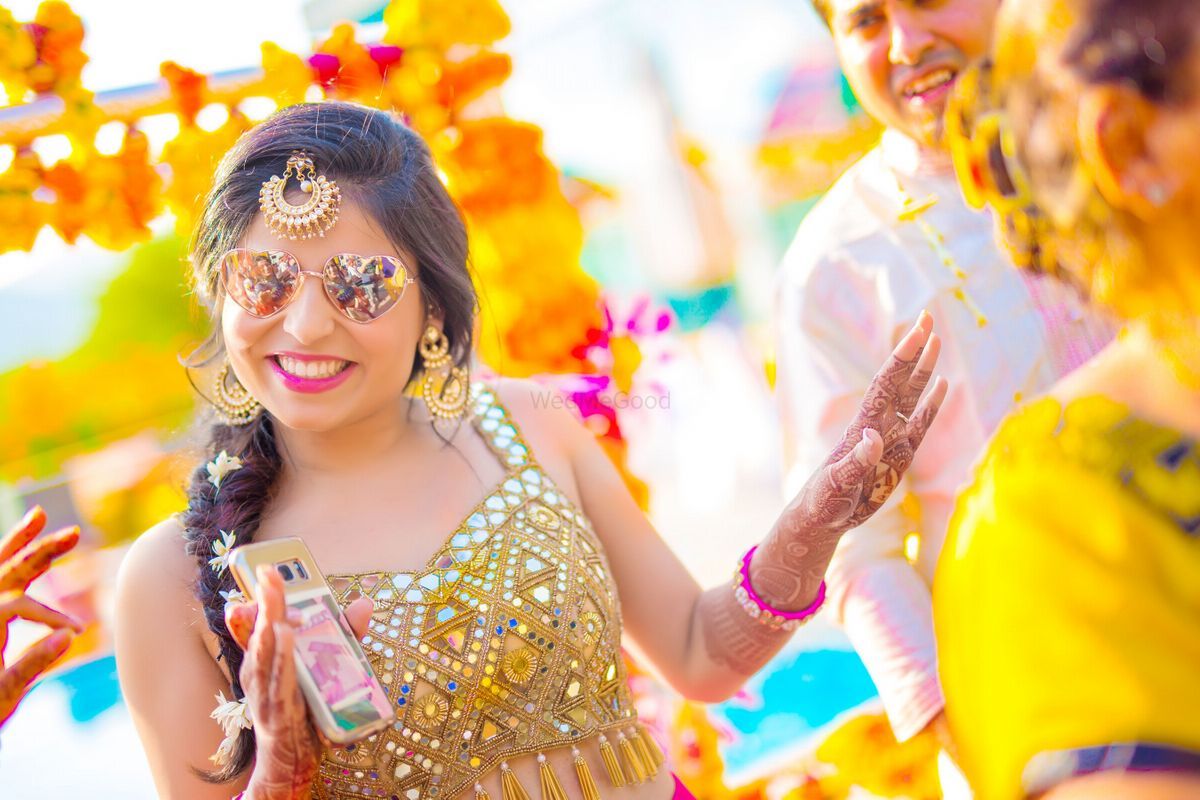 Image via: Memoirs Photography★ 5
Round shades to get that royal look
Nothing can beat the round shaped shades. To create that statement look round sunglasses always looks royal and classy. Be it pairing up with western outfit or Indian bridal lehenga you can choose from small, large, thick, metal, plastic or even thick frames that goes well with your face type. So be it your own wedding or your best friends, don't forget to carry them cos being glamours is everything!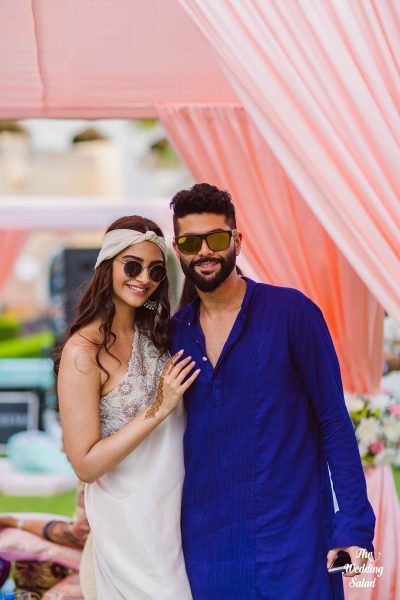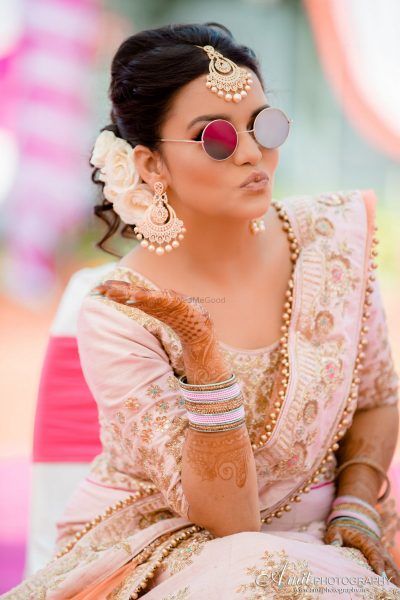 Image via: The Wedding Salad ; Amit Photography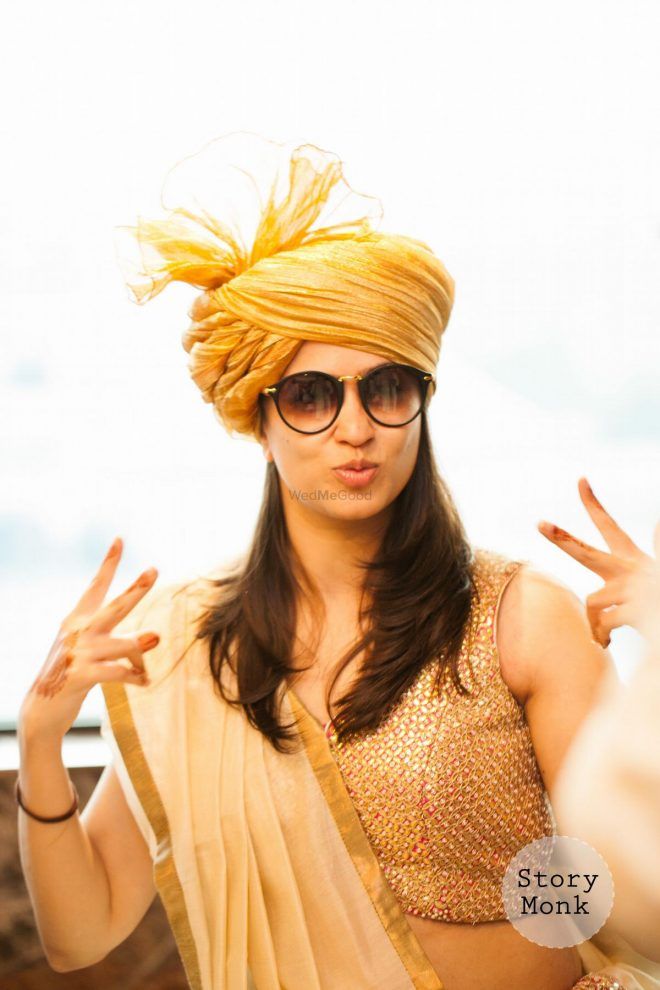 Image via: Story Monk★ 5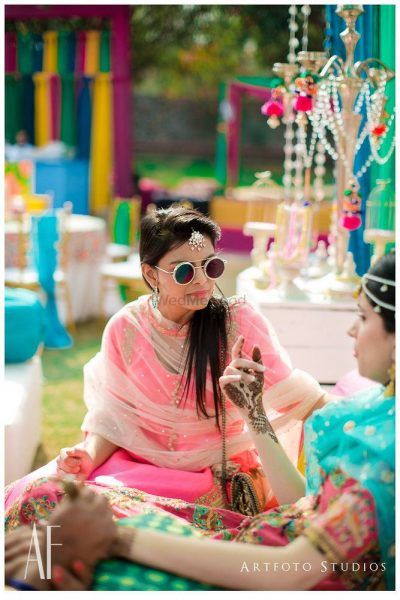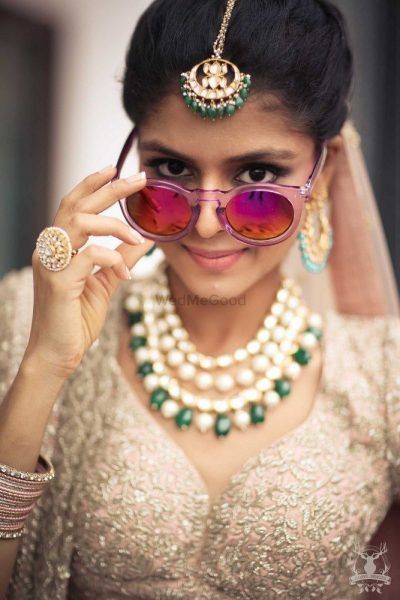 Image via: Artfoto Studios ; Morvi Images
Wayfarer shades with any outfit!
Fitting to most of the face shapes and outfits - Wayfarer shade looks timeless and is famous for its thick frame and trapezoidal shape. Going perfectly with western outfits, Wayfarer is worn by brides and as well as grooms.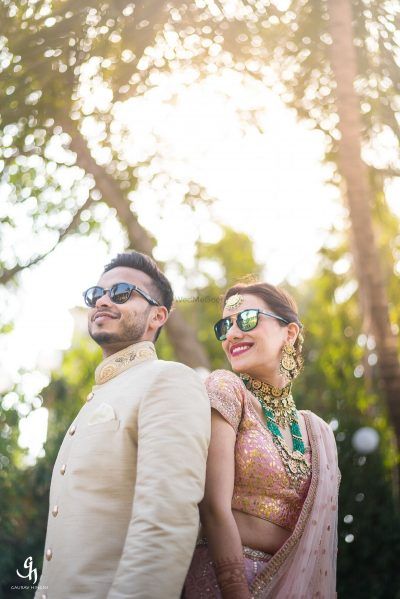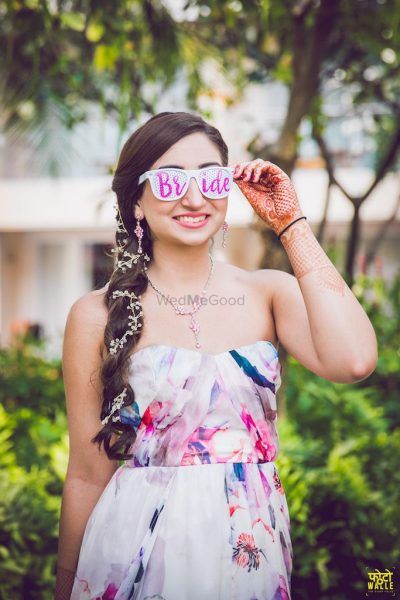 Image via: Fotowalle - The Story Folks
Simple oval sunglasses!
If you don't want to go to classy or royal then, you may pick oval shaped shade that fits perfectly to any face shape. Covering much of your face, oval sunglasses with thick or thin frames looks best on Indian brides. Tip: You can also wear a brown or pastel shade that will match perfectly again with your outfit.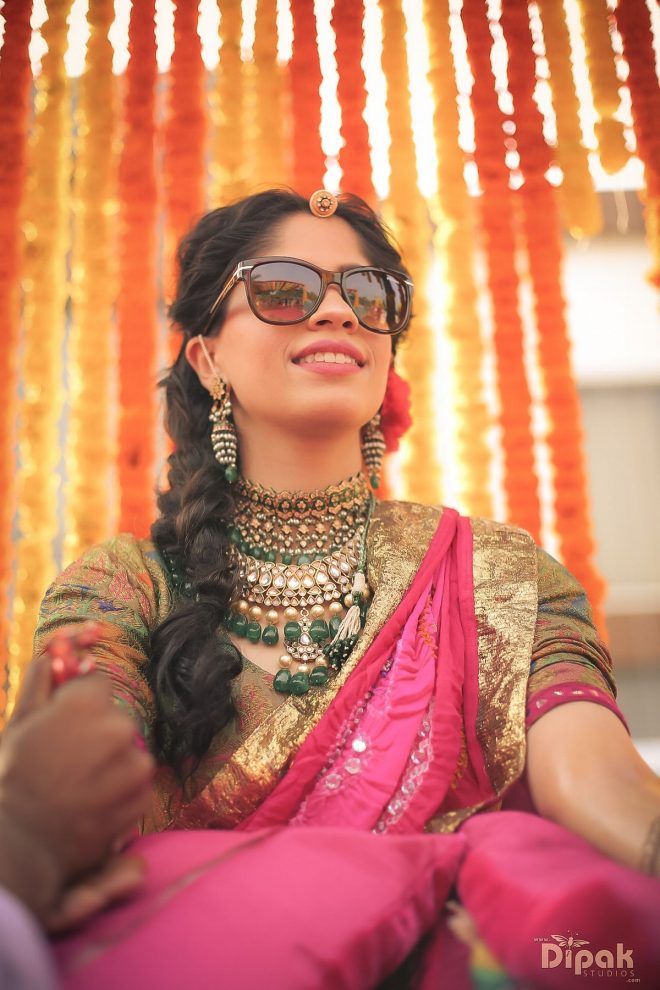 Image via: Dipak Studios
Pentagon shades for the funky brides!
We bet that you must haven't seen this kind of sunglasses shape ever before. Having a pentagon shape this shade is for the funky bride who loves to experiment with her looks and styles. Making you look ultra-cool this shade looks pretty and stylish for the North as well as for South Indian bride.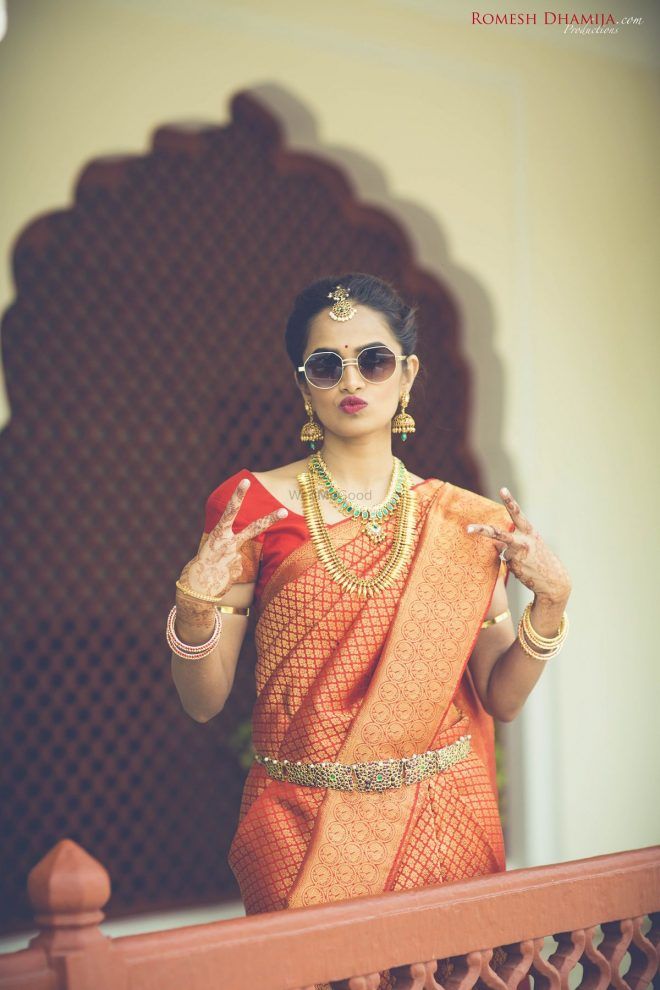 Image via: Romesh Dhamija Photography★ 5
Square shades as shape-shifters
Again, this shade is very popular among the youngsters and brides-to-be. Looking prefect on both bride and grooms - Square sunglasses helps to balance out a narrow jawline or give a round angle to the bride-to-be. Popularly, known as shape-shifters, square or rectangular shade is best to give you that glamours look so that your face highlights even more.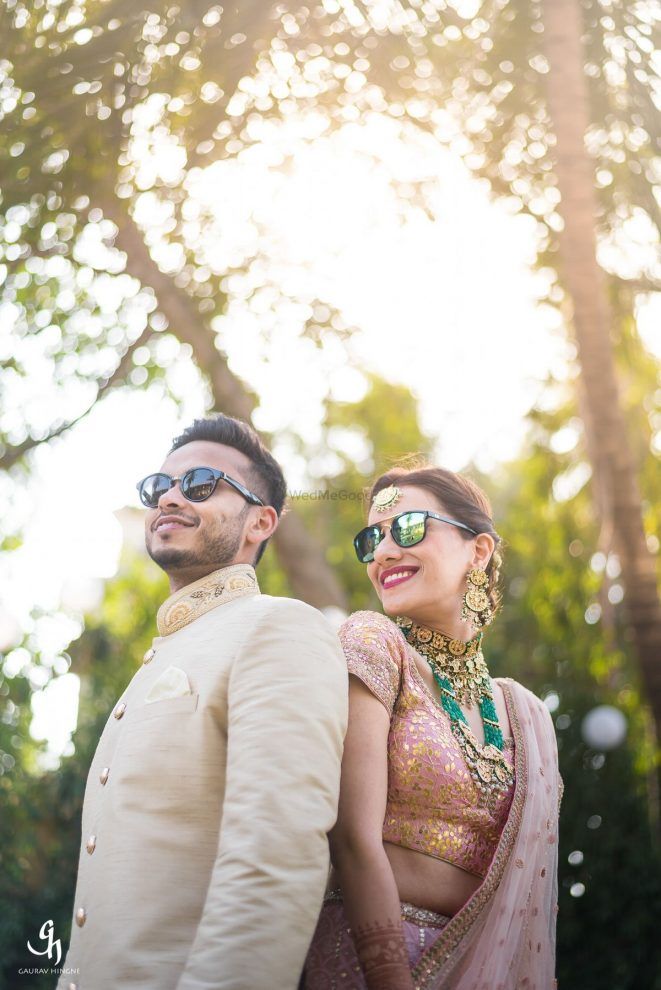 Image via: Gaurav Hingne
Popular brow bar shades that looks uber-cool!
Brows bars have become a big hit among the brides-to-be. Giving that updated feel this shade adds a fun look to the personality. Be it your mehendi or wedding day brow bars are too comfortable to wear and looks uber-cool for nuptial ceremonies and wedding day.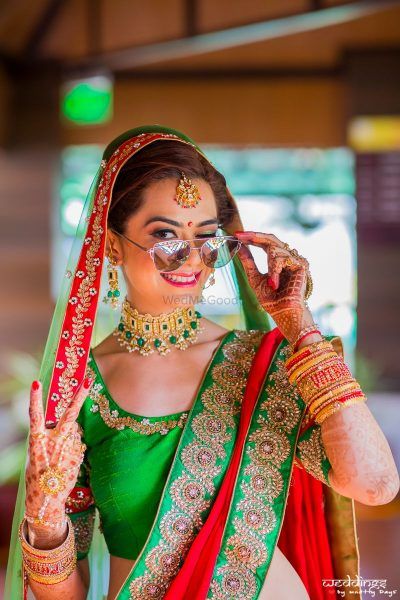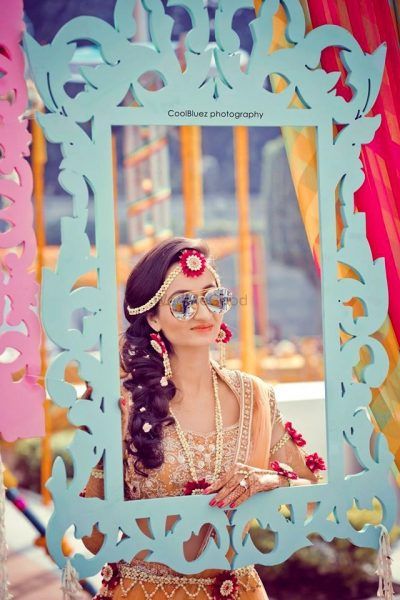 Image via: Weddings by Knotty Days★ 4.9 ; Anoo Flower Jewellery★ 5
Reflector sunglasses are always a YES!
Are you a big fan of reflectors because we surely are. Making you look ultra-cool & super gorgeous reflector totally change your look. Be it in a black or blue shade this shade is perfect to wear with a pastel lehengas on your mehendi as well as wedding day.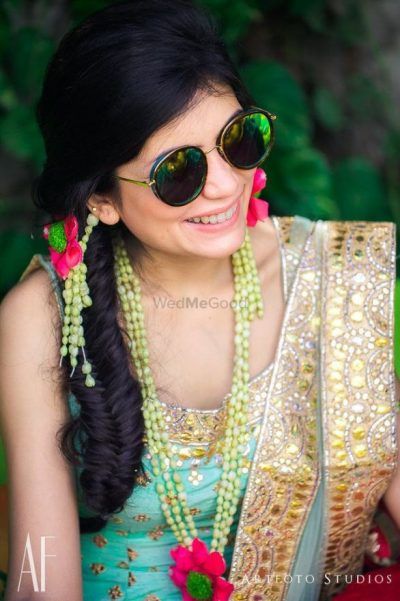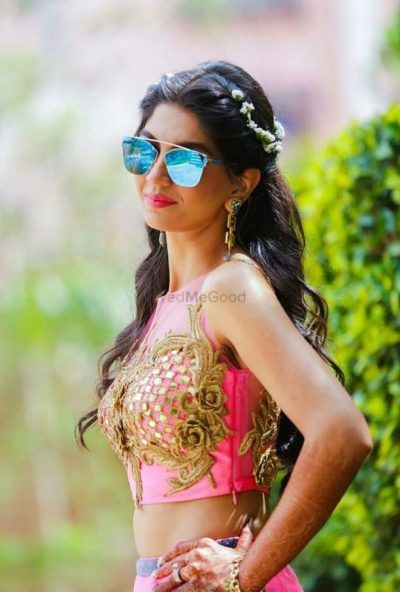 Image via: Artfoto Studios ; Ablaze by Simran Takkar★ 4.9
Loved these uber cool shades? Which sunglasses will you grab for your wedding?