Stunning Wedding Cards That Cost Under Rs 200!
BY Sakshi | 16 Nov, 2016 | 6627 views | 4 min read
It's of course nice to invest in a pretty wedding card or invitation, but it's not necessary that they have to cost a bomb. If you're looking for a modest wedding at a decent budget, then invitation cards are one department where you can save a lot! There are a lot of options to get pretty printed cards at amazing rates, and here are some of the nice ones we spotted at a budget of under Rs 200! Most of these websites give you the option of customising online and ship worldwide! So could it get better than that?
Trending Paisley Print Cards from

Inksedge

- Rs 99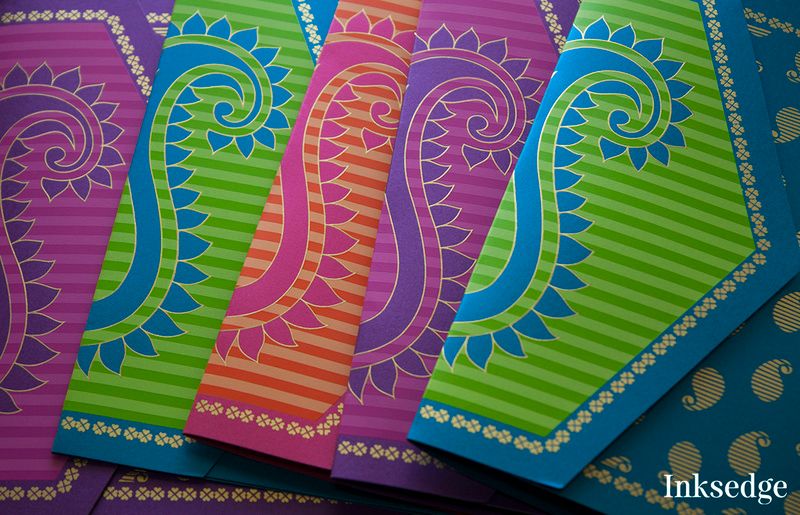 Inksedge has this pretty trifold card with paisley print that's so refreshing from the normal wedding cards we see! They're available in a lot of colours and are priced well at Rs 99 per card for 200 cards. Find them in the WMG Vendor gallery Inksedge★ 4.9 .
Peacock and Lotus Motif Design by Glitterkode- Rs 190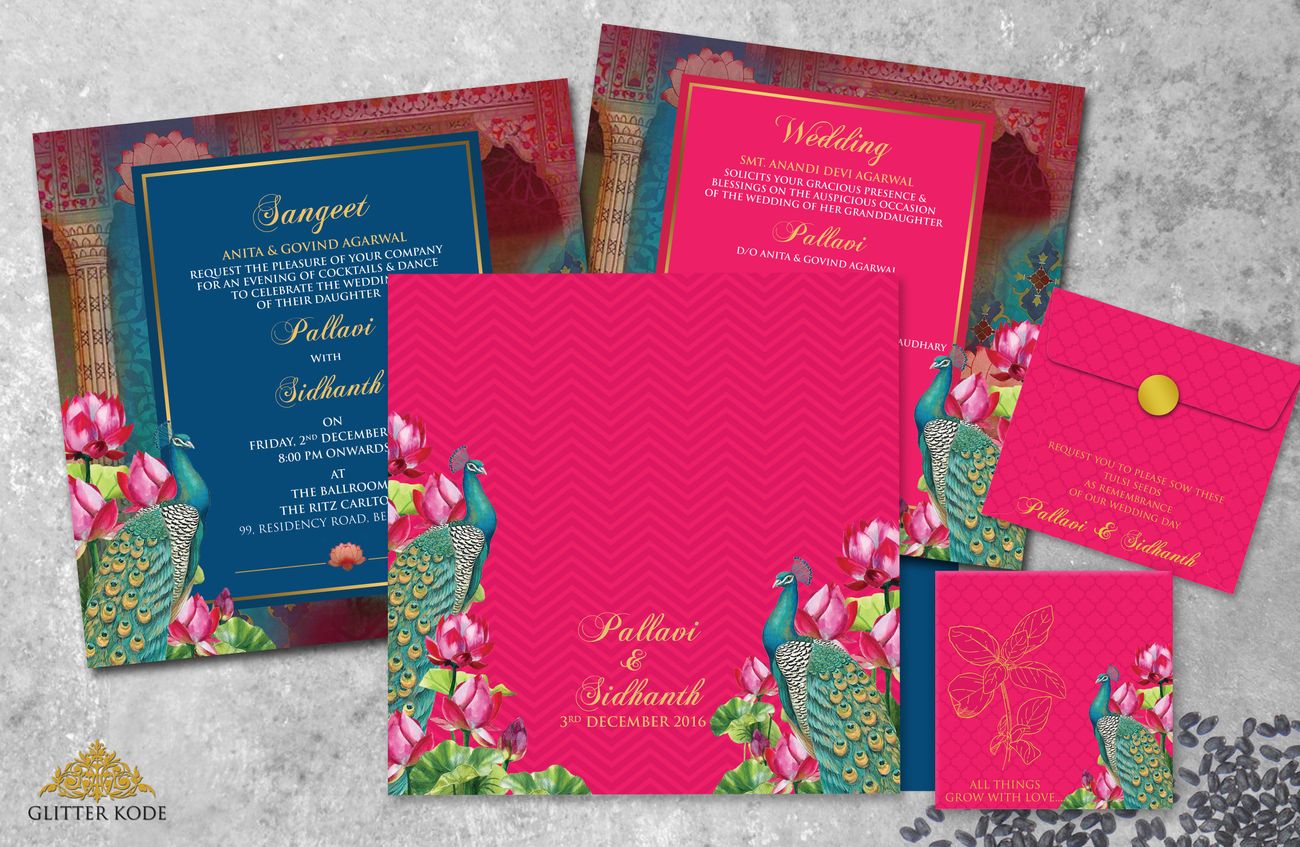 This pretty wedding card with peacock and lotus motifs comes with 2 inserts and a pouch with Tulsi seeds for the guests to plant to commemorate the wedding! Made by Glitterkode, this one is for Rs 190 for a minimum order of 300 cards. Find them on the WMG Vendor Gallery here.
Elephant Motif Wedding Card by

Perfect Invites

- Rs 150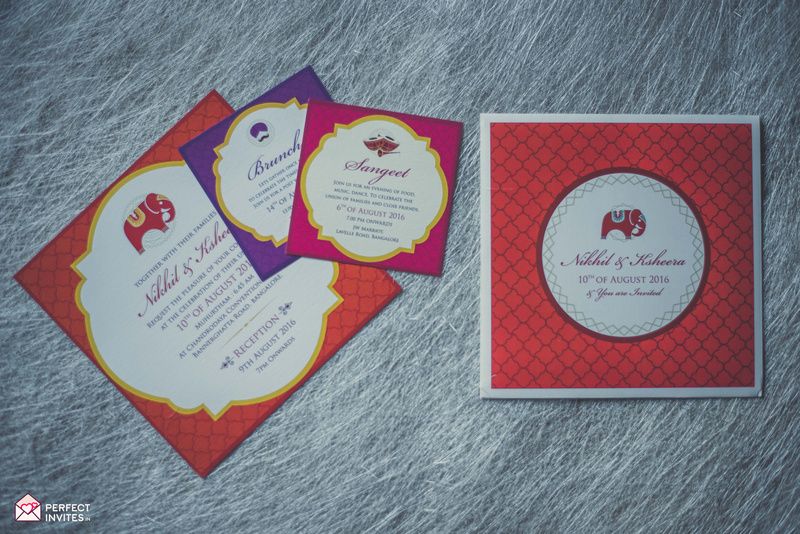 So simple, yet so pretty! Elephant motifs are super in these days, and combined with that ikat print, makes for a super pretty card! This one is available at Perfect Invites for Rs. 150 per card for a minimum order of 300 cards. Find them on the WMG Vendor Gallery Perfect Invites★ 4.9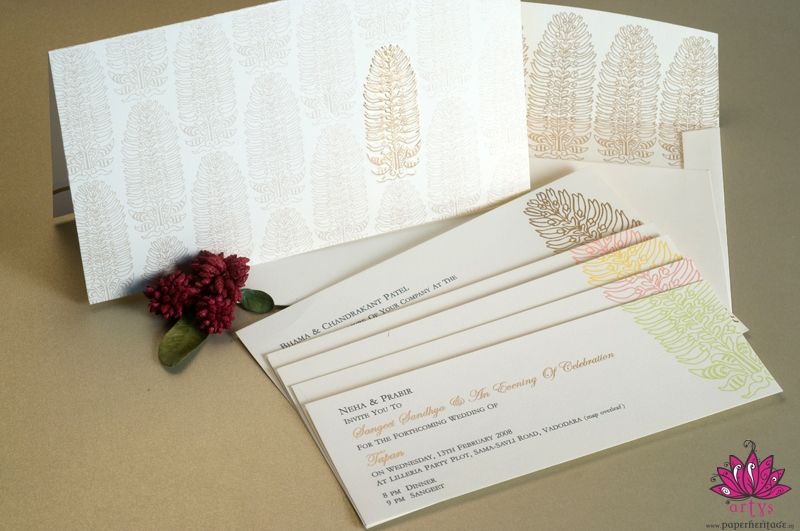 If classy minimalism is what you're looking for, then this pretty white and gold card is so elegant! Available for Rs 175 per card for a minimum of 300 cards, this design is by Artsy Paper Heritage. Find them here on the WMG Vendor Artys Paper Heritage★ 3.2 .
Watercolour Floral Card from

2BlackSheep

- Rs 200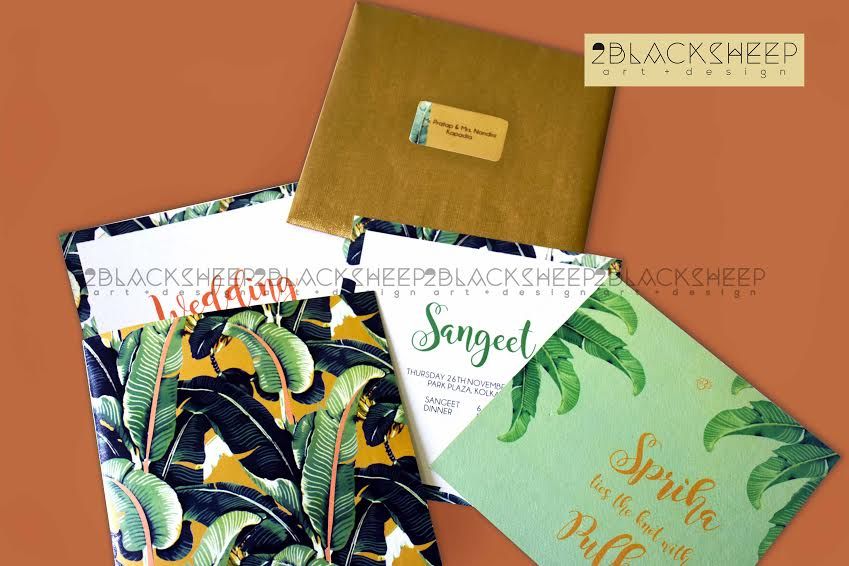 If a modern design are what you're looking for, then how about this watercolour effect card with a leaf design for Rs 200 per card? This can be an amazing one for a destination wedding! Made by 2BlackSheep, you can find them on the WMG Vendor Gallery 2BlackSheep★ 5 .
Funky Pop Up Cartoon Wedding Card by SCD Balaji- Rs 150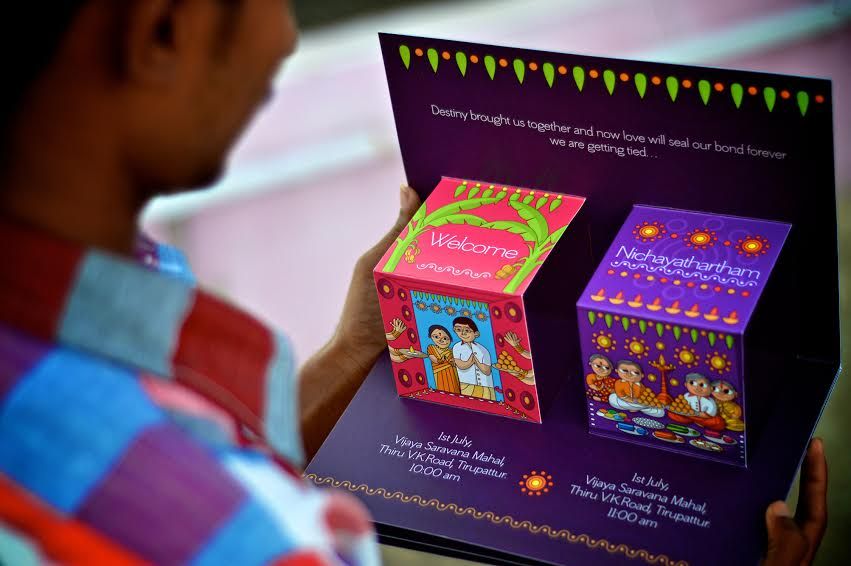 How adorable is this pop up cartoon invite? It stands out.. literally and is such a change from the usual wedding cards we get! This can be customised by SCD Balaji for Rs 150 per card (minimum order 100 cards). You can find them on the WMG Vendor Gallery here.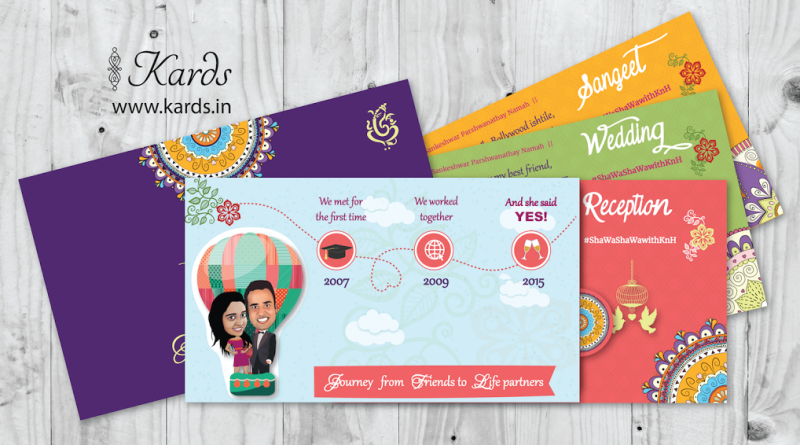 If caricature or cartoon cards are what you're looking for, then Kards does an awesome job at it! This hot air balloon design is available for Rs 185 per card for 200 cards. They have some funky designs, and they customise the caricatures to look like you guys! Find them on the WMG Vendor Gallery Kards - Creative Wedding Invitations★ 4.2 .
White and Blue Laser Cut Card by

The Paper Thingie

- Rs 140

Laser print cards are so in these days, and here's an affordable one! This white and blue laser print card is by The Paper Thingie and is available for Rs 140 per card for an minimum order of 100 cards. Find The Paper Thingie in the WMG Vendor Gallery The Paper Thingie★ 4.2 .
*All prices are subject to change depending upon the changes in the pictures, sizes and the quantity.
So, see something you like?