Stunning Winter Delhi Wedding With Memorable Vintage Details!
BY The WMG Bride | 29 Jan, 2016 | 638 views | 3 min read
When we look at a bride, and cannot quite place exactly where her fabulous outfits are from- those are our favourite type of weddings. While we loved the exquisite detail into which the bride went with her modern Parisian vintage theme, the sweet Mr. & Mrs. monograms and the photo frame displays - we were also completely mesmerised by the way in which she used her grandmother's Benarasi brocade and her mother-in-law's lehenga details into her own. The fact that the bride took her bridesmaids' initials and incorporated them into her mehendi pattern says a lot about the fun, sweet things this wedding was made up of - craftily photographed by
Mahima Bhatia Photography
.
Meet Dayaneet & Rudy
The Wedding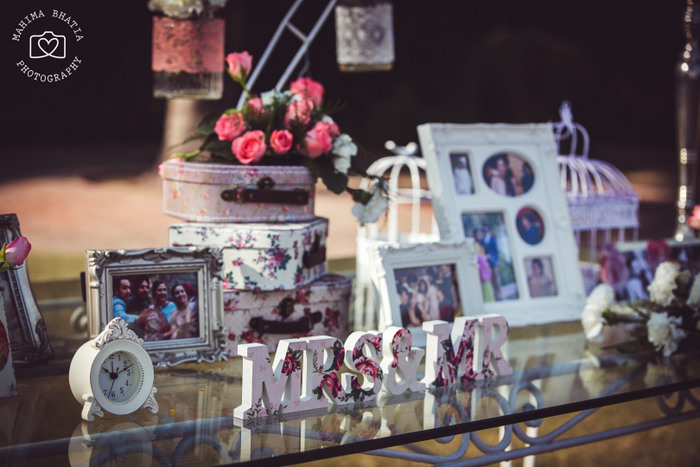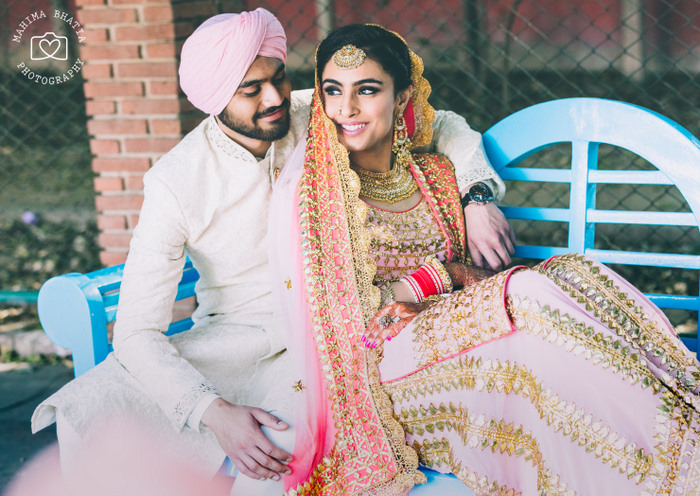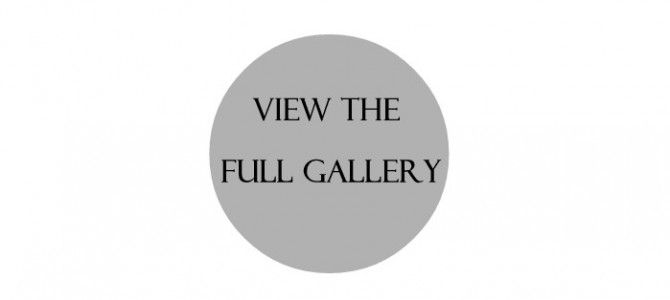 From The Bride:
"Being a creative soul marrying a man who personifies romance, our wedding had one overarching theme - every element of it from our ensemble to the decor had to be personalised to link back to our favourite people.
My mehendi outfit was created using my late grandmother's Benarasi brocade, while the reception attire included elements from my mother-in-law's bridal lehenga. The kaleeras were customised by my maid-of-honor and the 10 bridesmaids' initials were incorporated into my mehendi pattern. Even my Bengali- Marwari fiance humoured me by gracefully wearing a Sikh turban on our wedding day that my Punjabi parents had gifted him," explains Dayaneet. 
"My mom and I personally planned and designed the décor for all of the Delhi functions with friends and family sportingly contributing to our DIY ideas. The kitsch sangeet ceremony was decked in the brightest of colours of India and included elements such as a decorated tandem cycle (courtesy family friends), little chocolate filled paper lorries made by my Dad that adorned each cocktail table, eclectic pinwheels in beer bottles emptied willingly by the groomsmen and suspended paper marigolds handmade by the bridesmaids.
On the wedding day, we entered to Ben E King's "Stand by me" into an English vintage-themed venue. There were little origami birds at the entrance crafted by my fiancé and me, books from my personal collection used as stands for carnation-filled cups & saucers and a corner with vintage frames that housed photographs of my newly augmented family and us. This was just the Delhi chapter, and my fiancé being from Calcutta, we carried on the wedding train to the grand old city where the reception's theme was also vintage, but with a touch of Calcutta. My favourite element was the floral backdrop with grand Indian vintage frames given a distressed look, inspired by my very talented mother-in law's work," says Dayaneet. 
Vendors: 

Venue: 
Sangeet and Wedding at Private farmhouse, Delhi;
Reception: Fort William, Calcutta |
Hair & Makeup:
Avantika Kapur
|
Bride's Outfits:
Sangeet choli by Ameeran Clothing; 
Sangeet lehenga by Mallika Mathur (Ph: 9811143852, 9999638522);
Sangeet vest used my grandmother's Benarasi brocade;
Wedding Sharara by Ameeran Clothing
; 
Reception choli by 

Ridhi Mehra

; 
Reception lehenga and odhni: Personal collection (using mother in law's wedding lehenga)|Groom's Outfits:
Sangeet outfit by Zest; 
Wedding sherwani by 
Bloomingdales; 
Reception outfit by Burlington's 
Bridal
|Bride's Jewellery:
 

Shri Ram Hari Ram Jewellers, Chandni Chowk

and
Kadel Jewellers, Jaipur
|
Groom's Jewellery:
Sherwani jadau gold button from Jaipur, Ashish Gupta (+91 9828014419) |
Photographer: 

Mahima Bhatia Photography

and Malvika Periwal (Calcutta) |
Entertainment:
Sangeet and Wedding DJ: DJ Pranav (Ph:+91 9971820017); 
Sangeet punjabi folk singers: Raju Rajasthani (Ph:+91 9810977089); 
Reception jazz band: Saurav Ghosh and Pradyumna (and trio)(Email: g.sauravghosh@gmail.com) |
Decor:
Sangeet and wedding décor by Multan Exteriors; 
Reception décor by Shobha Agarwal (Ph:+91-9433162271)
|
C
atering: 
Sangeet catering by COTC (Cream of the Crop); 
Wedding catering by Kwality Group; 
Reception catering by Chicky Madan |Invitations: 
Groom's side printing by Go Graphic India, Card had a Kalighat painting of a Punjabi bibi and a Bengali Babu by artist Bhaskar Chitrikar; 
Bride's side: Sumangal Cards