Super Glam Delhi Wedding With a Cheeky Bride!
BY Latha Sunadh | 07 Jun, 2016 | 1214 views | 3 min read
It's not every day that we see a cheeky bride - one who has her hukkah by the side at her Mehendi and one who can dance with abandon inside a big birdcage at her Reception. What we loved about this super glam wedding is the attention to detail. From self-named funny cocktails to a big mandap by the night sky, this is one wedding we'll never easily forget. Photography by Morvi Images Photography★ 5 was a treat for the eyes!
Meet Rohan & Sanam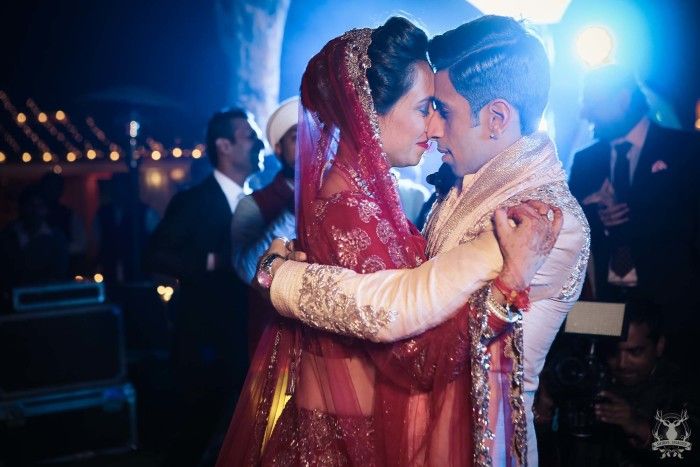 "There are so many ideas from our wedding that I absolutely loved. We sat down and changed the name of each cocktail at our function to the likes of "Talli Sanam" and  "Sober Rohan" - each for cocktails and mocktails respectively. Rohan is a non-drinker so he had the mocktail section named after him. Another fun incident - My mom didn't bother to get a ring tray, standing on that podium she threw the ring box at me and yes I caught that, and that moment is unforgettable (beautifully caught on camera by Morvi).
There are a few sweet things Rohan did for me. When I started my Mehendi which lasted about 6 hours, my better half served me Sheesha throughout to help my lungs smile. And yes, we had the pheras under a canopy surrounded by a water body, with only first family present (I wanted to be physically, mentally and spiritually present there!)" reminisces Sanam.
"Morvi nails every picture she clicks, it's more than a 100% perfect. This girl is not only a passionate photographer but a perfect unsaid bridesmaid, an unconditional friend and a saviour stylist on my wedding. My advice for brides? Enjoy your wedding and don't just sit on that stage to be a donation box. Keep holding your man's hand for a better experience, walk around and be a guest yourself and you will remember it forever. Dance, dance, and dance till its time to leave to begin anew" adds Sanam.