Amp Up Your Wedding Bar With These Fun Ideas!
BY The WMG Bride | 22 Mar, 2023 | 5084 views | 6 min read
We've got two words for you: Fun Bars! Creative wedding bar ideas are taking over real weddings (and fast). Not only are they fun, expected moments for your guests to see as they enter the reception and get in the party mood, but they're also a wonderful way to have fun. Statement bars aren't just for the sangeets and cocktails either. From your welcome lunch to haldi and even receptions, bars are popping up everywhere. Talk about a game-changer! If you're on the hunt for some seriously epic wedding bar inspiration, then look no further because we've got you covered with some of the most awesome bar decor ideas out there. So let's raise a glass (or three) to the power of the fun bar and get ready to make some unforgettable memories!
How Cute And Fun Is This Champagne Bar?
View this post on Instagram
Looking for something that will engage with your guests and yet give them unlimited flutes of champagne? This bar is the right one to get inspired by!
This amazing setup with LEDs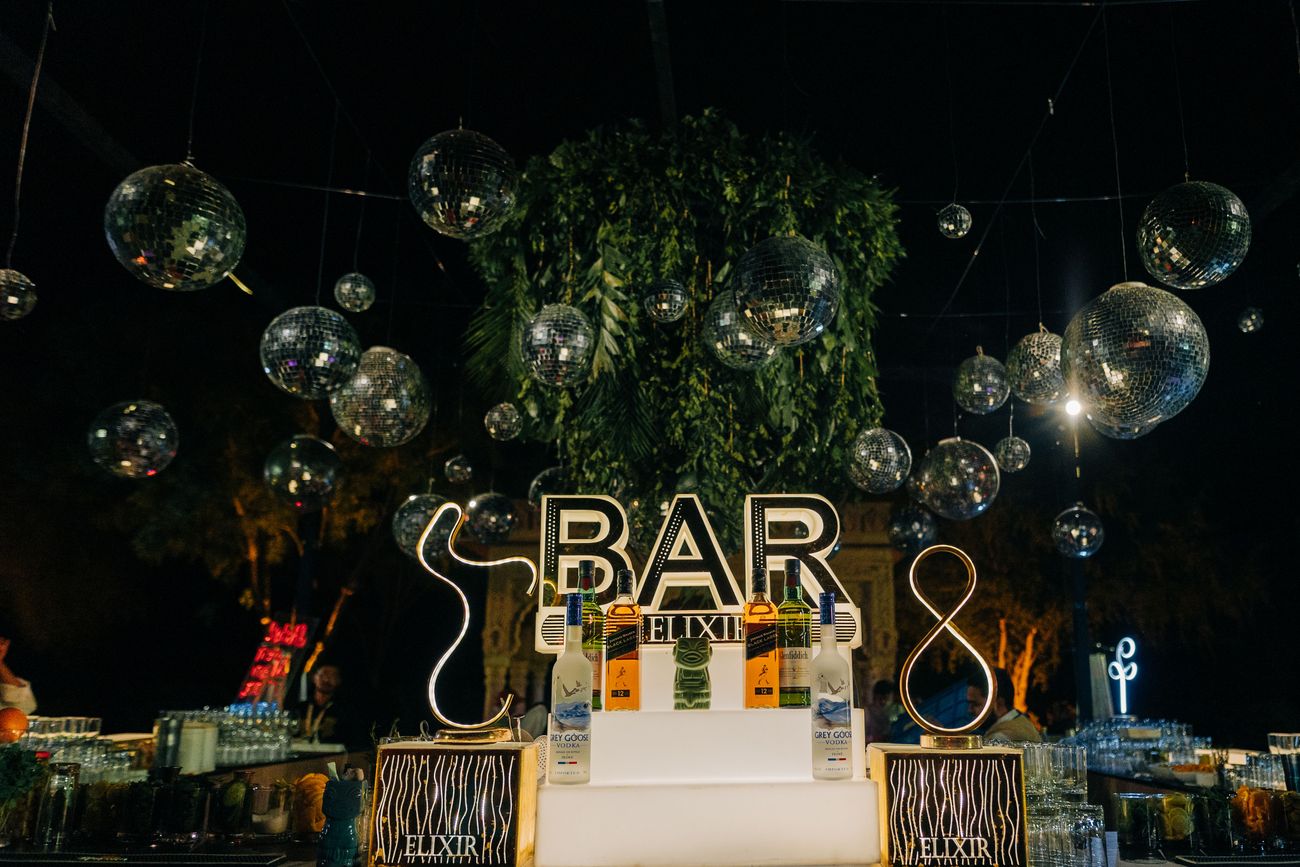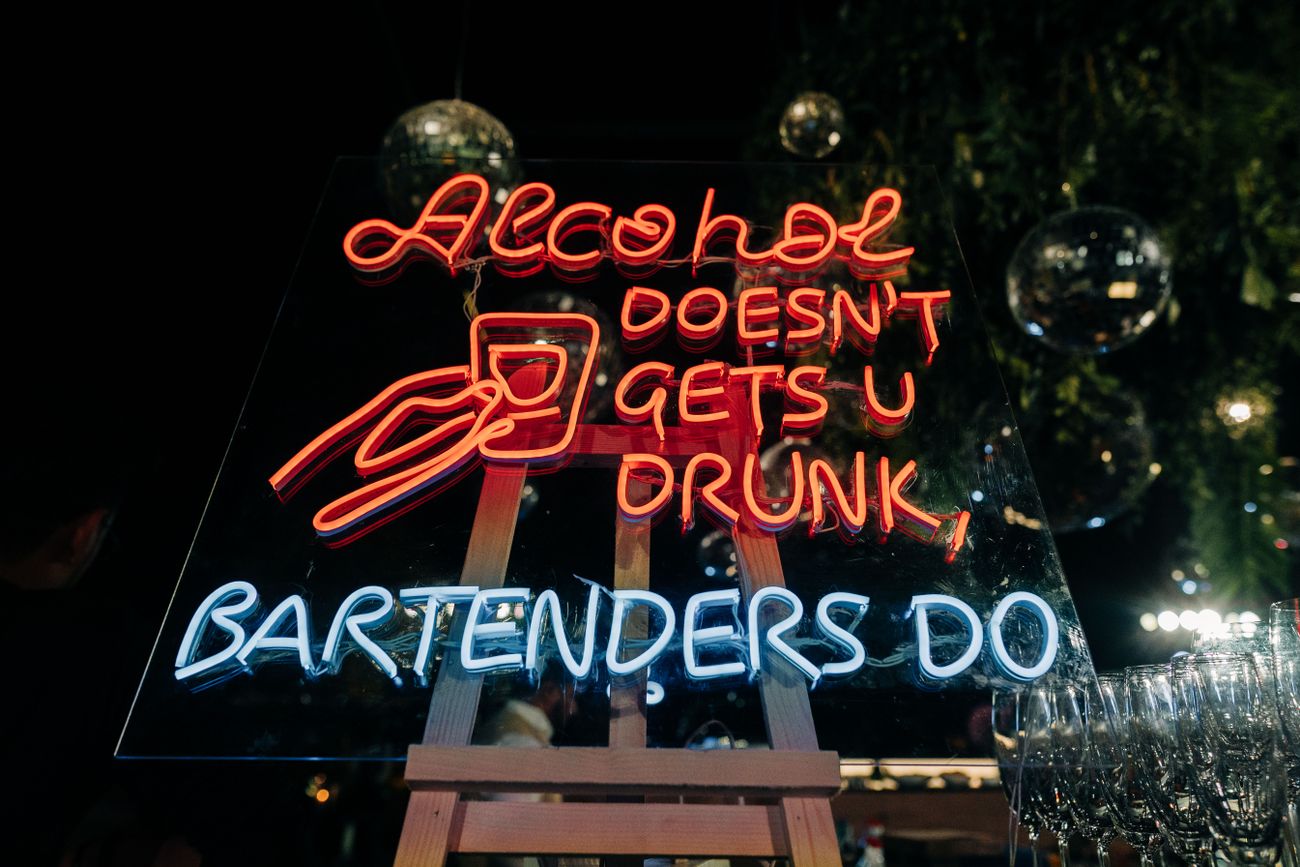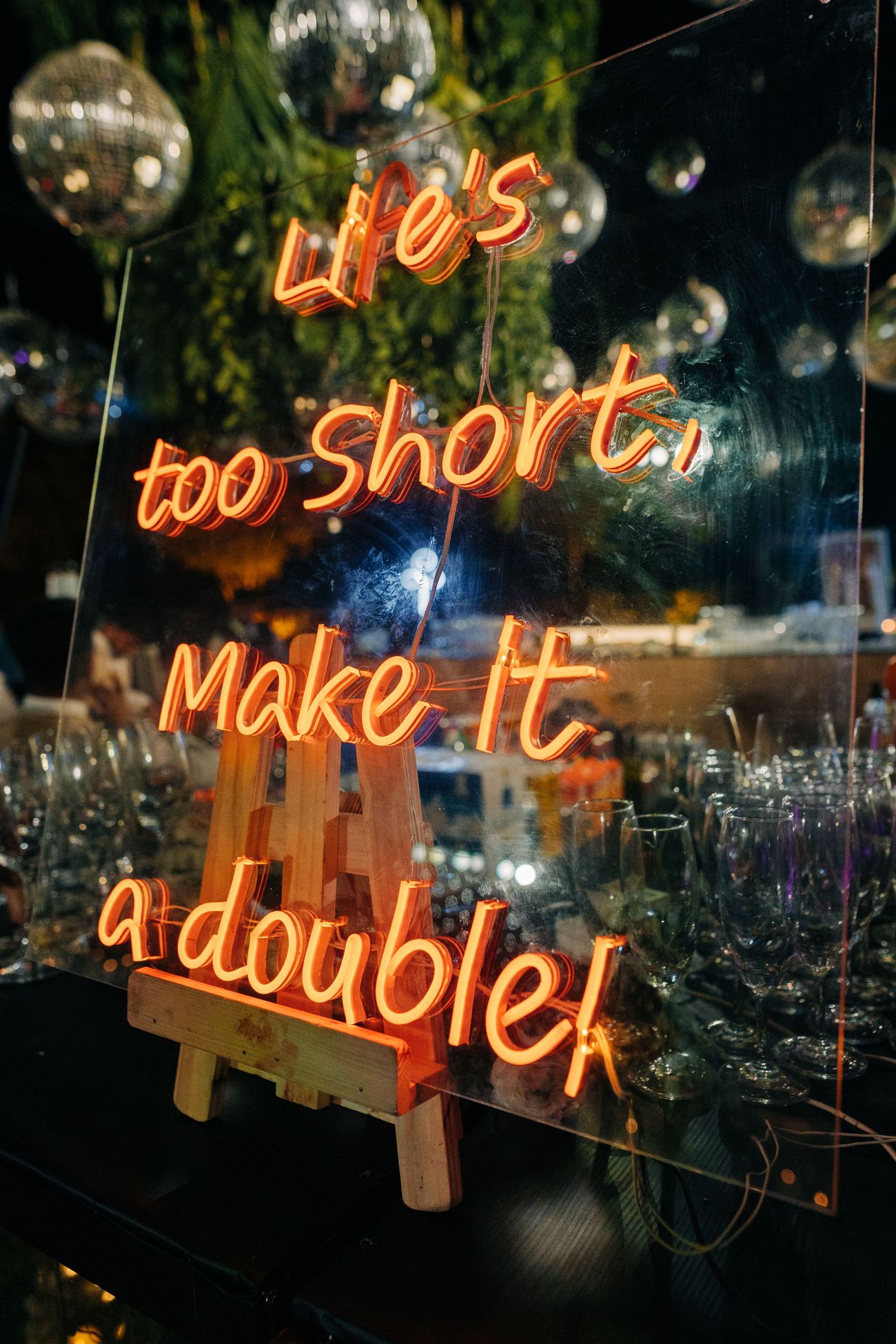 Image via Rucheta and Abhimanyu
How cool is this bar with all those LEDs shining bright? Love all the quirks and quotes!
Personalised Neon Signs + Pampas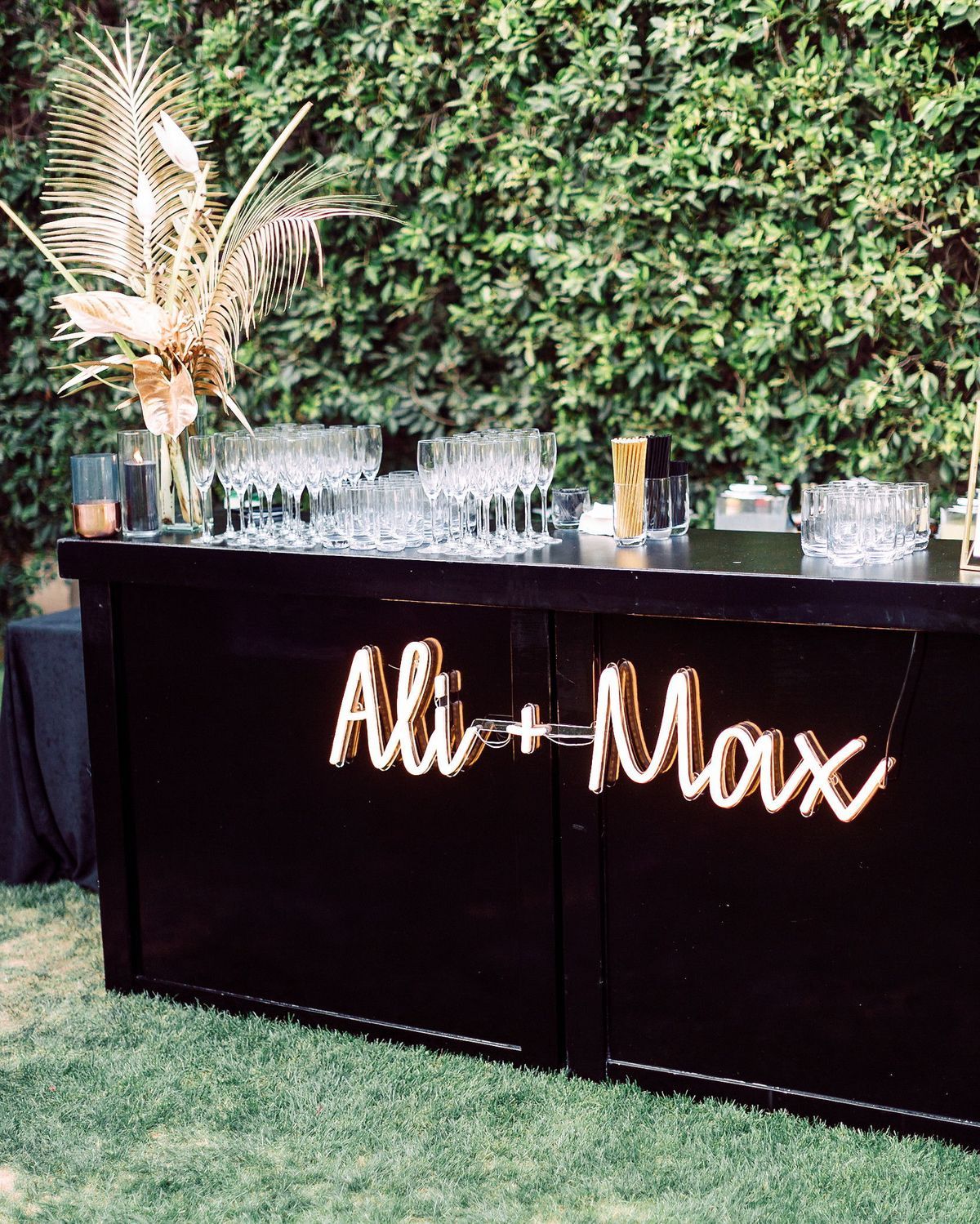 Image via Pinterest
Nothing like some personalised neon signs to kick-start a bar décor theme. This black and gold themed bar with a touch of rustic with pampas grass is enough to elevate that bar for your cocktail night!
Beers On Tap!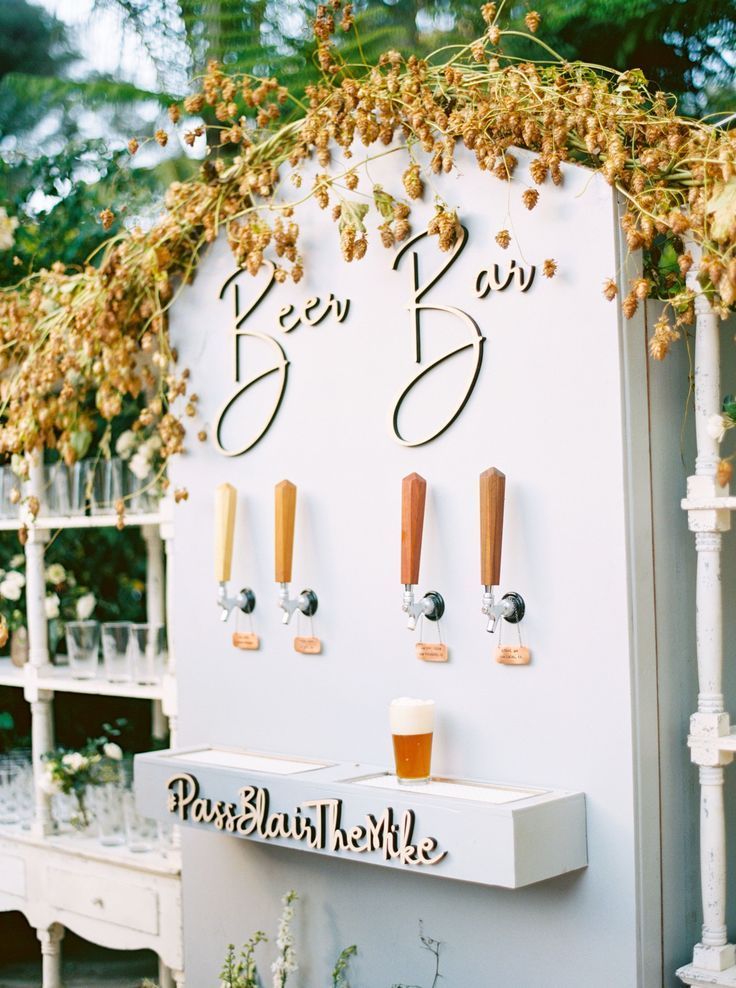 Image via Pinterest
Serving beer at your wedding? Let guests serve themselves (if you dare) and have your favourite craft varieties on tap. This is perfect for those haldi or small events when you don't want to have a fun bar yet have something fun!
Rustic Bar That Is Perfect For Outdoor Weddings!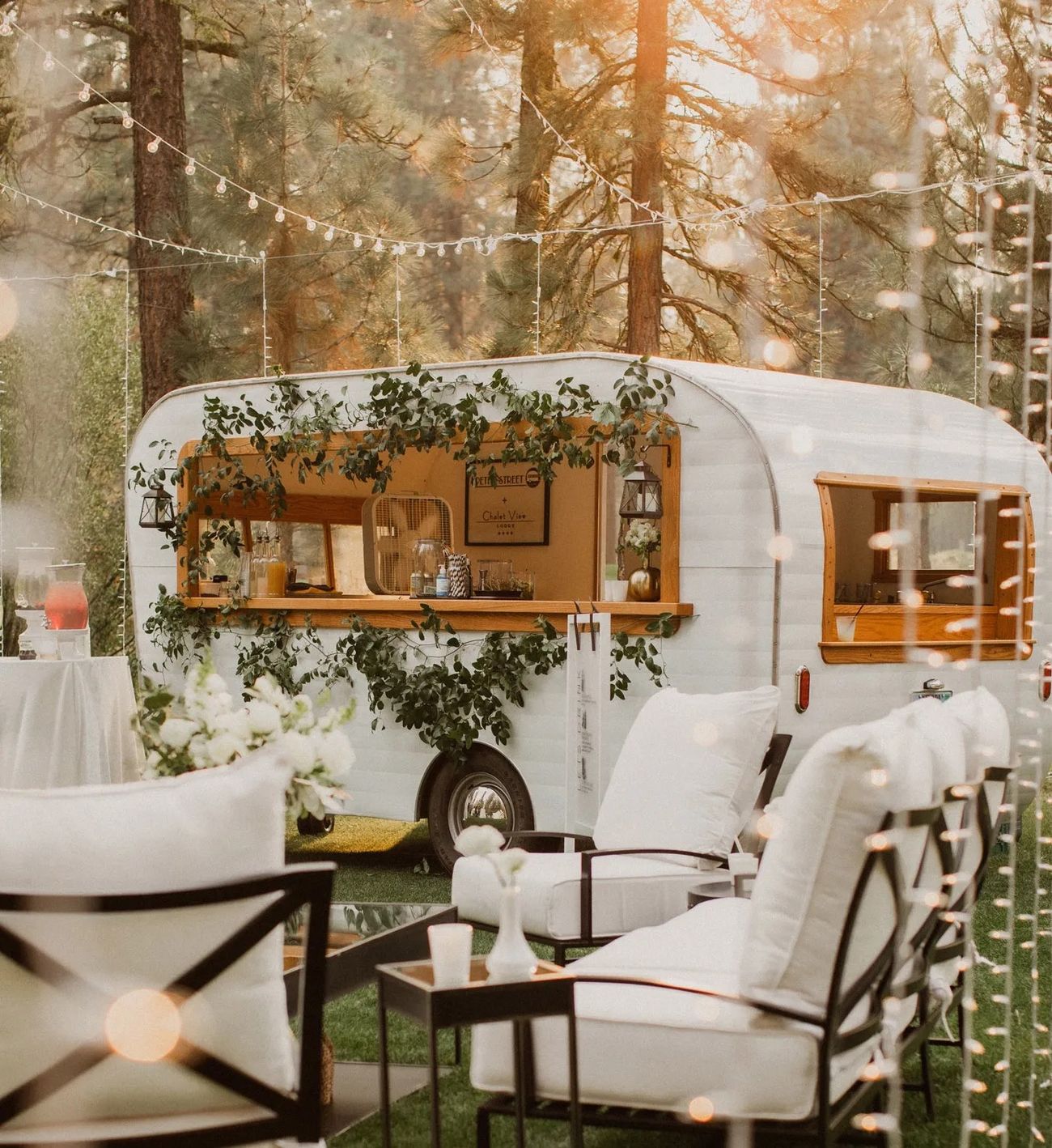 Image via Green Wedding Shoes
Backyard weddings seem to be the theme for 2023 weddings and this rustic bar is the perfect bar to have this. Line it up with some fairy lights and this can easily transition from day to night too!
Super Pretty Outdoor Cocktail Bar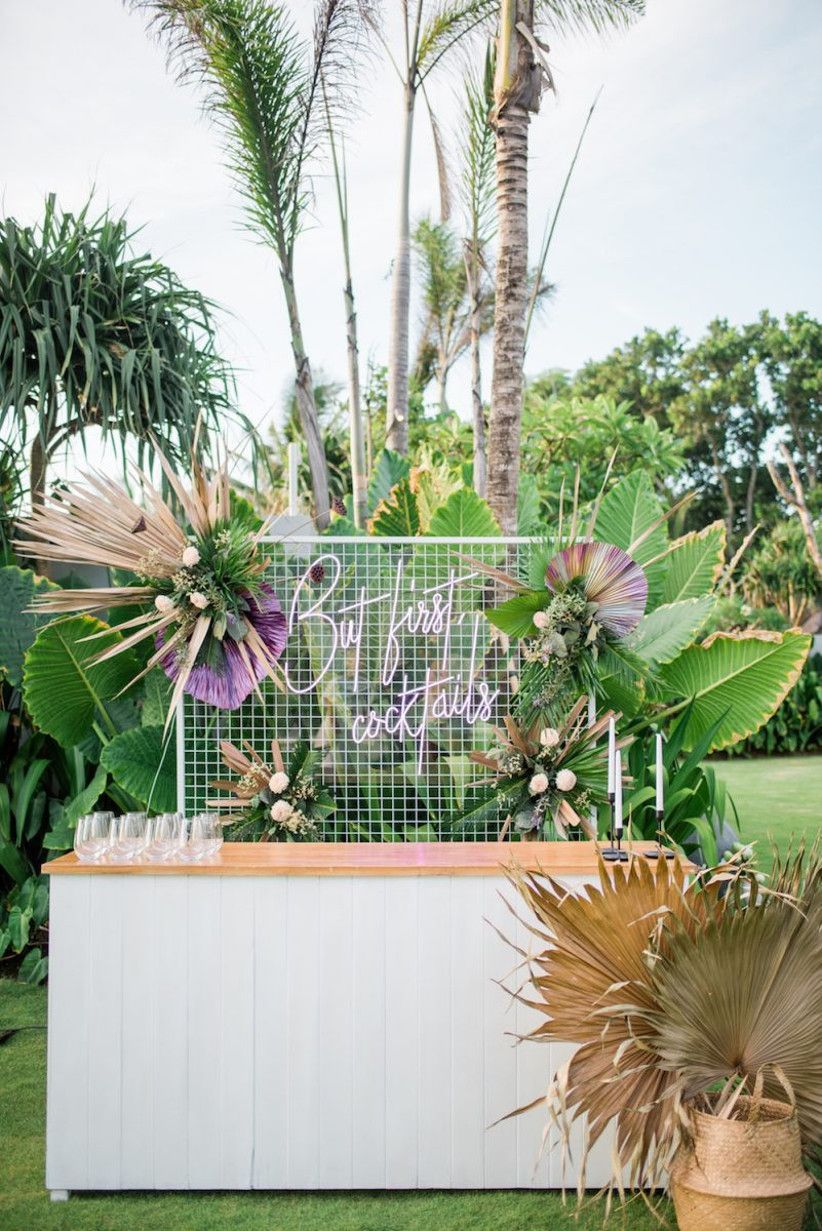 Image via Pinterest
If you love cocktails as much as we do, this pretty-as-can-be lavender green cocktail bar is the one to have! Perfect for a mehendi or even a welcome brunch party, this dainty bar décor is something that all will love!
Foliage And Floral Love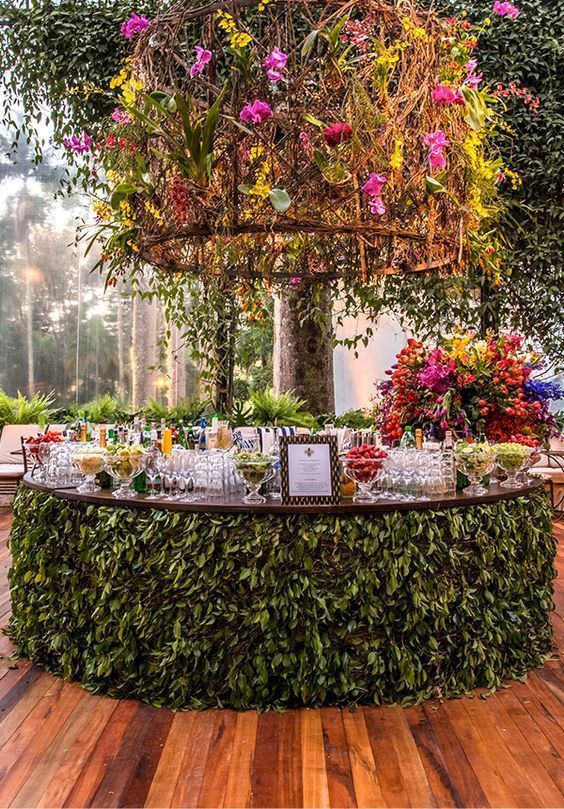 Image via Pinterest
This isn't just any bar - it's a botanical paradise, overflowing with fresh foliage and delicate florals that transport you to a world of natural beauty. Ideal for an outdoor day wedding where guests can sip on cocktails and crisp champagne!
Pick A Scenic View As A Backdrop For Your Bar!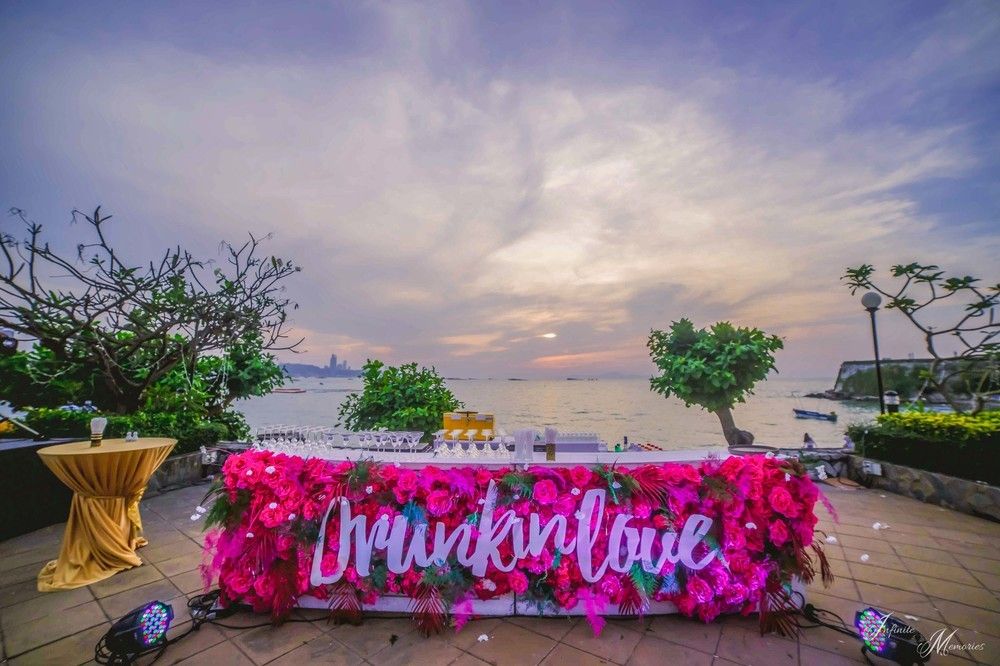 Image via Simi & Ketur
What better than a gorgeous view for a backdrop for a bar? We can imagine sipping on a refreshing lavender and rosemary gin and tonic or indulge in a fruity and floral peach and thyme sangria at this bar at a beach wedding!
Super Funky Tiki Bar!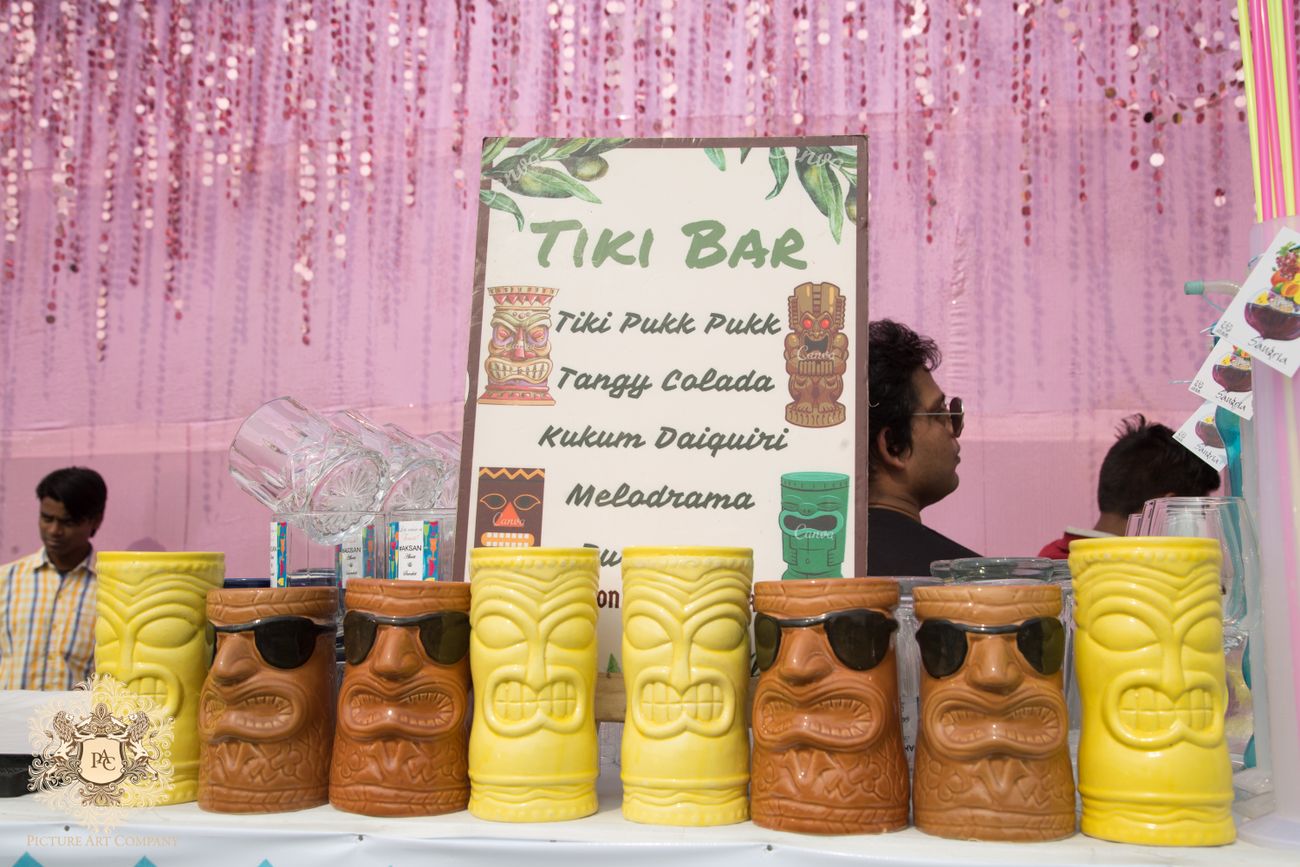 Image via Shubh Muhurat Luxury Weddings★ 5
Enjoy island vibes with the colourful décor display of Polynesian decor, complete with bamboo accents, thatched roofs, and tiki statues at a Tiki Bar. If you have fun island-themed wedding or cocktail party, this tiki bar idea will be a super hit!
Nautical Beach Bar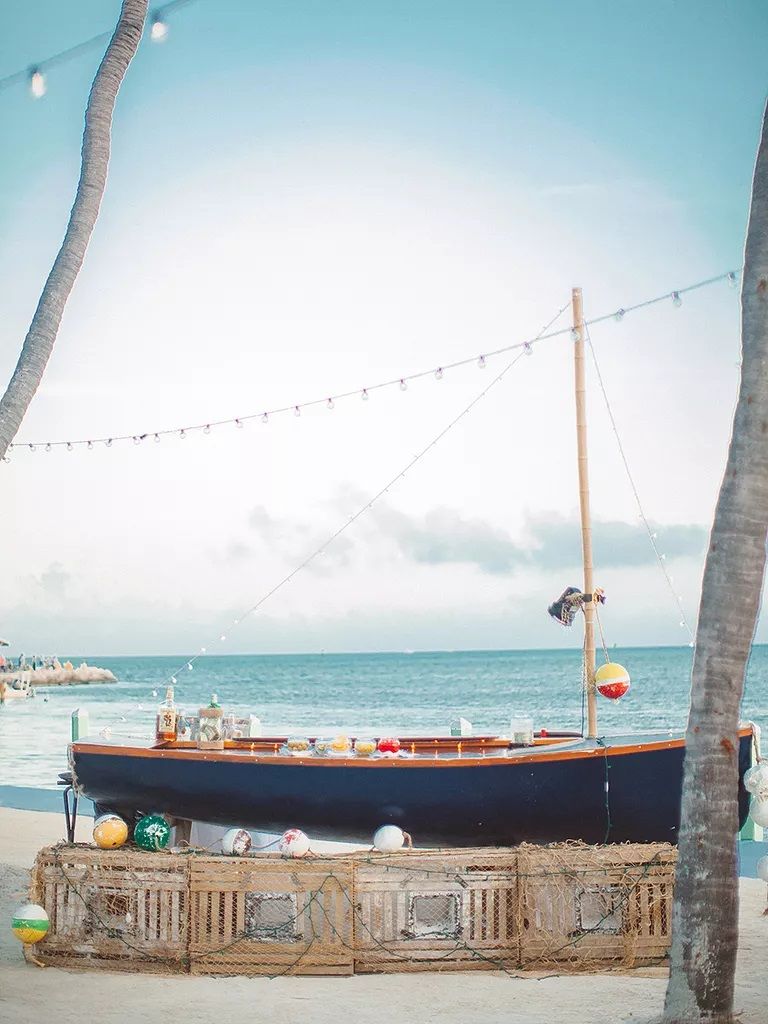 Ahoy, mateys! Get ready to set sail on a nautical adventure with this unique beach-nautical bar on an actual beach. With the sun on your faces and the sand between your toes, there's no better way to celebrate love and life than with a beachy cocktail in hand.
Floral ceilings AND a floral bar!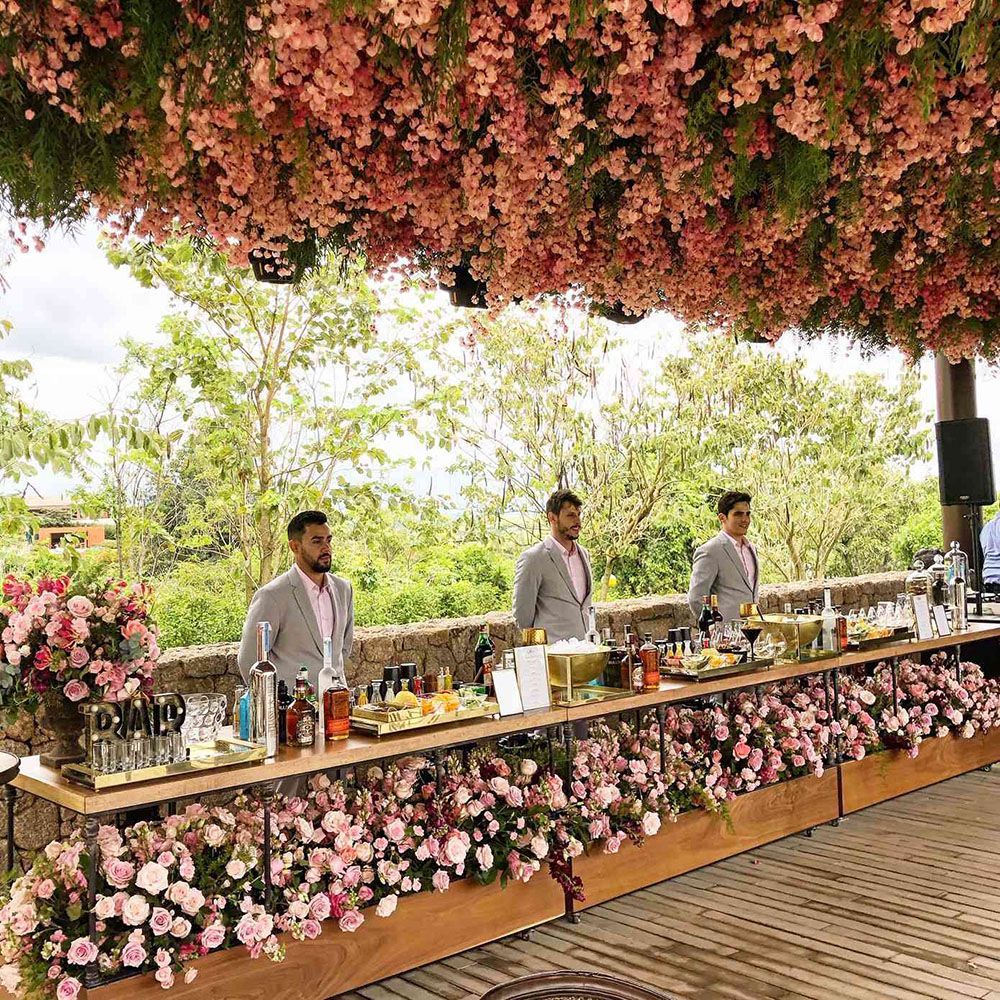 Image via Pinterest
This floral wonderland is a celebration of love and lot of fun at any wedding. We love how they have extended the floral décor to the bar décor too – keeping it all in the same fam!
Pop Of Colour With Some Lemons!
Get ready to pucker up and enjoy a pop of bright and zesty decor at this wedding bar! Lemon decor is taking over as the latest trend, adding a fresh and fun touch to any celebration. We are loving this trend for greek-themed mehendis or even haldis, to match the yellow!
Under The Big Banyan Tree!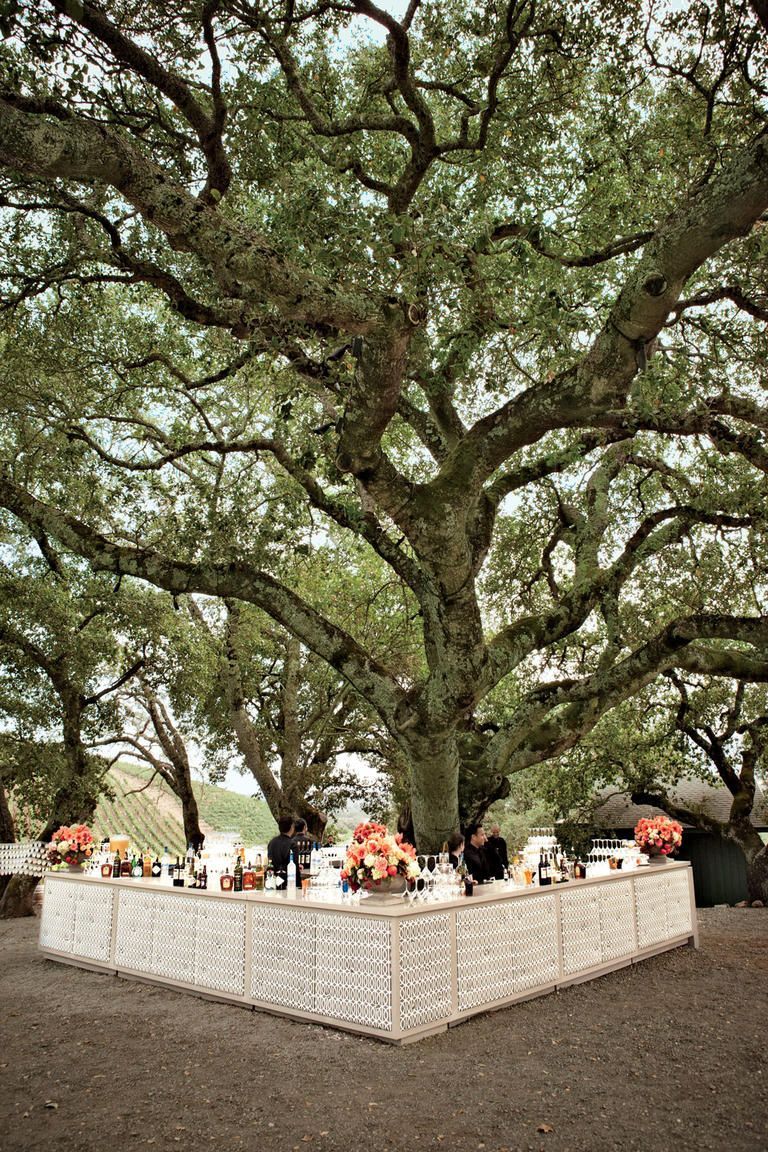 Image via Pinterest
Under the tree mandaps were trending in 2022, so why not take it two steps ahead and have a bar under the tree? We are loving this and how!
This personalised bar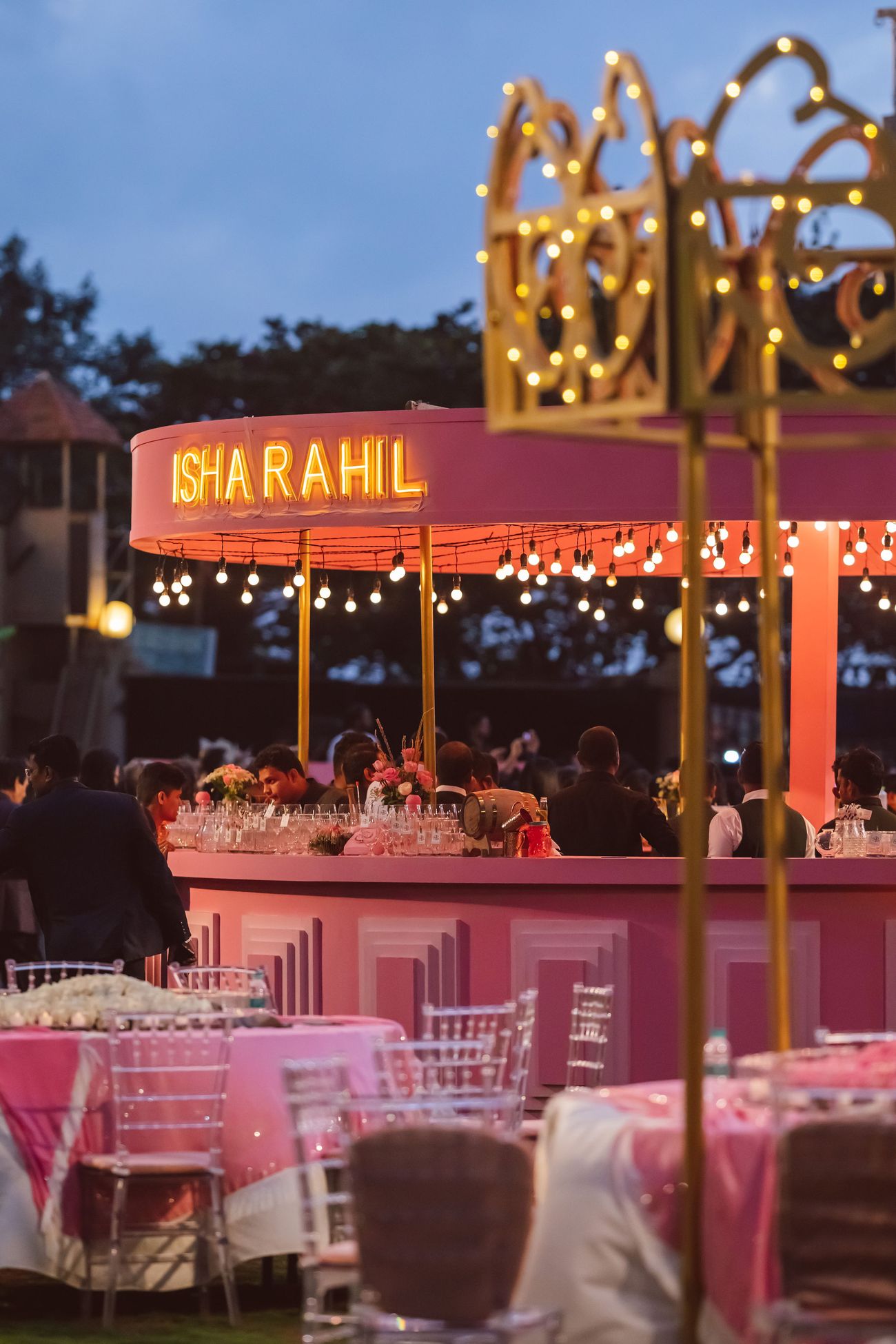 Image via The Wedding Salad; Decor by Altair★ 5
Now that is one stunning bar decor idea, isn't it? We loved everything about it- right from the millennial pink to the gold and the names on it.
Or how about this one?
Image via House On The Clouds★ 5 ; Decor by Altair★ 5
Another one with the names which stands out and looks so awesome.
Or one with the Hashtag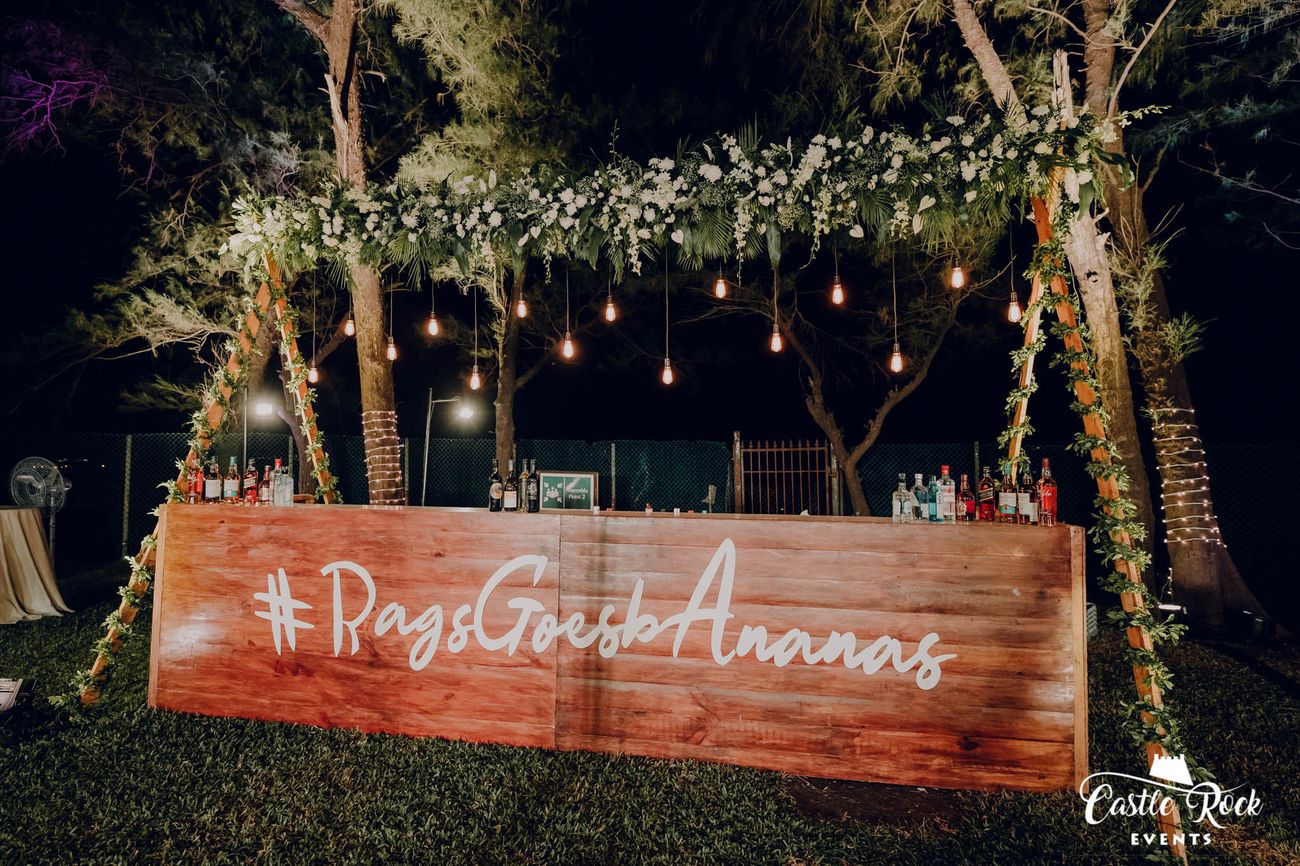 Image via Castle Rock Events★ 5
If you have a cool hashtag for your wedding, why not show it off with the bar decor?
Mirrors and lights #forthewin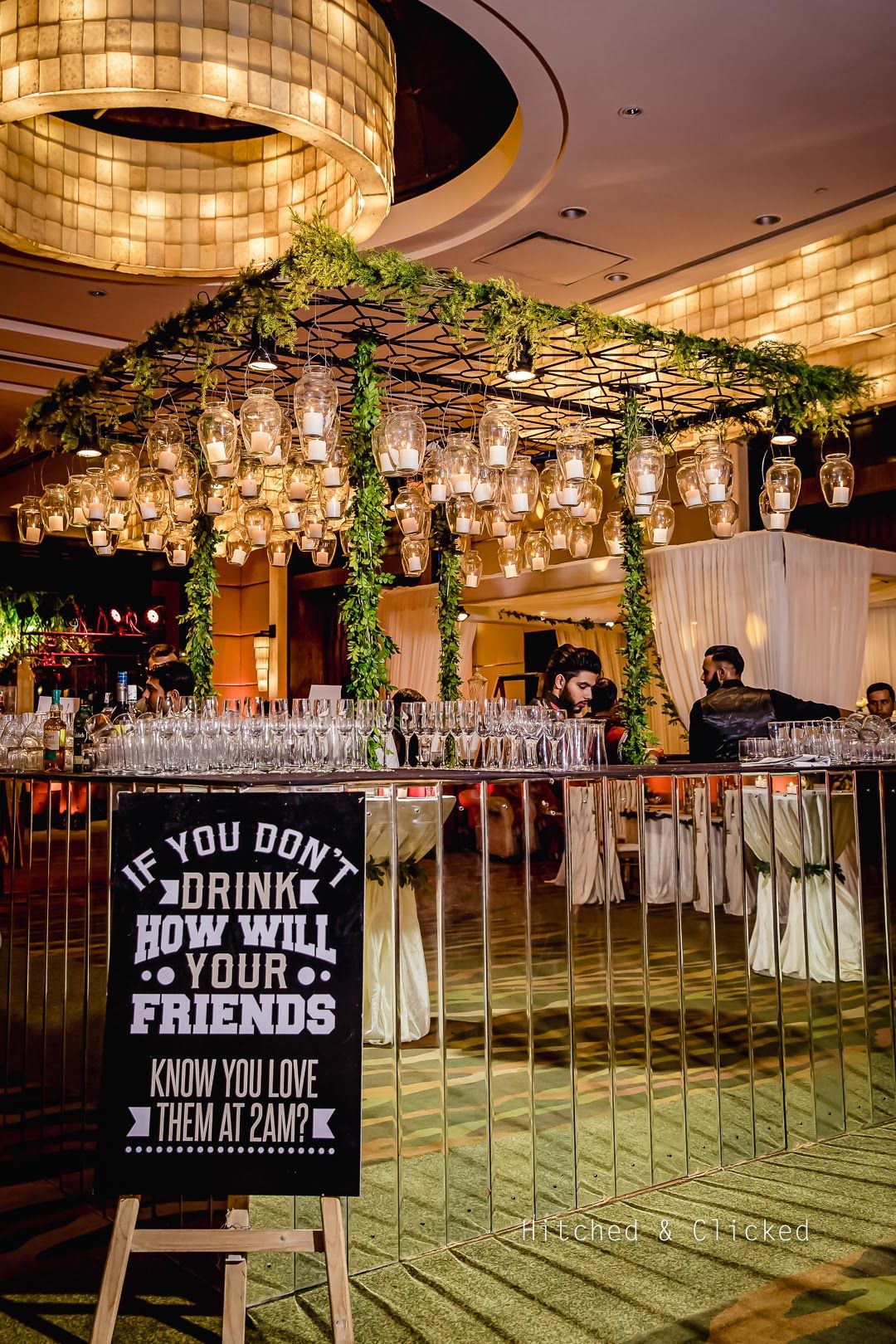 Image via Hitched and Clicked★ 4.7 ; Planned by Vivaha Wedding Solutions★ 5
Mirrors can make the bar decor next level, and this one if proof!
A cute LED quote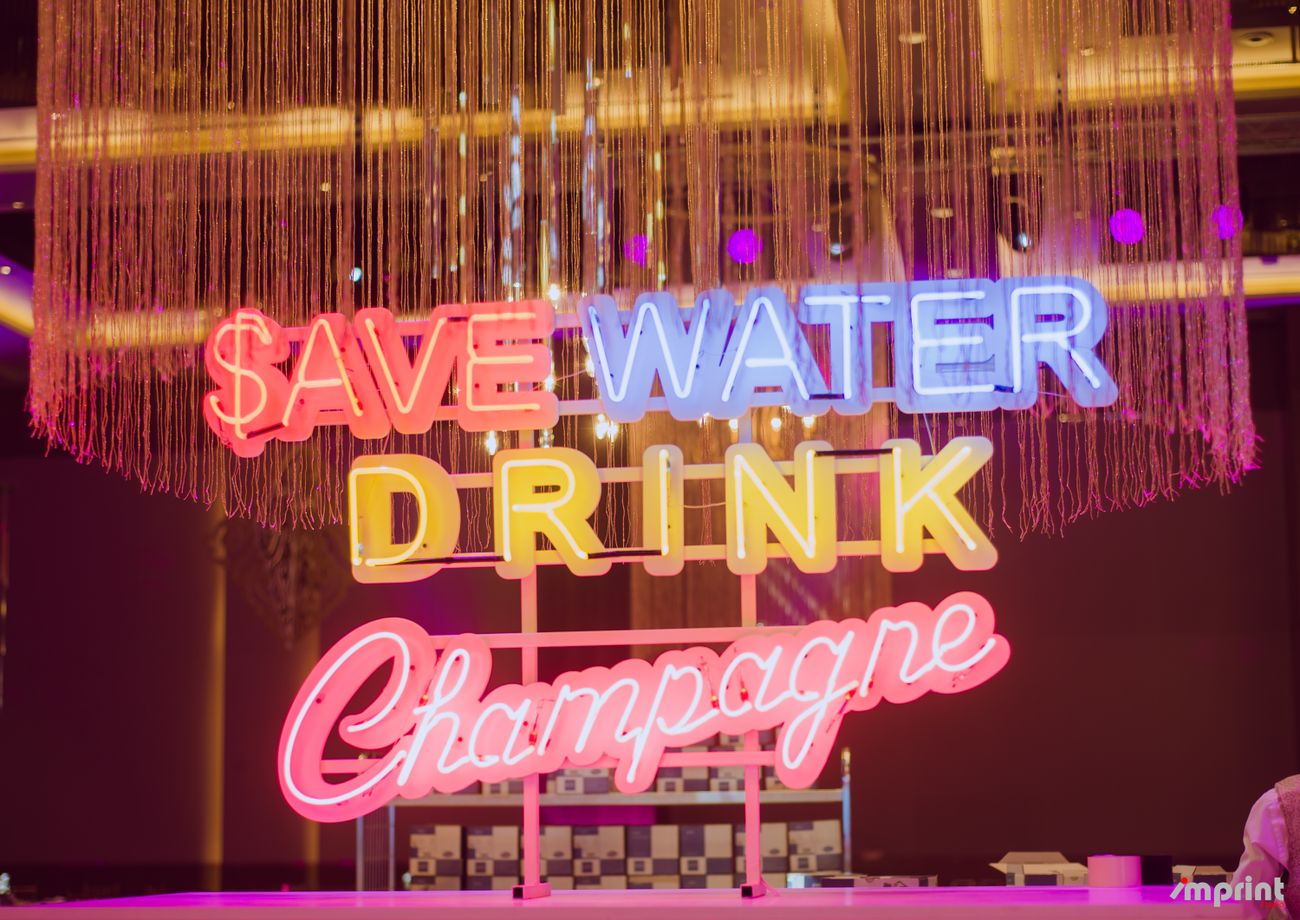 Image via Chapter 2 Events★ 5
Adorable, right? Is sure to grab everyone's attention!
Or just a simple one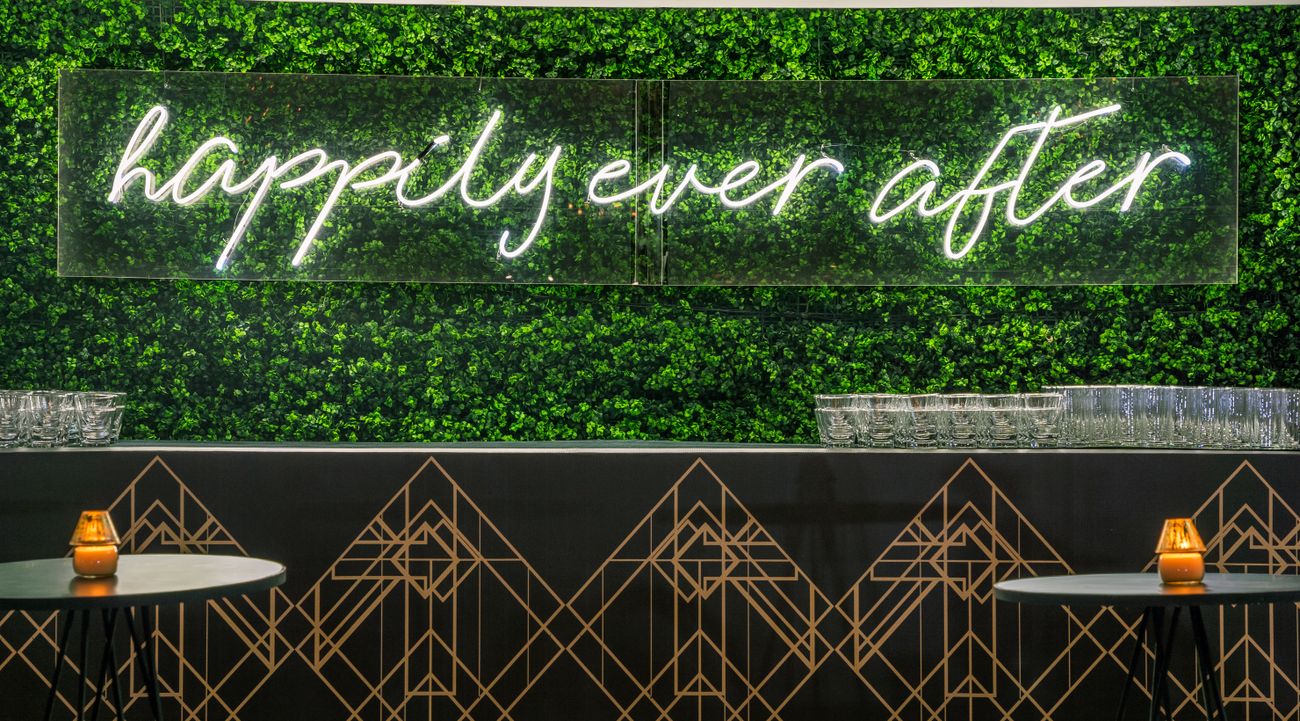 Image via To The Aisle★ 5
Just something sweet but which pops against the decor and attracts everyone to the bar.
A Sangria bar as cool as this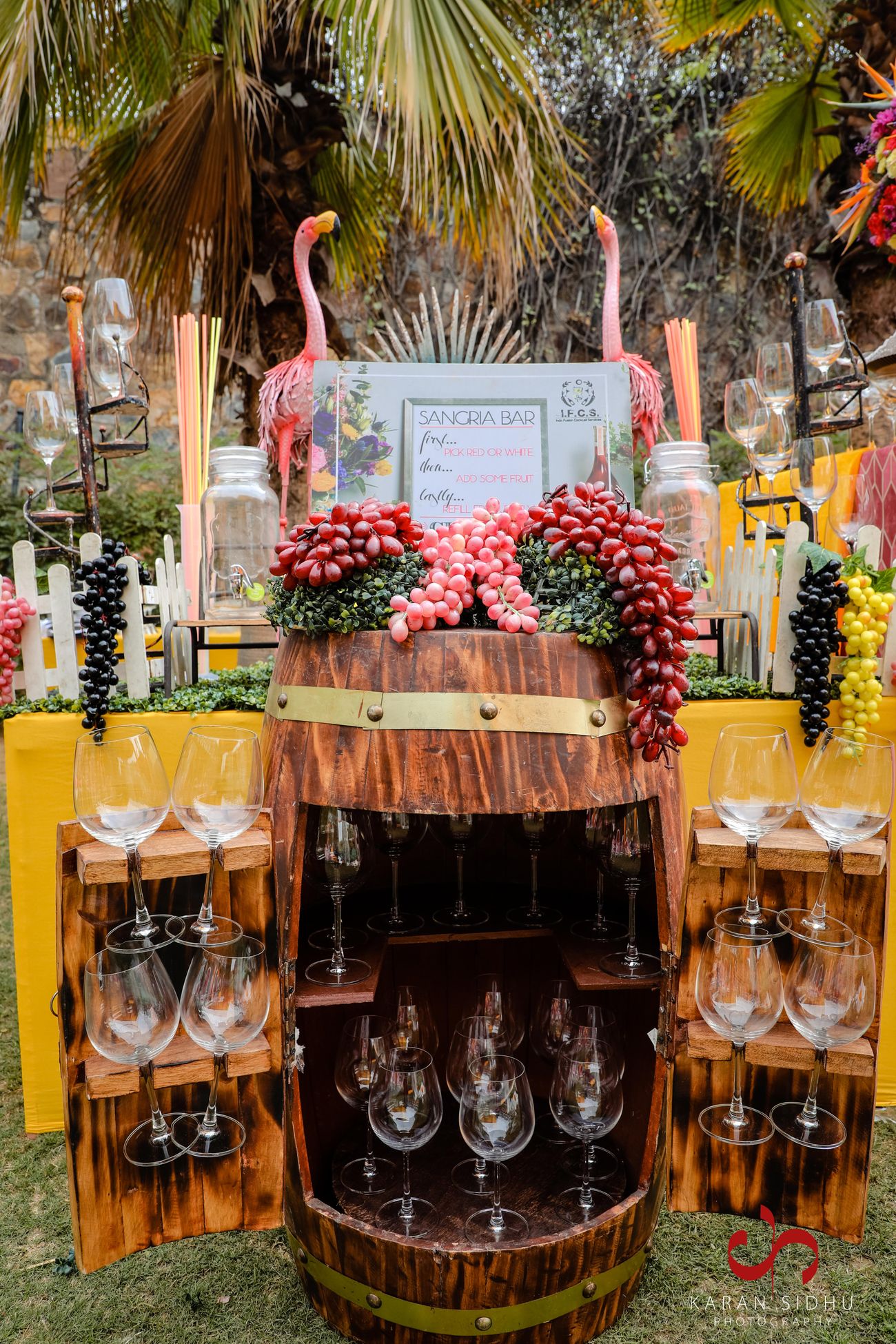 Image via Sanchi & Tanuj
Spotted this at the mehendi of a wedding we featured recently- and we love how fresh this looks!
Food truck bar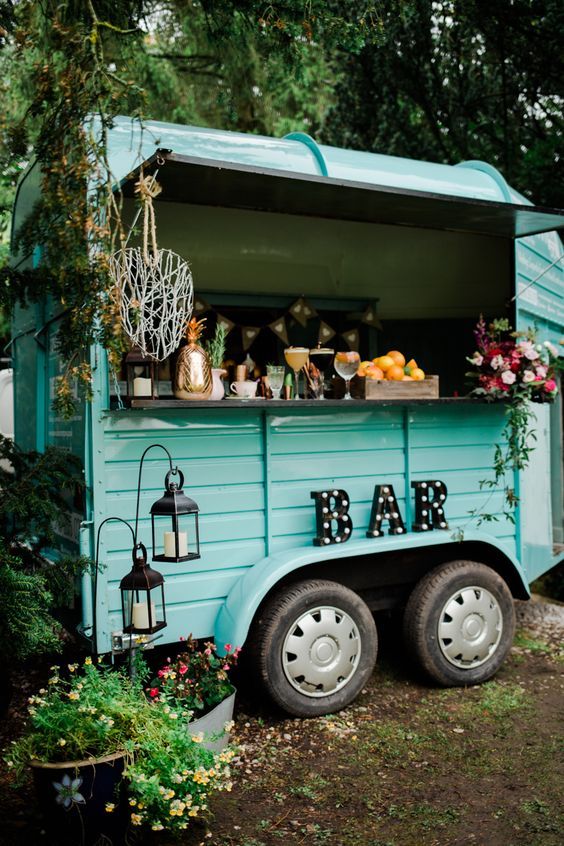 Image via Pinterest
Something new and awesome- which really makes the decor pop!
Something with tropical vibes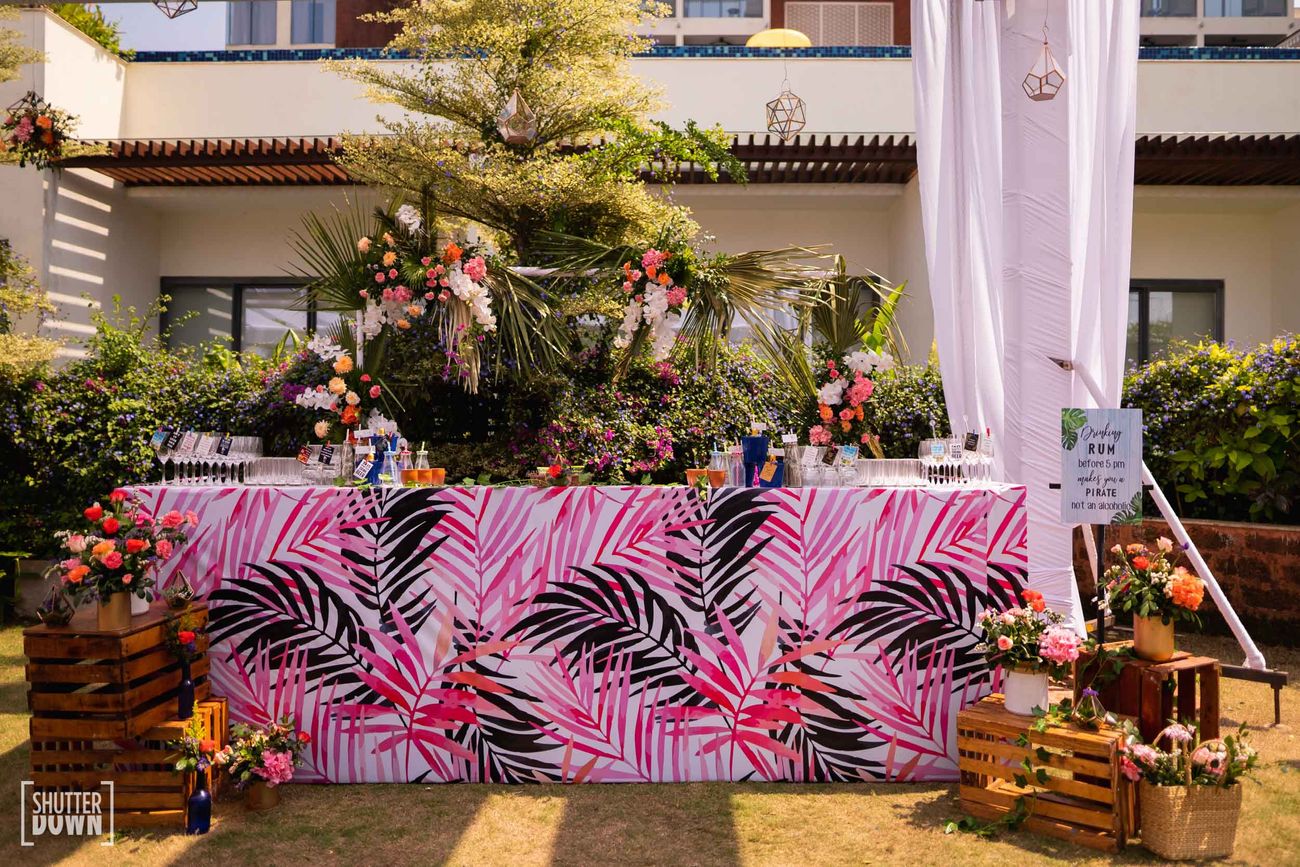 Image via Shutterdown - Lakshya Chawla★ 4.9 ; Planned by Vogue
If you have a tropical theme at the mehendi, then how about something like this?
Or just plain happy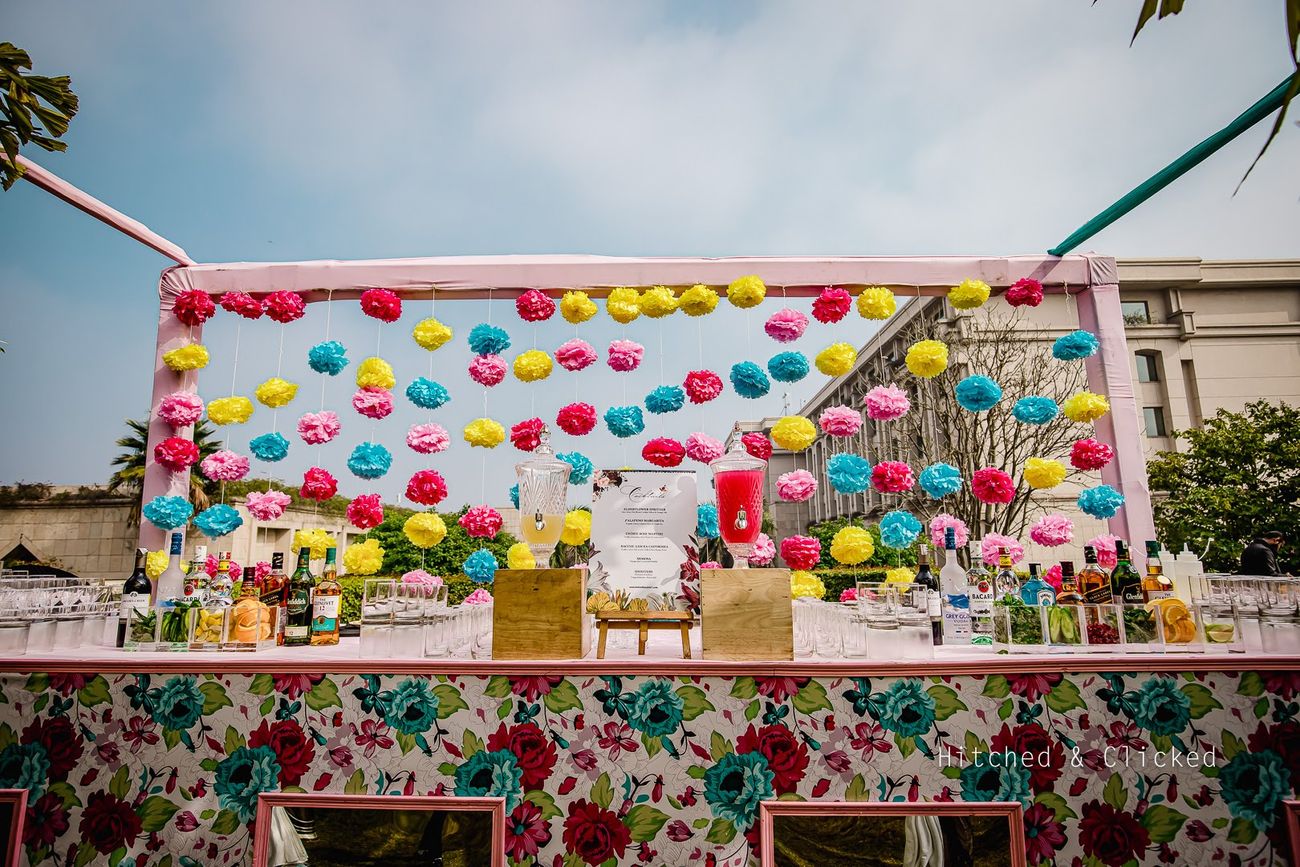 Image via Hitched and Clicked★ 4.7 ; Planned by Vivaha Wedding Solutions★ 5
Something with so much colour is a perfect bar decor idea for the mehendi or the haldi.
Sharab Di Gaddi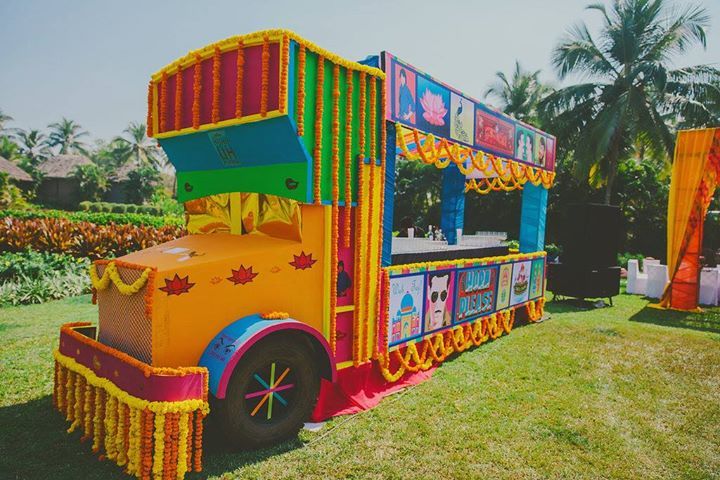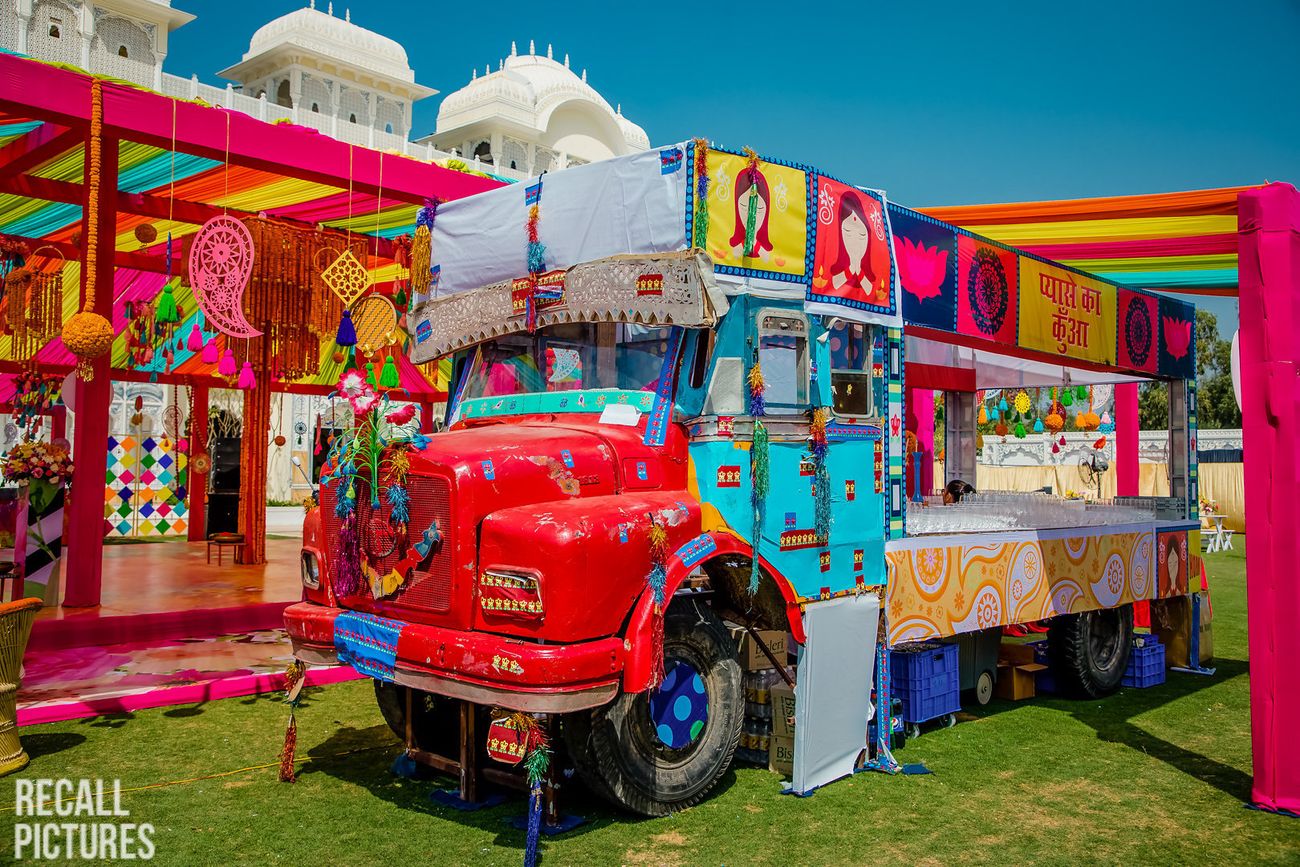 Image via Purple Tree Events Solution★ 4.9 and Mayuri & Ritesh
The iconic, the OG and the evergreen – sharab di gaddi-themed bar. This bar idea is a classic and never fails to impress. This truck-style bar will get you extra shagun from uncles as well as a nostalgic kick from friends!
Or a simple DIY bar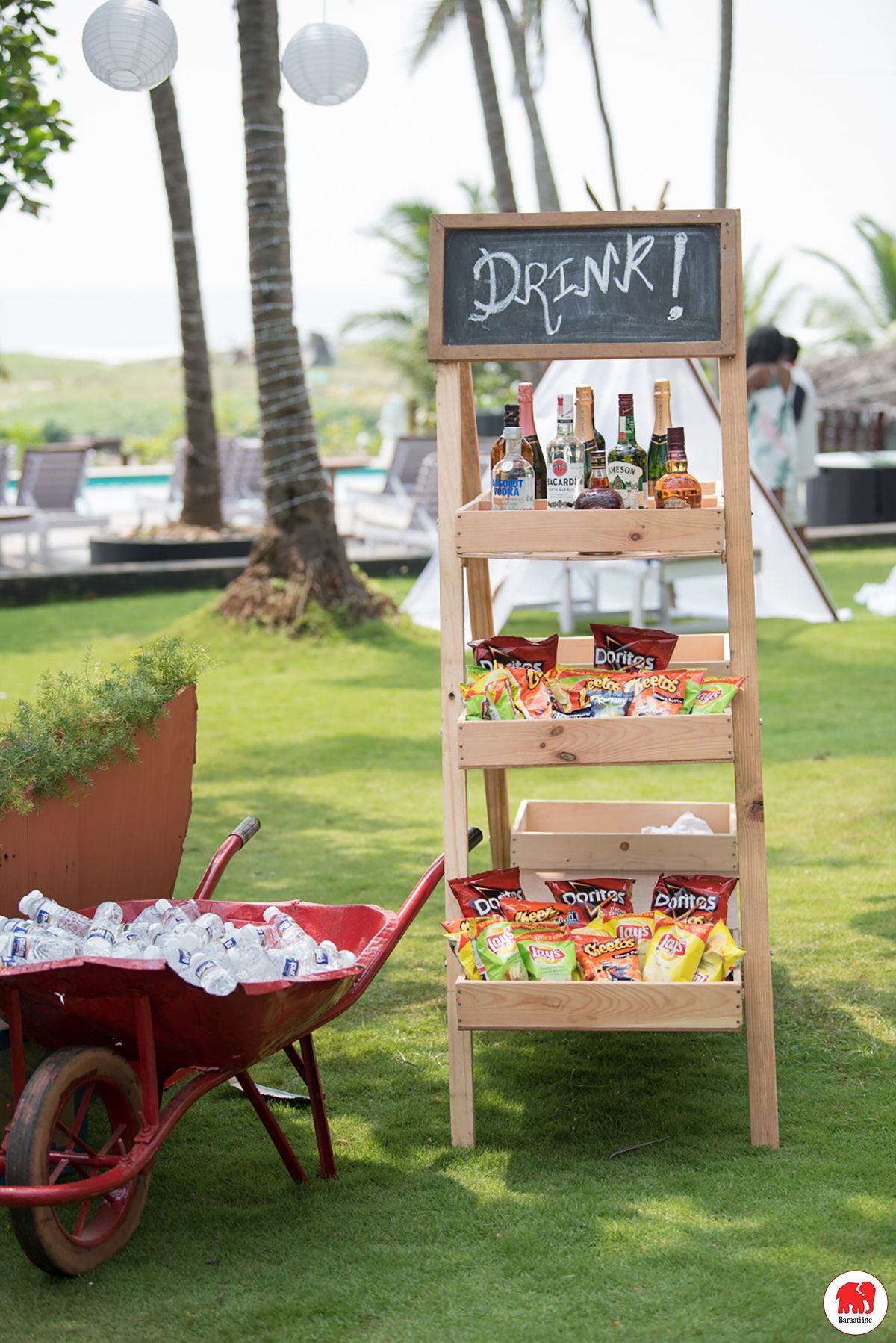 Image via Baraati Inc
DIY bars are very happening right now, especially for smaller events.
Looking for more bar decor ideas? Then check out The Coolest And Funkiest Bar Ideas That Will Leave You Refreshed For Sure!