The Coolest Wedding Ideas We Spotted In 2018 Real Weddings On WMG!
BY Sakshi | 29 Dec, 2018 | 12954 views | 3 min read
2018 was a great year for weddings and for WMG- we got to see so many new things- outfits, ideas and a whole lotta other stuff that took us by surprise! Couples are getting so creative at their weddings, and we were lucky to be witness to it and be able to share it with you! So here are some of the coolest ideas we spotted in 2018- ideas we are sure will continue to wow in 2019 as well!
Couples twinned, and how!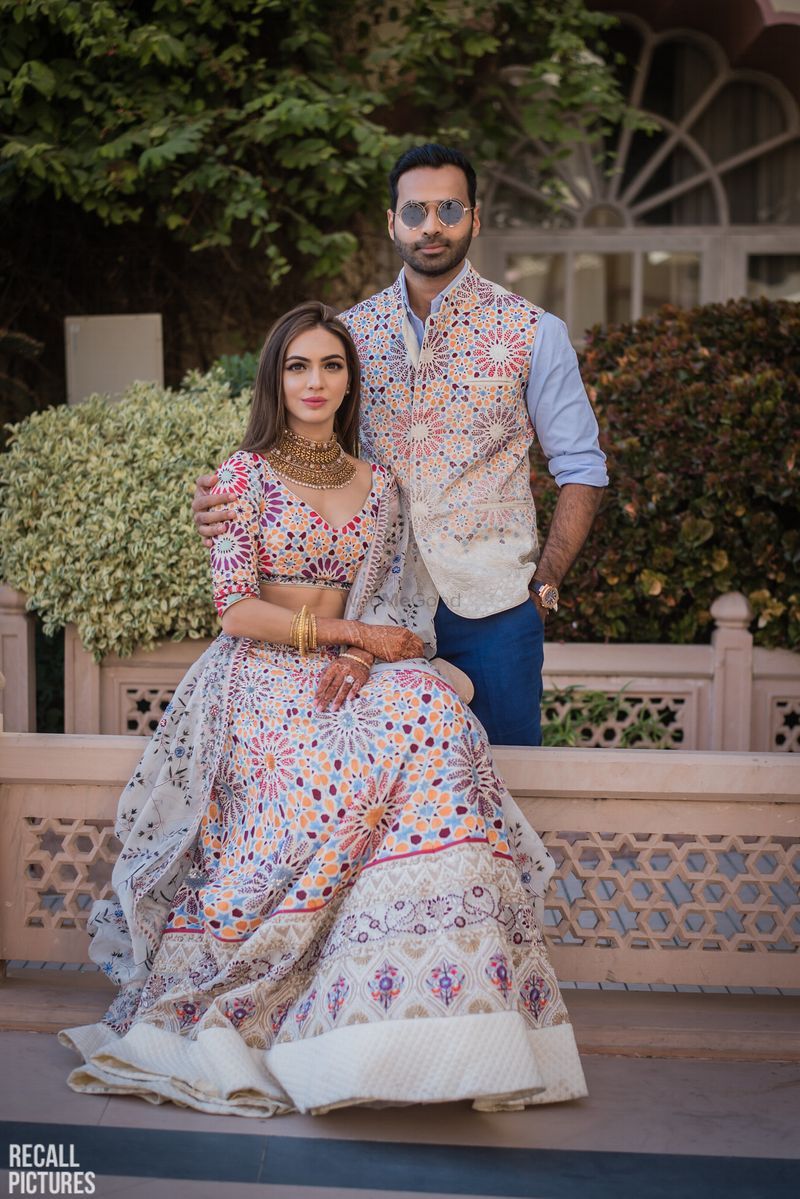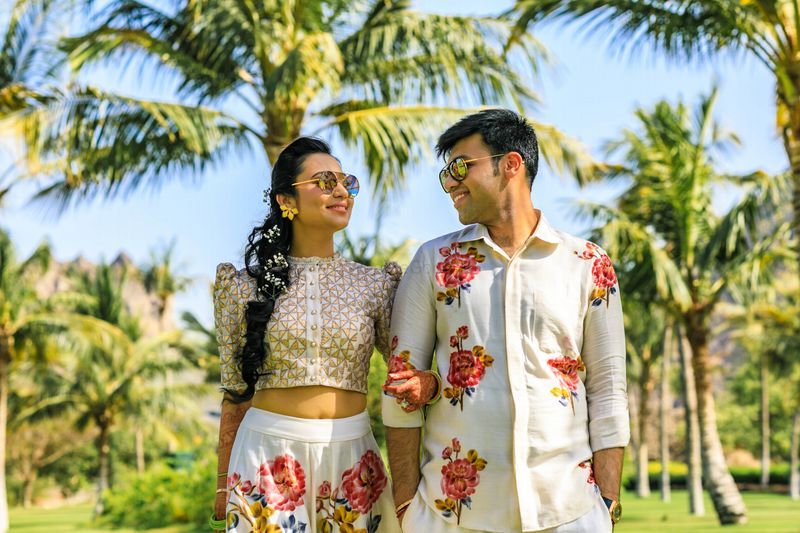 Image via Jay & Shibani (Jodhpur) and CineLove Productions by Luxmi Digital Studio★ 4.8
This was a trend we hadn't seen before- we had seen couples rock the same colour, but rocking the same print- like literally cut out of the same fabric- this was something new!
Bridal blouses broke the internet!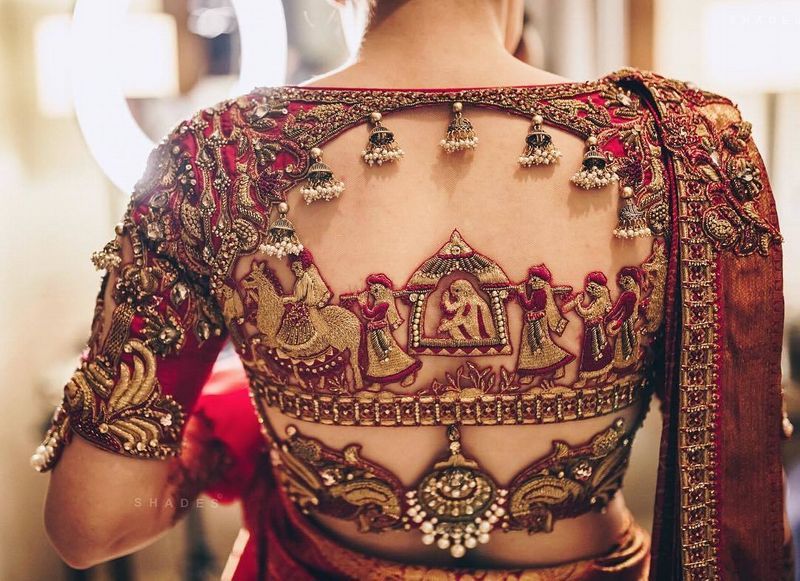 Image via Palak & Dhruv (Goa)
This particular blouse literally took over our Instagram, and for good reason! 
Brides got all creative at their entries!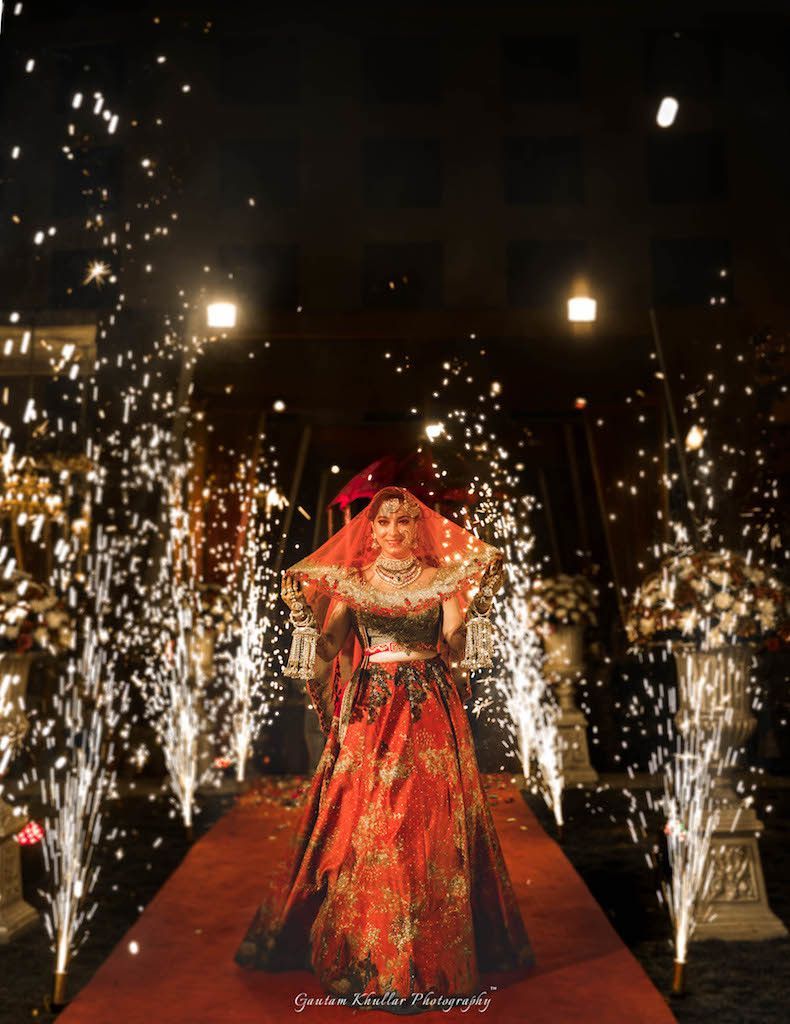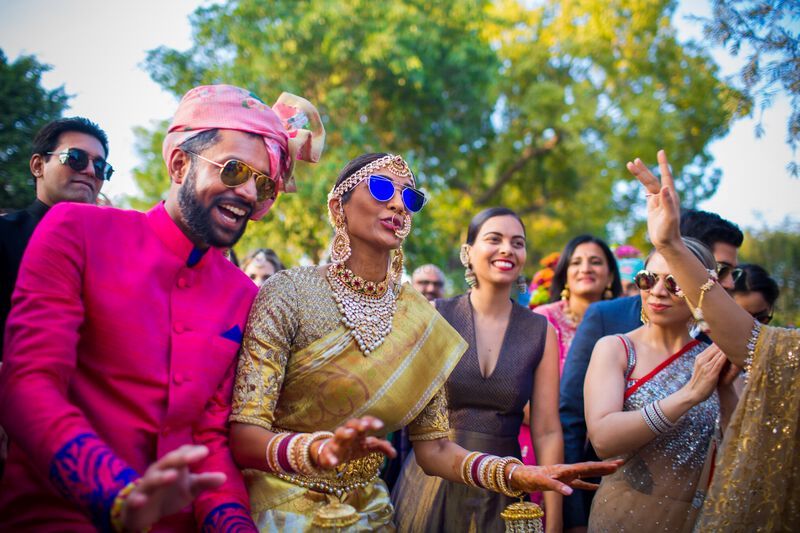 Image via Savnit & Rahul (Agra) and Vasuki & Atul (Delhi)
Whether it was entering solo or entering with their own bridal baraat- brides took things up a notch with some really creative ideas!
Grooms took things up a notch too!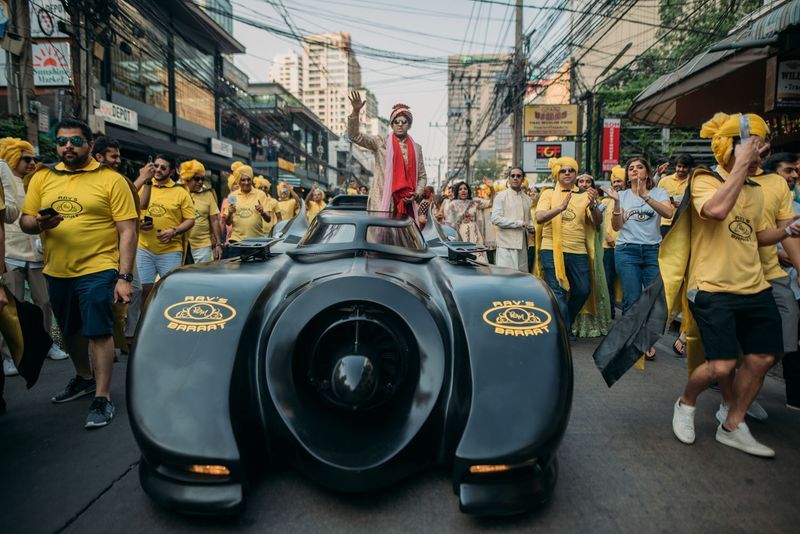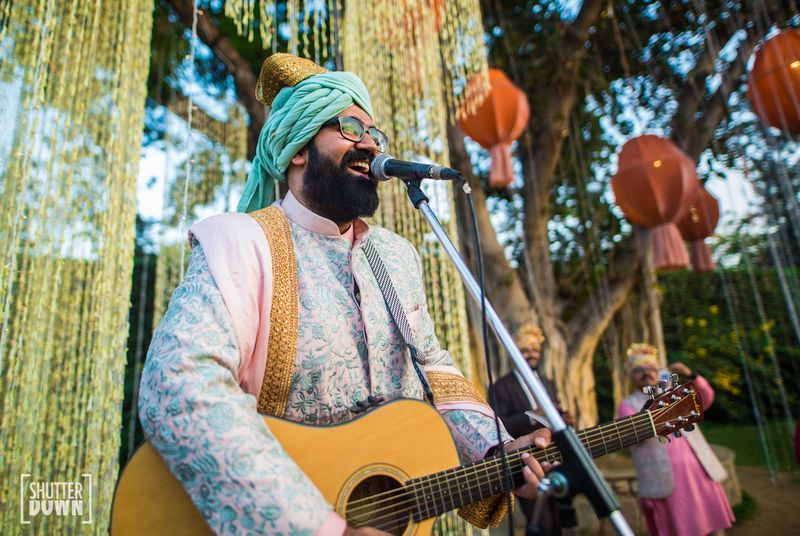 Image via Mira and Ravine (Thailand) and Lakshya and Niharika (Delhi) 
Grooms were no less too- we had grooms who entered their weddings in Batmobiles, and one who sang for his bride as she walked down the aisle!
Brides entered with sisters and bridesmaids instead of brothers!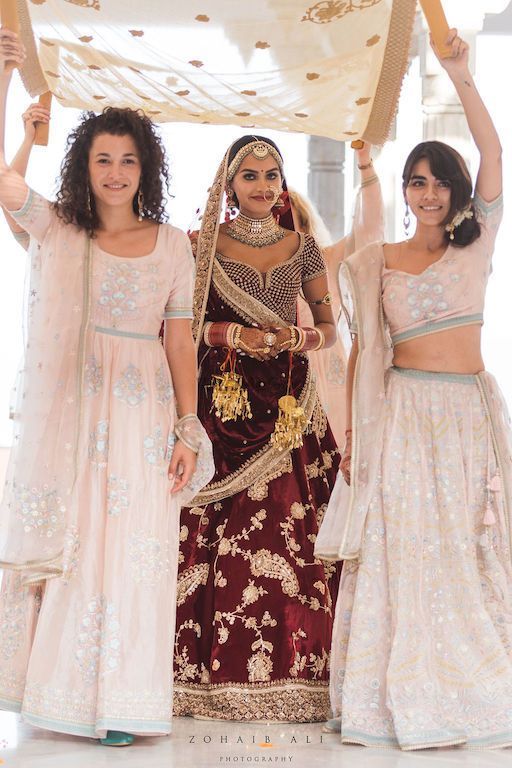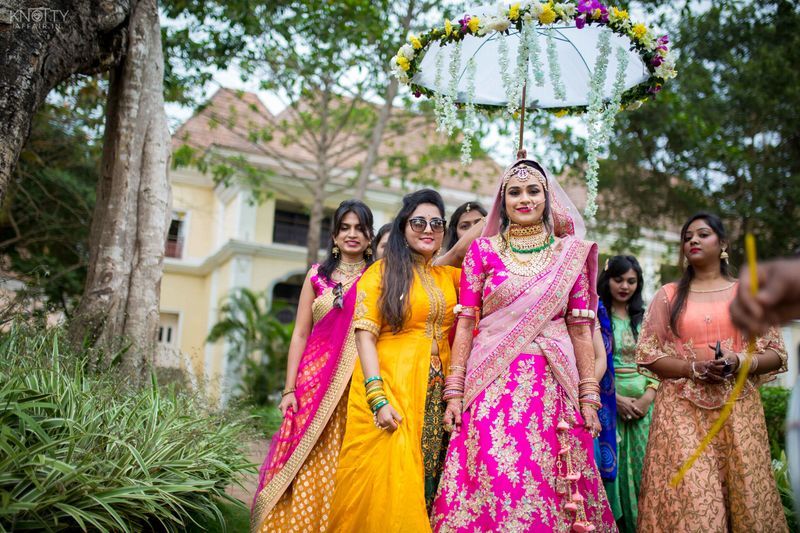 Image via FrozenVibes by Nikhil★ 4.8  and Astha & Himanshu (Delhi) and Oleg & Diipa (Udaipur) 
Traditionally, we have seen brides enter with brothers holding the phoolon ka chadar, but in 2018, we saw more and more brides enter with their sisters and bridesmaids instead!
And got cool getting ready and pre wedding shoots with bridesmaids!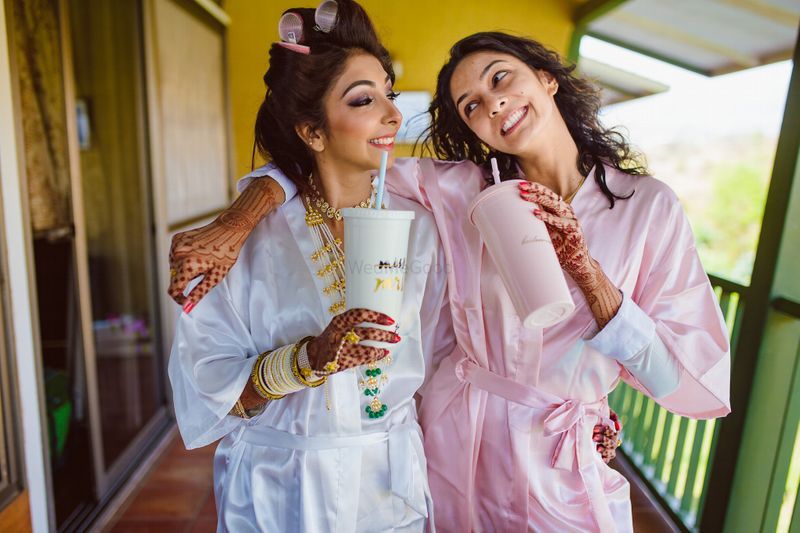 Image via Taseer & Asad (Nashik) and Anuraag Rathi Photography★ 5
Brides taking out some time with their photographer for their bridesmaids is something else we saw- some super sweet dedicated shoots with bridesmaids or sisters!
Kaleere got a facelift- we discovered customised & floral ones!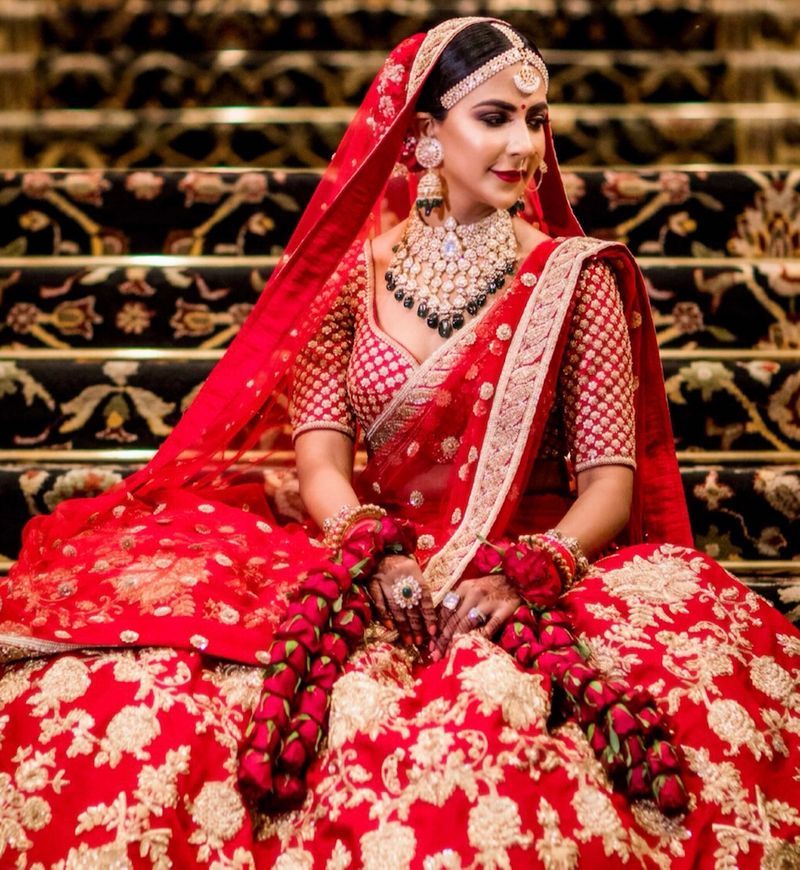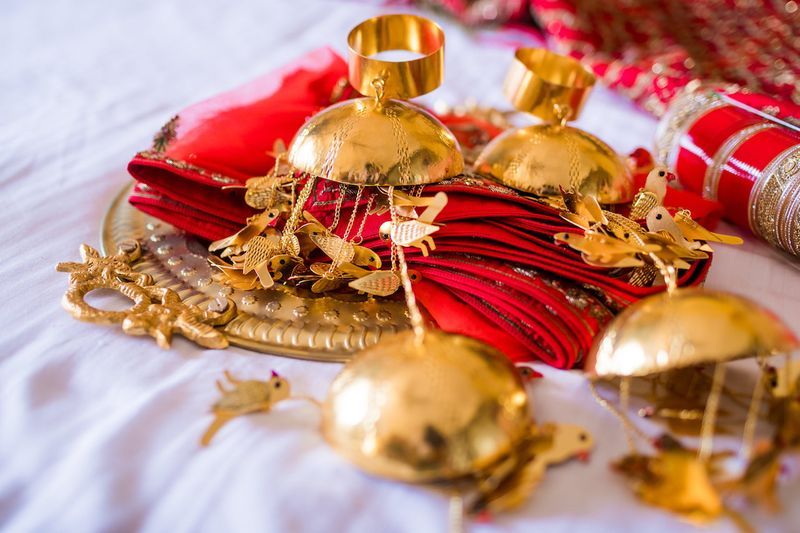 Image via Divya and Karan's Wedding and Yugesh and Diksha's Wedding
We saw some amazing new kaleere on brides - so many new ideas from customised ones to floral and even dry floral ones!
Bridal mehendi became way more personalised!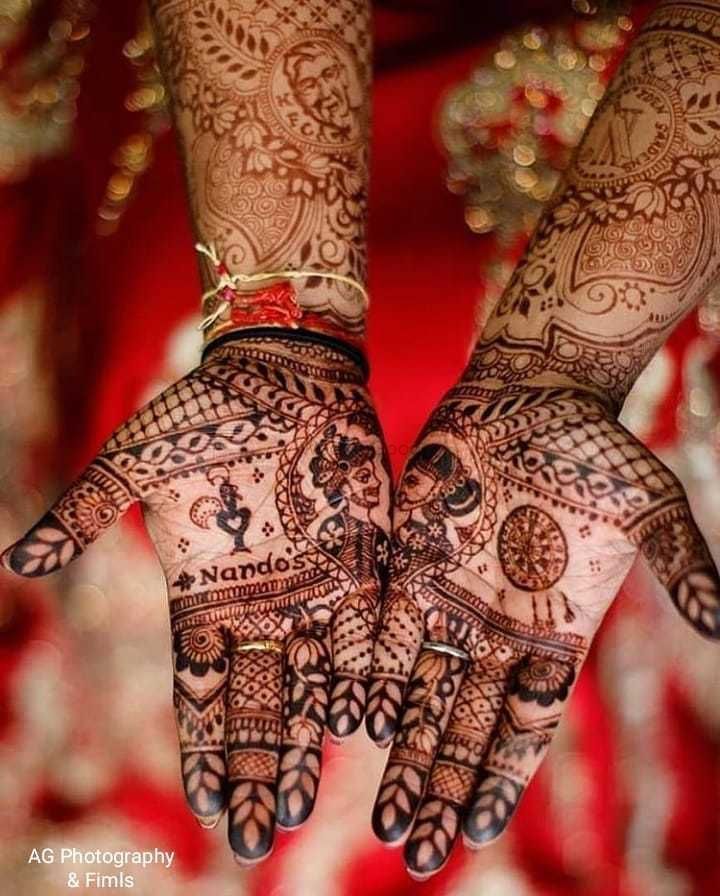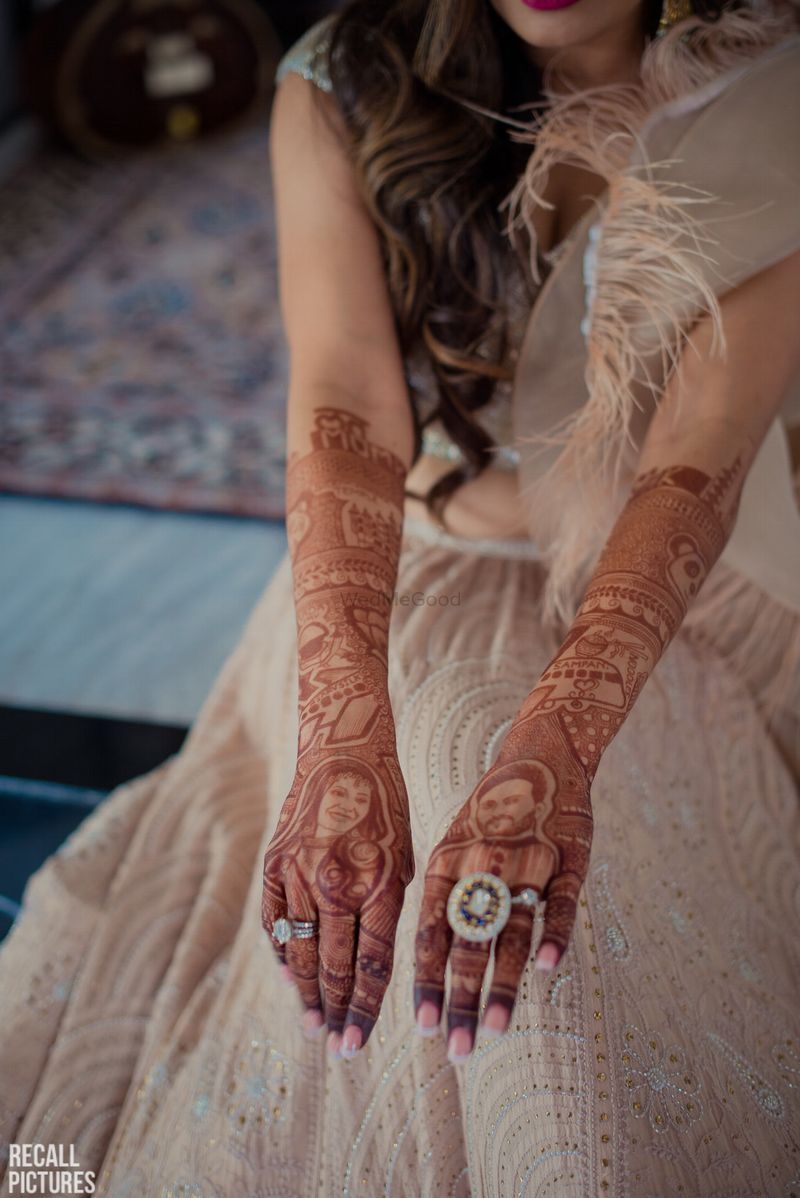 Image via Silky & Sarvesh (Jaipur) and AG Photography and Films  
Bridal mehendi designs got way more creative this year, and we got to see so many new ideas- from places they've vacationed in, where they went for their first date to even couple and their parents portraits!
The couple's names were everywhere!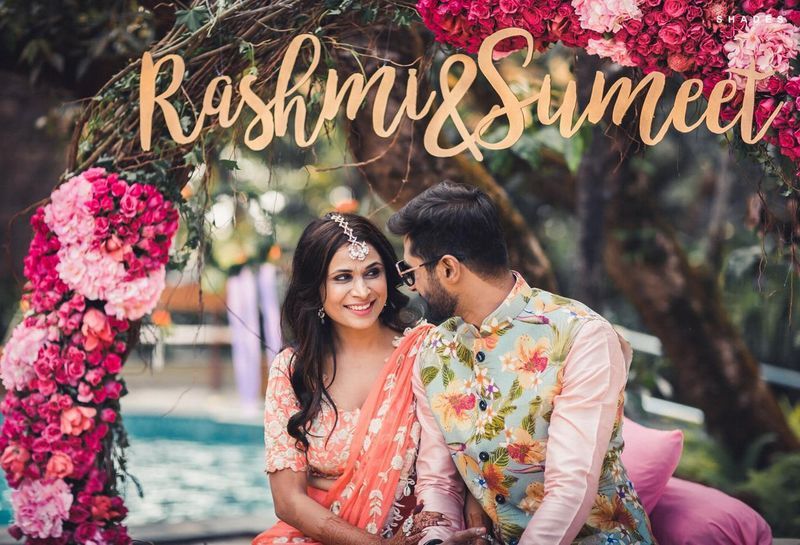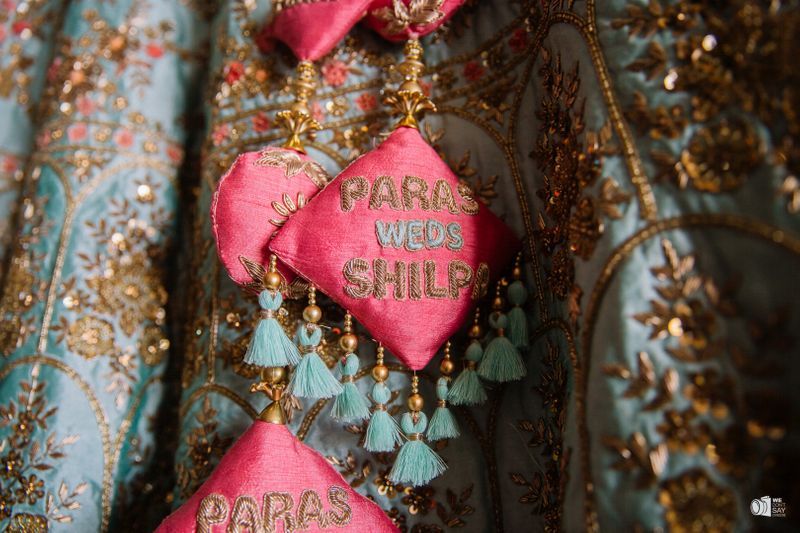 Image via Atisuto★ 4.6  and We Dont Say Cheese★ 4.6
We saw couple's names on the decor, on the lehenga, and almost every other place you can imagine!  
Wedding hashtags got way more creative and became a part of the decor!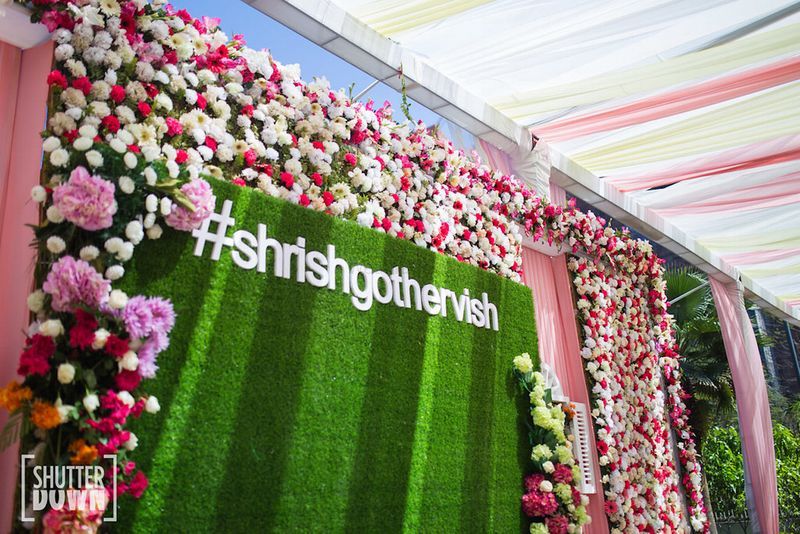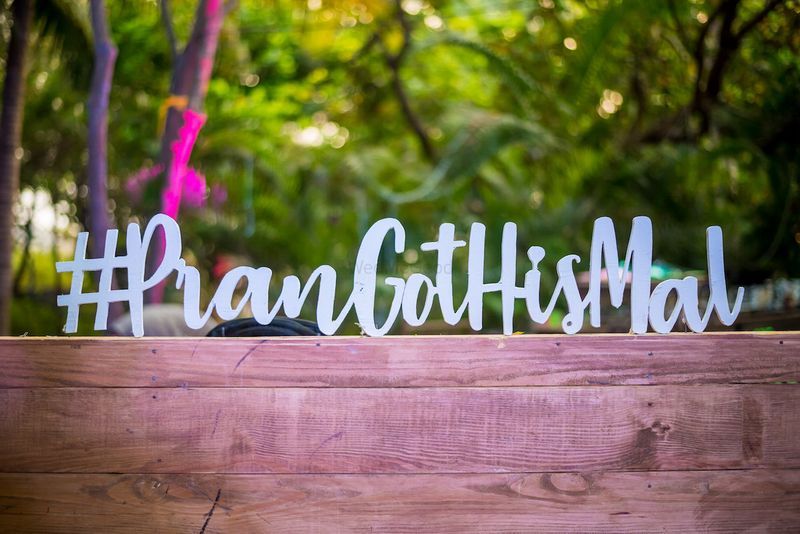 Image via Shrishti & Vishal (Lucknow) and Malvika & Pranay ( Goa) 
Not only were names everywhere, but the wedding hashtag was everywhere too- in the decor, in the mehendi, on the lehenga, on the favours, and we loved how they're becoming more an more creative!
Brides wore churas that were anything but red!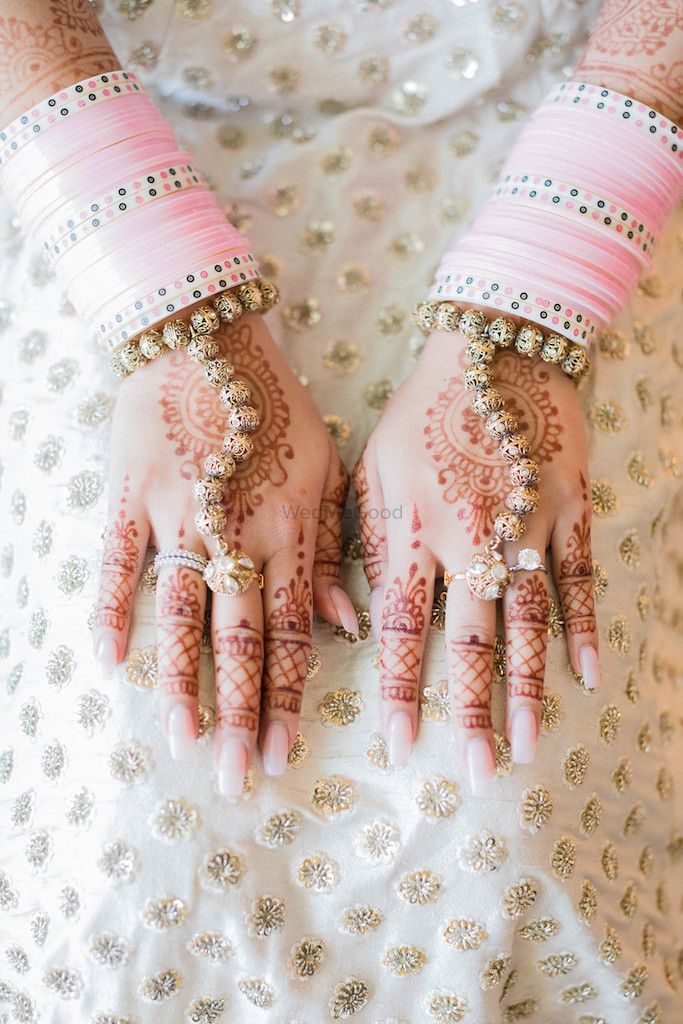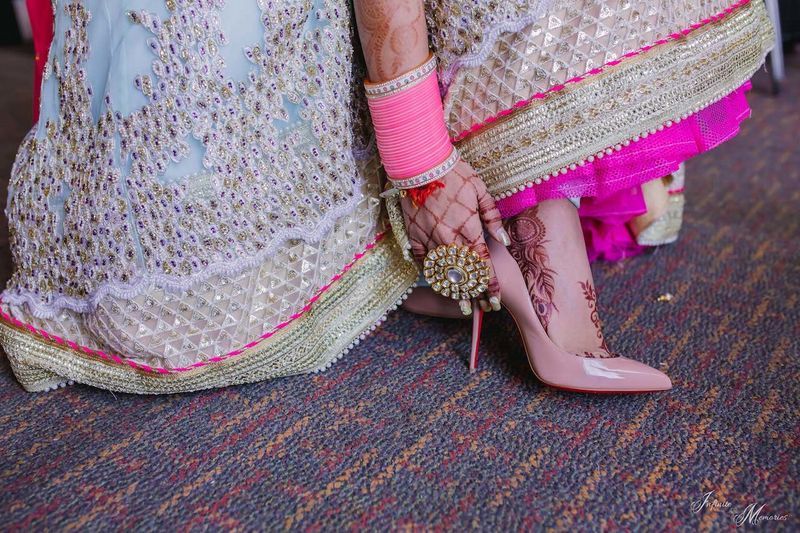 Image via Komal & Roman (Mexico) and Aashna and Sudhanshu (Raipur)
Churas in any other colour but red or maroon! We spotted a lot of colours- most matching or contrasting with the bridal lehenga! 
And got super creative with favours too!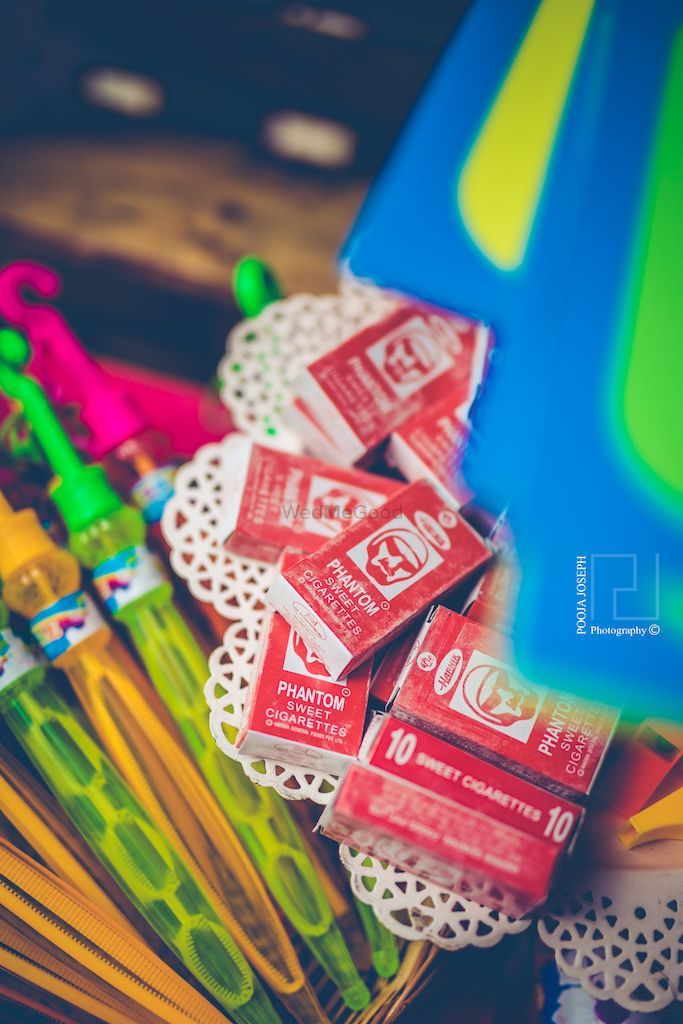 Image via Gauri & Anshuman (Delhi) and Two Fat Ladies★ 5
Favours saw a makeover too- from nostalgic ones to those that are eco-friendly, there were so many cool new ones which are so inspiring!