The Over-Organised Bride who forgot her wedding lehenga: Shivani & Harsh!
BY The WMG Bride | 14 May, 2014 | 3731 views | 5 min read
Things you can expect a completely organized, planned out bride to leave behind in Aurangabad when she travels for her wedding in Mumbai. Hmm..lets see- possibly wallet, moisturizer, vanity case..her lehenga. WHAT? Yes..her lehenga- meet the bride who forgot her lehenga in Aurangabad as she traveled to Mumbai for her wedding!! Haha - now that is an experience you would never forget- what happened next? Read on to know!
Meet Shivani & Harsh
Their love story is a series of coincidences- and quite scarily close to the movie 'Hum Tum'. Both Shivani and Harsh went to study in the US after school and even though they had the same counselor, they were unaware of each other's existence. Shivani recounts "Our paths first crossed at the Mumbai International  Airport. It was exactly like the movie Hum Tum! Then after 2 months, I bumped into him outside my class. We exchanged greetings and that was it. He claims that after that day he stood at that place -same day, same time for weeks to come with no luck. But as destiny would have it my roommate started working with him. We started to meet more often. He was a hopeless romantic and I took 3 years to finally give in!  He moved back to India and I stayed on to get my Masters. But our faith in the relationship was so strong that distance was never a factor. After dating him for 6 years we finally decided to tie the knot on November 23/2013. And we completed a decade of knowing each other this march.  It was a fairytale wedding!"
The Bachelorette in Jodhpur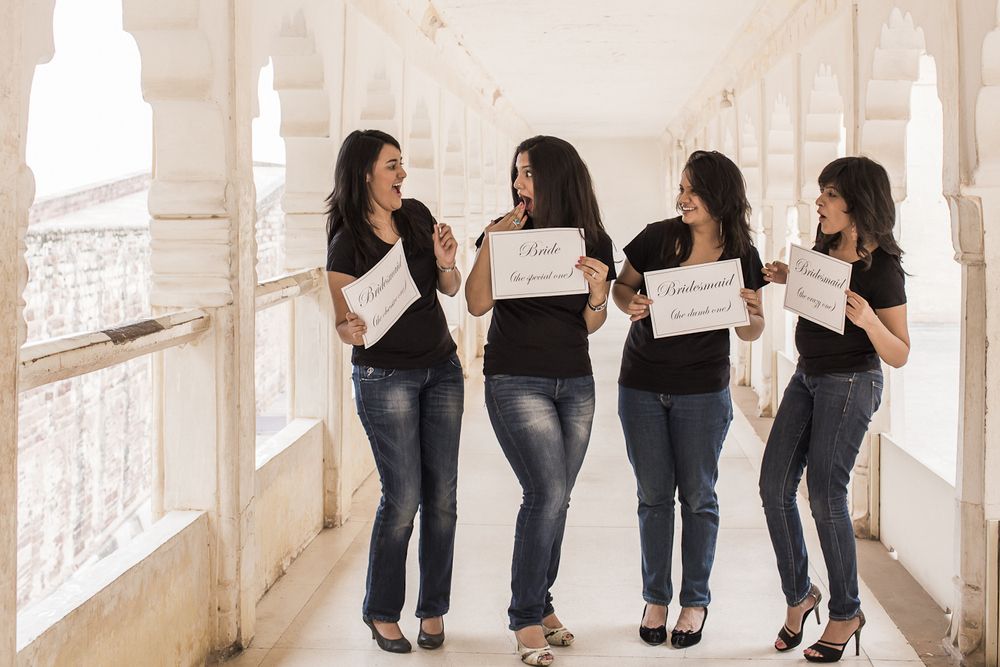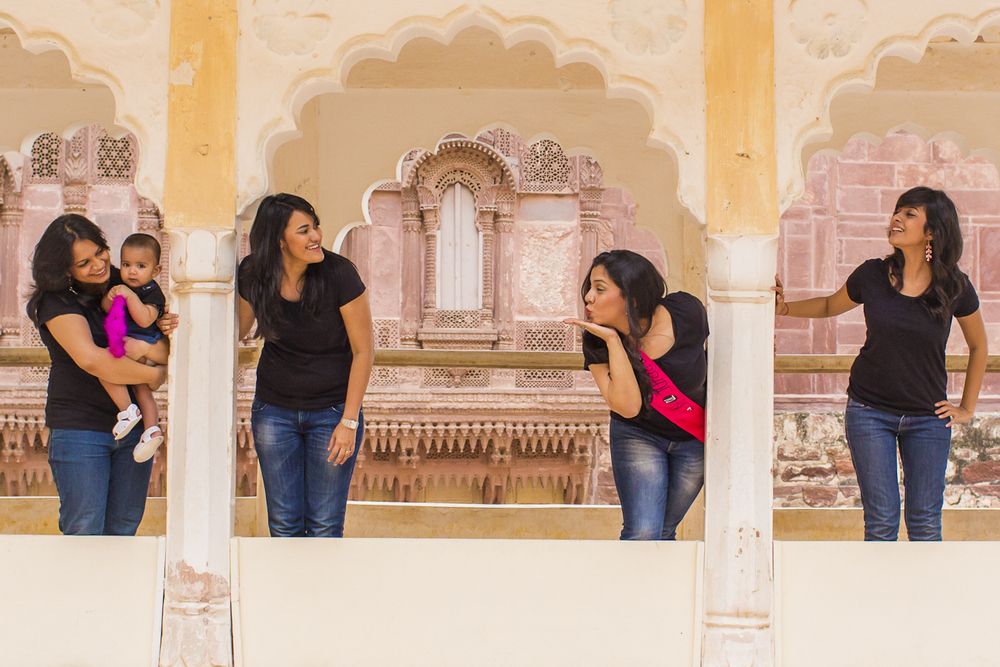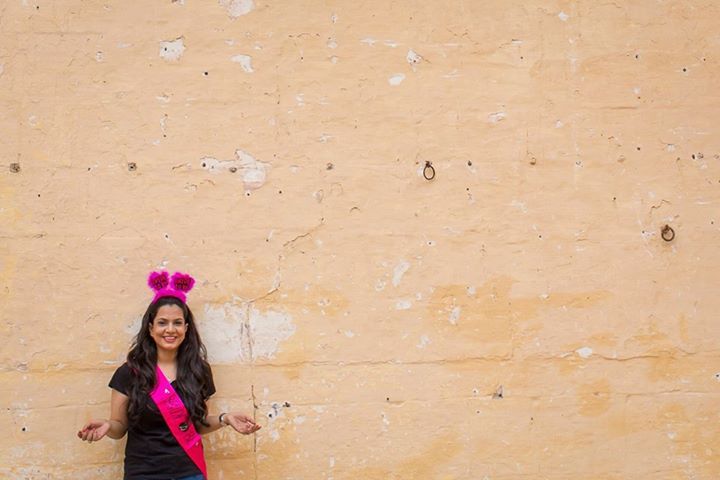 Must have a girly outing before the festivities begin!
The Mehendi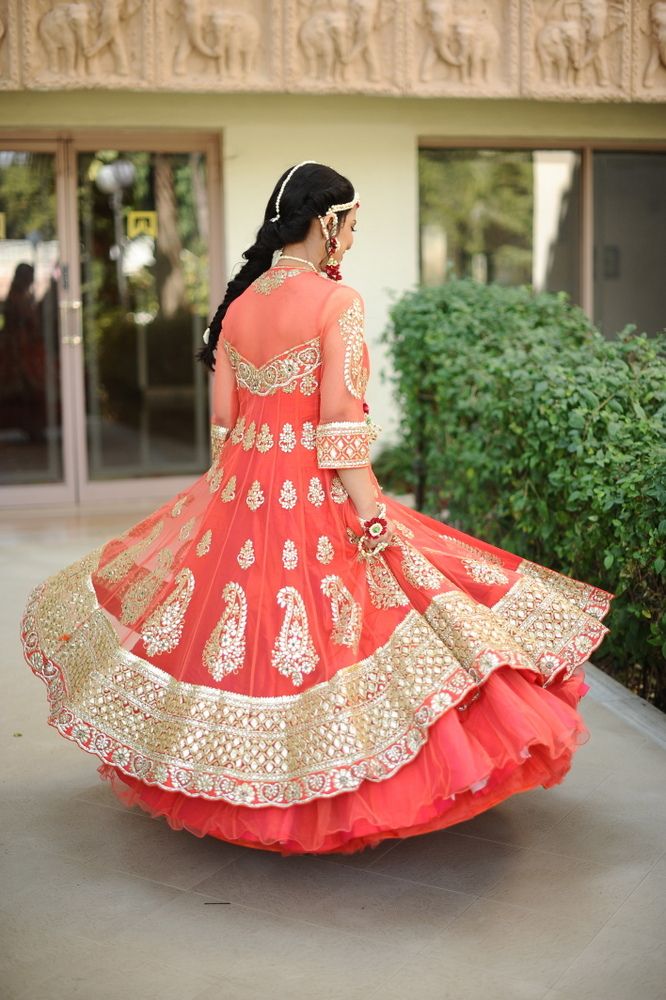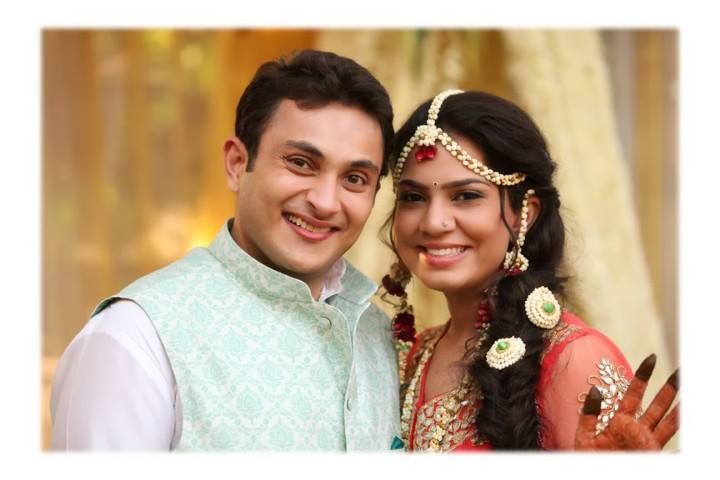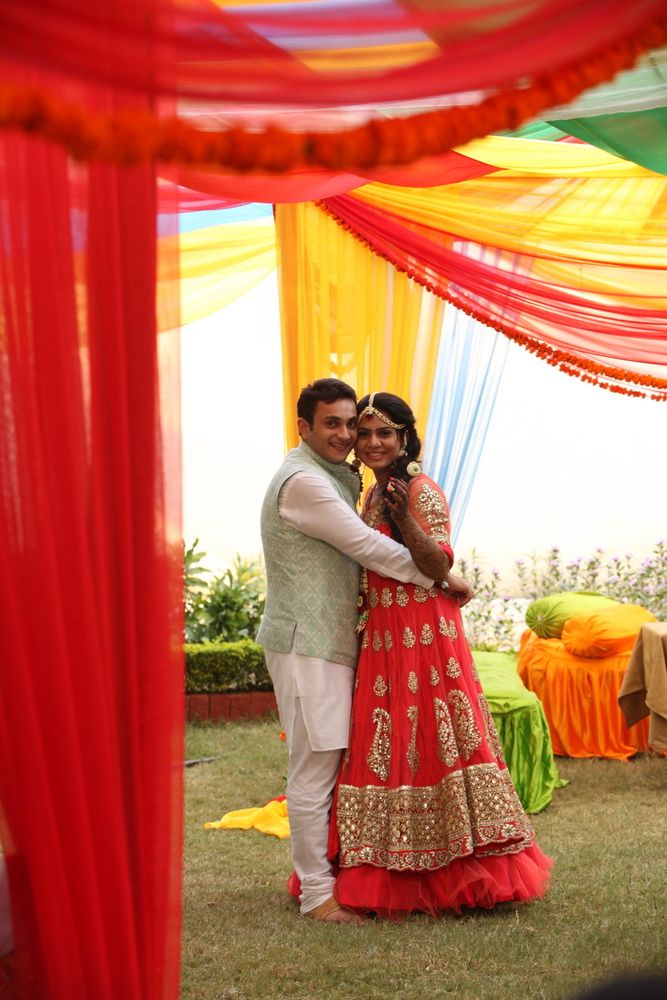 What a great look for the groom too! Love the pastel printed Nehru Jacket.
The Sangeet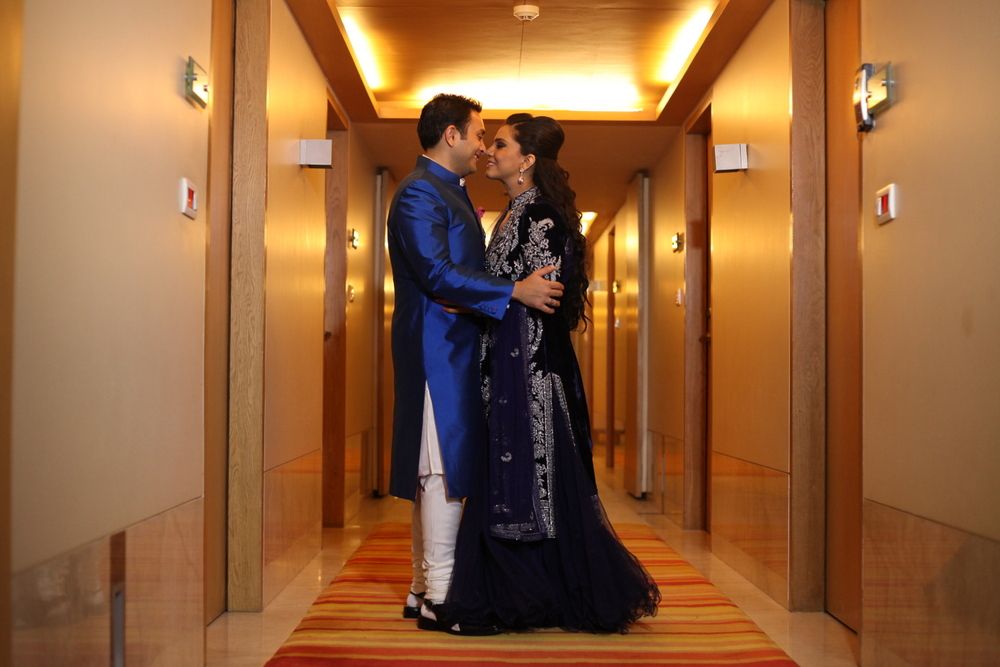 The Wedding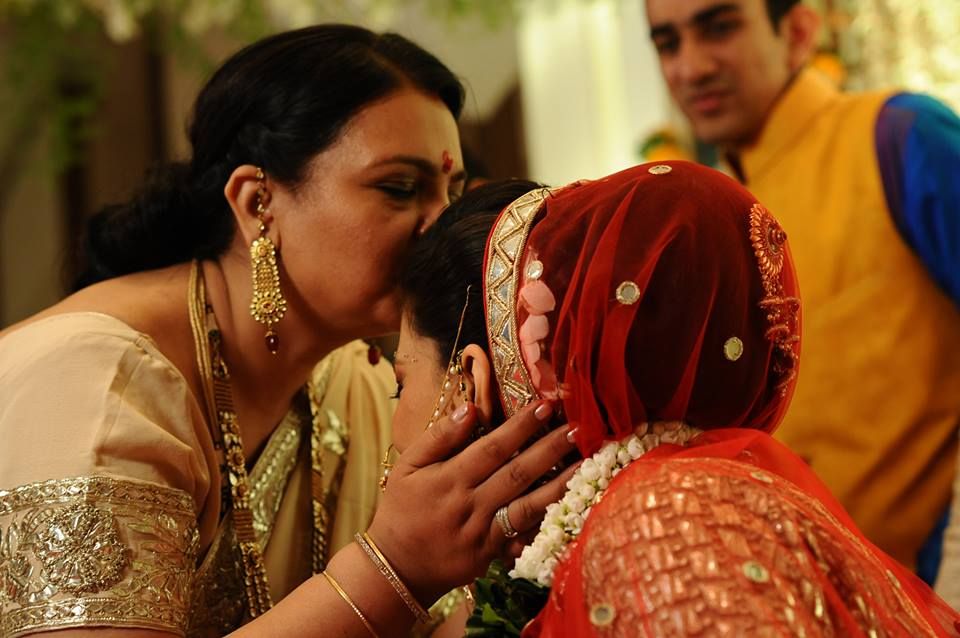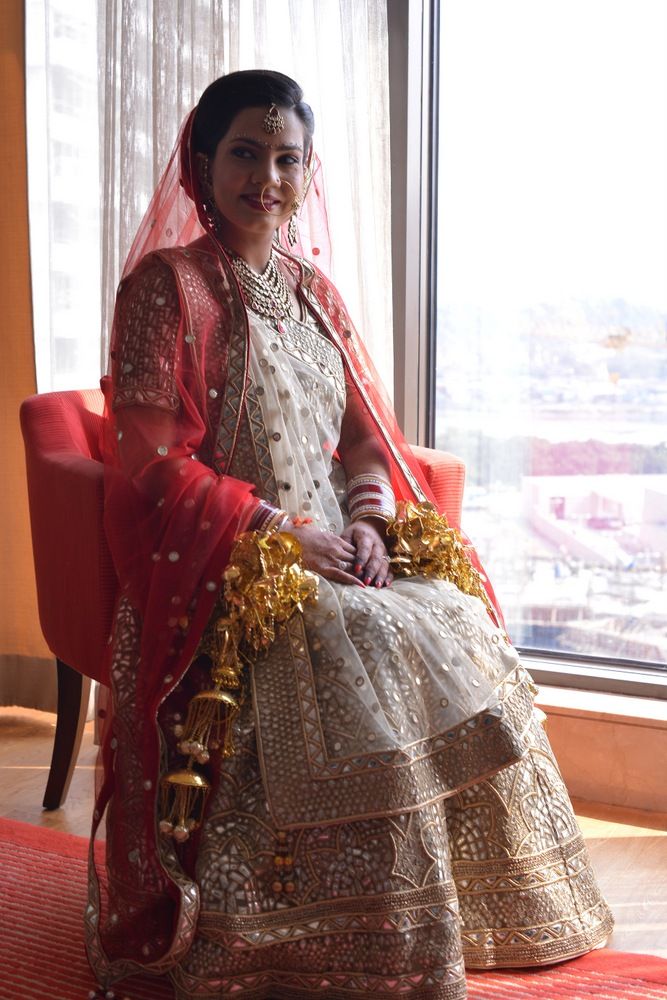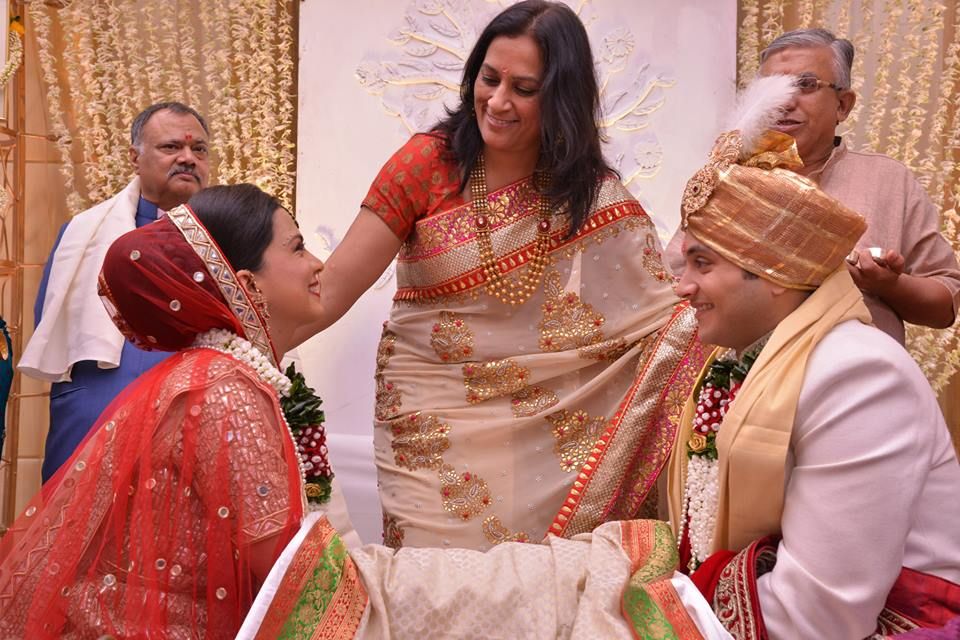 So Shivani, tell us about this whole story of forgetting your lehenga!
So I was the "over organized, list for everything"  type of bride. I had a list for each bag, and what it contained- a list of all our guests and which makeup and hair person would work on them, a list for the number of lists I have. Basically, I was the ultra-everything should be in place bride.  Our wedding was spread across 4 days across Aurangabad And Mumbai. And since it was a multicultural wedding - Punjabi bride and Gujarati groom it was a constant 4 days of the party. We hardly had any sleep before we left for Mumbai, and  I had hidden my lehenga from everyone.  Due to sleep deprivation, I forgot to put my lehenga in the car. So after the chuda ceremony on the morning of the wedding,  I realized I didn't have it (That is enough to make some brides postpone the wedding we say!). It was a state of panic, but my superhero mom came to the rescue- She suggested I wear my reception lehenga for the wedding instead, and we could get the wedding lehenga flown in by the afternoon flight for the next day reception!
As if by chance- the whole wedding party was in red and ivory gold colors- red and white are the traditional Gujarati panetar colors- it's almost as if God wanted me to be in those! Ha!
Moral of the story: Brides need to remind themselves not to get lost in details and remember it's about marrying the man of your dreams!
Amen to that! So tell us more about the wedding and your experiences
Well, I am Punjabi and Harsh is Gujarati so it was a cross-cultural wedding! The Sangeet- we had a theme of songs from our teenage years- know the 'Saat Samundar', 'Tamma-Tamma' type which was so much of fun!!! For some reasons, Gujaratis seem to be born to perform at Sangeets- they were so synchronized, my side of the family was left wondering if they all attend dance classes together Ha! For the wedding- there is this whole hysteria about 'designer outfits' - people come up and ask you "Who has made this" fully expecting a high-end designer reply. But I was clear that I wanted a beautiful outfit- whether it was a designer or not was secondary so I had no qualms about going to Chandni Chowk. I visited possibly every designer store in Delhi and Mumbai but was left disappointed because I couldn't choose from a limited variety or from single panels so I'm glad I was open and took that trip to CC.