The Pros and Cons of Airbrush Makeup!
BY Sakshi | 16 Mar, 2017 | 23752 views | 3 min read
So we had told you all about Airbrush vs Regular Makeup. Airbrush makeup has caught up well in recent years, with a lot of brides preferring it over the usual same old way of doing makeup, which is with brushes and foundation and the works. Airbrushing makeup is when the MUA uses an air gun with pre-loaded foundation and products to spray on thin layer of foundation rather than paint it on with a brush or sponge. But if you're a bride considering Airbrush makeup, let's break it down for you in a simple way- the pros and cons of Airbrush makeup.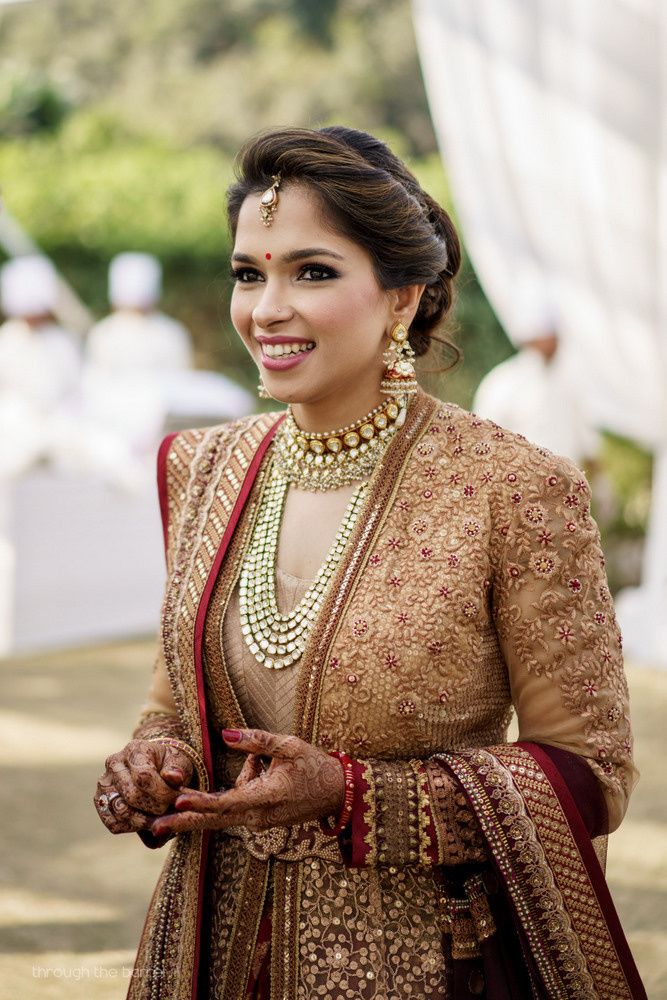 Album: Jaiveer  & Ketaki
But before we tell you the pros and cons if Airbrush makeup, here are some myths about it which need to be busted!
A lot of girls think that Airbrushing = flawless complexion. This is not the same "airbrushing" that you often hear about on magazine covers is the Photoshop technique, and is done on a computer and is different!
A lot of brides think that all airbrush makeup is waterproof. Most of it is water-resistant, but if you want absolute water-proof makeup, you will have to tell the MUA.
A lot of girls do not pick it thinking that it will make your face look flat. A lot of airbrush makeup will dry matte, but it doesn't mean that it will look flat. Spray moisturiser formula can also be added to the foundation, and there's always highlighting and contouring to add some dimension!
Pros of Airbrush Makeup
Most Airbrush makeup is silicone-based, so it can literally stick on all day.
Is more water and transfer-proof than regular makeup.
The finish is pretty flawless as the makeup is applied more evenly, as compared to regular makeup.
It's less product for more coverage, as it is sprayed on. It's easier to layer as well.
If a minimal makeup look is what you want, Airbrush makeup is a better option as it doesn't look as heavy.
If you're shooting on HD cameras which capture every pixel, this is a better option.
The makeup is more easily blended with Airbrush makeup.
If your skin is oily, then this might suit you better and stay on for much longer as compared to regular makeup!
Cons of Airbrush Makeup
It pinches the pocket more. Airbrush makeup is more expensive than regular makeup, the difference can be as much as Rs 7000 between HD makeup and Airbrush makeup, but that depends from one MUA to another.
Not great for dry skin. It is less creamier than regular makeup foundations,
The base or the skin has to be prepped, primed and hydrated well, otherwise it can be flaky.
It is hard to re-blend, so makeup streaks due to tears etc cannot be touched up as quickly as with regular makeup.
If you have scarred or skin with active breakouts, Don't expect Airbrush makeup to cover it like a dream- regular makeup might be better suited for acne-prone skin types!
If you're apprehensive about Airbrush makeup, then getting a trial done by an MUA is always a good idea. Airbrush makeup trials will most likely be paid, so keep that in mind.
Book your makeup artist today who can give you a pretty airbrush makeup for your D-day!