These Three Sisters Matched Their Wedding Outfits & We're Smitten!
BY Sakshi | 23 Jul, 2019 | 1906 views | 3 min read
You know our love for a well-styled bride or bridesmaid, but here, we had three sisters who took things a notch further! Yep, the bride and her two sisters matched their outfits, with the sisters even twinning beautifully on her wedding day. So we decided to ask them all about it, and over to the bride Savina as she tell us about their looks and how they made it stand out.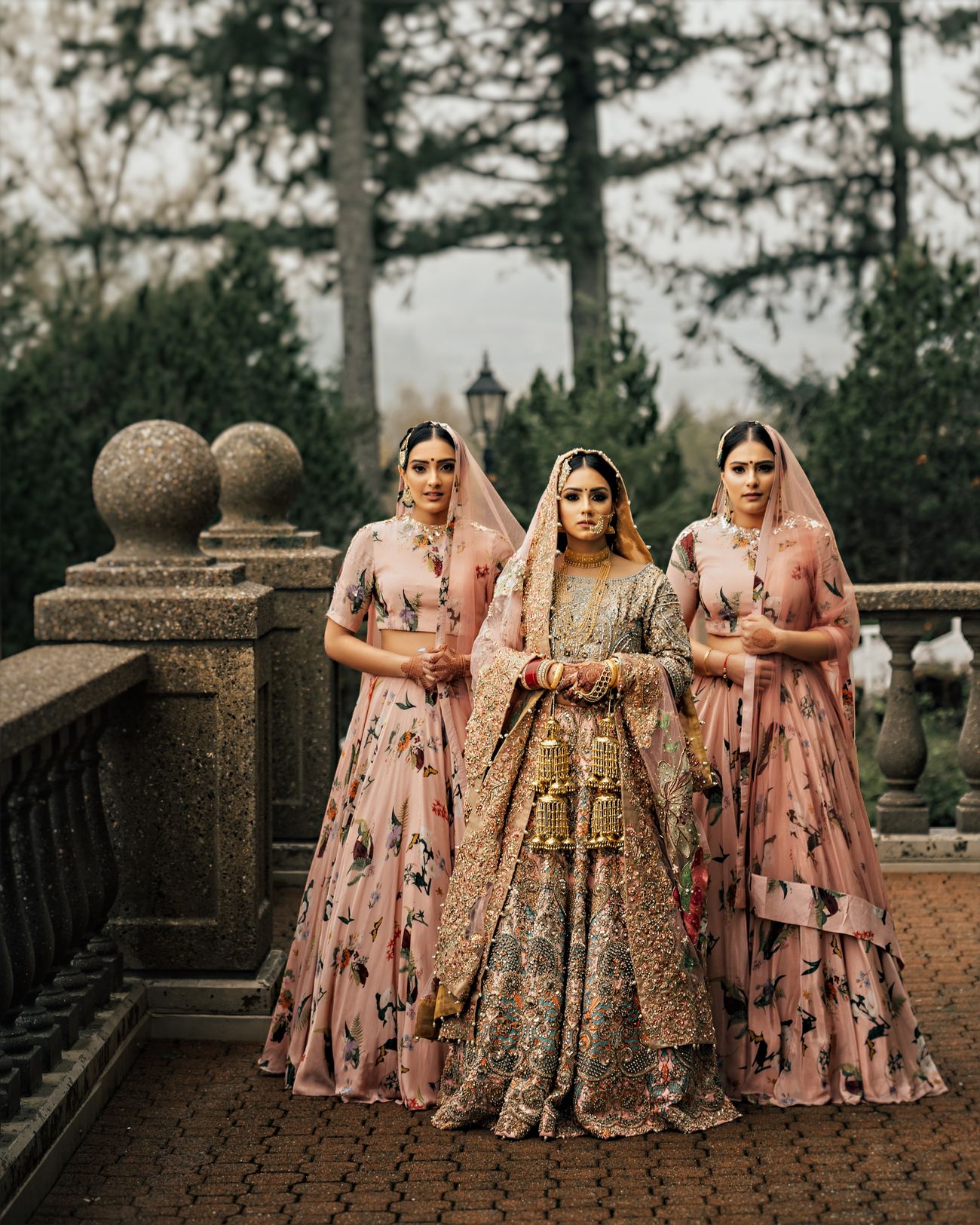 "I have two younger sisters, Anisha and Raina Dhesi. Anisha is a year younger than me, and Raina is 8 years younger. We do absolutely everything together and so it was important to me that the sisters looked their absolute best on my wedding day. I wanted them to standout and for people to know that the only two matching were my sisters. I also wanted their colors to be incorporated with one of mine. I feel like it get it a very elegant and royal look with not being completely matching. From the beginning we decided on not having bridesmaids, but instead having my only two sisters wear the same."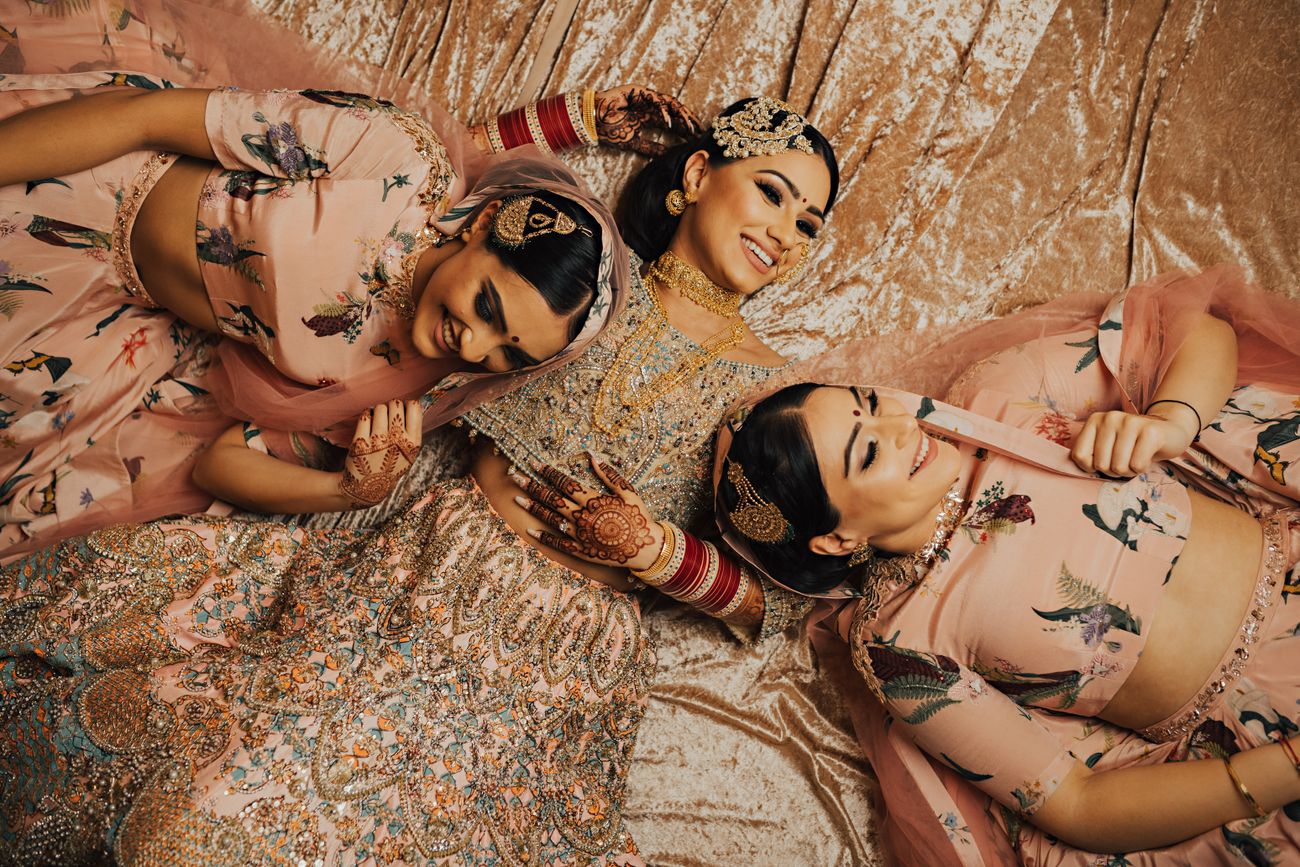 Customising the outfits...
"They had customized outfits designed by Mahima Mahajan★ 3.2 in Delhi. We were looking for something simple and outdoorsy to go with the wedding venue. We also had a custom dupatta made with a simple border. We fell in love with the floral on the lehenga along with the butterflies, which we thought were quite unique. We did not have a budget for these outfits, it was whatever we thought would look good. The sales team at Mahima Mahajan were incredibly helpful and professional to work with. They had our outfits completed within 1 week as we were working on a tight schedule."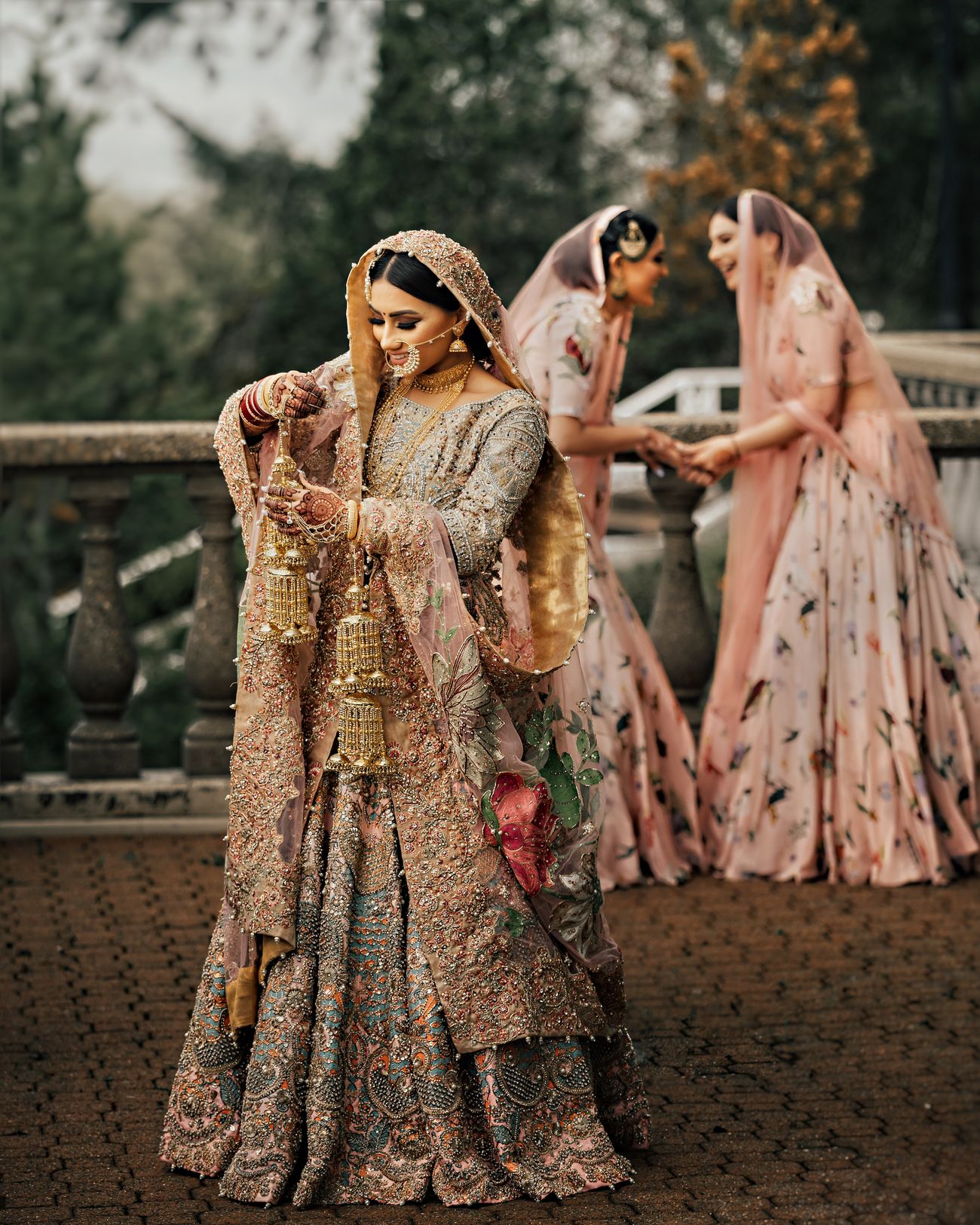 "As the outfit was quite simple, we wanted to keep the accessories quite simple as well. The outfit had a high neck, and therefore opted out the necklace and stuck to just earrings and a passa. Just a passa and earrings made the overall look very regal. Both my sisters paired the outfit with nude Valentino heels."
"Both sisters matched at every event except the reception. On the Jago Night, they wore custom designed outfits with slightly different cuts. Raina wore a purple off the shoulder outfit and Anisha wore a blue standard cut outfit."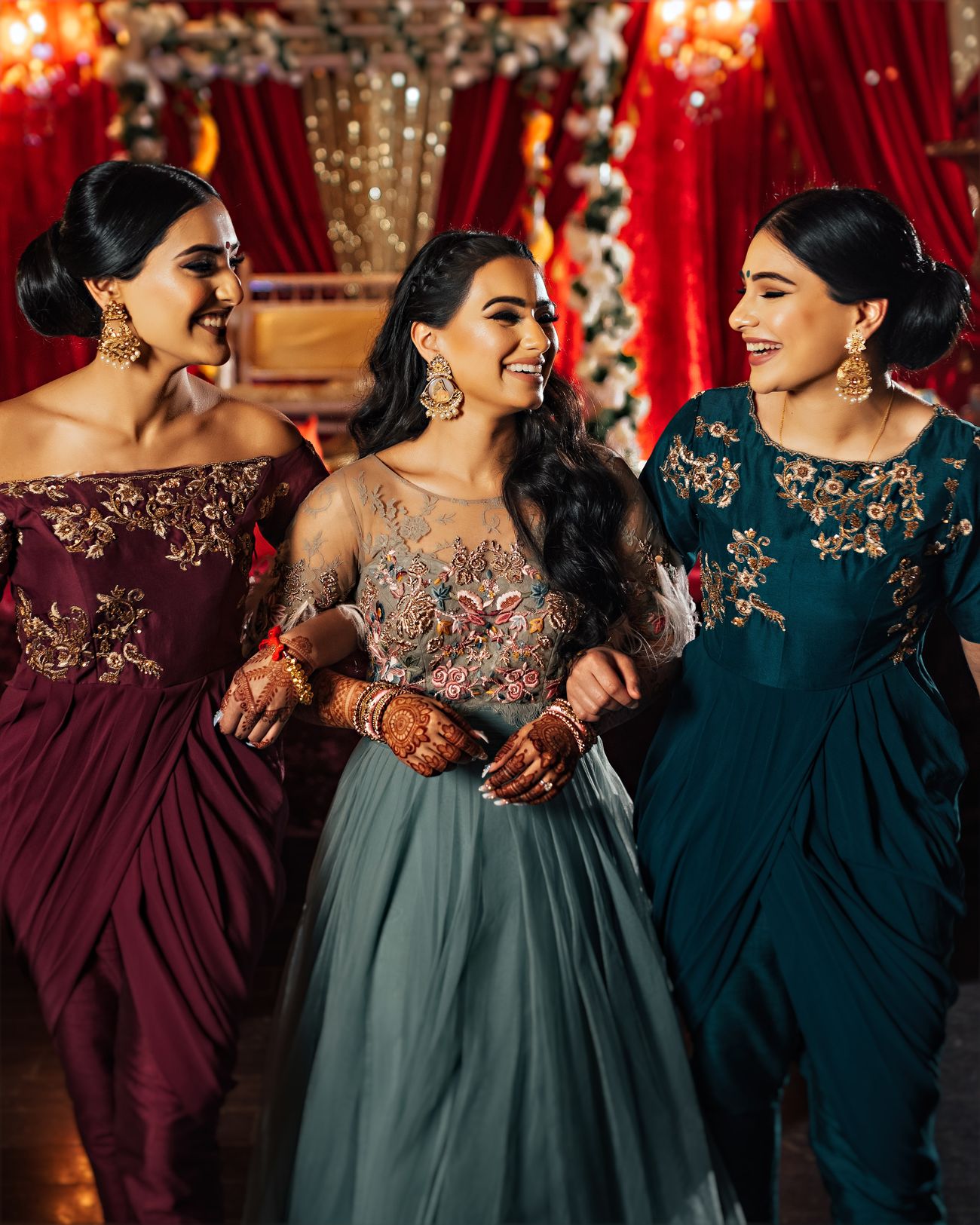 They both kept their looks different during the reception, but all three of us were in gowns."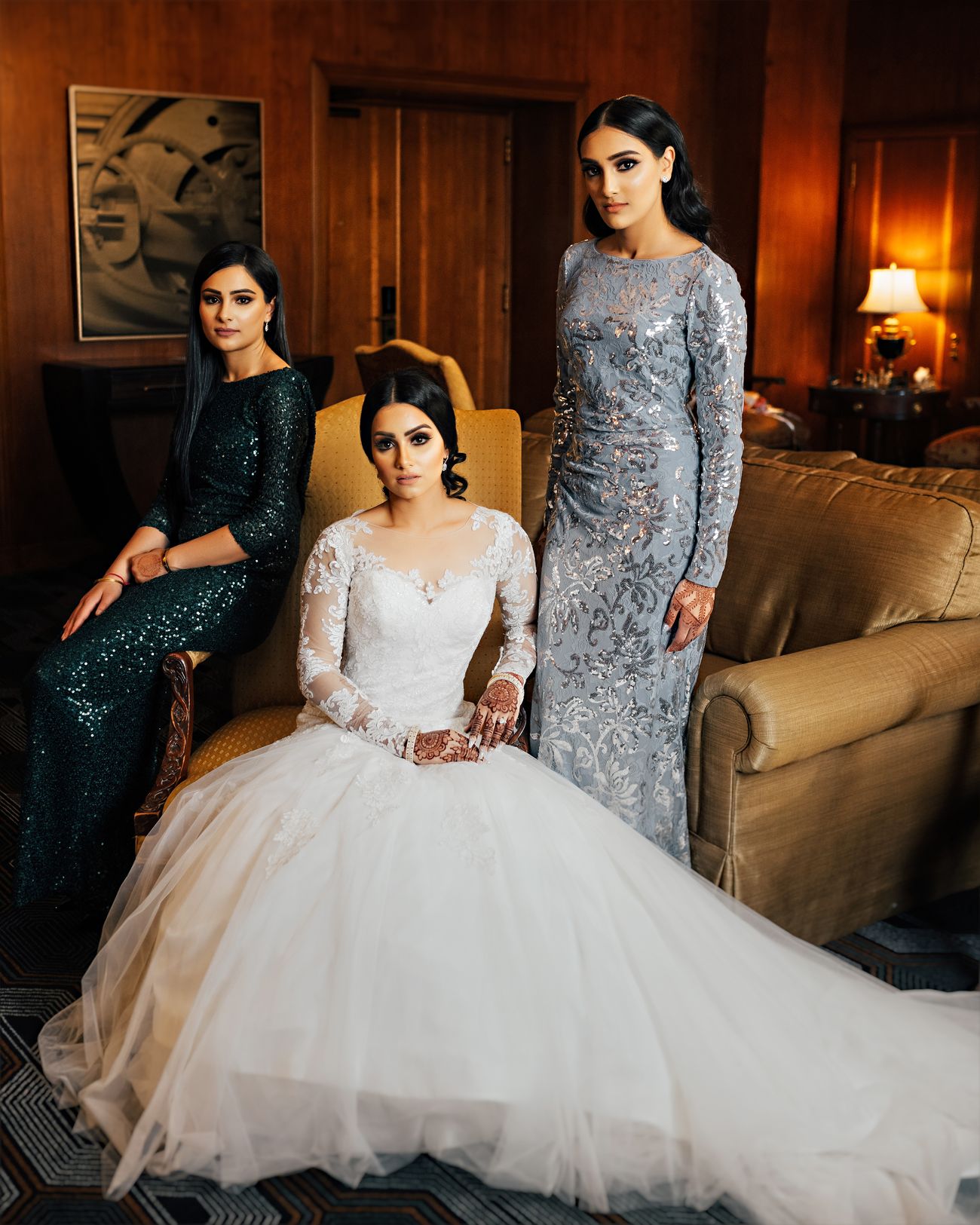 "During the maiyan party, both sisters wore Pakistani designed outfits."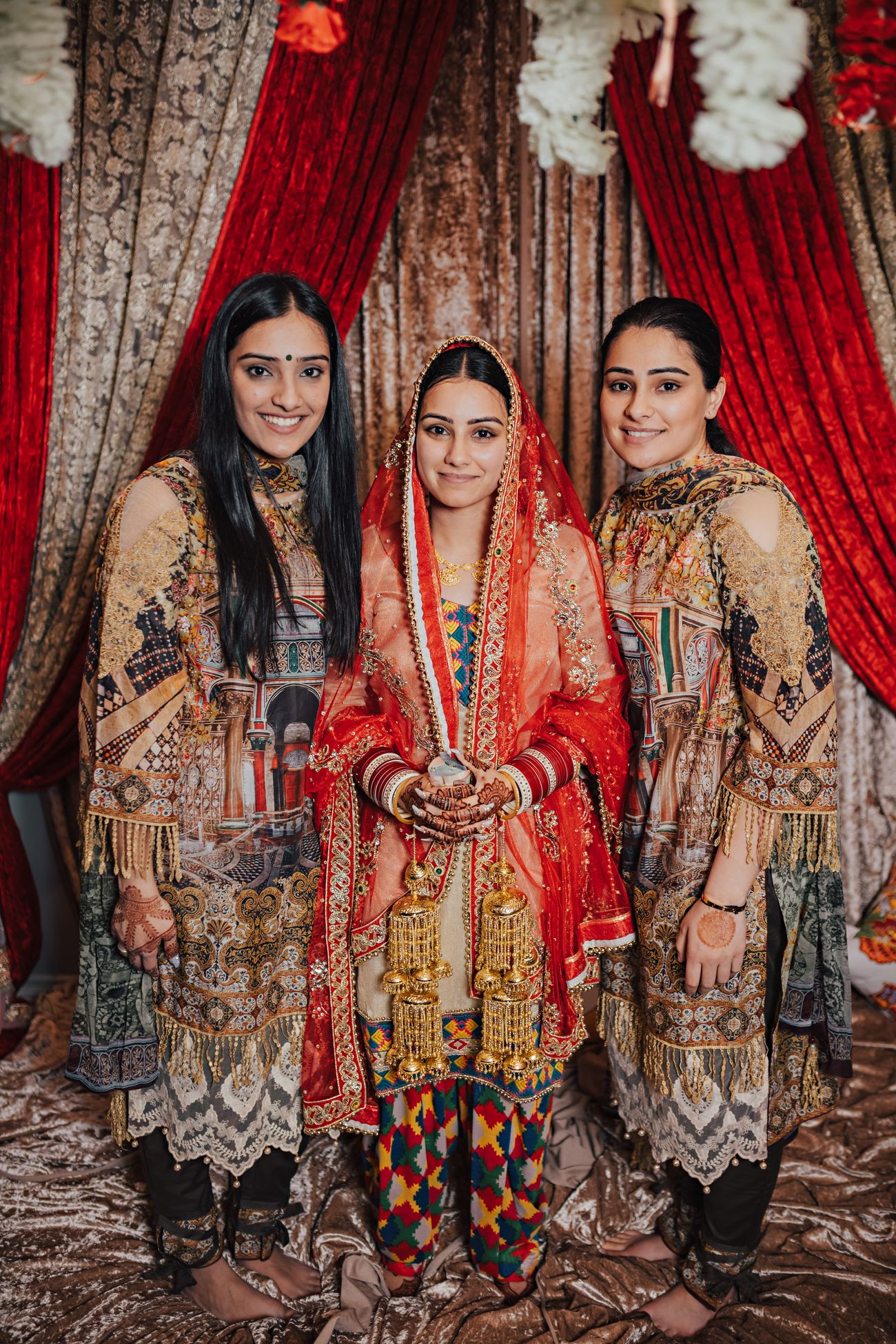 Photos by Amrit Photography