These Travel Freaks Had Country Themed Functions At Their Goa Wedding!
BY Sakshi | 10 Sep, 2019 | 1805 views | 4 min read
What happens when two people who are crazy about travelling tie the knot? Well, one thing is for sure, not only will a lot of effort go into planning the honeymoon, but here's a couple who celebrated their travels together by using them as themes for their various functions! Yep, Pragya and Rohan got married at the Caravela Beach Resort Goa recently, and implemented some fabulous travel themed ideas at their wedding, which were brought to life by Crafting Memories★ 5 !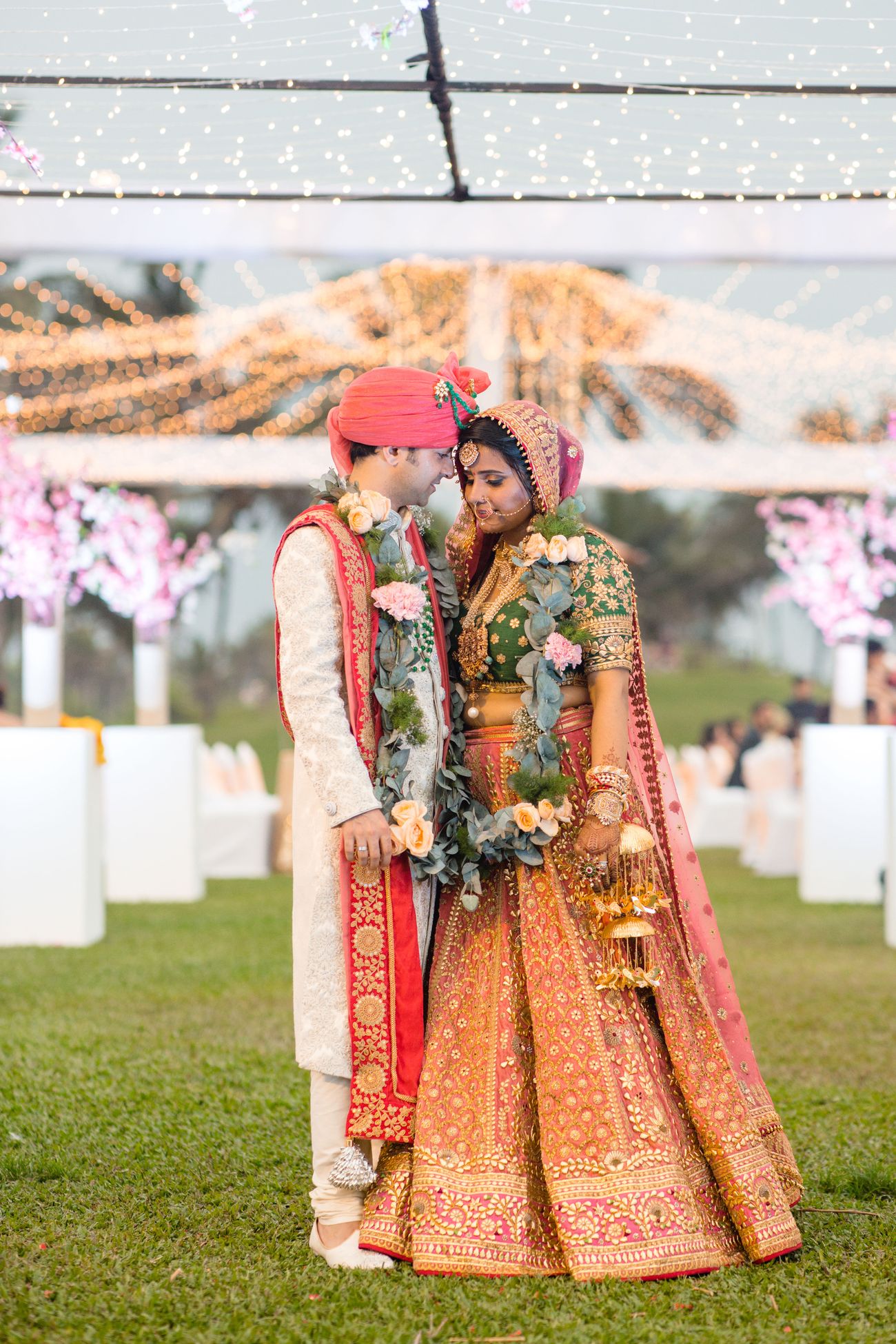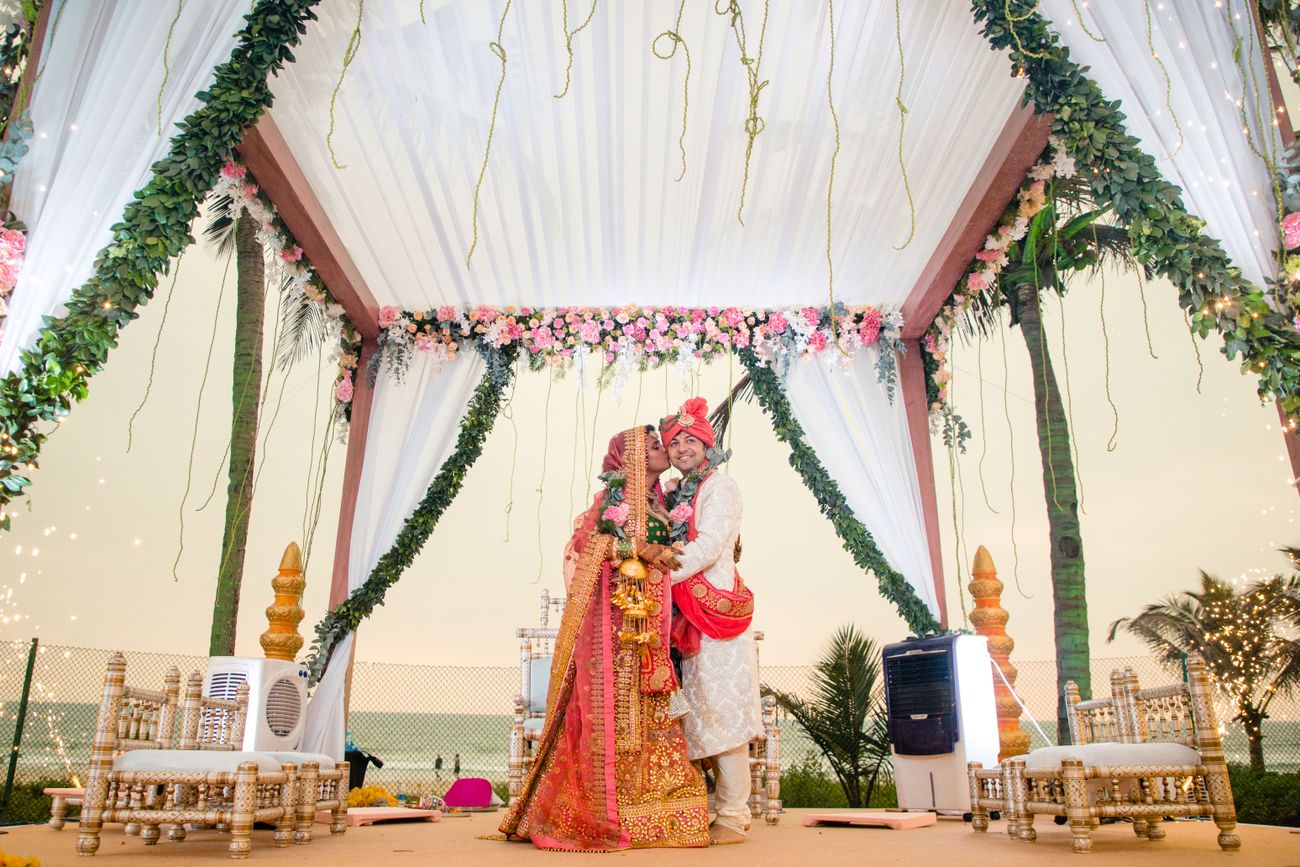 Pragya tells us, "After a lot of brainstorming, we figured the kind of the travel freaks we were we wanted to do all our four events (Mehendi, Sangeet, Haldi & Pheras) themed on the places that we loved and related much with and we were to DIY a lot of it."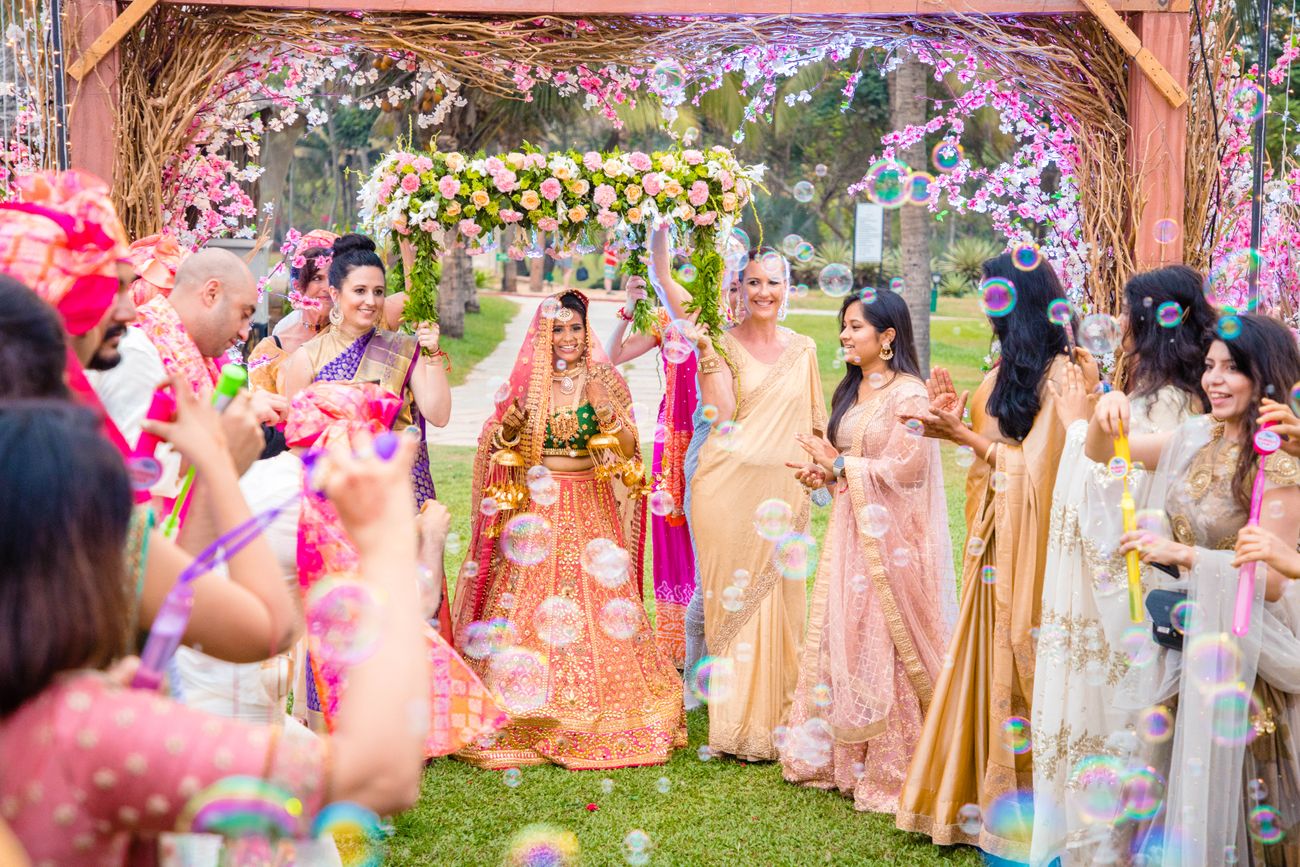 Mehendi Theme- Beguiling Balinese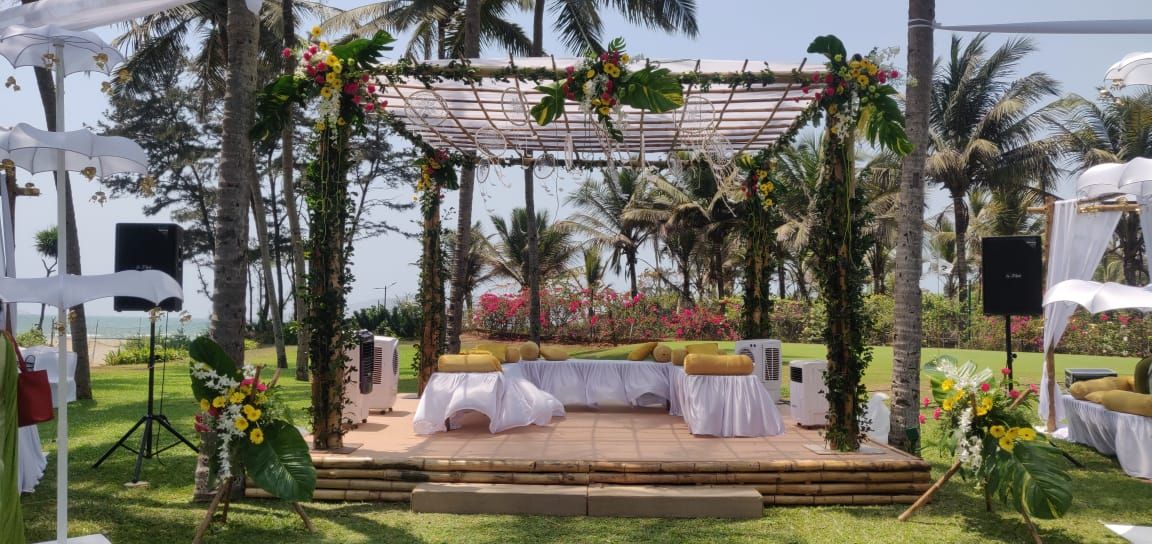 Decor
A setting at the beach lawns during a perfect April afternoon, where we were quite fortunate to not have a lot of humidity bothering us, our Mehendi function was inspired by the Hindu Balinese Culture. The color palette that we used was white, off white, golden, green and lotus pink. Most of the raw materials were absolutely organic to our liking such as bamboo, palm leaves, wood, jute, cotton, linen etc.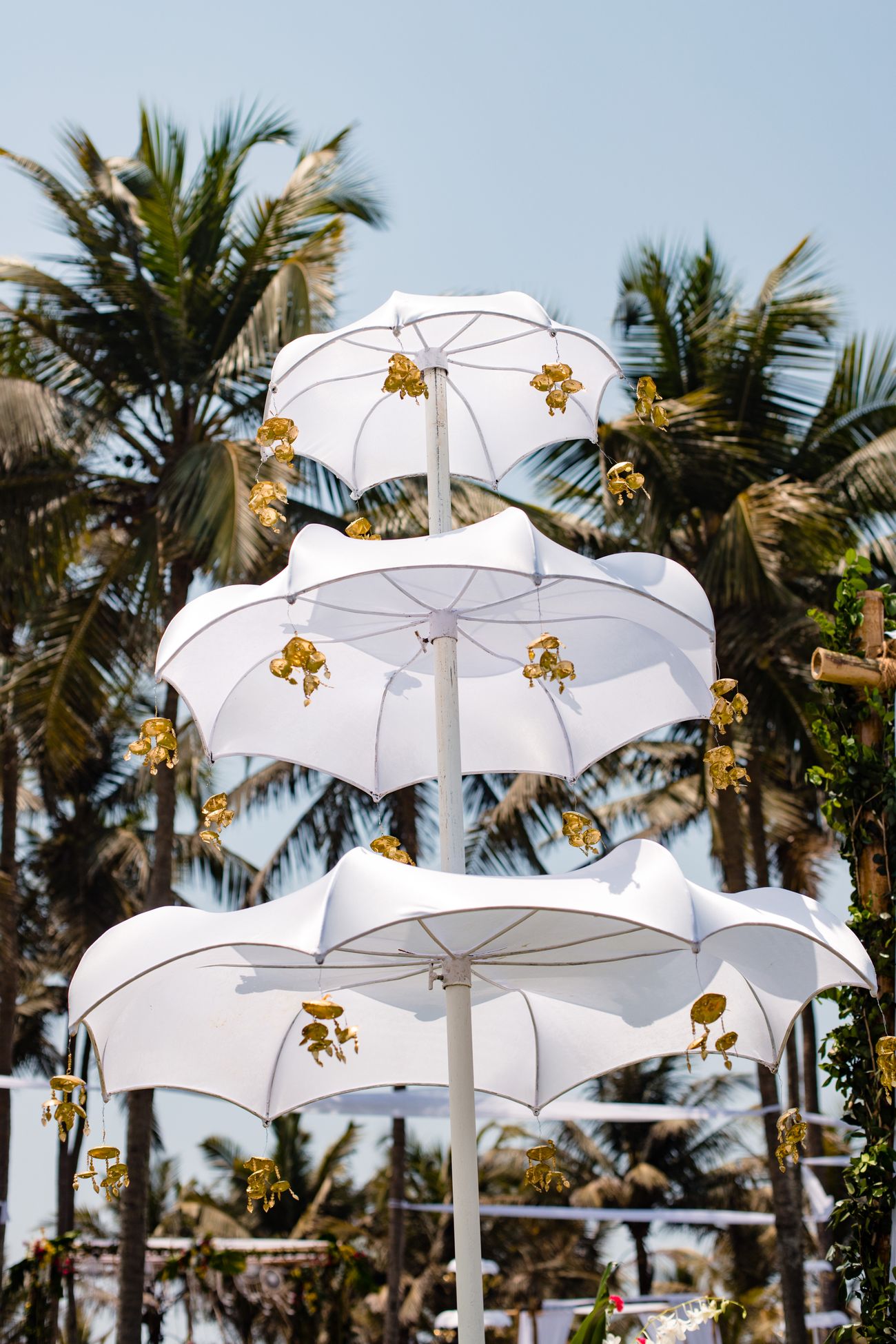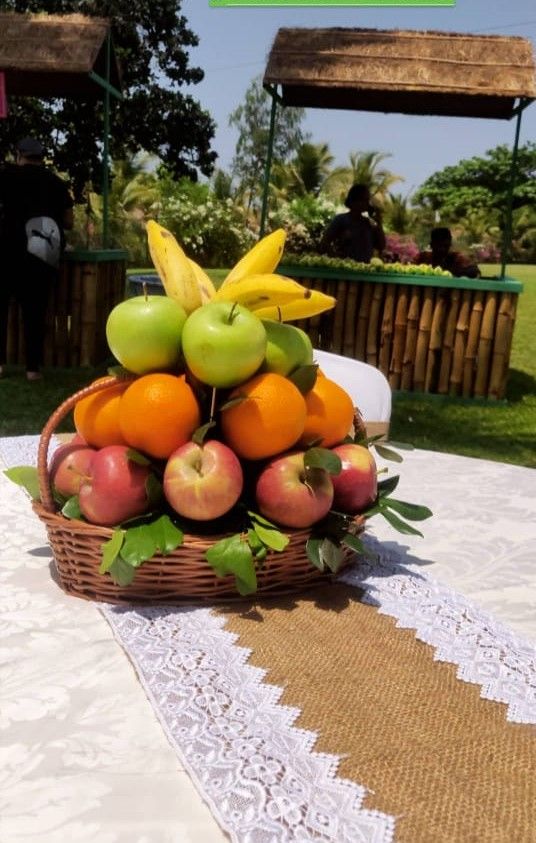 Highlights
Balinese Umbrellas, Use of Kaleeras as a décor accessory, Jute mats, Jute carpets, Fruit basket as center pieces, Frangipani flowers , Boat shaped food stalls, Our name initials stamped on the coconuts, Gola hut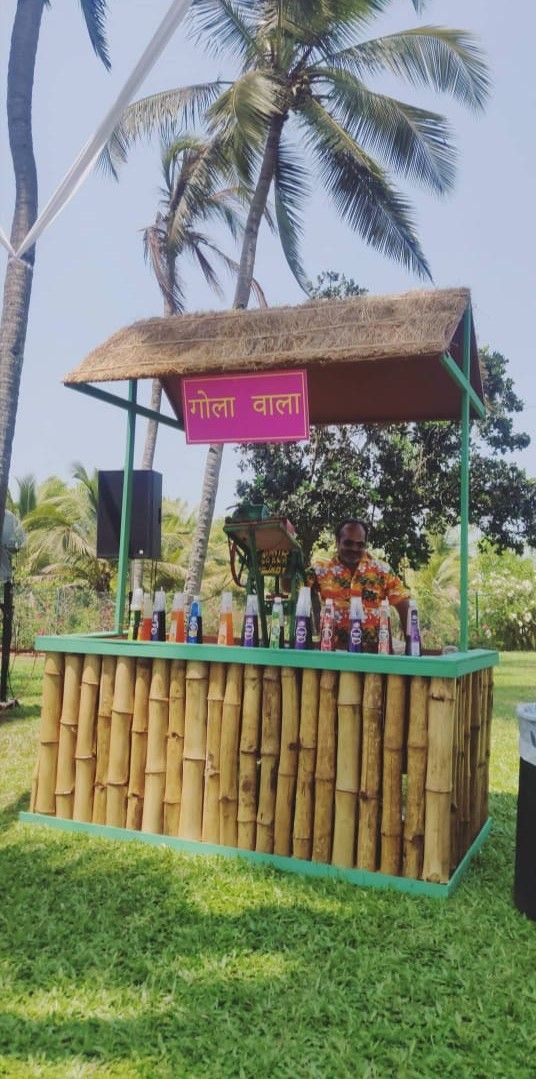 Outfits
Rohan wore a handloom silk sap green colored kurta with an olive colored tussar silk jacket bearing golden foil printed zig zag stripes. Paired them with black open footwear and round frame yellow tinted sunglasses. I wore a combination of beige and gold, golden gota patti work kurta on a beige base paired with golden straight pants, jadau earrings with rubies and kundan and a bunch of blue, yellow paper flower hathphools, topped up with colorful chain embroidered Jaipuri leather jutis.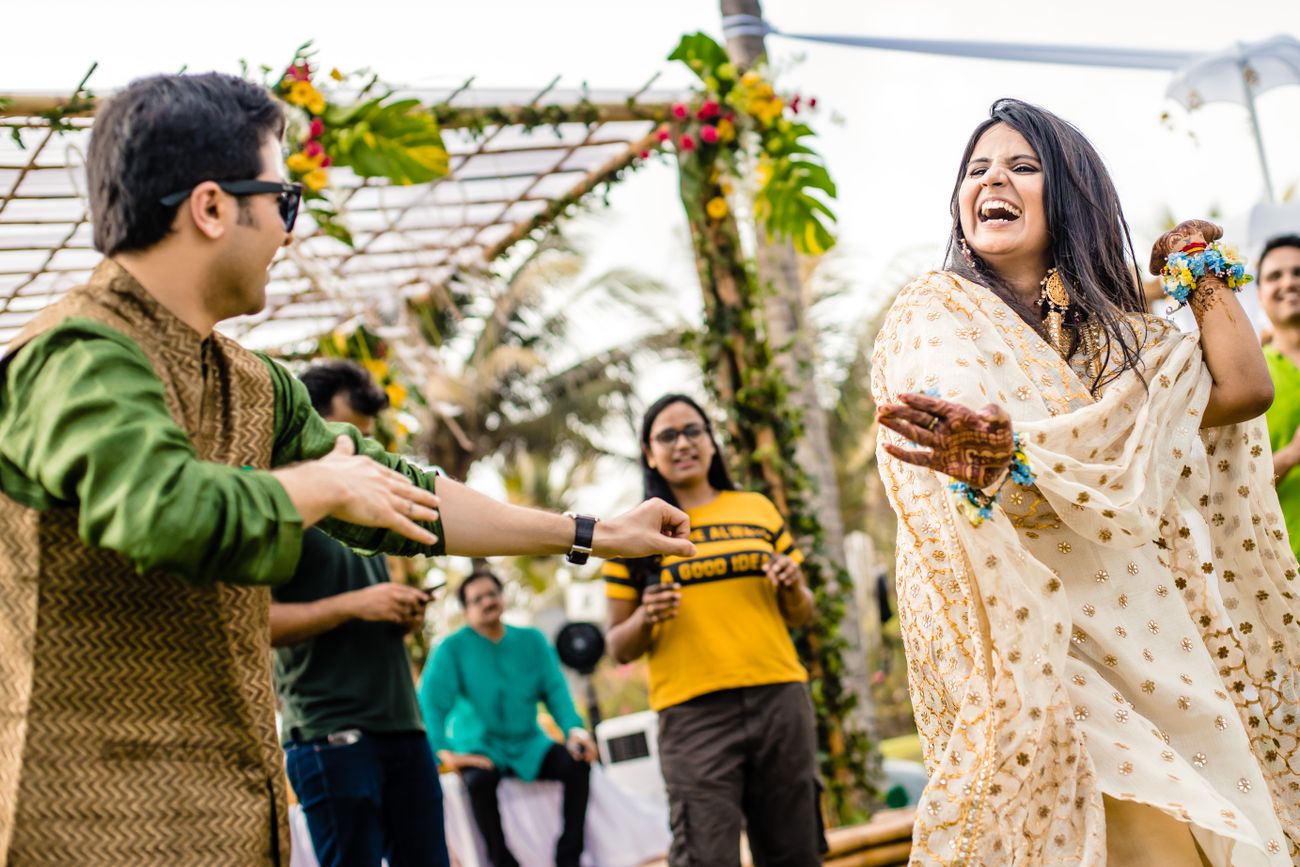 Sangeet Theme- Mystical Morocco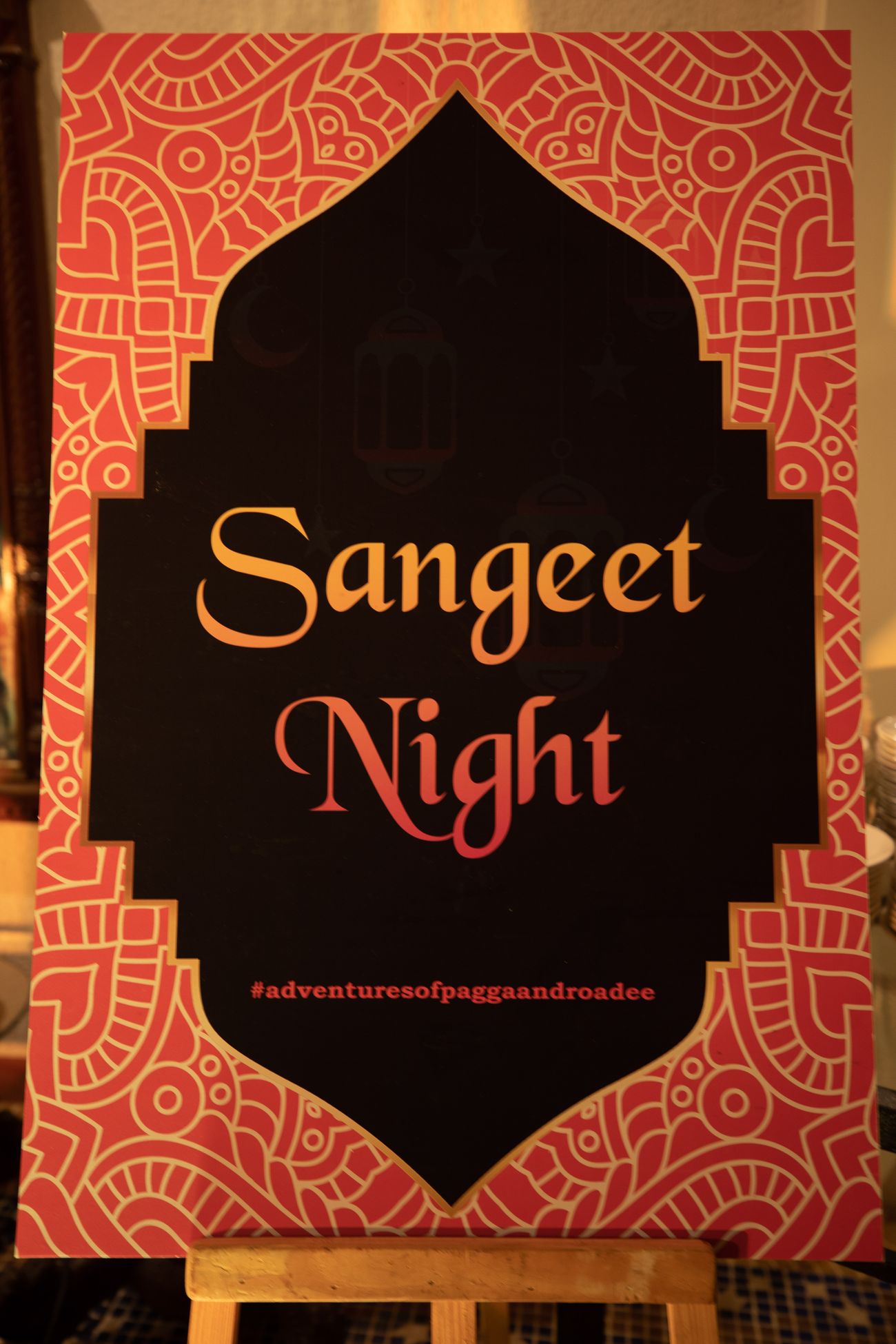 Decor
An indoor setting, prepped for a lot of dancing and singing, we kept this as traditionally Turkish and Moroccan as possible. We fused these two culturals in the color palette which was dark (blue, green, blood orange, red, golden, purple). Keeping the sitting as relaxed, settees with cushions and round pillows, a genie lamp for the welcome and a crescent moon photobooth starring some fairy lights.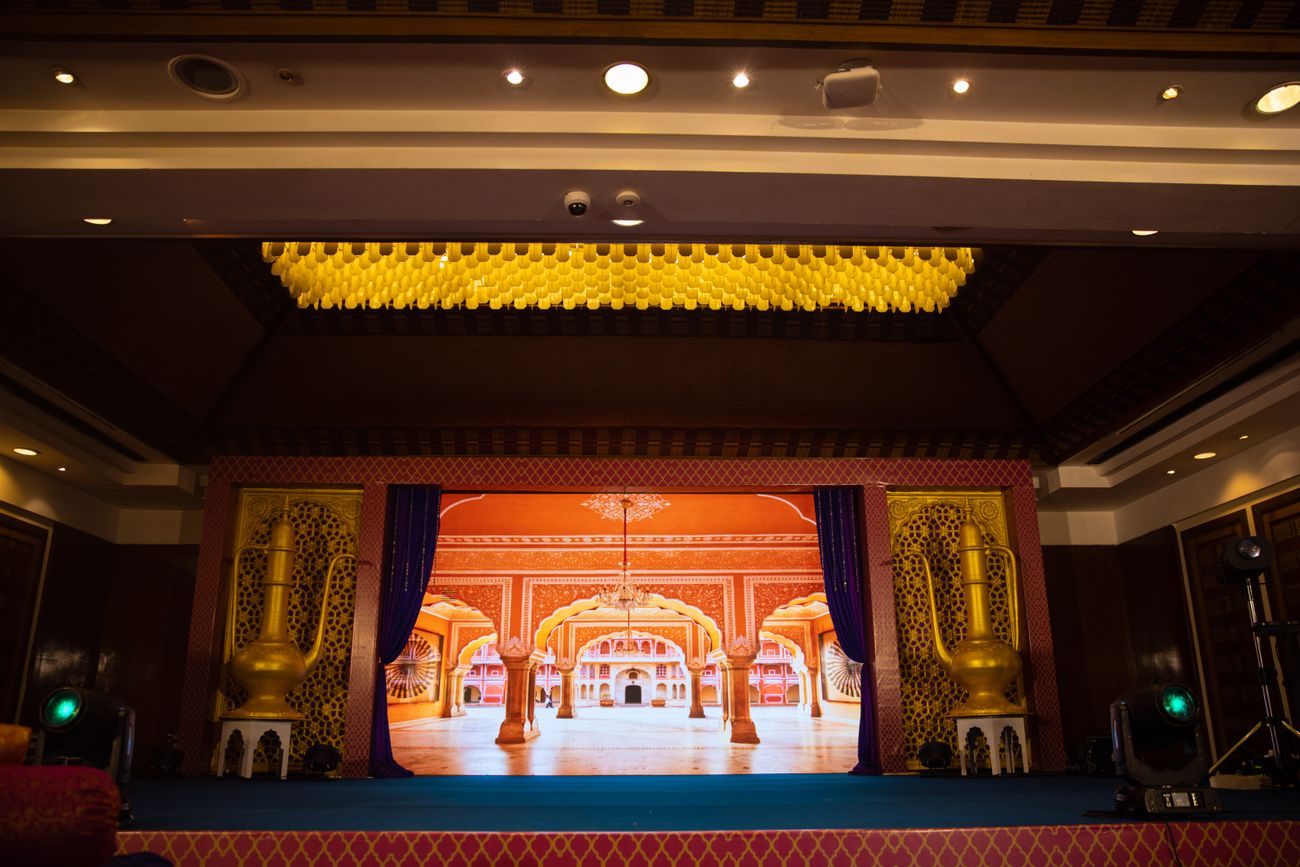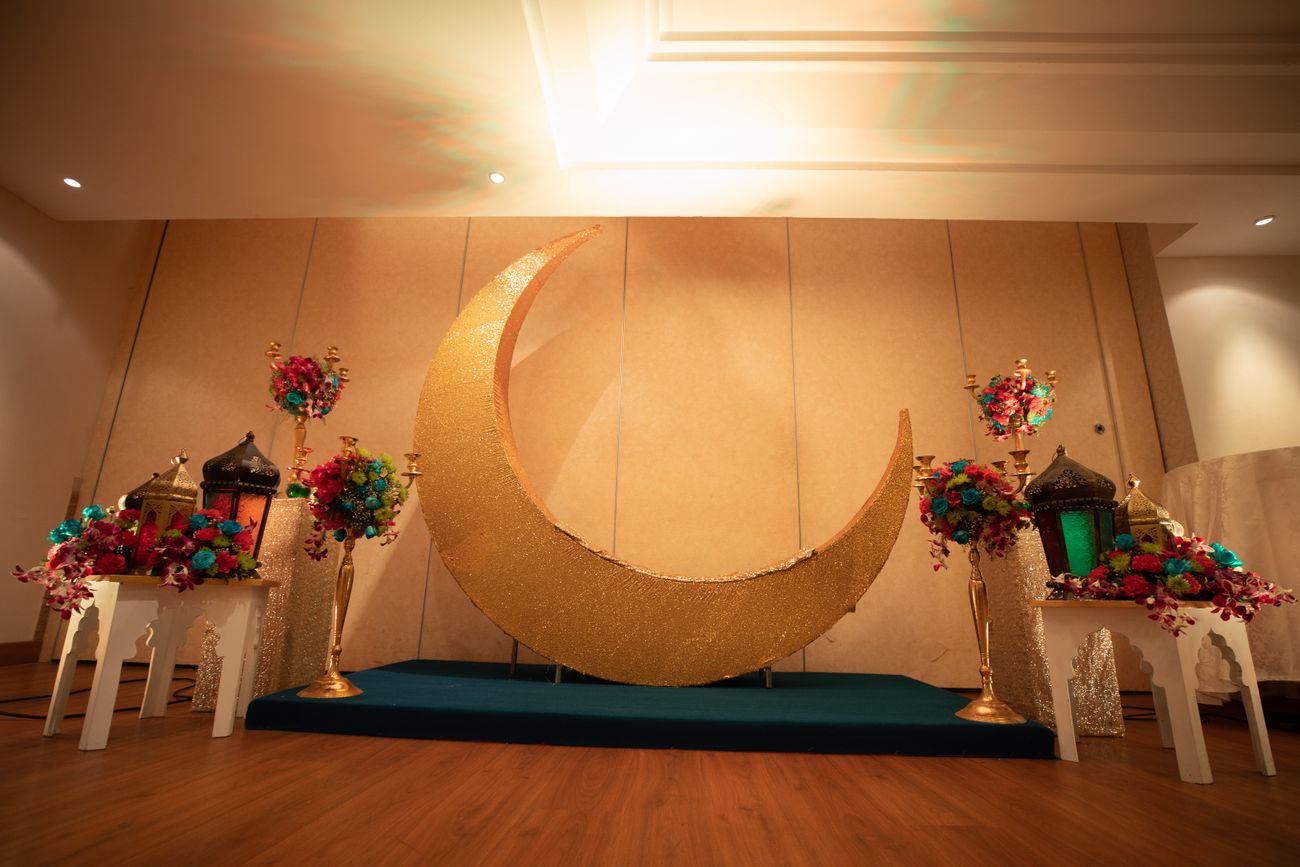 Highlights
We danced on like 18 numbers, all from starting till the end, the beautiful seating arrangement, colour palette that looked perfect, the entrance where we placed the lamp and hint of rose, mint and curacao in our alcohol spread.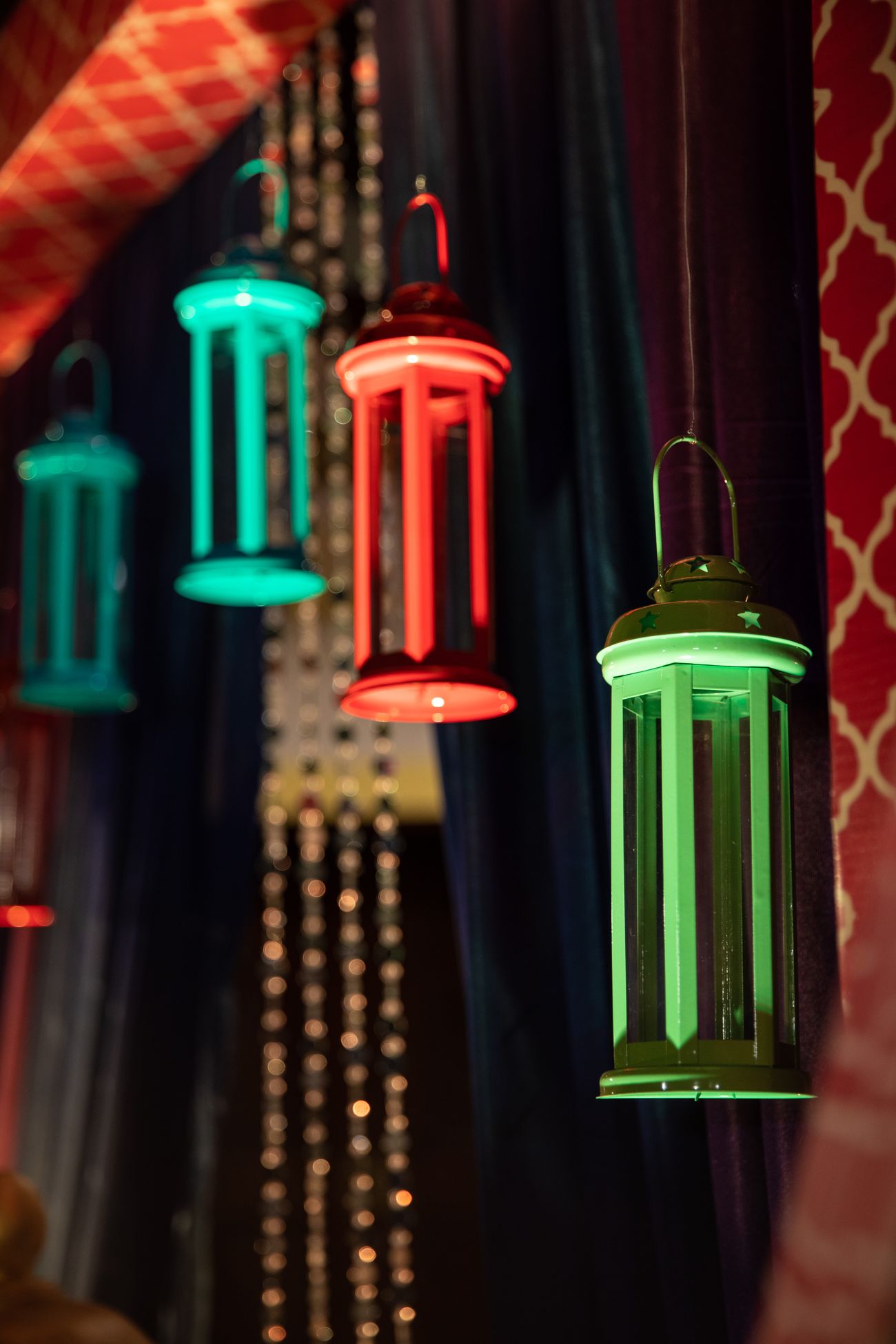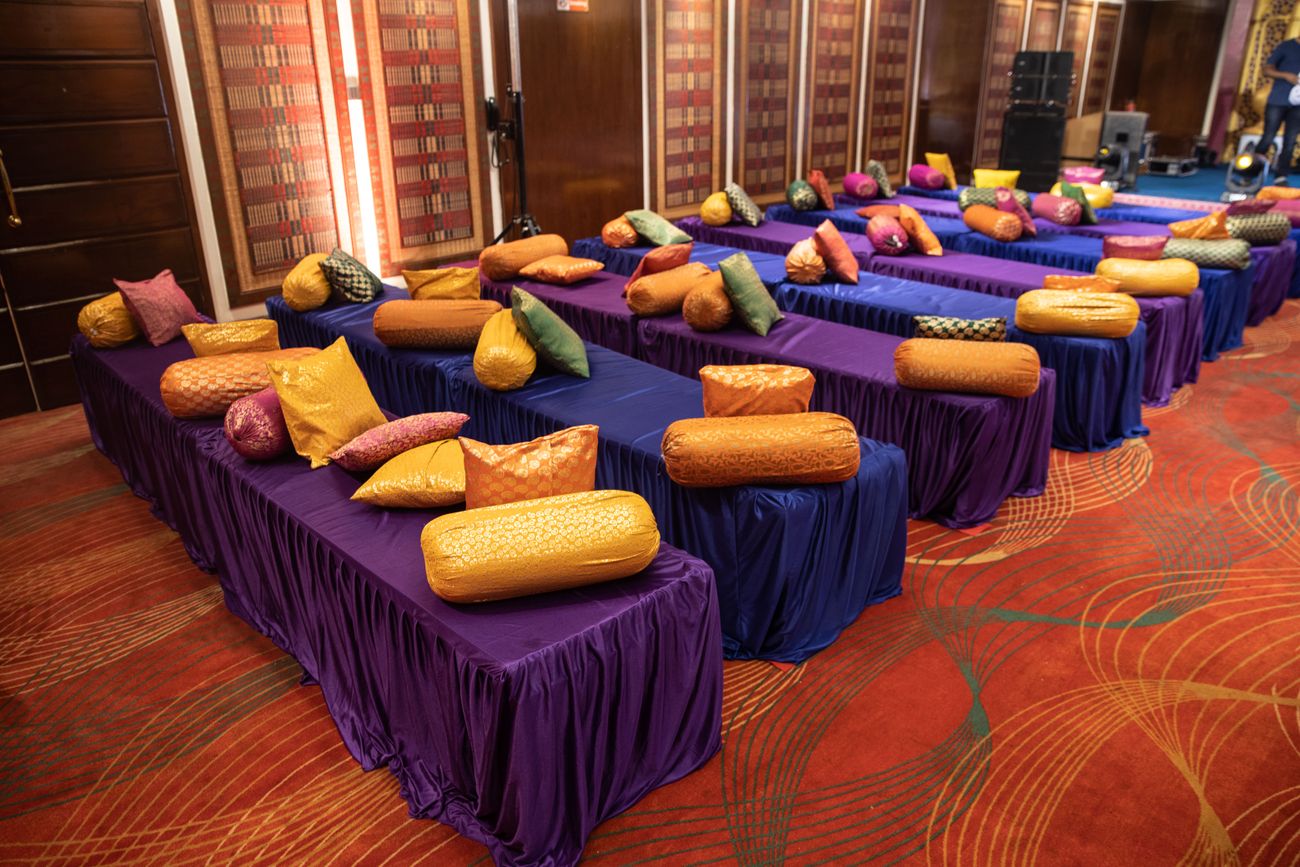 Outfits
Rohan wore a black side drape kurta with a copper and silver bubble patch jacket and I wore black tussar hand embroidered laapa patti and silver and gold gota work 7 kg lehenga, which seemed like a nightmare but indeed wasn't, paired the outfit with a carved antique choker and drop shaped kundan earrings. For the footwear, the most comfortable golden sneakers!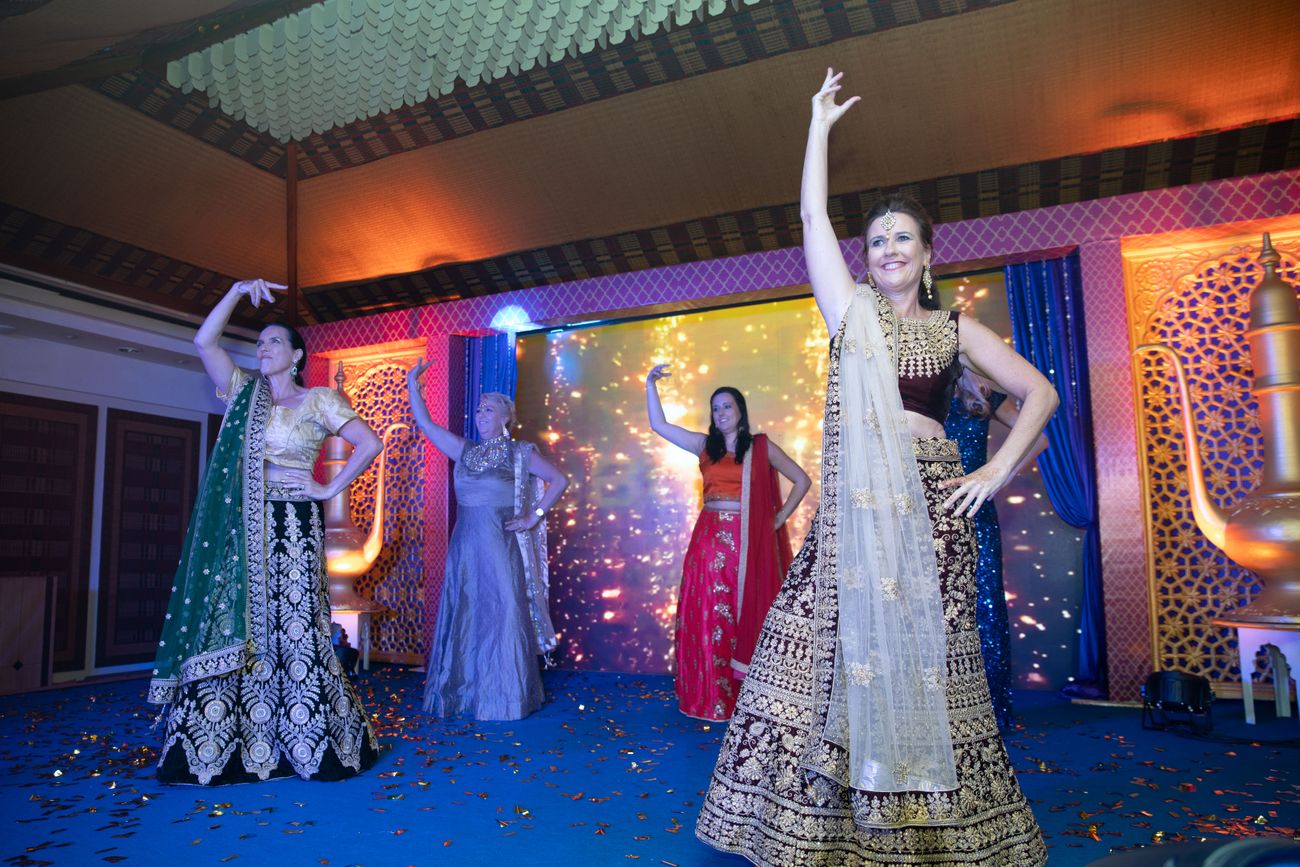 Haldi Theme- Tranquil Tibet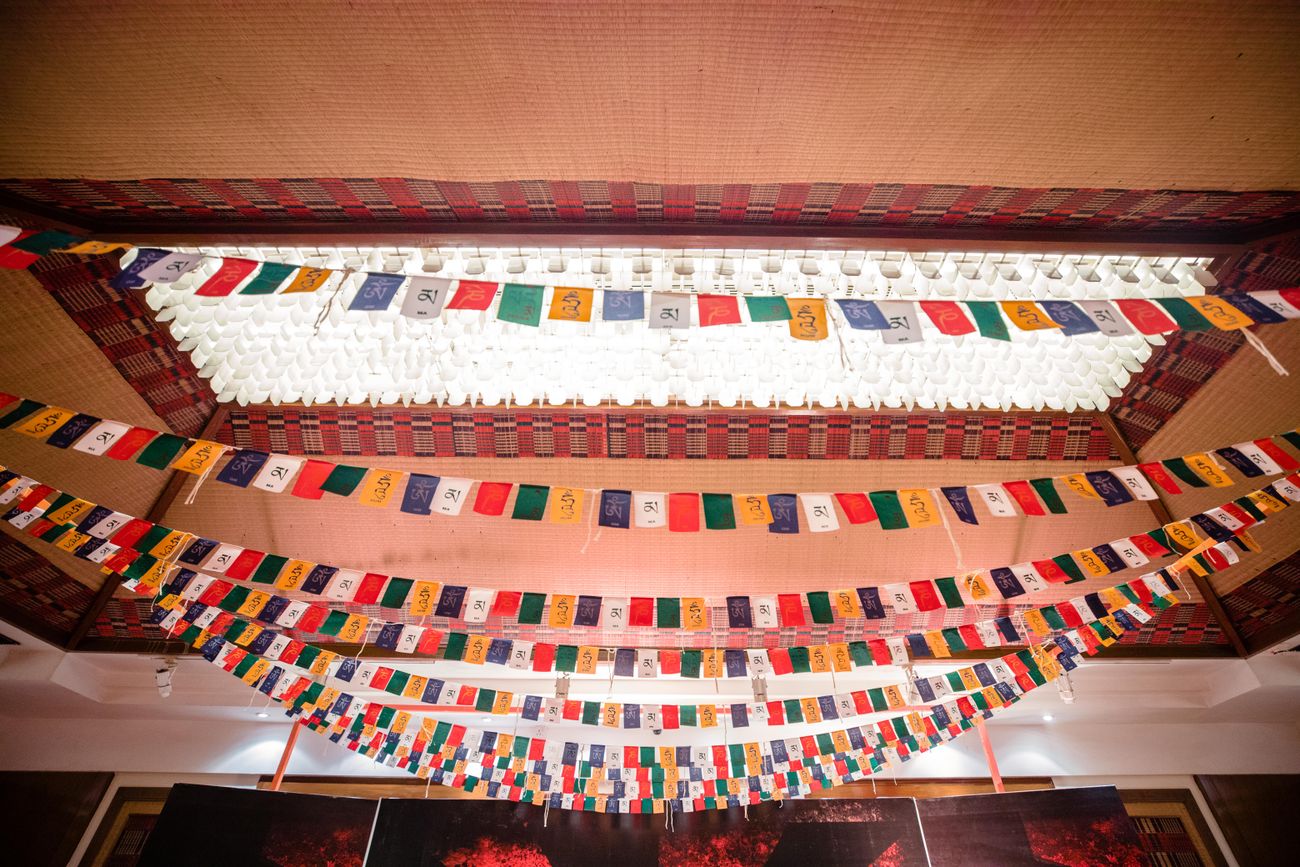 Decor
Crafting Memories An indoor setting, we tried and kept Haldi as really calm, serene and tranquil. Took all the inspirations from Tibet and it's elements, floor seating with cushions and round pillows, strands of marigold and a base of mandala. Colour palette mostly was orange & yellow.
Highlights
Tibetan flags on the ceiling, Buddha statues on the corners, calm music and big round metal bowls for all things yellow!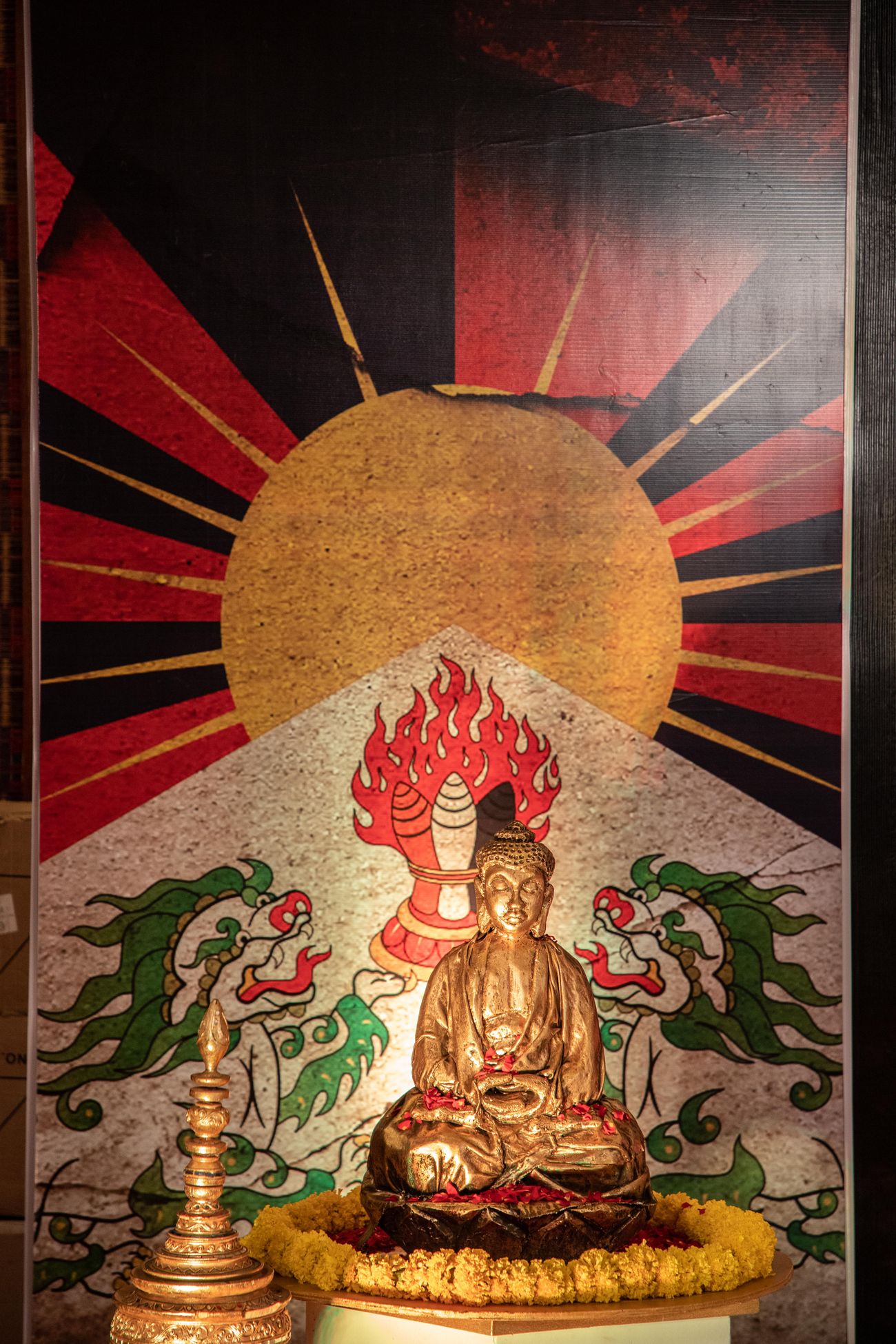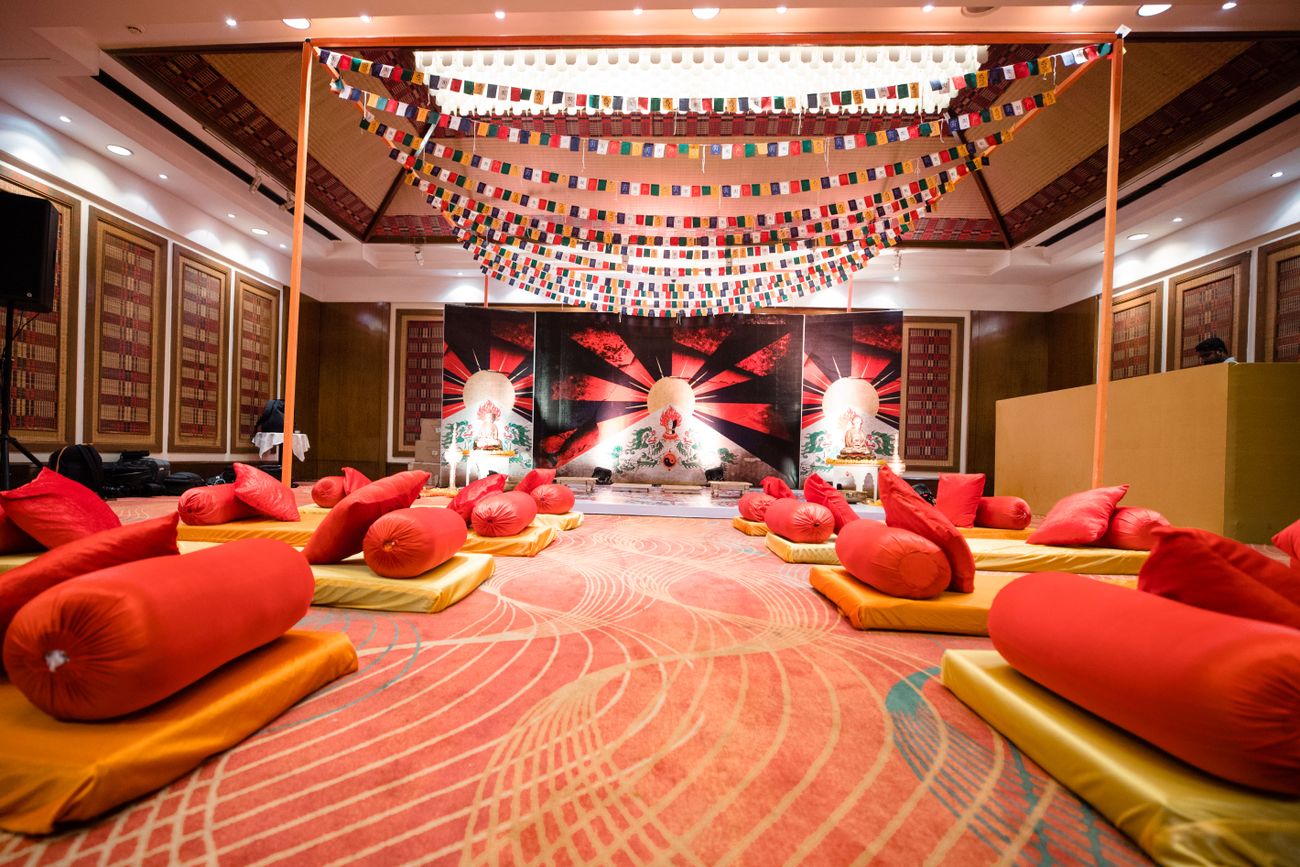 Outfits
Rohan wore a yellow kurta and beige pyjama while I wore a yellow brocade lehenga with pink bandhani dupatta paired with some yellow and white flower jewellery.
Pheras - Incredibly Indian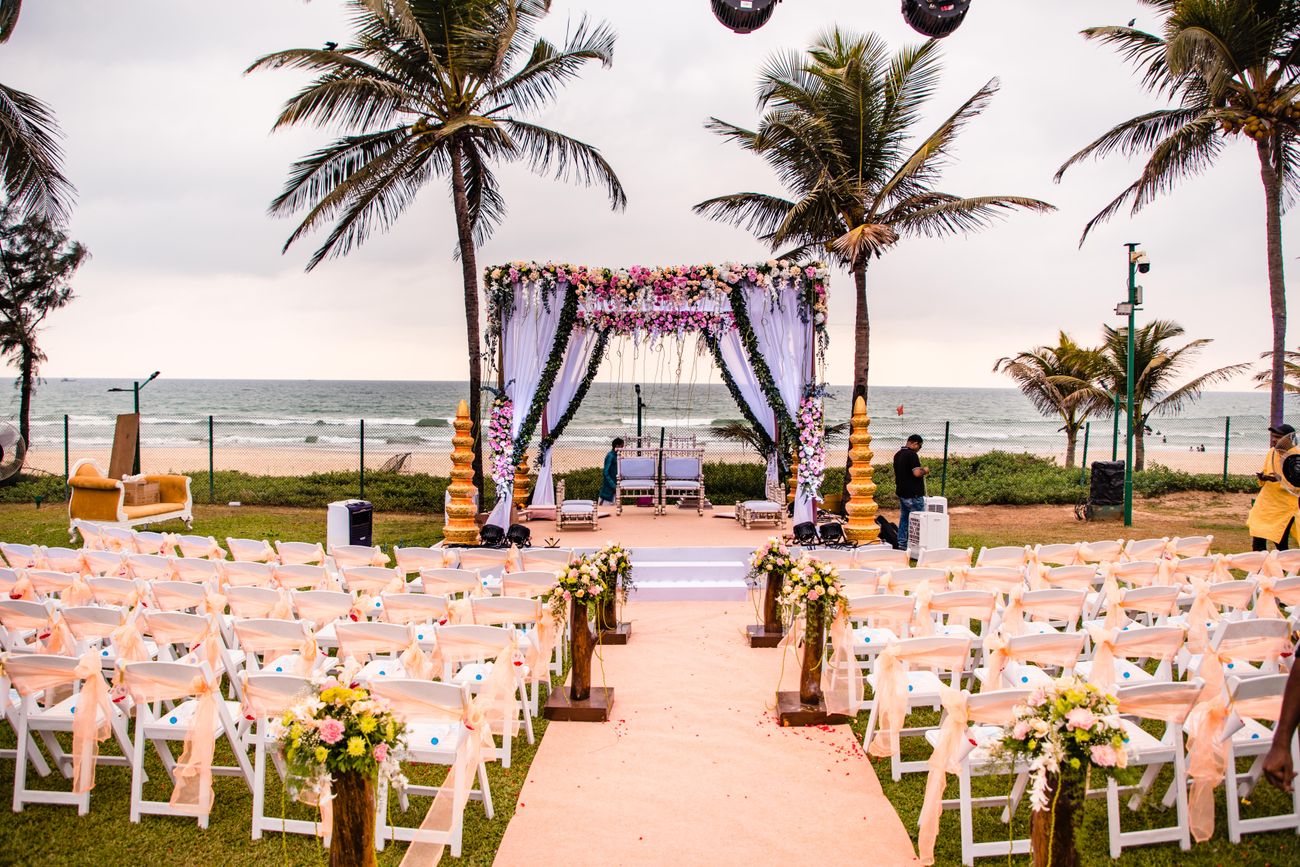 Decor
Crafting memories A perfect beach sunset setting, minimal mandap, surrounded with the people we love the most, our wedding was totally traditional.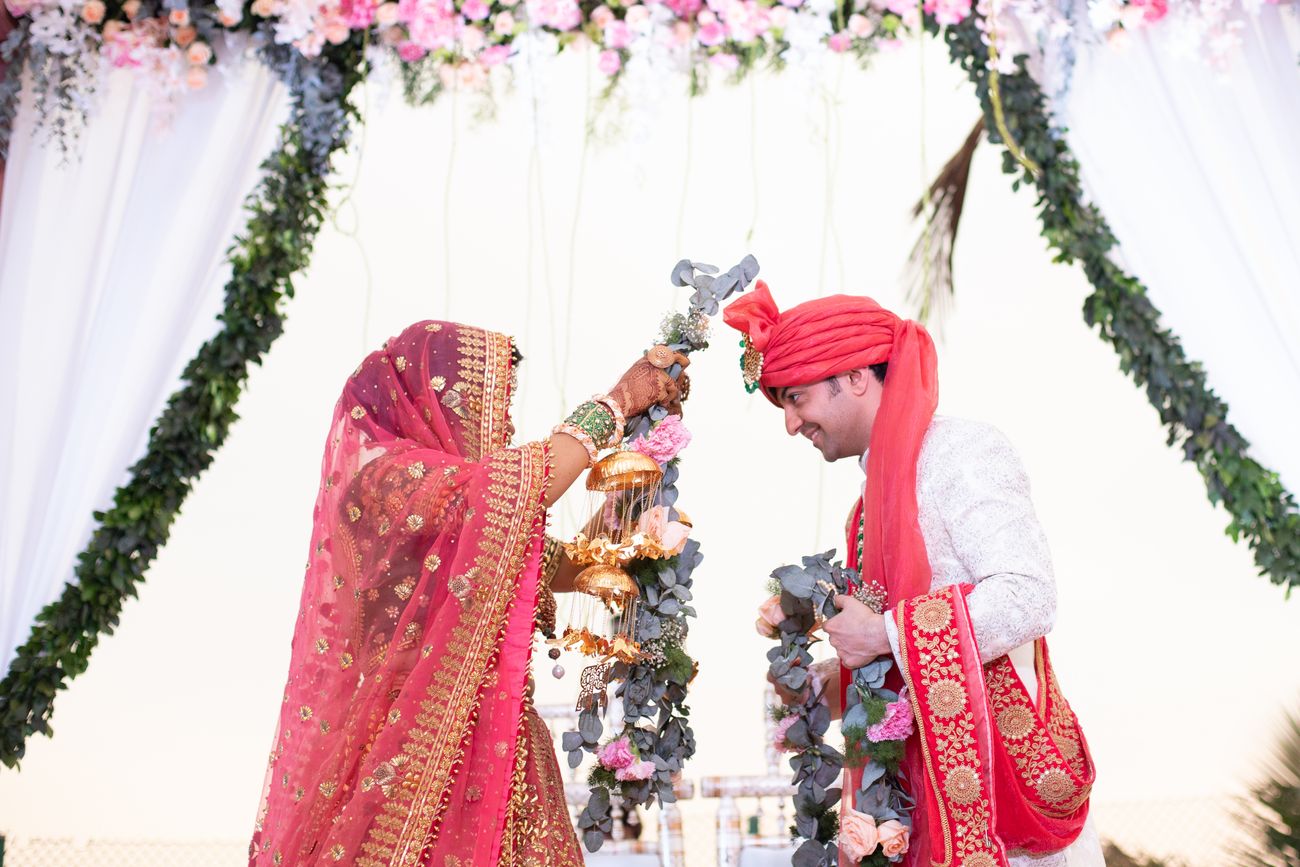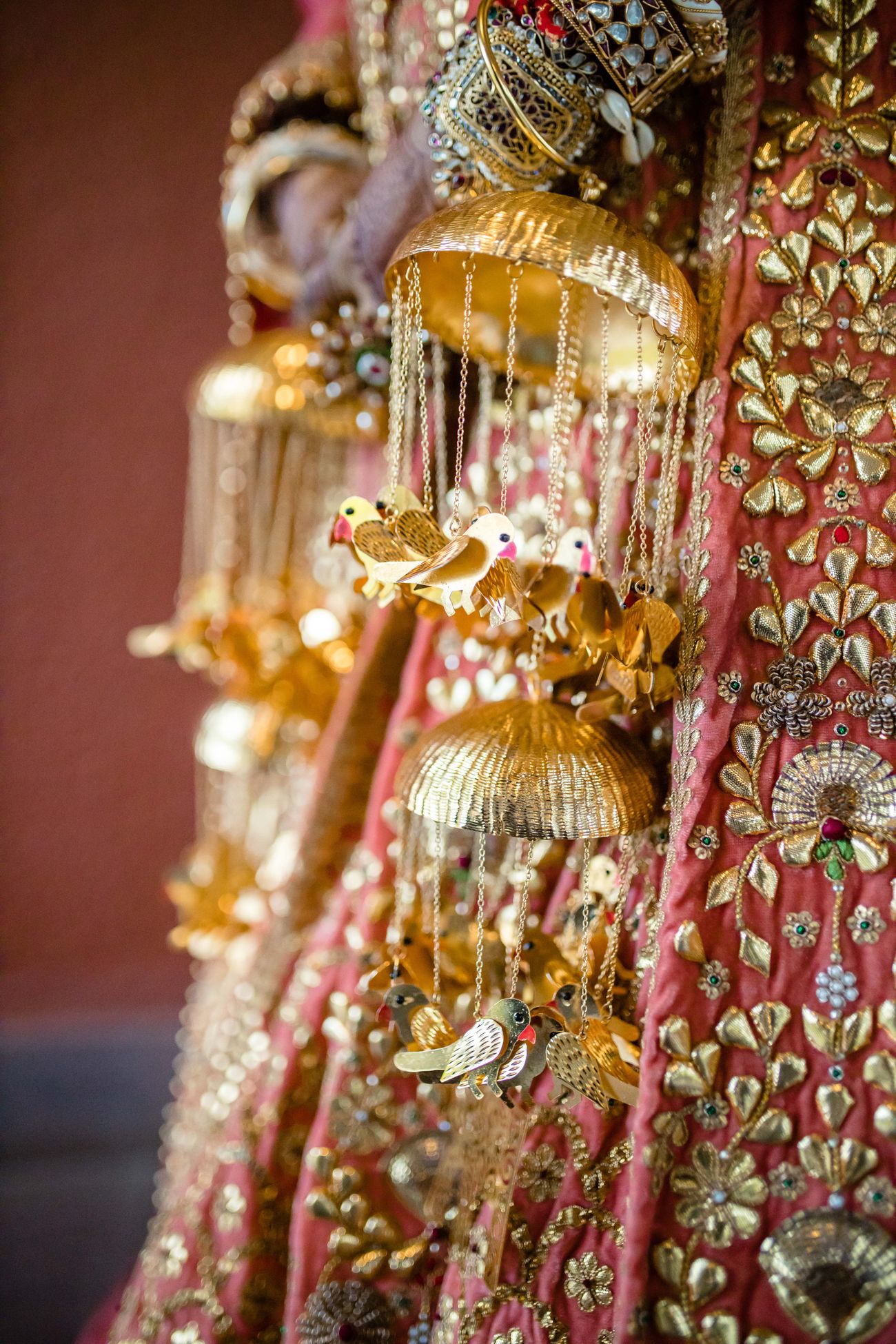 Highlights
Champagne wall as the photo booth, minimal mandap design, soap bubble blow by the friends at the bride's entry, beautiful coke studio song – "Aaya Laariye" as the entrance song, personalized vows, Garlands made out of leaves more than flowers, a canopy of fairy lights, totally hand made customized jewelry and bride's wedding outfit that took about 4 months for it's gold thread and marod gota work to take the beautiful shape.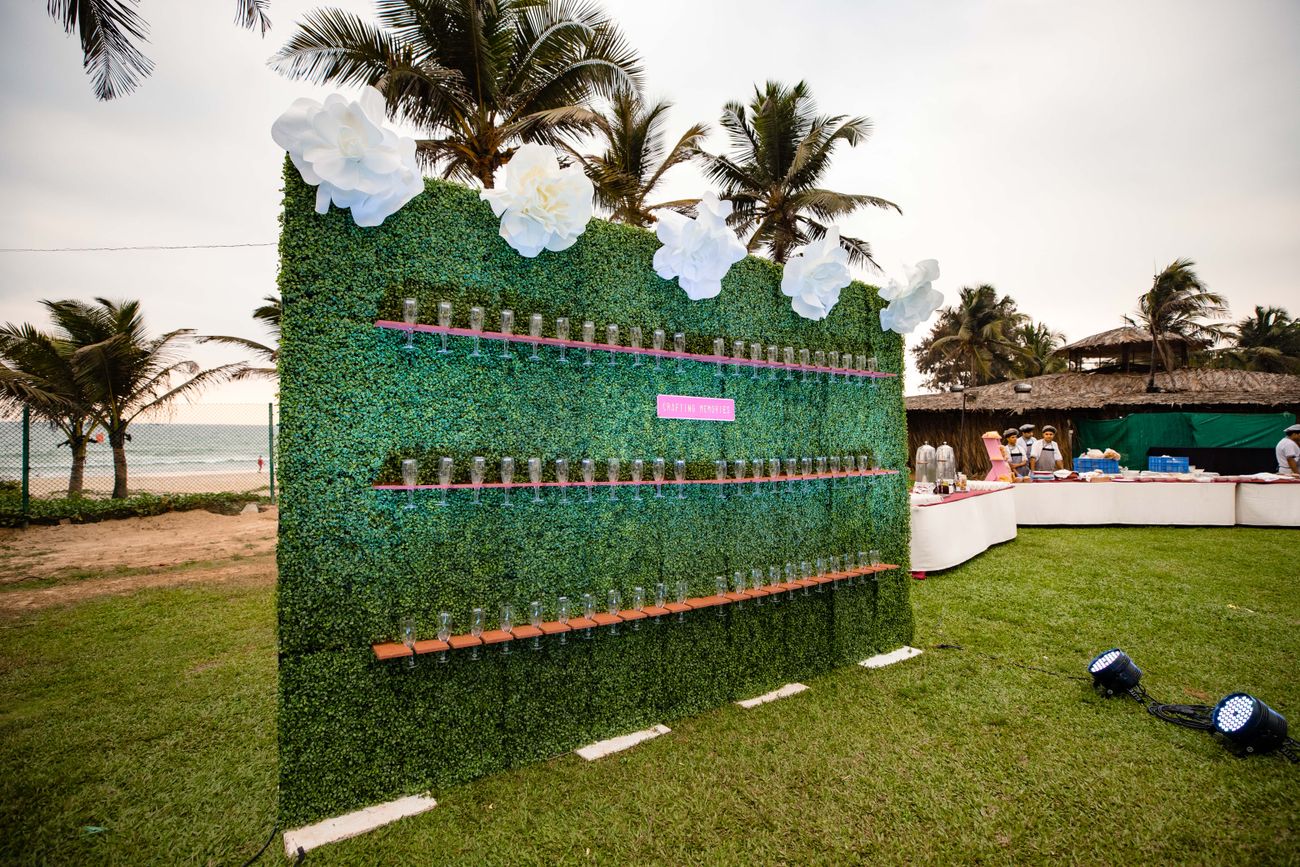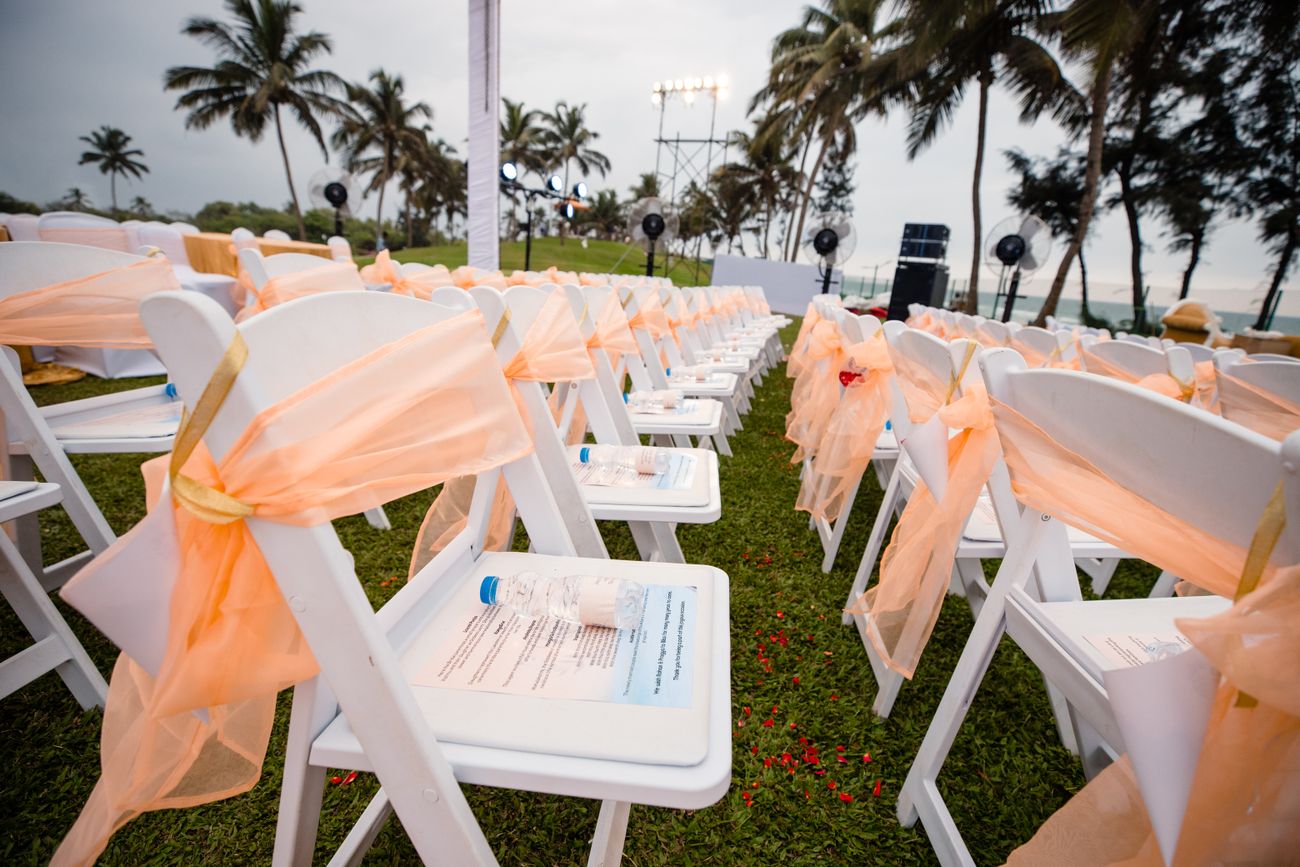 Outfits
Rohan wore a white sherwani with water gold self-embroidery & I wore a combination of peach and emerald green lehenga with extremely intricate gold embroidery paired with carved hasli necklace, temple jewellery and taarkashi jutis.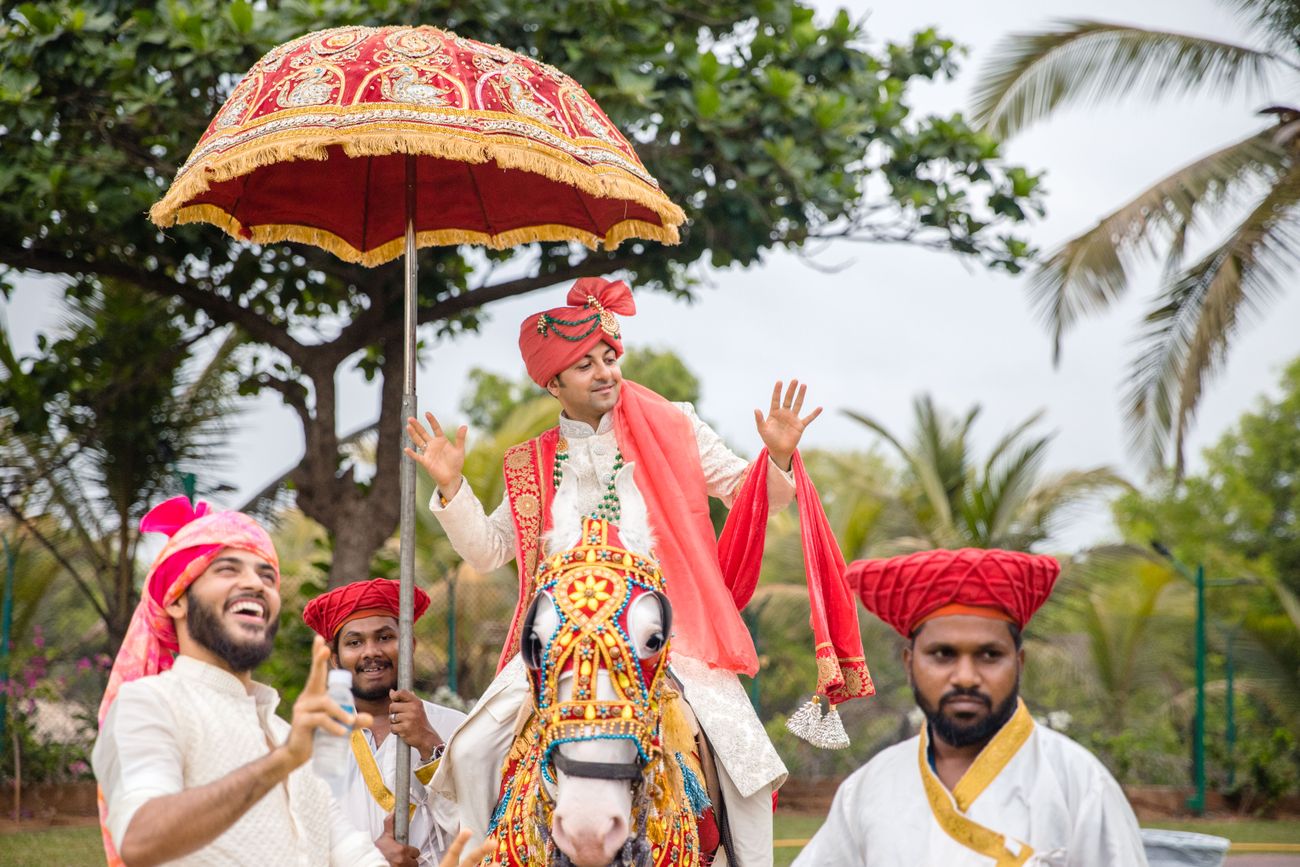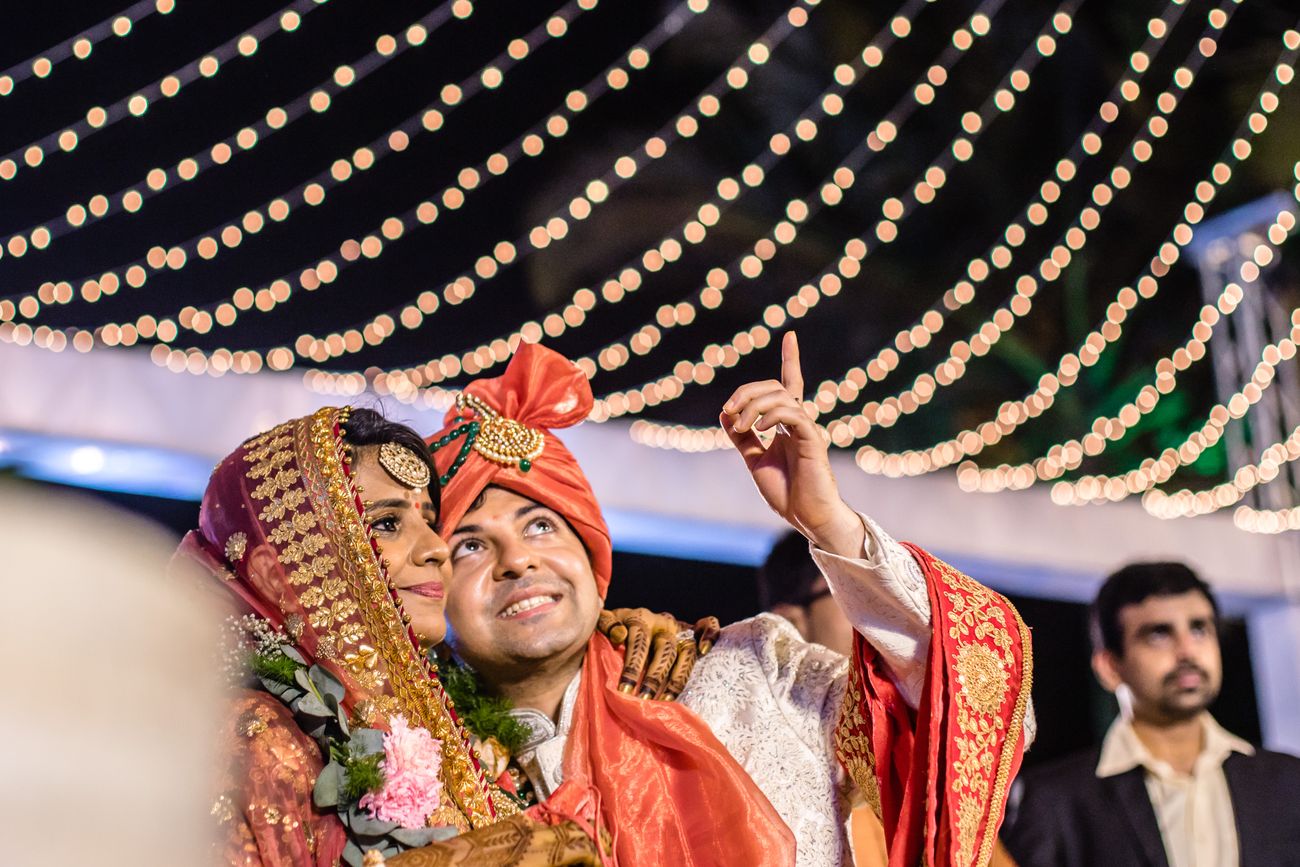 Isn't this a nice way to make the wedding and decor truly unique?